What is the demand for outbound tourism on the European market?
The tourism branch has been hit hard by the COVID-19 pandemic. European outbound tourism has fallen to a historical low, and a fast recovery back to normal is not expected. However, some markets including Germany and France still offer possibilities for tourism SMEs from developing countries. Rural destinations, especially those focussing on adventure tourism and nature tourism, are expected to recover faster from the COVID-19 pandemic than other niche markets.
1.

What makes Europe an interesting market to target?

Until the start of 2020, Europe was a great and growing source market for tourism. It generated 35% of the world's international tourism expenditure. Based on UNWTO data, Europe accounted for 70.5 million trips to developing country destinations in 2018, a growth of 14% compared to 2017. However, the coronavirus had a devastating effect on European outbound tourism. In June 2020, European flights out of Europe showed a 98% decrease compared to the year before. We expect European tourism to recover in the coming years and to be fully recovered by 2025.
European outbound trips
Due to the spread of the COVID-19 virus, 2020 has been a disastrous year for European outbound trips. In previous years, total European outbound tourism (air, land, sea) to developing country destinations counted around 70.5 million trips (UNWTO, 2018). But when the first infection was detected in Europe in January, this had a major effect that soon got worse. By the end of March, Europe was considered the active centre of the pandemic by the World Health Organisation (WHO), as its total new infections transcended those of China. Not much later, every single country in Europe had at least 1 infection, which led to total lockdowns across Europe. This was catastrophic to the outbound tourism market, and numbers plummeted.
In March 2020, the number of European travellers by air with destinations outside the EU halved. In April, this number went to 0 or nearly 0 for many countries. While there were almost 36 million people travelling outside of Europe in February, this fell to around 18 million people in March, and this reached an even lower point in April and May with just a few hundred thousand. June showed a small recovery in arrivals and was up 50% from April, but still hit a record low with almost 98%(!) fewer travellers than in June 2019.
Table 1: The number of Europeans travelling outside of Europe by air
| | | | |
| --- | --- | --- | --- |
| Month | 2019 | 2020 | Growth rate |
| January | 39,353,302 | 40,171,187 | 2.1% |
| February | 36,966,262 | 31,533,386 | -14.7% |
| March | 43,902,582 | 15,477,444 | -64.7% |
| April | 48,999,414 | 437,994 | -99.1% |
| May | 51,268,374 | 561,104 | -98.9% |
| June | 58,017,703 | 1,495,266 | -97.4% |
| July | 64,129,005 | 2,957,325 | -95.4% |
Source: Eurostat, 2020
Tips:
Stay informed on the travel recommendations and restrictions in European countries, as these are often changed in short periods of time and have a big influence on tourism flows. The European Union offers specific information on coronavirus regulations for the EU as a whole and for the nations separately. Also, our studies on how to respond to COVID-19 and on how to manage the effects of COVID-19 provide good sources of information.
Stay updated about the borders of your own country as well to see if and which tourists are allowed to travel. This information can be found on third parties' sites like World Nomads, which offers an overview for all travel restrictions and border closures worldwide. For the most up-to-date legal travel information, regularly check the site of your own national government as well.
Forecast for the short and long term
The short-term forecast for European outbound tourism is very bad. For 2020, European outbound tourism is expected to decrease by 56%. This will be even worse for long-haul destinations, because most European tourism activities are domestic or regional. Europeans travel less because of the risks that come with it, they are forced into quarantine after coming back and some destinations are locked up completely. According to the UNWTO panel of experts, the recovery of international tourism is expected to start in Q3 of 2021. By 2024, the global tourism sector, including European tourism, is expected to be back to a level comparable to the years before the crisis. However, the prospects are variable and depend greatly on the spread of the virus, boundary regulations by European source countries and the rate of success in developing a vaccine.
Various countries in Europe, especially the UK, France, the Netherlands, Spain and Poland, have seen a resurge in COVID-19 infections during the summer of 2020, which is bad for the tourism sector. This can result in lower willingness to travel as well as new travel restrictions and bans from and to these countries. This will only slow down the recovery of the tourism segment even more.
The pace of recovery in the tourism industry is not expected to be the same for all segments. Rural destinations can expect a much faster recovery in comparison to urban destinations, as tourists nowadays would rather travel to outdoor places with a low population density. This behavioural change is partly caused by the increased risk of infection in crowded places. The image of a country takes a big role in the future of holiday booking as well. Destinations that pay attention to hygiene and cleaning, and especially those with good-quality health care, will recover at a quicker pace.
Furthermore, domestic and regional travel will be preferred over long-haul destinations in the short term. Local or national travel regulations can cause domestic travel to be the only travel possible. Also, people feel much safer travelling close to their home than they do travelling to the other side of the globe, as they know close places better. And if something happens, they are back home fast. Private transport is considered safer than airplanes. The safety of public transport largely depends on how crowded the vehicle is.
European countries with a better economy are more resilient to the economic aftereffects of the coronavirus and will therefore recover swifter. This will probably further increase the gap between richer Western and poorer Eastern European countries as outbound travel source markets.
Tips:
Look at safety protocols regarding the COVID-19 virus and implement them in your business. Many customers from Europe only book at places where they are certain sufficient measures are taken.
Look at our article on the CBI website on how to handle COVID-19 in the tourism sector.
Target the richer Western European countries, because these countries offer the largest markets and will recover faster, economically as well. It is important to keep informed about the current policies and border restrictions of your European source countries, but these policies and border restrictions change so quickly that they do not offer a basis for a long-term marketing strategy.
Offer safe, hygienic and rural (spacious) destinations. Rural destinations are expected to recover faster. Safety and hygiene have become non-negotiable. Since the start of the coronavirus crisis, travellers simply require this to be at an appropriate standard.
Developing country destinations most visited by Europeans
When outbound tourism picks up again, we do not expect tastes for destinations to have changed drastically from what they were before. However, we do expect destinations which are considered closer and safer to recover faster. Besides infection ratios, having a good health care system in the minds of Europeans is also important. In general, destinations in Asia are considered safer than African destinations according to the experts we interviewed and therefore are expected to recover faster. In this chapter, we will focus on trips to destinations in Africa and the Middle East, Asia and Latin America.
Most Europeans travel domestically or regionally. Therefore, 6 out of the 10 most visited developing country destinations are very close to Europe (Morocco and Egypt) or within Europe (Turkey, Ukraine, Belarus and Albania). The 4 most important long-haul destinations are Thailand, China, India and Mexico (based on UNWTO data, 2018).
The top 6 (Turkey, Morocco, Egypt, Thailand, Ukraine and China) make up over 50% of the trips to developing country destinations.
After a dip in arrivals in Turkey in 2016 and 2017 due to political and safety concerns, it recovered quickly in 2018. Partly because the Turkish lira fell in value, Turkey's growth rate between 2017 and 2018 was 32.3%. Other destinations in North Africa like Morocco and Egypt received more tourists again as well in 2018 after terrorist attacks on tourists in the years before. Ukraine saw a little drop in tourist arrivals in 2017 and 2018 due to ongoing tension between Ukraine and Russia.
International arrivals in developing country destinations declined by 61% in the first half of 2020 compared to the same period in 2019. Even though this is better than the 66% decline for the G20 destinations, their recovery is slower than those destinations. In May and June 2020, international arrivals in the G20 destinations were, respectively, 96% and 91% lower than in 2019. But for developing countries, the international arrivals in May and June 2020 were even 98% and 98% lower than in 2019, respectively.
Africa and the Middle East
Historically, Africa and the Middle East receive most tourists from Europe in comparison to other parts of the world. In 2018, they saw the largest increase in European arrivals, with a 25.8% growth rate.
After the war with Islamic State (ISIS) had calmed down and the number of terrorist attacks had gone down, Africa and the Middle East recovered as important destinations for European tourists.
Some destinations in Africa and the Middle East in particular received much more European tourists than in the previous years. Tunisia had an increase of 54.8% in 2018. After 2 deadly jihadist attacks on a Sousse beach and Bardo National Museum in Tunis aimed at tourists in 2015, tourism to Tunisia recovered in 2018. Reforms in air travel and the tourism sectors of Madagascar and Mozambique led to significant increases in tourism arrivals in 2018, 84.2% and 89.6% respectively compared to 2017.
Africa and the Middle East received 57% fewer international arrivals in the first half of 2020 compared to the same period in 2019. Recovery of the arrivals is not expected to be fast, as May and June 2020 are both still 99% down from the same months in 2019.
The decline in tourist arrivals will be especially hard for Cabo Verde, where tourism is responsible for 71% of the total export and 93% of international guests. On top of the oil spill disaster in 2020, Mauritius is facing hard times because 10% of its GDP consists of tourism and 34% of its export products are within the tourism industry. In the Middle East, it is going to be especially tough for Jordan, where tourism makes up 12% of its GDP, 36% of its exports and 72% of international arrivals.
Tips:
Make sure to be flexible in your contracts. Be aware that the coronavirus and political and other events in your country or region may have a huge impact on European tourist arrivals.
Closely monitor political events in the broader region you are situated in. Political events in neighbouring countries may hugely affect your revenues from European tourists. 
Read our tips on how to manage risks in tourism to learn how to deal with crises and fluctuations in tourism arrivals.
Set up partnerships with European tour operators, alone or together with others. Abang Africa Travel is an example of a network of different tour operators which has managed to bring European and local tour operators together in order to provide sustainable tourism.
Asia
Asia saw the largest decrease in international arrivals in 2020 from all parts of the world. The numbers were down 75% in the first half of 2020 in comparison to 2019. North-East Asia dropped the most, with 83% fewer than in the same period the year before.
The Philippines are the most sensitive to those falls in arrivals, as tourism is 9% of their GDP and 10% of their exports. It will be a hard time for Thailand as well, as 7% of their GDP and 20% of their exports consists of tourism products and services.
Asia has historically, before COVID-19, had a steady growth rate in European arrivals of 5.3% in the period 2014-2018. European arrivals in Asia grew by 5.1% percent in 2018, which is about equal to the average growth in the past years.
Table 2: Top 10 developing country destinations in Asia for European travellers
| | | |
| --- | --- | --- |
| Destination | Arrivals from Europe in 2018 | Growth rate between 2017 and 2018 |
| Thailand | 4,604,573 | 1.9% |
| China | 3,328,671 | 1.7% |
| India | 2,329,678 | 5.0% |
| Indonesia | 1,669,900 | 3.4% |
| Vietnam | 1,216,183 | 8.4% |
| Malaysia | 1,059,595 | 7.8% |
| Sri Lanka | 872,556 | 20.6% |
| Cambodia | 712,681 | -6.0% |
| Philippines | 665,771 | 10% |
| Maldives | 611,607 | 12.4% |
Source: World Tourism Organization (UNWTO)
Uzbekistan saw the largest increases in tourism arrivals, with a staggering growth of 267.6% in 2018. This is mainly because the tourism sector was named a strategic sector in order to achieve sustainable economic development.
Latin America
European tourist arrivals in Latin America decreased the least in comparison to other parts of the world, as the first half of 2020 showed a decline compared to the first 6 months of 2019. The arrivals in Latin America showed a small but consistent recovery in July and August, comparable to Africa and the Middle East & Asia.
European arrivals in Latin America were already in decline in 2018 for some countries.
Table 3: Top 10 developing country destinations in Latin America for European travellers
| | | |
| --- | --- | --- |
| Destination | Arrivals from Europe in 2018 | Growth rate between 2017 and 2018 |
| Mexico | 2,237,869 | 4.1% |
| Brazil | 1,396,956 | 0.6% |
| Dominican Republic | 1,091,433 | -3.3% |
| Cuba | 1,075,522 | -14.7% |
| Peru | 637,219 | 3.4% |
| Colombia | 516,581 | 11.2% |
| Costa Rica | 456,979 | 4.0% |
| Ecuador | 341,517 | 5.2% |
| Jamaica | 321,965 | -0.0% |
| Panama | 268,407 | 8.3% |
Source: World Tourism Organization (UNWTO)
The biggest positive outlier has been Colombia, which is up 11.2% in 2018 compared to 2017. Colombia is gaining popularity among backpackers now that safety issues are less severe. They are attracted to Colombia due to the pristine nature and the low costs of living.
Nicaragua had the largest decrease in European tourist arrivals, with 41.5% fewer tourists in 2018 than in 2017. This decline was partly caused by the president repressing protests by students. Cuba saw a decline in European tourist arrivals as well in 2018. Due to ongoing political and economic problems, especially the bankruptcy of travel agency Thomas Cook, Cuba is missing out on thousands of tourists.
For many islands in Latin America, like Saint Lucia, Dominica and Antigua & Barbuda, the coming period will be tough, as tourism is a large part of their total exports. Panama is going into hard times as well, as 9% of their GDP and 28% of their total exports consist of tourism. Another island that is getting it though is Jamaica, since 54% of its exports and 9% of its GDP come from tourism.
Tips:
Always consider safety aspects when attracting European customers. Be aware that fewer European travellers considered traveling to Latin America, as they saw it as an unsafe destination.
Invest in a good website that provides information for tourists and is user friendly and findable. Europeans tend to book online, so it is important that your website is mentioned on travel websites and in blogs and ranks high in the search engine. For more information on this, read our report on how to be a successful tourism company online.
Consider posting your products and services at OTAs (online travel agency) to reach a wider audience. Although they take part of your revenues, it may outweigh the pros of selling on your own website. TourismTiger offers a list of 95 places to list your tours.
Change policies in refunding, cancellation and rebooking. Travel companies must be generous towards tourists in these times of uncertainty and fear. It is important to keep and gain every possible customer. Companies that are flexible and can move fast during this crisis can gain significant amounts of customers in short amounts of time.
Maintain contact with customers throughout this period by providing them with updates and travel information. It is important that customers can ask questions, make requests and give feedback during this crisis.
2.

Which European markets offer most opportunities for tourism suppliers in developing countries?

For developing countries, Germany, the United Kingdom and France are by far the largest markets. Together, they account for almost 50% of the European trips to developing country destinations. They are followed by Italy, Spain and the Netherlands, ranking number 4, 5 and 6 as European source markets for developing country destinations. The developing country destinations of these markets are very diverse. One of the most interesting opportunities is to offer unique experiences to Generation Y and Z travellers in Germany.
Germany
Germany offers the largest source market in Europe, with over 13 million trips to developing country destinations in 2018. Between 2014 and 2018, the number of Germans travelling to developing country destinations has shown an annual growth rate of 2.6%. Germany accounts for 18.5% of all trips from Europe to developing country destinations.
Just like the residents of most European countries, many Germans travel to Turkey. With a nice climate, beautiful nature, interesting cuisine and culture, great beaches and cheap flights from European source countries, Turkey is in high demand. In 2016, Turkey hosted 16.5 million European visitors. Germany alone provided 27.3% of the trips to Turkey in 2018. The high ratio of German visitors can be explained by the large number of Turkish migrants living in Germany.
Hover your mouse cursor or pointer over the countries in blue in Figure 4 to see the number of trips by German travellers to your country in 2018. 
Germany is the largest economy in Europe and the fourth largest of the world, with a gross domestic product (GDP) of €3.8 trillion in 2019. Also, Germany has 83 million citizens, which is the biggest population in Europe. This makes Germany an excellent market to aim at if size is important.
The COVID-19 pandemic has caused a new economic crisis and has led to a decrease in expenditures in several sectors, tourism among them. An effect of this economic downturn is a decline in all GDPs worldwide. However, Germany's GDP is expected to decrease less than the average decline in the EU of 8.3% due to its resilient economy and is only expected to shrink by 6.3% in 2020.
Within Europe, Germany was relatively effective in fighting the COVID-19 pandemic. Figure 5 shows that Germans feel more confident about travelling out of the EU, as July already shows some signs of a recovery.
Germans who prefer nature tend to travel to China and Thailand. For cultural holidays, Germans travel to China as well. German travellers visit destinations in Egypt, Turkey, Tunisia and Thailand for luxury travel. To participate in local cultural activities, Germans prefer destinations in the Middle East, Morocco, Namibia and Kenia.
German travellers took the most cruise trips in the world. Trying local food and hiking in nature are also among their favourite activities. German tourists are more interested in beach tourism than the average.
Germans are more likely to travel abroad than people in the UK and France. They respond best to advertising that is informative and provides good reviews. The most important factors for Germans when booking holidays are the activities they plan to do on their trip, the once-in-a-lifetime experience and feeling pampered during the vacation. Germans prefer sun and beach holidays, as 1 top holiday motivation is sun, warmth and nice weather. The average holiday budget has decreased compared to last year, from €2,467 in 2019 to €1,583 in 2020. The average spending per trip was €1,033 in 2019, although this will be higher for long-haul destinations.
2018 was the first year that Germans booked holidays online more often than face-to-face, and the number of online bookings only grew larger in 2019. It is expected that this trend will continue in the following years. Customisable package holidays are still preferred over individual accommodation bookings. Germans have an ever-growing concern about the sustainability of holidays, as 73% feel at least a little guilty about climate consequences when they travel by air. Furthermore, 61% of German tourists feel positive towards sustainable trips, but only 6% are acting on it. This means there is still a large gap between the attitude and actual behaviour of these tourists.
When attracting German tourists, you need to know a few things about German culture. German tourists generally do not like uncertainty. They tend to read a lot before visiting a place. They are, like most Europeans, direct in their communication and are well known for their tendency towards organisation and punctuality.
German travellers prefer active holidays (like walking), with 37% preferring sun & beach holidays, 36% going to visit friends and relatives and 30% preferring nature tourism. German tourists very much resemble the average European.
Tips:
If you want to attract German travellers to your destination, make sure you deliver on time. Offer well-organised tours without too many surprises.
Provide your German customers with a lot of information, such as information about additional payment not being included in the total price, services offered, the quality of the accommodation(s) and much more.
Read more information on the German tourism market of your target German tourists. The website of Reiseanalyse offers you a lot of interesting insights in this market.
United Kingdom
The United Kingdom offers the second-largest source market, as it accounted for over 11 million trips to developing country destinations in 2018. Between 2014 and 2018, the number of British travellers going to developing country destinations showed an annual growth rate of 3.0%. Partly due to their shared history, India and South Africa are relatively important destinations for the British.
Hover your mouse cursor or pointer over the countries in blue in Figure 6 to see the number of trips by British travellers to your country in 2018.
The United Kingdom (UK) has the second-largest economy of Europe and the sixth largest of the world. Its GDP was established at €2.4 trillion in 2019. With 67 million, the UK's population is a little larger than that of France.
British tourists are increasingly aware of sustainability when travelling. 45% of British tourists see this as an important element when booking a holiday. Another opportunity when targeting the British market is offering wellness, which is increasingly in demand by travellers from the United Kingdom. Another opportunity is adventure travel. The United Kingdom has Europe's largest adventure travel market.
Due to the coronavirus pandemic, the UK's GDP is expected to decline just like that of other European countries in 2020. The forecast is a decrease of 8.3% compared to 2019. It must be stated that this is just an expectation and may differ from the actual decrease, as the UK is still negotiating about the Brexit, which could potentially lead to a larger decrease in GDP.
The average holiday budget has decreased compared to last year, from €2,627 in 2019 to €2,108 in 2020. However, the British holiday budget still exceeds the budgets of the other main source countries by far. It is about 30% higher than what the Germans and the French will spend.
Packages provide value for money, a warranty for their vacation and ease of booking with a specialist. Therefore, 60% of British travellers choose to book a package. The endless stream of information and choice in travelling even makes 59% of the millennials want to pay extra for a tailor-made holiday that provides a service in which tourists feel confident. When booking a vacation, the activities and cultural experiences are the most important considerations. Sustainability is also an element of growing importance for British tourists.
The platforms that British tourists use to book trips are for the largest part online, as 81% of British travellers use a mobile phone, tablet or computer for this. When they are planning their trip, their primary information sources are search engines and friends, family and relatives. However, when they have chosen their destination, British tourists switch to the websites of online travel agents and hotel websites.
Tips:
Keep updated on Brexit news. Changes in the situation can potentially influence European tourist arrivals.
Invest in proper English information. Automatic translation by, for example, Google Translate may be helpful but is not accurate enough. It is essential to attract British tourists, and it is the most accepted language in Europe.
Look at sustainability trends in European tourism. British tourists are not the only tourists that are more concerned about sustainability.
France
France offers the third-largest source market, as it accounted for over 9 million trips to developing country destinations in 2018. Between 2014 and 2018, the number of French travellers going to developing country destinations had an annual growth rate of 2.3%. Therefore, France offers a less important source market than the German and British markets, but it offers over twice as many trips to developing countries as Italy. The French are very diverse in their choice of developing country destinations, partly due to their colonial history.
Hover your mouse cursor or pointer over the countries in blue in Figure 7 to see the number of trips by French travellers to your country in 2018.
After the UK, France has the third-biggest GDP of Europe and the seventh largest of the world, with about €2.3 trillion in 2019. Their population count is just over 65 million. Just like other European source countries, France is expected to have a serious decline in their GDP in 2020. Their GDP will decrease more heavily than those of other countries in Europe, and its forecast for 2020 is estimated at 10.6% less than 2019. The average holiday budget has decreased compared to last year, from €2,201 in 2019 to €1,522 in 2020. This is comparable to the holiday budget of the Germans.
The most important elements for the French when booking a trip are the local activities they can visit and participate in and the once-in-a-lifetime experiences. Most trips that French travellers take are relaxing holidays and sight-seeing holidays.
French tourists have very specific needs and find those very important. They value freedom during their trip and therefore prefer to travel independently and not join group tours. Furthermore, they do not like crowded places, as they would rather get a fresh view on something unique.
The French share some cultural aspects with the Germans. For example, both are very straightforward in their communication (you may also consider it rude). The French do prepare their holidays in a different way. The French are more spontaneous. Trips of 2 to 5 days are on average booked 36 days in advance. Trips between 1 and 2 weeks are generally booked 48 days before departure.
48% of all French tourists see visiting friends and relatives as the most important reason for their holiday. This is relatively high compared to the average EU citizen (38%). Especially former colonies, like Morocco and Tunisia, profit from these visitors.
Natural features/nature (58%) and cultural and historical attractions (36%) are mentioned most often as reasons to return to the same destination for a holiday in a poll by Eurobarometer (compared to 45% and 31% for the EU in total). Therefore, nature and cultural trips offer most opportunities when targeting the French market. The French have a very high preference for beach holidays as well.
Tips:
Provide a mini guide to French tourists with broad information about their destination, like spots to visit, pricing and local cultures.
Offer information and tour guides in French. People from France are very proud of their native language.
Read the Market and Trade Profile: France by VisitBritain for a detailed profile of the French traveller, insights into their booking behaviour and details on how to reach them.
Seduce the French with beautiful nature trips. Do so by writing travel blogs. An interesting platform in France is Votretourdumonde.
Italy
Italy is the fourth market for developing country destinations, with 4.3 million trips to developing country destinations in 2018. Between 2014 and 2018, the number of Italians travelling to developing country destinations had an annual growth rate of 1.4%.
Hover your mouse cursor or pointer over the countries in blue in Figure 9 to see the number of trips by Italians to your country in 2018.
The GDP of Italy in 2019 was €1.7 trillion. Italy has the eighth-largest economy of the world and the third largest of the EU. Italy has a population of 60 million.
Italy was known as one of the first places in Europe where the COVID-19 virus landed, and it has already seen some hard impacts with a relatively high death rate and a serious economic impact. The decline in GDP in 2020 for Italy is estimated at 11.2%, which is above the average in Europe. However, a recovery is expected for the Italian GDP in 2021, increasing by 6.1% compared to 2020. The overall holiday budget of Italians has dropped from €1,757 in 2019 to €1,377 in 2020 and is lower than the budgets of German, British and French tourists.
Italian tourists still prefer travel agencies over online bookings, as only 39% of Italians are booking online compared to the 49% average in Europe. They feel a need for a more personalised booking service because they prioritise the authenticity of their holiday. The preferred accommodation types for Italian travellers were hotels and tourist villages. The popularity of such accommodation also increased in 2018 by 6.7%. Italians have the highest preference of all Europeans for beach tourism.
Spain
With 3.8 million trips to developing country destinations in 2018, Spain is the fifth European source market. Between 2014 and 2018, the number of Spanish travellers going to developing country destinations showed an annual growth rate of 5.5%. Morocco in particular is an important destination. Due to strong historical ties, tourism for the purpose of visiting family, friends and relatives offers opportunities for Moroccan suppliers. Other important destinations are Mexico, Thailand, Turkey and China. Many Spanish-speaking countries, including the Dominican Republic, Peru, Ecuador and Cuba, are also in the top 10 destinations.
Hover your mouse cursor or pointer over the countries in blue in Figure 11 to see the number of trips from Spain to your country in 2018. 
Spain has a GDP of €1.2 trillion, which is the fourth-largest of the EU, and has a population of 47 million. Even though Spain only has about half the population of Germany, the number of flights taken by Spaniards leaving Europe is comparable to those of Germany, especially in the high season.
Just like Italy, Spain has been hit very hard by the pandemic, still accounts for a large part of the infections and has already been in several lockdowns. This all results in reduced economic growth, and the GDP in 2020 is even expected to decline by 10.9%. However, it is estimated that the GDP will recover fast in 2021, with a growth of 7.1% in comparison to 2020. The overall holiday budget of Italians has dropped from €1,798 in 2019 to €1,347 in 2020, which is comparable to the budget of the Italians but lower than the budgets of German, British and French tourists.
Another obstacle in aiming to attract Spanish tourists can be their enormous concern around health-related issues. Of all Spanish tourists, 93% are concerned about their health and 26% are afraid to be infected by COVID-19. Both numbers are the highest in Europe.
The budget of Spanish tourists for holiday trips decreased from €1,798 in 2019 to €1,347 in 2020 and is now below the European average of €1,604. However, this decline is partly caused by a change in the travelling behaviour of the Spanish post-COVID-19. Only 21% of people in Spain intend to travel abroad in the year 2020. This is the lowest percentage in Europe, which has an average of 35%. In 2020 and 2021, domestic tourism is expected to be very popular among Spanish tourists. Out of all trips in 2020, 83% are domestic, against a 58% average in Europe, and the travel plans for 2021 are still 50% domestic, against a 27% European average.
The Netherlands
With 3.6 million travellers to developing countries in 2018, the Netherlands is the sixth-most important source country. Between 2014 and 2018, the number of Dutch travellers going to developing country destinations had an annual growth rate of 1.5%. Turkey is by far the most important developing country destination.
Hover your mouse cursor or pointer over the countries in blue in Figure 13 to see the number of trips from the Netherlands to your country in 2018. 
The Netherlands has a relatively high GDP per capita, which is 13 to 30% higher than those of the UK, France and Germany. This means that Dutch tourist have a relatively high income and have more money to spend on holidays.
The impact of the pandemic is somehow manageable for the Dutch. Their decrease in GDP in 2020 is below the average in Europe and is estimated at 6.8%. The recovery in 2021 is estimated at 4.6%.
The most important aspects of choosing a destination for Dutch tourists are the variety of possible activities in the destination and a sun destination. Dutch people tend to be price-conscious holiday bookers who look for good value for their money. The largest age groups of Dutch tourists are 65+ and the age group 45-64. The age group 45-64 spends the most on holidays with an average of €1,687. Online bookings are the most popular among the Dutch, as 80% of all bookings are made online.
The Dutch are in general very direct in their communication. Dutch tourists are often good English speakers, and some speak German and French as well.
Eastern Europe
Before the coronavirus, Eastern Europe was an ever-growing market and had the highest growth rates of trips to developing countries from Europe. People from Poland took 28% more trips to developing countries in 2018 than in 2017, Bulgarian citizens travelled 27.4% more to developing countries, the Czech Republic had a growth of 35.8% and Lithuania even had a growth rate of 55.7%.
Countries from Eastern Europe take relatively many trips to developing countries compared to other European countries. Polish travellers take 24.4% of their trips to developing countries, Bulgarian tourists take 26.2% of their trips to developing countries, Hungarian citizens 28.7% and Greek travellers 34%. Most travellers in these countries are first-generation travellers. They generally choose mainstream holidays like sun & beach holidays and round trips.
It is important for you to realise that tourists from these countries focus on a few developing country destinations. Most of their destinations are neighbouring destinations. Out of all Hungarian developing country tourists, 82.3% visit Ukraine. Bulgarian tourists visiting a developing country also have a very specific focus – about 90% visit Turkey. While Greek tourists also show much willingness to visit Turkey (48%), many Greeks travel to the neighbouring Albania (37.6%). Polish developing country travellers mostly visit Ukraine (46.5%), followed by Belarus (18.1%) and Turkey (12.0%).
Tips:
Focus on 2 to 3 European priority countries. The European source market consists of many countries with different characteristics. Focus on Eastern European countries nearby, if possible. They show great willingness to visit your country.
Check your country's air connectivity when selecting a target country in the EU. Can travellers easily reach your country, and are flights affordable? Also, read our study on analyses of air flows of European travellers to find out how many Europeans fly to your destination. 
Look at our article on emerging Eastern European markets for more detailed information.
Forecast on travel preferences
After several European countries have been in lockdown in the past months, and perhaps will be again in the coming months, it is expected that the tourism industry will change. In a survey by Brandwatch, people from Germany, the UK, France, Italy and Spain were asked what is going to be different for them when they take their first trips again.
Italian and Spanish tourists plan to travel or spend their holidays in a different way than before, while German and French tourists tend to travel more or less the same. In the United Kingdom and Germany, respectively, 70% and 69% prefer to keep travelling internationally, whereas Italians and Spanish would prefer a vacation within their own borders.
The first thing on people's lists for their first vacation after lockdown is very different per country. Germans are most likely to take a beach vacation, a city break or a nature retreat. People from the UK are tending towards a staycation, which means they are not going to travel commercially, or a beach holiday. French tourists prefer a beach vacation or a staycation. Italian travellers would love to take a beach holiday again. Spaniards are most likely to take a beach vacation, a nature retreat or an adventure/sports trip.
However, at this time, people do want to keep close to their homes, as they do not yet find it safe to travel further away. People feel safe going to a restaurant, hairdresser or dentist. However, they are less sure about flying on a plane, staying at a rented/holiday apartment or staying at a hotel. Tourism in the future will also be more focussed on enacting social distancing everywhere. In the past, crowded cities and attractions were not a problem for many tourists, but people nowadays make sure they only visit places where they have the lowest risk of possible infection. Figure 8 shows the most searched-for holiday destinations per country for 2021 using Google.
Figure 15: Most popular searches for 2021 holiday destinations per country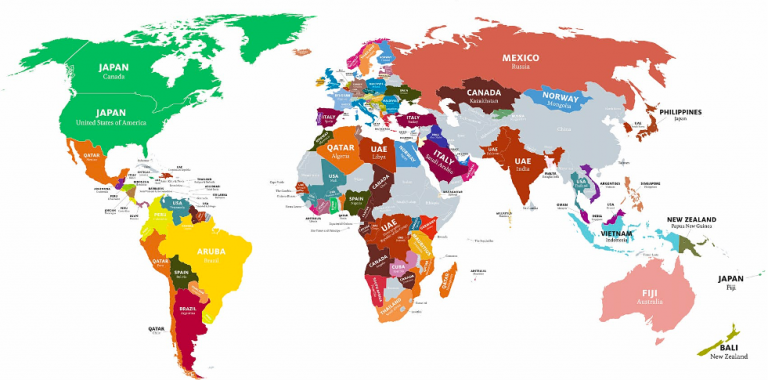 Source: Kuoni
The demand for tourism was at a historical low at the end of March, but searches for holiday destinations were already up 124% in June, which means that travellers are planning vacations again. The most searched-for destination around the globe was Dubai. The second-most popular destinations were Qatar, Canada and the USA, and the third location was Egypt. The most popular destination for Europeans was the Maldives, which aligns with the preferences of the United Kingdom, where the Maldives are the hottest topic, just ahead of Mexico and Bali.
3.

Which tourism products (or services) from developing countries are most in demand from European markets?

When attracting European tourists, it is very important to know which markets offer most opportunities. The niche markets offering most opportunities for small and medium-sized developing-country entrepreneurs are wildlife watching, walking, birdwatching, ecotourism and sun & beach tourism. We think these niche markets offer most opportunities because they are both high in demand and make use of spacious and rural destinations, which increases the chances of a fast recovery from the COVID-19 pandemic. Although sun and beach tourism is offered most by European tour operators, we consider it the least interesting market in this list, because it is mainly dominated by tour operators offering cheap all-inclusive package deals.

Besides this top 5, we think tangible and intangible heritage tourism offer many opportunities, because these are offered by many European tour operators. However, because these niches mainly focus on urban destinations, we mainly consider these markets important in the long run. A final market we want to point out is visiting friends and relatives tourism (VFR). Covering 20% of the total market, this market is huge in size and is also expected to recover at an above-average pace.

In this chapter, we will further discuss the niche markets offering most opportunities, structured by the market segments these niches belong to.
Nature tourism
Compared to other segments of tourism, nature tourism is expected to have a swifter recovery from the coronavirus pandemic. Rural destinations are expected to gain popularity over urban areas. The ongoing uncertainty about the situation makes people less eager to travel to cities and very populated areas and drives them to rural destinations. For a holiday trip in 2020, 14% of Europeans prefer a countryside break, whereas only 12% of the Europeans took a city break.
Nature tourism is often part of a longer, more diverse trip – for example, combining a city trip with an escape to more rural destinations. Therefore, it is important for tourism providers to offer multi-purpose products and services. There is also a growing amount of subniches within the segment, which originate from product diversification and tourists' growing preference for unique experiences. In order to be as effective as possible in this branch, it is necessary to research visitors' motivations and expectations and alter the products accordingly.
Almost all (95.6%) European tour operators offer services related to one or more niche markets within nature tourism.
Table 4: Percentage of European tour operators that is active in a primary nature tourism niche market
| | | |
| --- | --- | --- |
| Niche market | Definition | Percentage of European tour operators active in this niche |
| Sun & Beach | Sun and Beach tourism refers to holidays taken for the purpose of staying at or near beaches. | 65.6% |
| Wildlife Watching | Wildlife watching involves viewing wildlife in their natural habitat. It includes different types of safari such as 4x4, walking, fly-in, river/canoe and safaris on horseback. The niche also includes trips to view marine life. | 57.7% |
| Walking | Walking tourism refers to trips in which Walking in the natural environment forms a significant part of the trip. It includes Hiking and Trekking, Long Distance Walking and specialist techniques such as Nordic Walking. | 49.8% |
| Ecotourism | Ecotourism refers to an environmentally based tourism experience that is sustainable, has low impact on the natural environment and helps to preserve the long-term nature of the community/project/site. | 42.3% |
| Birdwatching | Birdwatching is defined as tourist travel for the specific purpose of observing wild birds in their natural habitat. The niche is sometimes referred to as Birding and Avitourism. | 37.3% |
| Fishing | Fishing tourism involves travel away from home for the primary purpose of fishing, in either freshwater or saltwater. Fishing is sometimes referred to as Angling. | 13.6% |
| Cycling | Cycling tourism refers to recreational visits away from home which involve leisure cycling as a fundamental and significant part of the trip. It includes cycling types such as Road Cycling, Mountain Biking and Cycle Touring. | 9.3% |
Sun and beach tourism is the number 1 niche market offered by European tour operators. Also, when going on an adventurous holiday like a safari, many Europeans like to end their vacation relaxing on a beach. Wildlife activities and walks are also enormously popular among Europeans. In general, Table 4 gives you an idea of what Europeans like when on vacation, as well as an indication of how European tour operators cater to European tourists. However, you need to realise that the competition in these markets is also enormous. This means you need to find ways to distinguish yourself from your competitors.
What you can do with Table 4 really depends on the niche market your company is in. If you operate in a very popular niche market, you could target almost all European tour operators with an appealing offer, if they are active in your country. However, you need to really focus on your competitive elements. When operating in a more specific niche market, you really need to find those tour operators that fit with your product. These might be:
Tour operators that offer your product in your market already. In this case, a decent offer might be very interesting if it is comparable to or better than your competitors;
Tour operators that offer your product in another destination. You might convince tour operators to add your destination to their current offering;
Tour operators that offer similar products for your destination. If you are operating in sailing tourism, for instance, you could target tour operators that sell activities in other water sports or even have a diverse offering in sun and beach tourism.
Wildlife watching
Wildlife watching is the second-largest niche market and is the largest in some African countries. Within wildlife watching, there are many different target groups. While most European travellers will be interested in seeing iconic wildlife (like lions, giraffes, buffalos and so on), wildlife enthusiasts are a very interesting target group as well. This target group has very specific interests, so you need more expertise when dealing with this target group. The United Kingdom and Germany offer the largest source markets for this niche.
Walking tourism
Walking tourism is the third-most offered niche market by tour operators and can be divided into several specialist niches: Nordic walking, long distance walking and hiking/trekking. Specific passion groups are walking charity events, coastal walking and walking on volcanos. For most target groups, walking could be an interesting add-on to your current services. You could also offer a specific hike for a specialist target group.
Some examples:
Offer a few days' hike along local villages including a homestay for a Generation Y or Z target group interested in community-based tourism.
Organise a 1-hour trip with a guide for a multigenerational target group to add an activity suitable for everybody.
Organise a coastal walk to diversify your sun and beach offering.
Ecotourism
Ecotourism refers to an environmentally based tourism experience that is sustainable, has low impact on the natural environment and helps to preserve the long-term nature of the community/project/site. Specialist niche markets within this niche are agritourism, rural tourism, dark sky tourism and camping.
Europeans tend to be aware about their possible impact on the climate and the environment. Europe is therefore the largest market for sustainable tourism and is even expected to have a 51% market share in the segment. Many retailers in Europe, 85%, report increased sales on sustainable products in the past 5 years. Especially France and the Netherlands, 90% and 89%, respectively, are seeing increased popularity of sustainability.
The coronavirus has not been good for the tourism industry, but it does come with opportunities. As the whole industry is laid low, it gives the parties in tourism a chance to reorganise their products and services in a more sustainable way, increasing the demand for sustainable tourism.
Birdwatching
Birdwatching is very much related to wildlife watching. Specialist niches are hardcore birding, enthusiastic birding and casual birding. In this niche market, the United Kingdom and the Netherlands are the main source markets. When targeting this market, it is very important to make your accommodation bird friendly. This can, for example, be done by providing nesting sites, offering fresh water sources and placing carefully placed feeders. Besides natural resources including a wide variety of birds and/or specific rare or iconic species, you need to have a lot of expertise to supply to this market.
Sun and beach tourism
The sun and beach tourism market is the most popular niche market for Europeans. The main European source markets are France, Germany and the United Kingdom. Therefore, it brings many opportunities, but it is also a highly competitive market. Within this niche market, the target group of baby boomers is the largest. This group mostly aims for all-inclusive packages. Margins are really low in this market, so you need sufficient economies of scale to be able to compete. However, the Generation Y and Z market also offers opportunities when targeted with a diversified range of services. Keep in mind that this target group looks for unique and preferably life-changing experiences.
Adventure tourism
Adventure tourists are by nature more adventurous people and therefore more eager to take risks. These tourists will probably be among the first tourists to rediscover remote and long-haul destinations. Moreover, adventure tourists are usually more loyal to their tour operator. Compared to other tourism segments, adventure tourists have more trust in their tour operators. If a tour operator considers a destination safe, these tourists will go.
The adventure tourism market is expected to recover at a faster pace than other tourism markets. It is even estimated that travel spending on this segment in 2021 will be close to the pre-COVID-19 level, with only 7% less than in 2019. As many of the activities within adventure tourism can be done outdoors at a social distance, it is expected that these activities can continue, while activities with many people concentrated in a single place have to stop.
Most European tour operators offer services related to one or more niche markets within adventure tourism. This includes niche markets that have a crossover with segments of nature tourism or cultural tourism, like wildlife watching, walking and many more. For a complete overview of all niches within adventure tourism, consult our report on opportunities in adventure tourism, or look at this infographic with an overview of how all segments are divided into niche markets.
Table 5: Percentage of European tour operators that is active in a primary adventure tourism niche market
| | | |
| --- | --- | --- |
| Niche market | Definition | Percentage of European tour operators active in this niche |
| Adventure | Adventure tourism holidays are characterised by Adventure activities, the Natural environment and Cultural experiences. | 32.3% |
| Adrenaline | Adrenaline activities refer to hard adventure activities which require a high level of expertise to take part in and usually involve an element of personal risk. | 10.4% |
| SAVE | SAVE tourism includes 4 major travel profiles: Scientific, Academic, Volunteering and Educational. The sector is characterised by the acquisition of knowledge for personal or professional reasons, and volunteering is the most common link between all 4 profiles. | 5.4% |
The niche markets in adventure travel that offer most opportunities also overlap with either nature tourism or cultural tourism. Therefore, no additional adventure tourism niche markets are addressed in this paragraph.
Cultural tourism
Cultural tourism involves travel to experience and learn about the culture of a country or region which includes tangible and intangible features of a destination's history and heritage, culture, lifestyle, art, architecture and religion which have shaped the society's way of life.
Most niche markets in cultural tourism have an urban destination. This means that tourists have less space, resulting in higher COVID-19 infection rates. If you are a supplier in this segment, it is even more important to take safety measures into account.
Table 6: Percentage of European tour operators that is active in a primary cultural tourism niche market
| | | |
| --- | --- | --- |
| Niche market | Definition | Percentage of European tour operators active in this niche |
| Intangible Culture | Intangible cultural heritage refers to experiencing the living culture of local people, such as attending music festivals. | 51.6% |
| Tangible Heritage | Tangible (Built) Heritage refers to visits to cultural attractions that involve built heritage, such as a museum, or a man-made architectural structure, such as the pyramids. | 50.5% |
| City Breaks | City breaks refer to short break travel in town/city destinations and involve cultural activities around tangible, intangible and food and drink activities, both during the day and at night. | 30.5% |
| Food & Wine | Food tourism is defined as the act of travelling for a taste of place in order to get a sense of place. It is sometimes referred to as Culinary tourism or Gastronomy tourism, and wine and other beverages are included in the definition. | 25.1% |
| CBT | Community-based tourism (CBT) refers to tourism experiences hosted and managed by local communities which generate direct economic benefits and are sustainable and responsible. | 21.1% |
| Religious/spiritual | Religious and Spiritual tourism refers to travel for religious or spiritual purposes, such as undertaking a pilgrimage and visiting sacred sites. | 5.4% |
Tangible and intangible culture
Tangible (Built) Heritage refers to visits to cultural attractions that involve built heritage, such as a museum, or a man-made architectural structure, such as the pyramids. Interesting specialist niche markets are museums, art galleries, historic properties, places of worship, architectural tourism and other visitor attractions.
Intangible cultural heritage refers to experiencing the living culture of local people, such as attending music festivals. This niche market can be divided into the specialist niches music festivals and events, films, DNA/genealogy, battlefield tourism, dark tourism and other festivals/events.
Making a description of all cultural sites (both tangible and intangible) in the surroundings is an easy way to create content for your website, which increases the chances of being found via search engines. It also contributes to the attractiveness of your trip or accommodation.
Because both niche markets are mostly organised in urban destinations, we expect these niche markets to take longer to recover. Therefore, tangible and intangible tourism mainly offer opportunities in the long run.
Besides the niche markets described above, we would like to emphasise visiting friends, family and relatives (VFR), which is not a segment or niche market but can overlap with all segments and niche markets mentioned above.
Visiting friends, family and relatives
According to a study by IPSOS in 2020, 20% of Europeans travelled for the purpose of seeing friends, family and relatives abroad. Because these travellers mostly stay with friends, family and relatives, it will be easier for this target group to travel in times of the coronavirus. Since most people feel safer in contact with people they are close with, we expect this market to recover faster at an above-average pace.
VFR can be seen as a sustainable form of tourism. The demand is relatively stable (less seasonal) and trips are generally longer and encourage local tourism, because the host and the tourist often enjoy trips together. Tourists visiting friends and relatives in your country often become ambassadors in Europe, encouraging 'regular' tourists to visit your country as well.
Although the top 3 destinations for visiting friends and relatives are Estonia, Latvia and Finland, developing countries with historical connections with Europe will profit most from this type of tourism. Some important examples are Turkish 'guest workers' in Germany returning to Turkey and Moroccan immigrants living in France visiting their families.
VFR tourists can become an interesting bridge for suppliers that currently focus on the domestic or regional market but would like to attract European tourists as well. Many VFR tourists become ambassadors of your country when returning to Europe.
Tips:
Try to collaborate with other stakeholders in the destination, such as local residents and businesses, also from other sectors, to offer more sustainable products. They could be local guides or experts, providers of local food and local accommodation, local farms or factories, and more (look at the website of Tourism for SDGS for an example in East Africa).
Increase sustainability by finding out which items contribute most to plastic waste. Make a top 3 and start with eliminating those.
Inform tourists about local events. This gives them another way of connecting with the area. VFR tourists are more attached to the area where their friends and family live or where their roots are.
Ask VFR tourists for feedback. Because of their special relationship with the destination, VFR tourists are often more willing to contribute.
Read more information in our study on trends in tourism on how to increase sustainability or read about the VFR target group in our studies on diaspora tourism.
This study has been carried out on behalf of CBI by Molgo and ETFI.
Please review our market information disclaimer.
Follow us for the latest updates
Search
Enter search terms to find market research