The EU Green Deal – How will it impact my business?
In 2019, the European Commission launched the European Green Deal (EGD). The EGD is a package of actions to reduce greenhouse gas emissions and to minimise the use of resources while achieving economic growth. This means that products sold in the EU market will need to meet higher sustainability standards. If you export to the EU, you want to know how the EGD policies can impact your businesses and prepare yourself for those impacts.
1.

What is the European Green Deal?

The European Green Deal (EGD) is the EU's response to the global climate emergency. It comprises a set of policies with the aim to transform the EU into a climate-neutral and resource-efficient economy by 2050. The EGD covers all sectors of the economy: from agriculture to energy and from transport to construction. As such, the EGD includes key policies and measures such as the Farm to Fork Strategy and the New Circular Economy Action Plan.

The EGD policies will likely impact trade within and imports to the EU, and it is possible that environmental and sustainability standards will become stricter at a later stage. This will mean more requirements for businesses from developing countries that export to the EU. Many decisions will be taken in the coming 2 years, and these decisions will determine the extent of the impact on business. In any case, it is important to be informed about the targets and ambitions of the EGD in order to be prepared to comply with higher standards.
A roadmap towards a climate-neutral Europe
The EGD is a comprehensive plan for a carbon-neutral Europe. It provides a roadmap with actions to radically cut down greenhouse gas (GHG) emissions by at least 55% by 2030 (compared to 1990 levels) and turn the climate crisis into an opportunity to grow more sustainably. The EGD outlines investments needed and financing tools available to achieve a climate transition. In some areas, the EGD is also proposing new and improved policies to ensure this transition.
Ambitious goals
The EGD aims to preserve, maintain and improve the EU's natural resources, land and ecosystems as well as to protect the health and well-being of European citizens against environmental risks and the impacts of climate change. To achieve the climate goals, up to 2% of Europe's GDP will go into greening the economy, including new infrastructure, public procurement, R&D and industrial reorganisation.
The EGD also seeks to lead the way in global action against climate change. But the EU cannot achieve its climate goals alone, as it requires the participation of its allies and trade partners worldwide. The EU recognises that there will be some regions, industries and workers that will find it more difficult to make this transition. Therefore, the EGD will take a fair and inclusive approach to achieve a just transition.
Key elements of the EGD
The European Green Deal was presented on 11 December 2019 by the European Commission, and the first set of legislative proposals was launched on 14 July 2021. These proposals include a series of actions in the near future, ranging from a European Climate Law to establishing and developing cross-cutting strategies to catalyse the transition in aspects of economic importance such as energy, industry, mobility, pollution, biodiversity and food.
Key elements of the EGD
The EGD is comprised by the following policy areas:
A higher level of EU climate ambition for 2030 and 2050.
Achieve zero pollution in an environment without toxic substances.
Clean, affordable, and safe energy supply.
Preservation and restoration of ecosystems and biodiversity.
Industry mobilisation for a clean and sustainable economy (Circular Economy Action Plan).
Achievement of a fair, healthy, and environmentally friendly food system (Farm to Fork strategy).
Efficient use of energy and resources in construction and renovation.
Acceleration of the transition to sustainable and smart mobility.
2.

What is the Farm to Fork Strategy?

The Farm to Fork Strategy (F2F) is 1 of the main steps to make Europe climate neutral by 2050. Fair, healthy and environmentally friendly food systems lie at the core of F2F. F2F sets out both regulatory and non-regulatory initiatives to support a just transition.

F2F was launched on 20 May 2020 with the goal to reduce the EU food system's environmental and climate footprint, as well as to reverse biodiversity loss. In this context, F2F seeks to reduce food waste, to ensure that there is a sufficient and affordable supply of foods for its citizens, while also guaranteeing that farmers receive a fair price for their products and that the EU remains competitive on a global scale (Figure 1).

Figure 1: The Farm to Fork (F2F) strategy in short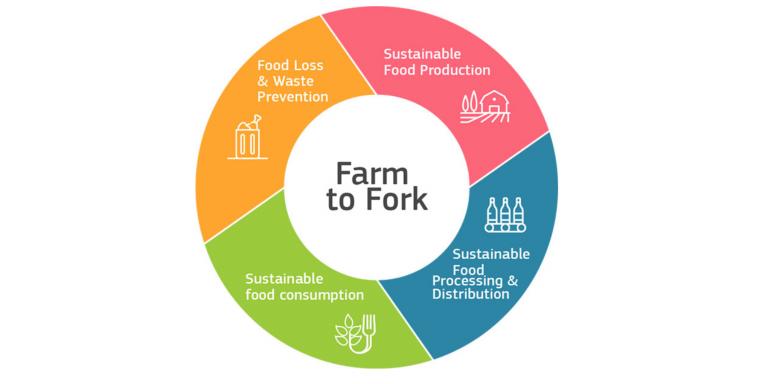 Source: European Commission (n.d.)
Main targets of the F2F
F2F has set 5 main targets to be reached by 2030:
Reduce the use and risk of chemical pesticides by 50%.
Reduce nutrient losses by at least 50%.
Reduce the use of fertilisers by at least 20%.
Reduce sales of antibiotics for farm animals by 50%.
25% of agricultural land is to transition to organic production.
As part of the actions required to achieve these objectives, the EU is planning the revision of many existing regulations for food and agriculture, as well as the creation of new rules and the improvement of coordination tools within the EU (Table 1). Promotion programmes have also been proposed, establishing a sustainable food labelling system (Table 2 and Table 3), including organic products in schools and public institutions and the adoption of an Action Plan for Organic Agriculture 2020-2026.
Table 1: Sustainable food production actions to deliver the Farm to Fork Strategy
Table 2: Ethical food production actions to deliver the Farm to Fork Strategy
Table 3: Nutrient content, food safety and labelling actions to deliver the Farm to Fork Strategy
But the EU food system depends on global supply chains: from animal feed to spices and tropical fruits. Therefore, to achieve the goals of F2F, EU trade policy will boost cooperation with countries outside the EU to improve nutrition and to alleviate food insecurity by strengthening the resilience of food systems and reducing food waste.
Areas of international cooperation will include:
Food research and innovation;
Agroecology;
Sustainable landscape management and land governance;
Conservation and sustainable use of biodiversity;
Inclusive and fair value chains;
Prevention of and response to food crises, especially in fragile contexts;
Resilience and risk preparedness; and
Sustainability embedded in humanitarian and development interventions.
F2F is expected to create big changes in the way that food is produced, transported, distributed and marketed. The most immediate impact of the F2F strategy on businesses that export to Europe will be from the New Common Agricultural Policy, which will enter into force in Q1 2023. Businesses from non-EU countries exporting to the EU will have to comply with stricter regulations regarding labelling and information.
Figure 2: F2F will impact the way food sold on the EU market is produced, transported, distributed and packaged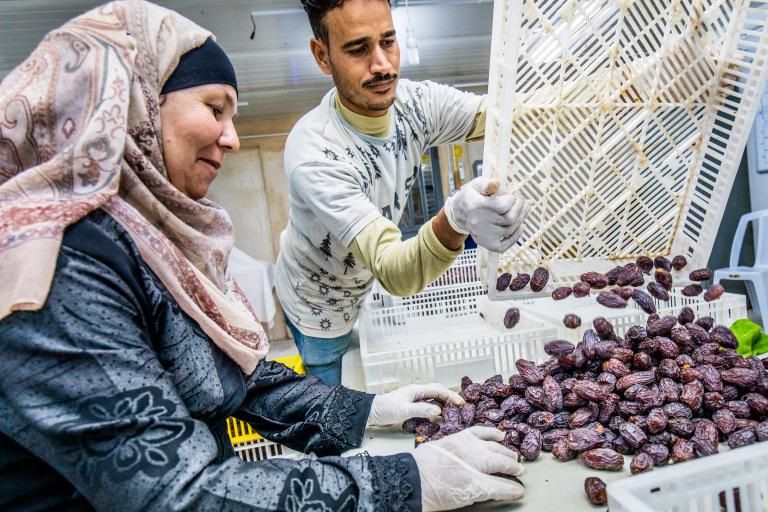 Photo: CBI
There are also potentially impactful regulations entering into force in the long term (3 to 10 years). For example, there is the Action plan for integrated nutrient management to reduce pollution from fertilisers, which will include considerations of impacts of fertilisers not only on human health, but also on the environment. This will likely result in more restrictions for the type and amounts of chemical fertilisers used in agriculture, with consequences for the business model of enterprises under a conventional agriculture regime.
We still know very little about the requirements that new or revised regulations will entail. It is likely, however, that these new rules will bring changes in:
The types of materials used to package raw materials and specially processed products;
The type and amount of pesticides allowed in agriculture;
The type of genetic technologies allowed in plant breeding and cultivation;
The type of information provided to consumers, including front-of-pack labelling and other marketing standards.
3.

What is the Circular Economy Action Plan?

The EU's Circular Economy Action Plan (CEAP) is a set of interrelated initiatives which aim to reduce pressure on natural resources by transforming the design, production and consumption of products so that no waste is produced. These initiatives target many different materials and commodities such as packaging, technology, vehicles and textiles.

The CEAP is sometimes referred to as the 'new CEAP' because it builds on the first CEAP adopted in 2015. It will be more coherent and cover more products and materials than before.

Measures that will be introduced under the new CEAP aim to:
Make sustainable products the norm in the EU;
Empower consumers and public buyers in the EU;
Focus on the sectors that use the most resources and where the potential for circularity is high, including packaging, plastics and textiles;
Ensure less waste;
Make circularity work for people, regions and cities;
Lead global efforts on a circular economy.
The first plan resulted in some significant steps towards developing a resource-efficient economy, including a Directive on single-use plastics and mandatory EcoDesign requirements for energy-related products like household products, motors and power supplies. However, many of the measures proposed in the first CEAP remained voluntary, with few entering official legislation by the beginning of 2019.
Figure 3: A circular economy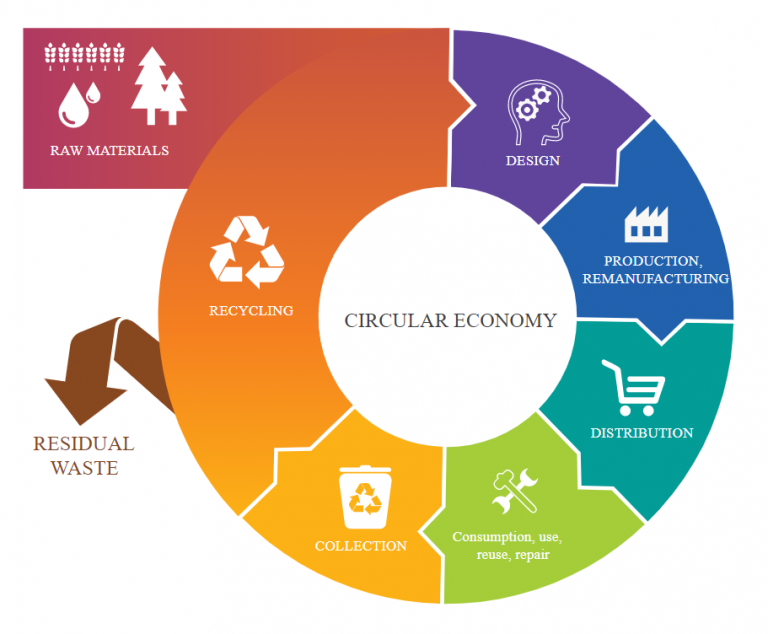 Source: Parliament News (2021) "Circular economy: definition, importance and benefits."
Of the actions that are relevant to SMEs from developing countries (Table 4), many have to do with reviewing current laws, assessing the impact of transitioning to a circular economy and holding public consultations. The Commission is also proposing 3 new laws in 2021 which will still need to be reviewed before becoming law. This means that, if these proposals are reviewed and approved, they likely will not be implemented until 2023 or later.
Table 4: Summary of relevant actions by the European Commission to implement the CEAP
Source: Profundo summary based on the European Commission's reference on CEAP implementation and other European Commission announcements. Note: "Relevant policies and legislation" means relevant to the CBI sectors covered in this research and relevant to production/trade in non-EU countries
In the short term (1-2 years), there will be little difference in the way European companies import goods and services because of the CEAP, since no laws will be implemented in this time.
There are, however, changes in the market from bigger players in affected sectors who are responding to changing norms and practices. Already, there are signs that buyers want more recycled packaging, more recycled textiles and generally more information from suppliers about sustainability aspects in the supply chain.
Figure 4: There are indications that EU buyers want more recycled textiles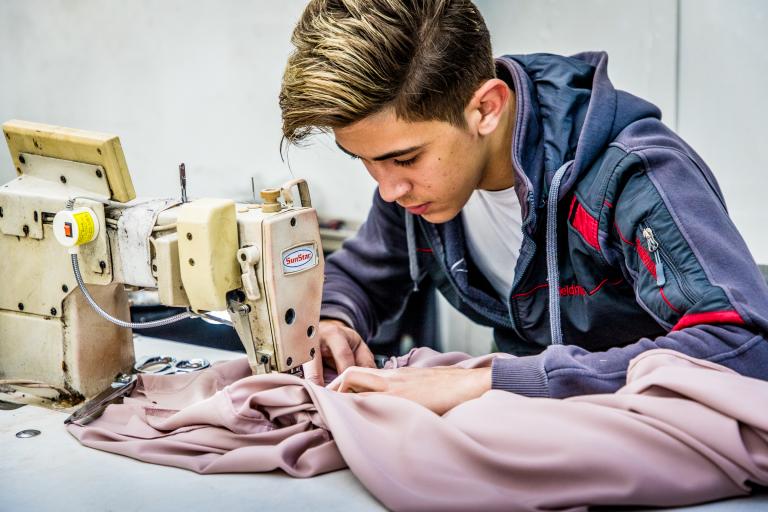 Source: CBI
In the long term (3-10 years), laws and regulations may be put in place to determine how products are made, packaged and reported on in the European market. The main things that SMEs exporting to Europe will likely need to adapt to are:
Laws on creating sustainable products which minimise waste throughout the life cycle;
Laws limiting how much packaging and what type of packaging you can use for your products;
Demands for more information on processing and production practices so that buyers can make 'green claims' and European consumers can be informed about their purchasing choices.
See the section below for more information on each potential law which may emerge from the CEAP and tips for how to deal with it.
4.

How does the European Green Deal impact imports to Europe?

Imports into Europe will be impacted by the EGD in different ways. In addition to setting higher sustainability standards in primary production and industrial processes, the EGD will require SMEs to provide more information about the products they export to Europe. This will mean increased costs in the short term and increased competitivity in a sustainable global market in the long term.

The European Green Deal will change existing norms to make businesses and supply chains more sustainable. This will impact imports to Europe in the following ways:
Higher standards for social and environmental sustainability in production and processing of goods and services
Even if laws and regulations do not change, or do not come into practice for many years, the market is shifting towards products that are proven to be made in a sustainable way that is respectful of human rights. In other words, buyers, especially larger companies, are looking for goods that are produced, processed and packaged using high standards for respecting human rights and the environment. Major global retailers have agreed on a 2-year pact with garment workers and factory owners in Bangladesh, extending a pre-existing agreement that makes retailers liable to legal action unless their factories meet labour safety standards.
Basically, all large food and beverage brands have made commitments to sourcing agricultural products responsibly, and fisheries sectors are also following suit. In the area of apparel and textiles, companies are also communicating their intention to create a sector that respects human rights and sources sustainable materials. For example, high street retailer Zara announced 2 years ago that it would only be using sustainable fabrics by 2025.
All of this means there is an increased demand for sustainably produced goods and services. The laws and measures being proposed under the European Green Deal will only make this demand stronger. This presents a huge opportunity for SMEs which are already producing food and textiles in conformance with high sustainability standards, like organic.
Increased demand for information on production and processing practices
Various laws are being discussed to increase the responsibility of European manufacturers and retailers to explain where and how goods are being produced and what impact these have on people and the environment. These include new laws on human rights and environmental due diligence, as well as regulations on non-financial reporting. See the sections below for more information on these types of regulations.
In addition to this, voluntary sustainability initiatives from certification schemes and companies' own initiatives have also increased the availability of goods marketed as sustainable. Today, in some sectors, sustainable-certified goods occupy a significant portion of the market (Figure 3). Coffee has been sustainable-certified the longest, for over 30 years. Other certified commodities have seen their share in their markets grow in the last 10 years. In some cases, this growth started even earlier. Seafood production, from both wild catch and aquaculture, is also increasingly expected to comply with basic sustainability standards.
Search
Enter search terms to find market research