10 tips for finding buyers on the European tourism market
The European tour operator market is substantial and competitive. However, the market has changed since the beginning of the COVID-19 pandemic and most tour operators are experiencing difficult times. Many have had to reduce staff numbers and have either discontinued or postponed scheduled trips. Some have not survived. Nevertheless, as tourism resumes, there will be new opportunities for suppliers to work closely with European buyers, assuming new health and safety regulations and protocols can be implemented to keep customers safe.
1.

Know your market and who you are targeting

It is important that you understand the market you are planning to target. The tourism sector has many niche segments, each with its own individual needs. Market research will allow you to understand the needs of the market you are targeting. CBI has published several studies covering specific European tourism market segments, such as adventure tourism, culinary tourism, nature and ecotourism and wildlife tourism, which give indications of the types of visitors and their motivations for travelling.

For more information on which European tourism market segments and niches you should target, browse the CBI's interactive infographic, Attracting tourists from Europe - which segments and niches?

European traveller needs and desires are changing. The pandemic has increased the demand for sustainable, meaningful and unique travel experiences as travellers are keen to minimise their negative impact on a destination and make a positive contribution to local communities and economies. Booking habits are also changing as more people book holidays, tours and activities online.

As a result, buying routes in the European market include both traditional and new channels. The key buying channels in the European market are the following:
Specialist tour operators service a particular type of traveller or niche segment and a relatively small number of travellers. Examples of adventure tourism operators include Belgium's' Anders Reizen, which specialises in holidays for hikers; Better Places Travel (Netherlands) specialising in tailor-made, family and impact travel; Nomade Aventure (France), which does adventure trips; and Intrepid (UK, Global), one of the world's largest small group tour operators for adventure travellers.
General tour operators cover many market segments and cater to large numbers of travellers. Examples of these include DER Touristik (Germany), Sunweb (Netherlands) and Jet2 Holidays (UK).
Travel agents usually sell holidays on behalf of tour operators.
Online travel agents (OTAs) sell a variety of travel products online. Some of the biggest OTAs focus on accommodation, flights and car rental such as Booking.com and Expedia. Others specialise in selling tours, activities and experiences. Viator is the largest online marketplace for tours, activities and attractions and is owned by Tripadvisor. Operators that post their services on Viator will also see their postings on Tripadvisor. Other OTAs that are important and growing include GetYourGuide, Klook, which specialises in the Asia/Pacific region but is branching out globally, and Airbnb Experiences.
Specialist OTAs focus on a particular niche or segment, such as Responsible Travel (which sells holidays that are sustainable on behalf of many of the major tour operators), Safaribookings (selling African safari holidays on behalf of tour operators in Africa and elsewhere), EatWith and Traveling Spoon (local food experiences hosted by local people and communities), and Blue Sky Wildlife (bird watching holidays from specialist birding operators).
Fully independent travellers (FITs), also known as free independent travellers, are individuals who buy elements of their holidays separately using a variety of direct sources, including airlines, accommodation providers, local tour operators, experience providers, car rental agencies, etc. They may purchase some of these products before departing their home country and others while travelling.
Understanding how the buying process works between supplier and buyer is essential. The chart below shows the process by which travel products from providers in developing countries reach European travellers directly or via the travel industry.
Figure 1: Supply Chain of Travel Products to the European Market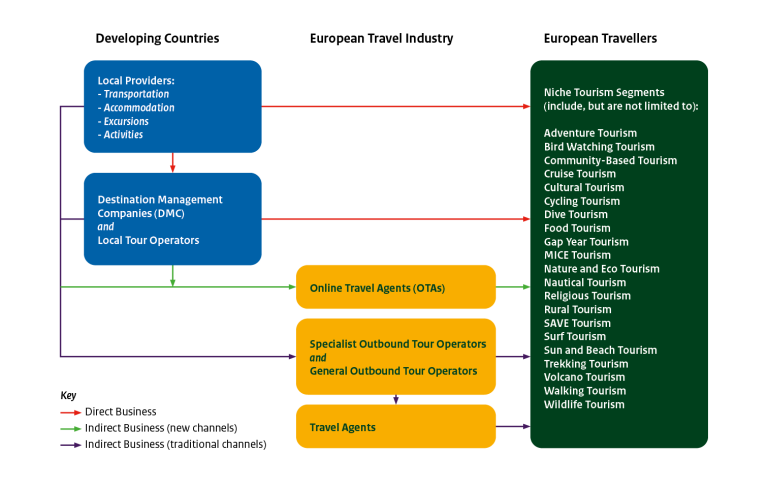 Source: Acorn Tourism Consulting
The COVID-19 pandemic continues to have a significant impact on the tourism industry. A partial recovery is expected from 2022 onwards, with full recovery to 2019 levels anticipated by 2025. Growth will be driven by domestic travel in the short term, followed by regional travel. This means that European travellers are likely to mainly travel within Europe for the time being.
Successful vaccination programmes are key to the recovery of the travel industry and European travellers will need time to develop confidence to travel abroad in significant numbers. Nevertheless, it is still a good idea to research your target markets well in advance so you are fully prepared when they return and you understand the restrictions your own country is imposing on different inbound markets.
Tips:
Decide which market segments best suit the products and services your organisation offers.
Decide which are your key target countries. Identify those with good access to your destination, such as direct flights from major European cities and those with good connections. For additional information on European tourism markets, you should also read the CBI report on the demand for tourism in the European market.
Consult with your national ministry of tourism or national tourism associations for insights into target segments for your country. They may compile tourism data and other arrivals statistics that will help identify the key inbound markets.
To find out more about FITs, read the CBI study, What are the opportunities in the European FIT tourism market.
Download the CBI study, How to respond to COVID-19 in the tourism sector to help you deal with the pandemic crisis and prepare for the future recovery of the tourism market.
2.

Find buyers at (online) trade and consumer travel fairs

There are two types of travel fairs: business to business (B2B) and business to consumer (B2C). Some fairs combine both, dedicating certain areas or days to each target market. Travel fairs are referred to in several ways, including travel or tourism trade fairs (usually B2B), travel shows or consumer shows (usually B2C), or a combination of those.

European tour operators often exhibit at B2C fairs to attract potential travellers, but also attend B2B shows to network and identify new destinations. Local tour operators might exhibit at B2B fairs to attract buyers and network with the organisations that you want to sell to. However, it is expensive to participate in them and you must be well prepared.

The table below shows the key audiences of travel fairs and consumer shows, plus the reasons for visiting them.

Table 1: Key audiences and reasons for attending or exhibiting at travel trade shows and consumer travel fairs
| | | |
| --- | --- | --- |
| Audience Type | B2B Travel Fairs | B2C Travel Shows |
| European tour operators | Attend | Exhibit |
| Local tour operators | Exhibit | Attend |
| National tourist boards | Exhibit | Exhibit |
| Travelling consumers | - | Attend |
Source: Acorn Tourism Consulting Limited
Many trade fairs were held online in 2020. In 2021, some were hosted both online and as live events. Major trade shows will likely continue to be held partly online, which gives you more options to participate.
Tips:
Ensure you have researched your market well so you are knowledgeable about potential buyers.
If you are unable to attend a relevant fair, consult the exhibitors' listings on the trade fair website and draw up your own list of operators that could be potential buyers. Many events are moving online because of the pandemic, so research any that might be suitable for your business.
Make sure you have a clear purpose for either attending or exhibiting at a show. Are you looking for business suppliers or attract FITs? If both, does the fair attract both types of buyers?
It may be more appropriate and cheaper to exhibit at a regional travel trade fair if the buyers you want to meet usually attend it.
Allow plenty of time to arrange meetings with your target operators. Follow up with tour operators you meet after the fair, within a week of the meeting so the outcome of the meeting remains relevant. For useful tips on meeting with European buyers, download the CBI study, 10 Tips for doing business with European tourism buyers.
Some of the major travel trade fairs include:
Global
Adventure Travel World Summit – for tour operators, adventure travel writers and influencers, tourism boards and industry partners. The Summit is held annually in a different location world. The 2021 Summit was held online in September,  and is due to be held in Switzerland in October 2022. This an influential event in the adventure tourism sector and the graph below gives an overview of typical attendees by delegate type and region.
Figure 2: Example Attendee Breakdown at the Adventure Travel World Summit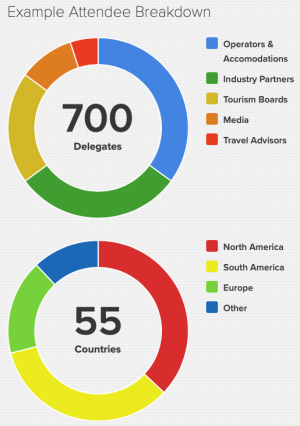 Source: ATTA
ITB Berlin is the world's leading travel trade show. ITB attracts more than 113,500 trade visitors and 10,000 exhibitors from more than 180 countries. The next show is scheduled to take place in March 2022 as a live event, and there will be a range of digital services available to help exhibitors and attendees to arrange online appointments, find contacts, view live programme streams or watch videos on demand. There are also sister ITB events: ITB Asia (25-29 October 2021, virtual event only), ITB China (live event in Shanghai, 24-26 November 2021; virtual event 11 October to 31 December 2021) and ITB India (hybrid event in Mumbai; 4-8 April 2022).
The main World Travel Market (WTM) event is held in London, UK; the WTM was last held as a live event from 1 to 3 November 2021.
Other WTM events outside Europe include WTM Africa (Cape Town; 11-13 April 2022), Arabian Travel Market (Dubai; 8-11 May 2022) and WTM Latin America (virtual; last held 10-12 August 2021; 2022 date to be announced).
3.

Look up European tour operator websites

More than three quarters of European travellers use the internet to help decide where they want to go on holiday. Most European tour operators have created sophisticated websites with detailed information about trips and experiences. It is important to look carefully at operators' packages, so that you are knowledgeable about what they offer and what they are likely to need from you when you approach them.

By researching European tour operator websites you will be able to learn what sort of customers they attract. For example, some operators, like Germany's Diamir, will appeal directly to adventure tourists, while others will sell holidays that appeal to culture tourists, like the UK's Expressions. There are a number of operators that promote luxury trips, such as France's Voyageurs du Monde, while others focus on business tourism and MICE, such as the Dutch Omnia Travel.

Some tour operator websites will share names of staff with responsibility for different areas of the business. This information is often under a section named Meet the Team, Who We Are, or similar. Blogs may also provide useful contacts, sometimes providing an image with a direct email address or telephone number. Job titles can also be useful indicators, including Operations Manager, Overseas Project Manager or Destination Manager, who might have responsibility for working with operators in destination locations.

This is all useful information to gather when doing your tour operator research. See this example of the Meet the Team page of Oyster, a UK tour operator that specialises in gap-year travel.
National tourist boards
Your country's national tourist board may have a list of tour operators they work with. The board may also be able to recommend an inbound operator that might be interested in buying from you. Build a strong relationship with your national tourism board. See if you can get them to add a link on their website to yours.
Online databases/directories
Tourism Review Directories provides a comprehensive list of tour operators around the world. The list can be filtered by Western Europe and Central and Eastern Europe, by country and market sector. The website also features details of regional tourist boards and other tourism organisations. Tourradar features comprehensives listings of tour operators segmented by continent and region. Tour Hebdo's Icotour site lists all tourism professionals in France, including consulates, tourist offices, airlines, maritime and land transport, accommodation, tour operators and travel agencies. Travel Axis promotes a wide range of tourism and travel products and includes tour operator listings by continent.
United Kingdom
ABTA – The Travel Association – the UK's largest travel association, representing 1,200 travel agents and tour operators. You can use the ABTA's Member Search to find out about a specific member of ABTA African Travel & Tourism Association (ATTA) – member-driven trade association that promotes tourism to Africa. More than 600 members that include European and UK tour operators listed on the site Association of Independent Tour Operators (AITO) – travel association for specialist tour operators listed here.
Spain
Asociación Catalana de Agencias de Viajes Especializadas (ACAVe) – more than 500 members EXCELTUR Alliance for Excellency in Tourism – a non-profit group of 33 tourism businesses including travel agents and tour operators
Scandinavia
Danmarks Rejsebureau Foreninig/The Association of Danish Travel Agents and Tour Operators (DRF) – more than 100 members Suomen Matkatoimistoalan Liitto /The Association of Finnish Travel Agents (SMAL/AFTA) – a consortium of 180 travel agencies, tour operators and inbound agencies across the tourism sector Svenska Resebyra- Och Arrangorsforeningen/Association of Swedish Travel Agents and Tour Operators (SRF) – represents most Swedish travel agencies and tour operators. Provides a member list on its website
The Netherlands
Algemeen Nederlands Vereniging van Reisondernemingen (ANVR) – the Dutch Association of Travel Agents and Tour Operators is a representative body for the travel industry. The website features a searchable database of its members
Italy
Italian Association for Responsible Tourism (AITR) – more than 100 members Federazione Italiana Associazioni Imprese Viaggi e Turismo (FIAVET) – represents 1,500 Italian travel agencies in 16 Italian regions
Germany
Die Reisewirtschaft (DRV) – association of tour operators, travel agents and tourism service providers Allianz Selbstandiger Reiseunternehmen Bundesverband (ASR) – represents medium-sized tour operators and travel agents. ASR welcomes members from international operators that support the goals of the association (German only) Arbeitsgemeinschaft Lateinamerika (ARGE) – association of 90 members committed to promoting tourism in Latin America Arbeitsgemeinschaft Sudliches & Ostliches Afrika (ASA) – 150 members promoting tourism to southern and east Africa
France
Agir pour un Tourisme Responsible (ATR) – the leading network of operators committed to responsible tourism Association for Fair and Solidarity Tourism (ATES) – a network of organisations and tour operators that promotes responsible tourism Les Entreprises du Voyage – a membership organisation representing more than 3,500 travel and tourism companies and a source of information regarding market trends Syndicat des Entreprises du Tour Operating (SETO) – a group of French tour operators, also offering tourism statistics
Belgium
Fédération de l'Industrie du Tourisme (FTI-FIT) L'Association of Belgian Travel Organisers (ABTO)
Austria
Osterreichischer ReiseVerband (ORV)
Europe
European Tour Operators Association (ETOA) is the trade association for tour operators and suppliers in European destinations, operating B2B events. The ETOA is a good source for you to learn about the policies commonly adopted by European tour operators. The European Travel Agents' and Tour Operators' Association (ECTAA) comprises a group of national trade associations of travel agents and tour operators in Europe.
4.

Consult websites of tourism sector associations

The tourism sector in Europe is widely supported by tourism trade associations. Tour operators often join as members and may be listed on the associations' websites. Once you have identified the country and segment that offers you the most opportunity, you can also identify potential buyers among members. Some of the most important tourism sector associations include:
Global
Adventure Travel Trade Association (ATTA) is a community of more than 1,300 tour operators, tourism boards, speciality agents and accommodation providers from 100 countries. ATTA conducts and publishes research, hosts events and offers training in multiple areas. Pacific Asia Travel Association (PATA) is the leading association for travel and tourism in the Asia-Pacific region. PATA Chapters are local community organisations of travel industry professionals working to develop travel and tourism to, from and within the Asia-Pacific area. The European division has several chapters, including Denmark, Finland, Germany, France, Norway, Sweden and United Kingdom. Check the links for each branch for activities pertaining to that region. The Latin American Travel Association (LATA) is a membership association of DMCs and tour operators that aims to promote the region as a tourist destination.
Listings of travel and tourism trade fairs and shows
World Tourism Exhibitions provides a comprehensive listing of travel and tourism fairs around the world, including in Europe 10times is a searchable database featuring listings of travel and tourism trade shows around the world Virtual Travel Events provides a listing of travel events that have moved online. Although it has a North American bias, there may be one or two events of interest.
United Kingdom
World Travel Market (WTM) – annual B2B show for the global travel trade hosted in London. WTM attracts more than 50,000 international travel professionals from 190 countries and regions (B2B) Destinations (London, Manchester) and the Adventure Travel Show (London) are two leading consumer shows aimed at the adventure travel segment, where many leading specialist tour operators have a presence (B2C) Dive Show (Birmingham) – annual show aimed at scuba divers, dive operators, resorts and destinations (B2B and B2B) GEM (Global European Marketplace) – trade fair for global tour operators and travel buyers (B2B) LATA Expo is a B2B travel event bringing together buyers from the UK and Europe with suppliers from Latin America
Spain
B Travel International Tourism Show (Barcelona) – international tourism show for experiential travel (B2C) Feria Internacional de Turismo (FITUR) (Madrid) – the leading international tourism fair in Spain (B2B and B2C)
Scandinavia
Danish Travel Show (Herning, Denmark) – Scandinavia's largest holiday fair (B2C) Matka Pro (Helsinki, Finland) – the largest travel industry event in northern Europe (B2B). The consumer show MATKA Nordic Travel Fair runs concurrently (B2C)
The Netherlands
Vakantiebeurs (Utrecht) – major tourism and leisure fair (B2C)
Italy
BIT Milan – the largest travel trade show in Italy with more than 2,000 exhibitors and 50,000 visitors. Due to host in March 2022, the show welcomes both industry and travellers (B2B and B2C) TTG Rimini – important international travel trade show (B2B) BTO Florence – major travel trade show (B2B)
Germany
ITB Berlin is the world's leading travel trade show, attracting more than 100,000 visitors.  Its aim is to support tourism business to do business, discover trends and network effectively. F.re.e Die Reise- und Freizeitmesse (Munich) – the largest exhibition for leisure and travel in southern Germany (B2C) GTM Germany Travel Mart (Weisbaden) – the largest workshop for inbound travel professionals for destination Germany (B2B) IMEX Frankfurt – business trade fair for planners looking to book and organise MICE events (B2B) InterDive (Friedrichshafen and Frankfurt) – trade show specialising in the diving and snorkelling segment (B2C) Reisen Hamburg –travel trade show. Sister travel shows include Caravaning Hamburg and Kreuzfahrtwelt Hamburg (Cruise) (B2C) TourNatur (Dusseldorf) – travel show for outdoor enthusiasts in the segments of hiking, biking and nature experiences (B2C)
France
IFTM Top Resa (International French Travel Market) (Paris) – annual trade show for travel and tourism, targeting business, leisure, group travel, MICE and events segments (B2B and B2C) ILTM (International Luxury Travel Market) (Cannes) – trade show aimed at luxury travel suppliers and buyers (B2B) Salon du Randonneur (Lyon) – travel show specialising in the adventure travel segment (B2C) Salon Mondial du Tourisme (Paris, Lille, Lyon) – the French world tourism fair hosted annually in three locations in France (B2C) SIT Nantes and SIT Rennes – regional tourism fairs (B2C)
Belgium
Brussels Holiday Fair – holiday, travel, tourism and leisure fair (B2C) Vakantiesalon Antwerpen (Antwerp) – the largest holiday fair in the region of Flanders (B2C)
Austria
Ferien-Messe Wien (Vienna) – Austria's largest holiday and travel show (B2C)
Regional
TravelMart LatinAmerica (TMLA) – the largest B2B annual trade show aimed at building business to Latin America from worldwide markets. Location varies annually, the 2019 edition was in Quito and the 2020 edition was postponed; currently no new information is available.
Tips:
Draw up a list of operators that offer experiences or services that appear to be compatible with those offered by your organisation.
Online travel publication Wanderlust publishes its own listing of Wanderlust-approved tour operators. You can keep an eye on other online travel magazines such as CNTraveller and Travel + Leisure which also publish features on 'best tour operators'.
Create profiles of your ideal customers after analysing operator websites.
Find out the names and contacts for the persons who may have responsibility for buying or setting itineraries in your region.
5.

Research OTAs

OTAs are the fastest growing sales channel for tours, activities and attractions. OTAs selling part day, day and short trips and experiences are widely used by FITs. European tour operators also use OTAs to sell their multi-day holidays. Examples include Travelstride, Tourradar and TourHound. OTAs have an extensive reach and can provide direct access to large numbers of potential customers who are otherwise hard to reach. OTAs charge suppliers a commission on the products they sell and manage payments and customer service on your behalf.

The chart below gives an overview of the traffic generated by some of the leading OTAs and their target markets. It is important to consider that the OTA marketplace is dynamic and fast-moving. New OTAs regularly enter the marketplace, others cease trading, and acquisitions and mergers also change the landscape.

Figure 3: Leading OTAs, Monthly Visitor Numbers and Target Markets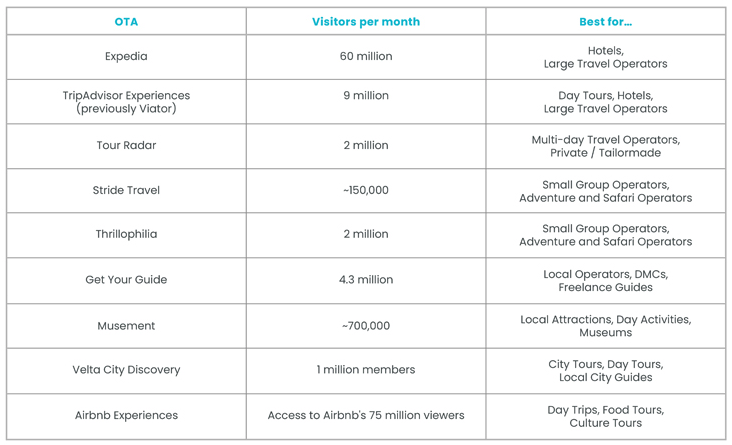 Source: We Travel
A good example of the dynamism of the market is TripAdvisor's acquisition of Viator in 2014. Viator then became TripAdvisor Experiences and at the end of 2019, TripAdvisor rebranded as Tripadvisor. Tripadvisor was then restructured to allow Viator to operate independently. Both Viator and Tripadvisor are big hitters in the travel experiences market. To find out how they work together and learn about the benefits of signing up with Viator, read this post: What is Viator?
Some OTAs that you should consider researching include:
6.

Build your own professional website

Internet and technology have high penetration rates in Europe, where business websites are usually professionally designed to work as tools to acquire new business. FITs also increasingly research holidays and trips on the internet. To improve your competitive edge, you need a professionally designed website for European tour operators and European FITs to find you easily. A professional website is also important to maximise the benefit of your social media activities and feature good quality images and videos.

To stand out, make sure your website is of high quality, preferably designed by an expert. First impressions are very important in the European market, where a well-presented website is likely to generate interest and determine whether an operator or traveller will pursue contact with you.

The cheapest option is to design your own website using an online website builder, such as Wix, Squarespace or Weebly, which offers a free service in return for featuring their branding on your website. Alternatively, you can employ a specialist website company, which is more expensive but ensures you will receive a high level of service. Tourism Tiger specialises in building and managing tour operator websites.

Web-based companies offer plenty of online support to help you create inspirational content, source images and maximise search engine optimisation (SEO). Alternatively, you could employ a freelance web designer from an online register such as Fiverr.

Ensure you keep your website up to date, especially prices and itineraries. Any changes to products or new information should be immediately reflected on your website and in printed brochures. Don't forget that European tour operators are always looking for new suppliers themselves. A great website is likely to attract them quicker than one that has been poorly designed. If you can link with your local tourist board, it will increase your visibility in the market.

In the current pandemic, it is also important to include the protocols and health and safety measures you have introduced to keep your customers safe. This is crucially important to help rebuild travel confidence among European travellers. Indian tour operator Village Ways offers a good example that you can use for inspiration.

You can increase the quality and quantity of traffic to your website through Search Engine Optimisation, commonly referred to as SEO, which may improve your website's position in search engine results. There are lots of helpful guides online to improve your website's SEO such as this one on BowlerHat and Google's SEO Starter Guide.

For more a more detailed guide on creating or improving a website, consult the CBI study, How to be a successful tourism company online.

For more tips from the experts, you can also view the CBI Webinars, Online Panel Discussion: How can we get found online? and Online Panel Discussion: How to be a successful tourism company online.
Tips:
Make sure to choose a web designer or find a freelance expert who has experience in creating websites for travel organisations. Check other travel websites they have built to see if you like their work.
Maximising SEO requires specific skills. Make sure the web designer you choose has the skills you need to do this. If not, you should find someone else, or another organisation, that has.
Build a schedule for publishing regular blog posts on your website throughout the year. Keep blog posts fresh and interesting to improve your SEO and drive traffic to your website.
Include reviews from your customers on your website.
Use images widely on your website and refresh them regularly. You might consider creating a dynamic photo library to store and display images on the site.
7.

Use social media to connect with buyers

Social media is an important tool in the travel industry. Using social media should be an essential part of your business marketing strategy and will help you connect with buyers, increase awareness of your organisation and boost sales. Tour operators regularly use social media to reach travelling customers and find suppliers. Linking your social media to your website will also improve your SEO.

Online social media, such as Facebook and Instagram, are also widely used by travellers for sharing stories, images, videos and researching future trips.

The leading platforms regularly used by travel professionals are Facebook, LinkedIn, Instagram, Pinterest and Twitter. Good images and video stories on Instagram are particularly important for reaching independent travellers, particularly those aged 16–40. Consult Instagram's help on sharing a photo or video to Instagram stories.
Tips:
It is important to dedicate time to using social media. It is a good idea to task a trained member of staff with managing your social media strategy.
Don't try to do too much. Focus on one or two platforms rather than trying to use all of them. You might find that some target clients use specific platforms more than others. Instagram is widely used by the travel industry. This useful blog highlights some best practices for Instagram in 2021.
Spend time researching how to use social media platforms to generate leads and build brand awareness. Most platforms offer help articles on this topic. Have a look at LinkedIn Pages Best Practices and how to create a free Facebook page.
Sharing content is what social media is all about. Learn more about making your content shareable by reading articles online such as this one on 6 ways to create shareable content.
Post videos and photos showing visitors enjoying your experiences.
8.

Advertise in European trade publications

Consider an advertising campaign to broaden your reach among European tour operators. Many potential buyers will regularly read trade publications either online or in print.
9.

Contact your target operators

Once you have a list of the tour operators you would like to work with, you should plan how to contact them. As face-to-face contact is probably unlikely now, correspondence via email is the most cost-effective and quickest method. Your contact list will be a valuable asset to your business and you should keep it up to date.

Make sure you do the following:
Personally address every correspondence. Make sure to spell recipients' names correctly.
Keep your emails short and factual. Include information about your destination and your product.
A follow-up email after approximately two weeks is acceptable. Do not keep contacting them as it may put them off responding.
Respond to any requests as soon as possible, within 24 hours if possible.
Newsletters by email are a good way of reminding potential buyers that you are there. Do not send more than four newsletters a year.
If a buyer asks you not to contact them again, do remove them from your list immediately.  
Tips:
English is the most commonly used business language in Europe. You should brush up on your English-speaking skills if needed.
Some basic French and German-speaking skills may also help you. Ask someone who can speak English, French or German for help if you need to.
Consult the CBI study on Tips for doing business with European tourism buyers. It some useful information about cultural differences between the regions in Europe and how to adapt your business style to suit them.
10.

Consult other organisations

Government departments and other trade organisations throughout Europe may be able to offer you support:
The Netherlands Enterprise Agency also has some good tips on finding business partners.
The International Trade Centre (ITC) is dedicated to supporting the development of SMEs to become more competitive and connect with international markets.
German organisation GIZ offers business solutions for organisations in developing countries, and supports programmes in several destinations including Tunisia, Morocco, Palestine and Jordan.
You could try contacting the relevant departments within embassies or consulates in your target countries to see if they can supply any guides on importing services to their country.
The CBI has produced other relevant publications you might be interested in:
This study was carried out on behalf of CBI by Acorn Tourism Consulting Limited.
Please review our market information disclaimer.
Follow us for the latest updates
Search
Enter search terms to find market research