Entering the European market for cycling tourism
As cycling is a low-impact, sustainable outdoor activity, there are good opportunities for cycle-friendly tourism businesses to attract the European market. The segment is diverse, offering a wide range of cycling tourism experiences such as bicycle touring over longer distances, mountain biking on challenging terrain and urban cycling on sightseeing trips. Cycling tourists are also looking for inspirational and personal experiences that include elements of culture and seeing local life.
1.

What requirements must cycling tourism products comply with to be allowed on the European market?

European cyclists demand a high-quality service that includes excellent guiding, well-serviced bikes and good-quality accommodation that meets their expectations. For destinations located within areas with established cycling trails, or in places where new cycling tours can be developed, bike-friendly hospitality providers can also enter the segment, targeting a higher-than-average spending European tourist.

European tour operators that sell cycling tourism products to Europeans are bound by strict regulations to ensure the safety of their travellers and to protect them financially. Sustainable tourism is also an issue that is becoming more important to buyers, both European tour operators and European travellers. You should understand what these regulations are.
What are the mandatory and additional requirements that buyers have?
The requirements that European tour operators have for cycling tourism products in developing countries cover the following:
The European Package Travel Directive
General Data Protection Regulation (GDPR)
Liability Insurance and Insolvency Protection
Sustainability and Responsible Tourism
As a first step, you should read the CBI's What requirements must tourism services comply with to be allowed on the European market – ­specifically section 3, 'What are the requirements for niche markets' – and familiarise yourself with the details of legal, non-legal and common requirements.
Since the UK's departure from the European Union (EU) in January 2020, now commonly referred to as Brexit, it has been reported that both the EU and the UK will make changes to the existing package travel rules. The changes are likely to focus on improving protection for customers and may not have too much impact on local suppliers. However, you should keep up with any developments.
While not mandatory, sustainable business practices are now considered to be essential for the sake of the planet and doing business with European suppliers. Tourism2030 is a platform that aligns with the UNWTO Sustainable Development Goals (SDGs). It is a global resource that supports tourism providers in becoming sustainable in line with the SDGs.
Travel Restrictions post-COVID-19
Travel restrictions are being lifted around the world. Some countries continue to have travel restrictions in place but most demand that visitors are fully vaccinated to enter – with or without the need for pre-arrival testing and/or self-isolating – or have a COVID-recovery certificate. Sometimes, unvaccinated persons must take a COVID-19 test before travelling. However, every country has different rules and you should do your own research to find out what they are.
This list of travel restrictions for every European country is updated regularly. Alternatively, Re-open EU is an interactive tool developed by the European Union (EU) to provide information about the current COVID-19 situation in each country.
The EU Digital COVID Certificate system is widely used across the EU, and has made it easier for vaccinated travellers to travel more freely. Consult the European Commission for more information about the EU Digital COVID Certificate. 
Europeans travelling abroad to developing destinations will consult their own government's foreign travel advice websites along with that of the chosen destination. These are good websites to bookmark:
Keep up-to-date with advice given to UK nationals about travel to all countries in the world on the government's Foreign Travel Advice page. Each country page also contains useful links to other nations' government websites.
Consult the International Air Transport Association's (IATA) interactive travel restrictions map for travel restrictions in most other countries.
Visit the relevant travel pages on your own government's website to ensure you are aware of the regulations and restrictions in place in your country and make sure you keep up-to-date with changes as they occur.
As tourism resumes, you should prepare your travel product for a European market that is keen to travel but will need reassurance that there are robust safety protocols and cleanliness measures in place to keep them safe. You must also establish new booking terms and conditions and clearly state what cancellation and waivers you will offer your buyers during the pandemic. 
The World Travel & Tourism Council (WTTC) Safe Travels Scheme was launched to help rebuild consumer confidence, reduce risk and encourage travel to resume. The scheme was developed with other partners including the Adventure Travel Trade Association (ATTA). Some of the measures developed include:
Reducing numbers of participants to allow for social distancing
Ensuring activity difficulty levels are not above ability  to reduce the need for rescue services
Providing clear, consistent, and up-to-date communication on health and hygiene protocols
Providing clear information in advance and on arrival of protocols such as face masks, hand hygiene guidance and social distancing requirements
Encouraging online sales wherever possible
Encouraging guests to handle their own equipment for the whole trip
Limiting queuing and physical contact wherever possible
Requirements relating to the conflict in Ukraine
The humanitarian crisis unfolding because of the war is, of course, the most immediate life-changing issue facing families and communities in Ukraine. 
Impact on the tourism industry is likely to be most felt by destinations traditionally visited by Ukrainian and Russian tourists, which will suffer from falling tourism arrivals and revenue. Examples include many developing countries such as Kazakhstan, Thailand and Turkey. Nationals from Eastern Europe, particularly from neighbouring countries may also be more reluctant to travel in these uncertain times.
Ukrainian airspace is closed, and Russian airspace is closed to many European countries and the US. This means that many major airlines must reroute flights which make journeys longer and/or more expensive to passengers.
For the remainder of this report, all discussion, insight, and advice has been provided on the basis of travel in normal circumstances. 
What are the requirements for niche markets?
Cycling tourism is a popular holiday activity and is becoming more popular in destinations all over the world. As a low-impact, sustainable tourism product, there is good potential for growth and many opportunities for local operators to enter the market.
Europeans are very keen cyclists. Within Europe, cycling tourism is worth €44 billion, and Europeans take around 2.2 billion cycling tourism trips a year and 20 million overnight trips. The European Union (EU) is very supportive of cycling as a sustainable form of tourism and has invested in multiple long-distance cycling routes. Germans are particularly keen cyclists; an estimated 25% cycle while on holiday.
In the UK, cycling tourism is worth £2.9 billion to the economy annually, and is growing at a rate of 10-15% every year. A study by the Department of Transport found that the average cycling tourist spends 9% more while on a cycling tourism trip than other tourists do on their trips, which provides good evidence that Europeans are a worthwhile market to target with good-quality, well-managed, interesting and stimulating cycling tourism products.
As a sustainable, low-consumption tourism activity, cycling travel products offer many benefits to rural destinations and local communities.
Cycling tourism generates trade for local businesses, particularly those located on or close to a cycling route, including accommodation providers, food and drink outlets, local community-based and/or experiential tourism activities, as well as local artisan producers.
The segment offers good opportunities to develop cycle hire and other related cycling business operations in rural areas.
New cycling tourism routes can be established on redundant or derelict resources such as disused railway lines. Diversification in this way can also encourage investment from private or public investors.
Good cycling trails and routes can encourage new visitors to an area, encourage them to stay longer and out of peak season.
Strong cycling tourism products can also help to improve cycling provision for local people who see the benefits cycling can have on their health and as a form of sustainable transport.
Cycling tourism happens all over the world and the table below demonstrates how extensive it is. Developing destinations have some of the best cycling opportunities for keen leisure cyclists.
Table 1: Examples of Cycle Tourism Routes in Developing Nations
Route

Country

Distance

Typical Duration

Africa/Middle East

 
 
 

Garden Route

South Africa

214 km

12 days

Nyika National Park

Malawi

227 km

3 days

The Congo Nile Trail

Rwanda

257 km

5 days

The Lesotho Traverse

Lesotho

502 km

8 days

The Jordan Bike Trail

Jordan

734 km

12 days

Western Cape

South Africa

761 km

9 days

Southern Namibia

Namibia

1,000 km

7 days

Southern Morocco Traverse

Morocco

1,127 km

16 days

The Trans-Uganda

Uganda

2,111 km

40 days

The Dragon's Spine

South Africa, Lesotho

4,023 km

58 days

Tour d'Afrique

Egypt, Sudan, Ethiopia, Kenya, Tanzania, Malawi, Zambia, Botswana, Namibia, South Africa

11,010 km

115 days

Asia

 
 
 

The Shimanami Kaido

Japan

70 km

1 day

The Indian Himalayas

India

74 km

4 days

The Borders Road

Tibet

343 km

5 days

The Annapurna Circuit

Nepal

386 km

12 days

The Bartang Valley

Tajikistan

415 km

5 days

Khangai Mountains Traverse

Mongolia

483 km

6 days

Tian Shan Traverse

Kyrgyzstan

987 km

20 days

National Highway 1

Vietnam

1,600 km

2 weeks

Karakoram Highway

Pakistan, China

1,300 km

1 month

Central/South America

 
 

Pululahua Crater Loop

Ecuador

47 km

2 days

La Farola

Cuba

55 km

1 day

Death Road

Bolivia

64 km

1 day

Pacific to Atlantic Coast

Costa Rica

260 km

7 days

Salar de Uyuni

Bolivia

300 km

5-6 days

Ruta del Capitan Lemos

Argentina, Chile

306 km

5-7 days

Patagonia Beer Trail

Argentina

354 km

6 days

Ruta Chingaza

Colombia

420 km

7-8 days

Trans-Mexico Route

Mexico

1,094 km

18 days

Carreterre Austral

Chile

1,200 km

5 weeks

Camino del Puma

Peru, Bolivia

1,255 km

22 days

Peru Great Divide

Peru

1,605 km

32 days
Source: Acorn Tourism Consulting
Cycling tourism experiences are very varied and can be guided or self-guided, lasting anywhere from a few hours to a few days. Cycling holidays usually last a week or more. Cycling tourism overlaps between categories indicated below, and a single trip often includes cycling on different terrain including roads, tracks, trails, dirt, gravel and sand:
Cycle touring – multi-day cycling tours can be independently organised, guided or self-guided. They can cover a circular route that starts and finishes at the same place, or a linear route that travels from one point to another.
Cycling holiday – may involve other activities such as sightseeing and/or a beach element, and is centred around a particular destination.
Day tours and urban cycling – often spontaneous day tours of local and/or urban attractions like food trails, city sightseeing tours, cycling round a city botanical garden or through rural villages, along river paths, and so on, but can also be booked in advance.
Mountain biking – which involves riding on more difficult terrain and encompasses mountainous terrain, cross country, trail riding, endurance, downhill, freeriding and dirt jumping. Fat biking is a form of mountain biking on cycles with fat tyres.
Long distance/expedition cycling – endurance cycling trips that last for many weeks or months, like the Tour d'Afrique which runs from Egypt through several African countries to South Africa.  There are similar challenging routes through Asia and South America.
Cycling events – these are usually short-term events and do not involve overnight stays.
For more information on tourism niches, take a look at the CBI's interactive infographic, Attracting tourists from Europe.
Developing a cycling tourism product
The key requirement for a cycling tourism product is a destination where a cyclist wants to ride a bicycle (or bike) for leisure purposes. This can be any terrain that is suitable for cycling such as on flat or hilly countryside, coastal trails, routes through hills, valleys and mountains, river paths, woodland and forest trails, and deserts, along with urban cycling in villages, towns and cities.  
Before setting up a cycling tourism business, you must have a proper plan in place. Some of the early steps to take are as follows:
When establishing a new business, decide which type of business you want to develop. You will need to do your research into establishing a new business in your destination and what local regulations there are, as there are likely to be several formal steps to take.
Establish potential demand you expect over the next 5 years by assessing who and how your route/tour will be promoted and seasonality factors.
If you plan to operate cycling tours, read the article How to start a bike tour business as a starting point.
If you plan to be a bike-friendly hospitality provider, see this advice aimed at cycling tourists to help you understand what they are looking for: How to Choose a Cycle Hotel or Cycle Friendly Hotel.
Compile a list of all cycling routes that exist in your region where cycling tourism has either been established or could be developed, and include trails or routes that are both marked and unmarked.
Identify cycling businesses in your area to see where the competition is, and where a 'gap' exists in the market.
Establish what facilities are either in place or under development so you can assess suitability for your business in the local marketplace.
Talk and network with other cycling tourism businesses that you want to work with to establish good business relationships.
Contact the local tourist board to discuss your plans with them. If you develop a good relationship with them, they are more likely to support you when you launch your product.
In rural areas where you will be crossing land owned by local communities, make sure you have permission from the relevant mayor or chief to cycle or camp on their land, if necessary.
Building cycling routes
Establishing a new cycling route on undeveloped terrain, like a disused railway track, is different from developing a new cycling tour on an established cycling route, unmarked trail or a new sightseeing/food cycling tour around existing attractions/destinations. To understand what is involved, read the case study about the Jordan Bike Trail and how it was created.
Case Study: The Jordan Bike Trail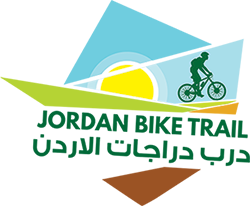 The Jordan Bike Trail (JTB) is a 730-kilometre mixed surface cycling route that crosses the whole length of Jordan, extending from Umm Qais on the northern border to Aqaba on the Red Sea in the south. Inspired by the success of Jordan Trail, a 650-kilometre hiking trail launched in 2015, Experience Jordan Adventures, a Jordanian adventure tour company, spent several years developing it. Additional funding was secured from USAID to support the building of the trail and website, and training local service providers.
A collaboration of private companies works together to promote and develop the trail. Tourism organisations that meet the high standards established by the collaboration are encouraged to list their services on the trail and there are a range of local bike shops and tour operators.
The trail takes advantage of Jordan's spectacular geography and takes a challenging route that zigzags between the Jordan Valley and the high plateau in the east which offers the most stunning views and a variety of landscapes and terrain. It is possible to self-guide the trail as an independent cyclist, but escorted groups enable a freer experience where luggage is carried ahead, catering is provided by guides and nights are spent in homestays, hotels, Bedouin camps and wild campsites.
The website is highly detailed. The trail is arranged over 12 stages between three regions – northern, central, and southern. Each stage is fully described by physical challenge (a rating out of 5), distance, duration, elevation up and down, terrain type (paved or unpaved). Maps for each stage created by Ride with GPS can be downloaded to smart phones and there is also a printable map. Additional information about food/water stops, accommodation, transportation and attractions en route are also provided.
Cycling tourists of varying abilities are attracted to the trail which takes between 12 and 20 days to complete in its entirety. For those after a gentler experience, easier stages can be undertaken with additional transportation arranged. Experienced cycling tourists are attracted by the challenge, regularly competing to complete the trail in the shortest time, currently at around 120 hours (5 days). The trail was awarded 'Best in Adventure Tourism' at the International Travel & Tourism Awards in 2018.
Experience Jordan reports that establishing national regulations to import and use e-bikes is the next challenge for the organisation.
"Demand for e-bikes from international tourists is very strong in Jordan. In particular, tour groups aged 40-80 are very keen to complete sections of the trail by e-bike. To have a fleet of e-bikes would make it much more accessible to these target groups and others of differing abilities or mobility problems. We are working with the government to introduce e-bike regulations to open up opportunities that will certainly arise from being able to conduct tours by e-bike."  
Ayman Abd Alkareen, Co-Founder and General Manager, Experience Jordan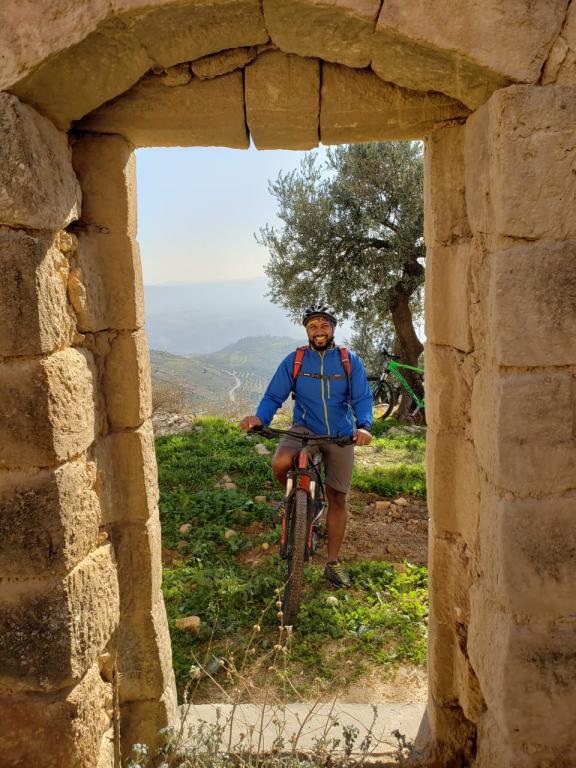 How to be a cycle friendly business
Being a cycle-friendly business is the most important factor for success in the segment. There are many ways to be cycle-friendly, depending upon the type of business you operate:
Show you are cycle-friendly – put up 'cyclists welcome' signs and/or hang some good images/art featuring people on bicycles in your business premises. Consider asking a local artist to draw a large-scale map showing the local routes, and feature attractions like vineyards and other sites, food stops, bike-friendly accommodation and toilet stops en route.
Figure 1: Example of bike-friendly sign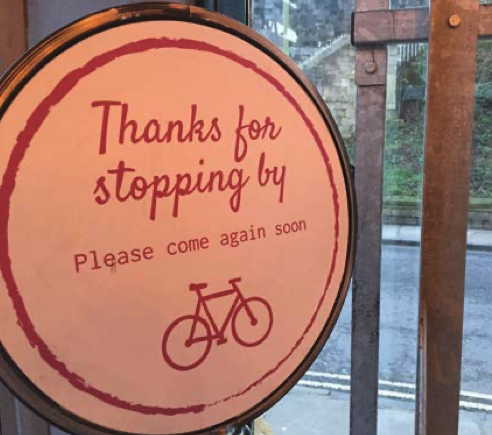 Source: Cycling UK
Local information – many cyclists will have done their research before they leave for their cycling trip, but you must have a good range of information available for them. This should include maps and cycling routes; things to do and local attractions; details of cyclist-friendly accommodation and restaurants, bars and cafés; local cycle shops, rental outfits, and repair shops; other shops; and where they can find medical facilities.
Cycle security – secure storage for cycles overnight stays is essential. Lockable sheds, outhouses or other safe structures are good. For day visitors, a bicycle parking rack is a simple solution for cyclists to lock their bikes to while they have a break to eat, drink, and relax. Consider having a range of locks available for cyclists to borrow.
Flexibility – some cyclists may arrive late or choose to leave early from their accommodation. Make it clear if you can cater to these needs, such as provide a hot dinner, a simple packed lunch and/or early breakfast.
Provide maintenance facilities – being able to offer these services is a very attractive benefit to cyclists. This could include having different bicycle pumps including the floor pump with a gauge which is most commonly used these days; puncture repair kits to purchase; spanners and Allen keys (L-shaped keys) in different sizes to borrow; chain oil and rags; bike washing facilities.
Cyclist friendly food – cycling can be quite the workout, so cyclist tend to get hungry! Provide a good range of food options, using locally sourced produce where possible. Consider offering special deals such as a free hot drink with a meal. Provide a range of high-energy drinks and snacks for them to purchase.
Drinking water – depending upon the quality and safety of tap water in your area, offer free water refills for water bottles.  
Guidelines for local providers of guided or self-guided cycle tours
European cyclists travelling to long-haul destinations are seeking an experience in a beautiful, scenic location, cycling on terrain that matches their expectation, whether off-road, paved roads, cycle trails and so on, and an immersive experience with the land and its people. They also need to feel confident in the services they are being provided with – safety, well-maintained and good-quality bikes, the appropriate level of accommodation, and efficient, smooth tour management.
They will want to know how proactive you are in keeping your tour safe and inspiring. Here are some guidelines to help you.
Your tour guides will 'make or break' the cycling tour. They must be competent cyclists, know the route well and be able to adapt the experience to meet the needs of cyclists of different abilities as appropriate. They should be able to speak the language of the group well and be well-informed and personable when talking about local life, the environment and attractions en route.
They should also be competent first aiders and know what to do in a crisis.
Inspirational itineraries are a must. Make sure you include known tourist highlights, but also include some local favourites that are off the beaten track, like less-frequently visited beauty spots, trips to markets or locally-run cafes which create authenticity to the trip and insight into local lives.
Always provide maps. Many cyclists will have smart phones and may have downloaded their own maps, but they will appreciate maps from the 'experts'.
Establish the characteristics of each route/tour you offer, whether challenging, moderate or easy. See this example from UK specialist cycle holiday operator Skedaddle and consult their guide on Cycling Grades to help you adapt yours.
Figure 2: Examples of Cycle Tour Difficulty Grades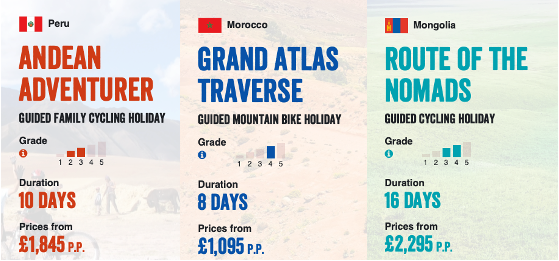 Source: Skedaddle
For self-guided groups/individuals, consider developing an app to help guide them. Experienced cyclists are likely to use their own apps like Google Maps, Strava or MapMyRide. However, you can work with audio tour app builders like VoiceMe to develop a useful app for casual cyclists.
For rental businesses, keep the bikes you provide well maintained. Ideally, after every use, breaks, gears and chains should be checked, tyres checked for punctures and pumped up.
Consider offering e-bikes as an option for cyclists. E-bikes are becoming more popular, particularly amongst older groups that do not want to cycle so hard. However, with an average range of 55 miles, you must ensure that you have the infrastructure to recharge the batteries and that there are suitable stops en route for cyclists to recharge.
Make sure you ask your customers for reviews of your tours. Not only will this attract new customers, but it will also help you refine your tour. For instance, if a new attraction opens en route, you may want to add this to an itinerary. Or add in a different food/drink stop if a business closes. 
Useful Cycling Resources
The Internet is a good place to find all sorts of research that tourism associations and organisations share for free. You should do your own research, but here are a few useful resources for you to consult:
2.

Through what channels can you get cycling tourism products on the European market?
How is the end-market segmented?
Types of cycling tourism businesses
These are typical businesses associated with the cycling tourism segment in a destination:
Inbound Cycling Tour Holiday Specialist – in long-haul destinations, European tour operators usually do business with specialist providers of cycling trips who will coordinate the entire trip on behalf of their clients. This includes airport transfers, all accommodation, cycling trips and bike supply, accommodation, food and drink and any excursions. The inbound operator is likely to outsource supply of services to other providers, including the following:
Local Provider of guided or self-guided cycle tours – located in areas where there are existing cycling routes and employs cycling guides to accompany tours and produce route maps for groups that are guided or self-guided. If tours involve an overnight stay, they will have established relationships with bike friendly accommodation providers and food and drink outlets to service the tour en route, and also with bike rental and maintenance businesses. Their customers may be a mix of independent cycle tourists, other local tour operators and outbound tour operators from Europe or elsewhere.
Bike-friendly accommodation provider – offers accommodation that is suitable for independent cycle tourers or can cater for groups that are either cycling with local tour operators or outbound tour operators. These can include hotels, hostels, campsites, bed and breakfast establishments and guest houses.
Restaurant, bar or café – situated on or close to an established cycle route, featured on a route map, offers bike-friendly amenities (suitable refreshments, secure bike storage, toilets/showers).
Bike rental and maintenance business – rents bikes to independent cyclists, local operators that accompany groups, or outbound operators
Ancillary businesses – attractions, events, local communities, shops and artisan producers located on or nearby to a cycle route also have opportunities to attract visiting cyclists by promoting themselves as bike friendly.
Insight: Growing Use of E-Bikes in Tourist Destinations
E-bikes are growing in popularity around the world, for both everyday use and by tourists. Cycling on e-bikes has been identified as the top 'Hot Trending Adventure Activity' by ATTA in its Adventure Travel Industry Snapshot in May 2022.
E-bikes have many advantages that include a lower carbon footprint and lower costs associated with ownership and rental. An e-bike also offers people with lower levels of fitness or mobility (such as older people or groups of varying abilities) an opportunity to get on a bike. Other casual tourists may be tempted to rent an e-bike in the spur of the moment.
Today, many destinations, cities and visitor attractions now commonly offer e-bikes for tourism opportunities. Have a look at these examples from all over the world.
Belgium – the city of Ghent introduced a new type of bike rental service in 2021 to focus on getting more tourists on bikes, offering 18 bike models to suit every type of tourist, including an electric family cargo bike.
Italy – in Rome, a partnership between micro mobility company Helbiz and a local tour operator is offering tourists a personalised self-guided tour around Rome's major tourist attractions by e-bike or e-scooter. The trip is delivered by app and available in several languages. The collaboration is being extended to other Italian cities in which Helbiz has a fleet of electric bikes and scooters, including Milan, Naples, Pisa and Florence.
India – some tourist hotspots are seeing an increase in the use of e-bikes by tourists. The Taj Hotel Group and Club Mahindra properties offer their guests guided e-bike tours to enjoy hidden trails in places like Goa and Jaipur.
The Alps – are seeing more and more cyclists choosing to use e-bikes to cycle some of the world's most challenging climbs. Using an e-bike makes the destination more accessible to more people, especially those with limited fitness or disabilities who can enjoy the spectacular mountain scenery. The Verbier E-Bike Festival now operates annually, offering opportunities to try out e-bikes, and cycle on a range of discovery trails.
The article How e-bikes are changing the active travel business looks at how bike tour operators have found that e-biking is helping to grow their business and bringing in different types of customer. 
The cycle tourist market
The market of European cyclists was already quite large, and it has seen more growth during the COVID-19 pandemic, as more people got on their bikes to travel around and take tourist trips. Within Europe, the cycling tourism sector is worth €44 billion and Europeans take around 2.6 billion cycling tourism trips every year. This means that Europeans are very keen cycling tourists, with the biggest markets being Germany, the Netherlands, Belgium, Denmark and France.
The UK is another substantial market of leisure cyclists with growing numbers of participants and the figure below provides a snapshot of the demographics of a typical cycle tourist.
Figure 3: The Average Cycle Tourist in the UK
Source: Cycling UK
There are many different types of cycling tourists and there is much overlap between them all. As a first step to understanding the market, cycling tourists can be segmented and identified as follows:
Touring cyclists – cycle over longer distances, either from place to place or on a circular route. staying in a different place every night. Or they may explore a destination over a few days, staying in the same accommodation every night. Cycling tours are likely to cover a mix of terrain that includes some steep and more tricky terrain, along with roads which may be paved and/or unpaved (dirt or gravel).
Enthusiast road cyclists or mountain bikers – travel to one or more specific destinations for a short break or holiday for the specific purpose of cycling. Like the touring cyclists, the routes are likely to be on mixed terrain.
Casual holidaymakers (families, couples, groups) – might cycle once or twice during a longer holiday during which they take part in many other activities as well as cycling.
Daytrip cyclists and cycling event participants – visit an area for a short period and do not stay overnight.
Understanding the motivations of cycling tourists is also important so you can target your product to the appropriate types of cycling tourist. The figure below shows that 'nature' is a key motivation for all tourist types, but inspiring landscapes are important for touring cyclists. Therefore, if your destination is known for natural beauty and a spectacular environment, you will be able to attract the touring cyclist market.
Table 2: Ranked motivations for users of different bicycle types
| | | | |
| --- | --- | --- | --- |
| Rank | Road Bikes | Touring Bikes | Mountain Bikes |
| 1 | Freedom | Nature | Nature |
| 2 | Nature | To Relax | Freedom |
| 3 | Balance | Landscapes | Fun |
| 4 | To get away | Freedom | Balance |
| 5 | To relax | Health | To get away |
Source: Holzhauer 2015
Through what channels do cycling tourism products end up on the end-market?
The main channels for cycling tourism products are Direct Sales via local providers' own sales channels and Indirect Sales through Outbound Tour Operators and online travel agents (OTAs). The chart below illustrates the process by which sales are made.
Figure 4: Sales Process of Cycling Tourism Products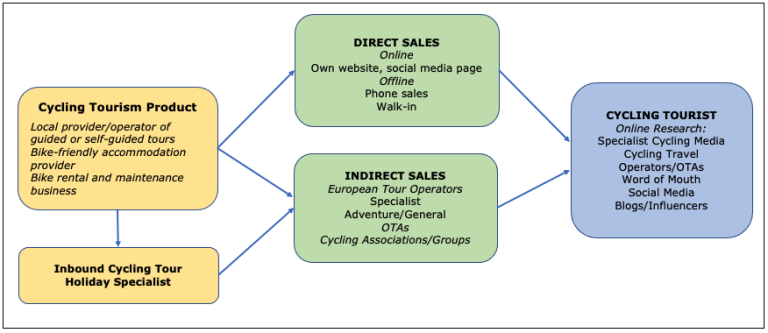 Source: Acorn Tourism Consulting
Direct Sales
Direct sales are those that made directly with local tour operators either through a website, by phone, or walking in and booking directly in a shop. Fully Independent Travellers (FIT) make their own bookings and use a variety of methods that include both direct sales (online, directly with experience providers and local operators) and indirect sales (European tour operators and OTAs).
Indirect Sales
Indirect sales are sales made via an intermediary, like European tour operators and OTAs. They are further described as follows:
European tour operators consist of a mix of specialist operators, adventure operators and general operators. They are a large, competitive group of operators who sell their holidays to a worldwide market. Walking and cycling holidays are often sold together by specialist operators who are very experienced in the market of sustainable, low impact activity holidays.
Examples of European Specialist Operators include UK-based Skedaddle and Bike Adventures; Dutch Operator Eigen-wijze Reizen; and German operators Biketeam Radreisen and Bike Touring. African Bikers is another German specialist operator that also has offices in South Africa.
Adventure and General Operators also sell cycling holidays to international destinations including UK-based KE Adventures and Explore, and German operator Globetrotter Abenteuer. See how Globetrotter is offering e-bike trips.
OTAs are a dynamic and growing network of sellers of holidays, trips and experiences online. There are two main categories of OTA that sell holidays and tourism experiences. The first are OTAs that promote and sell holidays on behalf of other outbound tour operators like Responsible Travel.
The other type of OTA sells trips, experiences and holidays on behalf of local operators and experience providers that range from larger organisations to small communities and individuals. Viator is the best-known example in this category. UK-based OTA Much Better Adventures specialises in sustainable adventure trips – it will only sell travel products on behalf of local operators that can prove their sustainable credentials.
What is the most interesting channel for you?
Depending upon what your business offers, all sales channels are worth considering as good points of entry to the European market.
If you have a website, FITs and European tour operators will be able to find your business when they are looking for new partners.
Decide whether your primary market is business to consumer (B2C) or business to business (B2B). The content on your website needs to be appropriate for each market.
Check out how to join each of the specialist OTAs using the following links:
3.

What competition will you face in the cycling tourism market?
Which countries are you competing with?
Cambodia
Cycling is part of life throughout many Asian countries and local people cycle frequently as part of their everyday lives. As such, it has been a natural progression and easy for the people there to adapt cycling as a tourism activity. Cambodia's ancient kingdoms and temple complexes make it an ideal location for cycling tourism. There are many places for cycling touring on country roads through rice paddies and traditional villages, remote forests, unexplored beaches and river trails on a landscape of low-lying plains.
Cycling tours in Cambodia are well-established and often offered in combination with other activities such as hiking and kayaking. Being able to connect with local people while biking provides authentic and immersive experiences that are highly sought after by European tourists these days.
Chile
Chile is one of the world's great destinations for cycling and is reputed to have some of the most scenic routes. The high Atacama Desert, the driest desert in the world, the Carretera Austral, Chile's best-known long distance cycling route, Chile's Lake District and the Colchagua Valley in the wine district are among the country's huge range of cycling options that appeal to cyclists of different abilities.
Chile is often combined with Argentina in a two-country cycling itinerary in Patagonia, the southernmost part of South America that spans both countries, known for dramatic mountain peaks, glaciers and unique wildlife. See how the Chile Tourist Board profiles the diversity of its range of cycling destinations in this blog: A journey of pure freedom – Cycling across Chile. 
Jordan
As indicated in the Case Study above, Jordan is an excellent destination for cycling tourism on account of its spectacular landscapes, varied cycling terrain, range of attractions and good weather. It has put cycling at the forefront of tourism activities through the development the Jordan Bike Trail, which was inspired by the Jordan Trail. You could find out if there are any hiking trails that exist in your destination which may be in a good location to inspire a similar development.
Jordan has much potential to attract European cyclists. The climate is good all year round which offers opportunities to attract visitors out of season, and access is good from the major European hubs such as London (UK), Amsterdam (the Netherlands), Frankfurt (Germany) and Paris (France). The diversity and challenge of its landscape along with the natural wonders of the Red Sea make for an inspiring multi-activity destination.
Morocco
Morocco's Atlas Mountains are an exciting destination for mountain biking and there are many tour operators all over the world that offer cycling holidays to Morocco. However, cycling in Morocco also offers the opportunity for immersive cultural experiences in the historic cities of Fez and Marrakesh and an insight into the famously hospitable Berber culture.  
The country has a long season for cycling, from September to May; however high-altitude cycling can also operate during the hot summer months (June to August). It is also very accessible from European countries both in terms of direct flights and is convenient from a time perspective as it follows Greenwich Mean Time (GMT).
South Africa
South Africa is a good destination for both guided and self-guided cycling holidays. There is an extensive and well-maintained paved road network, as well as a variety of gravel and dirt roads for off-road cycling. The range of cycling destinations includes the Drakensberg Mountains, Kruger National Park and the famous Garden Route in the south, which travels through winelands, mountains and coastal regions. The oceans off South Africa are also well-known for whale and dolphin watching.
Cycling tours in South Africa are also a good way of interacting with local South African communities and experiencing the culture while also enjoying the challenge of cycling in outstanding environments. Being able to view the unique African wildlife is an added draw to South Africa as a cycling destination. Cycling tours of the world-famous winelands are also popular for European cyclists.
Combining nature and other unique experiences like wine tasting can add value to a cycling experience and give you a competitive edge.
Vietnam
Vietnam is reputed to be Asia's leading destination for cycling tourism and cycle tours are one of the best ways to explore the country. Bicycles are widely used throughout Vietnam to get around, transport goods and also as stalls selling produce or other goods. Discovering Vietnam's rich culture, heritage and extraordinary landscape is easily done by bike and cycling tours are common.
Vietnam's National Highway 1 is one of the world's best cycling adventures. It extends along the coast connecting Hanoi with Ho Chi Minh City – serving as a symbol of national unity. The route encompasses many of Vietnam's top attractions including Ha Long Bay, the Imperial City of Hue and the beach resort of Nha Trang. In the north, cycling is typically more challenging in mountainous regions such as Sapa with its vibrant communities and terraced rice paddies. In the far south, the Mekong Delta dominates southern Vietnam and offers easy cycling through idyllic scenery.
Which companies are you competing with?
Cambodia
Cambodia Cycling operates a range of multi-day cycle tours around Cambodia and within the neighbouring countries of Laos, Myanmar, Thailand and Vietnam. The operator also offers trekking which fits well with cycling as a sustainable, low-impact tourism activity. Charities are also included in its portfolio, and it also offers school and gap year experiences to attract younger tourists.
Although the website could do with a more modern redesign, there is plenty of useful information and good images, social media links are prominent and its 2018 Tripadvisor Certificate of Excellence Hall of Fame badge is well-placed on the homepage. It has a strong Corporate Social Responsibility ethos, with initiatives that support local education, health and community development projects.
Located in Siem Reap, Biking Cambodia was established in Cambodia in 2005 and by 2010 had expanded operations into Laos and Vietnam.  It offers a wide range of day and multi-day tours, such as half-day cycling in the countryside, a full day cycling Angkor Wat and a five-day trip to the Mekong River and Angkor Wat. It has a well-designed website with inspiring images and video and outlines the quality of its bikes prominently on the homepage. This is a good idea as it appeals to safety-conscious European cyclists.
The operator promotes the benefits of its local knowledge and commits to regularly reviewing its tours and ensures that their experiences adapt to any current and/or local conditions. It provides detailed information about the bicycles it uses, recommendations for equipment to bring and its commitment to personal security. The website is available in both English and French.
Chile
Family-owned Amity Tours offers responsible biking, skiing, hiking and family tours in the Lake & Volcano District, Atacama Desert and Patagonia regions of Chile. It offers a select range of multi-day bike tours, some of which also include a hiking component. Its USPs are clearly stated to be 'Adventure. People. Nature.', which are key elements built in to all their trips. Its website is contemporary, inspiring and informational.
It adheres to the Global Sustainable Tourism Council's (GSTC) sustainable tourism standards and is supplier of responsible tours to OTA Responsible Travel. In 2003, the company joined the Zero Waste Challenge, measuring all waste generated during trips with the aim of becoming a Zero Waste Company and has signed up to Tourism Declares a Climate Emergency Plan to commit to reduce carbon emissions to 55% below 2017 levels by 2030. Being signed up to all these initiatives is appealing to sustainably-minded European tourists.
Bike Tours has been offering cycling trips throughout Chile since 2007. Tour types include city tours in Santiago, wine tours, family tours, multi-day tours, mountain tours and self-guided tours. Its website is easy to navigate and there are clear links to its social media pages and Tripadvisor. There is good information about all the tours and lots of inspirational images. 'Less is More' is one of the messages they convey about relating trips to the local communities, sourcing fresh and local produce and minimising impact on the destination.
Jordan
Terhaal Adventures offers a range of tours in Jordan, including both multi-day and single-day cycling tours. Established in 2007, the operator is a joint venture between two operators, Terhaal Adventures and Discovery Circle Tours and operates sustainably and responsibly. Tours include interaction with local communities and include customer briefings on the cultures and customs in Jordan.
The website provides lots of useful information about Jordan and Petra, as well as other sites to see and things to do, and there are live webcams of Petra and Amman through EarthCam which provide added interest to the user. The operator is a member of the Adventure Travel Trade Association (ATTA) and features this on its homepage, along with a link to its Tripadvisor page.
Creator of the Jordan Bike Trail, Experience Jordan Adventures offers a range of small group adventures which typically include multiple activities, including cycling various stages of the Bike Trail. Its adventures are created as 'Full' or 'Mini' adventures and range from 2 days to 9 days. The operator also offers a selection of day tours and tailor-made tours for cyclists that want a more concentrated cycling experience.
Specialising in experiential adventures, the operator aims to provide opportunities where visitors can enjoy an immersive and authentic experience, learning about a different and diverse culture. With a strong responsible ethos, its mission is 'Improving lives through adventure tourism in Jordan' through providing employment opportunities and exciting, meaningful careers, shared wealth for owners, employees and partners, and satisfied customers.
Experience Jordan Adventures has a positive reputation with travellers, having consistently won the Tripadvisor Certificate of Excellence every year between 2015 and 2019, and again when it won the Traveler's Choice Awards in 2020 and 2021. It promotes its memberships prominently on its website, including its memberships of the Jordan Inbound Tour Operators (JITOA), ATTA, and Jordan Society of Tourism & Travel Agents (JSTA).
Morocco
Bike Morocco is the website for cycle trips from local operators Maroc Nature and Atlas Sport – a team of experienced local guides and travel consultants that arrange biking tours for cyclists of all abilities in Morocco. They offer tours on several types of bikes – road bikes, mountain bikes, e-bikes, fat tyre bikes, each suitable for different terrains. Multi-day tours also include some that include multiple activities such as hiking, camel rides and quad biking, and there is a good range of day tours.
Its website is detailed and there is a lot of information included for each trip to help cyclists make a choice. Each trip description also states exactly what is included, and what is not. General terms and conditions are included, along with some general information about cycling in Morocco.
Bike Adventures in Morocco offers a wide range of day tours and excursions, cycling and mountain bike tours, and bike rentals in Morocco. The operator has provided adventures in Morocco for more than 20 years and has a large team of guides, muleteers (a person that drives mules, the most common way of transporting goods in the Atlas Mountains), drivers, mechanics, cooks and problem solvers, many of whom live in the mountains.
The website features good information for potential cyclists, including what type of food to expect on a trip, what prices include/exclude and a checklist of items to bring. Customer testimonials are linked through the Tripadvisor listing and the website is available in both English and French.
South Africa
AWOL Tours specialises in biking and hiking tours in and around Cape Town. They work to provide authentic and sustainable tourism experiences for their customers. Most tours are one-day or half-day tours, such as the Bicycle Township Tour where participants can learn more about the complexities of life in an urban township; the tour supports the local community and the Bicycling Empowerment Network (BEN).
There are also day tours to South Africa's winelands and a three-day self-cycle tour along the Cape Peninsula where the operator takes care of moving the luggage between accommodations. The operator provides extremely detailed information for potential customers about its level of responsibility to the environment, society, economy and the traveller, and guarantees travellers' deposits as an accredited member of South African Tourism Services Association (SATSA).
Trails & Travel offers a range of luxury self-guided and bikepacking (where cyclists carry their own luggage in panniers) cycling and hiking tours. For self-guided tours, the operator provides all the necessary route information in advance, such as GPS trails and waypoints that can be uploaded, along with other information about stops and attractions en route.
Vietnam
Cycling is one of the modes of travel offered by local operator Footprint Travel, which includes its Unique Selling Points (USPs) as part of its logo – 'Local. Unique. Personal'. The website features lots of inspirational images and good information about the different regions in Vietnam. It is a certified as a sustainable tour operator by Travelife and displays all its associations with travel businesses including Lonely Planet, Tripadvisor and the Ethical Travel Guide on a scrolling bar. 
There are 8 cycle tours from 1 to 5 days, which range from easy (experience the traditions around Vietnamese green tea) to challenging (a 5-day trip for cycling enthusiasts in the northeast highlands region). Having a small and manageable portfolio of specially developed cycle tours can help you ensure that you are giving your customers the best possible experience and you are not spreading your expertise too thinly.
SihnBalo Adventure Travel has a long history of providing adventure travel experiences for the international market and specialises in cycling tourism. The operator has a fleet of 140 bicycles, suitable for all types of terrain in Vietnam including hybrid models, mountain bikes, road bikes and trek bikes. Cycling trips are offered throughout Vietnam and also from Vietnam to Laos and Vietnam to Cambodia.
The operator features 'last minute deals' on its homepage, offering discounts off a number of tours. Its blog page does have a few posts but they are quite old. It is a good idea to post blogs regularly as it keeps your website fresh and up to date.
Tips:
Do your own research into the market in your destination to see who your competitors are and what cycling travel products they are offering.
Make sure you are clear about what types of cycling trips are the most popular and relevant to the terrain locally and whether they can be combined with cultural or other tourism experiences.
Post regular blogs to help keep your website fresh and up-to-date.
Make sure you link with Tripadvisor to publicise your trips and ask customers for their reviews. You do this by adding a Tripadvisor Widget, and it is free.
Make sure your organisation is linked to tourism associations and organisations in your destinations, like the tourist board, sustainable tourism organisation in your country, tourism trade associations and so on.
Which products are you competing with?
Cycling tourism is part of the broader niches of Adventure tourism and Nature/Eco tourism. Cycling tours often include elements of Cultural/Heritage and Community-based Tourism. Therefore, these products are your main competitors. Offering combinations where appropriate will help your cycling travel products to stand out.
For all these niches, sustainable and responsible tourism practices are essential.
4.

What are the prices for cycling tourism products on the European market?

There is a huge variety of prices in the cycling tourism segment. Costs to travellers are usually made up of several different elements, such as cost of travel to reach the destination, bike rental, guides, food, accommodation, transportation if required and contributions to local projects and/or communities. Prices are often more expensive the fewer guests are in the group and you should be clear in your pricing structure if this is the case.

The table below gives an indication of the variety of prices on the market today. Prices for holidays exclude international airfares; research was conducted in April 2022.

Table 3: Prices of Cycling Tourism Products in Competing Destinations 2022
Tour Details

Country

Duration

Price pp (€)

Day/Part Day Cycling Tours

 
 
 

Angkor Wat Cycling

Cambodia

1 day

33.00

Marrakech City Bike Tour

Morocco

Half day

35.00

Countryside Cycling

Cambodia

1 day

38.00

Santiago Markets Bike Tour

Chile

3 hours

39.00

Madaba Biking Tour

Jordan

1 day

41.00

Meet the Winemaker by Bike

Chile

4.5 hours

51.00

Bicycle Township Tour, Cape Town

South Africa

1 day

56.00

Bike Madaba to Mukawir

Jordan

1 day

81.00

Hanoi Cycling Tour

Vietnam

1 day

94.00

Winelands Constantia Tour

South Africa

Half day

99.00

Mekong Delta Cycling Trip

Vietnam

1 day

122.00

Atlas E-Valleys Mountain Bike Tour

Morocco

1 day

140.00

Multi-Day Cycling Tours

 
 
 

Cape Peninsula Self Guide Tour

South Africa

3 days

186.00

Cycling Tour Hue to Hoi An

Vietnam

2 days

203.00

Angkor Cycling Tour

Cambodia

5 days

317.00

Cycle the Mekong Delta

Vietnam

3 days

361.00

Atlas Road Cycling

Morocco

5 days

395.00

Petra to Wadi Rum by Bike

Jordan

3 days

543.00

Cycling the Atlantic Way to Santiago

Chile

6 days

1,258.00

Bike Tour Patagonia

Chile

6 days

2,889.00

Cycling Holidays

 
 

Atlas to the Sahara

Morocco

8 days

759.00

Jordan Biking Holiday

Jordan

8 days

1,411.00

Adventure Cycling in Jordan

Jordan

8 days

1,503.00

Cycle Saigon to Hanoi

Vietnam

14 days

1,661.00

Cambodian Adventure

Cambodia

9 days

1,692.00

Mountains and Coast

Vietnam

15 days

1,834.00

Hill Tribes of Northern Vietnam

Vietnam

12 days

2,189.00

Atlas to the Atlantic

Morocco

10 days

2,368.00

The Garden Route

South Africa

14 days

2,843.00

Bike & Hike Tour of Atacama Desert

Chile

7 days

3,149.00

Road Tour of the Lake & Volcano District

Chile

8 days

3,420.00
Source: Acorn Tourism Consulting
Tips:
Conduct your own research to find out typical prices for cycling trips in your destination. Be sure to compare 'like for like' so you can assess whether your trips offer value for money.
Consult the CBI study Tips for doing business with European buyers and scroll down to tip 7: Set a fair price for your product. 
For more advice about setting prices, download this guide published by Destination New South Wales, Pricing your tourism product.
This study has been carried out on behalf of CBI by Acorn Tourism Consulting Limited.
Please review our market information disclaimer.
Follow us for the latest updates
Search
Enter search terms to find market research