Entering the European market for baby boomers
European baby boomers are increasingly using the internet to research their 'big trips', so having an online presence has become a key requirement. They are keen on remaining active while on holiday and combining activities with immersive or luxury experiences, provides the best opportunities to reach them. Solo travel represents a significant growth segment among baby boomers, while multigenerational travel is becoming more popular. European tour operators that specialise in senior travel look to work with local tour operators to service the needs of their baby boomer customers.
1.

What requirements must travel products for the Baby Boomer comply with to be allowed on the European market?

European tour operators have to comply with strict requirements to ensure the safety of their customers overseas, as well as to protect them financially. These operators expect foreign suppliers to adhere to their own codes of conduct, and terms and conditions. If you will be selling your travel product to them, it is important that you understand these requirements.
What are the mandatory and additional requirements that buyers have?
The mandatory and voluntary requirements for tourism services for baby boomer are common across the sector. Read the CBI's report on the requirements for tourism services in the European market and familiarise yourself with comprehensive details of legal, non-legal and common requirements, such as:
The European Package Travel Directive
General Data Protection Regulation (GDPR)
Liability insurance and insolvency protection
Covid-19, Health and Safety, and Accessibility Concerns for Baby Boomers
The COVID-19 pandemic has caused severe long-term problems for the tourism industry worldwide. At the time of writing this report (August 2020), most European countries advised against any travel outside the EU. Once restrictions have been lifted or adjusted to allow for long-haul travelling, it is likely that European baby boomers will travel cautiously and in fewer numbers than before the pandemic. How you communicate with them will be key to building relationships.
Although baby boomers are at a higher risk of developing complications from COVID-19, particularly those aged 65 and older, a recent study shows that they are increasingly positive about the possibility of travel in the near future. With proper measures in place to reassure potential travellers, such as the implementation of strict cleaning protocols, face mask use and other safety processes, local operators are well placed to attract baby boomers, when travel restrictions from Europe ease.
In addition to COVID-19, accessibility, security and other health risks are important considerations that baby boomers take into account when deciding where and how to travel. While they are likely to take out their own travel insurance, they will want to know that the destination they visit, and their trip overall, will be safe, easy to get to, and to get around. UK tour operator Saga, which caters specifically for the over 50, clearly features some reassuring information for its customers.
Chart 1: The Saga Difference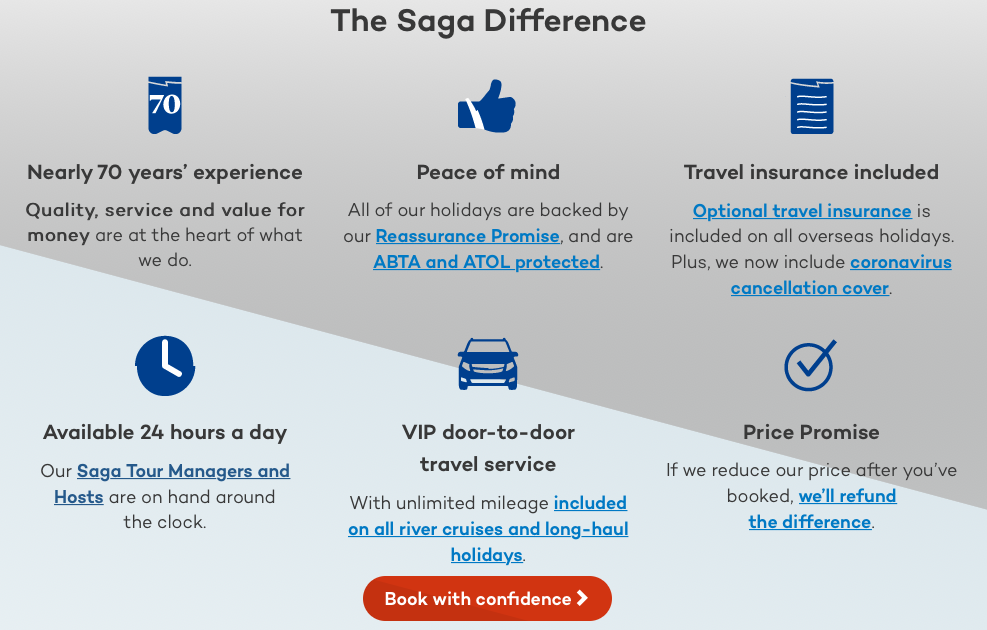 Source: Saga
Tips:
Read the CBI study Managing Risks in Tourism to learn about the measures that you can implement during this global crisis.
Be very clear on your website and other marketing materials about the measures you are taking to keep your customers safe during the pandemic, such as any cleaning protocols you have adopted. Take a look at the example below to see how one operator is pledging to keep their customers safe.
The most prominent seniors organisation in the US, AARP, offers good advice and information about travelling after COVID-19.
Make sure you include details of accessibility to and what are the medical facilities available in your destination.
Chart 2: Keeping you safe during COVID-19
Source: Chaing Rai One Day Experience, Viator
What are the requirements for niche markets?
Personal touch and online presence important
Born between 1946 and 1964 (aged between 56 and 74 in 2020) baby boomers are a significant consumer group in the world today. Either well-established in their careers or retired, baby boomers are the wealthiest consumer group and have the budgets to fulfil their travel aspirations, or check off items and places on their bucket lists. Baby boomers have high expectations for their travel experiences. They often have more time to spend researching, planning and booking their trips well in advance, often as much as a year. Retired baby boomers are also able to travel out of season, which offers opportunities for operators during the low season.
Baby boomers tend to be more traditional than younger groups, which means they like the personal contact of speaking to a person directly, either face to face or over the phone. Meeting people and having meaningful personal interactions are very important for baby boomers, whether it is hotel managers, tour operators, guides or other tourism professionals.
Nonetheless, baby boomers are becoming increasingly tech-savvy and there is a rising trend of smartphone and tablet use among this generation. For travel experiences, the internet has become a key resource for both research and booking travel experiences online. Roughly four in five baby boomers will use online travel services. While travelling, baby boomers tend to use their smartphones to take pictures and find experiences and restaurants rather than sharing, although Facebook is a key social media platform for them, particularly as they keep in touch with their families and friends.
As a tour operator, having an online presence is becoming increasingly important to reach your market and to attract baby boomers, so you must position your website carefully. Start by researching to see what sort of website and content appeals to travelling baby boomers; blogger sites are a good place to start and there are numerous examples. Sixty and Me represents a community of 500,000 women over 60, covering a wide range of topics that appeal to the demographic, including travel. Travel Past 50 specialises in blogs about cultural trips and Grey Globetrotters has a focus on safe and responsible travel for those over 50. Consult this list of baby boomer travel blogs and websites to find other relevant bloggers.
Tips:
Your website must have a user-friendly interface that works well on both desktop and mobile devices, is easy to navigate and features clear calls to action.
Make sure you feature reviews from previous baby boomer customers to reassure potential customers.
Pay special attention to providing important information that covers risk management and health and safety.
The CBI study How to be a successful tourism company online offers detailed guidance to help you create an effective website.
Baby Boomers seek active, authentic and luxury travel experiences
Baby boomers are very keen on meaningful travel experiences, plus they are willing to spend more on the perfect trip. Typically, they like a wide range of travel experiences that are active, authentic or luxury, and often involve a combination of different styles to meet their high expectations.
Remaining active is important to baby boomers, who are keen to retain a healthy lifestyle that is good for the body and brain as they age. Retired baby boomers enjoy a wide range of physical activities in their everyday lives, which they also like to do in a different location while on holiday. Examples include walking, hiking, playing golf, sailing, tennis and cycling. Many of these could be packaged appropriately for this group.
Boomers are also keen on authentic and immersive experiences. They like to learn new things while travelling, for example:
Holidays and trips with a cultural focus, such as history, music or language
Hands-on learning experiences, for example photography, painting, drawing or cooking
Taking part in in community-based tourism (CBT) activities, immersing themselves in local cultures.
Meeting local people, sharing meals or staying with them. Download the CBI study What are the opportunities in the European CBT market to find out more about the sector.
As baby boomers have more money to spend on travel, luxury is also more important to this consumer group than any other, particularly when it comes to accommodation. Baby boomers generally prefer to stay in hotels where they can be assured of a certain standard. Therefore, if you can offer a high standard of accommodation with quality furnishings and bathroom fittings, you are more likely to appeal to this type of traveller. Familiar with the hotel experience, they will also appreciate extra little touches, such as complimentary toiletries, filtered water, welcome gifts, like a bottle of local juice or wine, or a basket of locally sourced fruit.
The table below provides examples of how trips can be packaged to include a combination of styles.
Chart 3: Packaged trips for baby boomers
| | |
| --- | --- |
| Package | Type |
| An invigorating hike in a place of outstanding natural beauty followed by a glass of champagne while watching the sunset | Active, luxury |
| Jeep safari followed by private dinner and overnight stay in tented lodge | Active, immersive, luxury |
| A self-guided, two-day cycle trip with planned stops en route and overnight stay in boutique hotel | Active, luxury |
| A wine tour including shopping and fine dining | Immersive, luxury |
| An excursion while on a river cruise to take part in local cooking or handicraft class | Luxury, immersive |
| A day trip to visit a local community and take part in a festival and other local activities | Immersive, active |
| A guided sightseeing trip with an experienced local guide to see less visited spots | Active, immersive |
| A visit to a local community with an overnight stay in a local homestay and a homecooked meal | Active, immersive |
| A round of golf or cycling trip followed by a visit to a spa facility | Active, luxury |
| A walking tour of local archaeological or cultural sites that includes street food tastings | Active, immersive |
Source: Acorn Tourism Consulting
Tips:
If you offer cultural trips or experiences, make sure your guides are well trained and experienced in their field. They must be able to speak the language of your travellers to a high standard, but English at the very least. Baby boomer travellers are typically well educated and will often ask challenging questions.
For activities involving sports, ensure that you have adequate safety measures in place and that you clearly state what they are.
Make your packages attractive for out-of-season travel. While boomers are less affected by budget constraints, they like to know they are getting value for money and travelling in low or shoulder seasons is appealing to them.
Consider carefully whether your accommodation range is suitable for the baby boomer market. Offer upgrade options to experiences that will appeal to older consumers, and ensure your staff provides a personal, warm welcome.
For more information about creating a tourism product, read the CBI study How to get started developing your tourism product.
2.

Through what channels can you get travel products for Baby Boomers on the European market?
How is the end-market segmented?
The baby boomer market can be broadly segmented as follows:
Couples and Small Group Travel – Many baby boomers travel as couples. If they had children, they no longer live in the same house, so these boomers are embarking on trips of a lifetime, enjoying time free from family responsibilities. They may travel as FITs or join a small group trip with other baby boomers.
Multigenerational Travel – One of top reasons for baby boomers to travel is to spend time with friends and family. This segment is known as multigenerational travel, because it usually involves a travelling group made up of three generations. The rise in multigen travel is in part driven by the baby boomer consumer who will often pay the bill for a multigen trip with their family. A multigen trip is usually made up of different elements to suit the tastes of the different participants, from youngsters to grandparents, so if you are catering for this group, it is important that you are able to meet a wide range of needs, including the provision of accommodation for large groups.
Solo Travel – Solo travel represents one of the largest tourism growth trends in the world today and is estimated to account for 11% of the overall travel market. Research has shown that baby boomers are driving growth in the sector, particularly amongst women. An estimated 40% of baby boomers around the world take a solo trip every year. This has led to significant growth in the service sector with numerous tour operators and travel agents specifically catering for this lucrative market. Solo travellers are usually more adventurous, keen to get off the beaten track and immerse themselves with local people and communities. They are also keen to meet other like-minded travellers. However, it is important to recognise that solo travellers, especially in the baby boomer market and amongst women, will take personal safety very seriously.
Through what channels do baby boomer travel products reach the end market?
Most baby boomers use specialist tour operators to book their trips on the basis that these operators have a good understanding of boomers' needs. Many European tour operators in the market either specialise in the 50+ market or devote a section of their itineraries to this market.
Chart 4: Channels for baby boomer travel products in the European market

Source: Acorn Tourism Consulting
See below some examples of European tour operators that cater for the baby boomer market.
Specialist Tour Operators:
General Tour Operators:
OTAs:
Online travel marketplaces that feature tours from many major tour operators in one place and categorise trips for the baby boomer category are also important research and booking resources. Examples include Tour Radar and Stride Travel.
Adventurous baby boomers may choose to make their own travel arrangements, or supplement their holidays by booking experiences while on the go, typically using well-established OTAs, such Viator and Airbnb Experiences. To find out more about FITs, read the CBI's study What are the opportunities in the European FIT tourism market.
Online travel publications aimed at baby boomers are good resources for understanding how to appeal to your audience. Here are some examples:
What is the most interesting channel for you?
Specialist European tour operators offer the most opportunities to reach this market. To prepare yourself for doing business with European tour operators, consult the CBI study, 10 tips for doing business with European tourism buyers.
3.

What competition do you face on the European Baby Boomer market?
Which countries are you competing with?
Baby boomers generally seek destinations that are safe to travel around. They may have a bucket list of experiences, natural sites, and historical landmarks, such as UNESCO designated World Heritage Sites, which they may want to visit, provided they are accessible. Asia attracts a large share of baby boomers, particularly Japan, Thailand, and India, for their huge diversity of notable sights and spiritual destinations. The Middle East is also popular, particularly to those seeking to travel to the Holy Land, which is another popular bucket-list destination for baby boomers. To read more about religious tourism, consult the CBI study What are the opportunities in the European religious tourism market. For more information, see this blog post on dream travel destinations for baby boomers.
UK tour operator Pettitts Travel has compiled this list of destinations for travellers aged 50 and older. The top developing nation on the list is Thailand, followed by India, Mexico and Vietnam. Morocco and South Africa are the most popular destinations on the African continent. You should consider these countries as the major competing nations for baby boomer tourism.
India
Luxury package tours are popular amongst baby boomers seeking to enjoy the vast and diverse culture of India, but prefer the safety and security of a guided trip. India has much to offer the 50+ traveller, from temples, mosques and churches, abandoned cities, forts and palaces, along with spectacular scenery.
Mexico
Mexico offers a wide range of travel experiences for the baby boomer generation. Off the coast of Baja California, a number of luxury resort hotels along with excellent sport fishing and championship level golf courses appeal to wealthy retirees who are keen on remaining healthy. Authentic and cultural experiences abound in other areas of Mexico, such as Puerto Vallarta and San Miguel de Allende, known for its small town charm and international cuisine.
Morocco
Morocco offers a mix of travel opportunities for the senior traveller, including luxury choices along with adventures that are more active and cultural. It is also conveniently located within easy reach of the major European source markets, making it a popular choice for European baby boomers. Other key attractions in Morocco include the cultural highlights of cities such as Marrakech and Berber, the history, architecture and the souks (bazaars), the Atlas Mountains and the Sahara Desert.
South Africa
South Africa's wide range of natural attractions include superb game parks and private reserves, extensive vineyards, coastal vistas and water-based activities, along with vibrant cities. All of these are popular choices for baby boomers. The country also has a good tourism infrastructure in terms of suitable accommodation and transport network, along with modern medical facilities. Most destinations have a wide range of facilities for seniors, and food and water are generally safe to consume.
Thailand
There has been a significant rise in the number of baby boomers travelling to Thailand. The 50+ market comes to Thailand attracted by the diverse culture and the wide range of activities. Boutique hotels, fine dining, shopping in floating markets, idyllic beaches, and a vast array of cultural and spiritual attractions appeal to this group of European travellers. The Tourism Authority of Thailand (TAT) has published some helpful tips for first-time senior citizens visiting the country which could be adapted for many destinations.
Vietnam
Guided packages are the most popular travel types for baby boomers travelling in comfort to experience Vietnam's rich culture in destinations such as Hanoi, Halong Bay, Hue Imperial City, and the Mekong Delta. The hill tribes of Northern Vietnam are more popular with more adventurous baby boomers. The natural environment, the culture and the people themselves are a significant draw for European 50+ travellers.
Which companies are you competing with?
Companies in India
50+ Voyagers is a travel club, membership scheme and activity centre for older travellers. It promotes trips to meet people of similar ages, interests and mindsets, and activities range from sport, wellness and culture. It offers services to domestic and international clients and also offers tours outside India.
With a focus on Rajasthan, Golden Triangle Tour India offers luxury trips of varied duration including one in conjunction with the luxury Taj Group of Hotels. It also offers a number of trips on one of Rajasthan's luxury trains, the Palace on Wheels and the Fairy Queen. The Golden Triangle tour visiting the well-known destinations of Delhi, Agra, Jaipur, and Ajmer are possible by train, car or luxury coach.
Paradise Kerala offers tours and holidays in the southern state of Kerala. It also has packages aimed at women only, a growing group of customers in the solo travel segment. This operator has been in business for more than 12 years and has provided more than 2,500 packages in Kerala. It has adopted proactive corporate social responsibility (CSR) policies and supports initiatives to help local children through education, the provision of medical aid and a free ambulance service in the local area.
Companies in Mexico
With the strapline 'Mexico's Tourism Pioneer' Mayaland is one of the country's oldest tour operators, founded in 1921. It offers hotels, experiences and transportation in a variety of destinations in Mexico, including Mexico City, Cancun and Chichen Itza. Experiences are categorised by activity, such as cultural activities, archaeological sites and gastronomy, which are all key travel motivations for baby boomers. Transportation is offered in luxury specialised touring vehicles, and the operator manages a range of luxury resorts and lodges located close to the famous temples of Uxmal and Chichen Itza. This operator features a blog on its site.
Mexico at Max offers a range of experiences, such as a trip to the UNESCO site of Teotihuacan. As the COVID-19 pandemic paralysed its tourism products, this operator is now offering a range of payable online learning experiences around the topics of cooking and culture, which can be booked online or via Airbnb. Its website is available in English and Spanish.
Companies in Morocco
Marrakech Day Trips specialises in trips to the Atlas Mountains from Marrakech, to UNESCO sites, heritage and cultural tours, and experiences, such as watching the sunrise or sunset over the Sahara Desert. The operator provides a wide range of services that includes accommodation, transportation, guided tours by vehicle or by foot (trekking). The guides and owners are fluent in English, French, and Arabic, and can also provide German and Spanish-speaking guides. Its website is available in English, French, and German.
Medina Tours is based in Fez, offering multi-day tours and day-long excursions, including a selection of learning sessions, such as photography and cooking. Their website, which is available in English and Italian, features reviews from its customers prominently, as well as a blog.
Companies in South Africa
Based in Cape Town, African Budget Safaris offers budget senior tours in South Africa, Botswana and Namibia. This blog post on the safety and accessibility of safaris for seniors, targets older travellers. This operator promotes its client reviews prominently on their website, along with a Heavy Discount button to draw the user to special offers.
The Mzansi Experience offers a range of Big Five safaris, ranging from luxury tents to budget, as well as walking safaris for the more adventurous. Clients receive personalised booking assistance from start to finish and travel insurance is fully included. The operator has negotiated partnerships with several leading travel organisations in the sector, including Safaribookings.com, Tour Radar, and Stride.
Companies in Thailand
Manohra Cruises is based in Bangkok, offering dining cruises, charter cruises and other special events cruises on its fleet of restored antique rice barges, which were once the main way of navigating the river. Each boat was restored in the traditional krachaeng style, which means a boat with canopy. Dining is either private or luxury, Michelin-starred dining experiences. All cruises are operated on the Chao Phraya River.
Mam Holidays offers a wide range of cultural tours in Thailand and Vietnam that appeal to the baby boomer market, such as a full day tour from Bangkok to a UNESCO site and visit to a winery. The operator predominantly promotes its Thailand tours on Viator Experiences.
Companies in Vietnam
Paradise Cruise offers luxury cruises in Halong Bay. It prides itself on providing a personalised service and pays great attention to detail. As well as day, overnight and charter cruises, the operator combines other activities, such as a scenic tour in a seaplane or an additional overnight stay in a luxury five-star hotel. The website features a wide range of travel information that includes onboard safety.
Kiwi Private Tour, listed with Tours with Locals, and Hoi An Express are examples of tour operators that list their tours with Viator and TripAdvisor. They specialise in cultural and guided tours of some of Vietnam's best sites, some of which are publicised as luxury to appeal to wealthier, older customers.
Which products are you competing with?
Travel to developing nations is typically more challenging for Europeans, regardless of age or travelling style. With such high expectations, baby boomers are likely to extensively research their trips within the broader adventure tourism segment. Therefore, you should consider that your main competing products will be those in that fit under the adventure tourism umbrella. To read more about the adventure tourism segment, consult the CBI study What are the opportunities in the European adventure tourism market.
4.

What are the prices for travel products for Baby Boomers on the European market?

Prices for experiences and holidays aimed at baby boomers are varied and depend on many factors that include time of year, duration, what's included and type of transportation. The table below provides an indication of the huge variation in prices in each of the competing destinations.

Chart 5: Sample prices for trips and holidays for baby boomers
| | | | |
| --- | --- | --- | --- |
| Trip | Country | Duration | Price per person (€) |
| Day or Partial Day Experiences |   |   |   |
| Puerto Vallarta City Tour, Shopping and Tequila Distillery | Mexico | 5 hours | 26 |
| Private Market Tour & Vegetarian Cooking Class & Meal in Local Home | India | 4 hours | 35 |
| Private Street Food Evening Walking Tour in Ho Chi Minh City | Vietnam | 4 hours | 36 |
| Be Maya Experience in the heart of Chichen Itza | Mexico | 4-5 hours | 39 |
| Jeep Safari in the Desert with lunch | Morocco | 1 day | 42 |
| Cu Chi Tunnels and Mekong Delta VIP Tour | Vietnam | 11 hours | 43 |
| Private Tour of Jaipur with a Guide | India | 8 hours | 50 |
| The Venerable Landmarks of Chiang Mai | Thailand | 4 hours | 51 |
| The History and Culture of Marrakech | Morocco | 1 day | 55 |
| Caoe Winelands Guided Tour from Cape Town | South Africa | 8.5 hours | 59 |
| Michelin Dining on a River Cruise | Thailand | 3 hours | 77 |
| Chichen Itza Premium Private Tour | Mexico | 6.5 hours | 78 |
| Insight Varanasi Day Tour | India | 14 hours | 100 |
| Addo Elephant Safari with a Traditional South African Braai (BBQ) | South Africa | 9 hours | 114 |
| A Glimpse of Myanmar and the Golden Triangle from Chiang Rai – Private Tour | Thailand | 9 hours | 149 |
| Hot Air Balloon Excursion in Agadir | Morocco | 5 hours | 208 |
| Multi-Day Experiences |   |   |   |
| Private Eco-trekking and Homestay with the Akha Hill Tribes | Thailand | 2 days | 77 |
| Small Group Mekong Delta Tour from Ho Chi Minh City | Vietnam | 2 days | 111 |
| Marrakech to Merzouga by Way of Dades Valley plus Erg Chebbi Camel Trek | Morocco | 3 days | 141 |
| Private Golden Triangle Tour (Delhi, Agra, Jaipur) | India | 3 days | 273 |
| Tour of Delhi, Jaipur, Agra, and Varanasi | India | 7 days | 399 |
| Halong Bay Cruise with Paradise Elegance Cruise | Vietnam | 2 days | 410 |
| Cape Town Adventure | South Africa | 4 days | 467 |
| River Kwai Tour from Bangkok: Ayutthaya, Kanchanaburi and Thai-Burma Death Railway | Thailand | 3 days | 631 |
| Small Group Tour of Yucatan Peninsula | Mexico | 8 days | 1,541 |
| Private Tour to Atlas Mountains and Sahara Desert | Morocco | 11 days | 1,772 |
| Maya Classic Tour of Archaeological Sites | Mexico | 5 days | 2,069 |
| Kruger Park to Victoria Falls & Chobe Safari Adventure | South Africa, Botswana, Zimbabwe | 15 days | 3,378 |
Source: Acorn Tourism Consulting
Note: Multi-day experiences do not include international airfares
This study was carried out on behalf of CBI by Acorn Tourism Consulting Limited.
Please review our market information disclaimer.
Follow us for the latest updates