Wildlife tourism from Europe
Europe is a key source region for international wildlife tourism. The United Kingdom and Germany are the largest markets, but smaller markets such as Scandinavia and the Netherlands are also interesting. An increasing concern for animal welfare is driving demand for wildlife observation rather than interaction with wildlife. European wildlife travellers increasingly are in search of new and active ways to observe wildlife. The safety of both travellers and wildlife should be your top priority.
1.

Product description

In wildlife tourism, observing animals in their natural environment is the main purpose. This includes both land-based and water-based environments. The focus is on observation (wildlife watching tourism), but it can also involve interaction such as touching or feeding animals. According to industry experts, safari tours are the most popular product within wildlife tourism. Other popular products are birdwatching (avitourism), marine wildlife watching, great ape watching and special wildlife tracking tours.

As it centres on components of the natural environment, wildlife tourism is a sub-category of nature-based tourism. This is tourism that takes place mainly in natural environments, with the specific purpose of viewing and experiencing the natural features of a destination.

Figure 1: Sub-categories of nature-based tourism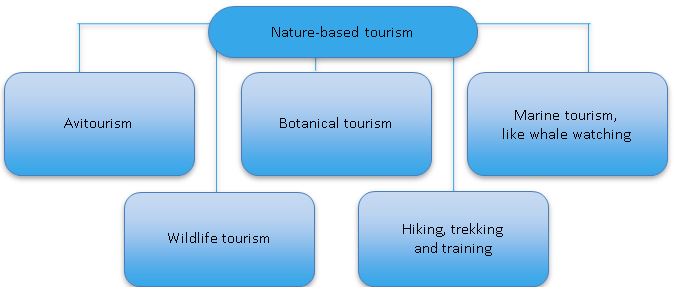 Source: The Nature Conservancy
As it can include rather adventurous activities, wildlife tourism is also closely related to adventure tourism. Some wildlife tourism activities are considered separate established niche markets, like birdwatching or whale watching. These are also included in this study. Consumptive wildlife tourism, such as hunting and fishing, has been excluded.
Quality of wildlife experience
Wildlife travellers want to be in nature and observe wildlife in its natural habitat. They generally prefer destinations with a wide variety of animal species. The presence of unique species also makes a destination attractive. For example large animals (elephants, rhinos), native animals that represent destination icons (kangaroos, pandas) and endangered species (gorilla, orang-utans).
Tips:
Provide detailed information about the different wildlife species travellers can spot in your area. Highlight the unique ones, such as destination icons and endangered species.
Make sure the description of your product offering matches reality. Do so, for example, by developing a "calendar" with the best times to see certain species, to avoid disappointment. Never guarantee an experience unless you can deliver on this promise.
Natural surroundings
The quality of a wildlife holiday experience also depends on the richness and uniqueness of the natural surroundings at a destination. Natural attractions like waterfalls, natural parks or game reserves are important European wildlife travellers.
Tip:
Emphasise the natural attractions in your area as well as the diversity of wildlife.
Health and safety measures
Safety is another important requirement for wildlife tourism. As wildlife travellers often spend a lot of time in small groups in isolated areas, they need those areas to be safe. This generally makes protected areas more attractive than unprotected ones. They are more easily accessible and considered safer. Vehicles, equipment and accommodation also have to be safe.
Tip:
Pay attention to general safety measures. Tour operators should, for example, regularly check vehicles and equipment. Hire experienced guides that know the area. Accommodation establishments should have safety measures in place. Think of smoke detectors, fire extinguishers, emergency exits, first aid kits and 24-hour medical assistance.
Political stability
Safety is important to European travellers, especially because some developing countries are politically unstable. Most commercial tour operators do not offer holidays to countries that their Ministry of Foreign Affairs has declared unsafe. This has led to a drop in tourism arrivals to countries such as Mali, Egypt and Venezuela.
Tips:
Keep customers and potential customers updated on changes in the safety situation in your area. For example through your website and through your staff.
Share safety experiences from customers on your website. Let them write about how safe they felt, because people value the experience of other travellers.
If your region is "unsafe", commercial tour operators will most probably not go there. In this case, focus on volunteer organisations and individual travellers. Check your country's current safety status at the website of your target country's Ministries of Foreign Affairs like the Netherlands, Sweden and the United Kingdom.
Knowledgeable guides
Offering wildlife holiday products requires excellent knowledge of the destination, wildlife sites and the local animals, birds and plants. Local tour guides must know which places are safe to visit and which are not. They should also advise wildlife travellers on what to do in emergency situations or when encountering some animal species.
Tips:
Provide professional tour guides with a thorough knowledge of the destination and its wildlife. Use local experts for guidance on local species. Local organisations like EcoTraining offer specialised training courses for safari guides.
Ensure your tour guides have good English language skills. If you can offer guides with additional language skills, like in German, French or Italian, this is always an advantage.
Flexible offerings
European wildlife travellers have diverse interests and preferences. They prefer activities that meet their personal needs and wishes while on wildlife holiday. This is why many European wildlife tour operators often organise wildlife package tours in small groups to allow flexibility. They may also offer customised wildlife tours, so travellers can design their own trip.
Tips:
Be flexible in your offering. Offer tailor-made products and give your customers the option to create their own package, for example through different types of accommodation, activities and transport.
Non-wildlife activities
Most European wildlife travellers are also interested in non-wildlife activities, usually related to nature and culture. This could concern visits to famous or scenic sites, physical, adventurous activities in a natural setting like canoeing or trekking, or cultural and/or historical excursions. They may also enjoy interacting with local communities, for example through workshops or by staying in accommodation run by locals.
Tips:
Combine your wildlife tourism offering with attractive natural and/or cultural sites, routes or activities.
Involve local communities and/or incorporate cultural values into your offering. For example, visit a local community after a safari tour.
Sustainability
Wildlife travellers are generally more concerned with sustainability than other travellers, as their holidays are centred on nature. Nature and wildlife that is not managed sustainably will deteriorate and eventually become unattractive for wildlife holidays. European wildlife tour operators therefore increasingly look for sustainable products and partners who implement good sustainable practices. Integrating sustainable elements into your product can therefore give you a competitive advantage.
Work with a local conservation organisation to minimise the impact of your tourism product on the local wildlife and environment. They can also provide education on unsustainable or illegal souvenirs.
If your business is sustainable, promote this on your website and in the information you provide to European tour operators.
Never exaggerate your sustainability performance (so-called "greenwashing").
For more information, see our study on European tour operators' need for sustainable suppliers.
Comfort
The level of comfort that European wildlife travellers look for largely depends on their age. Younger wildlife travellers are more likely to choose budget options like campgrounds. Older travellers prefer accommodation that offers more comfort, like lodges. However, comfort does not necessarily mean luxury. Sleeping in a safari tent can also be an option, as long as a comfortable bed is provided.
Tip:
Offer various types of accommodation. They can range from basic to luxury, as long as you provide comfortable sleeping arrangements.
2.

Traveller profile
First timers
This is the largest segment of wildlife travellers. People in this segment are new to wildlife holidays. Although wildlife is one of the main highlights of their holiday, they also spend a significant amount of time on other activities. They are interested in active wildlife activities, not just sitting in a jeep and observing animals. They generally go to countries with an established image as a wildlife destination, such as Kenya, South Africa, Tanzania and the Galapagos Islands.
A division can be made between older and younger first timers. Older first timers are generally less independent than younger first timers. They usually buy travel products from travel agents or tour operators from their home country and travel in groups. Younger first timers are also comfortable arranging long-haul holidays by themselves. Older first timers generally have higher spending power and more time to travel. They tend to look for more comfort and are willing to pay for it.
Tips:
When you target first timers, offer flexibility. For example, allow them to combine a variety of wildlife and non-wildlife activities. You can also offer them more active forms of wildlife tourism like bushwalks or walking safaris.
If your destination is less known for wildlife tourism, combine it with something else your area is known for. For example, combine trekking with wildlife observation.
Wildlife enthusiasts
This is a smaller segment, consisting of travellers whose main holiday purpose is to observe wildlife. They want to dedicate a significant share of their holiday to wildlife observation. Wildlife enthusiasts like to include some non-wildlife activities in their holidays as well, but this is less important. At home, they also engage in nature-related hobbies like birdwatching or fauna photography. They are often members of local wildlife clubs.
Wildlife enthusiasts often have a special interest in a specific type of wildlife, like birds or large mammals. This will also be the focus of their wildlife holiday. To ensure a holiday dedicated to wildlife observation, they prefer to travel together with people with similar interests. They may also travel with interest groups like birding clubs. Wildlife interest groups based in European source markets often offer cost-competitive tours for members.
Tips:
To attract wildlife enthusiasts, make sure you have experience and excellent knowledge of local species and natural surroundings.
Consider working with specialised wildlife tour operators or wildlife interest groups. Be aware that potential partners might have more (theoretical) knowledge of wildlife than you.
3.

Which European markets offer opportunities for wildlife tourism?
The wildlife tourism market is growing
Some 7% of world tourism is estimated to relate to wildlife tourism, growing by about 3% per year. This would currently amount to around 87 million trips per year that include some type of wildlife tourism. Europe is one of the most important source regions for these trips.
The United Kingdom and Germany are the largest European source markets for trips to developing countries in general. According to industry experts, they are also among the largest source markets for wildlife tourism in particular. Smaller interesting source markets are Scandinavian countries and the Netherlands, due to their passion for nature and their mature travel markets.
Tip:
Focus on the United Kingdom, Germany, Scandinavian countries and/or the Netherlands.
European travellers are interested in classic wildlife destinations
Classic wildlife destinations are popular among European wildlife travellers, especially first timers. Around half of global wildlife tourism trips are to Africa, making it the most popular continent for wildlife tourism. Southern and Eastern African countries are especially rich in wildlife, with environments like savannahs that provide good viewing. Wildlife tourism represents 80% of trips to Africa and sales are increasing.
Common wildlife destinations for European wildlife travellers include Kenya, South Africa, Tanzania and the Galapagos Islands. Other popular destinations are, for example, Brazil (the Pantanal), Costa Rica, India and Indonesia (Borneo). These countries have established an image and heritage as a wildlife destination among European wildlife travellers.
Tips:
Use popular wildlife tourism destinations as an example. Research how they position themselves in terms of product range, quality and price. Try to distinguish yourself from them, for example by emphasising the presence of unique animals in your area.
Join forces with tourism stakeholders in your country/region to strengthen your position as a wildlife destination. This could concern flora and fauna associations, local governments, local businesses and tourism associations.
The popularity of newer wildlife tourism destinations is increasing
Newer wildlife destinations that are becoming popular among European wildlife travellers are mostly in Africa, such as Uganda, Namibia, Botswana, Madagascar, Zambia and Rwanda. Interest is also increasing in some destinations in Asia (Malaysia) and Latin America (Venezuela).
Some 93% of UNESCO natural heritage sites support recreation and tourism, giving these areas a strong connection to wildlife tourism. Most natural heritage sites are in developing countries, providing good opportunities for the local tourism industry. To protect the natural heritage while developing tourism, UNESCO now has a World Heritage and Sustainable Tourism Programme. This helps destinations preserve the very wildlife and natural assets their tourism industry is based on.
Tips:
If your destinations is less known for wildlife tourism, it can be difficult to sell specialised wildlife tourism products. In this case, highlight the unique attractions of your destination and add nature and wildlife elements to it.
If your product is related to a UNESCO Natural World Heritage Site, promote this clearly. Emphasise that this site is unique to your destination.
For more information and best practices, see the UNESCO World Heritage Sustainable Tourism Toolkit.
For more information on European traveller numbers in general, see our study about European demand for tourism in Developing Countries.
4.

Which trends offer opportunities on the European market for wildlife tourism?
Animal welfare is becoming a top priority
Animal welfare is becoming a major issue, especially for tour operators in northern and western European countries. Many have recently eliminated animal attractions like elephant rides from their offers. Some of Europe's main tour operators are now committed to the Global Welfare Guidance for Animals in Tourism.
European travellers are increasingly getting involved in this issue. Initiatives like the Born Free Foundation's Travellers' Animal Alert allow them to raise their concerns. Petitions like World Animal Protection's Wildlife. Not Entertainers are signed by hundreds of thousands. The effect of these developments is becoming clear throughout the industry. For example, TripAdvisor is now banning ticket sales to attractions that include physical contact with captive, wild or endangered animals.
Tips:
Focus on offering wildlife observation activities, rather than including physical contact.
To optimise your animal welfare performance, study the ABTA Animal Welfare Guidelines.
Families are discovering wildlife tourism together
The trend towards multigenerational family travel (grandparents, parents and children travelling together) has also reached the wildlife tourism market. Many European grandparents are retiring (soon) and are in strong financial and physical shape. They see travel as an excellent way to create lifelong memories with their children and grandchildren. Wildlife tourism could be an interesting product for them.
Tip:
Develop wildlife tourism products aimed specifically at families. Keep in mind that they demand greater flexibility in accommodation and more diversity in activities. Multigenerational families also require the freedom to explore and unwind at their own various paces.
Interest in new experiences is increasing
European travellers are increasingly looking for unique experiences during their holidays. In addition to standard ways of wildlife watching from vehicles, there is increasing demand for new ways to observe animals. For example on wildlife tours by boat, kayak, car, balloon, plane or on foot. This meets European travellers' growing interest in active participation, rather than passive observation.
Tips:
Develop new types of wildlife tours and packages.
When creating new experiences, keep the safety of both travellers and wildlife a priority.
The influence of online reviews and visual storytelling is growing
European travellers increasingly research and plan their trip online. To gather information and share experiences they use review sites, social media, travel forums and blogs. Online reviews and feedback from fellow travellers have become important sources of information. This type of User Generated Content is key, as 83% of consumers trust earned media above all other forms of advertising.
Visual storytelling is especially important for wildlife tourism, for example on platforms like Instagram. It allows you to showcase your local wildlife and the unique activities you have to offer. In fact, 72% of adventure travel professionals consider visuals a key aspect of how they communicate and tell their brand's story. Over two thirds of them expect photography and video content to become even more important in the coming years.
Social media also allows wildlife enthusiasts like birders to record (rare) animal sightings and instantly share them with fellow wildlife lovers worldwide. This can quickly attract other enthusiasts to a destination.
Tips:
Maintain a strong internet presence and online marketing strategy, including social media.
Share animal sightings on social media, especially when they are rare. Also monitor social media for sightings in your area, so you can prepare for potential increased demand.
Use photos, sound and videos to bring your story alive and showcase your unique wildlife watching opportunities. For more information, watch this webinar series on visual communication in adventure travel by the Adventure Travel Trade Association (ATTA) and Libris.
Use current customers as ambassadors for your company and area. Encourage them to share their experiences and visuals on social media, to write blogs and to review your company.
For more information, see our 10 tips for online success.
Wildlife tourism applications are on the rise
Mobile applications (apps) have also reached the wildlife tourism segment. Wildlife travellers increasingly use them on their holidays. They can access information about species and the biogeography of their destination, learn how to spot animals, search animals by shape, family or common name and much more.
Tips:
Inform your guests about the best wildlife watching app(s) for your area.
If it doesn't exist yet, develop a wildlife watching app about the animals and hotspots at your destination, such as the Sasol eBirds of Southern Africa app. You can try to team up with other stakeholders in your area and develop the app together.
For more general industry trends, see our study about European tourism market trends.
5.

What requirements should wildlife tourism comply with to be allowed on the European market?

For general tourism requirements, see our study on what requirements your services should comply with to attract European tourists. Some additional requirements apply to wildlife tourism.
Voluntary safety standards
As wildlife tourism is considered a niche market within adventure tourism, there are three international ISO standards that support safe practices: 21101, 21102 and 21103. Additionally, some countries have their own voluntary standards, such as BS 8848 in the United Kingdom.
Tips:
Study the ISO standards on adventure tourism and use them to enhance your safety performance.
Check for possible voluntary standards in your target markets.
6.

What competition do you face on the European market for wildlife tourism?

Competition in the wildlife tourism market does not differ from the tourism market in general. For more information, see our study on what competition you face on the European outbound tourism market.
7.

Which channels can you use to put your wildlife tourism products on the European market?
Focus on smaller specialised tour operators
European wildlife travellers often prefer specialised wildlife tour operators to organise their trip. Tour operators that specialise in your destination also offer opportunities. You can identify them via trade associations, events and databases.
For example:
Business through wildlife interest groups
Wildlife enthusiasts, in particular, are often organised in groups such as birding clubs. As part of the membership these clubs may offer their members trips to specific sites all over the world. They focus on specific species. There is great value in approaching such groups, as they offer direct access to potential customers.
Tips:
Approach wildlife interest groups in your European target market(s) to discuss possible cooperation.
Advertise in member magazines as well as other wildlife and nature magazines in your European target market(s).
Generating direct sales
European wildlife travellers increasingly book directly with local tour operators, especially young first timers and wildlife enthusiasts. To reach them, you can promote your product on (wildlife) tourism websites/portals.
For instance:
8.

What are the end-market prices for wildlife tourism products?

Travellers have many destinations and types of holiday to choose from. This makes tourism a relatively price-sensitive and competitive industry. The price of a long-haul trip consists of three dimensions:
The exchange rate between the currencies of the country of origin and the destination country.
The costs of transport to and from the destination country.
The price of goods and services the traveller consumes in the destination country.
European tour operators are not open about the purchasing prices of their tourism products. According to industry experts, their margins vary between 10% and 25%. Prices of holiday packages vary widely as they depend on a lot of factors, such as:
availability
destination
modes of transport
period of travel
number of travellers
length of stay
type of accommodation
included activities.
Tips:
Check which countries have cheap flights, preferably direct ones, to your destination, for instance at Skyscanner, as this will give you a competitive advantage in those countries.
You can compare prices for wildlife tourism products online, for example at Responsible Travel.
Tourism Boost has some useful on-line tools for pricing tours and accommodation. These can help you determine the break-even point and ideal retail price of your tourism product.
Please review our market information disclaimer.
Follow us for the latest updates