Birdwatching tourism from Europe
Birdwatching tourism is a growing niche market, as Europeans are becoming increasingly interested in birding. Especially the United Kingdom is a strong source market for birdwatching tourism. The Netherlands is also promising. Quality birdlife is key to a good birdwatching destination. Your product and destination must be both bird- and birder-friendly. Safety, accessibility and knowledgeable guides are important, as well as sustainability and additional activities.
1.

Product description

Birdwatching tourism or avitourism refers to travel with the main purpose of viewing birds in their natural habitat. As it is centred on components of the natural environment, birds and their habitat, birdwatching tourism is a subcategory of nature-based tourism. This type of tourism takes place mainly in natural environments, with the specific purpose of viewing and experiencing the natural features of a destination.

Figure 1: Subcategories of nature-based tourism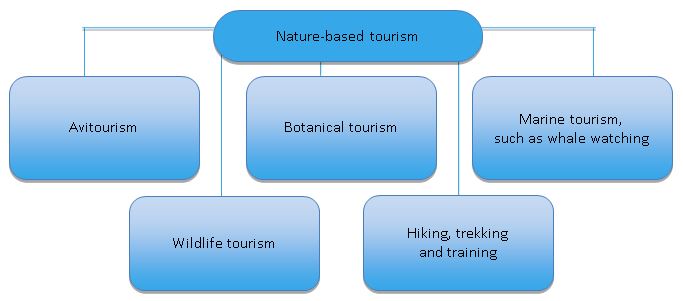 Source: The Nature Conservancy.
Quality of birdlife
How attractive your destination is for birdwatching of course depends on the quality of its birdlife. Deciding factors when choosing a birdwatching destination are the availability and variety of birdlife, as well as the presence of specific bird groups or endemic species.
Annual migratory patterns also play an important role in choosing a destination. Some destinations are seasonal, only of interest during bird migration or breeding periods. Other destinations with diverse habitats (such as South Africa) allow for varied birdwatching opportunities through the year.
Tips:
Provide detailed information on the birds in your area, emphasising rare or endemic birds. Which birds occur? When can birdwatchers see them? You can develop a "calendar" with the best periods to see certain birds.
If you cannot offer birdwatching the year round, diversify your product offering during the low season. For example, develop nature tours that focus on scenery and other wildlife.
Make sure that your product descriptions match reality. For example, consider including sound and images of the species on your website.
Health and safety measures
Safety is another important requirement for birdwatching tourism. As birdwatchers often spend a lot of time alone or in small groups in isolated areas, they need those areas to be safe. This situation generally makes protected areas more attractive than unprotected ones. They are more easily accessible and considered safer. In addition, protected areas are usually home to a higher diversity and number of birds.
Tips:
Pay attention to general safety measures. Tour operators should, for example, regularly check vehicles and equipment. Hire experienced guides that know the area.
Accommodation establishments should have safety measures in place. Think of smoke detectors, fire extinguishers, emergency exits, first-aid kits and 24-hour medical assistance.
Political stability
Safety is important to European travellers, especially because some developing countries are politically unstable. Most commercial tour operators do not offer holidays to countries which their Ministry of Foreign Affairs has declared unsafe. This policy has led to a drop in tourism arrivals to Mali, Egypt and Venezuela, for example.
Tips:
Keep potential customers updated on changes to the safety situation in your area; for example, through your website and through your staff.
Share safety experiences from customers on your website. Let them write about how safe they felt, because people value the experience of other travellers.
If your region is "unsafe", commercial tour operators will most probably not go there. In this case, focus on volunteer organisations and individual travellers. Check your country's current safety status at the website of your target country's Ministry of Foreign Affairs such as the Netherlands, Sweden and the United Kingdom.
Knowledgeable guides
A good guide is key to the quality of a birdwatching trip. Guides need to have excellent local knowledge. They must know which places are safe to visit and which are not. Birdwatchers often use local bird experts, who know the potential location and physical attributes of particular species. This situation increases their chances of seeing less common and local species.
Tips:
Offer specialist bird tours and guiding services. Also showcase birdwatching opportunities outside of major tourism areas.
Make sure that your guides have excellent knowledge of the birds that can be spotted at your destination. They should know which species birdwatchers can see and where, their behaviour and historical information. Organisations such as BirdLife International can offer training for aspiring bird guides.
Make sure that your guides have good English language skills. If you can provide guides with additional language skills (such as German, French or Italian), this fact is always an advantage.
Birding accessibility and infrastructure
Accessibility and advanced birding infrastructure are important to birdwatchers. They often like to be nearby Important Bird Areas and birding hotspots. Birding routes, bird lists, trails, walkways, hides and observation towers also make birdwatching easier. Information boards on the biology of birds and their identification add value.
Tips:
Invest in good birding infrastructure.
Link your business to existing bird routes.
Develop new birding routes. Make booklets or field guidebooks with bird checklists and practical information on the routes, accommodation and facilities.
Birder-friendly accommodation
Many birdwatchers look for birder-friendly facilities. Prime birdwatching times are often around dawn and dusk. To accommodate this situation, you should offer early-morning breakfast and flexibility in arrival and meal times. Truly birder-friendly accommodation is also bird-friendly, so your guests can enjoy wild birds from the comfort of your facilities. Providing birding literature enhances this experience.
Older birdwatchers and groups tend to stay in more comfortable accommodation, such as 3–4 star hotels. For the more committed birdwatchers, birds have priority over comfort. They are prepared to stay in smaller, relatively basic facilities. Unique types of accommodation can add to the experience of birdwatching; for example, tented camps in Africa, haciendas in the Andes or rainforest lodges in Central and South America.
Tips:
Offer several accommodation options, so birdwatchers can decide what best meets their needs and preferences.
Provide birder-friendly facilities and emphasise these facilities in your marketing activities.
Make your accommodation bird-friendly; for example, provide nesting sites, fresh water sources, carefully placed feeders and natural landscaping. Consult local expertise for advice.
For inspiration, see these Guidelines of Best Practices for Bird-Friendly Hotels in Egypt.
Sustainability
Birdwatchers are generally more concerned about conservation and sustainability than general travellers. They are often members of conservation or birding associations. This fact makes them highly aware of how human actions affect birds and their habitats.
Tips:
Work with a local conservation organisation to minimise the impact of your tourism product on the local birds and environment. They can also provide education on unsustainable or illegal souvenirs.
If your business is sustainable, promote this aspect on your website and in the information that you provide to European tour operators.
Do not exaggerate your sustainability performance (so-called "greenwashing").
For more information, see our study of European tour operators' need for sustainable suppliers.
Interaction with local people and culture
Most birdwatchers are also interested in other activities, especially those related to the local culture and its people. They like to discover the community through interaction. Popular additional activities include cultural tours, workshops with locals, archaeological excursions or wildlife observation. These activities also make good alternatives for non-birdwatching partners.
Tips:
Include other activities in your birdwatching offer.
Link indigenous knowledge and heritage components (such as local bird mythology) to your bird tours.
Work together with local tourism providers in other segments. For example, working with other wildlife tourism providers in your area can help you to attract more birdwatchers.
2.

Traveller profile

Birdwatchers can be men and women of all ages, but they are often between 40 and 70 years old. They are usually well educated, relatively affluent and interested in other wildlife as well. Birders often travel solo, without partners, just to focus on their hobby.

Most birdwatchers are members of local bird or nature organisations. They use input from these organisations to choose their destination. They also get their inspiration from bird/nature books or magazines and recommendations from other birdwatchers.

There are three main segments of birdwatching tourists:
Twitchers
This segment is a small group of birdwatching tourists, usually male. Twitchers are dedicated birdwatchers that want to see as many birds as possible. For this purpose, they bring their own equipment such as telescopes and binoculars. Twitchers travel great distances to see new or rare birds which to add to their list. Once they have seen one, they move on. Some even engage in competitions to accumulate the longest species list. They are not really interested in other activities.
Tip:
Twitchers should not be your focus segment, as their decision-making behaviour is difficult to influence.
Casual birders
This segment represents around a third of birdwatching tourists. For casual birders, birdwatching is not the main purpose of their trip. Casual birders include travellers interested in other outdoor and nature-based activities, such as hiking or wildlife watching. They could be persuaded to include birding as an additional activity. As birding is growing in popularity, casual birders are a strong potential growth category.
Birdwatching enthusiasts
This segment represents around half of birdwatching tourists. They are birdlife and nature lovers who generally have a profound knowledge of the fauna of a destination. Weather and other circumstances are not that important to them. Birding enthusiasts are slower travellers than twitchers, as they also like to relax. They are interested in other activities as well, especially cultural. This group generally spends more on birding tours and equipment than the other segments.
Tips:
Focus on enthusiasts and casual birders. They are the largest segments and respond to marketing.
To attract casual birders, promote your birdwatching offer on the spot; for example, by distributing flyers in your area.
Cross-sell birdwatching activities with other tourist activities; for example, a visit to a local community, or a photography workshop to improve skills for taking the perfect bird picture. 
Offer birdwatching tours as add-ons to other tours.
3.

Which European markets offer opportunities for birdwatching tourism?
The United Kingdom and the Netherlands are key source markets
Although there are no exact statistics, the United Kingdom and the Netherlands are widely recognised as important source markets for birdwatching tourism. Other interesting markets are mainly northern and western European areas such as Germany and Scandinavia.
The United Kingdom is by far the main source market for birdwatching tourism. It is home to the largest bird organisation in Europe, the Royal Society for the Protection of Birds (RSPB). The RSPB has more than 1 million members, mainly representing twitchers and enthusiasts.
Although the Netherlands is much smaller than the United Kingdom, it is a promising source market for birdwatching tourism. The Netherlands Society for the Protection of Birds (Vogelbescherming) has 141,000 members. This proportion is considerably higher than in most other European countries. In 2017, more than 61,000 people participated in the national backyard bird count, which is an increase of 15% since 2016.
Tips:
Focus on the United Kingdom and the Netherlands as Europe's main source markets for birdwatching tourism.
Advertise in the member magazines Nature's Home (RSPB) and Vogels (Vogelbescherming) to reach British and Dutch birders.
Popular birdwatching destinations in developing countries
Although many Europeans do their birdwatching in their own country, they are increasingly travelling to long-haul destinations. They want to spot new birds that do not occur in their own country or region, especially endemic birds. Of around 10,000 bird species worldwide, about 32% occur in South America, 28% in Asia and 24% in Africa. This situation makes these regions particularly attractive to European birdwatchers.
Many traditional long-haul destinations for birdwatching are in developing countries; for example:
Kenya
Tanzania
Botswana
Uganda
Namibia
India
Nepal
This overview shows that there are opportunities in birdwatching tourism, as long as your destination offers quality birdlife. Emerging birdwatching destinations in developing countries include:
South Africa
Morocco
Brazil
Costa Rica
Ecuador
Sri Lanka
Kazakhstan
Tips:
Use popular birdwatching destinations such as Kenya as an example. Research how they position themselves in terms of product range, quality and price. Try to distinguish yourself from them; for example, by emphasising the presence of endemic birds in your area.
Collaborate with local tourism boards, promotion organisations and other tourism stakeholders to develop an image as a birdwatching tourism destination. For example, try to have your destination covered in the press. Contact bird/wildlife/nature magazines and websites, television networks such as the National Geographic channel or interesting bloggers.
Organise a calendar of local birdwatching festivals or events, such as birding competitions. This fact increases awareness of birding opportunities in your destination. A good example is the Yucatan Bird Festival Toh in Mexico, with a varied activity programme from February to November. You can also organise and register an event for World Migratory Bird Day.
For more information on European traveller numbers in general, see our study of European demand for tourism in developing countries.
4.

Which trends offer opportunities on the European market for birdwatching tourism?
Millennials are discovering birdwatching
Where birdwatching is traditionally associated with a relatively older public, it is now becoming popular among millennials. It has been hailed as 2017's unlikeliest craze, a sort of real-life version of Pokémon Go. An increasing number of celebrity birders may also influence millennials' opinion of birdwatching. This trend is expected to pick up in the coming years.
Tips:
Promote your birdwatching tourism product online, where you can reach millennials relatively easily; for example, via your social media or influential bloggers. For more information, see our 10 tips for online success and travel blogging.
For more information on travelling millennials, see our study of Promising target groups.
Birding as a form of wellness
European travellers are increasingly interested in wellness, including mental wellness, as they look for an escape from their busy daily routines. This trend provides opportunities for birdwatching tourism, as birding can be a peaceful and relaxing activity. Both the relaxing effect of birdsong and the quiet focus of birdwatching lead many to consider it a form of meditation. In 2017, scientific research confirmed that birdwatching is good for your mental health.
Tips:
Include the wellness benefits of birdwatching in your communication.
Develop a special wellness programme for meditation through birdwatching. Also consider offering additional wellness activities, such as a yoga class with a local instructor.
For more information, see our studies of Wellness tourism.
Bird photography
There is a growing trend of bird photography among birdwatchers. As a result, special bird photography trips are being developed. Bird photography trips are generally slower-paced and give more individual freedom than birdwatching trips. This situation gives bird photographers the opportunity to take the perfect picture. Bird photographers also like to use hides or observation towers to conceal themselves. This facility may improve their view and prevents them from disturbing the birds.
Tips:
Develop a special bird photography tour. You can also offer optional bird photography modules as an add-on to existing birdwatching tours.
Provide small bird hides and/or observation towers. These facilities also appeal to regular birders.
Apart from the birding guide, you can also have a professional photographer specialising in nature photography taking part in the tour.
The influence of online reviews and visual storytelling is growing
European travellers increasingly research and plan their trip online. To gather information and share experiences, they use review sites, social media, travel forums and blogs. Online reviews and feedback from fellow travellers have become important sources of information. This type of User Generated Content is key, as 83% of consumers trust earned media above all other forms of advertising. Visual storytelling is a key part of this trend; for example, on platforms such as Instagram.
Social media also allow birders to record rare bird sightings and instantly share them with fellow bird lovers worldwide. This feature can quickly attract twitchers and birding enthusiasts to a destination.
Tips:
Maintain a strong internet presence and online marketing strategy, including social media.
Share bird sightings on social media, especially when they are rare. Also monitor social media for sightings in your area, so you can prepare for potential increased demand.
Use photos, sound and videos to bring your story alive and showcase your unique birding opportunities. For more information, watch this webinar series on visual communication in adventure travel by the Adventure Travel Trade Association (ATTA) and Libris.
Use current customers as ambassadors for your company and area. Encourage them to share their experiences and visuals on social media, write blogs and review your company.
For more information, see our 10 tips for online success.
Birdwatching applications are on the rise
Mobile technology is having an effect on birdwatching tourism as well. Birders increasingly use birdwatching applications (apps) on their mobile devices. These apps can serve as digital bird guides. They help to identify birds by their colour pattern, shape, size and other features. There are even apps that can actively identify specific types of birdsong. Other apps allow birders to submit their sightings and use this information to map birding hotspots.
Tips:
Inform your birdwatching guests of the best birding app(s) for your area.
If it does not exist yet, develop a birdwatching app for the birds and birding hotspots at your destination. One example is the Sasol eBirds of Southern Africa app. You can try to team up with other stakeholders in your area and develop the app together.
For more general industry trends, see our study of European trends on the tourism market.
5.

Which requirements should birdwatching tourism comply with to be allowed on the European market?

For general tourism requirements, see our study of which requirements your services should comply with to attract European tourists. Some additional requirements apply to birdwatching tourism specifically.
Birds Directive
The European Union has a special law for the conservation of wild birds, the Birds Directive. This directive bans activities that directly threaten birds, such as capturing birds or destroying their nests. The Birds Directive only applies to areas within Europe. Although it does not apply to you, the Birding Directive can help to you understand the European birding market. It can offer you insight to make your birdwatching tourism product more sustainable.
Tip:
Study the Birds Directive to make sure that your product meets the standards of European birders.
Voluntary safety standards
For the more adventurous birdwatching tours, there are three international ISO standards that support safe practices: 21101, 21102 and 21103. Additionally, some countries have their own voluntary standards; for instance, BS 8848 in the United Kingdom.
Tips:
Study the ISO standards for adventure tourism and use them to enhance your safety performance.
Check for possible voluntary standards in your target markets.
6.

What competition do you face on the European market for birdwatching tourism?

The quality of birdlife is the number one competitiveness indicator of a birdwatching destination. This quality is related to several factors.

Bird species diversity and richness:
total species of birds;
total endemic species of birds;
number of threatened or near-threatened bird species;
number of bird areas;
Birding infrastructure:
number of Important Birding Areas;
number of clearly defined birding routes;
number of Ramsar sites;
accessibility – walkways, trails, hides, and so on;
birding tourism resources at the destination;
General biodiversity:
Status of conservation activities:
environmental treaties;
share of protected areas.
Tip:
Use these competitiveness factors to analyse the competitiveness of your destination and company. Do the same for key competitor countries. This information gives you an idea of what to focus on and what to emphasise in your communication.
7.

Through which channels can you get your birdwatching tourism products on the European market?
Focus on smaller specialised tour operators
International birdwatchers generally prefer specialised birdwatching tour operators to organise their trip. Tour operators that specialise in general wildlife or nature tourism also offer opportunities. You can identify them via trade associations, events and databases.
For example:
Generating direct sales
European birders increasingly book directly with local tour operators, especially twitchers. It is estimated that between one and two thirds of international birdwatching travellers organise their own trips. Birders often choose a destination based on its birdwatching reputation. Experiences from other birders play a large role. Costa Rica, for example, is an increasingly popular birdwatching destination mainly due to good word-of-mouth marketing.
The birdwatching community is relatively small. Birders often run into each other when birdwatching at home, at an event or on holiday. This situation allows them to have a considerable influence on each other's destination choices. Birding clubs and organisations, social media and online communities such as BirdForum also appear to play an important role.
To reach birders, you can promote your product on birdwatching or nature tourism websites/portals.
For instance:
8.

What are the end-market prices for birdwatching tourism products?

Travellers have many destinations and types of holiday from which to choose. This variety makes tourism a relatively price-sensitive and competitive industry. The price of a long-haul trip consists of three dimensions:
the exchange rate between the currencies in the country of origin and the destination country;
the cost of transport to and from the destination country;
the price of goods and services that the traveller consumes in the destination country.
European tour operators do not disclose the purchasing prices of their tourism products. According to industry experts, their margins vary between 10 and 25%. The prices of holiday packages vary widely, since they depend on a lot of factors such as:
availability
destination
modes of transport
period of travel
number of travellers
length of stay
type of accommodation
activities included
Tips:
Check which countries have cheap direct flights to your destination; for instance, at Skyscanner. This availability gives you a competitive advantage in those countries.
You can compare prices for birdwatching tourism products online; for example, at Naturetrek.
Tourism Boost has some useful online tools for pricing tours and accommodation. These tools help you to determine the break-even point and the ideal retail price of your tourism product.
Please review our market information disclaimer.
Follow us for the latest updates