The European market potential for luxury tourism
Europe is a major source market for the luxury tourism segment. Luxury tourism is more than just staying in five-star hotels. It is also about exciting travel experiences in new destinations. Younger wealthy consumers will drive growth in this segment because they put experiences before material possessions. Germany, France and the UK are leading markets for luxury tourism. Bucket-list travel and meaningful experiences are important trends to be aware of in the sector.
1.

Product description

Luxury tourism refers to a style of travel associated with top-quality service throughout a trip. Today, it is about more than just luxury hotels and first-class air travel. It now means visiting extraordinary destinations and enjoying authentic and unique experiences. At the same time, every element of a luxury trip is delivered with a high level of personal service and comfort.

With the right elements, any tourist trip could be delivered as a luxury experience. Luxury tourism extends into all market niches, including adventure, nature and ecotourism, wellness, wildlife, family holidays and solo trips. What sets a luxury trip apart are quality of service, personalisation and high-quality accommodation.

This means that luxury holidays are often tailor-made by specialist tour operators. These specialists build close, direct relationships with their buyers; they ensure that they fully understand their needs and desires, so that they can offer them the service they want.

Luxury tourism is also characterised by high prices and by wealthy people who have big budgets for travel. They are often known as "high net worth individuals" (HNWIs). Luxury tourists expect to pay more for the quality of travel experience they want. But this does not mean that they will pay any price, without thinking. It means that they have very high expectations of service providers – and that if you get it wrong, they will be very dissatisfied.

Table 1: Examples of luxury holiday providers and their market positioning
Luxury holiday providers and their unique selling points (USPs)
What makes it luxury?

Royal Chundu Luxury Zambezi Lodge, Zambia

"An authentic Zambian experience that uplifts both traveller and community."

A tranquil hideaway on the banks of the Zambezi River, 30 kilometres from Victoria Falls. There are two lodges, both with views of the river, and ten river lodge suites set amongst the trees: "nests of seclusion and peace". Four spacious villas are located on a private island in the middle of the river. Guests can take part in a range of exclusive activities like a photographic safari, helicopter flights, sunset cruises and canoe rides on the river. The lodge also supports local community development programmes and guests are encouraged to visit schools and villages. 

Fenyan Ecolodge, Dana Biosphere Reserve, Jordan

"Authentic Bedouin hospitality and natural beauty."

An award-winning ecolodge situated in the Wadi Fenyan. This is a small, solar-powered lodge with peaceful courtyards and terraces where guests can unwind. After dark, the lodge is lit by hundreds of candles along corridors and upstairs. Solar power provides hot water. Beds are low and comfortable, draped with luxurious Syrian silk fabric. Complimentary water is provided in elegant clay jars.

Limalino Lodge, Simien Mountains National Park, Ethiopia

"A wonderful escape."

The lodge is perched on the edge of an escarpment in the mountains, with stunning views. It combines simple luxury and elegant designs. It promotes sustainable tourism through minimal environmental impact and by supporting local communities. It is a small boutique hotel – luxury comes in the form of tranquillity, comfort, space and wildlife watching. There is no internet and guests are encouraged to enjoy the mountains and atmosphere. 

Clouds Mountain Gorilla Lodge, Bwindi Impenetrable Forest, Uganda

"It is remote. It is beautiful. It is intimate."

The lodge is remote, located above the clouds in south-west Uganda. Accommodation is in "cottages", which all have a private living room with a wood-burning fireplace. It is located close to a walking trail in the mountains and offers views over the Virunga volcanoes. At night guests may see the glow of the volcanoes against the dark sky. Massage services are also provided.

It is community owned, so all visits support and sustain community projects.

Pikaia Lodge, Santa Cruz Island, Galapagos Islands, Ecuador

"Transformative experiences are the new luxury"

Pikaia Lodge features beautifully furnished rooms with panoramic floor-to-ceiling windows and private terraces or balconies with far-reaching views. Rooms have a 40" TV and DVD player, and a Bluetooth soundbar speaker. Activity packages include private transport around the islands, land excursions and marine excursions on a private yacht. Also available: a naturalist guide for whole stay, use of wetsuits, snorkelling equipment and mountain bikes, Pikaia Lodge rucksack and water bottle, complimentary satellite wi-fi.

Nayara Tented Camp, La Fortuna, Costa Rica

"A place of nature with unending adventure and relaxation."

Located in the Arenal National Park, in an area of restored rainforest and a sloth sanctuary. The camp is about natural beauty, intimate spaces and connecting with nature. It is committed to sustainability and nature. The spacious tents are inspired by African safaris, designed to maximise views and minimise your footprint. Each tent features a plunge pool fed by natural hot springs and a private terrace, complimentary daily yoga and a weekly bird-watching tour.

Voted Central America's best resort in the 2022 Travel & Leisure Awards. 

Onguma The Fort, Etosha National Park, Namibia

"Experience the wildness of the bush in all its splendour… surrounded by raw beauty inside and out."

The Fort was built to take advantage of spectacular sunset views over an extraordinary landscape, waterholes and the Etosha Pans. Its raw walls are a defining feature: classic Africa inspired by Moroccan and Indian influences. Activities include game drives, sunset drives, interpretive bush walks, the Onkolo bird hide and massage therapy. Sustainability and conservation are built into all aspects of the Fort's activities.

Raas Chhatrasagar, Jodhpur, Rajasthan, India

"Captures the romance of safaris in luxury tents, homes away from home."

Inspired by safari campaigns during the Rajput era, when luxury tents became mobile mini-palaces. The luxury camp is situated in a reserve with more than 200 bird species. The experience focuses on bird watching, farming communities, walking and rewilding. Local organic produce is served whenever possible. Sustainability is embedded throughout the property.

The resort offers a range of experiences, such as a bush lunch, farm visit and private cooking session. Wellness experiences are also available.
Source: Acorn Tourism Consulting
Luxury tourism is also subjective. What is luxury for one traveller (for example, a five-star safari resort) may not match the luxury needs of another (for example, a private, exclusive safari lodge with a dedicated Michelin-starred chef, transfer by helicopter and private guided game drives). The hierarchy of needs pyramid below shows the levels of demand in luxury tourism. The higher up the pyramid the luxury consumer sees themself, the higher the level of luxury they require. And the smaller the population of luxury tourists becomes.
Figure 1: Hierarchy of needs in luxury tourism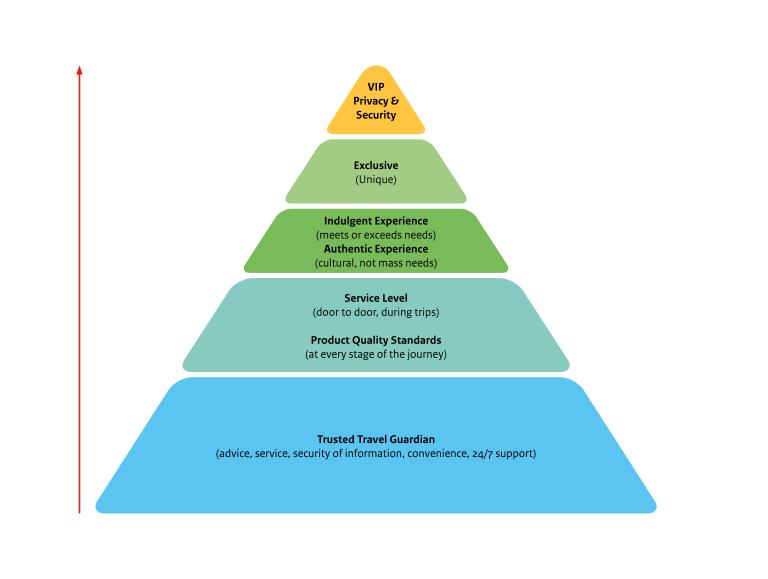 Source: Acorn Tourism Consulting
Luxury travel is set to become more mainstream in the future, as more and more consumers seek unique and authentic experiences (half-way up the pyramid). This offers opportunities for local operators to appeal to a luxury market.
Market segmentation
Luxury tourists travel for leisure or business, or a mix of the two. There are six main types (or "tribes") of luxury traveller. Each has a different level of wealth and behaves in a different way.
Table 2: Luxury traveller types
Luxury traveller type
Market size (%)
Characteristics

Always luxury

 

 

4%

Money is no object. Luxury is part of their everyday lives. They are either millionaires or billionaires.

Luxury is a minimum requirement.

Luxury is essential for a stress-free, comfortable life.

Travel first class or by private jet and stay in top suites/rooms at the best hotels.

Most likely to use specialist luxury travel experts to plan their trips.

Ideal trip: stay in a five-star resort in the south of France, with golf, wellness and gourmet wining and dining.

Special occasion

 

 

20%

Although they are reasonably wealthy, luxury is a treat.

Look for the "wow factor" in their travel experiences.

Will use loyalty points to upgrade travel class, redeem fine dining options or take spa treatments.

Willing to compromise on comfort levels to have an amazing travel experience.

Ideal trip: wellness break at a luxury retreat in Thailand.

Bluxury

 

 

31%

"Bluxury" = business + luxury.

Business is the main purpose of their trip, but they want to make the most of their time when business is done.

Typically have senior roles in a business and so enough income to extend trips for luxury leisure.

Ideal trip: fly the family to Vietnam for a luxury trip; or extend their stay in a European city for top-class leisure experiences such as shopping, dining and entertainment.

Cash rich, time poor

 

 

24%

Travel when they are able to. Their plans may change at the last minute, so they value flexibility.

Likely to use specialist tour operators to take care of all the details, and willing to pay for this.

Value privacy in their leisure time so that they can reconnect outside of their busy lives.

Ideal trip: two-week luxury safari and beach holiday in Tanzania.

Strictly opulent

 

 

18%

Seek the best and most glamorous travel experiences.

Like to share their experiences on social media – they want to be seen to be having fun, living life to the full and indulging themselves.

Use influencers to find out how to enhance the luxury on their trips.

Ideal trip: rent a luxury yacht for a group of friends.

Independent and affluent

 

 

3%

Use luxury travel as a way to pamper themselves.

With few ties, they can be spontaneous, travel alone or with friends and like to make their own decisions.

Want their travel provider to "look after" them and help them make the right choices.

Ideal trip: luxury yoga retreat in the Himalayas.
Source: Amadeus, Acorn Tourism Consulting
When deciding to book a luxury trip, three main motivations can come into play for these travellers.
Reward hunters focus on self-indulgent travel that mixes luxury with self-improvement and/or personal health. They are being "rewarded" for working hard in all areas of their life. They want luxury experiences over and above the everyday.
Simplicity searchers look for ease and clarity when they plan and travel. They like to outsource decision-making to specialist operators so that they do not have to do it.
Obligation meeters have their travel choices restricted by other obligations in their lives. These are not just work-related; they can also include personal factors like religious festivals, weddings and family gatherings. Business travellers form a large proportion of this group.
You can read more about traveller segments and the luxury traveller "tribes" in the Amadeus report Shaping the Future of Luxury Travel – Future Traveller Tribes 2030.
Motivations and needs
International market research company YouGov segments luxury travellers as follows.
All affluents: travellers aged 18-75 with an income more than twice their country's average.
Young affluents: travellers with the same high income, but aged 18-34.
In its latest report, Luxury travel post-pandemic, YouGov analyses the travel intentions, wishes and behaviours of these two groups, on a global basis. Travel is extremely important for the "all affluents", with 75% stating that they are "passionate" about travel (compared with a global total of 64%). Moreover, 52% consider travel their number-one topic of interest (global total 42%).
In several niches, "affluents" travel much more than the average global traveller population. They particularly favour multi-centred holidays and safari and wildlife trips.
Figure 2: Holidays taken by affluents in the past 12 months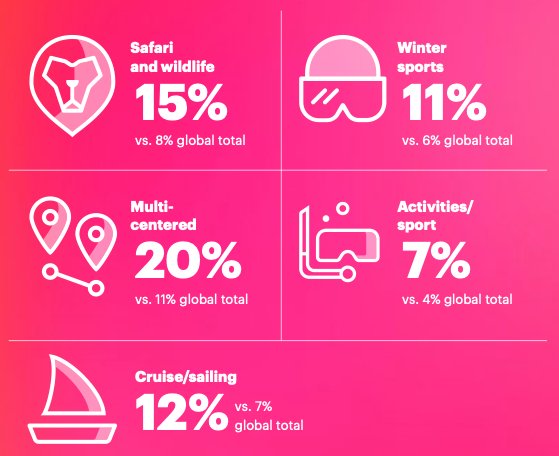 Source: Luxury Travel Post-Pandemic, YouGov
The same study also found that "young affluents" (who fall into the Millennial and Gen Z consumer groups) will shape the luxury travel market in the future. In the table below you can see that their desire for luxury travel experiences is even stronger than for "affluents" as a whole.
Table 3: Luxury travel desires of affluents and young affluents
Luxury travel desires
All affluents
Young affluents (aged 18-34)

Meaningful travel

A unique experience to get close to nature/remote destination

Custom tours/tailored experiences to connect with local culture and environment

Ecofriendly/sustainable hotels and resorts

Expedition cruise to adventurous destinations

 

31%

24%

 

23%

18%

 

30%

24%

 

25%

21%

Privacy and seclusion

Villas/chalets in secluded and private locations

A luxury stay on a private island

 

27%

21%

 

31%

25%

Unique and personalised

Unique luxury accommodation in popular city hotspots

Unique private excursions

 

24%

21%

 

27%

25%

Food and travel

Michelin-star chefs/unique gourmet experiences

First class travel

A private yacht or luxury cruise experience

A private jet/helicopter experience

 

23%

21%

16%

10%

 

25%

25%

21%

14%

Sustainability

Willing to pay more for responsible, ecofriendly and sustainable trips

Choose travel companies that have a strong sustainability policy

 

52%

53%

 

57%

57%
Source: Luxury Travel Post-Pandemic, YouGov
Accessible tourism for the European market
Accessible tourism is the ongoing effort to ensure that tourist destinations, products and services are accessible to everyone, regardless of their physical limitations, disabilities or age. It encompasses both publicly and privately-operated tourist facilities. The improvements not only benefit those with permanent physical disabilities, but also parents with small children, elderly travellers and people with temporary injuries (such as broken bones), as well as their travelling companions. Tourists with disabilities may travel individually, in groups, with their family or with carers.
Accessibility and luxury tourism
To attract luxury travellers with accessibility needs, the most important thing is to be very clear about what you can offer. People with disabilities do a lot of research before they travel, so that they can be sure that their needs will be met. Some simple requirements include…
Have a dedicated person to be the direct contact for clients looking to buy tourism products for their customers with disabilities. That person should be a good listener and communicator, and able to get things done.

Make sure that luxury products for people with disabilities are up to the same high standard as those for customers with no disabilities. Be sure to emphasise the level of quality and the exclusivity of your products. Just because a guest has a disability, that does not mean that they expect (or will accept) lower quality. In fact, they may be more particular about your offering.

Be very clear about the facilities you can offer. For instance, the size of rooms and bathrooms, whether you can lend walking sticks or wheelchairs and whether you have technology for the hard of hearing.
2.

What makes Europe an interesting market for luxury tourism?

Europe offers good potential for tour operators from developing countries offering luxury tourism. This is because large numbers of relatively wealthy people live in Europe, and wealthy people like to travel.

Valuations of the global luxury tourism market vary widely. One source puts its value at US$1,328.1 billion in 2022, expanding at a compound annual growth rate (CAGR) of 7.8%. By that measure, it will be worth US$2,762 billion in 2032. Another research organisation expects the sector to grow at a CAGR of 8.4% between 2023 and 2032, making it worth US$3.3 trillion (US$3,300 billion) in 2032. The growth rate in outbound luxury trips is projected at 6.2% over the next ten years. This is a third higher than overall travel, which is projected to grow by 4.8%

This growth is being driven by several factors.
European and North American

Baby Boomers

have increased their spending on luxury tourism.

Millennials

are becoming more and more important as a market. Their spending power is expected to grow at a significant rate between now and 2032.

Numbers of younger consumers are growing. The youngest Millennials and Gen Z (aged 13-27 today) are becoming more wealthy as they establish their careers. They are aspirational and put travel and experiences before material possessions.

The luxury cruise segment is growing. The European subsegment now accounts for

21% of cruise passengers

. Half of them are German or British.

Technological advances are making the booking of luxury holidays easier and more seamless. Contactless payment has become a mainstay of transactions abroad, especially for luxury travellers.
As we have seen, one of the characteristics of luxury tourism is that travel budgets are less restricted. It is estimated that luxury tourists spend eight times more than average holidaymakers. And they are prepared to spend money on the right level of luxury to suit their needs. But affluence is not the same for everyone: some are much wealthier than others. The most wealthy of all have even higher expectations than other luxury travellers.
Europe is home to a substantial population of wealthy citizens. The very wealthiest group are known as "high net worth individuals" (HNWIs – defined as people with more than US$1 million in liquid assets. In 2021, there were an estimated 5.7 million European HNWIs. That was 6.7% more than in 2020.
Figure 3: Number of HNWIs by region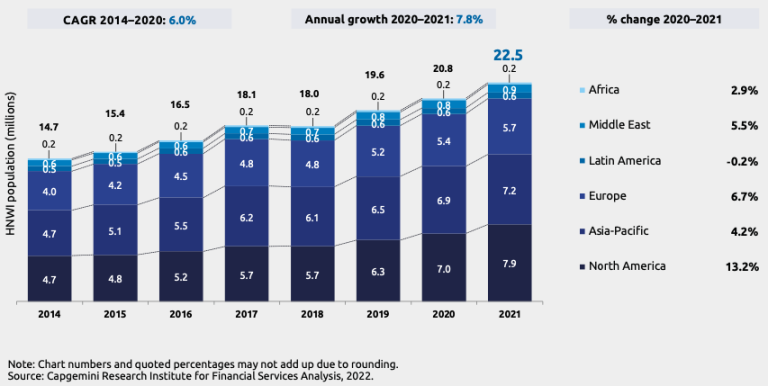 Source: World Wealth Report 2022 (Capgemini)
Travel is important to HNWIs. In research conducted by Knight Frank, almost two in five (39%) stated that they were planning to increase the amount they spend on travel.
Figure 4: How HNWIs plan to allocate their wealth in 2023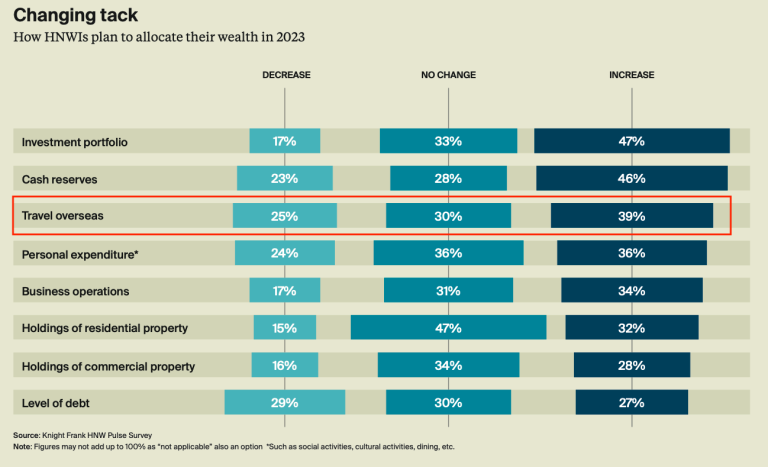 Source: The Wealth Report 2023 (Knight Frank)
Tips:
Do not be put off serving the luxury market because they are wealthy people and you think that they only care about privilege and privacy. Luxury travellers are very engaged. They will visit local restaurants, enjoy local experiences and are concerned about sustainability, local communities and the environment. They make a considerable contribution to local economies.

Be aware that luxury travellers come in many forms. Some require very high levels of luxury and service. But a significant group may just upgrade elements of their trip to add a touch of luxury: a private tour, say, or a gourmet food experience. Or they might stay in a four-star boutique hotel, but choose an immersive experience to visit a local community that is privately guided.

Understand that the one thing they all have in common is the need for exceptional personal service. If that is done right, it provides real opportunities for local tour operators.
3.

Which European countries offer the most opportunities for luxury tourism?

Many European countries have large wealthy populations, and they are getting richer. The financial wealth of European HNWIs increased by 7.5% in 2021, to US$18.8 trillion. Based on outbound tourism numbers, the HNWI numbers and demand for luxury experiences, the European countries that offer the best opportunities for luxury tourism in developing destinations are Germany, France, the UK, Switzerland, the Netherlands and Italy.

Figure 5: Top 25 markets by HNWI population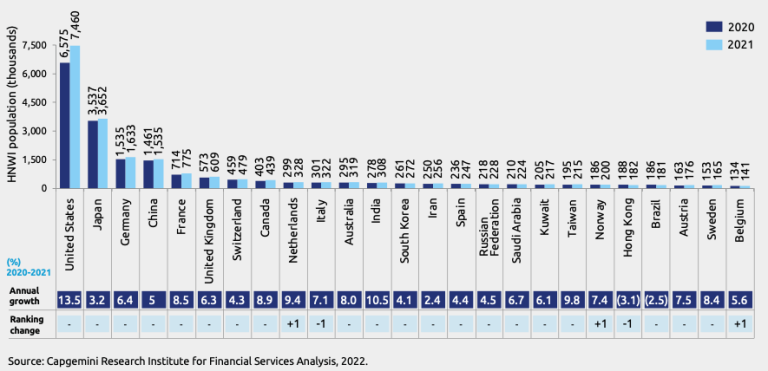 Source: World Wealth Report 2022 (Capgemini)
Germany
Germany has the world's third-largest population of HNWIs, after the US and Japan: 1.6 million in 2021. That was 6.4% more than in the previous year. Germany also ranks third for the number of billionaires, after the US and China. And Germans have generous holiday leave: an average of 30 days a year, plus ten public holidays. That enables luxury travellers to take longer trips.
German luxury tourists are very keen on five-star hotels and top-level comfort. For them, that is the most important consideration. More than any other Europeans, they like to book luxury villas and holiday homes. They also respond favourably to sustainability efforts. Take the example of the travel offering Namibia – Glowing Desert, which clearly tells its German customers how the hotels have been personally selected.
Germans also value unique experiences and quality time with their families. They like a mix of traditional tourism products and new, modern elements. Luxury cruises are popular with German high-end tourists. Those under the age of 30 prefer leisure cruises, while those under the age of 50 prefer an expedition cruise.
Research shows that 70% of German luxury travellers are interested in staying in more than one country or destination. Young luxury travellers are more interested in long-haul destinations like the Caribbean. In addition, 72% of Gen Z and Younger Millennials purchase luxury experience products. Digitalisation is important as well, but personalisation, individual service and comfort are essential. And so too is sustainability: German travel businesses in the luxury sector regularly review their sustainability credentials to check that they meet customer expectations.
German luxury travellers often look for seclusion and privacy when they plan their holidays. They value free time over earning more money. Since the end of the pandemic, 55% plan to spend more on travel. Wellness is important, too, so they expect travel advisers to be well informed about wellness services at the destinations they choose.
Luxury travellers from Germany are particularly keen on:
beach-based luxury holidays (56%);

learning new things and experiencing something new (36%);

improving their health and wellness (27%);

specially tailored personal experiences (20%).
France
France is home to 775,000 HNWIs, an increase of 8.5% since 2020. They are avid travellers and enjoy taking many different types of holiday, including cultural, wellness and extended family trips. However, the local political situation is an important factor for them when choosing a destination. They also like the personal touch, so they value booking with a travel adviser (39%).
An unfavourable climate and temperatures can be a deterrent for this group. On the other hand, they often show an interest in multidestination holidays, like Sri Lanka and the Maldives or, in Thailand, Bangkok's culture combined with Phuket's beaches. Following the pandemic, they plan to spend more on travel experiences (63%).
French luxury travellers are particular keen on:
having a wide range of activities available (21%);

visiting remote destinations (21%);

doing things that few other people can do (10%);
United Kingdom
The UK's HNWI population grew by 6.3% in 2021, to 609,000 individuals. And their total wealth grew by 7.4%.
British luxury travellers are big spenders on their holidays. Almost seven out of ten now intend to spend more on these trips than before the pandemic (69%). That is the highest figure in Europe. Only 3% intend to spend less. These travellers state that they prefer to spend their money on experiences rather than luxury goods (71%). That is also the highest rate in the countries we are profiling. Products designed to appeal to this group include a tailor-made James Bond 007 12-day assignment, visiting some of the famous spy's most iconic and luxurious destinations, at a cost of £60,000 per person.
Beach, city and rural/countryside destinations are popular with British luxury travellers. They are very concerned about their personal safety on holiday, and about local politics and customs. As well as favouring less crowded destinations, they value local attractions and good facilities (35%).
Switzerland
Switzerland was home to 479,000 HNWIs in 2021, 4.3% more than in 2020.
Most Swiss luxury travellers plan to spend as much on their holidays now as before the pandemic (57%), while 35% intend to spend more. They are keen on activities when they travel, and prefer customised itineraries. Generally, they favour short-haul destinations. These include Egypt and Turkey.
Sustainability is also important. This group is highly likely to state that poor sustainability credentials will deter them from visiting a destination.
The Netherlands
The Netherlands is home to 328,000 HNWIs. Their number rose by 9.4% from 2020 to 2021, the highest growth rate of any of our profiled countries.
Little specific information is available about the Dutch luxury tourist. In general, however, Dutch people are very keen on travel – 85% of them take tourist trips for personal reasons. They are keen on developing destinations like Turkey, Thailand, Malaysia and India. The Masters Expo is an annual fair aimed at luxury consumers, including travellers. That might be a good place to meet relevant contacts.
Many Dutch people speak several languages quite well, particularly English. They are interested in other cultures and are careful with their money. So they look for good value. They are well-organised when it comes to planning their holidays, often researching trips up to six months in advance. And they are very comfortable using the internet to book; relatively few Dutch people use traditional travel agents these days.
Italy
Italy's HNWI population was 322,000 in 2021, an increase of 7.1% compared with 2020.
Italian luxury travellers are keen on beach holidays and cruises. They are also like wellness breaks, which are a growing trend in Italy. Poor food and "unfamiliar" local cuisine can be a deterrent for the Italian market. This groups is health and safety conscious and expects travel advisers to be fully up to date on issues like Covid-19 at a destination. More than half (57%) of luxury travellers from Italy plan to spend more on their holidays now that the pandemic is over.
Italian luxury travellers particularly value:
experiencing different cultures (33%);

learning new things and experiencing something new (34%);

high-quality services (26%);

improving their health and wellness (29%);

visiting remote destinations (21%).
Spain
Spain had almost 250,000 HNWIs in 2021, 4.4% more than in 2020. Spanish luxury travellers enjoy a variety of destinations. In Asia, Singapore, Thailand and the Philippines are popular.
Luxury travellers from Spain particularly value:
experiencing different cultures (33%);

once-in-a lifetime experiences (28%);

high-quality services (27%);

visiting remote destinations (29%).
4.

Which trends offer most opportunities in the European market?

The key trends currently shaping the luxury tourism segment include "bucket-list travel" and "meaningful experiences". Sustainability and conservation are also more and more important. Wealthy travellers like to know that their travel habits will not harm the environment. Today, most luxury hotels and resorts are sustainable to a high level. Wellness is another major trend for affluent consumers, who want to refresh mind and body while travelling. In the future, wealthy young consumers will drive the growth of luxury travel.
Bucket-list travel and meaningful experiences
In the past, luxury travel largely centred on high-quality hotels and resorts that offered privacy and luxury. But motivations and behaviours are changing. Experiences and activities that are local, authentic and immersive are now highly sought-after. Luxury travellers are also looking for unspoilt destinations.
As a selective group with defined needs, these tourists are particularly willing to pay for experiences that can be personalised to their needs.
Young luxury travellers (Millennials and Gen Z), in particular, are in search of authentic and immersive experiences. This is in line with general tourism trends. Tailor-made experiences and personal touches like a dedicated contact person or a private transfer are good services to offer them.
As the traditional luxury traveller matures and ages, their needs become more about enrichment and less about materialism. Older luxury consumers (Baby Boomers, Gen X) can buy anything they want and need. What they cannot buy in the shops is the feeling you get from doing something different, or learning something new. But they can get this from immersive, authentic luxury travel.
Bucket-list travel is particularly popular with older travellers, and is often linked to meaningful travel. The name refers to things people want to do "before they kick the bucket" – a phrase often used in Europe and North America, meaning "before they die". Bucket-list experiences tend to be more adventurous than most, and involve travel to more remote places.
They are also experiences that have a personal meaning to the individual traveller. That makes it hard to name "typical" examples. One person's bucket list might include exploring Angkor Wat in Cambodia or the temples of Bagan in Myanmar. Another might dream of climbing Mount Kilimanjaro in Africa. Tour operators that are able to adapt their products to cater for bucket-list tourism, by offering a high level of service and customisation, can appeal directly to luxury travellers seeking meaningful experiences.
Sustainability
These days, sustainability in tourism is a must for the European consumer. And luxury travellers are no exception. In Booking.com's Sustainable Travel Report 2023, 80% of respondents state that travelling more sustainably is important to them. And 76% agree that there is an urgent need to act now to save the planet for future generations.
Luxury travellers are committed to sustainability, too, and are prepared to pay more to reduce their impact on the planet and people.
Almost all luxury hotels and resorts have made sustainability part of their business philosophy. In general, their websites very clearly state what they are doing. In fact, many put sustainability at the forefront of their credentials. Six Senses Bhutan, for instance, claims on its home page that it "preserves and protects the world's only carbon negative country" – a very bold statement indeed.
In many African countries, wildlife and habitat conservation are important local issues. On its website, Mfuwe Lodge in Zambia promotes its 27 years supporting conservation and working to empower communities. Images of elephants passing through the reception area on their way to mango trees show a natural interaction between wildlife and humans.
Figure 6: Elephants at reception – conservation at Mfuwe Lodge, Zambia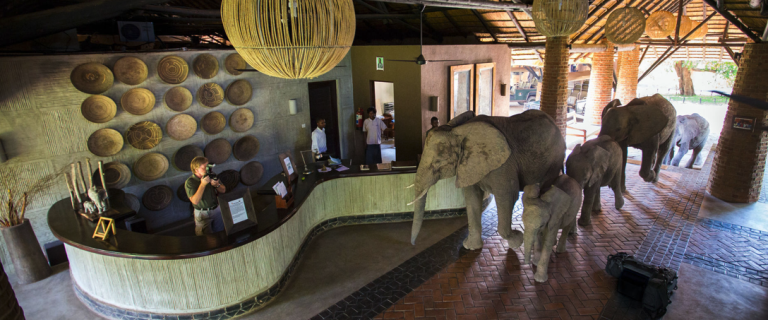 Source: Mfuwe Lodge
With this trend in mind, embedding sustainability and publicising your activities in this area will give you a competitive edge when targeting the luxury traveller.
Wellness
Wellness is a major global trend, and highly sought-after by the luxury market. Luxury travellers often seek to rejuvenate mind and body whilst on their travels. Many choose to stay in health and wellness retreats, and take part in a wide range of wellness activities. In a survey conducted by American Express in 2021, 76% of respondents said that they would spend more on travel to improve their well-being. And 55% said that they would pay extra for wellness activities on future holidays.
Wellness tourism is a profitable niche market for tour operators. Wellness tourists spend more than regular ones. Worldwide, hotels and resorts have embraced wellness in a big way, offering yoga, spa treatments, swimming, walking, healthy eating and many other types of fitness and well-being activities. Wellness plans are now often personalised for maximum physical and mental health benefits.
Luxury travellers have broadened the demand for high-end wellness activities beyond the dedicated wellness resort. For instance, taking a bespoke guided tour of the local countryside by e-bike can also be considered wellness. As is enjoying cultural exploration accompanied by a local historian.
Younger luxury travellers set to drive growth
Research shows that demand for luxury tourism experiences is very strong amongst younger travellers. This group puts experiences before material possessions. They are more likely than ever to visit new places, experience different cultures and learn new things. And as they age and mature, careers and that give them more to spend on experiences, their desire to travel will only expand. Targeting luxury experiences at this group offers good potential for tour operators in developing countries.
Figure 7: Upcoming travel priorities for young affluents aged 18-34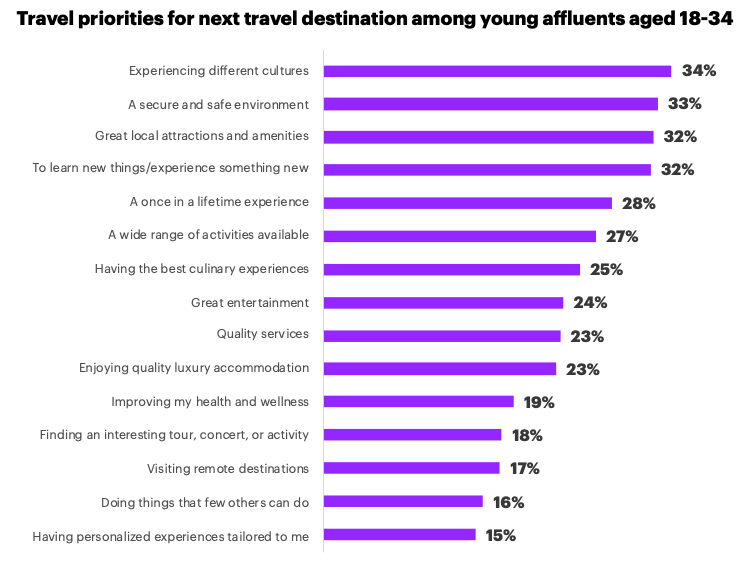 Source: YouGov
This study was carried out on behalf of CBI by Acorn Tourism Consulting.
Please read our market information disclaimer.
Search
Enter search terms to find market research