Entering the Eastern European tourism market
The Eastern European market is characterised by two major groups – older, more traditional travellers who enjoy typical sun and beach package holidays, and younger FITs (fully independent travellers) who seek adventure and culture. Destinations like Jordan, which have an exciting product and good weather, can appeal to both segments. Therefore, there is much potential to create or develop suitable travel products for this market and promote to them through market representation companies, outbound tour operators and OTAs (Online Tour Operators).
1.

What requirements and certifications must Jordanian tour operators comply with to be allowed on these markets?

As members of the EU, Eastern European tourism providers are subject to strict regulations to ensure safety and financial protection for nationals travelling abroad. As you will be selling travel products to them, it is important that you understand what these requirements are.
What are the mandatory requirements?
As the five markets of Czech Republic, Hungary, Lithuania, Poland and Romania are all members of the EU, travel products in Jordan should comply with the following:
The European Package Travel Directive
General Data Protection Regulation (GDPR)
Liability insurance and insolvency protection
As a first step, read the CBI report on the requirements for tourism services in the European market and familiarise yourself with the comprehensive details of legal, non-legal and common requirements.
What certifications and standards are required?
There are no mandatory certifications or standards required. However, the European market increasingly demands that sustainability is embedded into tourism products they buy for their customers before they will do business with you. It is also a good idea to implement internationally recognised standards into your business processes as they are clear indicators of good business practice.
Sustainability certification for tour operators is an important process for you to consider, and the Travelife for Tour Operators scheme is the most widely recognised in Europe. The CBI study How to be a sustainable tourism business provides very detailed information to support local tour operators towards becoming certified. Why sustainability is so significant is covered in more detail in the section below, Sustainability - why it is important.
For details about the most suitable standards to consider implementing for your business, the CBI report indicated above, Requirements for tourism services in the European market, details the ISO Standards (International Organization for Standardization) most commonly adopted by the tourism industry worldwide, along with standards for Adventure tourism.
What are the requirements for niche markets?
Sustainability – why it is so important
Across Europe, embedding sustainability into all aspects of a tourism business is becoming more common. Travellers are increasingly keen that their trips do not have a negative impact on the destination and where possible, they can have a positive impact on the places and people they visit.
Sustainable operating practices are increasingly becoming a statutory requirement in the EU and the UK. The European Green Deal compels European tourism companies to implement sustainability into the business operations in order to meet the commitment to reduce carbon emissions to net zero by 2050. Some airlines are now informing their customers the carbon emissions that will be emitted during their chosen flight, including British Airways and easyJet.
Research conducted in 2021 revealed that Romania stands out as the destination most keen on adopting sustainable actions. However, the other markets display a high interest in sustainable practices across a variety of actions. Consuming local produce, reducing waste, visiting lesser-known places and being respectful of the local environment are all important factors to the markets.
Table 1: Are you prepared to change your travel and tourism habits to be more sustainable? (2021)
| | | | | | |
| --- | --- | --- | --- | --- | --- |
| Sustainable Action | Czech Republic | Hungary | Lithuania | Poland | Romania |
| Consume locally sourced products on holiday | 69% | 58% | 36% | 61% | 86% |
| Reduce waste while on holiday | 65% | 58% | 30% | 53% | 89% |
| Holiday out of tourist high season | 55% | 39% | 36% | 49% | 74% |
| Travel to less visited destinations | 50% | 34% | 28% | 47% | 67% |
| Choose transport based on ecological impact | 36% | 23% | 22% | 36% | 66% |
| Pay more to respect the natural environment | 42% | 26% | 22% | 27% | 74% |
| Reduce water usage on holiday | 47% | 32% | 7% | 40% | 41% |
| Contributed to carbon-offsetting activities | 50% | 33% | 18% | 36% | 82% |
| Pay more to benefit the local community | 40% | 20% | 13% | 26% | 62% |
| I am not prepared to change my habits | 12% | 11% | 24% | 10% | 6% |
Source: Flash Eurobarometer 499: Attitudes of Europeans Towards Tourism
Digitalisation in tourism
To be competitive and efficient, the tourism industry is rapidly implementing a range of digital processes across many aspects of their businesses. They will look for suppliers who can show they have a good understanding of digitalisation and have digital processes in place.
Digitalisation processes in tourism are wide ranging and include the digitalisation of daily operations such as calendars and emails; optimisation of websites; social media management; mobile connectivity; online sales (or other forms of online communication with customers); and many other new technologies.
The greater the level of digitalisation that you can adopt for your business, the more confidence your buyers will have in your business. Study the CBI guide Tips to go digital in the tourism sector as a first step towards digitalising your business.
Create suitable products for the Eastern European market
New market segments can grow quickly in emerging markets, so you should diversify your products to tap into different market segments. Consider some of these tips and ideas for creating suitable tours for this market:
Focus on markets that have good direct connectivity in the first instance.
If you have adventure travel products, focus on the more independent younger generation which have more money to spend than the older generation. They are also more likely to be keen to try new things, enjoy different experiences and seek out Jordanian culture.
If your offer is a more traditional sun and beach holiday, you should focus on the older consumer and make sure you add value to attract them, like 4 nights for the price of 3, welcome packages, good value excursions and so on.
Create a basic trip and allow customers to add trips and experiences according to their interests, e.g., diving, culture, hiking, sightseeing.
Ensuring that Jordan's travel products do not harm the environment and directly benefit local Jordanian communities is essential to attract the Eastern European market.
2.

Through what channels can you get Jordanian tourism products on Eastern European markets?
How is the end market segmented?
There are two main types of Eastern European travellers – package travellers and FITs (fully independent traveller). 
Package travellers – buy their products directly from travel agencies and tour operators that sell holidays to the destination they wish to travel to.
FITs – do their own planning and research and make bookings directly with airlines, accommodation providers, trip and tour activity providers. They also use OTAs (online travel providers) for either or both accommodation and trips.
Figure 1: Characteristics of Eastern European Travellers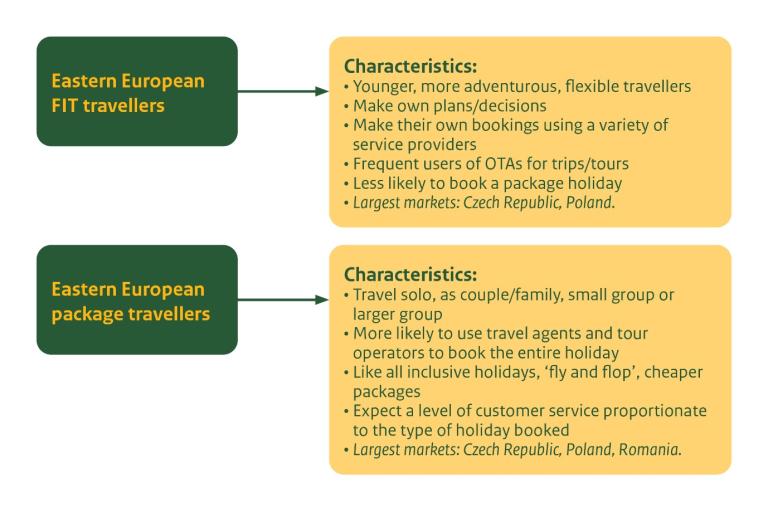 Source: Acorn Tourism Consulting
Tips:
Put together affordable trips/packages of different activities and durations to ensure that you are appealing to the younger FIT markets from Czech Republic and Poland. For reference, see how Excursion Marmaris has developed a wide range of different products to appeal to active tourists.
Ensure you incorporate sustainability into your travel products. East European outbound tour operators increasingly require their suppliers to provide evidence that they operate sustainably.
Through what channels does a product end up on the end-market?
Eastern Europeans buy travel products in much the same way as other markets, and use a mix of direct sales to purchase components such as flights, accommodation and trips, and packages through specialist tour operators.
Sales channels have become more complex and varied as digitalisation has transformed the marketplace. The chart below shows how buyers and suppliers are interlinked, and sell between one another.
Figure 2: Sales Channels to the Eastern European Market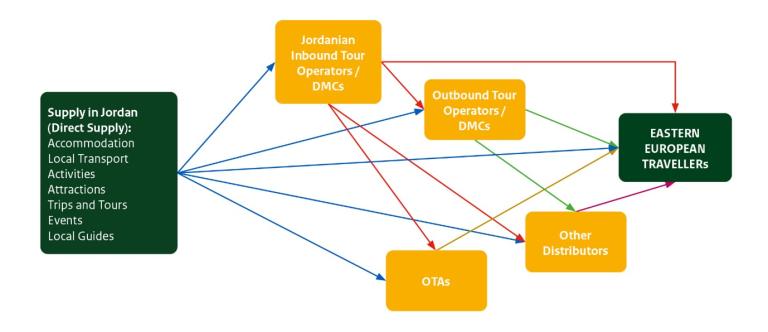 Source: Acorn Tourism Consulting
The traditional market of Eastern European holidaymakers prefers to use more traditional methods of booking a holiday via travel agents and tour operators. The younger travellers from this region are more open to alternative booking methods that include using OTAs (Online Travel Agency), a mix of direct sales and local tour operators.
Tip:
Make an inventory of Jordan's supply chain so you are clear about the internal structure and how the buying process works.
What is the most interesting channel for you?
All sales channels are suitable to explore for opportunities.
Travel agents and tour operators are very common in the Eastern European marketplace and are the most common forms of booking trips abroad. Egypt, Israel and Dubai are commonly offered destinations.
When visiting websites, you should be aware that they are in the local language. Google offers a 'translate this page' option, but the feature doesn't always work well throughout the site.
OTAs (Online Travel Agencies) are the fastest growing sales channel for short trips and experiences. It is a fast-growing market and, as more and more travellers are opting to take tours, is set to continue to evolve and grow as the pandemic eases. To work with an OTA, you will need to sign up as a supplier – look for the link on their website.
Examples of OTAs include:
As well as using OTAs, FITs also like to book travel products directly with suppliers, such as accommodation, local transport and local guides. This presents opportunities for small operators to enter the market using their website or social media platform to attract the market.
Tips:
Research other outbound tour operators from each of the source markets by finding listings on the internet like this one, Outbound Operators in Poland.
Research which OTA would be the best to work with. There are several guides to help you to work effectively with OTAs, like Working with OTAs.
Make sure your website is kept up-to-date, has relevant information and presents your trips and tours attractively.
If you don't have a website, consider building one. Download the CBI study How to be a successful tourism company online to help you.
3.

How can you find buyers and do business with the Eastern European market?
Learn about the Eastern European market
It is important that you do your research before taking steps to enter a new market. This is best done by taking a universal approach so that all stakeholders in the Jordanian tourism industry are invested in the development of the market. Market representation travel companies specifically help tourism boards, Destination Marketing Organisations (DMOs) and local operators to enter new markets. They charge a fee for their services but are experts in developing outbound tourism markets.
For Eastern Europe there are several market representation companies to consider contacting for an initial discussion and to find out how they might be able to help. They include:
Tips:
Make a list of the market representation companies that you feel would be most suitable for you to contact for advice. Thoroughly research what services they provide.
Contact those you feel would be most suitable to find out what services they offer and whether they could be good business partners.
Doing business with the Eastern European market
Although grouped together in the same region, not all Eastern European countries should be treated the same in business. The region is very diverse and each country has its own culture and heritage, speaks a different language, and has different ways of doing business. You should research each market you want to do business with. Doing business in Central and Eastern Europe – the lowdown offers good general guidance about the region as a whole.
For more detailed information, the Passport to Trade has published individual guides on the business culture in each of the five markets:
The Department for International Trade in the UK provides detailed guidance for businesses seeking to export goods and services to Europe, including each of the five countries in Eastern Europe. Although primarily aimed at British businesses, it provides useful information that is also relevant for overseas businesses, such as trade and services regulations. Download each of the market guides to find out more.
The European Union (EU) also publishes a Guide for the import of services from outside the EU to help you understand if your business is ready for importing and understand the four-step process.
The CBI study 10 tips for doing business with European tourism buyers will also give you useful information about doing business with European buyers, including Eastern Europe.
Finding buyers on the Eastern European market
Business to Business (B2B) travel trade fairs provide networking opportunities with professionals in the markets you want to target. Having a stand is a more expensive option but it gives a good presence and provides multiple opportunities to meet the right people as long as meetings are booked in advance and followed up after the event.
Alternatively, attending fairs as a visitor and ensuring you spend time making appointments with relevant buyers in advance can also be an effective way of networking. Virtual trade fairs are a cheaper and more environmentally sustainable option.
ITB Berlin is the world's largest and leading trade fair for travel professionals. It is held every year and will be hosted virtually between 8 and 10 March 2022.
WTM World Travel Market hosts six events annually in London, Dubai, Sao Paulo and Cape Town. The global event in London is due to be held 7-9 November 2022.
Regional tourism fairs in the target markets are worth researching:
National tourism associations and other Internet directories may provide listings of outbound tour operators. Be aware they may need translating.
Europages is a B2B sourcing platform featuring European business listings in many sectors and by country. Tour Operators and Travel Agencies are two of the filters.
4.

What competition do you face on Eastern European markets?
Which countries are you competing with?
As indicated in the Market Potential report, Turkey, Egypt, Tunisia and Israel are the main competing nations for inbound tourism to Jordan based on international tourist arrivals. They also offer comparable tourism experiences in terms of range of historical and cultural sites, exciting desert and nature activities, good sun and beach options and favourable weather with the potential for year-round tourism.
In addition, countries that offer sustainable tourism to a high level have also become important competing nations for the new type of responsible tourist. Many Eastern European countries are among the leading destinations for sustainable tourism and consequently Europeans have a very high awareness of the importance of sustainability.  
Lithuania, Czech Republic and Poland feature in Euromonitor's top 21 Sustainable Travel Index Rankings for 2020, each ranked 12, 14 and 21 respectively. This means that for Eastern Europeans seeking destinations that offer sustainable tourism activities, there is good choice within relatively easy reach, including Estonia (4), Slovakia (6), Latvia (8), Slovenia (10). However, travel to these destinations for leisure purposes are more likely to be during the summer months when the weather is more pleasant.
Turkey
Turkey is the top competing destination. The country has cemented its reputation as a destination that has a wide range of tourism experiences that include sun and beach, historical and heritage attractions and a diverse culture along with good weather. It is a top developing destination for many EU countries, including the five target markets. It has invested heavily in its national airline, Turkish Airlines, which offers direct routes to many global destinations and has won numerous awards including Best Airline in Europe.
There were 51.2 million international tourists to Turkey in 2019, of which more than 33.5 million were European and 18.4 million were from the Central/Eastern European region.
Turkey is well-known for its rich cultural treasures that include the Byzantine Mosque of Hagia Sophia in Istanbul, the evocative city that links Europe and Asia situated on the Bosphorus Strait. There are many ancient Greek-Roman ruins including those at Ephesus, Aspendos and Pergamum, and the lunar-like landscape of Cappadocia where hot air balloon rides are popular. Turkey's beaches on the Mediterranean are famed for sparkling seas and a multitude of water sports and activities that appeal to large numbers of tourists every year.
Egypt
Egypt is a world-famous destination known for its ancient civilisations and spectacular built heritage dating back more than 4,000 years including the Pyramids of Giza, the Valley of the Tombs and the Temples of Luxor, all UNESCO World Heritage Sites. Situated on the Red Sea, Egypt also has a very strong sun and beach product that is both appealing for package tourists and FITs. It is also one of the best places in the world to scuba dive. In 2019, Egypt welcomed 13.8 million international arrivals, including more than 3.5 million from the Central/Eastern Europe region.
Although Egypt has made good steps towards implementing more widespread responsible tourism practices that have a greater benefit for local communities, it is an area that requires improvement such as addressing overtourism at key sites, polluting Nile cruises and dealing with irresponsible wildlife encounters.
Nevertheless, access to Egypt is good from Europe, both to Cairo and Sharm-el Sheik on the Red Sea, with many direct flights on LCCs and scheduled flights from several destinations.
Tunisia
Tunisia is one of North Africa's leading tourist destinations and registered more than 9.4 million international tourist arrivals in 2019, an increase of 14.6% against 2018. Traditionally, Tunisia has been popular as a winter sun destination for the European market. Of the target markets, it is particularly popular for tourists from the Czech Republic and Poland, also attracted by its Mediterranean beaches.
However, Tunisia also has a good desert tourism product with the wild extremes of Saharan sand seas and forested coastlines which, as a small country, are relatively easy to explore in a few days. It also has more affordable accommodation and fewer crowds than other Mediterranean destinations, and in some places, archaeological sites that are comparable to those found in Egypt and Greece.
Tunisia has recovered well after the terrorist attacks in 2015. However, its sustainability credentials are low on account of a large cohort of natural resource-hungry, foreign-owned, high-rise beach resorts that have limited economic impact for local communities.
Israel
More than 4.5 million tourists visited Israel in 2019, a record year, of which almost 1 million came from Central/Eastern Europe. As the Holy Land, its sacred sites such as the Dome of the Rock, the Western Wall and Al-Aqsa Mosque in Jerusalem, are of great importance to religious tourists of the Christian, Islamic and Jewish faiths. However, Jerusalem and other historic and holy sites are also popular with non-religious tourists.
Israel also has a good sun and beach product on its Red Sea coastline at Tel Aviv and Eilat, and also at the Dead Sea, the earth's lowest point, especially for wellness tourism on account of the high mineral properties in the Sea. The Negev desert, which accounts for around 62% of Israel's landmass, is a great location for adventure activities.
Israel is easily accessible from Eastern Europe via LCCs including Ryanair and Wizz, and several scheduled flights from European destinations. For onward visitors to Jordan overland, Israel is also the first point of entry visitors who typically fly to Tel Aviv, travel around Israel and/or Palestine, and take local transport onwards to Amman.
Tips:
Do your own research into tourism products on the market from Turkey, Egypt, Tunisia and Israel to see what ideas you can adapt for your business.
Carefully assess packages and trips to identify what is included and what is not so you can see what travellers to these countries like to do.
Research sustainable tourism products in Eastern European countries to assess what are popular and could be learned and/or adapted for Jordan.
Use the research and information you gather to make sure that you are preparing your travel product in a way that will appeal to similar traveller types to Jordan.
Price your product carefully. The section below, What are the prices for competing tourism products, covers information about pricing.
Which companies are you competing with?
Companies in Turkey
Yummy Istanbul specialises in food tours in Istanbul. It is a small business owned by a local family of professional tour guides. Example products include Taste of Two Continents, and Flavours of the Old City. Its website is detailed with attractive photography and there are extensive FAQs with clear information about food allergies and dietary requirements, as well as up to date guidelines about COVID-19. The operator also sells its tours through Viator. 
Metin Tours is a local travel agency aimed at the Polish inbound market and has offices in 12 tourist regions. It offers a large number of short trips and has its own fleet of modern coaches. Trips are coordinated by a mix of Polish and Turkish guides. It displays its Turkish license to operate clearly on the website, along with extensive information about Turkey, COVID-19 regulations and facts about the country. The website is available in Polish primarily, which can be translated into English using Google.
Companies in Egypt
Emo Tours Egypt offers day trips and holiday packages to Egypt's major destinations – Cairo, Luxor and Aswan, Red Sea destinations and Nile cruises. It is an experienced DMC that has worked with tour operators, airlines and accommodation providers, and is among the top ranked Tripadvisor companies based on 6,000 online reviews. Its website is available in several languages, including Russian, and it features a wide range of useful information for incoming travellers.
Nile Holiday provides a range of tourist packages including Nile cruises, day tours, city breaks and desert safaris. All tours/trips can be customised. The operator is a member of several tourism associations including the Egyptian Travel Agents Association and the Egyptian Hotel Association. Its website is clear and inspirational and there are many informational pages for visitors. Social media channels are easy to find and interact with, and there is a clear 'call to action' chatbot at the bottom of the screen.
Companies in Tunisia
Saharan Sky offers a range of scheduled and tailor-made tours in Tunisia, both single and multi-day tours, including adrenaline tours. The operator positions itself as an adventure operator with the strapline, 'Adventure is Calling' and has won several tourism awards, including the Luxury Travel Guide Awards for Adventure Tour Operator of the Year in 2019. Customer reviews feature prominently on its homepage along with technology partners such as Expedia and Booking.com. All tours are fully bookable online.
Batouta Voyages was established to support the Japanese outbound market and has subsequently evolved to cater for the European and North American markets as well. It offers a range of trips and excursions in addition to other services including accommodation and transport, and caters for individuals, groups and business travellers.
Companies in Israel
Bein Harim Tourism Services has a range of day tours and multi-day packages on its website to Jerusalem, the Dead Sea, Nazareth and Bethlehem, and also travels over the border to Petra and Jordan. Its website is well-designed and indicates clear reasons for booking with them by using eye-catching icons.
Figure 3: Our Israel Tours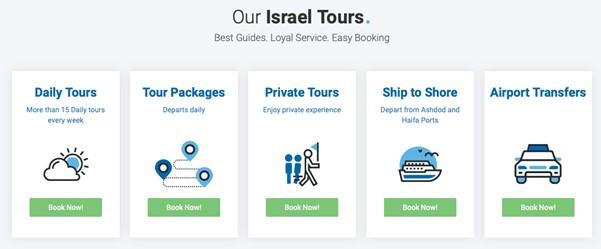 Source: Bein Harim Tours
The operator uses a wide range of attractive and inspirational photos, and multiple calls to action like 'book now' and 'join us'. However, there is no obvious traveller information about COVID-19 regulations and this would be a good idea to generate confidence.
Elijah Tours and Travel operates in both Israel and Palestine and offers private tours, shared tours and multi-day tours to Bethlehem, Jericho and the Dead Sea. The operator's website is simply designed and features some inspirational testimonials prominently on the homepage. Social media channels and contact details are easily accessible.
Tips:
Have a look at these websites to assess what they do well and what could be done better and see how they compare with your website.
Do your own research into the competing markets and see what ideas could be adapted for the market in Jordan.
Which products are you competing with?
Sun and beach products are the main competing product for Eastern European tourists, particularly the large base of older and more traditional travellers from the Czech, Polish and Romanian markets who are keen on all-inclusive or package trips to well-established beach resorts with a wide range of activities.
Adventure and culture are key products for younger Eastern European tourist who are keen to travel more independently, use OTAs for trips and tours, and make their own decisions both before they travel and whilst on the move. They are more interested in travelling off the beaten track, experiencing new cultures, destinations, and lifestyles.
Tips:
As well as the global OTAs, research OTAs that are present in competing countries, such as Geoota, an Egyptian OTA.  
Undertake a thorough audit of Jordan's travel product to identify where suitable gaps exist to create new experiences for the Eastern European market.
5.

What are the prices for competing tourism products to the Eastern European market?

Eastern Europeans are price sensitive. The larger groups of older tourists are less wealthy than travellers from western or northern Europe and they seek good value for money. In Poland, 'first-minute' offers are especially popular, and refer to offers for advance booking.  

Jordan is an expensive destination. By comparison, major competing destination Turkey has a reputation as a good-value destination, and there are plenty of budget options. It is accessible from many destinations, there is a wide range of tourism accommodation across all standards, food and beverages are cheap and the cost of visiting attractions and activities are perceived to be good value.

By contrast, Jordan is more difficult to access as direct flights are limited, prices for attractions are expensive, it is more difficult to get around using local transportation, services provided can be expensive and not necessarily up to the standard expected for the price paid.

The illustrative example below indicates that daily expenses on a week-long trip to Jordan are more than twice those of a similar trip to Turkey or Egypt, but similar to a trip to Israel.

Table 2: Price comparison of a mid-budget 7-night trip to Jordan vs. competing destinations, price per person
| | | | | |
| --- | --- | --- | --- | --- |
| Expenditure | Jordan | Israel | Egypt | Turkey |
| (US$) |   |   |   |   |
| Accommodation | 308 | 441 | 126 | 105 |
| Local Transport | 126 | 54 | 48 | 42 |
| Activities/Attractions | 245 | 84 | 98 | 112 |
| Food | 225 | 224 | 84 | 84 |
| Total Trip Cost (7 days) | 904 | 803 | 356 | 343 |
| Average Daily Spend (excl. international flights) | 129 | 115 | 51 | 49 |
Source: Budget Your Trip
Presenting Jordan as a good-value destination is essential to attract the East European market. To justify the higher prices compared to your competitors, make sure you highlight the quality of Jordan's tourism product, such as unique features, value to local communities, the quality of the destination, and sustainability.
Tips:
Promote the Jordan Pass more widely as it is the most cost-effective way of visiting Jordan's main attractions. Offer deals, such as 'earlybird discounts', family rates, 2-for-1, and so on. Local Turkish  operator Excursion Mania offers discounted tours for 'loyal followers' through its Facebook and Instagram pages.  
Work with accommodation providers to offer competitive package deals, such as 'buy 3 nights, get one free' or 'kids go free'.
Include added extras in packages, such as free food/drink, free entry to attractions, welcome beverages and so on.
Add value to your product by offering add-ons such as sightseeing trips, activities like visits to local attractions, and cultural experiences.
This study was carried out on behalf of CBI by Acorn Tourism Consulting Limited.
Please review our market information disclaimer.
Search
Enter search terms to find market research