The market potential of Eastern Europe for Jordan
Since 2015, the Eastern European markets of Czech Republic, Lithuania, Hungary, Poland and Romania have all registered ongoing double-digit growth figures in outbound visitors to Jordan. There are several direct routes from the region to Amman and Aqaba and Jordan's products of sun and beach, nature, adventure and culture have a great appeal to major outbound travel markets in the region. Global travel trends such as sustainability, digitalisation and the development of tours and experiences offer multiple opportunities.
1.

Description of the target market

Eastern Europe covers a wide geographical area and is extremely diverse, encompassing many different cultures, ethnicities, languages, histories and political structures. The widest definition of region includes those as defined by the United Nations (Belarus, Bulgaria, Czech Republic, Hungary, Moldova, Poland, Romania, Russia, Slovakia and Ukraine); along with the Baltic States (Estonia, Latvia and Lithuania); and south-eastern Europe (Albania, Bosnia and Herzegovina, Croatia, Montenegro and Serbia). 

Many countries in the region are 'emerging markets', a term that refers to developing economies. A growing economy has a positive effect on its citizens as disposable incomes increase which enables more lifestyle choices, including travel.

Since many countries have opened up to global trade following the collapse of communism in the 1990s, inbound and outbound tourism has been growing across the region and the tourism industry has become an important contributor to the region's growing economies.

Figure 1: Map of Eastern Europe and Populations of Czech Republic, Hungary, Lithuania, Poland and Romania, 2021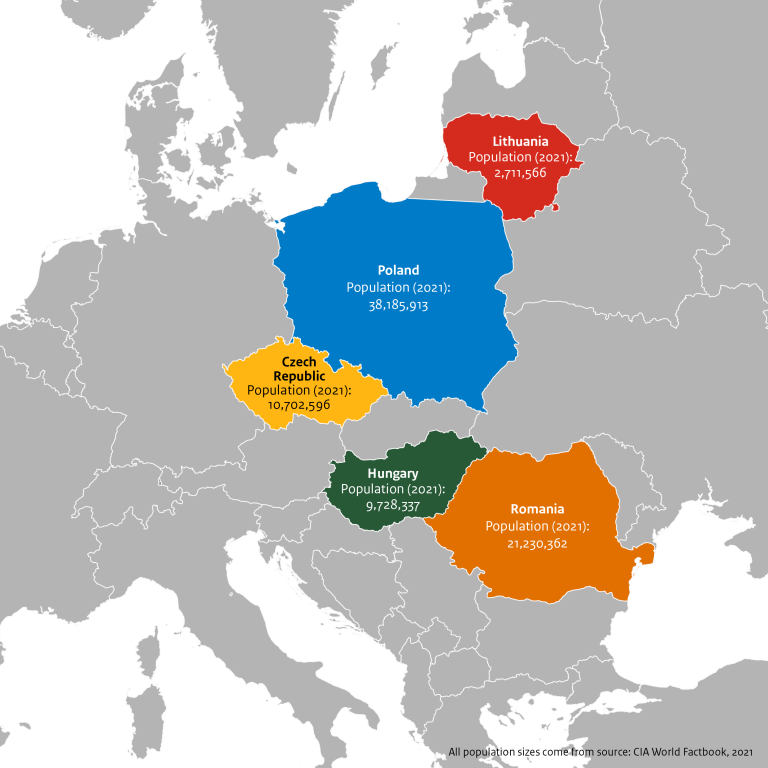 Source: CBI, 2021
This report focuses on the Eastern European markets of the Czech Republic (also known as Czechia), Hungary, Lithuania, Poland, and Romania. They are all considered to offer good potential and development opportunities for Jordan.
The COVID-19 pandemic caused a drop in international arrivals of around 75% across most countries around the world in 2020. Therefore, this report uses 2019 figures for the basis of analysis rather than 2020 and 2021 data that is not the norm.
Growth in tourism arrivals to Jordan from each of the five markets over the four-year period 2015-2109 was strong, registering double-digit Compound Annual Growth Rates (CAGR) in all cases – see Chart 3 in the following section, What makes Eastern Europe an interesting market for Jordan. Poland contributed the largest number of arrivals with nearly 30,000, accounting for a 0.65% share of total international arrivals to Jordan.
All five countries are members of the European Union (EU). Lithuania is the only country of the five to have met the conditions to be part of the eurozone and replaced its national currency with the single currency, the euro (€).
The COVID-19 pandemic
The pandemic has severely affected global tourism over the past two years. The UNWTO estimates that, despite some recovery in 2021, international arrivals have remained at 70-75% below 2019 levels in both 2020 and 2021, and estimates a cumulative loss in revenue of US$4 trillion.
While there was some recovery in domestic and regional markets around the world, recovery has been uneven and it is clear there is a long way to go before the long-haul market rebounds fully. Uneven vaccination rates around the world and the emergence of new coronavirus variants, in particular Omicron at the end of 2021, continue to impact the industry's recovery as new travel restrictions are put in place.
Around 8 in 10 EU citizens expect that the pandemic will have some type of long-term effect on their travel behaviour. These effects may be multiple, ranging from paying more attention to health and safety measures in destinations, taking more domestic holidays, travelling less overall, paying more attention to the impact of tourism on local communities, changing choice of destination, and/or type of destination (for example, beach, nature, city).
You should keep abreast of Jordan's travel restrictions on a regular basis as they change frequently. Vaccination rates in Eastern Europe are lower than in Western Europe. Strict regulations may deter them from choosing to or being able to enter Jordan. Consult the relevant links on the Royal Jordanian website and Jordan Government website.
This is the time to prepare your business and travel products to welcome back visitors. CBI has published several tourism studies to help you to understand, plan and prepare for tourism recovery. Have a look at the studies on Niche Markets (for example Adventure, Bird Watching and Culture) and Target Groups (for example Free Independent Travellers and Generation Y/Millennials).
You should also familiarise yourself with the techniques for managing risk, an essential business management tool, and make sure you have all the right elements in place in these uncertain times.
Tips:
Make sure you have revised your Terms & Conditions and updated your Cancellations and Refund policies so they do not deter travellers from making bookings.
Ensure your business has complied with the WTTC Safe Travels Protocols which Jordan has committed to as a destination. You should contact Visit Jordan to find out how your business can comply with the Safe Travels Stamp and display it on your website or Facebook page.
2.

What makes Eastern Europe an interesting tourism market for Jordan?

People in Eastern European countries have embraced their increased travel opportunities in recent years and all target source markets detailed in this report witnessed growth in outbound tourism before the pandemic. Between 2015 and 2019 arrivals to Jordan increased by exceptionally high Compound Annual Growth Rates (CAGR). You can study the growth rates registered for each country in Chart 3 below. What they mean is that the average growth rate in each year was 49% in Czech Republic, 18% in Hungary, and so on.  

As economic prosperity across the region has grown, consumer confidence has also increased and the desire to travel has become more important amongst citizens. While the travelling market is predominantly traditional and most long-haul destinations are unfamiliar to them, the emerging segment of younger travellers are keen on new travel experiences, which offers good opportunities for Jordan.

The most popular destinations for the target market countries are neighbouring Eastern European countries. These are easy to reach by land and share many similar characteristics that inspire confidence amongst an emerging market. However, Jordan is located within relatively easy reach of many Eastern European countries and direct air routes from several major hubs have been established which have played their part in the increased arrivals to Jordan since 2015. 

Eastern European travellers share many characteristics with other countries in the region. The younger population, who have grown up outside of communism, are keener on new travel experiences. The older population prefer the traditional all-inclusive holidays at beach destinations – for them, the freedom offered beyond communism can be enjoyed at the more traditional resorts.

Czech Republic and Poland are the markets with the most potential for Jordan in terms of numbers and propensity to travel. With large populations, their growing economies and high levels of technology expertise and business hubs have led to a growing number of younger adventurous travellers who are keen to explore. They tend to be 'opportunistic', keen to find a 'deal', and like to travel to easily accessible destinations. 

Research conducted in 2015 about European nationals' travelling preferences revealed that:
Sun/Beach was the top choice for a holiday for citizens from Lithuania, Hungary, Poland and Romania.
Nature was the top choice for Czech citizens with Sun/Beach a very close second, and the second most popular reason for going on holiday for Poles, Lithuanians and Romanians.
City trips were popular choices for nationals from Hungary, Lithuania and Poland.
Wellness and Spa holidays were the second most popular choice for Hungarians.
Table 1: Main Reason for Going on Holiday (2015 data)
| | | | | | |
| --- | --- | --- | --- | --- | --- |
| Main Purpose of Trip | Czech Republic | Hungary | Lithuania | Poland | Romania |
| Sun/Beach | 26% | 26% | 23% | 27% | 27% |
| Nature (mountain, lake, landscape) | 27% | 8% | 18% | 20% | 18% |
| City Trips | 3% | 11% | 11% | 11% | 8% |
| Sports Related Trip (diving, cycling) | 10% | 3% | 4% | 6% | 1% |
| Culture (food, arts, religious) | 4% | 5% | 10% | 5% | 6% |
| Wellness/Spa | 9% | 15% | 6% | 4% | 9% |
| Events (festivals, sports) | 3% | 5% | 4% | 2% | 1% |
| Other | 18% | 27% | 24% | 25% | 30% |
| Total | 100% | 100% | 100% | 100% | 100% |
Source: Flash Eurobarometer 432: Preferences of Europeans towards tourism
New research conducted in 2021 revealed that Culture, Nature, and Overall Price of a holiday were the major factors for consideration for travellers from these target markets. In addition, the availability of activities, and accessibility of services and activities, were particularly important for visitors from Czech Republic and Poland.
Table 2: When choosing a destination, which are the most important factors to consider? (2021)
| | | | | | |
| --- | --- | --- | --- | --- | --- |
| Trip Factors | Czech Republic | Hungary | Lithuania | Poland | Romania |
| Cultural offerings at destination | 53% | 50% | 49% | 43% | 45% |
| Natural environment in destination | 41% | 46% | 43% | 40% | 43% |
| Price of overall trip | 30% | 43% | 34% | 38% | 38% |
| Activities available in destination | 42% | 29% | 22% | 37% | 30% |
| Accessibility of services and activities for all | 39% | 30% | 31% | 38% | 38% |
| Clear information on health and safety guidelines | 22% | 24% | 19% | 17% | 38% |
| Destination promotes eco-friendly practices | 11% | 12% | 8% | 9% | 16% |
| Destination can be reached by low-impact transport | 12% | 10% | 9% | 13% | 19% |
| Local population involved in tourism activities | 11% | 12% | 6% | 13% | 17% |
| Sustainability certification of accommodation and attractions | 9% | 13% | 6% | 11% | 8% |
| Other | 7% | 8% | 5% | 6% | 3% |
Source: Flash Eurobarometer 499: Attitudes of Europeans Towards Tourism
Therefore, Jordan's broad range of tourism experiences are suitable for these markets:
Sun and beach – this is still the largest segment in Eastern Europe. Czech Republic, Poland and Romania have large populations that are keen on the traditional 'fly and flop' all-inclusive packages.
Adventure and Culture – Increasing numbers of young and adventurous fully independent travellers (FIT) are looking for exciting destinations. In particular, Czech and Polish nationals are keen to explore new countries and experience the different cultures of long-haul destinations such as Jordan. As the countries with the most developed economies of the five target markets, they have the largest numbers of adventure tourists that have the budgets to travel independently.
Nature – enjoying nature is important to Eastern Europeans and the opportunity to experience a different environment and landscape. Egypt and Dubai are of particular interest to travellers from Poland and Romania. Jordan's similar desert landscape and favourable weather is of significant interest to adventure travellers.
3.

Which markets in Eastern Europe offer most opportunities for Jordan?

Overnight outbound tourism, for all purposes, from each target market has been growing steadily since 2015. Poland and Romania account for the greatest numbers of outbound travellers; however, both countries have large populations, 38.1 million and 21.2 million respectively. By contrast, Lithuania has the smallest population with 2.7 million, and the lower outbound figures are representative of this.
Czech Republic
The Czech Republic, also known as Czechia, is one of the wealthiest countries in the Eastern European region and has the highest GDP per capita of the five target markets (US$38,300 in 2020), meaning that Czech nationals typically enjoy higher salaries than many neighbouring countries. It has a population of 10.7 million, a low unemployment rate and, in 2021, its GDP grew by 3.1%. 
Czech nationals are keen travellers, and it is estimated that more than 60% of residents travel abroad every year. In 2019, there were more than 7.3 million overnight outbound departures and outbound expenditure of US$5.8 billion. Top destinations for overseas travel tend to be those that can be easily reached by land, such as neighbouring Slovakia (accounting for 26% of all outbound overnight trips in 2019), Italy (11%) and Croatia (6%).
Among the most visited developing destinations, Turkey was the most visited country by Czech nationals followed by Egypt and Ukraine. Direct flights to Turkey from several Czech cities on several days every week gives good access for Czech nationals. Vienna in Austria, just over the border, offers Czech nationals a direct flight to Egypt, Tunisia, and other long-haul destinations.
In 2022 the only direct access from the Czech Republic to Jordan is a flight from capital city Prague to Amman with British LCC (low-cost carrier) Ryanair twice a week (Tuesday and Saturday). 
Hungary
With a population of 9.7 million, Hungary's income per capita is approximately 66% of the EU average and the country has transitioned from a centrally planned to a market-driven economy. Before the pandemic, the Hungarian economy was experiencing strong growth. The GDP growth rate was 4.6% in 2021 and is forecast to rise to 5.0% in 2022; GDP per capita was $31,000 in 2020. 
There were 9.3 million overnight outbound tourists in 2019, an increase of 8.37% from 2018. The most popular destination was Ukraine, one of the top outbound destinations across the Eastern European region on account of accessibility, accounting for 15% of all outbound departures. Other popular regional destinations for Hungarian travellers were Austria, Slovakia and Croatia.
Beyond Ukraine and further afield to other developing nations, the most popular overnight destinations were Turkey and Egypt. National carriers Turkish Airlines and EgyptAir offer convenient direct connections, and Hungarian LCC Wizz Air serves several destinations in both countries.
In 2022, direct flights to Jordan from Budapest to both Amman and Aqaba are provided on Wizz, twice weekly to each destination, and a further direct flight from Budapest to Amman is offered by Ryanair. 
Lithuania
Before the pandemic, Lithuania had one of the fastest growing economies in the EU and in 2020 had the second highest GDP per capita of the five target markets (US$36,700). The economy rebounded quickly following the pandemic, and the GDP growth rate in 2021 was projected at more than 5% with a forecast growth rate of 3.7% in 2022 and 2023. 
Lithuanians love to travel abroad. In 2015, Eurostat reported that 28% of the population chose to travel abroad rather than holiday domestically, one of the highest rates in the EU and the highest in Eastern Europe. In 2019, there were 2.3 million outbound overnight departures, an increase of 4.59% on the previous year. A report in the Baltic Times indicated that Lithuanian travellers were very keen to travel abroad in 2021 and the summer season proved more successful for outbound tourism than for domestic tourism. This was broadly in direct contrast to many other European nations which typically experienced record levels of domestic tourism. 
European destinations remain the most popular outbound destinations, with Poland and Latvia the most highly sought after – as neighbouring countries, they are easily accessible overland. Turkey, Egypt and Tunisia are the most visited developing countries by Lithuanians. Access to Turkey is particularly favourable via direct flights from Vilnius to Istanbul on Turkish Airlines. Russia was also a key destination for Lithuanian nationals, visited by 230,000 in 2019, more even than to Turkey.
However, Lithuania's population is very small and growth is likely to be limited in scale. There is no longer any direct access from capital city Vilnius to Jordan since Ryanair cancelled the route from its schedules in 2021. If the route were reinstated, it is likely that Lithuanian travellers would be keen to travel to Jordan.
Poland
With a population more than 38 million, Poland is one of the leading outbound tourism markets in the Eastern European region. It has the sixth-largest economy in the EU and has a good reputation as a business-friendly country with effective macro-economic policies. The GDP per capita was US$32,200 in 2020 and it was expected to grow to 5.3% in 2021, projected to reach 5.2% in 2022. 
The outbound market has been growing steadily and in 2019, 13.5 million overnight outbound departures were made by Polish nationals, an increase of 5.47% over 2018. Italy remains the most popular destination, followed by Croatia and Germany. 
However, Polish nationals are also keen to visit developing destinations, with Ukraine accounting for the most with 1.1 million Polish visitors. Turkey, Egypt and Tunisia were the next most popular developing countries to visit. It is also important to note that although not a developing country, Russia is also a popular destination for Polish nationals – more than 640,000 travelled there in 2019.
Almost 30,000 Polish visitors travelled to Jordan in 2019, more than any of the other target markets – a reflection of the large population but also of the inclination of Polish nationals for new travel experiences. 
Ryanair offers direct flights to Amman from Warsaw and Poznan (new for 2022), each route operating twice weekly. German carrier Lufthansa offers a direct flight from Krakow to Amman twice weekly. All direct flights are on Mondays and Fridays.
Romania
Romania's economy is experiencing growth and reached pre-pandemic levels in the first half of 2021. The economy is expected to remain strong, with GDP growth rates expected to be 4.5% in 2022 and 2023.  However, its population of more than 21 million has the lowest GDP per capita (US$28,800) and therefore has less disposable income to spend on travel.
Nevertheless, outbound tourism was on the rise from Romania before the pandemic and 13.5 million nationals made an overnight trip overseas in 2019, a significant increase of 30.45% over 2018. Proximity to Bulgaria made it the top destination for outbound travel, followed by Hungary and Italy.
Just over 14,000 visitors from Romania travelled to Jordan in 2019, the second-largest number of visitors from the Eastern European region after Poland. Further afield, Turkey and Ukraine accounted for substantial numbers of Romanian visitors, 759,000 and 739,000 respectively. Convenient access overland is the most likely reason for travel to these two destinations.
Expert Insight into the Eastern European Outbound Travel Market
Poland, the largest country in the Bloc has seen the most pronounced growth. Back in 1989, Poles were poorer than average citizens of Gabon, Ukraine, and Suriname. Since then, Poland grew faster than the Four Asian Tigers and had the longest lasting growth spurt on record. It bucked the trend and avoided recession in 2008-10, and only the impact of COVID-19 finally caused negative growth in 2020.
In contrast to western Europe, where older generations are often the most affluent target group, in CEE (Central Eastern Europe) those with the highest disposable income are younger. As such, active holidays are popular. Since COVID-19, CEE citizens have been more likely to travel and arrivals from Poland, Czechia and Romania have jumped up the rankings in destinations which remained open for business such as Maldives, UAE, Mexico and Zanzibar. 
In January 2021, when ski resorts across Europe were closed, Switzerland, the only country where it was possible to ski, registered a huge drop in tourists, but a 64% year on year increase in arrivals from Poland. As it was not possible to fly to Switzerland at the time all these arrivals must have driven over 1,000 kilometres to reach the destination, and this illustrates the energy and determination of the Polish people when it comes to outbound travel.
Paddington Tucker – CEO, Travel Advance
Tips:
Take the time to fully research the Eastern European market so you are prepared for when medium-haul travel resumes.
Assess your current tourism product to see whether it fits with the needs of Eastern European travellers.
Focus on markets with direct air access.
Find out what plans there may be that might affect direct air access to Aqaba and Amman from Eastern Europe via Royal Jordanian, other national airlines and LCCs.
4.

Which trends offer opportunities in Eastern Europe?

Post pandemic, pent-up demand for international travel is very high from all European markets. Although restrictions for travel remain in place around the world, it has become easier to travel with vaccination certificates and/or negative test results. 

During the pandemic, lockdown rules in Eastern Europe were less stringent than in Western Europe. As a result, citizens from the target markets were quicker to resume international travel particularly the younger, more adventurous travellers. However, vaccination rates from these countries are typically lower than in Western Europe and you should be aware of this when advising buyers about travel entry into Jordan.

Although domestic and regional travel are set to dominate travel and tourism in the short to medium term, long-haul travel is expected to recover fully by 2025.

However, there has been a shift in travellers' mindset which means that attitudes towards travel have changed, and sustainable travel has become the leading trend.
Sustainability and responsible tourism important to Eastern Europeans
Sustainability and responsible tourism are important trends, and they are having a positive impact on the tourism industry worldwide. Consumers have become increasingly environmentally conscious and have serious concerns about the negative impact their daily lives have on the health of the planet.
This extends to their holidays and trips, and tourists are keen to know their travel habits have minimal impact on the destination they visit. A growing number of tourists also want to make a positive contribution to local communities. This blog, Here's how Turkey is promoting ecotourism, describes how local villages and communities are developing ecotourism initiatives.  
In Eastern Europe, while it is less of an issue for older, traditional consumers, the younger age groups are more aware of the importance of sustainable travel. Therefore, it is important to understand that sustainable activities and responsible tourism are rapidly becoming the new norm. Consult the study on 'Entering the Eastern European tourism market' and its segment 'What requirements and certifications must Jordanian tour operators comply with to be allowed on these markets' for more information about sustainability in tourism.
Offering authenticity
Travellers are seeking unique and authentic experiences. They are looking for 'once in a lifetime' trips and are prepared to spend more for something that is more special to them.
To stay safe while travelling, taking part in outdoor activities, and visiting off-the-beaten-track destinations are top trends, where it is possible to travel without coming in to contact with lots of people.  
See how local operator Authentic Egypt promotes its trips with a focus on authenticity, their off-the-beaten-track nature and showing the 'real' Egypt.
Taking Tours
Taking guided (and/or self-guided) tours while on an overseas trip is a growing trend. In 2019 research found that 47% of American travellers were taking tours; by 2021 this had risen to 71%. Tours are usually short, guided tours that can last anytime from an hour or two up to a whole day, and cover a huge range of activities, the most popular of which are sightseeing tours and tours/experiences with a local.
Table 3: Tour Types
| | | |
| --- | --- | --- |
| Type of Tour | 2019 | 2021 |
| Sightseeing | 24% | 26% |
| Tour/experience with a local | 14% | 21% |
| Shopping or market tour | 12% | 20% |
| Nature/eco tour | 9% | 20% |
| Drink-related tour | 8% | 19% |
| Active adventure tour | 8% | 18% |
| Self-guided tour via mobile app | 9% | 17% |
| Food tour | 6% | 16% |
| Cultural tour (art, photography, film etc) | 8% | 15% |
Source: Arival Travel
Tours are often conducted in small groups or organised privately, which helps to add to the authenticity of an experience, helps them be more sustainable and, in today's market, helps to moderate contact between people.
This means that the trend for 'experiential travel' is continuing to evolve as travellers are choosing to spend more of their budgets on activities, trips and experiences than in other areas like luxury accommodation.
Going digital
Digital technologies are now very common across the entire tourism sector and as new technologies become available, there are greater opportunities for businesses to compete effectively. Examples of digitalisation processes in the sector include digitalisation of daily business operations, optimising websites for the target market, managing social media accounts, implementing digital marketing campaigns, ensuring mobile connectivity, making sales online, contactless payments, and working with (not against) OTAs to mutual benefit.
Eastern Europeans are very tech savvy. Therefore, they will be looking for operators who can meet their needs quickly and efficiently, whether through communication, via a website or mobile device.
The CBI report Tips to go digital in the tourism sector gives detailed information about the trend and how to benefit from it.
This study has been carried out on behalf of CBI by Acorn Tourism Consulting Limited.
Please review our market information disclaimer.
Follow us for the latest updates
Search
Enter search terms to find market research