Entering the European market for immune-boosting botanicals
To enter the European market for immune-boosting botanicals you must meet the mandatory legal requirements set by the European Union (EU). The European market for health products is divided into a food supplement segment and a herbal medicinal products segment, with immune-boosting botanicals being mainly used in food supplements. Importers and distributors are the most important channels for exporters to enter the market. You may face competition from various countries, depending on the immune-boosting botanical you produce.
1.

What requirements must immune-boosting botanicals for natural health products comply with to be allowed on the European market?
What are mandatory requirements?
You can only export immune-boosting botanicals to the European natural health products market if you comply with the EU's mandatory legal requirements regarding natural ingredients for health products.
This study focuses on food supplements, which is where immune-boosting botanicals are mainly used since their goal is to improve consumers' health and prevent disease. In herbal medicine, botanicals are used for cough and colds. See the CBI study on buyer requirements for natural ingredients for health products for information on requirements for herbal medicine.
If your immune-boosting botanicals are used in food supplements, you must comply with:
Sustainable sourcing and traceability
Sustainable sourcing is important to buyers, as they are facing supply shortages for an ever-increasing number of cultivated and, especially, wild-collected species. You need to demonstrate sustainable sourcing by implementing Good Agricultural and Collection Practices (GACP). These provide technical guidance on cultivating, harvesting and handling of plants to ensure a good quality. Although only mandatory for herbal medicinal products, this is also crucial for wild-collected ingredients used in food supplements. 
The EU is committed to environmental sustainability and sustainable growth, as reflected in the European Green Deal. Laws are being discussed that will make European manufacturers more explicitly responsible for explaining where and how products are produced and what impacts these have on people and the environment. This might mean that you need to put more rigorous traceability systems in place to be able to deliver the information your buyers demand of you.
Requirements regarding the export of natural ingredients
You need to comply with the Convention on International Trade in Endangered Species of Wild Fauna and Flora (CITES). CITES regulates the trade in (for example) wild-collected endangered plants and provides guidance on the species for which trade is prohibited or restricted.
The Nagoya Protocol of the Convention on Biological Diversity (CBD) provides guidelines for accessing and using genetic resources and traditional knowledge in Access and Benefit Sharing (ABS) agreements. Many countries have signed this protocol and adopted it in national law. If your home country did so too, you will have to comply with these national laws. European companies are legally required to follow the laws that are in force in your country regarding access and benefit sharing. They will expect you to be aware of and comply with your country's regulations on this topic.
Documentation
European buyers of immune-boosting botanicals expect exporters to provide them with well-structured and organised product and company documentation. They need such documentation to verify whether your product meets their requirements. European buyers of immune-boosting botanicals for health products expect you to provide them with a Safety Data Sheet (SDS), Technical Data Sheet (TDS) and Certificate of Analysis (CoA).
Table 1: Information contained in the Safety Data Sheet (SDS), Technical Data Sheet (TDS) and Certificate of Analysis (CoA)
Safety Data Sheet (SDS)

Technical Data Sheet (TDS)

Certificate of Analysis (CoA)

that matches

Product name, description and classification

Product name, description and classification

Specifications mentioned in the TDS

Hazard identification

Quality that you guarantee to supply  

Pre-shipment samples approved by buyer

Information on safety measures

Information on applications

Contractual agreements with buyer

 

Certificates

 
Classification, Labelling and Packaging (CLP) of chemicals
If your immune-boosting botanical is classified as hazardous, you have to comply with specific legislation on the classification, labelling and packaging (CLP) of your ingredient. In that case, your SDS also needs to include risk phrases and safety phrases, depending on the hazard classification of your botanical. Risk phrases indicate the main risks and hazards, while safety phrases indicate the safety measures that need to be taken because of those risks and hazards.
What additional requirements do buyers often have?
Quality requirements
Many buyers have additional quality requirements which can go beyond legislation. These may concern active ingredient content, moisture content, contaminants and maximum residue levels, and are established in buyer specifications. To show that you meet their specifications, buyers also require well-structured company and product information, including detailed technical data sheets (see above).
The use of many immune-boosting botanicals is based on their composition. Depending on the product, European buyers have specific requirements on composition and nutritional profile. Buyers will usually request a Certificate of Analysis to verify that your product meets their quality requirements. Harvesting, processing and packaging all influence the nutritional profile of your products.
European buyers regularly test the products they buy, usually on a per batch basis, to ensure that products meet quality requirements and are not adulterated or contaminated. They will also test the samples new suppliers provide. Many European buyers lose their interest when a new supplier delivers a low-quality product: you only have one opportunity to convince these buyers of your company and product. You will have to provide consistent quality to keep the client. To minimise variations in quality, you can also develop Standard Operating Procedures (SOPs) with instructions on how to conduct specific activities in production.
Quality and food safety management
European food industries increasingly demand compliance with quality and food safety management, in addition to the mandatory HACCP standard. Adopting such standards gives your company credibility and shows your commitment to delivering high-quality ingredients. Examples include:
Labelling requirements
To export your immune-boosting botanicals to the European market you must comply with the following labelling requirements:
Name, address and telephone number of the exporter
Product name and identification, including CAS (Chemical Abstracts Service) number
Batch code
Country of origin or place of provenance
Date of manufacture
Best-before date
Net weight
Recommended storage conditions
Relevant hazardous symbol if you export extracts that are classified as hazardous; see the section on documentation above.
If you export organic immune-boosting botanicals, your labelling must include the name and/or code of the inspection body and the certification number.
Packaging requirements
Packaging must be safe for consumer health and for the environment. Specific packaging requirements may differ per buyer and per product. Your packaging will need to maintain product quality and prevent contamination. There are some general requirements you will have to take into account, including the following:
Always ask your buyer for their specific packaging requirements.
Re-use or recycle packaging materials to help meet demands from the European Green Deal. For example, use bags or containers of recyclable material, such as kraft paper for powders and metal for extracts.
If you produce powdered immune-boosting botanicals, package them in waterproof material. For example, use paper bags lined with plastic. Preferably use an eco-friendly lining (such as bio-degradable or recyclable lining).
In the case of extracts, use containers of a material that does not react with components of the extract (such as lacquered or lined steel, stainless steel or aluminium).
Clean and dry the containers before filling them with immune-boosting botanicals to prevent contamination.
Store bags or containers in a dry, cool place to prevent quality deterioration.
If you offer organic-certified botanicals, physically separate them from botanicals that are not certified.
Payment terms
There are several methods of payment. However, for both importers and exporters, Letters of Credit (LC) are considered the safest payment term. An LC lets both parties contact a neutral arbitrator, usually a bank, to resolve any issues. For the exporter, the chosen bank guarantees full payment once the goods have been sent. Stand-by LCs are frequently used in international trade as they provide security to both importers and exporters who have little trading experience with each other.
Other payment terms include cash in advance, documentary collections and open account.
Delivery terms
When agreeing delivery terms with European buyers, you must carefully consider delivery time, order volume/quantity and costs. European buyers generally prefer shorter delivery times. Air cargo is often faster than sea freight but also more expensive. Sea freight is useful for high-volume shipments, where you will be required to fill a container load. Since the global COVID-19 pandemic, transportation costs and delays have remained a potential challenge for exporters.
The International Chamber of Commerce has developed a set of international commercial terms (Incoterms). These provide guidance on delivery terms and other trade aspects such as packaging or preparing a Certificate of Origin. Your transport method is also part of these Incoterms and can influence your decisions about price and contract that you offer.
The Incoterms also specify responsibilities regarding insurance and risk of the transport. You can take out shipment insurance to protect your products during the entire journey from you to your customer. Commonly covered risks include theft and damages. You will need to agree with your buyer who is responsible for the insurance.
What are the requirements for niche markets?
There is a very small niche market for certified or verified sustainable products in the health industry; few players will ask for sustainable certification. However, it can add value to your product. Standards and requirements for social and environmental sustainability include:
Organic production: as sales of organic products increase, you may want to obtain organic certification for your immune-boosting botanicals. Organic certification is especially interesting for food supplements that are positioned as food-type products. The new EU organic Regulation (EU) 2018/848 entered into force in January 2022. This Regulation adds new checks for imported organic products;
Verification and/or certification of sustainable production: this includes standards for environmental sustainability such as UNCTAD BioTrade Initiative and FairWild. Examples of social sustainability standards include Fairtrade International, Fair for Life, Ecocert Fair Trade and Union for Ethical BioTrade;
Company and supplier codes of conduct that European buyers may expect you to comply with;
Implementation based on ISO 26000 guidance on social responsibility.
2.

Through what channels can you get immune-boosting botanicals on the European market?

On the European market, immune-boosting botanicals are mainly used in food supplements, rather than in herbal medicinal products. The most important channels to reach the European market are importers and distributors, who source ingredients from a wide range of suppliers.
How is the end market segmented?
The end market for natural ingredients for health products can be segmented into 2 main segments: food supplements and herbal medicine. You absolutely need to know in which segment your immune-boosting botanicals end up, as there are big differences in related legislation.
The difference between herbal medicinal products and food supplements is not always clear. This mainly depends on how a product is marketed. Only herbal medicinal products can make a medicinal claim, meaning that they can be used for treating a specific condition. In addition, the content of active ingredients or compounds differs between the 2 segments.
Figure 1: End-market segments for immune-boosting botanicals in Europe. Food supplements are the main market segment for immune-boosting botanicals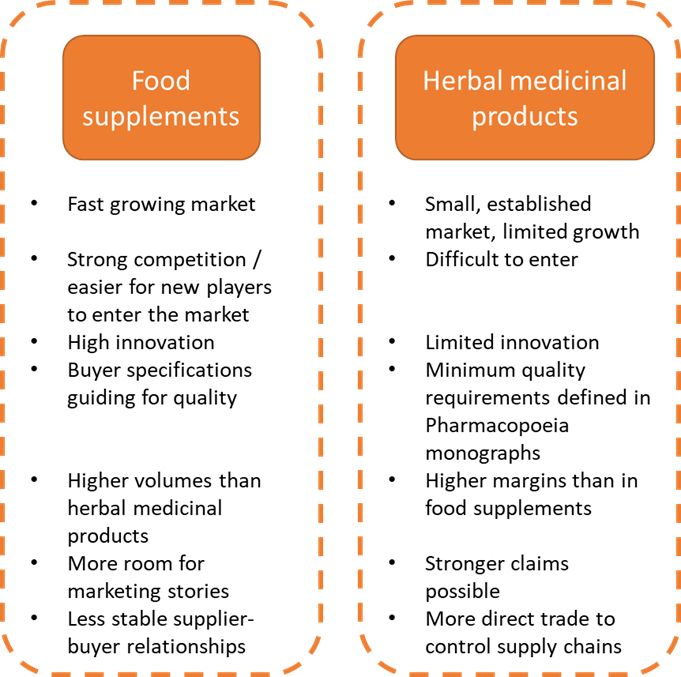 Source: ProFound
Herbal medicinal products
Herbal medicinal products can support the immune system, and most producers of herbal medicinal products will have products for this indication in their portfolios. However, products in this market fit more within the cough and cold category.
The market is largely composed of product mainstays for which clinical evidence exists and which have a strong consumer following (for example Echinacea and ginseng). Product development in Europe is very limited. It will be difficult for new producers to enter the market, as value chains for these well-established products are highly controlled by manufacturers.
As a result of the strict quality control processes required by health authorities, herbal medicinal product manufacturers maintain a strong control over their value chains. It is risky and expensive for them to change suppliers. Except for scarce products, buyers are not pressured to switch to cheaper suppliers outside of Europe, because prices for European extracts are acceptable. In addition, buyers need to control and document the quality of all active substances throughout their supply chains (in a Common Technical Document, or CTD). Many suppliers in developing countries face difficulties meeting the necessary quality and legislative requirements. This study focuses on the food supplement segment, as this is the most relevant for immunity products. See the CBI study on buyer requirements for natural ingredients for health products for information on requirements for herbal medicine.
Examples of herbal medicinal product manufacturers in Europe include Salus Haus (Germany), Schwabe (Germany) and Tilman (Belgium). All these companies offer products for cough and cold, while Salus Haus and Tilman also offer food supplements for immune support.
Food supplements
Vast numbers of food supplements aimed at supporting immune health are being marketed in Europe. Almost all supplement manufacturers offer immune-support products. As a producer or exporter from a developing country, it may be easier for you to meet the quality requirements for food supplements than for herbal medicinal products. For food supplements, the requirements are less strict than for herbal medicinal products.
The food supplements sector has more room for innovation: new R&D and product development are key. Manufacturers are interested in sourcing new ingredients to differentiate themselves on the market and to improve margins. Although food supplements are often based on traditional recipes, more and more companies are showing innovation in adding new ingredients which are unfamiliar as supplements in Europe. In general, the UK and France are more dynamic in terms of product introductions than Germany or Italy.
Because this is a trend-sensitive sector, there is a risk that ingredients that are popular today lose out to a new ingredient tomorrow. This means that your work to market an immune-boosting botanical in Europe may not last long enough for you to earn back your investments. Also, because quality requirements for ingredients are lower than for herbal medicinal products, so are prices.
Europe has many food supplement manufacturers. In addition to several large multinational players, many local players exist as well. Examples of manufacturers include Pharma Nord (Denmark), A. Vogel group (Switzerland), Abtei (Germany), Purasana (Belgium), Naturando (Italy), Natures Aid (UK) and Simply Supplements (UK).
Through what channels do immune-boosting botanicals end up on the end market?
Figure 2 shows a simplified value chain for immune-boosting botanicals from production to the European end-market. Botanicals can be cultivated or collected from the wild. Commonly, exporters also include processing activities. They may source raw materials through local traders or directly from farmers and/or collectors.
Important market entry points for exporters are importers and distributors. They import a wide range of ingredients to supply to processors and end-product manufacturers.
Figure 2: Export value chain for immune-boosting botanicals

Source: ProFound
Importer/Distributor
In general, European importers and distributors are your most important entry points into the market; see the section below. Importers/distributors can trade in up to 500 species, together with other ingredients. You can trade your immune-boosting botanicals through either general or specialised players. Both types of players can be interesting for you, depending on:
the size of your company;
the type of products you supply;
the certification and documentation required.
Specialisation is becoming less common among importers and distributors, but some players specialise by:
focusing on only one sector, for example ingredients for food supplements, herbal medicinal products or cosmetics;
limiting their product offering, for example by only producing extracts or active ingredients, or offering ingredients from a particular region;
focusing on certified ingredients, for example organic, FairWild and various fair-trade labels.
Large players also work with preferred suppliers. In general, these suppliers have passed a buyer's pre-assessment process and buyers look to them to source products. Becoming a buyer's preferred supplier can give you some stability on the market, boost your sales and improve your company's reputation. However, you will also need to be able to produce larger volumes and meet very high service delivery expectations.
Agents
An export agent is a firm or an individual that undertakes most of the exporting activities on behalf of an exporter, usually for a commission. In contrast to importers/distributors, agents do not buy products themselves but contact potential customers on your behalf to sell your products to. Agents can be found in developing countries as well as in Europe. As an exporter from a developing country, you can work with agents who represent and act on your behalf on the European market.
Processors and manufacturers
Europe has a large processing industry. Processors mainly buy their raw materials from importers and distributors. Processing varies from basic processing to isolation and modification of specific molecules. Processors sell ingredients to the end-product manufacturers of herbal medicinal products and food supplements, sometimes via ingredients distributors.
However, processors and end-product manufacturers are increasingly sourcing key ingredients directly, instead of via importers. They do this to guarantee quality, price and a reliable supply over time for ingredients with high supply risks. These can be ingredients that are used in high-volume end products, ingredients with a high-risk supply situation or ingredients with a crucial active component.
If you have the human resources/staff available, you could supply processors or end-product manufacturers directly and get a better price. To supply these players directly, you must have perfect company and product documentation and you need to ensure a consistent quality and quantity. Moreover, you will need high-quality logistics systems so you can deliver smaller quantities at short notice. You also need to convince manufacturers to add another supplier instead of using an existing supplier, which will be difficult.
If you are a small supplier, it may be easier for you to trade through smaller processors. They often require lower quantities and are still important to the industry. Moreover, the quantities required for many less-traded medicinal and aromatic plant species are, and will continue to be, limited.
What is the most interesting channel for you?
For you as an exporter of immune-boosting botanicals in a developing country, importers/distributors are the most interesting channels. Their functions include:
global sourcing
analysis and quality control
rectification
blending
product documentation
sales to processors and end-product manufacturers.
European importers, distributors and processors are diversifying their product ranges and increasingly work at different levels of the value chain. This diversification is the result of the consolidation of end-product manufacturers because of the high costs these manufacturers face to comply with legal requirements. Some supply a wide variety of conventional, organic and/or fair-trade ingredient lines. Their clients include cosmetic, supplement, food and herbal medicinal product manufacturers.
Examples of importers are:
These diversified companies are becoming bigger and more powerful. This means they can demand additional services from their suppliers (such as audits and certifications) at lower prices. Large buyers also want to limit the number of suppliers they source from, by focusing on those that offer reliable (large) quantities and (documented) quality levels.
If you can show you are a viable partner and offer a high-quality product that meets volume and delivery requirements, these companies can offer good market entry opportunities.
3.

What competition do you face on the European immune-boosting botanicals market?

Since the category of immune-boosting botanicals covers a wide range of ingredients, you may face competition from many countries across the world. Competing suppliers to Europe include large and sophisticated producers of botanicals and their extracts, such as the United States, China and India. You may also face competition from countries with a rich biodiversity and related botanicals, such as South Africa and Peru, and from countries with strong production of medicinal plants, such as Egypt.

In addition to competing on immune-boosting botanicals, several of these countries have a substantial processing industry which means they can deliver value-added ingredients for immune support, such as botanical extracts. In general, these extracts have a higher concentration of active ingredients or nutrients.
What countries are you competing with?
India
The Indian online magazine Express Pharma predicts that India will become a global leader in the nutraceutical industry, both as a growing market and as a supplier of ingredients. Drivers of this trend include the country's rich heritage in herbal medicines, abundant availability of ingredients, manufacturing expertise and clinical research industry.
India was the largest non-EU supplier of medicinal and aromatic plants in 2021, at 17% of EU import volume. The country is home to various popular immune-boosting botanicals, such as:
moringa (Moringa oleifera), with high concentrations of vitamins A and C, as well as minerals;
turmeric (Curcuma longa), with anti-inflammatory and immune-boosting properties;
ashwagandha (Withania somnifera), which is high in antioxidants;
amla, or Indian gooseberry (Phyllanthus emblica), which is high in vitamins A and C and traditionally used to enhance immunity.  
These botanicals and their producers also benefit from the growing awareness and popularity of Ayurveda, the traditional medicine system in India. HinduBusinessLine.com indicates a growing interest in Ayurveda in Europe, led by Germany and Austria. For example, the Swiss government officially recognised Ayurveda and its practices in 2015.
For these botanicals you can expect strong competition from suppliers in India that have a considerable scale of production and processing. Moreover, India has a sophisticated processing industry that produces extracts as well as some patented ingredients on the European market. Trade data support this, with India accounting for 11% of imports from non-EU sources in terms of value, but only 3% in terms of volume.
India's other strengths include governmental policies, low costs along with the development of rural areas. It could therefore become easier for Indian producers to export immune-boosting botanicals to the European market.
However, India also faces challenges. European buyers indicate concerns in the fields of quality and quality consistency, including adulteration. The EUs Rapid Alert System for Food and Feed (RASFF) portal indicates several notifications of contamination in products from India, including ethylene oxide in spices, food supplements and Ashwagandha. This database lists food safety risks notified by national food safety authorities in Europe. 
China
Several of the immune-boosting botanicals used in European food supplements are produced in China. These include ginger (Zingiber officinale), turmeric (Curcuma longa), garlic (Allium sativum) and reishi mushrooms (Ganoderma lucidum). For some of these products, China can offer high volumes at low prices. For example, ginger production is mechanised in China allowing producers to deliver stable supply quantity and quality, and comply with delivery times and food safety requirements.
China is also a strong competitor for botanical extracts used in food supplements for immune support. In 2021, China was by far the largest supplier of extracts (excluding opium, liquorice and hops) to the EU in terms of value. The country accounted for 34% of EU import value, compared with only 8% of import volume. This implies that China exports high-value extracts to the EU.
Processors in China also introduce extracts based on species not indigenous to the country. They buy raw materials from other producers or establish production in China, for example in the case for maca (Lepidium meyenii), which is used in immune-support products. Maca originates in Peru, but is also cultivated in China. This makes China a strong competitor for exporters in a wide range of immune-boosting botanicals.
China's other strengths are the government support for its agriculture sector, for example through the provision of subsidies, and market price support programmes.
However, Chinese producers also face challenges. Research has shown that European perceptions of China have been worsening in recent years and have declined further since the start of the COVID-19 pandemic. Moreover, European buyers also show an interest in products or ingredients that are not made in China. This is due to several reasons:
a growing domestic Chinese market for botanicals leaves lower volumes available for exports;
buyers are concerned over quality control;
the reputation of China has suffered due to the pandemic, when logistical challenges made it difficult to source products from China.
South Africa
As a country with rich biodiversity and a rich diversity in growing conditions, strong human resources, national research capacity and technological base, South Africa has the potential to export high-quality natural ingredients. Moreover, European buyers generally have a favourable perception of South Africa.
Supplies from South Africa to Europe are still small but growing. From 2017 to 2021, European imports of medicinal plants from South Africa grew by an average 8% annually in terms of volume.
Many botanicals from South Africa are also used to boost immunity. Examples include:
rooibos (Aspalathus linearis) and honeybush (Cyclopia spp), both high in antioxidants;
buchu (Agathosma Betulina), with antioxidant and anti-inflammatory properties, and vitamin A content;
rose hip (Rosa canina), with antioxidant and anti-inflammatory properties;
Pelargonium sidoides, which is used as an immunity booster and in cough and cold medication.
Except for rose hip, these botanicals are all endemic to South Africa, which is a strong advantage of the country. Rooibos and honeybush infusions have a Geographic Indication on the European market, meaning that South Africa is recognised as the sole origin of these products. This allows the country to build a marketing story around these unique ingredients and protects a competitive advantage of these products.
South Africa also acts as a transit country for southern Africa, such as for baobab from Zimbabwe. South African traders and processors link producers from their regions to buyers worldwide.
South Africa faces challenges from the Nagoya Protocol on Access and Benefit Sharing (ABS) due to the country's national ABS legislation. Companies struggle to comply and researchers claim that South Africa's ABS permitting timeline is too long. Some international buyers shy away from importing ingredients from South Africa because of these issues. At the same time, organisations and international initiatives are supporting South Africa to overcome these issues.
Egypt
With a long history of cultivation, Egypt is an important supplier of various botanicals. This also includes immunity-boosting botanicals such as hibiscus and echinacea. In the case of echinacea, Egypt has a particularly strong position. To compete with Egyptian companies for this botanical, new exporters would require substantial mechanisation, standardisation and economies of scale.
In 2021, Egypt was the second-largest non-EU supplier of medicinal and aromatic plants to Europe, only behind India. Egypt accounted for 13% of non-EU imports in volume of medicinal plants, registering an average annual increase of 6% since 2017.
As a strong exporter of medicinal plants, it can be considered a key competitor to suppliers from other countries. In recent years, the Egyptian government has developed the country's agricultural sector through heavy capital investment and land reform schemes. This government support is further solidifying Egypt's position as a supplier to Europe.
One of the sustainability issues Egyptian producers face is having to use polluted water from the river Nile, as many do not have access to treated water.
Peru
Peru may not be a particularly large supplier of immune-boosting botanicals to Europe, but the country has a strong reputation for superfoods and natural ingredients among European buyers. PromPeru, Peru's national export promotion organisation, has built this reputation with a natural ingredient strategy and a country brand. The organisation also supports and promotes exporters. PromPeru's website for exporters allows you to download export data from leading exporters of specific Peruvian products.
One of the main highlights of PromPeru's strategy for natural ingredients has been the consistent branding of products derived from Peru's biodiversity. In its brochures and other marketing materials, PromPeru has repeatedly highlighted the properties, applications, growing regions, harvesting periods and other characteristics of natural ingredients from Peruvian biodiversity.
Peru is an important producer of functional foods and nutraceuticals, which are food or food parts that provide health benefits. Examples include maca (Lepidium meyenii), cat's claw (Uncaria tomentosa) and camu-camu (Myrciaria dubia), which are increasingly well-known in Western Europe. As botanicals with high concentrations of antioxidants and minerals, these ingredients are also used in immune support.
Linked to the national brand, PromPeru has launched a campaign called 'Superfood from Peru' which is promoted on all leading international trade fairs. This campaign highlights these and other products from Peruvian biodiversity and is now being implemented in Asian markets.
United States
The United States (US) holds the largest market for food supplements globally and could thus be qualified as an end market for developing country exporters, rather than a competitor. At the same time, the US is an important supplier of medicinal and aromatic plants to Europe. In 2021, it was the second-largest supplier in terms of value, after India.
The US is also an important supplier of botanical extracts, accounting for 14% of non-EU supply value of vegetable extracts (excluding hops, liquorice and opium) in 2021. The country has a sophisticated processing industry that produces further processed/standardised extracts and patented ingredients.
Several companies in the US are vertically integrated with production in South America and, as such, they directly compete with exporters from those countries. US companies can deliver excellent customer service and high-quality ingredients, but these also come at a higher cost for buyers.
What companies are you competing with?
Many established companies export immune-boosting botanicals to the European market. Some offer simple powdered botanicals, whereas others produce botanical extracts with a standardised content of active ingredients or components. Sophisticated competitors in India, China and the United States are able to process botanicals for specific product applications.
Adding value can be a way to differentiate your company on the market and to make your product more attractive to buyers. You can add value to your raw materials with proper post-harvest processing (sorting, grading) and proper documentation. Producers in developing countries are also moving beyond raw materials towards the export of extracts. However, because it is difficult for buyers and suppliers to come to a common understanding of quality in herbal extracts, many buyers prefer to import raw materials and process these into extracts themselves.
A professional website with well-prepared content is key to compete on the European health products market. The company examples included below all have such websites, which include information about the company, how and what they source and how they process their immune-boosting botanicals. They also share technical details and possible applications of the products and highlight certifications they have obtained. All websites include professional photographs, for example of products, sourcing areas and processing facilities.
Indian companies
Marudhar Impex is an established company that offers a wide range of herbal extracts and herbal powders for use in food supplements. These include several immune-boosting botanicals, such as hibiscus, ginger, moringa and Ashwagandha. The company's strengths include its organic certification, and quality assurance based on ISO 22000 and Good Manufacturing Practices certifications.
Arjuna Natural is a leading manufacturer of standardised botanical extracts with over 30 years of experience. The company produces specialty, branded ingredients as well as standardised ingredients, and has developed formulations that strengthen the immune system. Their strengths include using stringent quality control for raw materials, an in-house team of experienced scientists that has developed over 100 patents, manufacturing practices that meet international standards and a sales and distribution network across the globe.
Chinese companies
Better World Naturals is a subsidiary of global flavour manufacturer Huabao. The company was created to produce quality botanical food and supplement solutions with a trusted and transparent vertically integrated supply chain. It produces natural colours, functional ingredients, antioxidants and sweeteners. The company's strengths include its traceability system, R&D lab formulation and production facilities and its quality and food safety management certifications. For its functional ingredients, Better World Naturals specifies for which health benefit these are designed.
Green Spring Shop produces a wide range of products, including standard herb extracts, fruit powders and antioxidants from natural ingredients. The company has a large factory with advanced extraction equipment and is certified according to ISO 9001 quality management. Green Spring Shop also demonstrates its expertise by sharing knowledge articles and industry news on its website. The company offers full, transparent documentation of its products, such as TDS, SDS, COA and composition sheets developed by its in-house testing facilities.
Peruvian companies
Fito Export focuses on the European market with its products from Peruvian biodiversity. Its products are dehydrated, pulverised, sorted and packaged for export in its modern factory. Its strengths include a wide product range from Peruvian biodiversity, organic certifications for EU, US and Japanese markets and a professional website. The website includes several options to contact the company, including email, telephone, Facebook and WhatsApp.
Exportaciones Amazonicas Nativas (EAN) is the leading exporter of cat's claw, which is used for its immune-boosting properties. The company sells to over 40 different countries and its product catalogue includes more than 45 native Peruvian products. Its strengths include its wide range of products and its strong connection to Peruvian biodiversity.  
Egyptian companies
United for Import & Export exports various botanicals to the European market, including hibiscus and moringa. One of its key strengths is its commitment to exporting high-quality products through its strict quality management system that complies with the ISO 22000 food safety management standard. The company also holds organic, Fairtrade and Rainforest Alliance certification and regularly conducts chemical analyses.
Apotec Bay offers a wide range of products, including essential oils, dried extracts and CO2 extracts for the food, beverage, nutraceuticals and beauty markets. The company can handle both small and large quantities of raw materials and holds organic certifications for the EU and US markets, as well as ISO 22000 food safety management and ISO 9001:2015 certification. Other key strengths include the company's advanced extraction equipment and plant laboratory that tests plants in the production cycle.
South African companies
Baobab Exports is a joint venture between South African baobab supplier EcoProducts and B'Ayoba from Zimbabwe. The company's key strengths include its organic and FairWild certification of baobab, and certification of its quality management system under FSSC 22000. Moreover, the company helps build awareness of baobab by producing innovative ingredients with additional applications and marketing the uses and benefits of baobab. The company's website and newsletters offer a product development guide for importers and applications for baobab in immune protection related to COVID-19.
Afrigetics offers a range of botanicals and some branded specialty ingredients from African biodiversity. As a company targeting the herbal medicinal product market in Europe, Afrigetics also stresses its background in traditional medicinal knowledge and its quality control system, which incorporates FSSC22000. The company's hero extract, PelaPowerTM, is a standardised extract of Pelargonium sidoides with an accepted claim for the treatment of symptoms associated with the common cold.
United States
Ecuadorian Rainforest is an example of a US company that may compete with you for exports to Europe. This company offers a wide range of powders and extracts from the Ecuadorian rainforest. It also sells several organic ingredients and holds certification for Good Manufacturing Practices. Ecuadorian Rainforest's marketing and promotion is another key strength. For example, the company has developed videos on popular ingredients and promotes its Ingredient Passport at Vitafoods Europe with best-selling ingredients per category and trending ingredients.  
What products are you competing with?
Within the category of immune-boosting botanicals, you will find strong competition from other botanicals that have a positive effect on immunity. Examples include botanicals with a high vitamin or mineral content, strong antioxidant effects or anti-inflammatory, anti-viral or anti-bacterial properties. Within the category of immune-boosting botanicals, some species have a competitive advantage because they are more established or popular on the market than others. For example, Echinacea and acerola are widely marketed and known among consumers for their immune-boosting properties.
Moreover, you will face competition from botanicals that are not necessarily marketed or traditionally used as immune-boosting products. Examples include ginseng, Ashwagandha and other adaptogens which have a normalising action and are used to alleviate stress and anxiety and support energy and sleep. These botanicals are increasingly used in immune-boosting products.   
This chapter covers competition from vitamins and minerals, and pre-, pro- and postbiotics. Both categories are marketed in Europe for their immune-boosting properties.
Vitamins and minerals
Vitamins and minerals make up a large share of products that support immune health. In European markets, such as in Germany, they account for around half of the food supplements sold. Many vitamins on the market are synthetic. Synthetic vitamins are cheaper to make and usually more stable. This means that they can have a shelf-life of months or years, can be added to foods in higher dosages and allow manufacturers to create smaller tablets.
Another strong competitive advantage of these products over botanicals is that there are authorised health claims for certain vitamins and minerals which are still on hold for botanicals. Therefore, if food supplement brands include vitamins or minerals in their products, they can use health claims on the final product. Examples of vitamins and minerals with authorised immunity claims:
Iron contributes to the normal functioning of the immune system.
Zinc contributes to the normal functioning of the immune system.
Vitamin C helps maintain normal immune system function during and after strenuous exercise.
Vitamin D contributes to the normal functioning of the immune system.
At the same time, food supplement brands that have a strong natural focus combine vitamins or minerals with botanicals to make an immunity claim while also highlighting the use of natural ingredients. A European food supplement formulator explained that when the company develops a new formula for a specific health benefit, they start with an ingredient with authorised health claims or strong scientific backing so the company can make a health claim. Botanicals can then be used that are known for this health benefit but lack sufficient scientific backing to make a claim.
Figure 3: Example of immunity health claims on final products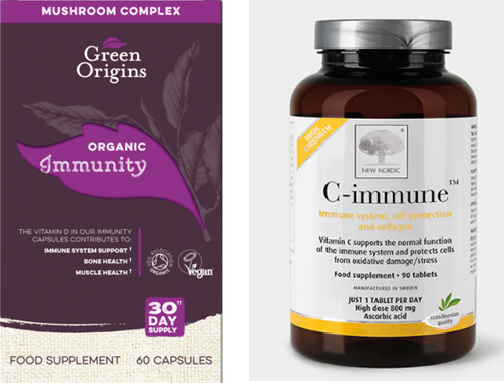 Source: Green Origins, Holland and Barrett
Pre-, pro- and postbiotics
The growing demand for preventative health products has driven demand for pre-, pro- and postbiotics. The European market for probiotic products reached € 9.4 billion, growing at an annual rate of 9% between 2018 and 2021. It is expected that this market will continue to grow. The global market for plant-based probiotics is expected to hit US$ 70 billion (over € 65 billion) by 2031. Examples of ingredients used in this market include coconut yoghurt, kombucha, miso and kombucha.
Although these are primarily marketed as supporting digestive health rather than immune system improvement, this is changing. In 2021, 68% of global consumers say they recognise the link between the digestive system and their immune health. Especially probiotics benefit from this trend, with 81% of global consumers claiming they are aware of probiotics. Recognition of pre- and postbiotics is lower at 57% and 15%, respectively.
In Europe, the term 'probiotics' is considered an unauthorised health claim and, as such, is not allowed on final products. However, this is not harmonised across countries. For example, in the Netherlands and Denmark the term 'probiotics' can be used to describe a category and in Italy health claims can also be made for probiotics. In countries where probiotics can hold a health claim, these products have a competitive advantage over immune-boosting botanicals for which all health claims are on hold.
Another strong competitive advantage of probiotics is that they are commonly consumed as part of fermented foods with specially added active live cultures, such as in yoghurt (drinks), instead of in the form of tablets.
Figure 4: Product examples of probiotic supplements and yoghurts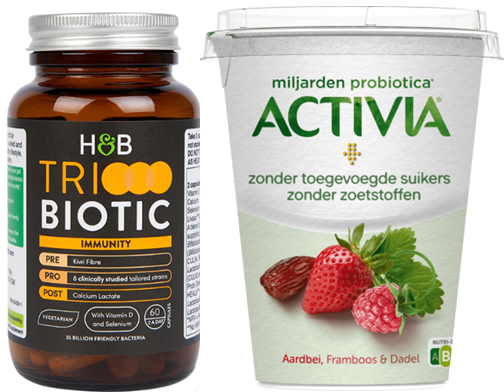 Sources: Holland and Barrett, Activia
4.

What are the prices for immune-boosting botanicals on the European market?

The price of immune-boosting botanicals depends on various aspects, such as:
Properties: a botanical with popular properties that are linked to health benefits could sell for a higher price when these are sufficiently substantiated in testing;
Level of processing: botanicals that are processed into extracts or even branded ingredients fetch a higher price;
Raw material prices and processing costs;
Exclusivity and novelty versus availability: popular botanicals with a limited availability can sell for a higher price; 
Certification: certified botanicals could sell for a higher price if you can find buyers that are willing to pay for the certificate.
Examples of prices for immune-boosting botanicals:   
Baobab: around FOB (Free on Board) US$ 12-13 per kg for low-quantity sales;
Turmeric: around FOB US$ 2.00 to 2.50 per kg for the raw material. Further processed turmeric has a higher price: pharmaceutical grade turmeric capsules for example can fetch US$ 60-100 per kg;
Moringa: around FOB US$ 3.50-6 per kg, while organic moringa prices vary between FOB US$ 8-30 per kg.
This study has been carried out on behalf of CBI by ProFound – Advisers In Development.
Please review our market information disclaimer.
Search
Enter search terms to find market research