8 tips for doing business with European buyers of natural ingredients for health products
As an exporter of natural ingredients for health products, you have to take certain steps to ensure that your export activities are successful. Creating and maintaining business relationships with European buyers is a complex process and the tips in this document should help you to increase your chances.
1.

Be aware of the differences in business culture

It is important for you to get to know the culture in the health products sector in Europe. As a newcomer to the market, this will be crucial for creating and maintaining business relationships with buyers. European buyers are used to a high standard of professionalism when dealing with suppliers.

Your natural ingredients will be used in the pharmaceutical, nutraceutical and complementary and alternative medicine industries. Adapting to these industries is not always easy for exporters from other industries. You should decide which industry to enter, and then familiarise yourself with regulations, standards and industry norms.

When negotiating with European buyers, make sure you prepare well in advance. You can increase your chances of success by doing research on specific topics, such as payment terms, minimum volume requirements, relevant legislation, transport issues and export insurance. You cannot always anticipate what direction your negotiation will take, but you have to show your potential clients that you have done your homework. Make sure your body language is open and confident. For more information on payment terms, see the CBI Study on organising your exports to Europe.

Make sure you familiarise yourself with all the technical terms related to your ingredients. Always refer to your technical dossier when referring to claims about your natural ingredients. Technical terms include the Certificate of Analysis (COA), the Technical Data Sheet (TDS), the Safety Data Sheet (SDS), the European Medicines Agency's (EMA) community herbal monographs and physical, chemical and biological elements concerning contamination. Legislation includes the General Food Law, Hazard Analysis Critical Control Points (HACCP), FSSC 22000, and the Certificate of Inspection (COI). For more information on these topics, see the CBI Study on the requirements that natural ingredients for health products must comply with to be allowed on the European market.

Even though personal meetings are always preferred, most European buyers like to communicate with their suppliers over the phone and/or by email. However, you need to be aware that communicating via email can sometimes lead to misunderstandings. Make sure your communication style is clear and succinct. Setting up conference calls is also a good way to discuss more complex issues. Documents can be sent electronically. Buyers can request samples and, if they are interested, may request a company audit.

Bear in mind that European buyers are frequently approached by new suppliers. Attending trade shows and buyer meetings can increase your success rate.
Tips:
Use industry magazines and associations to learn the sector language and learn about the legislation that is relevant to the industry. For example, online sources, such as NutraIngredients, the Nutraceutical Business Review and the European Federation of Associations of Health Product Manufacturers, can help you with this.
Attend European trade shows to get to know industry players and network with prospective buyers. Examples of trade shows include Vitafoods and Fi Europe.
Research marketing materials and websites of manufacturers, as well as buyers. This will help you get to know the values of the industry and understand what claims companies are making to attract consumers. It is important that you adjust your sales pitch and marketing materials accordingly.
2.

Conduct yourself in a professional manner when dealing with European buyers

When doing business with European buyers, make sure that you uphold a certain standard of professionalism. By behaving in a professional manner, you can gain respect from your potential customers. It will also add to your credibility and help you build a positive reputation in the health products sector in Europe.

There are various ways to demonstrate your professionalism when dealing with European buyers. These ways include being transparent and honest about your ingredients, showing up on time, following through on agreements and promises and responding in a timely manner. Being prepared, organised and structured also demonstrates professionalism. This applies to your technical dossier as well as to samples and documents related to your business.

If you make a mistake, show concern and take responsibility and accountability for it. Implement measures that ensure that similar mistakes will not happen again. Explain to your customers how you fixed the issue. This also shows transparency and builds trust in your business relationships.

The importance of professionalism cannot be highlighted enough. European buyers are inundated with requests from potential suppliers. It is therefore important that you go the extra mile when doing business with European buyers.
Tips:
Maintain professionalism when communicating with European buyers in person or via email. The impression created by your communication style and the documents you submit is important in conveying the right impression about your business
Show that you have a code of ethics, even if it is not a written one. Display ethical behaviour at all times and treat everyone you do business with respectfully and appropriately. At the same time, make sure that clients and subordinates are aware of your boundaries.
Create an atmosphere of improvement in your interaction with buyers. If something goes wrong, own up to your mistake and incorporate appropriate measures that will prevent the same mistake from happening again.
3.

Provide organised documentation

Make sure you have well-prepared and structured technical dossiers available. These should be ready before you start approaching buyers. This will show that you are reliable and add credibility to your business. You will have to invest time and resources to prepare the documentation that European buyers require.

Your natural ingredients dossier should contain up-to-date information about your ingredients. This includes information about the efficacy, safety, patents, claims, sustainability, production methods, health and safety and traceability of your ingredients. Certificates of analysis should also be included, as they support your natural ingredients specification, Safety Data Sheet and other information needed to prepare marketing materials.

Other important documentation includes Technical Data Sheets, the certificate of origin, as well as information on the application of your ingredients in the health sector. European buyers often require their suppliers to complete questionnaires to check their compliance with EU regulations.

Strict EU regulations and increasing quality standards put a lot of pressure on buyers to meet their customers' needs. It is therefore essential that you ensure your documentation is organised and well prepared.
Tips:
Make sure that you update your dossier on a regular basis.
Communicate with buyers concerning their requirements and what documentation they need from you.
Larger buyers and manufacturers may require you to comply with their code of conduct. Show flexibility and willingness to do so.
4.

Meet common buyer requirements

As an exporter of natural ingredients for health products, you will need to abide by various mandatory and additional requirements of European buyers. These regulations differ, depending on whether you want to supply your ingredients to the nutraceutical industry, the pharmaceutical industry or the complementary and alternative medicine industry.

European buyers are primarily interested in the quality and safety of your ingredients. Other important requirements include traceability of your ingredients, sustainable production methods and transportation. Understand that buyers' requirements can differ. Some buyers source only organic or fair trade certified ingredients, while others focus on a wider portfolio of conventional and natural products.

Certification is also seen as a sign of quality and credibility, and it can also help you prove traceability of your ingredients. A transparent supply chain can help you negotiate with buyers. These aspects are becoming increasingly important for European buyers, as the demand for certified products is increasing.

Having certification that demonstrates compliance with a food management system based on Hazard Analysis and Critical Control Points (HACCP), Food Safety System Certification (FSSC 22000) and ISO 22000 and ISO 9001:2015 certification shows that your ingredients are of superior quality. European buyers are therefore increasingly demanding these respective certifications.

European buyers asses the quality of your company by evaluating the environmental sustainability and social standards it upholds. Meeting UNCTAD BioTrade Initiative BioTrade Principles and Criteria, alongside the FairWild Standard, demonstrates your commitment to environmental sustainability. Meanwhile, having FLO Fairtrade certification and/or meeting the Fair for Life standards demonstrates your commitment to upholding social standards.
Tips:
Put emphasis on traceability and sustainability aspects of your ingredients. Make sure you can back up your claims with documentation.
Regulations differ depending on the sector you want to supply your ingredients to. Make sure you understand which industry you want to target and the specific application of your ingredients and adapt your documentation accordingly.
See the CBI Study on which requirements natural ingredients for health products must comply with to be allowed on the European market, for more information on the mandatory and additional requirements of European buyers.
Demonstrate your compliance with the Convention on Biological Diversity and the status of your ingredients in regards to Access and Benefit Sharing.
5.

Set realistic prices

It is important that you have the pricing information of your natural ingredients ready before entering into any discussions with prospective buyers. You should only take your natural ingredients to market after calculating your prices and developing a pricing strategy.

Information on costs is essential when setting prices for your natural ingredients. Your price should be based on your costs (fixed and variable) and margins. You should also factor in transportation and marketing costs. You also need to include any additional costs, for instance for certification and shipping paperwork.

You can use various websites, such as FreightFinders, to estimate your transportation costs. You can eventually factor this into your pricing strategy. Your transportation costs will depend on different factors, including your geographical location, the volume of your delivery and the mode of transport. Websites such as DFS Worldwide and moverDB offer indicative costs of transportation for shipping containers.

The cost of freight insurance also depends on factors such as the value of goods, destination points, the insurance rate, the shipping costs and the carrier's loss history. You can estimate your cargo insurance costs by using tools, such as an online calculator.

When setting your prices, make sure you take into account factors such as how much your competitors are charging, what the market is willing to pay, as well as uniqueness of your ingredients (whether it is a novel ingredient or one that is already established). You should also have an idea of the volatility of your prices. These factors include weather patterns, regulations and prices of competing ingredients.

Natural ingredients for health products are sold in different quantities. The volume depends on the type and quality of ingredients, and can range from a couple of kilos to hundreds of tonnes. It is important for you to be honest as to what volumes you are able to supply. Be aware that this will also affect your price points.

Buyers often expect discounted prices when ordering large quantities of natural ingredients, which is something you must be prepared for. To calculate this, find out information concerning higher or lower unit prices of logistics. This includes costs of handling, transporting and warehousing your natural ingredients. You must work this out accurately, or it may lead to your business incurring losses.

Make sure not to underprice or overprice your ingredients. Pricing your products too low can have a negative impact on your business turnover. It can also give the impression that your ingredients are of lower quality. Overpricing can also hamper your export activities. You can also ask for feedback from your potential customers, on whether your pricing is fair. Failure to set correct pricing will put you at a disadvantage when meeting prospective buyers because they will request this before doing business with you.
Tips:
Know your revenue target before setting your prices.
Work out your various costs, break-even point and margins to determine your ingredient prices
Carry out basic online searches to find providers of export insurance from your country of export and factor this into your prices.
Remember that certification schemes can justify changing the premium. In case of fair trade certification, pricing guidelines are given.
Get to know common terms used in international trade related to pricing. For example, you can find a list of some of the basic Incoterms online.
6.

Prepare yourself thoroughly before attending trade shows

Attending trade shows is an important part of your business development activities. Industry events and trade fairs offer opportunities to network, increase your brand awareness and meet with potential buyers. It is important that you prepare yourself in advance, since attending and exhibiting at trade shows requires a lot of planning.

Make sure you find out who will be attending. You can do this by accessing the exhibitor lists that are usually made available online on trade show's websites. For example, you can look at the exhibitor list of Biofach 2020. Decide and prioritise what companies you want to target. Reach out to them beforehand and let them know that you would like to arrange a meeting with them.

Be prepared for questions about your company and ingredients and have your documentation ready. Make sure that you train your staff so they can handle queries about your business. You can prepare a list of anticipated questions and coach your staff on how to answer them. If you do not know how to answer, let your contact know that you will follow up after the trade show. Examples of questions include:
What are the product origins, i.e. where are they produced?
Are you currently selling to Europe? If so, who are your distributors?
What are the applications of these ingredients, i.e. what products can they be used in?
What volumes can you supply? Can you meet their minimum volume requirements?
Are your ingredients certified?
What are your payment terms and are they negotiable?
Do you offer a discount if they buy larger volumes?
What quality management processes do you have in place to ensure consistency?
What process do you follow if the materials do not arrive at the agreed location?
You can use mobile technology, such as apps on mobile phones, to scan badges of attendees or take a picture of their business cards. Always make sure that you take lead notes of all your potential clients, including their requirements, so that you can follow up after the trade show. Make sure that all your marketing materials and business cards are up to date, so that people can contact you easily.
You can give a wrong impression if you fail to prepare yourself and your staff before attending a trade show. This could damage your image and reputation in the long run. Make sure you carry out a debriefing and follow up on all the contacts that you gathered during the trade show.
Tips:
Attend networking events that take place alongside trade shows. This is a great opportunity to network with people who are not necessarily on the exhibitor list.
Set specific goals for your team. Decide on the number of leads you want to generate, what buyers you want to target and the number of samples you want to hand out.
Be prepared to display your ingredients and have a sufficient amount of samples at hand.
7.

Adapt your sales pitch to each buyer

It is important for you to prepare your sales pitch depending on who you are dealing with. Make sure you know the position of your contact and adjust your sales pitch accordingly. For example, purchasing managers may be more focused on the quality and quantity of ingredients, whereas sales representatives may be more concerned about what their clients would be interested in, such as claims, efficacy and marketing stories. You can find examples of sales pitch templates online.

Illustration 1: Modern sales pitch transformation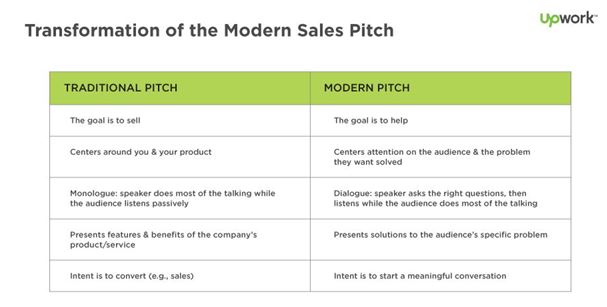 Source: Upwork
Since every buyer is different, it is important that you create a basic template for your sales pitch which covers the most important points. You can then personalise the pitch accordingly. Make sure you include your certifications, such as organic and fair trade. Because of growing demand for certified products, these are selling points for your ingredients. Applying the SEDEX system to your business and supply chain is one way to demonstrate you are an ethical company. Having your ingredients certified adds credibility to your ingredients and is also seen as a sign of quality by European buyers.
Marketing stories are becoming increasingly important for European buyers and manufacturers of health products. It is important that you include information about sustainability aspects of your ingredients into your marketing materials. These include certification schemes, quality management, community projects and growing of raw materials. For example, the Senegalese supplier of baobab products Baobab des Saveurs has produced a video on their website in which members of a women cooperative are interviewed. The company also showcases its organic and fair trade certifications online.
There are several unique selling points that you can use to catch the attention of European buyers. These include:
Quality – superiority of your natural ingredients;
Price – the lowest price guaranteed, price matching, free shipping, bulk discounts, special offers;
Sustainability – the sustainable practices that you use, including the social aspect of your production methods.
By combining the unique selling points of your natural ingredients, you make yourself more appealing to European buyers. You must therefore do this wherever possible. For example, if you are an ethical company that produces certified organic and fair trade ingredients, then state this. It should be communicated in your sales pitches and marketing materials.
Tips:
Make sure you know what position your contact has in the company and adapt your sales pitch accordingly.
Match buyer requirements with selling points and your unique selling point in your sales pitch and in your marketing materials.
Clearly point out the unique selling points of your natural ingredients in marketing materials. Include logos of your ingredients' certifications and create marketing stories about sustainability aspects of your production methods.
When approaching buyers, find out what their expectations are in regards to quality management, certification schemes and minimum volume requirements.
Try to build a rapport with your potential buyers when pitching to them. Research their company website and find out about their history, values and mission. Try to find similarities between your businesses and point them out.
8.

Partner with export agencies and industry groups

It is recommended that you join an export promotion programme or work with industry groups to help you trade with European buyers.

Various export agencies provide specialist knowledge and support to exporters looking to enter new markets. A key advantage of joining an export promotion programme is that it is often cost-free. However, you may be asked to make certain commitments regarding how you operate as a business based on what you have learnt whilst on the programme.

Tailored support offered by export agencies can include training, coaching, distance guidance, trade fair participation and business matching. This support is often delivered by European sector experts who are well equipped to advise exporters on how to access the market. For example, such experts know the requirements and expectations of European buyers.

A key advantage of being part of an export promotion programme is that it provides you with networking opportunities to connect with prospective European buyers. In addition, your business gets higher credibility by being present at such networking events. It shows buyers that you are serious.

Important European agencies operating in the natural health products ingredients sector are CBI (Centre for the Promotion of Imports from developing countries), the IPD (Import Promotion Desk) and SIPPO (Swiss Import Promotion Programme). Consider seeking their assistance.

CBI provides an extensive range of services to exporters from developing countries wishing to enter the European market. Services offered by CBI include export coaching programmes, training and coaching, distance learning and guidance, company visits, market information and multiple trade fair participation.

Through its network of experts, SIPPO provides support to chosen Business Services Organisations (BSOs) that help exporters increase their exports to new markets. BSO employees receive expert training and coaching in their home country, which they then use to help exporters.

The IPD provides exporters from developing countries with opportunities to meet European, particularly German importers. In addition, the IPD also prepares market reports that help exporters enter the European market.

Africrops is a non-governmental organisation that provides exporters in African countries with consulting services to help them access the European market. Specific services offered by Africrops include training, coaching and capacity building. The Institute for Agriculture and Trade Policy (IATP) is another non-governmental organisation that helps exporters export to new markets. The Asian Trade Promotion Forum (ATPF) offers tools, such as capacity-building programs, networking events and various cooperative projects that strengthen trade activities of its members.

Other NGOs and organisations that can help you with your international trade activities are the International Centre for Trade and Sustainable Development (ICTSD) as well as the International Chamber of Commerce (ICC). The International Centre for Trade and Sustainable Development provides advocacy on sustainable development, as well as training programmes for trade, information and research services. The International Chamber of Commerce promotes cross-border trade and investments and provides services to enterprises.

Joining a trade promotion programme is very important for exporters in developing countries. The European market is very competitive with stringent regulations, so it is necessary for exporters of natural ingredients from developing countries to take advantage of all the resources available to increase your chances of success.
Tips:
Make sure to take advantage of the services that export promotion agencies provide.
Check if BSOs and/or export promotion agencies offer services in your country to help you grow your business by exporting. You can get help with advertising, promotional events, export training, capacity building, regulatory compliance, market intelligence and attending trade shows.
This study has been carried out on behalf of CBI by Ecovia Intelligence
Please review our market information disclaimer.
Follow us for the latest updates