The European market potential for immune-boosting botanicals
European demand for immunity health products has been increasing for years, but the COVID-19 pandemic has given it a further boost. Brands are increasingly innovating within the sector, both in final products and ingredients that support immunity. Growing consumer demand for natural health products and botanicals creates opportunities for immune-boosting botanicals.
1.

Product description

The immune system helps the body fight infections and other diseases. Weak immune systems have been linked to various illnesses, most commonly infectious diseases such as colds and the flu.

Many natural products can support a healthy immune system. In general, consumers associate herbal products with maintaining health, rather than with treating illnesses. Therefore, health products fit well within this category. Food supplements are the most common health products to boost immunity as dietary changes are strongly linked to the functioning of the immune system. Herbal medicinal products are more closely linked to treating cough and colds. This study focuses on food supplements used for immune support.

Immune-boosting botanicals can be defined in different ways. Mainly these are botanicals with a high vitamin or mineral content, strong antioxidant effects or anti-inflammatory, anti-viral or anti-bacterial properties. Examples include:
Ginger (Zingiber officinale)
Echinacea (Echinacea purpurea)
Turmeric (Curcuma longa)
Ginseng (Panax quinquefolius and P. ginseng)
Ashwagandha (Withania somnifera)
Garlic (Allium sativum)
Cat's claw (Uncaria tomentosa)
Baobab (Adansonia digitata)
Reishi mushrooms (Ganoderma lucidum)
Immune-boosting botanicals have no unique Harmonised Systems (HS) code used to identify products in international trade. These botanicals are generally traded under HS code 121190, which refers to 'plants and parts of plants (including seeds and fruits), of a kind used primarily in perfumery, in pharmacy or for insecticidal, fungicidal or similar purposes, fresh, chilled, frozen or dried, whether or not cut, crushed or powdered'. When traded as extracts, they are included in HS code 130219, 'vegetable saps and extracts, excluding opium, liquorice and hops'.
Trade data under these HS codes are used in this study as an indication of important developments within the market. Available data on immunity products and food supplement markets are used to supplement these trade data, as more products are traded under these codes which, therefore, do not provide a full picture.
Other common products to boost immune systems include pro- and pre-biotics, vitamins and minerals. Several health claims have been validated that link certain vitamins and minerals with immune system support. Examples include:
Iron contributes to the normal functioning of the immune system
Vitamin C helps maintain normal immune system function during and after strenuous exercise
Health products on the European market containing immune-boosting botanicals are mainly offered as pills in dosage forms, powders, tonics and herbal teas.
Figure 1: Examples of products containing immune-boosting botanicals on the European health products market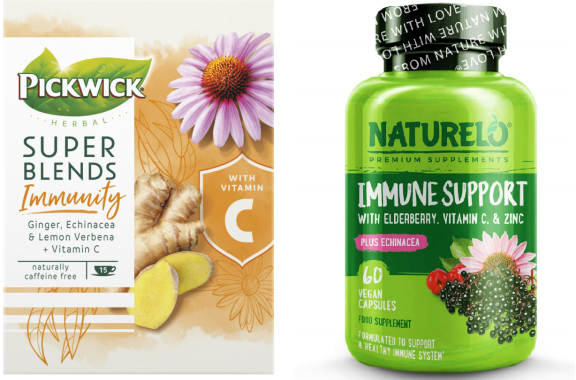 Sources: Albert Heijn, Naturelo (2022)
Tips:
Work together with a local university or laboratory to test your immune-boosting botanical and determine its nutritional profile. Include this in your product documentation.
Look for credible literature sources on the benefits of your immune-boosting botanical. Use these references in your product documentation and marketing materials. Access scientific resources as this gives you credibility. For example, the database Examine.com, via Elsevier Science Direct (not for free). Also consider becoming a member of the Society for Medicinal Plant and Natural Product Research (GA) to access their research.
2.

What makes Europe an interesting market for immune-boosting botanicals?

Europe is an attractive market for immune-boosting botanicals, due to the growing demand for supplements and ingredients that support a healthy immune system. Examples include products with a high nutrient and vitamin content and antioxidant properties.

In 2020, the market for immune-boosting products grew faster than ever (+39.6%). Market researcher Fortune Business Insights predicts that the global immune health supplements market will continue to grow from US$ 20.2 billion (€ 18.8 billion) in 2021 to US$ 31.5 billion (€ 29.3 billion) in 2028, at an average annual rate of 6.6%.

The European market for immune health supplements was estimated at US$ 11.8 billion (€ 11 billion) in 2020 and is projected to grow by 6.2% annually between 2021 and 2026. The market is driven by growing health-consciousness among consumers and boosted by the COVID-19 pandemic.

Demand for immune support products is expected to continue after the COVID-19 pandemic. During this crisis, consumers drove demand for immune support products as they became more aware of their immunity. The market has sustained a lot of that growth. A European buyer of botanicals expected that the market will remain strong after COVID-19, as demand for natural health ingredients was already growing before COVID-19.

However, market researchers warn that as health anxiety decreases, sales will decline as well. One European buyer warned against 'immunity fatigue' among consumers as brands are increasingly marketing products as beneficial for immune support.

Within the market for immunity products, botanicals are increasingly important in new food and beverage launches. Popular plants include ginger, turmeric, cinnamon and lemon grass. Market researcher Fortune Business Insights predicts that demand for plant-based ingredients, such as immune-boosting botanicals, will grow considerably.

At a global level, over 50% of consumers look for products with botanicals they believe will improve their health. Immunity, mood management and digestive health are important drivers for this development. In 2020, vitamins made up the largest share of the global immune health supplements market at 32.6%, closely followed by herbal extracts (around 30%).

Europe is also the fastest growing region for products with immunity claims. In 2020, Europe accounted for 45% of global product launches with such claims. However, demand for immune-boosting botanicals is hampered by a lack of authorised health claims that are validated by the European Food Safety Authority. Such claims are allowed for certain vitamins and minerals, which have a competitive advantage over botanicals. 

The total European import volume of medicinal and aromatic plants increased by an average annual rate of 3% from 2017 to 2021, while imports from developing countries grew faster (+4.6% average annual rate). This product category includes immune-boosting botanicals. In 2021, imports amounted to 227 thousand tonnes, of which over 50% originated in developing countries. This indicates that developing countries are an increasingly important source of medicinal and aromatic plants imported into Europe.
3.

Which European countries offer the most opportunities for immune-boosting botanicals?

Germany, France, the UK, Italy, Spain and the Netherlands are the European countries with the most opportunities for exporters of immune-boosting botanicals in developing countries. These countries have a strong natural health product industry and a growing demand for immune-boosting supplements, and they play an important role in the imports of botanicals.
Germany: key importer and end market for botanicals
The sheer size of the German food supplements market and its demand for plant-based and immunity-boosting products make it an interesting market for exporters of immune-boosting botanicals. Germany is also a key importer of natural ingredients for health products.
Most sources estimate the 2021 German food supplement market to be worth between US$ 2.1 billion (€ 1.97 billion) and € 2.7 billion, +2.1% compared with the year before. Around 85% of these supplements are sold at pharmacies. Sales of food supplements sold at pharmacies have been growing strongly in recent years, by around 5% annually between 2017 and 2020. German demand for health products and supplements is expected to continue increasing in the coming years.
The growing demand for products to support the immune system has been a major driver of food supplement sales during COVID-19. Mintel reports that 35% of consumers used supplements to support their immune system. Compared with the year before, sales of tonics / immune stimulants increased by 12% in 2020.
A 2021 survey of 1,041 German consumers indicated that 70% of consumers had used food supplements in the past 12 months. The survey was conducted during the COVID-19 pandemic; it is unclear to what extent consumers will continue consumption at similar levels after the pandemic. Data was collected between 2020 and 2021, in 3 rounds. In the preceding 12 months, 16% of consumers had consumed herbs or herbal products, and 12% had consumed herbal supplements such as algae oil. Minerals and vitamins are particularly popular among German consumers and make up over half of the country's food supplements market.
Herbal products take up a significant share of food supplements. Industry sources indicate that even before the COVID-19 pandemic, consumers were increasingly interested in herbal supplements. Over 60% of German consumers believe that botanicals have medicinal properties. Moreover, herbal medicinal products take up a large part of the German pharmaceutical market, especially in relation to self-medication.
There is a growing demand for high-quality and environmentally friendly products in Germany, which is expected to continue in the coming years. To illustrate, in 2020 the organic food market reached € 15 billion in Germany, an increase of 22.3% compared with 2019.
Germany is also the largest importer of medicinal and aromatic plants in Europe. In 2021, imports amounted to almost 73,000 tonnes, of which 56% originated in developing countries. Between 2018 and 2021, German imports of medicinal plants have been relatively stable.
Denk Ingredients, Pfannenschmidt and Martin Bauer (which is also involved in extraction) are important German traders of natural ingredients for health products. Some importers, such as Bio Import Europa and SanaBio, focus on certified ingredients. Examples of companies in the food supplements segment include Salus, Boehringer Ingelheim, Pharma Waldhof and Symrise.
France: immunity products largest category in strong food supplement market
France is an attractive market for exporters of immune-boosting botanicals. This is a large and growing consumer market, where consumers value plant-based supplements and where immune supplements are one of the largest categories.
The French food supplement market reached € 2.31 billion in 2021, an increase of 6.3% compared with 2020. The market is expected to grow further in the coming years. Synadiet, the French association for food supplements, records sales data for food supplements per distribution channel. Around half of all food supplements were sold in pharmacies in 2021, while online sales grew by 16% from 2020 to 2021.
In France, the 3 categories that account for the majority of sales are Vitality & Immunity, Sleep & Stress and Digestion & Transit. Vitality & Immunity was the largest category of products sold in pharmacies in 2021 and experienced the strongest growth from 2020 to 2021, at 13%.
Sales of organic food supplements increased at a higher rate than sales of conventional food supplements. For products sold in pharmacies and beauty and health shops, the increase was 15%, compared with 6-9% for conventional supplements in the same channels. Total sales of organic food supplements in 2021 amounted to € 86 million in pharmacies and € 1.8 million in health and beauty shops.
According to Synadiet, 64% of food supplements sold in France include at least 1 plant. The association adds that using medicinal plants is part of a long-standing French tradition. Common plants for the Vitality & Immunity category are ginseng, acerola, guarana, guava, echinacea, Satureja and maca. The association also calculated that half of the 16,000 jobs in the French food supplement industry depend on plant-based food supplements.
A 2021 survey conducted by Synadiet revealed that 81% of the French population perceived food supplements positively and 58% had consumed supplements in the preceding 24 months. The naturalness of supplements is the number one reason for consumers to choose a supplement.
France is the second largest importer of medicinal plants in Europe, after Germany. Imports of medicinal plants were relatively stable from 2017 to 2021, reaching almost 21,000 tonnes / € 109 million in 2021. In 2021, 58% of medicinal plants imported into France originated in developing countries.
Important traders of natural ingredients for health products in France include Nexira, Greentech and Elixens. Moreover, France acts as a re-exporter of natural ingredients for health products to other European countries. France also has several manufacturers that produce combinations of food supplement, herbal medicinal and aromatherapy products, such as Lustrel Laboratoires, Arkopharma and Laboratoire Rosier Davenne.
UK: strong demand for immune support and general health
The UK is an interesting market for immune-boosting botanicals, as it is a growing market with a strong demand for products that support immunity and general health.
In 2020, the UK food supplements market reached £ 494 million (around € 578.8 million), according to Mintel. This figure includes sales of vitamins, minerals and other food supplements. The market researcher predicted that the market would grow to £ 515 million in 2021 (€ 603 million) and reach £ 559 million (€ 655 million) by 2025. This represents an average annual increase of 2%.
During the COVID-19 pandemic, consumption of food supplements increased substantially. A consumer survey conducted by the Health Food Manufacturers' Association among 10,000 adults in December 2020 indicated that 20 million people consumed supplements on a daily basis. This was an increase of 19% compared with the year before. The survey concluded that 71% of UK consumers take supplements. Of that figure, nearly a third introduced a supplement to their diet because of the COVID-19 pandemic.
Immune health has become a priority for UK consumers, with 36% of users consuming food supplements to strengthen their immune system. Moreover, food supplements aimed at general health, which are often related to immune support, have a particularly large share in the UK. Key consumer reasons for taking food supplements include general health and wellness (60.7% of UK consumers) and health optimisation (20.4%).
In the first months of the pandemic, sales of herbal supplements increased by 68.6%. In 2020, herbal supplements accounted for 19.6% of total supplement sales, according to Kantar data. Consumers increasingly look for natural remedies, a trend that is reflected in the entire food and drink market and in the cosmetics industry.
Consumers value supplements with organic ingredients, as these are seen as healthier than conventional ingredients. However, Mintel reports that only a relatively small number of new products with organic claims entered the UK market in 2020.
The UK is expected to remain an important market for immune-boosting botanicals in the coming years. Although Brexit (Britain's exit from the European Union) has disrupted international supply chains, it seems to have a positive effect on trade in medicinal and aromatic plants from developing countries. While total UK imports of medicinal plants and herbs has decreased since Brexit, direct imports in this category from developing countries have increased at an average annual rate of 6% between 2017 and 2021.
Important traders of natural ingredients for health products include Organic Herb Trading Co, Super Nutrients and Aduna. Brands on the market that sell immune support supplements include Simply Supplements, Natures Aid and Vytaliving.
Italy: largest food supplements market in Europe
For exporters in developing countries, Italy is an attractive market. The country is the 7th largest importer of medicinal plants in Europe, with a thriving food supplement industry.  
Italy has by far the largest food supplement market in Europe. This market was valued at € 3.8 billion in 2020. Between 2014 and 2020, this market grew by 8.2% per year, on average. In 2020, which was a difficult year for the Italian retail sector due to extensive lockdowns, the food supplement market still increased by 2.8%. Pharmacies account for around 80% of food supplement sales.
In a survey conducted by FederSalus, the Italian Association of Health Products and Manufacturers, consumers indicated that the pandemic prompted them to take better care of their health and to improve their immune system. Over 58% of the Italian population claim to be regular users of food supplements. In the 2020-2021 period, immune stimulants experienced the strongest growth (+30.2%), followed by vitamin supplements (+30%).
2019 data on the use of food supplements that contain an active component of plant origin value this market segment at € 469 million. At the time, the segment experienced some decline (-2.2%) but still accounted for 16% of the total Italian food supplement market.
Data from Ipsos market research indicate that Italian consumers use food supplements to feel fitter (87%) and because they feel the need to take care of their physical health (84%). Important product groups are vitamins and minerals, digestive health products and probiotics.
Sustainability, raw material quality and research and development are key in the growing Italian food supplements market. A sector survey of Italian food supplement companies conducted by Federsalus concludes that innovation is key in the sector, which relies on a combination of tradition and innovation.
Italian imports of medicinal and aromatic plants have been stable at around 12,000 tonnes in recent years. Though less than half of these imports originate in developing countries, their share is growing. Between 2017 and 2021, direct imports from developing countries increased by 4% annually. Italy also has a considerable processing industry for natural ingredients.
The main companies trading and processing herbal ingredients for health products include Indena, EPO, Giotti, Novachem Aromatici and ACEF. Naturando is an example of an Italian supplier of natural food supplements.
Spain: smaller food supplement market but strong growth
Although the Spanish food supplement market is smaller than that of other countries in Europe, its continuous growth offers opportunities to exporters of immune-boosting botanicals. Due to this strong growth, new companies are entering the food supplements market. This leads to diversification of the product range and offers opportunities for developing country suppliers of immune-boosting botanicals.
In 2020, market researcher DBK valued the Spanish food supplements market at € 400 million. Prior to COVID-19 this market grew at an average annual rate of 6%. In 2020, the market expanded by 12% due to the pandemic, but it is not expected that it will sustain this high growth.
Around 75% of the Spanish population consume some type of nutritional supplements. Food supplement consumption was historically much lower than in other West-European countries, but these levels are approaching those of countries with a longer tradition of food supplement consumption. Spanish consumers mainly take food supplements to support their health and general well-being.
The Spanish Academy of Nutrition carried out a study in 2021 to determine the use of supplements in Spain. In a sample of 2,630 people, consumers indicated their main reasons to take supplements were to improve their general health, to improve the functioning of their immune system and to have more energy. Among these consumers, 29% consumed plant extracts such as fibre, pollen, royal jelly and propolis.
Spain has an advanced plant extraction and trading sector. Medicinal and aromatic plants imports by Spain increased more sharply than the European average. From 2017 to 2021, Spanish imports increased by an average annual rate of 6%. In 2021, total imports reached almost 27,000 tonnes, of which 63% originated in developing countries. This makes Spain Europe's second-largest importer of medicinal plants from developing countries, after Germany.
Spain hosts several trading companies, including Tradichem and Gonmisol, which trade in a broad variety of raw materials, extracts and active pharmaceutical ingredients. Furthermore, international traders such as IMCD are also active on the Spanish market. Santiveri and Limye are examples of supplement manufacturers in Spain that offer natural food supplements.
The Netherlands: trade hub for botanicals
The Netherlands is a leading importer as well as a key re-exporter of natural ingredients to and from Europe. Because of its significant position as a major entry point for natural ingredients into Europe, the Netherlands is likely to remain an important export destination for immune-boosting botanicals for the foreseeable future.
Dutch imports of medicinal plants have grown much faster than the European average in the past 5 years, at an average annual rate of 9%. In 2021, the Netherlands imported 16.5 thousand tonnes of medicinal plants, of which 57% originated in developing countries. The country is in the top 4 of importers of medicinal plants from developing countries. Important traders include Trading Organic (for organic ingredients) and IMCD.
The Dutch food supplements market is growing. The Dutch food supplement association NPN estimates that the market reached € 693 million in 2020, an increase of 3.4% compared with the year before. It is expected that demand for supplements will continue to grow. Although the COVID-19 pandemic boosted demand for supplements, the Dutch market had been growing before the pandemic as well. Consumers mainly use supplements to prevent illness.
Around 66% of Dutch consumers over 17 years old take supplements. Around 33% of consumers take supplements to improve their immune system, while 42% use supplements to improve their overall health.
The Dutch Information Centre for Food supplements and Health (IVG) hosts an annual contest to determine the most popular food supplements among Dutch consumers. In the 2022 contest, vitamin D was voted the most popular due to its support to the immune system. Improving their immune system was the most important reason to take food supplements according to 59% of the participants. Other popular supplements include magnesium, omega-3 and turmeric.
Tips:
Determine which market offers the best opportunities for your company and products. You can get market information from sector associations, online product portfolios of distributors and retailers or by visiting trade fairs.
Visit the website of the European Federation of Associations of Health Product Manufacturers for more information on sector associations in various European countries. The website also lists an overview of national associations in Europe.
When exporting immune-boosting botanicals to the European market, target West-European countries such as Germany, the UK, Italy, France, the Netherlands and Spain. These countries offer significant opportunities. They have large food supplement markets, a strong focus on plant-based products and a higher share of immune system products and food supplements aimed at general health.
4.

Which trends offer opportunities on the European market?

Increasing demand for sustainable botanicals offers opportunities for exporters of immune-boosting botanicals that can demonstrate traceable and transparent supply chains. As the European market for immunity products is becoming more competitive, brands use innovation to stand out. Exporters of immune-boosting botanicals that have additional health benefits can use this to stand out from the competition.
Sustainable sourcing key in botanicals
Sustainability is increasingly important on the European market for health ingredients, both from a consumer perspective and from a buyer perspective. This trend has important implications for exporters of immunity-boosting botanicals in terms of what the market expects. Demand for sustainable sourcing does not only cover (organic) certification, but also sustainable management of natural resources and supply chains.
European consumers increasingly demand sustainable products and want to know where their products are coming from. For example, they are interested in organic-certified health products that support a healthy lifestyle. This is driving demand for organic ingredients, which offers opportunities for certified producers.
Organic product sales in Europe have been growing at a faster rate than the overall food market. During the COVID-19 outbreak, demand for organic products received a further boost. In 2020, the EU organic market reached record high sales at € 44.8 billion. This was an increase of 15% compared with the year before.
In food supplements the value of certification depends on the positioning of the producer and product. Opportunities for certification increase if the product is positioned more as a food-type product, rather than as a medicinal-type product. For example, organic certification is very common for immune-boosting botanicals like moringa and baobab, which are mainly sold as powder to be added to recipes. Organic certification also acts as a quality control system and can help to improve your quality image.
European buyers are becoming much more involved in the sustainable management of the natural resources they use. Companies are making large investments in product development, documentation and market authorisation for botanicals. They do not want to take chances with the supply of their most strategic ingredients. They value supply sustainability in terms of quantity and quality, especially for wild-collected ingredients.
Buyers also expect you to make your supply chains more transparent and traceable and to take more responsibility for the sustainability of your products. Important drivers for this trend are the COVID-19 pandemic and related supply chain issues, as well as contamination and adulteration issues in health ingredients.
Tips:
Determine if you can find enough interested buyers for your products before applying for certification. If you cannot sell your ingredient as organically certified, you will not receive a premium for it.
Demonstrate ethical business principles by portraying an authentic story of your company / product to demonstrate traditional use and local product practices and the benefits to producers, such as in this example of baobab. You can also ensure and document fair labour conditions with a code of conduct.
Make your supply chain transparent for European buyers. Use appropriate tracking and tracing or other audit and certification systems to show where your ingredients come from. See the CBI study Entering the European market for immune-boosting botanicals for more information.
Show sustainable wild collection by conducting a resource assessment. See the CITES International standard for sustainable wild collection of medicinal and aromatic plants for more information. Based on the assessment's outcomes, implement a resource management system. Document your processes to make sure your efforts can be reflected in your price.
Innovation in immunity supplements and ingredients
The food supplement market is very competitive, especially in the fast-growing immunity support category. Combined with a demand for high-quality products and natural ingredients on the European market, this is encouraging innovation.
Manufacturers are cashing in on growing consumer awareness of the importance of immune systems by marketing new products. An ingredient distributor on the European market stated that immunity gummies and chewing tablets are the 'newest innovation in the immunity sector'.
An example are the immunity gummies from French brand les miraculeux, which contain zinc and vitamin C as well as the immune-boosting botanicals echinacea, elderberry flowers and acerola. The product carries the claim: 'Boost your immune system's natural defences by taking our vitamin-enriched vegan dietary supplements'.
Figure 3: Example - Immunity gummies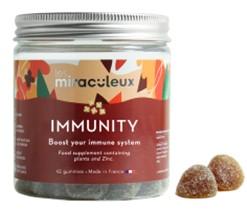 Source: Purtana.com (2022)
European companies outside of the health product industry also make use of the increased consumer interest in immunity-boosting botanicals in product development. For example, flavour house Firmenich's flavour of the year 2022 is called Magical Botanical. The ingredients included in this flavour were designed around a core of botanicals of natural origin, with traceable sourcing and known for their healing and immunity-supporting powers.
Innovative supplement manufacturers also look for new immune-support ingredients. These new ingredients will allow them to create a distinct profile for their products in the market. Ingredient innovation can stem from new ingredients and from a surge in the use of traditional ingredients. An example of traditional ingredients are those with high levels of antioxidants, such as green tea. Manufacturers also combine known, efficacious ingredients with authorised health claims, such as vitamins, with new ingredients to boost formulas.
Ingredient companies are always looking for ways to increase the effectiveness of ingredients and products. Scientific research and clinical trials that back efficacy and safety are essential for the long-term success of supplements for immune health. South African supplier Afrigetics uses this demand by sharing an overview of clinical trial research that highlights the efficacy of its botanical Pelargonium sidoides, used in cough and cold medication.
Tips:
Create a nutrient profile for your ingredients and products to share with potential buyers. If possible, conduct research on the efficacy of your products by building research partnerships. Use scientific research and data to support any claims you make, as this gives you credibility.
Review the CBI study What requirements must natural ingredients for health products comply with to be allowed on the European market?, as it provides information about mandatory requirements and additional buyer requirements to enter the European market.
Look for a partner in Europe to help build your marketing story and business. Find a company that is interested in and sees potential for your (new) ingredients. 
See the CBI Study on Entering the European market for immune-boosting botanicals, as it outlines quality parameters buyers look for in immune-boosting botanicals.
Combining immune support with other health benefits
As consumers are becoming more aware of the importance of a healthy immune system, they also start to relate it to other areas of health. Consumers link a healthy immune system to improved health conditions, such as less stress, more energy, better sleep and increased resistance to disease throughout the year.
In 2021, 68% of global consumers said they recognise the link between the digestive system and their immune health. Products such as probiotics benefit from this trend, with 81% of global consumers claiming they are aware of probiotics. The global market for plant-based probiotics is expected to hit US$ 70 billion (over € 65 billion) by 2031. Examples of ingredients used in this market include coconut yoghurt, olives, miso and kombucha.
The pandemic has also highlighted the importance of sleep to a healthy immune system. In addition, 53% of global consumers recognise a link between inflammation and immunity.
Brands are making use of this trend by offering products that target multiple health indications; see Figure 4 below. Examples include combining immune support with ingredients that provide more energy or that support relaxation or sleep. Immune-boosting ingredients and related claims are also added to products that are not normally used for immunity, such as beverages or sports products.
For example, the Superfoodies brand produces a ready-to-drink beverage mix that supports endurance, mental wellbeing, stress and the immune system. This product contains several immune-boosting botanicals, such as turmeric, reishi mushrooms, ginger and ashwagandha.
Figure 4: Examples of immunity-boosting products with additional health support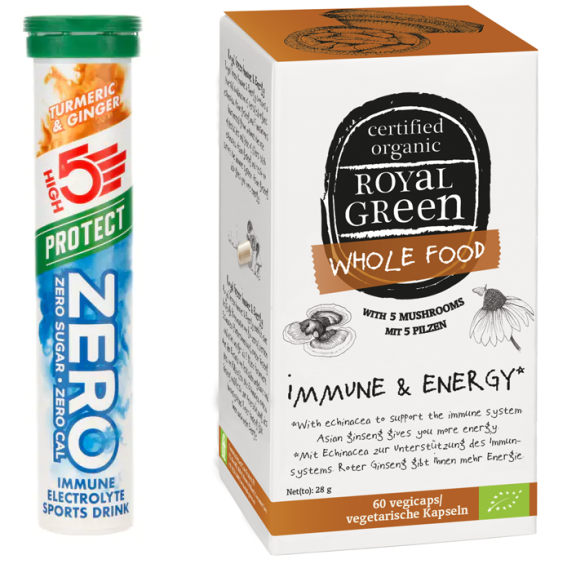 Sources: Holland and Barrett, Royal-Green.eu
This translates into opportunities for immunity-boosting botanicals that offer additional health benefits. Examples include adaptogens like turmeric, ginseng and saffron, which are in growing demand. These botanicals have a normalising action and are used to relieve stress and anxiety, improve energy and support sleep, in addition to immunity.
Opportunities also exist for high-nutrient botanicals that can be used for multiple goals. The high concentrations of vitamins and minerals in botanicals such as moringa and baobab imply that these products can be used for multiple health benefits.
An example of an exporter that makes use of this opportunity is the Brazilian company Duas Rodas. For its camu camu product, the company highlights both the nutritional composition and links to existing research on health benefits for nutrients present in camu camu. 
Tips:
Be aware of the legislative requirements for food supplements. Make no medicinal claims for your ingredient in your product documentation or marketing materials if you are targeting the food supplements market. Claims in food supplements may relate only to function (such as development and functions of the body, psychological and behavioural functions) and risk reduction. For example, you may not claim that your product prevents a specific illness, but you may stress that a certain species of plant can help maintain good health. Also ensure you have the research results to back up your claim with any potential buyer. See the CBI study on Entering the European market for immune-boosting botanicals for more information.
This study was carried out on behalf of CBI by ProFound - Advisers In Development.
Please review our market information disclaimer.
Search
Enter search terms to find market research