7 tips for finding buyers in the natural ingredients for health products sector
This document provides tips on how to increase your chances of finding suitable buyers on the European health products market. It is important that you do some background research on the industry and individual buyers before approaching them. Having a presentable and organised company website is also essential for you to succeed when looking for European buyers for your natural ingredients.
1.

Carefully select your buyers

Before approaching buyers, you first need to know what type of buyers are present in the European market. It is advisable to do some market research to identify suitable buyers. The more knowledge you have about the industry and supply chains for natural ingredients, the more prepared you will be for business discussions.

Suppliers of natural ingredients from developing countries should target health products companies directly or should target distributors. European buyers of natural ingredients vary in size and in their product range. Some end-user companies source directly from suppliers in developing countries. For example, the UK baobab products company Aduna sources baobab directly from African suppliers. If you can supply substantial volumes, then consider approaching companies directly.

Most small to medium-size producers source natural ingredients from traders and distributors in Europe. Nexira is one such large trader. There is growing demand for organic products in Europe, and some traders focus exclusively on organic raw materials. For example, Tradin Organic is one of the largest importers of organic ingredients in the world. The company actively sets up sourcing projects around the globe.

Other important distributors of natural ingredients for health products include Organic Herb Trading, Africrops, Dr. Behr GmbH and Bio Import Europa. Some distributors specialise in specific types of ingredients, such as essential oils; an example of this is SNPM Huiles Essentielles.

Table 1 Types of buyers in the European health products sector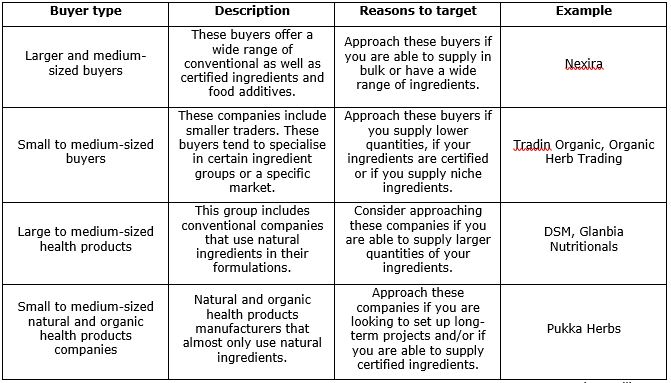 Source: Ecovia Intelligence
Be clear about how your natural ingredients can be used in health products and target buyers accordingly. For example, essential oils can be used in fragrance and flavours, or as ingredients in pharmaceuticals and in aromatherapy.
You have to be aware of your strengths and weaknesses in order to find a good match with potential buyers. First, you have to know what you can deliver as a business, and then you can decide what kind of buyers to target.
Tips:
Be honest about what volumes you are capable of supplying and select suitable customers accordingly.
Focus on a few buyers at the start. You can find more information on what countries offer the most opportunities for natural ingredients for health products by reading the CBI Market Statistics and Outlook Study.
If you supply organic ingredients, target traders and distributors that have experience with organic ingredients.
2.

Participate in industry trade fairs

Visiting trade fairs gives you a great opportunity to directly contact potential buyers. Trade fairs will also give you the chance to speak to end users (health products companies) and distributors and to gauge your competition, especially with regard to how they are marketing their products.

Some of the main trade fairs that focus on ingredients for health products are:

You could also consider visiting and participating in industry trade fairs taking place outside Europe. The most important trade shows in Asia include:

Important African trade shows include:
Africa Health – one of the biggest trade shows in the food and beverage sector, held in Cairo. Here, you can meet international and African agents, distributors and retailers from the food sector.
Trade fairs in Latin America you should consider include:
Food Ingredients South America – this is the leading trade show for food ingredients in Latin America. This trade show is worth visiting to meet buyers of conventional and organic food ingredients for the nutraceutical sector;
Biofach Brazil – leading trade show for organic products in Latin America. This trade show is worth visiting if you supply certified ingredients.
Visiting trade shows in your region may save you costs. It is also a great opportunity to find background information on your new target market and present your company directly to potential customers. However, the concentration of European buyers at trade shows in your region may not be that high. You should try to participate in European trade shows in order to increase your chances.
Consider going to industry seminars and workshops. While the number of attendees is usually lower compared to trade shows, there are more chances for you to network with participants. You can also meet various stakeholders, including buyers and traders. Examples include the Sustainable Foods Summit, the 2nd World Congress on Advanced Nutraceuticals and Functional Foods and the Euro Nutrition 2020 Conference.
Tips:
Do research before visiting or exhibiting at a trade fair. Start by looking through the exhibitor lists. For example, you can find the full exhibitor list on the Vitafoods website.
Use trade show directories to contact buyers beforehand. You can usually find contact details of exhibitors on trade show websites. Try to arrange personal meetings with buyers in advance.
Make sure your marketing materials are updated and presentable before attending a trade show. The same applies to your technical dossier. This helps you create a good first impression.
Join networking events at industry trade shows.
3.

Connect with sector associations

Sector association can be a valuable source of information for small and medium-sized exporters of natural ingredients for health products from developing countries. They provide updates on regulations and can provide useful contacts in the industry. Sector associations usually have member lists, which can serve as a valuable source of information to the market players or sector associations of individual countries.

Important sector associations include:

Consider approaching individual country associations for the health sector as well. Focus on countries to which you are planning to export your natural ingredients. Table 1 shows country associations for the health products sector in selected countries.

Table 1 Country Associations for the Health Products Sector in Europe
| | | | |
| --- | --- | --- | --- |
| Country | Association | Website | Members list |
| Belgium | NAREDI | | |
| France | SYNADIET (Syndicat National des Compléments Alimentaires) | | |
| Germany | BDIH (Bundesverband der Industrie- und Handelsunternehmen für Arzneimittel, Reformwaren, Nahrungsergänzungsmittel und kosmetische Mittel e.V.) | | NA |
| Greece | SESDI (Association of Importers and Manufacturers of Natural Products) | | |
| Hungary | MÉKISZ/HUDSA (Magyarországi Étrend-kiegészíto Gyártók és Forgalmazók Egyesülete) | | |
| Ireland  | IHTA (Irish Health Trade Association) | | |
| The Netherlands | NPN (Natuur- en Gezondheidsproducten Nederland) | |   |
| Poland | KRSiO (Krajowa Rada Suplementów i Odzywek – the Polish Council for Supplements and Nutritional Foods) | | |
| Portugal  | APARD (Associaçâo Portuguesa de Alimentaçâo Racional e Dietética) | | NA |
| United Kingdom | HFMA (Health Food Manufacturers Association) | | |
Source: Various
Tips:
Focus on associations that are most relevant to your natural ingredients.
Regularly check association websites for updates on sector trends, regulations and innovation in the health products industry.
4.

Make sure you can be found online

A strong website/online presence can help you gain acceptance from European buyers. You should invest some time and resources to build up your online presence, as this will help you when approaching European buyers. Your online presence is a great way to provide information about your company and gain trust.

Some basic information that you should disclose on your website includes product range, contact details and information about your production facilities. It is also important to showcase all the certifications that your ingredients carry and what quality management regulations you comply with.

Your website should also be visually appealing. Providing professional videos and photographs about the production process and how you are improving your production practices and facilities is a great way to show European buyers that you are reliable. Social media is also becoming a great way to connect with your customers. It is a fast way to provide updates about your activities. Important social media websites include LinkedIn, Facebook, Twitter as well as Instagram.

For example, the Indonesian supplier of essential oils Van Aroma has a website that that has been professionally set up. The website is visually appealing, with videos and photographs illustrating the company's activities. The company also has a comprehensive and interactive catalogue of their natural ingredients. Van Aroma also lists all its certifications, as well as sector organisations it belongs to. This adds a sense of credibility and professionalism. The company also has accounts on social media platforms, such as Facebook and LinkedIn.

When creating a professional website, it is necessary to avoid using a lot of colours. You should keep the colour scheme limited and make sure you keep it consistent across your site. Do not use generic photographs. Instead, use photographs of your actual employees, products and production facilities. Also, do not use too many images on your main website. Instead, you can have a dedicated gallery section where you can upload more visuals. Make your website easily searchable. You can also include a search box so people can find specific things.

Do not fill the pages with long paragraphs. Create a clean design that divides the content into readable parts. You can do this by adding ample white space, using images and creating proper flow. Make sure your content is easy to read. Use bullet points, headings and quotes to emphasise the most important information.

Having a blog can help you increase traffic and improve SEO for your website. Make sure you share new content on all your social media accounts and with industry groups on platforms such as LinkedIn.

By neglecting your online presence, you can lose opportunities to connect with potential customers. A poor company website gives the impression that you lack professionalism. This can be detrimental to your business relationships and export activities on the European market.

It is important that you make yourself available on online platforms, such as Alibaba, Go4WorldBusiness or Europages. European buyers can use these search engines to identify suppliers. Make sure you use key words referring to your certifications, such as organic and fair trade. You can also use search terms based on the sector you want to target, such as aromatherapy, plant-based protein, herbal medicine or nutraceutical.

An online presence is become increasingly important for suppliers of natural ingredients for health products. It is imperative that exporters take this on board and invest their time and resources in building an online presence. Reliability and trustworthiness will become increasingly important when building business relationships with European buyers.
Tips:
Learn about search engine optimisation (SEO) to generate more traffic to your website. You can find useful information on various blogs and websites. You can also find online courses on platforms such as Udemy and LinkedIn.
Regularly update your social media accounts on platforms such as LinkedIn, Twitter, Facebook and Instagram.
Make sure you have an attractive and up-to-date website. Use your website to communicate about your product assortment, certifications, good agricultural practices and international services.
5.

Contact trade promotion agencies, embassies and chambers of commerce

Trade promotion agencies can be a valuable source of information for your export activities in Europe. They provide information on regulations, solvency information and intellectual property and provide advice on various issues, such as Brexit. This information can be helpful when choosing which buyers to target.

By not using chambers of commerce and the information they provide, you may encounter problems with your business relationships and export activities in Europe. It is important that you review the solvency of your potential customers on the websites of chambers of commerce. This can help you assess your risks and the reliability of buyers.

Examples of valuable chambers of commerce include Eurochambers, as well as KVK (the Netherlands), the British Chamber of Commerce, the Association of ITALIAN Chambers of Commerce, Industry, Craft and Agriculture and the Association of GERMAN Chambers of Industry and Commerce. For the full list of chambers of commerce in Europe, visit the Eurochambers website.

Some of the main activities of these institutions are providing training and matchmaking programmes and raising awareness about trade opportunities. These programmes provide guidance to enterprises to help them create profitable partnerships.
Tips:
Research potential buyers thoroughly. You have to be careful about whom you choose to do business with. Check whether companies are reliable and financially sound before striking a business deal.
Source information about buyers, markets and other companies in the sector.
Make sure you subscribe to newsletter services, especially for the countries to which you hope to export your goods.
Connect with business support organisations and trade promotion associations in your home country or region. Examples include the Brazilian Trade and Investment Promotion Agency (Apex Brazil), PromPeru, the Ghana Export Authority (GEPA) and the Malaysia External Trade Development Corporation (MATRADE).
Make sure you study relevant sector information published by business support organisations.
6.

Participate in matchmaking programmes and trade missions

Participate in matchmaking programmes and trade missions provided by organisations based in Europe. They can help you with legal and practical issues you may face when accessing the European market. You can gain valuable skills that could save you resources and time.

Coaching programmes, training courses and market intelligence on specific European sectors are but a few examples of the support these programmes provide. You can get insights into trends in the health products market in Europe and adjust your marketing materials accordingly. You can also gain valuable knowledge of mandatory and additional regulations with which you need to comply.

Not using services like matchmaking programmes could cause you to miss out on vital information on the European market. Your export activities could also be hampered by lack of knowledge on regulations and the requirements of European buyers.

You should participate in programmes such as the Centre for Promotion of Imports (CBI), the Swiss Import Promotion Programme (SIPPO), the Import Promotion Desk (IPD) and Open Trade Gate Sweden (OTGS). Organisations such as the Food and Agricultural Organisation (FAO) and the International Trade Centre (ITC) also provide market access services.
Tips:
Apply to participate in matchmaking and trade missions programmes.
Use market studies from business support organisations in your country.
7.

Comply with buyers' demands and requirements

You need to ensure that you abide by the mandatory and additional requirements of European buyers. European buyers are approached by a number of suppliers on a regular basis, so it is important for you to be aware of mandatory buyer requirements in advance.

There is also room for negotiation regarding additional requirements. However, it is important for you to be flexible and to show willingness when your potential customers have specific requirements. Keep in mind that the requirements of European buyers may differ from company to company. See the CBI Study on buyer requirements for natural ingredients for the health sector.

You need to have an organised technical dossier, in order to meet common buyers' requirements. Examples of documentation include Technical Data Sheets (TDS), Safety Data Sheets (SDS) and Certificates of Analysis. Safety Data Sheets contain information on handling, storage, hazards and emergency measures in case of an accident. Based on the information in SDSs, European buyers will be able to make an assessment of potential hazards regarding sourcing your ingredients. Technical data sheets contain information on common applications of your ingredients, industry standard specifications, operating requirements, information on composition and warnings.

A certificate of analysis refers to analytical data that supports product specification. According to the EN ISO/IEC 17025:2005 standard, the most important requirements for a certificate of analysis include:
title;
the name and address of the laboratory, and the location where the tests were carried out, if different from the address of the laboratory;
the name and address of the customer;
identification of the method used;
a description of, the condition of and unambiguous identification of the item(s) tested;
the date of receipt of the test item(s), where this is critical to the validity and application of the results, and the date(s) on which the tests were performed;
reference to the sampling plan and procedures used by the laboratory or other bodies, where these are relevant to the validity or application of the results;
the test results with, where appropriate, the units of measurement;
where applicable, a statement on the estimated uncertainty of measurement;
where relevant, a statement of compliance/non-compliance with requirements and/or specifications;
where appropriate and needed, opinions and interpretations;
the name(s), function(s) and signature(s) or equivalent identification of person(s) authorising the test report certificate.
If you are unable to provide such documentation, you could lose potential business opportunities. This could threaten your business activities in the European market, harm your reputation in the long term and hamper your export activities.
This study has been carried out on behalf of CBI by Ecovia Intelligence.
Please review our market information disclaimer.
Follow us for the latest updates