Entering the European market for the Generation Y segment
Sustainability and protection of the environment have become increasingly important issues for European millennials. Climate change is a particularly important issue in their lifestyles. While seeking a unique and immersive experience, Gen Y travellers also look to minimise their impact on the communities they visit and are likely to choose operators that have active policies to address the issues. Inspired and motivated by word of mouth, social media and new technologies, online travel agents (OTAs) are their main booking platform.
1.

What are the requirements for travel products for the Generation Y segment to be allowed on the European market?
What are the mandatory requirements that buyers have?"
The mandatory requirements for Generation Y tourism travel products are common across the tourism sector. As a first step, read the CBI's requirements for tourism services on the European market and familiarise yourself with the comprehensive details of legal, non-legal and common requirements.
These requirements include the following:
The European Package Travel Directive
General Data Protection Regulation (GDPR)
Liability insurance and insolvency protection
In the report, the sub-section entitled COVID-19 outlines measures taken by the European Commission (EC) to help support the relaunch of travel and tourism across Europe and how to keep abreast of travel advice being given to European residents across the continent.
In addition, you should consult the new guides issued by the World Travel & Tourism Council (WTTC), which has launched a new set of measures to rebuild consumer confidence, reduce risk and encourage the resumption of travel. The measures were developed in collaboration with other partners including the Adventure Travel Trade Association (ATTA), which regularly undertakes research among its membership base and global community of operators in the field of adventure tourism. Some of the measures developed include:
Reducing participant capacity to allow for social distancing
Ensuring that activity difficulty levels do not exceed ability, to decrease the need for rescue services
Providing clear, consistent and up-to-date communication on health and hygiene protocols
Providing clear information on protocols such as wearing of face masks, hand hygiene guidance and social distancing requirements in advance and on arrival
Encouraging online purchases wherever possible
Encouraging guests to handle their own equipment for the duration of the trip
Limiting queuing and physical contact wherever possible
You can download WTTC's Leading Global Protocols for the New Normal – Tour Operators for more details about the measures and decide whether to apply for the 'Safe Travels' Stamp Application.
As Millennials comprise a large proportion of adventure tourists, you should also consult ATTA's insights and frameworks that have been developed to address the COVID-19 pandemic for adventure tourism niches to support the reopening of adventure tourism safely and responsibly. There are several reports in the Adventure Travel COVID-19 Health & Safety Guidelines series that cover several individual niches: Rafting, Cycling, Trekking, Cultural Tours and Sightseeing, Wildlife Experiences and Culinary Experiences, along with Overarching Guidelines.
For the remainder of this report, all discussion, insight and advice has been provided on the basis of travel in normal circumstances.
What are the additional requirements for buyers?
Sustainability and reducing the environmental impact of holidays
European millennials are increasingly looking to live more sustainably. When they travel, they like to know they are making a positive contribution to the places they visit, producing minimal impact on the local environment. Therefore, as a local tour operator you should ensure that sustainability is at the heart of your business.
European millennials are also environmentally conscious and that has an impact on where and how they choose to travel abroad. The issue of climate change is a particularly hot topic in Europe, which has gained noticeable traction in a very short period of time. As the largest consumer group in the world today, millennials are increasingly aware that if they do not make major changes to the way they behave, the consequences will be severe for the planet and their future. As a result, many European travellers feel guilty about air travel and many are adopting the Swedish flygskam, which means flight shame. As a result, many Europeans are choosing to travel internationally more sustainably, or not at all. In this sense, millennials often choose to book trips with operators that have an active policy of working to reduce their impact on the environment.
What are the requirements for niche markets?
Online presence
Millennials are well-known proficient internet users. An estimated 94% of millennials own a smartphone to regularly make financial transactions using laptops or other portable devices. They are avid users of social media across several platforms, including Instagram, Facebook, and Twitter, relying heavily on word of mouth to inform their decision-making, including when doing research for their holidays and trips. Internet personalities, influencers and bloggers are a key research resource for millennials. In the travel realm, Pommie Travels, the Millennial Runaway and Anna Everywhere are some such examples. Many millennials book and pay for trips and experiences online, which comes naturally to them. They also use social media to make public their own views and opinions on the services they choose, whether they are positive or negative.
A strong online presence is essential to reach millennials, who are unlikely to find you otherwise. Therefore, you should put effort into your website to ensure that it meets their expectations.
Start by establishing an online strategy and consider the following steps:
You must have an effective website that conveys what you are selling, using inspirational content and images. Before booking, millennials want to know the experience will satisfy their desire for adventure, authenticity and uniqueness. Your website should be optimised for use on mobile devices, such as smartphones and tablets.
Make sure you use words and phrases in your marketing like 'authentic', 'inspirational', 'off-the-beaten-track', 'unique', 'bucket-list adventure' and 'culturally immersive' to convey the type of experience they want to enjoy.
Although not essential, consider making your travel experiences bookable online. If this is not possible, at least ensure you have a prominent link to the website or OTA where they can book.
Make sure your website links to your social media accounts, such as Facebook, Instagram and Twitter, and have a plan in place to post regularly. Produce content that is informative and relevant, using images and videos widely.
Millennials place high value on good customer service that is personalised. In your communication with them, you should demonstrate your value by showing that your expertise will make their travel experience unique and memorable.
Millennials trust others' personal opinions, so you should openly encourage your customers to write reviews, post photos and videos on social media and share them. You could consider offering them incentives to do so, such as a discount off a future booking.
Millennials expect service providers to be available to answer questions and deal with issues promptly. You must be honest about what you can deliver and when, so as to meet their expectations. Read the CBI's tips for doing business with European tourism buyers to find out more.
Unique experiences and authenticity
Millennials are known to prize extraordinary travel adventures over buying expensive items, such as a new car or a house. They have a strong desire for unique and authentic experiences. They are also more likely to be seeking off-the-beaten-track adventures that may provide truly cultural, immersive experiences. The market for such experiences is similar to those enjoyed by adventure and fully independent travellers (FITs). Table 1 below shows examples of some of these experiences.
Table 1: Travel Experiences for Millennial or Generation Y travellers
| | |
| --- | --- |
| Experiences | Description |
| City breaks | Guided walking, cycling or Segway tours; tours of less visited and unusual attractions; museums and galleries; nightlife; concerts and shows |
| Culinary experiences | Tasting trails; home hosting food experiences; local markets; visits to wineries, distilleries and breweries; food festivals; visits to farms; harvesting experiences |
| Outdoor activities | Adventure activities such as trekking and hiking; mountain biking; 4x4 experiences; horse riding; rafting; abseiling; safaris; surfing; volunteering trips |
| Cultural | Visiting local villages and tribes; festivals; taking part in sporting events; learning activities like cooking and handicrafts; community-based tourism (CBT); homestays |
| Bleisure | Combining leisure activities while on a business trip, including wellness and spa, concerts and shows, culinary activities, and sports |
Source: Acorn Tourism Consulting
Tips:
Think carefully about how to create products that contain elements of adventure, immersion and authenticity. Make sure you convey all these aspects in the promotion of your products.
Use images widely to create inspirational impressions of the experience the millennials can expect to enjoy.
Consult the CBI's studies on adventure and FIT tourism.
Value for money
Budget is a key factor for millennials at different stages of their earning potential. They generally seek value for money when travelling, but they are prepared to pay more for unique experiences. Younger millennials and those with young families usually have less money to spend on travel experiences and will be more careful about their choices. Older millennials with no dependents tend to have more disposable incomes.
Price your trip carefully, taking into account which group you are targeting. Read more about pricing in the CBI study on tips for doing business with European tourism buyers.
2.

Through what channels can you get travel products for the Generation Y segment on the European market?
How is the end market segmented?
The millennial market is broadly segmented by age, so their travel experiences depend much upon what they are doing at a particular point in their lives.
Solos, couples and small groups of millennial travellers are usually working full time, many in the early stages of their careers. This means that some are wealthier than others. Travel is important to this group and they are typically looking for unique and immersive experiences. This group is prepared to pay more for an experience that is special or different to those typically on the market. They are an adventurous and experiential group, keen to try new things that are Instagrammable and worthy of showing off to their peers.
Older millennials with young families are more likely to have less time and money to spend on holidays and trips and will be more careful about what they choose to book. Nevertheless, experiences with a learning element will appeal to this group and they are likely to pay for the benefits associated with educational aspects.
Millennials' motivations for travel range across a broad spectrum, including adventure, SAVE (scientific, academic, volunteering, educational), FIT, sun and beach, nature and ecotourism, CBT and culinary tourism. You can find out more about these niche markets by consulting the full range of CBI tourism studies.
Single and millennials without children are usually not constrained by school holidays, which means that your travel products can appeal to most segments year-round.
Table 2: European millennials' market
| | | | | | |
| --- | --- | --- | --- | --- | --- |
| Segment | Budget | Mid budget | Luxury | Seasonal | Flexible |
| Solo | ✓ | ✓ | ✓ |   | ✓ |
| Couples | ✓ | ✓ | ✓ |   | ✓ |
| Small Groups | ✓ | ✓ | ✓ |   | ✓ |
| Young Families | ✓ |   |   | ✓ |   |
Source: Acorn Tourism Consulting
Through what channels do travel products for the Generation Y segment reach the end market?
European millennials book their trips and experiences similar to how FITs do it. They use a variety of websites and sources, relying heavily on word of mouth from friends, family, travel bloggers and travel influencers to help inform their decisions. Millennials use three main methods to book their holidays and trips:
Independently: Millennials on a budget often choose to book directly with travel and accommodation providers because it is often cheaper.
European tour operators: Millennials travelling in small groups consider using specialist tour operators to organise their trips, selecting those that offer unique and immersive experiences.
OTAs: OTAs are the fastest growing sales channel for trips and experiences. Millennials find it easy to book online and bookings are instantaneous. For local operators such as yourself, it is an easy process to sign up with the most appropriate OTA (see section below), which also enables you to reach a market that might otherwise be difficult to access.
Chart 1: How European millennials book their trips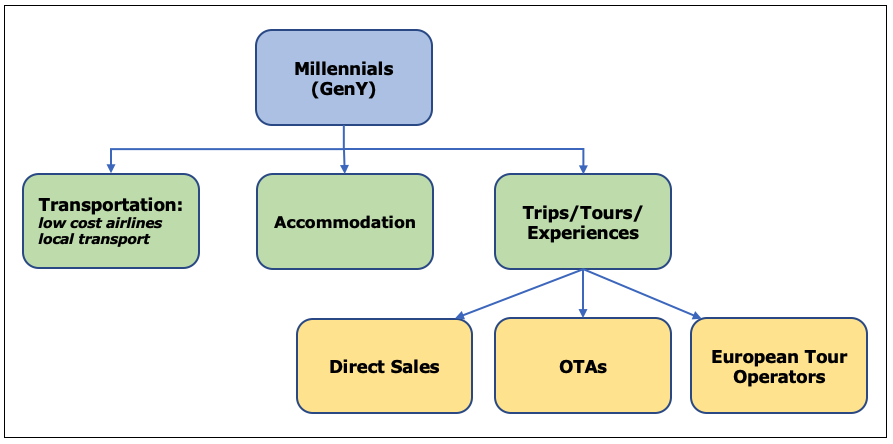 Source: Acorn Tourism Consulting
Examples of European tour operators and OTAs targeting millennials include:
Flash Pack – This UK-based operator offers boutique group adventures for single travellers in their 30s and 40s. Flash Pack targets singles (98% of their clientele), marketing its trips as immersive and authentic. Travellers are invited to join their Insider Trips programme to provide daily in-depth feedback so Flash Pack can better shape products to millennials, in exchange for a reduced trip price.
Global operator Intrepid has a section specifically aimed at millennials, the 18 to 29s Adventures, aimed at both solo travellers and groups. This operator places importance on adventures, local connections, and sustainability.
Tucan Tours also offers tours for adventure seekers in their 20s and 30s. They use simple graphics on their website to appeal to tech-savvy consumers.
Chart 2: Getting your message across – How European tour operators reach millennial consumers


Source: Intrepid; Tucan Travel
German operator TravelWorks promotes trips for 18+ people, including work and travel, voluntary work, internships and adventure travel. Several European operators specialise in SAVE tourism (scientific, academic, volunteer and educational). See the CBI study on entering the European market for SAVE travel products for more example of SAVE operators.
Millennials use OTAs for both spontaneous and planned trips. The many OTAs in the market form the fastest growing sales channel for trips and experiences nowadays. Viator (part of Tripadvisor) and Airbnb Experiences are the biggest OTAs, but Tourradar offers a filter for tours and trips aimed at young adults, while Germany's Get Your Guide focuses on travellers doing travel research and booking tours on mobile devices.
Tips:
This blog by online magazine Bustle lists other tour operators that target millennial travellers who like to travel in groups, a trend that is emerging in the millennial travel marketplace.
Download and read Tourism Tiger's list of 95 platforms to promote your tours to find the OTA that best suits your needs.
What is the most interesting channel for you?
Creating an effective website aimed at millennials should be a priority for you to attract this cohort. Learn more about building your own website in the CBI report on How to be a successful tourism company online.
See the CBI's tips for organising your tourism services export to Europe to learn more about working with OTAs.
See also the CBI report on doing business with European tourism buyers for tips on working with European specialist tour operators.
3.

What is the competition like in the Generation Y market?
What countries are you competing with?
Post COVID-19, the millennial consumer group are poised to lead the recovery of the travel industry. As enthusiastic and avid travellers, they are keen travel as soon as is safe. They are naturally less risk averse than the older generation and from a health perspective, progression of the pandemic has shown they are less likely to contract coronavirus, and if they do, suffer less from the serious effects of the disease. In the short term, millennials are already travelling domestically – you can see that the UK blogger Millennial Runaway has posted several blogs about her recent trips within the UK. As Europe becomes easier to travel to, they will increasingly travel to short haul destinations within the continent. For those without family commitments and able to work from home, self-quarantining upon returning home if required by national health authorities is not likely to be a hardship.
As the world slowly opens up to tourism, operators targeting millennials must work towards devising strategies to attract them – authenticity and unique experiences continue to be the buzzwords that will attract this market. Using social media platforms to spread your message is the key method to reach them. However, it is also important to state clearly what health and safety precautions are in place to keep them safe, and reassure them about cleanliness and hygiene protocols.
Millennials will continue to look for new and exciting destinations to visit. In its Top 30 Millennial Travel Destinations for 2019, Muv Travel says millennials are interested in wide variety of destinations, many of which do not necessarily appear on regular travel lists, since they chose sustainable, personal and local travel. The top destinations for millennials in developing countries are:
Indonesia
Costa Rica
Jordan
Myanmar
Peru
Sri Lanka
However, many other countries are also popular destinations for millennials, including: Mexico, China, Thailand, Brazil, South Africa, Philippines, India, Nepal and Tanzania.
Indonesia
Bali is an attractive destination for millennials, offering cheap accommodation and photogenic landscapes. Travellers can choose from a range of adventure activities, as well as wellness and spa retreats, in addition to cultural sights, like temples and shrines.
Costa Rica
Costa Rica is one of the world's best-known adventure and ecotourism destinations, where tourism is one of the largest exports. Costa Rica is a hotspot of biodiversity, counting more than 160 national parks, refuges and other protected natural areas which account for almost 26% of its territory. Adventure activities abound, attracting environmentally conscious millennials looking for immersive experiences in a sustainable, natural environment.
Jordan
The ancient city of Petra is Jordan's top attraction, also offering a wealth of adventure activities that appeal to millennial travellers, thanks to its location in the desert. Noteworthy experiences include sleeping under the stars in Bedouin tents, relaxing in hot springs and spas, 4x4 adventures canyons and deserts and hot air ballooning. Jordan has an estimated 60 local tour operators in the adventure sector.
Myanmar
Myanmar has been growing as a destination among adventure travellers. Myanmar remains relatively untravelled, which is important to millennials looking for unique and authentic experiences. In addition to many significant archaeological sites, Myanmar also offers Buddhist cultural sites, untouched beaches, and other spectacular landscapes.
Peru
Several sites in Peru contribute to the country's reputation as a top destination for millennials: the ancient ruins of Machu Picchu, the cities of Cusco and Lima, the Amazon rainforest and the cloud forest high in the mountains, among others. Lima has one of the world's best culinary scenes, offering numerous foodie experiences for millennials travelling on different budgets. Peruvian tourism stakeholders have long understood the importance of inbound millennials; surveys reveal they choose Peru for personal growth and based on social and environmental values.
Sri Lanka
Sri Lanka offers extraordinary adventure opportunities in jungles and mountains, well-preserved archaeological ruins, beaches, cultural sites, and some of the best wildlife hotspots in Asia. Millennials are a key target market of operators in the country: 42% of visitors to Sri Lanka in 2017 aged between 20 and 29. Just a year later, the Sri Lankan tourist board launched a new brand, So Sri Lanka, specifically targeting millennials.
What companies are you competing with?
Europe is one of the worst-hit areas by the COVID-19 pandemic, and although Europeans are keen to travel again, they will need strong and encouraging reassurance. To stay ahead of the competition, you must inform them of measures you are taking to keep them safe when they use your services. To do this, it is essential that you include a prominent link and/or message on the Homepage of your website, and you should list all the measures you are taking to keep them safe.
European tour operators already feature very detailed information about how they will keep their customers safe and you should research how they are communicating with their customers. For instance, Intrepid Travel (UK) provides a link on its homepage and uses the message, 'Your safety remains our priority'. Globetrotter Abenteuer (Germany) immediately draws your eye to the 'Current Situation'. TUI (Global) uses the website's top navigation to promote its 'Travel with Confidence Hub', which provides all the information customers need to make their holiday decisions. OTAs are also very strong on their messages to keep customers safe. Viator provides a direct link to detailed safety procedures under its Homepage message, As the world reopens.
In Indonesia
Bali Tour Activities offers a wide range of activities led by English speaking guides, such as volcano trekking, white water rafting, ATV trips and water sports. They use inspirational images on their website to attract millennials, promoting their tours as authentic and highlighting Bali's culture and nature. Bali Tour has numerous five-star reviews from Tripadvisor and Google, which they show prominently on their website.
ForeverVacation Bali describes itself as an operator that focuses on fun, engaging and unique tours in Bali and surrounding islands. It targets millennials by promoting its tours on Instagram and offering online payment options. This operator understands that its audience likes endorsements, promoting a count of more than 3,000 'Happy Guests'. Bestselling and Popular tours are highlighted, and note that many have been discounted, most likely in response to COVID-19. It has also implemented a pop up 'call to action' offering a 'Free Guide to Planning your Bali Vacation', which is a good way of gathering data for a database, provided you comply with European GDPR rules.
Costa Rica
Costa Rica Jade Tours offers tours of natural attractions, including visits to hot springs, waterfalls, and wildlife watching in beaches, tropical jungles and cloud forest. This operator promotes its tourist board Naturalist Guide certification. The website is also available in Spanish, and ways to contact the operator are prominent in the top right corner through Facebook and WhatsApp icons.
Green Vacations Costa Rica has offers tours and activities, including its 'Green Season Deal' in the low season, which features kayaking, tubing and abseiling, along with wildlife watching and hot springs. Their website features reviews in English and Spanish to boost the appeal to a wide audience.
Jordan
Wadi Rum Zain Tours offers a 'real Bedouin experience' with tours in jeeps and on camels, and overnight adventures. This operator partners with large OTAs, such as Booking.com, Routard, TripAdvisor and Airbnb. Customer reviews feature prominently on their website along with inspirational videos and images.
Jordan Echo Tours promotes holidays and trips on its website categorised by theme: cycling tours; classical, archaeological and historical; religious and biblical; camel and horse riding, and so on. Their website uses lots of images and videos, reviews are prominently displayed and the operator works with a wide range of local suppliers.
Myanmar
Balloons over Bagan was established in 1997 as the first hot air balloon operation in South East Asia. From one balloon they now have 12, employing more than 100 local staff. They offer flights over Bagan and Lake Inle, as well as a two-day adventure over Inle and Pindaya. This operator contributes to various community projects in the area and in other regions. The operator has included a COVID-19 Update page to inform customers of health and safety protocols along with the steps it will take in the event of an outbreak. It is promoting tours for the next six months.
Unchartered Horizons Myanmar takes guests on cycling and trekking adventures, focusing on sustainable and CBT experiences. This operator has won the Tripadvisor Certificate of Excellence for three years in a row (2017–2019), after receiving more than 266 five-star reviews. Social media feeds feature prominently on their website, which uses images and video extensively. The operator's vision is to change lives through community-based tourism initiatives that are sustainable into the long-term.
Companies in Peru
'Making Unforgettable Trips' is the strapline of Willka Travel which specialises in unconventional tourism and adventure combined with cultural, educational and natural history. Willka Travel offers tours on ATVs, horseback, rafting, flying, mountain biking and trekking. Based in Cusco, Willka Travel promotes its most popular trips prominently featured on their website. The tours can be booked online, which is instantly appealing to millennials. Their website use videos widely, including a selection of inspirational videos on the home page. They also promote their tours on blogs. In addition to working sustainably, they also support several projects in Andean communities, and offers trips for people with disabilities.
Haku Tours is based in Lima, offering personalised tours that explore Peruvian culture, cuisine and traditions, its strapline, Local Life Experiences. They offer tours in small groups of six to seven people, donating some of the profits to its non-profit sister organisation, Reciprocity NGO to support communities living in extreme poverty in the slums of Lima. Some of their popular tours include: Food & Art tour, The Shanty Town Tour of Local Life Experience, and the Lima City of Queens and Kings Tour. This operator uses a chat box feature to encourage users contact them through WhatsApp and Facebook Messenger. Visit their website to see how they use brightly coloured price tags to provide instant pricing information.
Sri Lanka
Sri Lanka Local Tours offers tours, trips, excursions and holiday packages across a wide range of themes. With a substantial amount of content on its website, the operator has positioned itself not only as a leading tour operator, but also as an important research resource for potential travellers. Use of images is liberal throughout the site and the operator has demonstrated its USP strongly on the homepage. To attract bookings, Early Bird offers of cashback are offered along with full refunds in the event of COVID-19 outbreaks at the time of travel. The operator is associated with a number of organisations, including the International Ecotourism Society (TIES) and the Pacific Asia Travel Association (PATA), and its tours have been listed on many leading international publications such as the UK's Telegraph and the US Travel+Leisure.
Traumland Tours caters to budget and luxury markets offering a range of unique, unforgettable and amazing holiday experiences such as a Classic Tour, Enchanting Sri Lanka and Sri Lanka Adventure Tour. Reasons to book with the operator are clearly laid out on the homepage using simple icons, along with inspirational videos and images. Each tour is fully itemised with inclusions and exclusions clearly described.
What products are you competing with?
The multitude of experiences, trips and experiences available on the broader adventure tourism market are your biggest competitors, along with nature and ecotourism, sun and beach tourism and SAVE tourism. You should also carefully consider CBT experiences as a competing product, as they are often included with adventure tourism travel products.
Sustainability is rapidly becoming an essential feature of many adventure trips. The abundance of competing products in the market means that you will have to work hard to create a unique selling point (USP) to stand out in the market. Read the CBI's tips for doing business with European tourism buyers to learn more about developing a USP.
Tips:
Conduct a SWOT analysis to identify the strengths, weaknesses, opportunities and threats to your business. Once you have a clear idea of how your business is perceived, you will be able to apply what you have learned to improve your assortment and attract new customers. Read this blog post for more tips on how to perform a SWOT.
Research what other operators and providers are doing in your area, so you have a thorough understanding of the market in your area.
4.

What are the prices for travel products for Generation Y travellers on the European market?

Prices for experiences and holidays aimed at millennials vary according to many factors that include time of year, duration, features and transportation mode. The impact of the COVID-19 pandemic means that prices are changing continually. The table below shows the huge variation in prices in a few competing destinations.

Table 3: Sample Prices for Trips and Holidays Targeting Millennials, 2020
| | | | |
| --- | --- | --- | --- |
| Trip | Country | Duration | Price from (€) pp |
| Day/Part Day Experiences |   |   |   |
| Traditional Balinese Cooking Class | Bali | 2 hours | 13 |
| Stargazing Adventure in Jordan | Jordan | 1.5 hours | 25 |
| Day Cruise Bagn to Mandalay | Myanmar | 12 hours | 29 |
| Cycling Tour of Islands and Rivers | Myanmar | Half day | 29 |
| Highlights of Ubud | Bali | 9 hours | 31 |
| Humantay Lake Hike | Peru | Full day | 34 |
| The Colombo Food Coma | Sri Lanka | 3.5 hours | 48 |
| River Island Trishaw Tour (local trishaw, boat and walking) | Myanmar | Half day | 49 |
| Bali Instagram Tour | Bali | 8 hours | 51 |
| Colombo to Kandy | Sri Lanka | 9 hours | 61 |
| Peruvian Cooking Lessons, Local Market Tour, Exotic Fruit Tasting | Peru | 4.5 hours | 64 |
| Jeep Tour | Jordan | 2 hours | 73 |
| Rainforest Adventure | Costa Rica | 8 hours | 87 |
| Rainbow Mountain on Horseback | Peru | 15 hours | 105 |
| Classic Jeep Tour | Jordan | 1 day | 121 |
| Classic Balloon Flight over Bagan | Myanmar | 1 hour | 300 |
| Experiences up to 1 week |   |   |   |
| Hiking and Trekking Tour to Adam's Peak | Sri Lanka | 2 days | 131 |
| Adventure Road Trip from Mandalay to Bagan | Myanmar | 2 days | 153 |
| Jeep Tour | Jordan | 3 days | 206 |
| Camel Safari from Wadi Rum to Aqaba | Jordan | 3 days | 254 |
| Sacred Valley and Machu Picchu | Peru | 2 days | 279 |
| Salkantay Trek to Machu Picchu | Peru | 5 days | 303 |
| Nazca, Paraca, Ballestas & Huacachina | Peru | 3 days | 481 |
| Tour of Yangon and Inle Lake | Myanmar | 4 days | 781 |
| Naturally Costa Rica | Costa Rica | 5 days | 827 |
| Holidays for 1-2 weeks* |   |   |   |
| Trekking Tour | Jordan | 7 days | 509 |
| Peru Express | Peru | 8 days | 2,476 |
| Rugged Adventure in Sri Lanka | Sri Lanka | 10 days | 2,541 |
| Go Off Radar in Magical Myanmar | Myanmar | 12 days | 2,563 |
| From Bali to Komodo | Bali/Komodo | 8 days | 2,684 |
| Waterfalls and Wildlife in Costa Rica | Costa Rica | 11 days | 2,958 |
Source: Acorn Tourism Consulting
*Note: Holiday prices exclude international airfares

This study was carried out on behalf of CBI by Acorn Tourism Consulting Limited.
Please review our market information disclaimer.
Search
Enter search terms to find market research