Entering the European market for accessible tourism products
When it comes to accessibility, Europeans have some of the most inclusive attitudes in the world. They want to be able to travel regardless of their disability and will often carry out extensive research to find the right destination. They often rely on specialist tour operators to help them find the right package. There are plenty of simple, low-cost changes that you can put in place to meet their needs if you want to attract European travellers with accessibility requirements.
1.
What requirements do accessible tourism products need to meet to be sold in the European market?
European tour operators need to follow strict regulations in order to sell accessible tourism products to European nationals. Sustainable tourism is another issue that is becoming more important to European buyers – both tour operators and travellers.
What requirements do buyers have?
The requirements that European tour operators need to meet for all types of tourism products in developing countries are covered in the following regulations:
The European Package Travel Directive - since the UK left the EU in January 2020, it has been reported that both the EU and the UK will make changes to the existing rules on package travel. You should follow any developments closely.
General Data Protection Regulation (GDPR) – European and UK data rules are complex and you should make sure that you understand your responsibility to protect customers' personal details.
Liability Insurance and Insolvency Protection – check and assess your liability insurance policy to make sure that it is suitable for your business and customers. You should also check that you are protected against insolvency and that your buyers' funds are protected. Most European buyers will need specific details about your insurance policies.
Sustainability and Responsible Tourism – integrating sustainability into your business operations is essential if you want to successfully attract European buyers. Learn about sustainability in tourism in this CBI study: How to be a sustainable tourism business.
Specific mandatory requirements for the accessible tourism market include the right to respect, the right to independence, the right not to be discriminated against, and the right to participate in everyday activities that non-disabled people are able to.
Today, people with disabilities or reduced mobility have the right to access air, train, bus, coach and boat travel, just like people with no disability. However, in practice, this is often not so easy.
As an accessible tourism provider, it is important to make sure that people with disabilities are treated with respect and dignity. If you follow and/or comply with European regulations, you will be able to target your accessible tourism products to European travellers.
You can take the following steps to improve your understanding of accessibility requirements in the European marketplace:
Tips:
To get an idea of what disabled travellers are looking for, read the EU legislation that protects the rights of travellers with disabilities or reduced mobility, and the EC's Transition Pathway for Tourism. These policies will give you an idea of the kind of facilities that Europeans with disabilities are looking for when travelling outside Europe.
Read about examples of best practice to inspire you to make your own plans. You could start with the ENAT Code of Good Conduct, which recognises the efforts made by tourism businesses to ensure that their products are accessible.
Study the Manual on Accessible Tourism for All written by the United Nations World Tourism Organisation (UNWTO). This outlines international legislation for accessible tourism and provides detailed case studies and other useful information for tourism businesses looking to enter the market.

Study the requirements of the ISO 20190:2021 standard and consider whether you should adopt these for your business.
What are the requirements for niche markets?
It is also important that you understand the benefits of reaching the accessible tourism market. According to the World Health Organisation (WHO), there are more than one billion people in the world who have a permanent disability, representing 15% of the world's population. This figure rises to 40% when people with temporary or short-term disabilities are included, such as people with a chronic health issue.
This is a very large market. For more information on segmentation in the market, see the section below, How is the end market segmented?
Other benefits of accessible tourism include:
On average, every two disabled people travel with one extra companion which means that you will be attracting more customers.

People with disabilities or mobility problems often take longer breaks than average and therefore tend to spend more money per trip than other types of travellers.

Accessible tourism can be less sensitive to seasonality factors, especially among older travellers, who often prefer to travel outside peak season. This means you can offer promotions to appeal to this particular group.

Operators that offer accessible tourism products are likely to improve their reputation for inclusivity and openness.
Familiarise yourself with the various types of disability and how to cater for them
Make sure you understand the different types of accessibility that your tourism business could cater for:
Physical accessibility – improve spaces and infrastructure so that people with disabilities or reduced mobility can move around freely and easily.
Communication accessibility – help people who find it difficult to communicate with others to get their message across using a variety of tools and trained staff.
Website accessibility – ensure that your website (if you have one) is easy to access by all users, including enquiries and online bookings.
70% of disabilities are hidden, so you should never make assumptions about your guests. The infographic below provides another useful accessibility checklist for tourism providers.
Figure 1: An Accessibility Checklist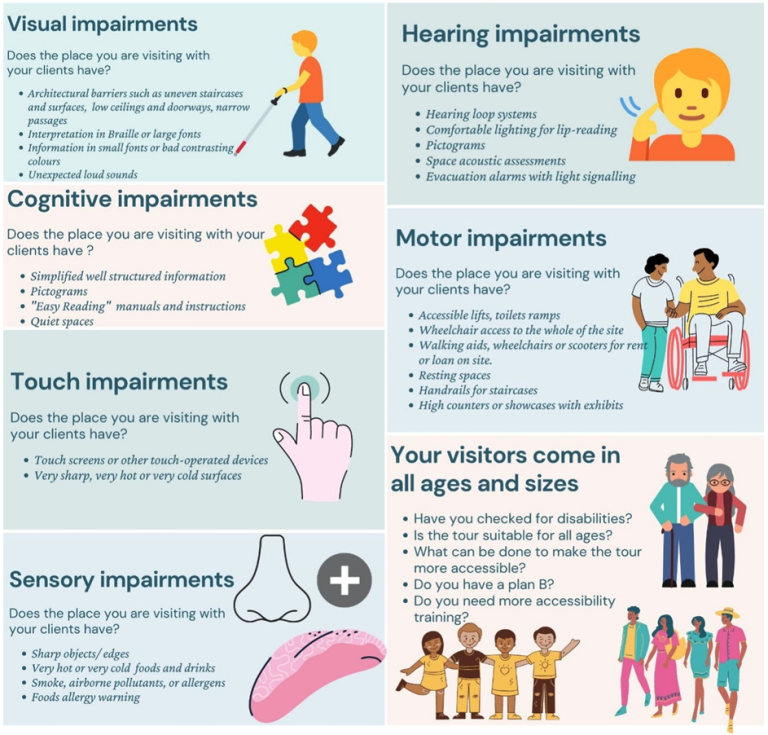 Source: European Federation of Tourist Guide Associations (FEG), Themis Halvantzi-Stringer
Requirements to make your tourism business accessible
Tourism businesses that promote accessibility can immediately appeal to a wider range of customers. Making your business accessible does not have to be expensive. There is a range of low-cost changes you can put in place quite easily and quickly.
Have a look Easy does it by VisitEngland, a six-stage process for making your business more accessible to see what you could adapt for your business. To help you understand the process, each stage is briefly outlined below.
Figure 2: Six-Stage Process to Make a Tourism Business Accessible

Source: Visit Britain/Acorn Tourism Consulting
Stage One – Attract customers
This stage refers to how you reach the accessible market through your marketing communications, including your website and other materials:
Ensure your website and all marketing communications use suitable typefaces and font sizes so that text can be read easily.

Make sure all the information is presented clearly and logically.

Use a good range of images that represent the diversity of people with different disabilities.

For printed materials, provide information in a range of formats where appropriate, including Braille and large print.

Provide audio descriptions on your website if you can. This blog on How to add audio description will give you some useful advice.
Dedicate a page on your website to describing what facilities and services you offer in the way of accessible tourism. Keep updating this as you add more. The infographic below clearly states which accessibility features a disabled traveller is guaranteed on a day tour. Of course, you will need to provide more detailed information as well. See how you could adapt your tour here: Visit to the Sacred Valley in Peru.
Figure 3: Accessibility on a Day Trip – What to Expect?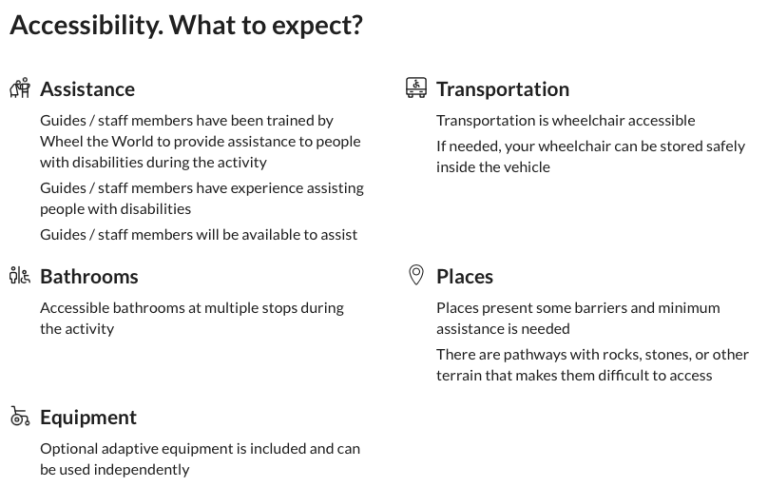 Source: Wheel the World
Stage Two – Make your enquiry and booking processes simple and clear
As everyone has different needs, you must make it easy to find your products and make enquiries and bookings. If you do so, your travel experiences will attract all types of customers.
Make it easy to contact a dedicated person in your organisation who can discuss a potential customer's individual needs. Display their phone number and contact details prominently on your website.

Make sure your prices are easy to find.

Do not charge extra for accessible facilities and services. In Europe, this counts as discrimination.

Promote free entry for carers/personal assistants.

Consider flexible tickets that allow for different numbers of adults and children, including grandparents.
Stage Three – Reduce the stress of outbound travel
People with disabilities are likely to prepare for their trip well in advance. The more information you can provide them with, the more confident they will be about booking with you. The kind of information you should provide includes:
Full address, map with location pinned.

Detailed instructions for reaching your destination. Include an online route planner if you can.

Provide web links to transport services – rail, coach, bus companies and routes, and local taxi services with adapted vehicles.

Details of any complimentary or paid transfers, if you offer these.
Stage Four – Provide a quality experience from start to finish
Many people have high expectations when they go on holiday and for people with disabilities it can also be an anxious time. To help them to feel relaxed, pay attention to first impressions and make sure that you have planned for guests' needs from start to finish.
Review how easy it is to access your shop/hotel/attraction/tour from the street. Are there handrails and/or ramps? Are paths free of obstructions or other hazards, like waste bins or broken paving stones?

Ensure that there is someone to greet the guests in a friendly, welcoming way. All staff should be well-trained in supporting people with disabilities and understanding their varied needs.

Make sure that there is adequate lighting, particularly in toilets and eating areas.

Make sure there is good signage, where needed. It must be clear, in contrasting colours and in large print if possible.

Provide interpretation in suitable formats, such as large print, Braille, and audio.

Make sure that seating is placed in suitable locations for visitors to stop at, such as on slopes, long routes or children's play areas.
Stage Five – Making a good impression on your customers
Make sure you support visitors when they leave. Travelling home or onwards to a new destination can also be an anxious time.
If your business provides accommodation, offer flexible departure times.

Offer to help with onward travel, such as taking public/private transport, or booking a taxi.

Make sure you ask for feedback and take any constructive criticism or suggestions seriously. You want to improve your services where you can for your next guests.

Remember that word-of-mouth recommendations are very important in this market – if your guests recommend you to their friends/family, that is very cost-effective marketing.
Stage Six – Monitor and evaluate all your business processes constantly
This should be a continuous process. Implementing new facilities, improving existing processes and providing on-going staff training should be a regular feature of your business maintenance programme.
Tips:
Take your time to complete the process: see what you are doing already, what you could improve, and what still needs to be implemented.

Be honest about what you can and cannot provide. Do not exaggerate any service just to make a sale. This will harm your reputation and may cause distress to your client.
Practical requirements and low-cost solutions to make your tourism business accessible
The six-step process shows that the most important practical requirement for potential customers is that you listen to what they need. Listening carefully, asking questions, anticipating issues and suggesting solutions are extremely important in this market. Everyone has different accessibility needs, and some are easy and inexpensive to cater for.
Here are some ideas for practical, relatively low-cost solutions:
Appoint a dedicated staff member to take care of accessibility: This could be an existing staff member (disabled or non-disabled) or you could appoint somebody new. Above all, this staff member must be a good listener, able to take the initiative, make decisions, and be proactive.
Train all your staff, not just the dedicated staff member. The Association of British Travel Agents (ABTA) provides an online course: For Everyone – Accessible Tourism Training – Understanding Customer Needs; it is a two-course programme for up to ten people, at a reasonable cost.
Provide contact details: Make it very clear on your website / in your marketing materials that there is a dedicated staff member for accessibility and provide their contact details.
Involve the tourist board: Find out from your local tourist board whether there are any services they can offer for the accessible tourism market, such as lending a motorised wheelchair. If not, encourage them to work with you to promote services for the accessible market.
Invest in accessibility equipment: It would be helpful to have a range of suitable products available for use by your guests that are useful for different types of disabilities. These might include a shower chair, preferably with a back rest; portable grab handles with suction grips; portable ramp; booster toilet seats; bed handles; chairs with arms; a selection of walkers/walking sticks that can be borrowed. If a customer requests something that is too bulky for them to travel with but would be inexpensive for you to purchase, add this to your inventory.
Accommodation providers: Think about where your accessible rooms are located. Disabled people do not want to be tucked away in a room overlooking a car park just because that is convenient for you. Treat them as you would a non-disabled person. See if you can provide a room with a view instead.
Accommodation providers: Include the dimensions of the bedrooms, and list facilities in the bedrooms and bathrooms on your website / in your marketing materials. Remember that wheelchair users are likely to need more space than non-wheelchair users. However, non-wheelchair users with mobility problems may find a large room too big for them to move around safely. This is an example of why it is important that you understand what the client's needs are before they arrive so you can select the most appropriate room.
Restaurant/café managers: Make sure you have some chairs with arms. It is often easier for elderly people or people with limited mobility to get up from a chair that has arms.
Beach activity providers: Find out whether any local businesses have specialist beach equipment that you can arrange for your clients to use. There are several good options, such as wheelchairs with wide wheels for use on sand, wheelchairs that can be wheeled into the sea (see image below), and flotation devices.
Mountain/cycling tour operator: Make sure you know where there are suitable trails for cyclists using adaptive bicycles. Offer a guide service.
Sightseeing tour operators: Create an accompanying audio tour for visitors with visual impairments. When it comes to audio tours, creativity is vital. Traveleyes International provides live visual tours created by well-trained guides who describe what they are seeing in a conversational manner. This is very inclusive and can be just as interesting for sighted visitors, too.
Adventure tour operators: Familiarise yourself with the activities commonly enjoyed by visitors in your area and find out whether you can arrange to offer these activities for disabled visitors. For instance, kitesurfing, paragliding and scuba diving. Read more in this blog: Adventure sports for people with disabilities.
Make your guest policy inclusive: Treat your disabled guests in the same way as your non-disabled guests. If you can offer both groups of people the same level of customer service, you will make all your guests very happy.
Figure 4: Beach-accessible wheelchair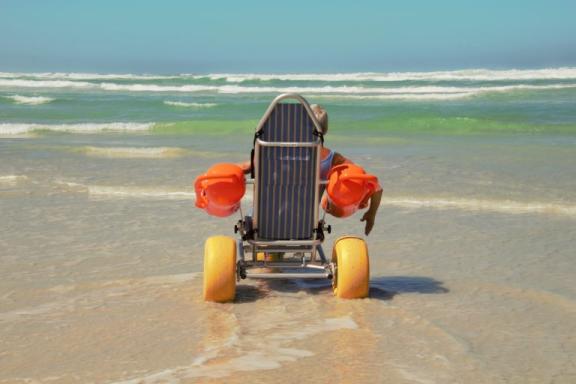 Source: Accessible South Africa
Requirement for accessibility guidelines
Developing a clear accessibility guide is an important requirement for an accessible-tour operator. The guidelines should outline everything that you do to make your business accessible. In the first instance, create a working document and then make it available to all visitors, on the website and on paper. An accessibility statement is not a legal requirement but it will help your business to attract more customers with accessibility needs.
Look at VisitEngland's Example Accessibility Guides to help you create yours. Note how much detail is included which helps potential visitors to be fully informed about what you can provide for them.
The table below gives you some ideas about what you should include, but you should also do your own research.
Table 1: Example Accessibility Guidelines for an Attraction
Example Accessibility Icons

Example Accessibility Features

 

Physical Accessibility

 

 

 

There is level access from the street and main entrance to:

 

Ticketing area and visitor information desk

The main exhibition rooms

Accessible toilet

The shop, café/restaurant

 

There is a wheelchair-accessible lift to the upper floors.

There are seating areas in the main hall and throughout the museum.

Doorways between rooms are a minimum of 860mm.

 

 

Hearing

 

There is a hearing loop in all public areas throughout the attraction.

All staff have disability awareness training.

Some staff are trained in sign language.

 

Visual

 

Glass doors and full-height windows have contrast markings.

Walls and doors have high colour contrast.

The museum is well lit, but there are some parts which have dimmer lighting. These are well-signed.

The café and restaurant menus are in large print.

There is display information in audio and Braille.

 

 

General

 

Free entry for carers/personal assistants.

Assistance dogs are welcome.

All staff have disability awareness training.

There is an emergency evacuation procedure for disabled visitors.
Source: VisitEngland/Acorn Tourism Consulting
Requirements for web accessibility
In Europe and the UK, it is a legal requirement for public and private companies to make their websites and/or mobile apps accessible. The Equality in Europe Act and the UK's Equality Act (EqA) are the legal basis for this. The Web Content Accessibility Guidelines (WCAG) are an international standard to make web content more accessible to people with disabilities. The current standards are outlined in WCAG 2.0, 2.1 and 2.2 (the latter is due to be finalised in  early 2023).
The WCAG standards have 12 guidelines that are organised under a set of four principles (Perceivable, Operable, Understandable and Robust), and each guideline has specific success criteria that are measurable.
Tip:
Familiarise yourself with these standards and ensure that your website content developer has implemented accessibility features in your website that match these standards.
2.
Through which channels can you get accessible tourism products onto the European market?
The most important sales channels for accessible tourism products are specialist European tour operators. These offer a wide range of products and are experts in accessible tourism. Probably more than any other niche, they understand the needs and concerns of people who have disabilities and will not sell any product to them unless they have 100% confidence in it.
How is the end-market segmented?
The market for accessible tourism comprises three main subsegments of tourists, as shown in the figure below.
It is important not to assume that the accessible tourism market is all about providing access for wheelchair users. In fact, it is much, much bigger than that. There are many groups of people who experience a range of long-term and short-term difficulties, who need access to suitable travel products.
Figure 5: Accessible tourism market by subsegment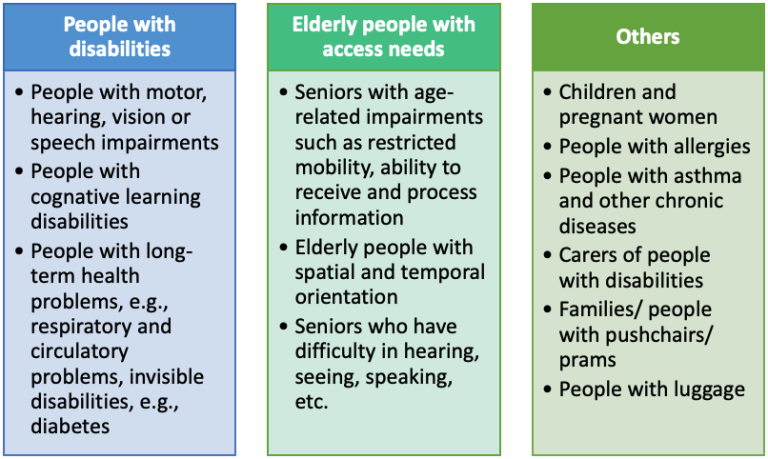 Source: Acorn Tourism Consulting
Target Europe's ageing population
Europe has an ageing population. In 2021, more than one fifth (20.8%) of the population of the EU was aged 65+. By 2040, 155 million people are expected to be over 65. This is a large group of potential travellers.
This group are also known as Baby Boomers (the generation born between 1946 and 1964, now aged between 58 and 77). This is one of the wealthiest consumer groups today, with both the time and the money to spend on travel. Baby Boomers also tend to be keen on authentic, unique experiences, and they often like to try new things.
They are therefore a good target group for local operators, and one way to target them is by ensuring that services are accessible to older travellers.
Through which channels do accessible tourism products reach the end market?
The main distribution channels for accessible travel are travel agents or tour operators that specialise in providing accessible travel products. These are often staffed by people with disabilities or who have personal experience of the market. This means they are experienced and know what they need to provide for their customers. The table below outlines a few of the specialist European tour operators on the market.
Table 2: European Travel and Tour Operators Specialising in Accessible Tourism
European Travel and Tour Operators

Accessibility Features

BEHANDI Travel Agency (France)

Travel agency that provides assisted trips for people with disabilities

Adapted transfers, wheelchair-accessible accommodation, bilingual speakers (French, English, Spanish), medical equipment set up at accommodation, wheelchair accessible excursions and restaurants

Comptoir des Voyages (France)

Tailor-made trips for those with a disability or reduced mobility.

Destinations outside Europe: Morocco, South Africa, Egypt, Vietnam, Bali, India

Disabled Accessible Travel (Netherlands/Spain)

Designs custom travel plans to more than 100 destinations, including India, South Africa, Turkey

Has an international team and provides a local service

Also arranges accessible shore excursions

Has a comprehensive blog section that provides destination accessibility information for several holiday destinations

Created the accessaloo app which maps accessible toilets; users can find, add and save accessible toilets while on the go

Disabled Holidays (UK)

The UK's largest accessible holiday specialist

Guaranteed accessible accommodation

Adapted transfers

Destinations outside Europe: Thailand, Morocco, Costa Rica, South Africa

Enable Holidays (UK)

Tailor-made holidays for wheelchair users

Adapted facilities: adapted transfers, disabled parking, wheel-in shower, shower chair, grab rails, electrically operated bed for hire, ramp into pool, pool hoist, Roman-style steps into pool

Holiday styles: beach, cities, luxury, tours, villas

Limitless Travel (UK)

Founded and run by people with disabilities

All destinations, transportation, hotels and excursions are personally assessed by experts to guarantee high standards

Destinations outside Europe: Mexico, Thailand, Morocco, South Africa, Kenya, Costa Rica

MundoRado Travel (Netherlands)

Group and individual travel for adults (18+) with a physical disability, mobility limitation or brain injury

Also offers adventures for those who would like to visit a destination that is less easily accessible for people with disabilities

Runa Reisen (Germany)

Travel experts for wheelchair users

Special offers for those in need of care

Accessible rooms guaranteed

Medical aids on site

Comprehensive travel insurance

SET-Travel (Netherlands)

Guided holidays for people with physical and learning difficulties, arranged by level of support required, depending upon the disability

Also trips for specialist groups like people with autism, epilepsy and diabetes

TUI (Germany)

Europe's largest travel agent

Holiday planning service for disabled travellers and more than 150 properties with accessible rooms

Detailed information provided on accessibility features in suitable hotels and resorts
Source: Acorn Tourism Consulting
Making sales directly to FITs (fully independent travellers) is another sales channel. FITs want to plan their own holiday and do a lot of planning and research before booking anything. They are very independent, knowledgeable about their abilities and determined, but they need to be sure that their needs can be fully met and will not book anything unless you can tell them exactly what they can expect.
FITs will consult a range of information online such as Lonely Planet's Accessible Travel Online Research.
Influencers and bloggers are often sources of inspiration for FITs. Feedspot's 15 Best Disability Travel Blogs and Websites 2022 is collated from thousands of internet blogs.
Celebrities also influence the disabled travel market. Frank Gardner is a well-known BBC journalist and has been very honest about the difficulties he faces travelling on airlines and through airports as a wheelchair user. Disabled sports people are another source of inspiration for FITs, such as the skier Sophie Elwes and the equestrian Claire Lomas.
Instagram is a good source of posts about travelling with a disability. Sophie Morgan, a British TV presenter, regularly posts about her experiences, for example.
Another interesting channel is Wheel the World, a specialist OTA (online travel agent) that features accessible travel products on its platform, and is seeking partners to describe their experiences. Responsible Travel is another OTA that promotes accessible trips and holidays.
Charities and non-profit associations that support disabled groups are another good source of information for travel research, including ENAT and Tourism for All. Back Up is a UK charity specialising in supporting people with spinal cord injuries.
Tips:
Analyse the websites of Accessible Tour Operators to see whether you could offer suitable tours and become a supplier.

Do your own research to find support groups and charities in Europe to see what travel advice they offer to members of their target groups.
What is the most interesting 

channel

for you?
It is important to explore all channels as interesting prospects. The best thing to do is to contact the European tour operators to discuss how you can sell your products to them. They are always looking out for suppliers who can provide high-quality accessible tourism products.
You should also look at disabled travel resources websites, including relevant influencers and bloggers that provide information and resources for people researching their trips abroad. Consider contacting them to talk about what you provide, and offer a FAM trip (familiarisation trip). FAM trips are common in the travel sector and are a good way to get your business noticed.
Have a look at these websites, but do your own research too:
3.
What competition will you face on the accessible tourism market?
Many destinations are starting to see the potential of the market for accessible tourism. Most developing countries are in the early stages of developing their legislation on accessibility. This section provides a snapshot of what is happening around the world. The examples of countries and companies show that small-scale initiatives can make a big impact on your business.
Which countries are you competing with?
Your main competitors are Argentina, Costa Rica, Ecuador, India, South Africa and Thailand. Accessible tourism in developing countries is less developed than in Europe. In many cases, there is limited infrastructure and no suitable accommodation for wheelchair users or for those with impaired eyesight or hearing. Some countries in South and Central America are raising awareness of the need for accessibility initiatives. India is a good example of a destination that is working to put plans in place to support its huge, ageing population.
Argentina
Buenos Aires has a proactive attitude towards accessible tourism. It has an Accessible Tourism Guide available in English, Spanish and Portuguese, which offers plenty of detail about the market. The guide was produced in association with COPIDIS (Commission for the Full Participation and Inclusion of Persons with Disabilities) and the national tourist office. Buenos Aires aims to be recognised as the most inclusive city on the continent, and is already said to be one of the most wheelchair friendly destinations in South America.
Costa Rica
Costa Rica was one of world's first destinations to promote sustainable tourism and it is working towards 'universal accessibility tourism'. This is a key feature of sustainable tourism. The Costa Rica Accessible Tourism Network was pioneered by a local tour operator. It works with local people, hotels, tour operators and activity providers to help develop inclusive holidays for people with different types of disability.
The Network is working to improve accessible tourism in the country. It has pioneered new initiatives including an alliance with Airbnb in 2021 to promote accessible tourist accommodation. An international tourism e-learning programme was launched for the tourism sector. It was developed in conjunction with the Argentinian Institute Noun Eventos y Capacitacion Executive, the State Distance University (UNED), and the Costa Rican Tourism Institute (ICT).
Ecuador
Ecuador has become more accessible in recent times. Ecuador understands that to attract both local and international visitors, projects must be sustainable, accessible, inclusive and good quality. The Ministry of Tourism (MINTUR), the National Council for Disability (CONADIS) and the National Federation of Ecuadorians with Physical Disabilities (FENEDIF) are working together to position Ecuador as an accessible and inclusive tourist destination. This was the objective of the Public Policy for Accessible Tourism 2030.
The market is supported by several tour operators that offer holidays for disabled people in Latin America, and Quito has several accessible hotels.
India
Accessibility and inclusion are seen as a priority in India, as the country expects its elderly population to increase by 41% to 194 million by 2031. The Ministry of Tourism also recognises the business potential of developing the market and is currently developing Accessible Tourism Guidelines for India, to identify best practices and acceptable standards for accessible tourism.
The Accessible India Campaign was launched in 2015 to ensure accessibility into several sectors, including tourism. As a result, all new hotels are required to make their premises accessible. In addition, a joint public-private initiative to create barrier-free tourism at major heritage sites has been launched, called Adopt a Heritage. To date, 106 locations including heritage, natural and tourist sites have been deemed 'barrier-free' tourist destinations, and many more have registered to join the scheme.
South Africa
South Africa's reputation as a destination for accessible tourism is growing. At the end of 2021 a new initiative was launched to encourage businesses to improve the accessibility of accommodation, restaurants, public bathrooms and public spaces. This is being coordinated by the Tourism Grading Council of South Africa (TGCSA) and South African Tourism (SAT), who want to work with a broad range of stakeholders to make more places accessible.
Many accessibility features are included in parks managed by South African National Parks (SANParks). Several chalets and cottages in the popular Addo Elephant Park are wheelchair accessible. A Discovery Trail enables wheelchair users to complete a short trail along a boardwalk through a natural habitat in the park. Several bird hides are also accessible to people with mobility impairments.
Thailand
In Thailand, the Minister for Tourism has sponsored the creation of nine accessible itineraries in Thailand. Although currently only available in Thai, it is understood that these are being translated into English.
The Minister made this commitment to improving accessibility for tourists at the 2016 UNWTO World Tourism Day conference in Bangkok entitled 'Tourism for All: Promoting Universal Accessibility'.
Top beach destination Hua Hin has created a Wheelchair Accessibility Map in Google My Maps, which lists a variety of accessibility features including toilets, beaches with disabled access, accommodation with wheelchair access.
Key takeaways:
Find out whether your country or region has any accessible tourism guides and whether there is a way of partnering with them.

Research national disability organisations in your destination/country and link up with them to promote accessible tourism.

Download and study the draft Accessible Guidelines for India to see how you could adapt your business. They are full of useful information for local operators, best practices and acceptable standards.
It is easy to create an accessibility map for your destination using Google My Maps – all that is needed is someone with time and patience. Once created, be sure to pass the link on to the tourist board and encourage them to feature it on their website.
Which companies are you competing with?
Argentina
Iguazu National Park is a national park with good accessibility. Visitors board a Green Train, which has wheelchair access. In the park, visitors can use small electric vehicles and specially adapted wheelchairs suitable for the paths. Staff at the park are appropriately trained to support people with disabilities, and there are regular training updates.
Other facilities include ramps, suitable flooring inside buildings, accessible bathrooms with low sinks and railings, wide doorways, and signs in Braille. Families with young children can borrow pushchairs.
The Iguazu Falls Park has a very good reputation as an inclusive destination, which helps to attract visitors. Its 'Maximum Accessibility' status makes it attractive to tourists seeking an accessible destination.
Costa Rica
Il Viaggio Travel is a highly experienced accessibility operator and organises adventure, outdoor and/or cultural day trips and packages. Its website is full of inspirational images and the information provided is very detailed, helping potential customers to be confident that their needs will be met.
There is also a blog on the website with interesting features such as 'My most adventurous clients' and 'Do you know about Joëlette chairs' – one-wheeled chairs used for hiking and trekking in more difficult terrain. Il Viaggio is a strong operator as it inspires travellers of all abilities. It was one of the first operators to design and promote accessible trips in Costa Rica, and created the Accessible Tourism Network of Costa Rica.
Jungle Crocodile Safaris is a family-run operator that provides authentic boat safaris on the River Tárcoles – for bird watching, crocodile spotting and photography cruises. It is a good example of a small, specialist operator that has made its services accessible. Its boat is wheelchair accessible, and restrooms and restaurant facilities are also accessible. This makes it a good choice for groups of visitors who may have a range of accessibility needs.
On its website this operator includes plenty of links to Tripadvisor reviews and several social media platforms. It has also created a location map using Google My Map, which also includes some helpful instructions on getting there.
Ecuador
Latin America for All offers sustainable and accessible tours to Argentina, Ecuador and Peru. Its tours are authentic experiences, aimed at people with disabilities and their families and friends. The operator works closely with all suppliers to ensure sustainability through fair wages and care for the environment, and to provide a unique experience. The operator also ran its first accessible scuba diving experience in the Galapagos Islands in 2019.
The tours offered are categorised into slow mobility (suitable for wheelchair users), tours for visually impaired people, and sign language tours. This operator posts regularly on Facebook and Instagram.
Huasquilla Amazon Lodge has seven wheelchair accessible bungalows with roll-in showers and concrete paths trailing through the site, linking with other areas of the lodge. There is a lift into the swimming pool, and off-road wheelchairs are available to borrow. The Lodge offers two types of accessible programmes for its guests, a Classic Programme that is a combination of nature, adventure and culture, and a Pure Adrenaline Programme which offers activities such as rafting.
This operator has anticipated the needs of the more adventurous tourists with mobility needs, and is inclusive and responsive to the sector.
India
Aura Voyages promotes an abled traveller programme (ATP) to provide wheelchair travel in India. Its trips are tailor-made and come with accessibility guarantees across a range of services. Destinations are mainly in Delhi and the cities of Jaipur, Agra and Jodhpur in Rajasthan, which are well-known for offering good accessibility. There are also cultural excursions that are suitable for wheelchair users, such as trips to markets, visits to monuments and spending a day at an elephant sanctuary.
This operator personally inspects accommodation to ensure the quality of accessible rooms, even bedrooms in international hotel chains. Aura Voyages includes the full economic, environmental and social details of its responsible travel policies on its website. It is important to show your customers that you understand the issues of sustainability and responsibility in tourism.
Accessible India Tours by Royal Indian Voyages is a subsidiary department of an inbound Indian tour operator. The operator makes its 'Commitment to Excellence' evident through detailed product knowledge, good customer service and attention to detail. It has a 100% accessibility guarantee for accommodation and bathrooms, personal health support, swimming pool access and equipment, and mixed-terrain mobility.
However, its website does not focus on disability, but it does promote authentic and accessible tours for people of all abilities. This is a good example of how tour operators can promote inclusivity.
South Africa
Accessible South Africa is a portal for showcasing accessible tourism in South Africa. It partners with many suitable providers to promote universal access and create experience-based opportunities for people with different abilities. Its website features listings of accommodations, activities, tour operators and transport providers all over the country. Suitable businesses are invited to list their business.
The website has plenty of useful articles about places to visit and the measures in place for the accessible tourism market. Videos also help reinforce messages and inspire people with disabilities. The website makes it very clear who it is aimed at using these simple infographics. This is very helpful for disabled people who want to know that their needs will be met properly.
Figure 6: Accessible South Africa's target market

Source: Accessible South Africa
Epic Enabled specialises in accessible safaris and promotes its tours as being 'for everyone' – disabled and non-disabled alike. This is a very inclusive way to promote a business. The operator uses an inspirational strapline to encourage people with disabilities to travel – 'Don't let disability keep you from travelling' – which conveys a strong, 'can do' message.
The information they provide on their website is very detailed and full of useful information to help potential customers make decisions. Full contact details are available on every page and the text throughout the website encourages users to contact them with any queries.
Thailand
Tripseed is a local operator that has recently launched a range of accessible tours. Some are new tours, while others are based on existing popular trips and have been adapted for the accessible tourism market. To do so, the operator has carried out accessibility audits across accommodation establishments, locations and transportation. Because of its detailed understanding of what all suppliers can offer, Tripseed can recommend the most suitable options to customers honestly, based on their needs.
The operator also employs guides who are trained in American Sign Language (ASL), British Sign Language (BSL), and Thai Sign Language (TSL), as well as guides trained to help with visual impairments. Tripseed's vision is to remove barriers to travel, making the industry more equitable, diverse and inclusive.
Key takeaways:
The most successful tour operators use social media to reach potential customers. Posting regularly on social media platforms is good marketing practice as positive posts and inspirational images and videos drive people to your website, where they make enquiries and bookings.

Adapting the most popular trips for the accessible market is a very inclusive option. It shows that you understand that people with disabilities often enjoy the same things as people with no disabilities.

Tour operators that serve the accessible market provide very detailed information. This is important, so that customers have all the information they need to make a decision.

Make sure you publicise the actions you take in the area of sustainable tourism on your website. To find out more about this, download the CBI study entitled How to be a sustainable tourism business.
Which products are you competing with?
Accessible tourism is a very specific market. Your main competitors are other tourism operators in the same market. Monitor what competing businesses are doing to see whether you can identify any gaps or provide a similar service with a difference.
What are the prices for accessible tourism products?
The cost of accessible tourism products includes many components including transportation, guiding/staffing, admission fees, food and beverages, loan fees for specialist equipment and so on. However, it is important that you do not charge extra for things like a menu in Braille or an accessible room – in Europe this is considered discrimination.
The table below gives you an idea of the different prices on the market.
Table 3: Example prices of trips and holidays on the accessible market, 2022
| | | | |
| --- | --- | --- | --- |
| Tour | Country | Duration | Price pp € |
| Table Mountain, Cape Town | South Africa | 3 hours | 50.00 |
| San José City Tour | Costa Rica | 6 hours | 146.00 |
| Private Accessible Tour in Buenos Aires | Argentina | 3 hours | 164.00 |
| Accessible Beach and Adaptive Surfing | Costa Rica | 8 hours | 220.00 |
| Iguazu Falls Slow Mobility Tour | Argentina | 3 days | 391.00 |
| Visit to the Sacred Valley | Peru | 7 hours | 507.00 |
| Accessible Tour of Delhi | India | 5 days | 800.00 |
| South Africa Wine Tasting | South Africa | 7 days | 1,175.00 |
| Accessible Kruger Safari | South Africa | 8 days | 1,911.00 |
| Wheelchair Accessible Heritage Tour | India | 13 days | 2,080.00 |
| San José, Arenal, Manuel Antonio | Costa Rica | 7 days | 2,250.00 |
| Visually impaired tour | Ecuador | 12 days | 2,440.00 |
| Wheelchair Accessible Holiday | Costa Rica | 12 days | 2,440.00 |
| Wheelchair Accessible Kerala | India | 10 days | 2,500.00 |
| Accessible Rajasthan | India | 12 days | 2,500.00 |
| Sign Language Tour | Peru | 12 days | 3,223.00 |
| Ecuador and Galapagos Slow Mobility Tour | Ecuador | 12 days | 4,297.00 |
Source: Acorn Tourism Consulting
This study has been carried out on behalf of CBI by Acorn Tourism Consulting Limited.
Please review our market information disclaimer.
Follow us for the latest updates
Search
Enter search terms to find market research