What is the demand for coffee on the European market?
Europe has a large market for coffee and offers interesting opportunities for suppliers worldwide. To select the most suitable market for you, it is important to know the quality and volumes of coffee you can offer and how they match demand. Unique, high-quality coffees are best suited for the specialty market. Producers of larger volumes of good-quality coffee may find the most interesting opportunities in mid-range markets, where certification plays an important role.
1.

What makes Europe an interesting market for coffee?

Europe has a large coffee market, accounting for about one-third of global consumption. Although consumption is expected to stabilise over the long term, Europe will remain attractive to coffee exporters. Europe's growing specialty coffee market offers especially interesting opportunities. You can compete in this segment by focusing on quality rather than price and by establishing long-term relationships. The statistical analysis in this document is for green coffee beans. It uses HS code 090111 (Coffee, not roasted, not decaffeinated).
Europe is the world's largest coffee market
Europe accounted for 32% of global coffee consumption in 2021, amounting to an estimated 3,252 thousand tonnes of coffee. This makes Europe the largest coffee market in the world. Asia-Pacific ranks second, with a market share of 24%, followed by Latin America and North America, both with market shares of 19%.
Between 2017 and 2021, Europe's coffee market remained fairly stable, growing slightly at an average annual rate of 0.3% in volume. Overall, demand in Europe is expected to remain stable in the long term as the European coffee market is saturated. However, specific demand for higher-quality coffees is expected to increase at more significant rates.
*Data for 2020 and 2021 are preliminary estimates
Europe is the world's largest green coffee importer
As the world's largest coffee market, Europe is also the world's largest green coffee importer. Although European imports experienced a sharp drop in 2020 due to the global COVID-19 pandemic, coffee imports recovered in 2021 to pre-pandemic levels. Total European imports of green coffee amounted to over 3,602 thousand tonnes in 2021, showing an average annual increase of 1.6% between 2017 and 2021.
The value of green coffee imports decreased slightly during the same period, by 0.4% on a year-to-year basis, reaching €8.7 billion in 2021. This drop in value reflects coffee price fluctuations resulting from world market supply and demand, unforeseen events, volatility in currency markets and investments in coffee commodities by hedge funds and pension funds. Extreme weather conditions, the rising price of shipping containers and production declines in major producing countries are other factors that have pushed up prices and affected the New York and London coffee futures markets, to which most coffee trade is connected. Specialty coffee is the exception, which is traded with a differential above futures market prices and sidesteps most volatilities of the bulk market. Specialty coffee may also be traded at a flat rate negotiated between the buyer and seller, without reference to the futures market price.
European importers sourced approximately 86% of their green coffee beans directly from producing countries in 2021, amounting to 3.1 million tonnes.
In 2017, the share of direct imports was slightly higher, at 88% of total imports (3.0 million tonnes). The largest direct importers from producing countries in 2021 were Germany (34% of total European imports) and Italy (19%). Belgium (11%) and Spain (7.4%) followed as the third and fourth-largest direct importers. Intra-European trade accounted for 14% of European supplies in 2021, amounting to 487 thousand tonnes.
Highest per capita coffee consumption in the world
The European Union (EU) has one of the world's highest average annual per capita consumptions, at just above an estimated 5 kg of coffee per person, per year. Luxembourg has the highest per capita coffee consumption in the world, averaging over 11 kg per person, per year. However, Luxembourg is a small country and much of its workforce actually live and commute from abroad. It is likely that they are included in this figure, thus giving a skewed picture. Nevertheless, Luxembourg's high coffee consumption is also driven by the wealth of coffee experiences available in the country, inspired by various different coffee-loving cultures, including French and Italian. In fact, more than 60% of the population is estimated to drink at least 2 cups of coffee a day. Other large coffee-consuming countries are the Netherlands and Finland, at 8.2 kg per person, per year, followed by Sweden at 7.7 kg, Denmark at 7.4 kg and Norway at 6.8 kg.
Average per capita consumption in these specific European countries is expected to remain stable. These countries offer interesting opportunities for exporters in producing countries, also because consumers are increasingly drinking high-quality coffees. This is largely led by the strong growth of consumption at specialised coffee shops in Western Europe, where mainly high-quality coffees are served. Between 2018 and 2020, the number of coffee shops serving specialty coffee in Western Europe increased by 18%, amounting to 24,290 coffee shops in 2020. In that same year, European coffee shops saw sales of €5.7 billion.
Major market for specialty coffees
Europe is the largest and most important market for specialty coffees, alongside the United States of America. This is reflected in the large and still growing number of specialty roasters, coffee shops and local coffee brands in Europe. European coffee consumers are also becoming more knowledgeable and demanding. In general, coffee shops and small and medium-sized coffee roasters are leading the way in introducing high-quality coffees.
In 2020, demand for specialty coffee was lower than usual across Europe due to the COVID-19 pandemic. Although online sales showed growth, the effects of social distancing measures and consumer health concerns resulted in a decline of out-of-home consumption. However, despite this decline during the pandemic, interest in high-quality coffees across Europe remained strong.
Before COVID-19, it was estimated that the branded coffee shop market in Europe would continue to grow at an average annual rate of 3.9% from 2020 to 2025. In 2021, this forecast was readjusted to an average annual growth rate of 2.9%. In 2021, the European branded coffee shop market grew by 3.2% to a total of 40,675 outlets.
The growing European interest in both Arabica and Robusta specialty coffees means there are more opportunities for suppliers. These opportunities are especially interesting for exporters that can consistently supply high-quality coffees that meet Q Arabica (Specialty Grade) and Q Robusta (Fine Robusta Grade) standards. You can read more about the specialty market in the market segment section below and in our study about specialty coffee on the European coffee market.
Besides specialty coffees, Europe is also a major market for certified coffees. Read more about both the specialty market and the market for certified coffees in section 3 of this study.
Figure 4: Example of a specialty coffee shop in Europe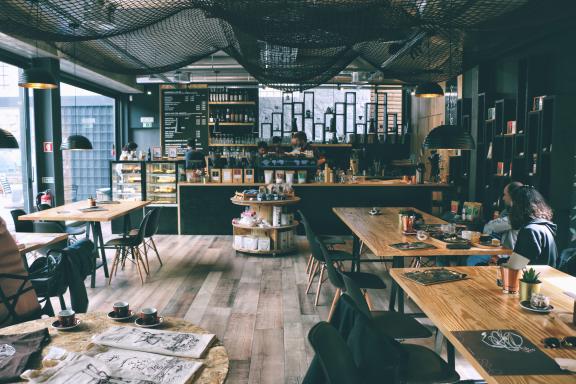 Photo by Petr Sevcovic on Unsplash
Europe has a large coffee-roasting industry
Europe is home to many coffee roasters of all kinds and sizes. However, the European market is dominated by a few large multinational roasting and grinding companies, namely Nestlé (Switzerland), JDE Peet's (the Netherlands), Melitta (Germany) and Lavazza (Italy), as well as Starbucks (United States) and Strauss Coffee (Israel). The world's top 10 roasters roast about 35% of the world's coffee.
According to PRODCOM figures, Italy has the largest coffee-roasting industry in Europe, with a sold production volume of 595 thousand tonnes of non-decaffeinated roasted coffee in 2020. Germany has Europe's second-largest coffee-roasting industry, with a sold roasted coffee production volume of 555 thousand tonnes. The Italian and German roasting industries are followed by France, the Netherlands, Spain and Sweden.
Europe is the world's largest exporter of roasted and ground coffee. Europe accounted for about 85% of the total global volume of roasted coffee (excluding decaffeinated) exports in 2021, amounting to an estimated 1.1 million tonnes.
Between 2017 and 2021, European exports of roasted coffee grew at an average annual rate of 4.3% in volume. In 2021, the largest roasted coffee exporting countries in Europe were Italy and Germany, with market shares of 25% and 23%, respectively. Other large European exporters of roasted coffee include Switzerland (9.6% of European market share by volume), the Netherlands (9.5%) and Poland (5.7%).
Impact of Russia-Ukraine war on European coffee trade
The Russia-Ukraine war has had some impact on the European coffee industry. The level and extent of the impact continues to change in response to developments and aspects related to the war such as rising energy prices and fluctuations in commodity markets and currencies.
One area affected by the war is relationships between European traders and roasters and the Russian market. For instance, Finnish coffee roaster and brand Paulig withdrew from the Russian market in May 2022 due to the war, selling its roasting operations in Russia to a private investor. Green coffee supplies from Paulig to the roaster were subsequently phased out over three months.
Overall, however, the impact on the green coffee trade from Europe to Russia has been limited. This is because Russia has developed direct trade relationships with producing countries over the years, and almost all of its green coffee imports are sourced directly from global suppliers in Brazil, Vietnam, Indonesia, Colombia and Ethiopia. The main coffee-supplying countries have not banned green coffee exports to Russia. However, EU sanctions on Russia have reportedly affected coffee trade routes into Russia, causing supply shortages there.
In this respect, the war's impact on the Russian market is more severe. In addition to the increased difficulty of importing green coffee, the devaluation of Russian currency and inflation rates are also affecting the Russian coffee market, and especially its specialty coffee market. Market uncertainties and delayed payments have led Russian importers to limit the amount of credit offered to smaller roasters, making it difficult for them to source expensive coffees. Moreover, consumers have turned to cheaper alternatives such as instant coffee, produced from cheaper Robusta coffee varieties. These developments are likely to affect higher-quality coffee suppliers' access to the Russian market. 
In Ukraine, green coffee demand has been deeply affected by the war. Besides decreasing sales and operational challenges, the coffee trade itself has been re-shaped. Up until February 2022, Ukraine's green coffee imports were sourced mainly directly from producing countries, with the largest shares coming from Brazil and Colombia. According to ITC Trade Map, this changed from the second quarter of 2022 onwards, and now most Ukrainian imports are being sourced from the European Union, especially from the Netherlands and Germany.
2.

Which European markets offer most opportunities for coffee?

Europe offers many opportunities for coffee exporters. The countries with the most potential have a mix of positive characteristics: they import large volumes, including a significant share sourced directly from producing countries, they import from a variety of coffee suppliers, they are active distributors of green coffee beans and they have growing markets for specialty coffees. Germany, Italy and Belgium stand out as the most interesting markets for green coffee exporters. However, France, Spain and the United Kingdom are also very attractive markets. Eastern European markets are smaller and have fewer direct links to producing countries, but are growing fast.
Germany is Europe's all-round most important coffee player
Germany is the largest importer of green coffee beans in Europe. In 2021, Germany imported over 1.1 million tonnes of green coffee. Germany accounted for 34% of all European coffee imports sourced directly from producing countries. At 39% of total direct imports, Brazil is the largest supplier of green coffee to Germany, followed by Vietnam (19%) and Honduras (8.2%). Overall, the direct import volumes of German green coffee were fairly stable in recent years, with a slight 0.4% increase between 2017 and 2021.
Most green coffee beans enter Germany via the Port of Hamburg. The ports of Bremen and Bremerhaven are also important entry points for coffee. As the largest importer in Europe, Germany is a potential destination for exporters of various qualities and origins, which are either roasted locally or re-exported to other markets.
Germany plays a major role in green coffee re-exports in Europe, making it a key coffee trade hub in Europe. About 36% of total EU intra-trade exports were re-exported by Germany alone, amounting to 208 thousand tonnes in 2021. German intra-EU coffee exports increased by an average of 1.9% between 2017 and 2021. The main destinations for Germany's green coffee re-exports in 2021 were Poland (86 thousand tonnes), the Netherlands (22 thousand tonnes), the Czech Republic (14 thousand tonnes) and France (11 thousand tonnes).
Germany has the second-largest coffee-roasting industry in Europe, after Italy, supplying roasted coffee both for domestic demand and for export. Large-scale coffee roasters in Germany include Melitta and Tchibo. In 2021, Germany was the second-largest roasted coffee exporter in Europe (after Italy), with exports amounting to 255 thousand tonnes. The main destination markets for roasted coffee were Poland (almost 40 thousand tonnes), the Netherlands (26 thousand tonnes) and France (23 thousand tonnes).
Germany's annual per capita coffee consumption averages 5.4 kg. Though not the highest in Europe, this is still above the European average (5 kg). The German market for specialty and high-quality coffee offers especially interesting opportunities for exporters in this segment. Germany has the second-largest branded coffee shop market in Europe, and Europe's second-largest market for shops specifically focused on coffee, after the United Kingdom. Germany is Europe's largest market for organic produce as well, creating interesting opportunities for organically-certified coffee exporters. Note, however, that Germany is also the most competitive organic coffee market in Europe.
Italy has a strong coffee-roasting industry
Italy is the second-largest importer of green coffee beans in Europe, surpassed only by Germany. In 2021, Italian green coffee bean imports reached a volume of 617 thousand tonnes. Italian imports increased at an average annual rate of 2.3% between 2017 and 2021.
About 97% of Italian imports are sourced directly from coffee-producing countries. The main supplier of green coffee to Italy is Brazil (184 thousand tonnes), followed by Vietnam (129 thousand tonnes) and Uganda (101 thousand tonnes). In general, Italy imports a relatively large share of Robusta varieties, which are used as a basis for espresso blends. Green coffee beans are mainly imported via the Port of Trieste and Ports of Genoa.
Italy has the largest coffee-roasting industry in Europe. Almost all of Italy's green coffee imports stay in the country and are used by the very strong Italian coffee-roasting industry. Large Italian roasters, such as Lavazza, Segafredo and Illy, export substantial amounts of Italian coffee blends to destinations all over Europe and the United States. This means Italy has a high demand for green coffee from producers and exporters worldwide.
Italy was Europe's largest roasted coffee exporter in 2021, exporting 273 thousand tonnes. The volume of Italian roasted coffee exports increased at an average annual rate of 6.9% between 2017 and 2021.
Italy also has a relatively large consumer market. Coffee is an integral part of Italian culture, where the average person consumes 4.9 kg of coffee a year. The specialty coffee market in Italy is only slowly taking off, with no more than an estimated 100 specialty coffee shops (serving high-quality and unique coffees), compared to almost 150 thousand coffee bars. In 2021, the Specialty Coffee Association in Italy launched the Coffee Boom event to promote specialty coffee and boost end-consumer recognition and appreciation of its quality. Despite being a small niche market, the gradual spread of specialised coffee roasters and shops may create interesting opportunities for high-quality coffees with special origins and unique stories.
Belgium as a trade hub for coffee in Europe
Belgium is Europe's third-largest green coffee importer. It accounted for 8.8% of all green coffee imports to Europe in 2021. An 88% share of the country's green coffee imports was sourced directly from producing countries in 2021, amounting to 333 thousand tonnes.
Brazil was the largest supplier of green coffee to Belgium, with 127 thousand tonnes in 2021. Honduras ranked second, supplying 45 thousand tonnes of green coffee, followed by Vietnam, with 33 thousand tonnes. Overall, the volume of direct green coffee imports to Belgium increased at an average annual rate of 5.4% between 2017 and 2021.
Belgium is one of the main trade hubs in Europe for coffee. Over 78% of these imports are re-exported, amounting to 298 thousand tonnes of green coffee re-exports in 2021. This makes Belgium the largest re-exporter in Europe, with a 46% share of total European green coffee re-exports.
Belgium's main export destinations are its direct neighbours, with the Netherlands accounting for about 44% of re-exports in 2021. Large, specialised Dutch coffee importers often use Belgian ports for their operations. Other re-exports went to France (28%), Spain (6.3%) and Italy (4.3%).
Belgium's important role as a coffee importer and re-exporter is largely due to storage capacity at the Port of Antwerp. This is the largest storage site for coffee in the world, with space for more than 250 thousand tonnes of coffee at a time. The Port of Zeebrugge is another entry point for coffee. It offers large temperature-controlled storage facilities and is a distribution platform for green coffee throughout Europe, with transports by rail, road and sea. In early 2021, the two ports agreed on a merger and now operate jointly under the name Port of Antwerp-Bruges. This has further cemented Belgium's position as a key coffee trade hub in Europe and one of the leading destinations for coffee exporters targeting European markets.
Eastern Europe gaining importance as a green coffee destination
Eastern European countries show significant market potential for coffee exporters. Consumption is still well below that of Western Europe, but is gradually catching up. This is particularly true in Poland, where the number of specialty coffee shops is growing. Specialty coffee is also starting to take off in other markets in the region, such as in the Czech Republic and Romania, illustrating growing consumer interest in coffee quality and variety in Eastern Europe.
Eastern Europe accounts for a relatively small share of total European coffee imports. In 2021, Bulgaria, Croatia, the Czech Republic, Hungary, Poland, Romania, Slovakia and Slovenia together sourced 6.7% of all green coffee imports into Europe. Overall, Eastern European green coffee imports increased at an average annual rate of 2.7% between 2017 and 2021.
Poland is Eastern Europe's largest importer of green coffee and the ninth largest in Europe. In 2021, Poland accounted for 3.6% of all European imports, amounting to 128 thousand tonnes of green coffee. Poland registered year-to-year growth of 2.4% between 2017 and 2021. In 2021, Poland imported 64% of its green coffee directly from origin. The largest suppliers to Poland were Vietnam (32%), Brazil (20%) and Uganda (2.5%). About 33% of Polish coffee imports came from Germany.
The second-largest importer in 2021 was Bulgaria, which imported an estimated 28 thousand tonnes of green coffee, or about 0.8% of total European imports. About 81% of this volume was sourced directly from origin countries, mainly Vietnam (25%) and Brazil (18%).
Note that, compared to Western Europe, several Eastern European countries import lower shares of green coffee directly from producing countries. For instance, the Czech Republic sourced only 27% of its imports directly from origin. This is mainly due to the strong infrastructure of neighbouring ports, such as the Port of Hamburg. It is often less risky and more cost-effective for small and medium-sized roasters in Eastern Europe to source from specialised importers that use these ports. In addition, the main players in the Eastern European market are large multinationals that usually import at one point, roast in large-scale facilities and distribute coffee throughout Europe.
However, as roasters in Eastern Europe gain scale, they are expected to start sourcing directly from producing countries more. In the long term, these countries may also further develop and improve their infrastructure to support direct imports.
Eastern European countries that do source most of their green coffee directly from origin include Bulgaria (81% of total imports), Slovenia (95%) and Romania (73%). Vietnam is the main supplier to Bulgaria, mainly of Robusta to serve the country's large demand for instant coffee. Most direct supplies to Romania were sourced from Brazil, which accounted for approximately 19% in 2021, followed by Colombia, with 12%. Slovenia's largest direct supplier in 2021 was Brazil, accounting for approximately 48%, followed by India, with an estimated 14%.
Other interesting markets: Spain, Switzerland, France and the Nordics
Spain, Switzerland and France are other interesting markets for exporters to Europe. They combine large consumer markets with large shares of Europe's direct imports from producing countries. In 2021, Spain accounted for 7.4% of total European direct imports, followed by Switzerland, with 6.1%, and France, with 5.1%. Vietnam is the largest green coffee supplier to Spain, while Brazil supplies the largest share of imports to Switzerland and France.
Finland, Sweden, Norway, Iceland and Denmark also have interesting potential in terms of their per capita consumptions, which are among the highest in Europe. However, absolute consumption is not very high due to these countries' relatively small populations. Northwestern European markets have a higher penetration of high-quality coffee compared to Eastern and Southern Europe, where volumes are higher but coffee quality is usually lower. The market for certified coffees also tends to be larger in Northwestern European markets than in Eastern and Southern Europe.
3.

Which market segments in the European market have most potential for suppliers in developing countries?

The coffee market is highly competitive, especially in the mainstream segment. Opportunities in the specialty market are growing, however, as European consumers become increasingly prepared to pay more for high-quality coffees. Consumers in Europe are also demanding more sustainably-sourced coffee. The industry has tried to meet this demand by adopting various sustainability standards, many through certification schemes. Certification has become a market entry requirement, especially in the mainstream market, while organic certification shows particularly strong growth in the smaller specialty coffee market.
Specialty coffee – a growing market
While the mainstream market grows, with tighter margins and cheaper products, consumption of high-quality and specialty coffees is also growing at a fast pace in Europe. The market for specialty coffee offers opportunities for suppliers of high-quality coffees. This specialty segment is a small niche that is all about high quality and high value.
There is growing demand for specialty coffee in all European markets, though this segment is largest in Northwestern Europe. This region is characterised by higher income levels and consumer awareness.
This increasing interest in specialty coffee is reflected in the growing number of coffee bars and chains, small roasters, small local brands and baristas. During the COVID-19 pandemic, many cafés had to temporarily stop their operations, leading to a 30% decline in coffee shop sales throughout Europe in 2020. In general, larger coffee chains and shops proved more resilient to the crisis, tapping into their reserves to stay afloat. Smaller businesses proved especially vulnerable. In 2021, the European branded coffee shop market recorded broad recovery.
As a result, despite numerous closures, the European branded coffee shop market still showed growth. The market grew by 3.2% to more than 40,675 outlets in 2021. Though likely not all of these branded coffee shops serve specialty coffees, the majority have coffees with cupping scores of 80 and higher. As they grow, these shops may start sourcing green beans directly from producers, though often still relying on their former supplier (usually an importer) for logistics services.
Another effect of the global health crisis was that coffees scoring less than 84 points recorded an increase in sales in 2020, whereas higher-quality coffees with scores at or above 84 points showed declining sales. Despite the disruptive short-term impact of the pandemic and buyers' shift to lower-grade specialty coffees in 2020, the long-term outlook for the European specialty market (including higher-graded 84+ coffees) is positive. The expectation is that consumers who want high-quality single-origin coffees with unique taste profiles will continue to want these coffees regardless of COVID-19.
Refer to our study on specialty coffees to find countries that stand out in the European specialty coffee market and that could be an interesting match for your coffee product. Note that there is no specific Europe-wide data on specialty coffee consumption, partly because there is no industry consensus on the definition of specialty coffee.
Certified coffee – Europe is the world leader
Europe is the most important market for certified coffee in the world. Sustainable certification schemes play a very important role, mirroring growing consumer awareness and a changing industry profile. The main independent certification schemes in the coffee consumer market are Fairtrade, organic and Rainforest Alliance/UTZ. Note that the importance of individual schemes varies significantly from one country and segment to another in Europe.
Rainforest Alliance/UTZ-certified coffee
The integration of UTZ and Rainforest Alliance in a single organisation has resulted in very large market coverage in Europe. Although the two standards merged in 2018, mutual recognition for coffee was only formalised in July 2020. As such, certification data for each scheme are given separately.
Rainforest Alliance/UTZ-certified coffee is mainly sold in high volumes to mainstream markets in Europe. Between 2017 and 2021, UTZ-certified global coffee sales rose by an average of 16% a year, mainly as a result of increasing demand from retailers in Europe and specialty brands in Europe and North America.
UTZ-certified coffee products are widely available in the Netherlands, Germany, Italy, Switzerland and the Nordic region. Many retailers in these countries, such as Ahold, Aldi, Ikea, Jumbo, Kaufland and Lidl, as well as coffee roasters and brands such as JDE Peet's, Lavazza, Paulig and Tchibo, offer their own private label products certified under the UTZ standard.
Between 2017 and 2021, Rainforest Alliance-certified Arabica sales increased by an average of 11% a year, while Robusta sales increased 17%. This is mainly a result of increasing demand from Latin America and Europe. The largest markets for Rainforest Alliance-certified coffee products in Europe are the United Kingdom, Germany, the Netherlands, Sweden and France. One well-known and popular coffee brand in Europe that is certified with the Rainforest Alliance label is Nespresso. Large European retailers also sell Rainforest Alliance-certified coffees, including the German Kaufland, Lidl and REWE chains, British ASDA, and large roasters such as Lavazza.
Certified
organic coffee
The European organic market is the second-largest single organic market worldwide, after the United States. European organic retail sales reached €52 billion in 2020. Interest in organic coffee tends to follow general organic market trends in a country. The main markets for organic coffee in Europe are therefore the largest organic markets: Germany (29% share of the total European organic market in 2020), France (24%) and Italy (7.5%).
Demand for organic coffee is likely to continue to grow in Europe, in line with organic market trends and expected continued growth of organic retail sales in Europe overall. This is also driven by the European Green Deal (EGD), which aims to significantly enlarge organic production and consumption in Europe. Multiple EGD-related regulations and measures are being proposed or are entering into force that may boost demand for, and supplies of, organic and sustainable products. The COVID-19 pandemic has also further driven up demand for organic food and beverages, as organics are considered to be healthier and safer than conventional products.
Organic coffee imports by the EU-27 reached 131 thousand tonnes in 2020, or 4.0% of all green coffee imports by the EU-27 that year. This percentage shows that the organic coffee market is still a niche segment in Europe. Nevertheless, the market is recording growth, with EU organic coffee imports having increased 6.7% between 2019 and 2020.
Fairtrade-certified coffee
Germany is the largest market for Fairtrade-certified coffee, followed by the UK, the US, Canada, and France. In 2021, more than 24 thousand tonnes of Fairtrade coffee were sold in Germany, representing 5% of the total German coffee market. Fairtrade coffee sales increased at an average annual rate of 7.4% in volume between 2017 and 2021, reaching a value of almost €541 million in 2021.
The United Kingdom is another major market for Fairtrade-certified products, including coffee. Almost 25% of total coffee sales in the United Kingdom is Fairtrade-certified coffee. Sainsbury's, Waitrose and Marks & Spencer are examples of British retailers that have converted all of their private label coffee lines to 100% Fairtrade. Greggs, the largest bakery chain in the United Kingdom, drove up growth in Fairtrade coffee sales in the out-of-home segment.
Switzerland is also a relatively large market for fair trade products, with Swiss fair trade retail sales reaching €933 million in 2020. Overall, fair trade sales in Switzerland grew 7.8% per year on average between 2016 and 2020. The Fairtrade-certified share of coffee products in Switzerland reached an estimated 15% of the total market, amounting to 9.9 thousand tonnes of Fairtrade-certified green coffee in 2021. Switzerland also recorded Europe's highest per capita consumption of fair trade products, with over €107 spent per person in 2020.
The global volume of Fairtrade-certified coffee reached 226 thousand tonnes in 2020. Between 2016 and 2020, sales volumes increased at an average annual rate of 5.1%. The largest suppliers of Fairtrade-certified coffee are Peru (28% of total sales in 2020), Honduras (20%) and Colombia (14%). An estimated 25% of all fair trade coffee production is sold under the Fairtrade label.
Fairtrade and organic-certified coffees have high growth rates
Products that are both Fairtrade and organic are also gaining popularity in consumer markets across Europe. Between 2016 and 2020, the global sales volume of green coffee that was certified under both standards saw year-to-year growth of 9.0%, amounting to 149 thousand tonnes in 2020. The popularity of this double certification is expected to continue growing.
In 2021, approximately 74% of Fairtrade coffee sold in Germany was also certified as organic, amounting to 24 thousand tonnes. To compare, in 2014, sales of Fairtrade-certified coffee reached almost 17 thousand tonnes, of which about 66% was organic-certified. Popular German brands with lines of Fairtrade and organic coffees include GEPA, Kaffa by Original Food and Rapunzel.
European retailers are also increasingly offering private label coffees that are both organic and Fairtrade-certified. An example is Waitrose's No.1 line of coffees in the UK. Swiss retailers are also offering more private label products that are both organic and Fairtrade-certified. The leading Swiss retailer Coop has around 25 private label brands, of which Naturaplan is the most relevant for organic coffees. Coop's Naturaplan coffee capsules are an example of a Swiss private label product with both organic and Fairtrade certification.
Tips:
Read our studies to learn more about the

specialty coffee sector in Europe

, the

European market for certified coffees

and

European market potential for organic coffee

. You can also watch

recordings of our webinars

to learn more about exporting specialty coffee and get tips for mapping markets, finding buyers and doing business.

Find importers that specialise in organic products in specific European markets on the 

website of Organic-bio

. Also, if you produce coffee under a Fairtrade scheme, you can search for specialised European buyers who are experienced with sustainable and/or fair trade products in the

FLOCERT customer database

.

Before joining a certification scheme, check with your potential buyers if they require certification and whether it will give you a competitive advantage over other suppliers. Also first inform yourself about the costs of certification, including the cost to become compliant with the certification standard and the fees charged by certifying bodies. If you are new to certification, get price quotations from different audit organisations in your region and negotiate with them. These tend to be private companies.

Are you interested in exporting high-quality coffee? Learn more about cupping scores on the website of the 

Specialty Coffee Association

 (SCA). You can also consider getting a 

Q-grader or R-grader certificate

 to be able to cup and score your Arabica and/or Robusta coffee according to international standards.

Find out whether you qualify for industry awards such as the

Cup of Excellence

programme. This can be an interesting way to promote yourself and your coffee origin in the European market for high-quality coffee.
Search
Enter search terms to find market research