What is the demand for grains, pulses and oilseeds on the European market?
Grains, pulses and oilseeds are major commodities widely cultivated and traded within Europe. The market for major staple food and feed is mainly supplied by nearby producing countries. Organic crops, products with specific nutritional benefits and those targeting specific ethnic groups offer the best opportunities for small and medium-sized suppliers from developing countries.
1.

What makes Europe an interesting market for grains, pulses and oilseeds?

For many grains, pulses and oilseeds, Europe, understood as the countries in the European Union plus those in the European Free Trade Association, depends on external suppliers. This dependence combined with the shift towards sustainable and nutritional crops make Europe an interesting market for nearby producers of staple crops, as well as for suppliers with a unique product that meets European demand and agricultural policies.
Europe is a net importer of many grain cereals, pulses and oilseeds
Europe is a large user of grains, pulses and oilseeds. They are typically imported as high-volume bulk products to be processed into compound animal feed. For the consumer market, they are used as a staple food, or as high-value ingredients for a wide range of food products.
For many of these commodities as well as specialty dried products, Europe depends on external suppliers. Soybean, maize and rapeseed are very common imports which complement European production. Only in wheat and barley, Europe has a large surplus production.
In Europe, maize, soybean and barley are almost exclusively destined to the feed market, as well as half of the wheat. According to the European Feed Manufacturers' Federation (FEFAC), 61% of all cereals are used for on-farm feed or the feed industry, and 23% is for food use. Expanding livestock will maintain a steady demand for these crops.
The demand for non-European grains, pulses and oilseeds depends on a number of factors, most importantly:
Availability and local harvest;
Climate and yield;
International prices;
European and national policies;
Consumer demand for specific, non-European grains, pulses and oilseeds.
The above factors can have a very strong impact on imports. Naturally, demand for imported products will grow if there is not enough volume available in Europe, but as a supplier you need to be competitive to attract buyers. Countries with large growing areas, which already have a strong trade relation with the European Union are generally more attractive to buyers. Therefore, it is important to acquire information on production forecasts, but also on trade measures and subsidised cultivation programmes.
Large part supplied by developing countries
Developing countries represent a large part of the trade value of grains, pulses and oilseeds to Europe. Their market share in cereals to Europe is 73%, in pulses 48% and in oilseeds 53%. Developing countries that are mainly responsible for the trade volume are Ukraine (in maize, wheat, rapeseed), Brazil (in maize and soybean) and Argentina (groundnuts).
Grains show the most significant growth among developing countries at 40% from 2014 to 2018, mainly because of growing imports of wheat from Ukraine, Kazakhstan, Serbia, Moldova and maize from Ukraine and Brazil.
The import value of pulses from developing countries is very stable, growing at just 2% a year. While oilseed imports fluctuate, they have been in a downward trend from developing countries, shrinking -12% a year. This decrease in oilseed supply is due to more soybeans being sourced from the United States, which has had especially a strong impact on the Paraguayan soybean export to Europe. After trade negotiations with the European Union, the United States have become Europe's main supplier of soybean.
Within the sector, you can find a number of products with low volumes but with potential for specific market segments, such as healthy foods, ethnic foods and special diets. Examples include ancient grains, such as quinoa and amaranth, special oilseeds, such as chia, and ethnic mung beans, adzuki beans and aromatic rice. Except for traditional European varieties, such as Japonica rice, einkorn, spelt and emmer, many of these specialty products are often sourced in developing countries.
As a supplier you must be aware that European buyers will only source grains, pulses and oilseeds in less common origins if they cannot be sufficiently found in Europe or in nearby countries. For large commodities such as maize and soybean, you will have strong competition from countries with high production volumes.
Table 1: Main suppliers of grains, pulses and oilseeds to Europe, in € million
| | | | | | | | |
| --- | --- | --- | --- | --- | --- | --- | --- |
| Exporters of grains | 2014 | 2015 | 2016 | 2017 | 2018 | growth 5 years | main product(s) |
| Ukraine | 1664 | 1695 | 1404 | 1741 | 2179 | 31% | maize, wheat, barley |
| Brazil | 144 | 209 | 223 | 662 | 779 | 441% | maize |
| United States of America | 462 | 479 | 419 | 387 | 649 | 40% | maize, wheat, sorghum, rice |
| Canada | 1054 | 856 | 708 | 571 | 613 | -42% | wheat, maize |
| Russia | 304 | 264 | 372 | 289 | 405 | 33% | wheat, maize, rye |
| | | | | | | | |
| --- | --- | --- | --- | --- | --- | --- | --- |
| Exporters of oilseeds | 2014 | 2015 | 2016 | 2017 | 2018 | growth 5 years | main product(s) |
| United States of America | 2040 | 2169 | 2298 | 2132 | 3121 | 53% | soya, groundnuts, sunflower seeds |
| Brazil | 2996 | 2646 | 2286 | 2060 | 2198 | -27% | soya, groundnuts |
| Ukraine | 721 | 634 | 562 | 1027 | 1025 | 42% | rapeseed, soya |
| Australia | 627 | 571 | 545 | 999 | 605 | -4% | rape seed |
| Argentina | 525 | 614 | 735 | 629 | 500 | -5% | groundnuts |
| | | | | | | | |
| --- | --- | --- | --- | --- | --- | --- | --- |
| Exporters of pulses | 2014 | 2015 | 2016 | 2017 | 2018 | growth 5 years | main product(s) |
| Canada | 213 | 221 | 243 | 265 | 230 | 8% | kidney beans, lentils |
| United States of America | 166 | 171 | 141 | 198 | 161 | -3% | kidney beans, chickpeas, lentils |
| Argentina | 75 | 92 | 99 | 106 | 117 | 55% | kidney beans, chickpeas |
| Russia | 33 | 16 | 17 | 34 | 114 | 241% | peas |
| China | 159 | 141 | 113 | 89 | 81 | -49% | kidney beans, lentils, mung beans |
Source: ITC Trade Map
Opportunities for nearby countries supplying bulk commodities
Europe offers opportunities for dry bulk commodities from nearby countries. Ukraine is already one of the major suppliers of maize and wheat, but imports of wheat and dry peas from Kazakhstan, Moldova and other countries in the Black Sea region have also grown. The current outlook predicts that the Black Sea region will continue to grow in the dry pea market. Moldova and Serbia have fetched a high value of rapeseed and sunflower seed exporting to Europe.
Preference for nearby countries is not only due to logistical reasons, but also as a result of strong trade relations and agreements between the European Union and the Balkan countries, Ukraine, Moldova, Kazakhstan, among others. As a supplier from another country it will only be feasible to compete in low value products when you can produce on a large scale and match the offer of other nations despite of trade preferences.
Table 2: Highest European import growth from developing countries for exports larger than €1 million, in € million and %
Exporters of grains

2014

2015

2016

2017

2018

5-year growth

main product(s)

Bosnia and Herzegovina

0,2

0,3

0,3

0,3

11

4962%

wheat

Macedonia, North

0,3

0,3

0,6

3

6

2071%

maize, wheat, barley

Paraguay

1

9

4

4

15

1404%

rice

Brazil

144

209

223

662

779

441%

maize

Kazakhstan

25

41

50

71

115

367%

wheat

Myanmar

47

70

56

114

145

208%

rice

Moldova

73

74

120

152

169

130%

maize, wheat, barley

Exporters of oilseeds

2014

2015

2016

2017

2018

5-year

growth

main product(s)

Myanmar

0

4

3

3

3

1970%

other oilseeds

Serbia

16

51

79

95

64

296%

rape seed, sunflower seed, soya

Mozambique

1,2

1,2

1,5

4

4

216%

sesame

Moldova

49

77

102

157

130

164%

sunflower seeds, rapeseed

Uganda

6

8

6

6

14

139%

soya, sesame, other oilseeds (chia)

Nicaragua

25

36

25

51

51

103%

groundnuts, sesame, other oilseeds (chia)

Exporters of pulses

2014

2015

2016

2017

2018

5-year

growth

main product(s)

Kazakhstan

0,5

0,9

3

1,5

11

1921%

peas

Moldova

0,4

0,9

1,3

4

3

663%

peas

Uganda

0,4

0,7

1,1

2

2

424%

other dried, shelled leguminous vegetables

Ukraine

16

5

7

14

64

303%

peas, kidney beans

India

9

10

20

19

22

148%

chickpeas, mung beans, lentils
Specific origins benefit from demand for specific food ingredients
There are a number of supplying countries for grains, pulses and oilseeds which are not among the suppliers of large, bulk and feed commodities. These countries often specialise in specific high-value crops and niche products related to human consumption. This shows that export development is possible when you have a local product that is well developed in your country or when you create a competitive advantage.
Table 3: Examples of countries that are well positioned in specific niches or with significant growth
Country

No. 1 supplier in

 

Pakistan

Rice

With a value growth of 208% in five years, Myanmar became the fifth largest rice supplier to Europe. The largest rice suppliers to Europe are Pakistan, Thailand, India and Cambodia.

India

Sesame

Nigeria is the second largest supplier of sesame seeds to Europe.

India is the third supplier of millet and mung bean. India also grew its chickpea supply to Europe from €5.6 million to €14.4 million in five years, from 2013 to 2018.

Peru

Quinoa

Bolivia is the second largest supplier of quinoa to Europe.

Peru also has the highest value of melon seeds to Europe.

Paraguay

Chia seeds

Bolivia is the second largest supplier of chia seeds to Europe.

Madagascar

Cowpeas

Brazil, Peru and Myanmar follow in export value to Europe.

Turkey

poppy seeds

China is the second largest supplier of poppy seeds to Europe.

China

Adzuki beans

Second largest suppliers of mung beans, millet and buckwheat.

Argentina

Groundnuts

Argentina is also the leading supplier of chickpeas to Europe, just ahead of Mexico and the United States.

Malawi

Pigeon peas

Occasionally, Tanzania or India export a higher value of pigeon peas to Europe than Malawi.
You can make a difference in food-grade products, but you and your home country have to be able to manage food safety standards and phytosanitary controls.
Strong cereal crop production in Europe leaves opportunities only in rice
According to statistics, 54% of Europe's arable land is used for the production of cereals (see definition of cereals). Due to dry conditions in late spring in various regions across Europe, cereal production dropped below 300 million tonnes in 2018. France was the largest producer with a harvest of 63 million tonnes. At the same time, maize import value increased 31%, wheat 10% and sorghum 154% compared to the previous year. In 2019, cereal harvests are expected to recover and rise above 300 million tonnes again.
Wheat is Europe's most important crop. Market analysts from Coceral and Farmers Weekly forecast a 10 to 15% increase in wheat harvest for 2019, reaching between 140.3 to 146.4 million tonnes. In wheat and barley, Europe has high self-sufficiency.
The limited production of rice varieties makes Europe an interesting market for exporters. The Japonica variety is growing dominant in Europe's production of rice, while Indica rice imports have increased, especially from Cambodia and Myanmar because of a duty and quota free agreement. Europe's domestic production of rice is relatively stable at around 3 million tonnes, while imports are gradually growing towards passing the 2-million tonne mark.
There is also room for diversification. Some producers in France, Italy, Austria and Bulgaria are finding alternative, ancient crops to grow, such as spelt, einkorn and emmer, because of their nutritional properties. Although there is only scarce data, production of certain niche cereals, such as buckwheat and millet, grew from 445 thousand tonnes in 2011 to 603 thousand tonnes in 2018.
In the long term, the amount of land for agricultural purposes in Europe is expected to continue to reduce. However, the European Union forecasts higher production volumes for most arable crops due to better yields.
Temporary shortfalls and the demand for lesser known cereals are likely to be the main reasons for importing cereals.
Shift towards sustainable and nutritious oilseeds
Oilseed production in Europe fluctuates between 32 and 36 million tonnes and imports grow a few percentage points per year. Although the total size does not show significant changes, shifts in usage and sustainable practices move the market towards different preferences.
Oilseeds cover the demand from three main industries:
Food industry (mainly vegetable oils);
Feed industry (oil cake);
Non-food industry (refined oils).
The oilseed harvest in Europe almost hit a record in 2017, but decreased again in 2018 due to weather circumstances. There was excessive rain in France and Spain and a water deficit in Germany and the Eastern European countries.
Rapeseed, soybean and sunflower seed make up 96% of the oilseed production in Europe, being responsible for more than 80% of the oilseed import value. A significant part of this demand consists of rapeseed or canola, which has become Europe's main oil making crop.
Rapeseed is a common vegetable oil for industrial uses including biofuels, but varieties with low erucic acid are also used for human and animal consumption. The deteriorating market for crop-based biofuel has withheld rapeseed from significant growth in the future.
In 2019-2020 the European rapeseed production will decrease due to reduced planted areas in France, Germany, Poland and the United Kingdom. In the long term, the European Commission forecasts a rapeseed production of 20.7 million tonnes by 2030, one million less than the average in the last five years. Some of the demand is expected to be replaced with imports, especially from Ukraine, the current leading supplier.
Due to the limited nutritional value of rapeseed meal, part of its production is gradually shifting towards soybean. Soybean is considered a better crop for animal feed that has the currently highest import volume of all oilseeds into Europe at more than 15.1 million tonnes in 2018. As Europe also plans to become less dependent on external suppliers and make soybean crop more sustainable, 13 European Member States signed the European Soya Declaration in 2017, an initiative to increase non-GMO soya production.
Sunflower seeds are mainly used for food purposes. In retail and food services, sunflower oil is still the most popular edible oil. Sunflower oil, as well as rapeseed, will increase its importance in food preparation at the expense of palm oil, which has raised several environmental and nutritional concerns. Specific high-oleic sunflower seed and rapeseed varieties are in demand because of their health benefits.
European sunflower seed production reached approximately 10 million tonnes in 2017 and 2018, approximately one to two million tonnes higher than previous years, while import volumes increased from 232.4 thousand tonnes in 2014 to 546.8 thousand tonnes in 2018.
To find a high-value market, focus on oilseeds with interesting nutritional properties. A sustainable production is a precondition for making your supply future-proof.
EU policies and search for plant protein boost pulses
Pulses are not traditionally popular in Europe, where pulse consumption is relatively low compared to the rest of the world. But since 2013, there has been a significant change. Domestic production reached a record of 6.2 million tonnes in 2017-2018, which is twice the 2013 volume. Part of this growth can be attributed to the Common Agricultural Policy (CAP) greening measures, which have identified nitrogen-fixing crops, such as dry pulses, as ecological measures for sustainable agriculture.
According to the EU Agricultural Outlook 2018–2030, factors that will lead to growth in the European pulse production include:
Demand for feed purposes (field peas, broad beans and lupins);
Demand for human consumption (lentils, chickpeas and other pulses);
A favourable policy environment;
Yield improvements.
Europe's largest producing countries include France (peas), United Kingdom (beans) and Poland (sweet lupins). According to Faostat data, production of chickpeas has grown from 47 thousand tonnes in 2013 to 132 thousand tonnes in 2017. Although production declined somewhat in the 2018-2019 year due to weather difficulties, the trend of growing protein crops will continue.
Future policies and interest in developing plant protein production will further boost pulse production in Europe, primarily peas, broad beans and soybean (both oilseed and protein crop). This scenario can also provide opportunities for imports.
However, having only a 1.4% share of the total crop area, the production of protein crops in Europe is still very limited and demand is easily overestimated. This was the case in 2018 when a large volume of imports lead to very low prices. As a producer or producing exporter, you must be cautious with increasing or switching to producing pulses. The European market will not provide you with a profitable output for surplus production volumes.
2.

Which European markets offer most opportunities for grains, pulses and oilseeds?

For grains, pulses and oilseeds there is demand from industrial users, feed producers and the food industry. High-value and specific products will encounter most opportunities for human consumption, including in traditional cuisines and alternative food markets related to healthy or special diets. These opportunities can be best explored in northern Europe, as well as in Italy and Spain, which are traditional markets for pulses and special grains.
Germany leads in imports of grains, pulses and oilseeds
In the overall sector of grains, pulses and oilseeds, Germany and the Netherlands have the highest import values in Europe. This is especially because of the large import share of oilseeds in these countries, which amounted to €4 billion in Germany and €2.7 billion in the Netherlands. Grains and pulses fetch the highest import value in Spain and Italy. Spain leads at €3.2 billion in grains and €270 million in pulses.
Belgium has a similar import profile as the Netherlands but has a lower total value. The United Kingdom is also an important destination for pulses.
Figure 5: Europe's top markets for grains, pulses and oilseeds in 2018, in € million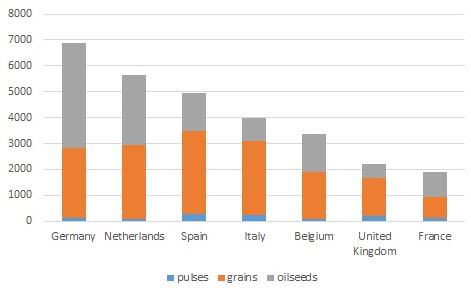 Source: ITC TradeMap
Oilseeds and industrial cereal mostly sell in northern Europe
Importation and processing of oilseeds, as well the industrial use of cereals, is most dominant in north-western Europe. Germany and the Netherlands are the leading importing countries at €4 billion and €2.7 billion respectively. The Netherlands uses its imports for both trade and processing, but in Germany industry is predominant. In 2017, Germany produced 12.9 million tonnes of oilseed crushing, which is equivalent to 27% of the total in the European Union.
Most biorefineries and bio-based companies are located in Europe's northwest. Germany has a strong position in biofuels. Starch-based products, such as biopolymers, are expected to be one of the forces behind the demand for wheat and maize.
Germany and Spain require most grains for the feed industry
The feed sector will always be one of the main drivers of the demand for nutritional and protein crops in Europe. Cattle and poultry are the main growing livestock.
According to the European Feed Manufacturer's Federation (Fefac), Germany and Spain together produce 29% of the 161.3 million tonnes of compound feed in Europe. In Spain, the livestock sector is large but the country has a structural deficit of local feed grains, making it Europe's main importer of wheat and maize. Other countries with large livestock production, such as France, United Kingdom, and Poland, also have high demand for feed crops. France and Poland are strong crop farmers, so they have good local sources of feed crops.
The Netherlands also has a relatively large share in feed production at just over 9%. However, it is also the home country of Europe's largest feed producers and nutritional service providers, including ForFarmers, Agrifirm Group, De Heus and Nutreco. The Netherlands has the highest export value of animal feed in the world.
Spain and Italy import most grains and pulses for traditional cuisine
Spain and Italy have the greatest demand for grain cereals, such as wheat and maize, and pulses.
Besides having high demand for wheat and maize, Spain is also a major importer of dry peas, chickpeas, kidney beans and lentils. Trade data suggest a remarkable 612 thousand tonnes of dry pea imports in 2018, more than 12 times higher than in 2017. Spain's grain and dry pea import is strongly related to the feed industry, but according to BusinessWire, stronger demand for dry peas can also be attributed to the growing interest in vegan food.
Italy's high demand for grains and pulses also comes in large part from the food industry and the Mediterranean cuisine. Making traditional pasta, the most typical Italian food item, requires durum wheat and many Italian recipes call for white kidney beans or cannellini.
Ethnicity can be another influence in pulse consumption. The ethnic population in the United Kingdom of 1.4 million Indians, 1.1 million Pakistani and 400 thousand Bangladeshi has made it an important target market for suppliers of chickpeas, cowpeas and mung beans.
Scandinavia and Baltics show positive import growth in pulses
The strongest recent import growth in pulses has happened into Scandinavian and Baltic countries. This growth mainly involves broad beans and dry peas, which have a strong push from the feed sector. For example, Norway is Europe's largest importer of feed-grade fava beans. Norway's thriving salmon production increasingly uses fava bean protein as feed replacement for fishmeal. Norwegian pulse imports increased 116% to €72.6 million. The highest growth in import value was 737% in Latvia.
Pulses are currently sourced from other European countries, but with the growing supply coming from the Black Sea region, countries such as Moldova and Kazakhstan will find potential opportunities in exporting to these northern European markets.
Alternative food markets offer most potential for non-commodity suppliers
For products related to special dietary needs or offering health properties, there are several market segments which can provide opportunities. The demand for organic and vegan products are the strongest drivers of the human consumption of healthy grains, pulses and oilseeds, but gluten-free is also a segment with growth opportunities.
Table 4: Overview of relevant niche markets for special grains, pulses and oilseeds
Organic retail sales

Vegan product launches

Gluten-free sales and market size

per capita 2017 in €

per country 2017 in € million

Percentage of global launches 2017-2018

sales per capita in 2014

market size in 2015
(% of global sales)

Switzerland (288)

Germany (10,040)

Germany (15%)

Norway (8,8)

United Kingdom (15%)

Denmark (278)

France (7,921)

United Kingdom (14%)

Finland (6,8)

Italy (10%)

Sweden (237)

Italy (3,137)

France (4%)

Sweden (5,0)

Germany (7%)

Luxemburg (203)

Switzerland (2,435)

Spain (4%)

Italy (3,9)

Spain (3%)

Austria (196)

Sweden (2,366)

Italy (3%)

Austria (3.9)

Finland (3%)
Sources: FiBL-AMI survey 2019, Mintel, Euromonitor International
Organic: Nordics and German speaking countries are strong markets
The organic market in the European Union has reached a total retail sales value of €34.3 billion, with a growth value of 10.9% from 2016 to 2017. Scandinavian countries and German speaking countries are strong markets for organics. Organic production within Europe does not grow sufficiently to meet this added demand, so there is increasing dependence on external organic farmers.
Products with specific health benefits or nutritional value, such as quinoa and chia seeds, are often sold on the organic market. According to industry sources, there is also growing interest in new sources of organic pulses. However, the increased demand for organics also applies to feed crops needed for the production of organic meat, eggs and milk.
FiBL and IFOAM – Organics International have published a global overview of the organic production of cereals, pulses and oilseeds using data up until 2017. In short, the opportunities in Europe are under pressure from the large organic production in China, which has the largest agricultural area for organic cereals, pulses and oilseeds in the world. At the same time, European buyers indicate that they want to move away from Chinese imports and focus more on Europe-grown organic products.
This means interest in buying organic products from the following sources is likely to increase:
Italy, which has more than 300 thousand hectares of organic cereals, almost 50 thousand hectares of organic pulses;
France, which has more than 97 thousand hectares of organic pulses;
Romania, which has more than 70 thousand hectares of organic oilseeds.
Organic production is well developed in Europe and growing. For example, 9.4% of Italy's cereal production comes from organic agriculture, while in China only 0.9% of the total cereal area is organic. In spite of this, European organic production is by far not enough to meet demand. As a supplier, you can take advantage of the demand for organics if you are able to follow the strict European organic procedures and offer European buyers a good alternative for Chinese and European products.
Vegan: Going strong in Germany and United Kingdom
The demand for vegan foods and the search for plant-based proteins is becoming an important motivator of sales for pulses and protein crops. Although there is little comparative data within Europe, Germany and the United Kingdom are believed to be the leaders with a 29% share of the vegan food and drink launches from July 2017 to June 2018. Germany leads in product development, but is closely followed by the United Kingdom, where meat-free food increased 987% and veganism is considered the biggest food trend of 2018.
At the moment, the vegan market consists predominantly of soybean products, but there is unexplored potential for other high-quality, food-grade protein sources such as lupins and peas, which are both common in European production.
Gluten-free: opportunities across Europe
The growing attention to gluten intolerance will open opportunities for gluten-free grains from developing countries, such as quinoa, buckwheat and other cereals, such as amaranth and teff. According to The Association of European Coeliac Societies (AOECS) an estimated 1% of the population suffer from coeliac disease in Europe. Scientific research indicates that coeliac disease is most common in Nordic countries such as Finland and Sweden. In the United Kingdom and Italy, gluten-free products are even subsidised by the government.
Sales of gluten-free products do not depend only on people with coeliac disease, because an increasing number of gluten intolerant and health-minded consumers make Europe an important market for gluten-free products. For example, in the United Kingdom up to 13% of consumers have a gluten intolerance.
According to Foodnova, the European gluten-free sector recorded revenues of €320 million. In Italy, approximately 50% of the food companies produce gluten-free products. In the United Kingdom, the total 'free-from' market, including gluten-free, is estimated to have increased 133% in five years to more than €750 million.
Transparency Market Research estimates that the global market for gluten-free foods will expand at an average annual growth of 7.70% in the period from 2015 to 2021. This growth will continue to provide a market for many of the typical gluten-free, pseudo-grains, but also increase the use of alternative ingredients, such as pulses in bakery products.
3.

Which products from developing countries have most potential in the European market for grains, pulses and oilseeds?

The best opportunities for export development from developing countries can be found outside of the commodity trade. In specialist food markets, you can differentiate your company with products such as quinoa, chia, mung beans, cowpeas, food-grade beans and peas, and high-quality sesame seeds. The most noticeable opportunities for small and medium suppliers are in traditional crops, high-value crops with nutritional properties and organic crops.
The most promising products
Some of the most promising products for the European market, mainly from developing countries, include:
Sesame seeds and other large-volume grains, pulses and oilseeds produced in developing countries: Large-volume products such as sesame seeds will always have a strong demand, but it also means there will be strong competition with dominant players.
Food-grade beans and peas, cowpeas: The trade value of these pulses has been growing fast. They are also known for their nutritional properties and protein value. Newly promoted products should be introduced with caution because strong growth often results in faster production growth and oversupply. This is also true for the traditional crops below.
Quinoa, chia and mung beans: These are typical products from developing countries, often considered traditional crops and difficult to produce in Europe or in developed countries. New, authentic products that have an advantage for human health such as these often end up in the organic channel.
Products with high demand from developing countries
Large-volume products from developing countries are the large scale commodities such as maize, soybean and rice. These large-volume commodities are relatively easy to market through large corporations such as ADM, Cargill and Bunge at prices that depend on the stock market. Commodities are often a decision of crop rotation and maximising profits, but special products need much more commercial attention.
To move away from the commodity trade, you must focus on a differential quality. Consider the following examples:
food-grade oilseeds
organic beans
Crops traded in relatively large volumes from developing countries and that can be traded through a number of independent traders include:
Some crops, such as linseed, are still dominantly grown in the northern hemisphere, making it difficult for other suppliers to compete.
Table 5: Main commodities imported to Europe from developing countries, in € million
| | | | | | | |
| --- | --- | --- | --- | --- | --- | --- |
| Product | 2014 | 2015 | 2016 | 2017 | 2018 | 5-yr. growth |
| Maize or corn | 1963 | 1873 | 1619 | 2363 | 3000 | 53% |
| Soya beans | 3751 | 3316 | 3020 | 2997 | 2593 | -31% |
| Rice | 1098 | 1225 | 1073 | 1240 | 1237 | 13% |
| Rape or colza seeds | 550 | 477 | 378 | 757 | 807 | 47% |
| Groundnuts (raw) | 622 | 759 | 778 | 944 | 781 | 25% |
| Wheat and meslin | 288 | 434 | 419 | 439 | 504 | 75% |
| Sunflower seeds | 144 | 189 | 357 | 272 | 250 | 74% |
| Sesamum seeds | 238 | 225 | 160 | 160 | 183 | -23% |
| kidney beans | 291 | 244 | 202 | 175 | 182 | -38% |
| Linseed | 146 | 136 | 99 | 119 | 134 | -9% |
| Chickpeas | 65 | 71 | 86 | 110 | 110 | 70% |
| peas Pisum sativum | 20 | 10 | 10 | 14 | 73 | 264% |
| Lentils | 36 | 55 | 73 | 63 | 52 | 44% |
Source: ITC Trade Map
Specific and niche products offer best opportunities for developing countries
Smaller and distant suppliers, including those in tropical regions, should focus on niche and specialised products. Among these products, you can find:
Special and niche products that are mainly supplied to Europe from developing countries:
fonio
melon seeds
cowpeas
red Adzuki beans
pigeon peas
Bambara beans
Other medium and small-scale products include:
These specific products are mainly for human consumption and when supplying them, make sure products are clean and sustainable.
Table 6: Selection of specific grains, pulses and oilseeds imported to Europe from developing countries, in € million
| | | | | | | |
| --- | --- | --- | --- | --- | --- | --- |
| Product | 2014 | 2015 | 2016 | 2017 | 2018 | 5-yr. growth |
| Other oilseeds and oleaginous fruit | 160 | 254 | 224 | 184 | 167 | 5% |
| Quinoa | 76 | 85 | 67 | 58 | 60 | -21% |
| Melon seeds | 25 | 22 | 27 | 31 | 36 | 47% |
| Mung beans, black/green grams | 22 | 32 | 30 | 32 | 23 | 4% |
| Mustard seeds | 19 | 21 | 20 | 21 | 19 | -1% |
| Other beans Vigna and Phaseolus | 18 | 20 | 21 | 18 | 15 | -19% |
| Poppy seeds | 11 | 7,2 | 6,4 | 5,5 | 15 | 35% |
| cowpeas | 5,0 | 8,9 | 7,2 | 7,6 | 8,8 | 77% |
| broad beans and horse beans | 8,4 | 8,9 | 11 | 9,3 | 7,1 | -16% |
| Other dried leguminous vegetables | 3,7 | 5,2 | 7,4 | 7,1 | 6,0 | 59% |
| Other niche cereals | 7,0 | 6,6 | 7,5 | 6,9 | 5,6 | -21% |
| small red Adzuki beans | 2,3 | 3,0 | 3,0 | 2,7 | 2,4 | 2% |
| pigeon peas | 1,3 | 2,7 | 4,1 | 3,9 | 2,1 | 65% |
| Cotton seeds (excl. for sowing) | 19 | 2,4 | 11 | 4,4 | 1,3 | -93% |
| bambara beans | 0,06 | 0,15 | 0,05 | 0,11 | 0,17 | 163% |
| Fonio | 0,08 | 0,10 | 0,12 | 0,10 | 0,09 | 8% |
Source: ITC Trade Map
Alternative, ancient and pseudo-grains:
Quinoa went down in trade value, but import quantities have been maintained at around 26 thousand tonnes, in spite of a growing production in Europe.
Fonio is a traditional grain from western Africa. It recently obtained authorisation to be marketed as a food stuff in the European Union. The current import is minimal, but with the recent approval it has an interesting potential in the European food industry.
Other niche and pseudo-cereals from non-European sources include amaranth, teff and cañihua, which is a novel food. Most of these niche cereals still need to be developed in the European market, but fit well together with the European ancient grains such as spelt, einkorn and emmer.
High-value and nutritious seeds
Melon seed imports from Peru have the highest value, but these are mainly high-quality seeds for sowing. Chile, Peru and Thailand export melon seeds at an average value of €300 to €900 per kilo. These high values are an indication of quality sowing seed, often developed by international seed breeders such as Rijkzwaan.
Nevertheless, melon seeds can also be sold as edible seeds. Syria, the United States and India are among the largest suppliers. Egypt's exports to Europe are also growing fast, but the total volume is still very low at around 1.1 thousand tonnes.
Mustard seed is a spice seed and often used in mustard sauce or in Indian cuisine. Mustard seeds are produced in Europe and complemented by another €66.7 million of external supply in 2018, mainly from Russia and Canada. Exports from developing countries are stable at around €20 million, led by Ukraine. Globally, India and Syria are large exporters of the following spice seeds: anise, badian, fennel, coriander, cumin or caraway, juniper berries. See also the CBI market information about exporting spices and herbs.
Poppy seeds are commonly used as an ingredient in the bakery sector, but demand for external supplies fluctuates. Czech Republic and Spain meet most of Europe's demand. Additional imports come mainly from Turkey, China and Australia.
Hemp and chia seeds fit among other oilseeds. Both seeds offer high contents of omega-3 fatty acids, making them popular products for health-oriented consumers.
Hemp seed has an import volume of between 7 and 13 thousand tonnes, mostly from China and Canada, which complement the Eastern European production. The growing demand for therapeutic Cannabidiol (CBD), also a product derived from hemp, could drive up the cultivation of hemp as a crop in the northern hemisphere.
Chia is relatively new in Europe. It boomed from nearly nothing in 2012-2013 to an estimated 16 thousand tonnes in 2018. South American suppliers in particular saturated this niche market, making it difficult for new suppliers to enter. Weather often determines the success of the current producing countries and issues with pesticide residues make buyers look for qualified producers.
Ethnic peas and beans
Mung beans are a typical crop from Southeast Asia (including India and China). In Europe, it is mostly used for sprouting, but whole dried beans can be found in ethnic segments as well. Import volumes are generally between 21 and 24 thousand tonnes, but trade flows have shifted over the years in favour of Myanmar, India and Argentina over China and Australia.
Cowpeas are a source of cheap protein whose production is 96% located in the Africa, mainly in Nigeria and Niger. The European market for cowpeas is gradually developing, standing at 12 thousand tonnes in 2018. Surprisingly, Madagascar, Brazil, Myanmar and Peru are the main exporters to Europe, and not West Africa. When supplying cowpeas as a food, you must focus on a non-GMO variety.
The European market is still underdeveloped for several traditional and ethnic pulses. But with the right marketing effort, there can be opportunities for:
Pigeon peas: relatively low value peas but with growing imports into Europe at 3.3 thousand tonnes in 2018 from various origins, including Malawi, Tanzania, Peru, Kenya, Myanmar, India;
Adzuki beans: also known as red mung beans, had 2.5 thousand tonnes imported to Europe in 2018, almost 50% from China;
Bambara beans: a groundnut from sub-Saharan Africa, largely unknown in Europe. The status of Bambara beans (Vigna subterranea) in Europe is still unknown and they could be considered a novel food.
Peas were king in 2018, but with record low profit
European pulse imports took off in 2018. The vegan trend definitely influenced the rise in demand for pulses, but in this case it was the decision of producers worldwide to switch to growing dry peas and other pulses, such as chickpeas, that made pulses rule over crops in 2018.
The total import volume of pulses increased by 68%. Dry peas (Pisum sativum) are responsible for most of this increase, what should not be considered a direct opportunity. Volume grew so much that prices over the whole pulse sector decreased by 38% compared to 2017. According to European buyers, pulse cultivation should not be encouraged at the moment as stocks have been built for years to come.
This study has been carried out on behalf of CBI by Autentika Global and ICI Business.
Please review our market information disclaimer.