What is the demand for grains, pulses and oilseeds on the European market?
Grains, pulses and oilseeds are major commodities widely cultivated and traded within Europe. The market for major staple food and feed is mainly supplied by nearby producing countries and multinationals. Organic crops, products with specific nutritional benefits and those targeting specific ethnic groups offer the best opportunities for small and medium-sized suppliers from developing countries.
1.

What makes Europe an interesting market for grains, pulses and oilseeds?

Europe is a large user and importer of grains, pulses and oilseeds. The dependence on import combined with the shift towards sustainable and nutritional crops makes Europe an interesting market for nearby producers of staple crops, as well as for suppliers with a unique product that meets European demand and agricultural policies.
Europe is a net importer of many grain cereals, pulses and oilseeds
For many grains, pulses and oilseeds, Europe depends on external suppliers. Some of the main crops are typically imported as high-volume bulk products, often used for processing into compound animal feed. For the consumer market, they are either used as a staple food or as high-value ingredients for a wide range of food products.
Commodity import for the animal feed industry
According to European Union (EU) statistics, 54% of Europe's arable land is used for the production of cereals (see definition of cereals). Wheat is Europe's most important crop with a production of 155.5 million tonnes in 2019. In wheat and barley, Europe has high self-sufficiency. Rapeseed, soybeans and maize are very common as import products which complement European production and are often managed by large-scale international grain and seed companies.
In Europe, maize, soybeans and barley are almost exclusively destined for the feed market, and the same goes for half of the wheat. The European Feed Manufacturers' Federation (FEFAC), indicates 61% of all cereals is used for on-farm feed or the feed industry, and 23% is for use in the food industry. Expanding livestock will maintain a steady demand for these crops.
Opportunities in niche crops for human consumption
Specific consumption crops represent a big share of the net import of grains, pulses and oilseeds, with opportunities for further diversification in quality varieties and new products with nutritional properties.
In pulses, domestic production amounted to 4.8 million tonnes in 2019. A large part of what consisted of common field peas and fava beans. Chickpeas, lentils and niche pulses are produced less in Europe so there is more dependence on import and bigger opportunity for developing countries to enter the market.
Rapeseed and sunflower seed are the main oilseeds in European production. Many oilseeds for human consumption, such as most linseed and sesame seeds, are imported and you can expect the same for several high-value seeds such as chia.
Europe's domestic production of grains is relatively stable. Rice production in particular is stable at a little under 3 million tonnes and consists mainly of the Japonica variety, while the import of (mainly Indica) rice has gradually grown to 2.3 million tonnes in 2019. Production of minor cereal varieties (mostly buckwheat and millet) was at 638 thousand tonnes in 2019. On top of that, because of their nutritional properties more and more ancient grains are cultivated, including spelt, einkorn and emmer. But there is also a (potential) market for foreign 'super grains', such as quinoa, teff and fonio.
(*=data 2018)
Opportunities for developing country suppliers
Imports from outside Europe are expected to continue to increase in the future. In the long term, the amount of land for agricultural purposes in Europe is expected to continue falling. However, the European Union agricultural outlook forecasts higher production volumes for most arable crops due to better yields. Temporary shortfalls and the demand for lesser known cereals are likely to be the drivers of growth.
A lower production in Europe may present an opportunity, but by itself it is not enough to lead to export success. As a supplier you need to be competitive to attract buyers. Countries with large growing areas that generate large affordable volumes and already have a strong trade relation with the European Union are generally more attractive to buyers. To stay ahead of your competition it is important to keep yourself informed with regard to production forecasts, but also trade measures and subsidised cultivation programmes.
Tips:
Check if your country has an advantage in the form of a trade agreement or beneficial custom duties.
Make maximum use of available data, for example on production, trade and prices of cereals, rice, oilseeds and protein crops in the EU portal for agri-food markets, the EU Crops Market Observatory and the EU Agricultural Outlook 2018–2030.
Get informed with the Crop Forecasts of Coceral, the European Association of cereals, rice, feedstuffs, oilseeds, olive oil, oils and fats and agro supply trade.
European trade is dominated by developing country supply
Developing countries represent a large part of the trade value of grains, pulses and oilseeds to Europe. Their market share in cereal supply in Europe is 82%, in pulses 51% and in oilseeds 56%.
Being geographically close to Europe can be a big advantage. Nearby countries, such as Ukraine and countries in the Black Sea region, benefit of the supply of dry bulk commodities such as maize, wheat, barley and rapeseed in particular. Preference is not only due to logistical reasons, but is also often a result of strong trade relations and agreements between the EU and these countries. Examples include the Balkan countries, Ukraine, Moldova, and Kazakhstan.
Other countries benefit from being able to produce on a large scale. Examples include maize or soybeans from Brazil. Lastly, countries that focus on crops that are less common for cultivation in and around Europe such as sesame seeds, quinoa, groundnuts or cowpeas often have a specific competitive advantage.
Figure 3: European imports of grains, pulses and oilseeds in 2019, in € million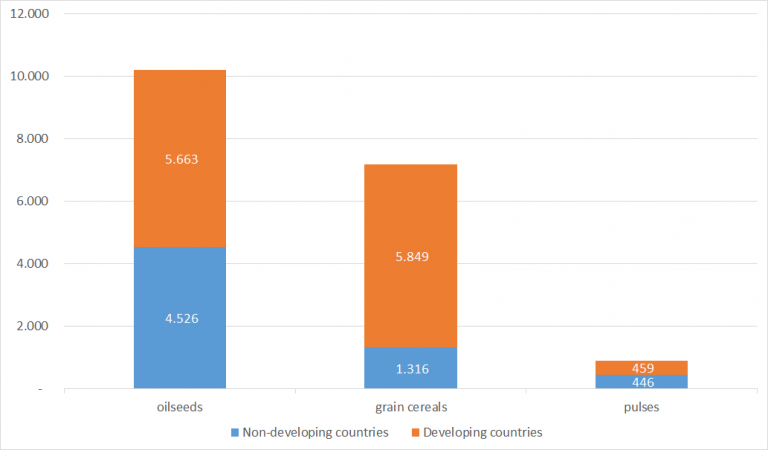 Source: ITC Trade Map
Grains from developing countries
Grains show the most significant growth among developing countries at 55% from 2015 to 2019, mainly because of growing imports of maize from Ukraine and Brazil and rice from Pakistan. Aromatic rice, such as basmati from Pakistan and jasmine rice from Thailand, are typical import products. The main rice suppliers also include India, Myanmar and Cambodia. Other typical grains that originate in developing countries are quinoa, mainly supplied by Peru and Bolivia, fonio from the sub-Saharan region, and millet from the Ukraine.
Table 1: Main non-European suppliers of grains to Europe in 2019, in € million
Exporters of grains

EU import in € million

Market share

Growth 2019

compared to 5 year average

Main product(s)

Ukraine

2919

41%

47%

Maize, wheat, barley

Brazil

852

12%

56%

Maize, rice

Canada

645

9%

-6%

Wheat, maize, canary seed

Pakistan

382

5%

62%

Rice

United States

380

5%

-17%

Wheat, sorghum, rice, maize

Thailand

299

4%

14%

Rice
Source: ITC Trade Map
Pulses from developing countries
The import value of pulses from developing countries is very stable and generally makes up just over 50% of the imported value. Kidney beans are a common import product from developing countries such as Argentina, China, Ethiopia and Egypt. This is followed by chickpeas from Mexico, lentils from Turkey and mung beans from Myanmar. Developing countries also play a major role in niche varieties such as adzuki beans (from China), cowpeas (Madagascar, Myanmar and Peru) and pigeon peas (Malawi, Kenya and Peru).
Table 2: Main non-European suppliers of pulses to Europe in 2019, in € million
Exporters of pulses

EU import in € million

Market share

Growth 2019

compared to 5 year average

Main product(s)

Canada

217

24%

-13%

Kidney beans, lentils, chickpeas

United States

160

18%

-4%

Kidney beans, chickpeas, lentils

Argentina

116

13%

8%

Kidney beans, chickpeas

China

70

8%

-29%

Kidney beans, mung beans, lentils

Turkey

57

6%

-5%

Lentils, chickpeas, kidney beans

Ukraine

48

5%

74%

Peas, kidney beans
Source: ITC Trade Map
Oilseeds from developing countries
The last three years have seen a shift in soybean supply, with more import from the United States and Ukraine and less import from Paraguay, Argentina and Uruguay. Trade negotiations have made the United States into Europe's main supplier, but EU-USA trade relations are on edge and future volumes are not guaranteed. Ukraine also performs well, not only in soybean, but even more in low-erucic acid rapeseed (LEAR).
Soybeans and rapeseed may be the biggest commodities, but many other oilseeds are supplied by developing countries as well. For example, India is the number one supplier of sesame, Paraguay and Bolivia produce most chia seeds for the European market, Kazakhstan is the largest supplier of linseed and Argentina leads the supply in groundnuts.
Table 3: Main non-European suppliers of oilseeds to Europe in 2019, in € million
Exporters of oilseeds

EU import in € million

Market share

Growth 2019

compared to 5 year average

Main product(s)

United States

2713

27%

10%

Soybean, groundnuts, sunflower seeds

Brazil

2082

20%

-7%

Soybean, groundnuts

Ukraine

1586

16%

63%

Low-erucic acid rapeseed, soybean, sunflower seed, linseed

Canada

889

9%

20%

Soybean, Low-erucic acid rapeseed, mustard seed, linseed

Argentina

571

6%

-8%

Groundnuts, sunflower seeds, soybeans

Australia

507

5%

-21%

Low-erucic acid rapeseed, poppy seed
Source: ITC Trade Map
Tips:
Focus on having a variety of customers and avoid too much dependency on the European market. Successful exporters often have strategic buyer relations in important regions, including large markets such as the United States and China.
Keep up-to-date with developments in the Black Sea region by monitoring the news on blackseagrain.net.
Specialise in typical products from your region and supply niche markets if you are not a large exporter. Niche markets can be more profitable, but be aware that they could also entail high risks and volatility.
Health food markets offer potential for non-commodity suppliers
There are several market segments that provide opportunities for products related to special dietary needs or health. The demand for organic and plant-based products are the strongest drivers of the human consumption of healthy grains, pulses and oilseeds, but gluten-free is also a segment with growth opportunities.
Table 4: Overview of relevant niche markets for special grains, pulses and oilseeds
Organic retail sales

Vegan product launches 2017-2018

Gluten-free sales and market size

Organic share in total retail sales 2018

per country 2018 in € million

Organic market growth 2017-2018

Percentage of global launches 2017-2018

sales per capita in 2015 in euros

market size in 2015
(% of global sales)

Denmark (11.5%)

Germany (10,910)

France (15%)

Germany (15%)

Finland (13)

United Kingdom (15%)

Switzerland (9.9%)

France (9,139)

Switzerland (13%)

United Kingdom (14%)

Norway (9)

Italy (10%)

Sweden (9.6%)

Italy (3,483)

Denmark (13%)

France (4%)

United Kingdom (7)

Germany (7%)

Austria (8.9%)

Switzerland (2,655)

Luxemburg (11%)

Spain (4%)

Ireland (6)

Spain (3%)

Luxemburg (8%)

United Kingdom (2,537)

Finland (9%)

Italy (3%)

Switzerland / Italy (5)

Finland (3%)
Sources: FiBL-AMI survey 2019, Mintel, Euromonitor International
Vegan: Going strong in Germany and United Kingdom
The demand for vegan and vegetarian foods and the search for plant-based proteins is becoming important for the sales of pulses and protein food crops. Flexible meat consumption can be marked as a main driver.
Although there is little comparative data within Europe, Germany and the United Kingdom are believed to be the leaders with a 29% share of the vegan food and drink launches from July 2017 to June 2018. The German market may still be the biggest, but the United Kingdom shows the strongest growth in vegan product launches. In 2019, 23% of the new British food products carried a vegan claim.
The current vegan market consists predominantly of soybean products, but there is unexplored potential for other high-quality, food-grade protein sources such as lupins and peas, which are both common in European production.
Image 1: LikeMeat, a German innovator creates vegan, gluten free and organic products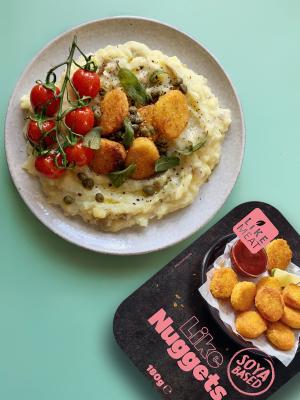 Source: Unsplash - photographer & cook: Line Tscherning
Organic: Nordics and German speaking countries are strong markets
The organic market in the European Union has reached a total retail sales value of €37.4 billion, with a growth of 7.7% from 2017 to 2018. Scandinavian countries and German-speaking countries are strong markets for organics. Organic production within Europe does not grow sufficiently to meet the demand, so there is still a dependence on external organic farmers.
Products with specific health benefits or nutritional value such as quinoa and chia seeds are often sold on the organic market. According to industry sources, there is also growing interest in new sources of organic pulses. The increased demand also applies to organic feed crops needed for the production of organic meat, eggs and milk.
According to the data from the FiBL World of Organic Agriculture, the European organic production is under pressure from the large organic production in China. China has the largest agricultural area for organic cereals, pulses and oilseeds in the world. At the same time, European buyers indicate that they want to move away from Chinese imports and focus more on Europe-grown organic products.
As a supplier, you can take advantage of the growing demand for organics if you are able to follow the strict European organic procedures and offer European buyers a good alternative for Chinese and European products.
Gluten-free: opportunities across Europe
The growing attention to gluten intolerance will open opportunities for gluten-free grains from developing countries, such as quinoa, buckwheat, amaranth and teff. According to The Association of European Coeliac Societies (AOECS) an estimated 1% of the European population suffer from coeliac disease. Scientific research indicates that coeliac disease is most common in Nordic countries such as Finland and Sweden. In the United Kingdom and Italy, gluten-free products are even subsidised by the government.
Sales of gluten-free products do not depend only on people with coeliac disease, because an increasing number of gluten intolerant and health-minded consumers make Europe an important market for gluten-free products. For example, in the United Kingdom up to 13% of consumers avoid gluten altogether. In Italy, approximately 50% of the food companies produce gluten-free products.
Transparency Market Research estimates that the global market for gluten-free foods will expand at an average annual growth of 7.70% in the period from 2015 to 2021. This growth will continue to provide a market for many of the typical gluten-free, pseudo-grains, but also increase the use of alternative ingredients, such as pulses in bakery products.
Image 2: Crisp bread with 20% teff flour of the leading gluten-free brand Schär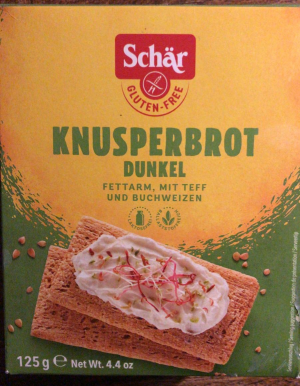 Source: M. Vrenssen
Agricultural policies may open up a new markets for pulses
In Europe, consumption of pulses is relatively low compared to the rest of the world. But since 2013, production has increased significantly from around 3 million tonnes to a five-year average of 5.3 million tonnes between 2015 and 2019. Part of this growth can be attributed to the Common Agricultural Policy (CAP). Its greening measures have identified nitrogen-fixing crops like dry pulses as ecological measures for sustainable agriculture.
The future of the common agricultural policy and the interest in the development of plant proteins in the EU will further prioritise sustainable food consumption and pulse production in Europe, in particular peas, broad beans and soybeans. But this scenario can also provide opportunities for imports.
Increased production and attention for protein crops in European agriculture can become a driver for demand. Especially crops intended for human consumption are lacking in production perspectives and foreign supply will be necessary. However, demand is easily overestimated. As a producer or producing exporter, you must be cautious with increasing or switching to producing pulses. The European market will not provide you with a profitable output for surplus production volumes.
Tips:
Make sure you have a buyer for your product before producing for the European market, and discuss which pulses will have most potential.
Use pulses as a rotational crop. They enrich the soil with nitrogen, being ideal as a rotation crop for cereals.
2.

Which European markets offer most opportunities for grains, pulses and oilseeds?

You can find demand for grains, pulses and oilseeds everywhere, although with some regional differences. Spain imports most grains for the animal feed market, while Germany has a large oilseed sector and interesting niche markets for grains and seeds related to healthy or special diets. Ingredients for traditional or ethnic consumption (especially pulses) can be best explored in Italy, Spain and the United Kingdom. The Netherlands is a distribution hub for many grain and seed ingredients, and so is Belgium for linseeds.

Figure 4: Europe's top markets for grains, pulses and oilseeds in 2019, in € million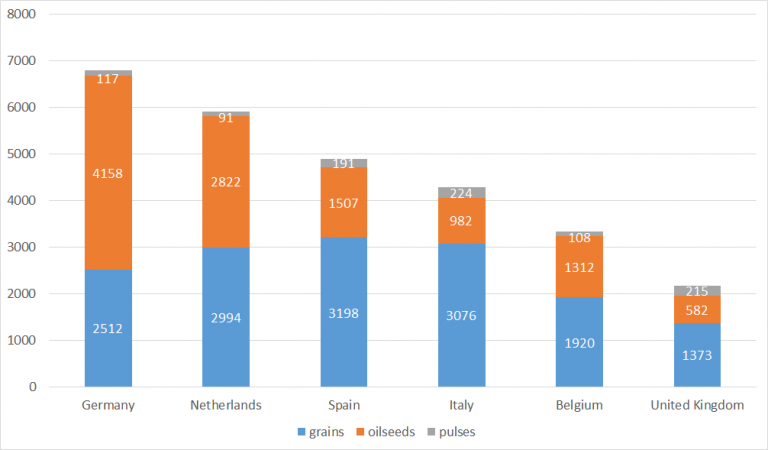 Source: ITC Trade Map
Germany: leads in imports of oilseeds
In the overall sector of grains, pulses and oilseeds, Germany has the highest import value in Europe. This is especially because of its large share in oilseed imports.
Importing and processing of oilseeds, as well the industrial use of cereals, is most dominant in North-Western Europe. In 2019, Germany was the leading user of oilseeds with €4.2 billion in imports and 12.7 million tonnes of oilseeds crushed, which is equivalent to 26% of the total oilseed crushing in the European Union. Part of this industry is driven by the making of biofuels and animal feed. Feed and starch-based products such as biopolymers are expected to be the main forces behind the demand for wheat and maize.
Besides grains and seeds for industrial use, Germany also imports a high value of linseed and groundnuts, and it is the largest importer of sesame, poppy seeds, millet and several niche cereals and seeds from developing countries. These ingredients fulfil the demand of bakeries, food packers and manufacturers.
With a growing number of health-conscious consumers and the highest retail sales value in organic products, there will be future opportunities to introduce new (organic) seeds and cereal grains that meet the expectations of a healthier diet. For example, Germany has the highest import value in niche oilseeds from developing countries (HS 120799) such as chia seeds, and has become the 2nd biggest importer of quinoa (after France).
Netherlands: distribution hub for grains and oilseeds
The Netherlands is a large importer of grains and oilseeds. Many of these products are re-exported, either directly or after processing.
The Netherlands is the largest importer from developing countries of (low-erucic acid) rapeseed, soy bean and ground nuts. Germany is the main reason for the Dutch bulk import, as it uses the Netherlands as a logistical hub for these commodities.
The Netherlands also has a relatively large share in Europe's feed production at just over 9% and it is home to some of Europe's largest feed producers and service providers in animal nutrition, including ForFarmers, Agrifirm Group, De Heus and Nutreco. These companies put the Netherlands on the first place in the top of global animal feed exporters, with an export share of 14.5% in 2019.
As an experienced re-exporter with distribution channels throughout Europe, the Netherlands is also a good place to enter the market with niche products. The country is the most prominent trader of lesser known grains and oilseeds. It is the second biggest importer of sesame and niche oilseeds like chia from developing countries, and it plays a significant role in the trade of new grain ingredients such as quinoa and teff. These special ingredients are traded by companies such as Tradin Organic, Doens Food and Rhumveld.
Spain: high need for imported feed grains
Spain has the highest import value in grains (wheat and maize), because of a large demand for feed crops. Additionally it is also the largest importer in peas and chickpeas.
According to the European Feed Manufacturer's Federation (Fefac), Spain produces 15% of the 164 million tonnes of compound feed in Europe. The Spanish livestock sector is large but the country has a structural deficit of local feed grains. For that reason, Spain is a huge net importer of maize, wheat and barley. It is responsible for a third of the European import value of maize from developing countries (€1,208 million, mainly from Ukraine and Brazil), more than a fourth of wheat imports (€108 million, practically all from Ukraine) and two-thirds of the value of barley imports (€60 million, also mainly from Ukraine).
Besides the demand for feed grains, Spain is also the main importer of peas and chickpeas from suppliers in developing countries. Trade data suggest a remarkable import growth of dry peas from Ukraine, from nearly nothing in 2015-2017 to €41 million and €16 million in 2018 and 2019 respectively. Spain's grain and dry pea import is strongly related to the feed industry but according to BusinessWire stronger demand for dry peas can also be attributed to the growing interest in vegan food.
Pulses in Spain are both a traditional food as well as a potential ingredient for plant-based enthusiasts. The trade value of most pulses (besides peas) has not shown an increase up to this point, however, the higher interest levels of health-oriented consumers and a possible revaluation of the traditional cuisine may predict a growth in the future.
Italy: biggest importer of wheat and pulses from developing countries
Italy's high demand for grains and pulses comes in large part from the food industry. Most of the imported ingredients are intended to support the traditional cuisine and typical Italian products.
For suppliers in developing countries, Italy is the largest market for wheat, including durum wheat, and kidney beans. Making traditional pasta, the most typical Italian food item, requires durum wheat and many Italian recipes call for white kidney beans or 'cannellini' beans. Take into account that Italian buyers look for these specific varieties.
The size of the gluten-free market also provide opportunities for alternative grains, such as quinoa, teff and fonio. Fonio was authorised as a food by the European Union after the application of Italian company Obà.
Belgium: A main player in linseed
Belgium has a similar profile to the Netherlands, offering a logistical entrance into the European market, but with a much lower total value and mostly specialised in linseed.
Belgian import excels in linseed, mainly coming from Kazakhstan and Russia. Imports from Kazakhstan increased significantly in 2019 to €94 million, 64% more than in 2018. Belgian companies such as Van de Putte Group and Flaxseed Trading are specialised in linseeds and responsible for more than half of Europe's import and processing of linseed into oil, food ingredients and feed. Linseed products are then often sold to Germany, the Netherlands, the United Kingdom and France.
United Kingdom: Ethnic markets boost the sales of rice and chickpeas
The United Kingdom shows that ethnicity can be an influence in the consumption of rice and pulses.
The ethnic population in the United Kingdom of 1.4 million Indians, 1.1 million Pakistani and 400 thousand Bangladeshi has made it an important target market for suppliers of rice, chickpeas, cowpeas and mung beans. The introduction of international food and cuisines have also influenced the eating habits of British consumers. Being the third largest importer of pulses, after Spain and Italy, the UK market is different from other Northern-European markets.
The United Kingdom offers suppliers from developing countries the largest European market for rice and the second largest for chickpeas. India and Pakistan are major suppliers of rice, including the popular basmati variety. In the supply of chickpeas India, Turkey and Argentina have increased their market share over the years.
Now that Britain has left the European Union (Brexit) non-European supply may become even more important to guarantee buyers with a reliable and affordable stock.
Tips:
Gain insight into the global and European feed market on All About Feed and the website of the European Feed Manufacturer's Federation (Fefac).
Investigate the specific demand and quality specifications of ethnic and traditional products. For example, Arab consumers strongly prefer larger chickpeas. Try to engage in conversations with potential buyers of ethnic foods by browsing the Europages database.
Get more information through the snapshots of opportunities in the Spanish pulse sector and the Italian lentil sector that have been published by Agriculture and Agri-Food Canada.
3.

Which products from developing countries have most potential in the European market for grains, pulses and oilseeds?

The best opportunities for the development of export from developing countries can be found outside of the commodity trade. In specialist food markets, you can differentiate your company with products such as aromatic rice varieties, ancient quinoa grains, healthy linseed, protein-rich chickpeas or sesame as an ethnic ingredient.
The most promising products
Suppliers that are large or close to Europe can profit from a greater demand in commodities. But the most noticeable opportunities for small and medium suppliers from developing countries are in organic, traditional or high-value crops with superior nutritional properties intended for human consumption. Therefore some of the most promising products for the European market include:
Rice varieties - especially (semi-)milled and aromatic Indica rice such as basmati
Ancient and 'super' grains - a nutritious category which is still led by quinoa
Healthy oilseeds - with linseed being the main imported high-value seed
Protein crops - offering growth potential to (chick)peas
Ethnic ingredients – with a preference for versatile ingredients such as sesame
Nearby commodities - such as maize due to its attractive price
Tips:
Make sure your products are clean and sustainable when targeting the market for healthy ingredients for human consumption.
Specialise your company in specific grains, pulses or oilseeds that are a good fit for your region and in which you can really excel. Also consider organic cultivation or specific varieties as a way to differentiate.
Rice varieties
Although Europe still produces the major share for its own consumption, the limited production of rice varieties makes Europe an interesting market for foreign suppliers. Japonica varieties made up 70% of the rice production in Europe in 2019. The import is increasing and mainly consisted of Indica rice.
Rice varieties
Both Japonica and Indica rice types are consumed across Europe, with a preference for Japonica rice in Southern Europe because of traditional dishes such as Spanish paella and Italian risotto, and a preference for Indica in Northern Europe. According to Ricepedia the European consumption of the long Indica-type grain, including specialty rice such as Basmati and Jasmine rice, and for organic rice, is growing 6% per year.
Processed rice
In trade statistics there is no difference made between rice varieties, except for the level of processing. The main import concerns semi-milled or wholly milled rice.
Rice from preferential countries
Due to the GSP+ and EBA (Everything But Arms) trade agreements, rice imports from Pakistan and Myanmar in particular have increased. In 2019, the customs tariffs on Myanmar and Cambodia have been reinstated due to concerns of the economic impact on European producers, but the duties will be steadily reduced over a period of three years.
Table 5: European import of rice varieties from developing countries, in € million
| | | | | | | | |
| --- | --- | --- | --- | --- | --- | --- | --- |
| RICE VARIETY | 2015 | 2016 | 2017 | 2018 | 2019 | growth 2019 compared to 5yr average | growth 2019 since 2015 |
| Rice (all types) | 1261 | 1117 | 1259 | 1281 | 1482 | 16% | 18% |
| Semi- or wholly milled rice | 602 | 554 | 573 | 654 | 739 | 18% | 23% |
| Husked / brown rice | 511 | 401 | 512 | 462 | 563 | 15% | 10% |
| Broken rice | 124 | 120 | 160 | 157 | 169 | 16% | 36% |
| Rice in the husk | 24 | 41 | 13 | 8 | 11 | -43% | -53% |
Source: ITC Trademap
Ancient 'super' grains
Authentic, non-modified grains (or ancient grains) and cereals that have a high nutritional or gluten-free value ('super grains'), are attractive alternatives for health-conscious consumers.
Quinoa
Quinoa leads the list of most popular ancient grains. Quinoa went down in trade value in 2016, 2017 and 2018, but the import quantities continued an upward trend and exceeded 28 thousand tonnes in 2019. The popularity of quinoa attracted a lot of producers, which kept prices low. In 2019 there was a small increase in value again.
Millet and oats
Millet and oats are well-known cereals in Europe, but have been somewhat undervalued for a long time. Millet is a niche cereal that is often associated with bird feed, while oats are more common as a food and have an average harvest in Europe of around 8 million tonnes. The search for healthy cereals may push their consumption and the minor supply from developing countries close to Europe seems to benefit from this as well (see table 7).
Niche grains
More interesting grains for developing countries are small, subtropical (pseudo-)grains such as fonio, teff, amaranth and cañihua. These grains are gluten-free and known for their superior nutritional properties. Due to their subtropical and labour-intensive nature, cultivation in Europe will be more difficult and expensive than in the origin countries. Cañihua is still considered a novel food by the European Union. Therefore it can only officially be marketed as a food if it gets the status of a traditional food from a third country or authorised as a safe ingredient for human consumption.
Fonio
Fonio is a traditional grain from western and sub-Saharan Africa. it obtained authorisation to be marketed in the European Union as a traditional food grain from a third country in early 2019. The current import is still minimal, but with the recent approval it has an interesting potential in the European food industry. You can find a few pioneering companies such as Aduna, Gaia, Obà and the Symfonio project.
Teff
Teff and amaranth are registered under an unspecified trade code for niche cereals. The trade statistics indicate little signs of growth, which shows that it can be difficult to get the commercial development started. Nevertheless, it does not alter the fact that these grains have great potential with the right marketing tools. For teff, the promotion of its nutrients and gluten-free nature will be one of your main tasks in marketing the product.
Table 6: European import of ancient and 'super' grains from developing countries, in € million
| | | | | | | | |
| --- | --- | --- | --- | --- | --- | --- | --- |
| ANCIENT & SUPERGRAINS | 2015 | 2016 | 2017 | 2018 | 2019 | growth 2019 compared to 5yr average | growth 2019 since 2015 |
| Quinoa | 85 | 67 | 59 | 60 | 81 | 15% | -5% |
| Millet | 18 | 21 | 18 | 13 | 21 | 14% | 16% |
| Oats | 1.6 | 1.2 | 1.0 | 1.6 | 3.6 | 100% | 129% |
| Fonio | 0.1 | 0.1 | 0.1 | 0.1 | 0.2 | 41% | 59% |
| Buckwheat | 5 | 3 | 2 | 2 | 2 | -30% | -57% |
| Unspecified niche cereals | 7 | 8 | 7 | 6 | 4 | -34% | -38% |
Source: ITC Trademap
Tip:
Make sure your product is authorised to be marketed as a foodstuff in the European Union. Some exotic products are 'novel foods', so inform yourself well about the European legislation for novel food.
Healthy oilseeds
High-value and nutritious oilseeds can offer good opportunities for suppliers in developing countries. In Europe rapeseed, sunflower seed and soybeans make up 96% of the oilseed production in Europe. This leaves room for developing countries to supply most other oilseeds, especially those intended for human consumption, such as sesame seeds, linseed and lesser known seeds.
Linseed
Linseed is making the greatest steps in health and nutrition, and shows most growth in import. Kazakhstan (together with Russia) is the most important supplier of linseed. Unlike sesame, linseed is mostly grown in the northern hemisphere and less suitable for tropical climate producers.
Other oilseeds: Pumpkin, hemp and chia
The seeds that are unclassified in the trade data are mainly pumpkin seed, hemp seed and chia seed. The overall growth in import value seems disappointing, but the volumes remain stable. Pumpkin seed and hemp seed are mainly supplied by China, while chia seeds are dominated by South American exporters. Pumpkin seeds are a popular snack in central Europe, and often available as an organic product in Germany and Austria. Both hemp and chia seeds offer high contents of omega-3 fatty acids, making them popular products for health-oriented consumers.
Hemp seed had an import value of just over €10 million in 2019, mostly from China and Canada, which complement the Eastern European production. The growing demand for therapeutic Cannabidiol (CBD), also a product derived from hemp, could drive up the cultivation of hemp as a crop in the northern hemisphere. The legal use of CBD is still under discussion, as described in the European CBD landscape in 2020 by Visual Capitalist.
Chia is relatively new in Europe. It boomed from nearly nothing in 2013 to an estimated 16 thousand tonnes (or €32 million) in 2019. The initial price peak in 2014 has now lost much of its value. South American suppliers in particular saturated this niche market, making it difficult for new suppliers to enter. Weather often determines the success of the current producing countries and issues with pesticide residues make buyers look for qualified producers.
Table 7: European import of healthy oilseeds from developing countries, in € million
| | | | | | | | |
| --- | --- | --- | --- | --- | --- | --- | --- |
| HEALTHY OILSEEDS | 2015 | 2016 | 2017 | 2018 | 2019 | growth 2019 compared to 5yr average | growth 2019 since 2015 |
| Linseed | 140 | 101 | 122 | 135 | 195 | 41% | 39% |
| Sesame seeds | 233 | 164 | 164 | 188 | 238 | 21% | 2% |
| Unspecified niche oilseeds | 260 | 229 | 187 | 170 | 179 | -13% | -31% |
| Poppy seeds | 8 | 7 | 6 | 14 | 13 | 31% | 56% |
Source: ITC Trademap
Tip:
Try to arrange supplying contracts with your buyers. Production and prices of smaller crops can be volatile, especially for novelty, niche products.
Protein crops
After soybeans, one of the principle protein crops for animals are peas. However, pulses for human consumption, particularly chickpeas and kidney beans, offer opportunities for a wider range of developing countries.
Peas
European pea imports really took off in 2018. The vegan trend definitely influenced the rise in demand for pulses, but in this case it was the decision of producers worldwide to switch to growing peas, eventually flooding the European market. Dry field peas are mainly destined for the animal feed market and the growth was mainly caused by the production in the Black sea region: Ukraine, Russia, Moldova and Kazakhstan.
Chickpeas
The best growth opportunity can be found with chickpeas, a popular and versatile protein crop to replace meat consumption. But chickpeas are also an opportunistic market: The import volumes continue to increase significantly but prices are far from stable due to fluctuating production and the dominant influence of India as main producer and consumer.
Kidney beans
Kidney beans follow a more stable line and they are the main imported pulse crop from developing countries. The total market value in Europe for suppliers from developing countries was €215 million in 2019. Kidney bean varieties touch both the mass market and traditional consumers.
Table 8: European import of protein crops from developing countries, in € million
| | | | | | | | |
| --- | --- | --- | --- | --- | --- | --- | --- |
| PROTEIN CROPS | 2015 | 2016 | 2017 | 2018 | 2019 | growth 2019 compared to 5yr average | growth 2019 since 2015 |
| Chickpeas | 72 | 88 | 111 | 113 | 84 | -10% | 17% |
| Peas | 10 | 11 | 16 | 75 | 47 | 49% | 365% |
| Kidney beans | 248 | 205 | 176 | 184 | 215 | 4% | -13% |
| Lentils | 55 | 73 | 63 | 53 | 46 | -21% | -17% |
Source: ITC Trademap
Tips:
Be careful with upscaling your production. Do not just look at current demand and prices, but make sure you see the bigger picture and monitor the actions of other producers and producing countries.
Be original with pulses. Focus on niches and special qualities, such as organic pulses, or add value through storytelling. Get inspiration to tell your story by watching These Are My Pulses videos on pulses.org.
Ethnic ingredients
Several imported grains, pulses and oilseeds are typical ethnic products; these are traditional crops in the origin country, but (semi-)exotic for European consumers. Among the products with a large ethnic demand in Europe are sesame, chickpeas and mung beans. More niche products include adzuki beans, cowpeas and teff.
Sesame
Sesame has an import value of over €200 million from developing countries, making it the most successful ethnic ingredient. Besides in the bakery sector, it is also used in traditional eastern European sweets, Asian dishes and tahini, a sesame paste. Sesame (tahini) and chickpeas complement each other in another typical product, namely hummus. Hummus consumption in Europe has been skyrocketing as a popular spread and dip with Arabic origin.
Mung beans
Mung beans are a typical Asian crop. In Europe, they are mostly used for sprouting, but whole dried beans are often found in the ethnic segments as well. The average import value from developing countries was €28 million in the past five years.
Cowpeas and other niche pulses
The European market is still underdeveloped for several traditional and ethnic pulses. But with the right marketing effort, there can be growth opportunities for less established pulses such as cowpeas. Cowpeas are a source of cheap protein and 96% of its production is located on the African continent, mainly in Nigeria and Niger. The European market for cowpeas is developing slowly and stood at a value of €7 million in 2019. Surprisingly, Madagascar, Brazil, Myanmar and Peru are the main exporters to Europe instead of countries from Western Africa.
Table 9: European import of ethnic ingredients from developing countries, in € million
| | | | | | | | |
| --- | --- | --- | --- | --- | --- | --- | --- |
| ETHNIC INGREDIENTS | 2015 | 2016 | 2017 | 2018 | 2019 | growth 2019 compared to 5yr average | growth 2019 since 2015 |
| Sesame seeds | 233 | 164 | 164 | 188 | 238 | 21% | 2% |
| Chickpeas | 72 | 88 | 111 | 113 | 84 | -10% | 17% |
| Mung beans | 32 | 30 | 31 | 23 | 27 | -6% | -16% |
| Cow peas | 9 | 7 | 8 | 9 | 7 | -11% | -20% |
| Small red "Adzuki" beans | 3 | 3 | 3 | 2 | 3 | -4% | -12% |
Source: ITC Trademap
High volume commodities
Large-volume products from developing countries include commodities such as maize, soybeans and rapeseed. Most of these commodities, except for soybeans and groundnuts, come from nearby countries. They are relatively easy to market through large corporations such as ADM, Cargill and Bunge at prices that depend on the stock market. Maize and low-erucic acid rapeseeds have shown the most growth in the last five years, in particular from the Ukraine.
Maize
Maize imports have increased significantly due to its favourable price and it has become a preferred crop for animal feed. The increasing industrial demand for isoglucose, corn starch and biofuel has given maize an extra push in the market.
Rapeseed
Rapeseed cultivation in Europe is mostly intended for industrial uses such as biofuels, but low-erucic acid rapeseed (LEAR) or canola, which is used for human and animal consumption, is mostly imported. The future growth of rapeseed is uncertain: rapeseed oil may increase its importance in food preparation at the expense of palm oil, which has raised several environmental and nutritional concerns. But due to the limited nutritional value of rapeseed meal, part of the production is gradually shifting towards soybeans.
Soybean
Soybeans are typically an imported product. In an attempt to become less dependent on external suppliers and make soybean cultivation more sustainable, 13 European Member States signed the European Soya Declaration in 2017, an initiative to increase non-GMO soy production.
Table 10: European import of large scale commodities from developing countries, in € million
| | | | | | | | |
| --- | --- | --- | --- | --- | --- | --- | --- |
|   | 2015 | 2016 | 2017 | 2018 | 2019 | growth 2019 compared to 5yr average | growth 2019 since 2015 |
| Maize | 1801 | 1548 | 2274 | 2939 | 3720 | 51% | 107% |
| Soya beans | 3292 | 2868 | 2885 | 2604 | 2482 | -12% | -25% |
| Low-erucic acid rapeseeds | 466 | 354 | 740 | 755 | 1326 | 82% | 185% |
| Groundnuts | 765 | 794 | 969 | 813 | 838 | 0.3% | 10% |
| Wheat (excl. durum) | 343 | 295 | 361 | 412 | 323 | -7% | -6% |
| Sunflower seeds | 189 | 363 | 264 | 273 | 311 | 11% | 65% |
Source: ITC Trademap
Compete in large-scale production and price, or find specific niches to move away from the commodity trade, such as organic soybeans, non-GMO maize and pesticide-free grains. Sustainable production is a precondition for making your supply future-proof.
This study has been carried out on behalf of CBI by ICI Business.
Please review our market information disclaimer.
Follow us for the latest updates