The European market potential for fonio
Fonio is so new to the European market, that it only recently received an official authorisation to be marketed as a food product in Europe. There is a potential market for fonio as a nutritious, ancient grain and as an interesting replacement for wheat. Based on the recent development of fonio pioneers and the demand for gluten free and organic grains, the countries with the most potential for growth in the next few years are France, the Netherlands, United Kingdom, Italy, Germany and Switzerland.
1.

Product description

Fonio or white fonio (Digitaria exilis) is a small gluten-free grain (1-1.5mm) similar to millet and a very common crop in West Africa in the Sahel region, at the southern edge of the Sahara desert. The black fonio (Digitaria iburua) variety, which is mainly cultivated in Niger, Nigeria, Benin, Togo and Chad, is less common and the grains are even smaller than white fonio.

Husked fonio is eaten like rice and couscous, used to make porridge and beer or milled into flour for baking. Among fonio's advantages, it can be cultivated in semi-arid areas with poor soils and reaches maturity in six to eight weeks. However, the lack of modern post-harvest technologies and the size of the grain makes it labour intensive and difficult to process.

Processing steps for fonio:
threshing
winnowing, cleaning and sorting
hulling, washing, drying
processing, for example, milling, pre-cooking or parboiling
Several mechanisation trials to make fonio post-harvest and processing easier have been done. You can read about some of them in the CIRAD publication Fonio, an African cereal, from page 83 onwards.
Figure 1: Fonio grass and grains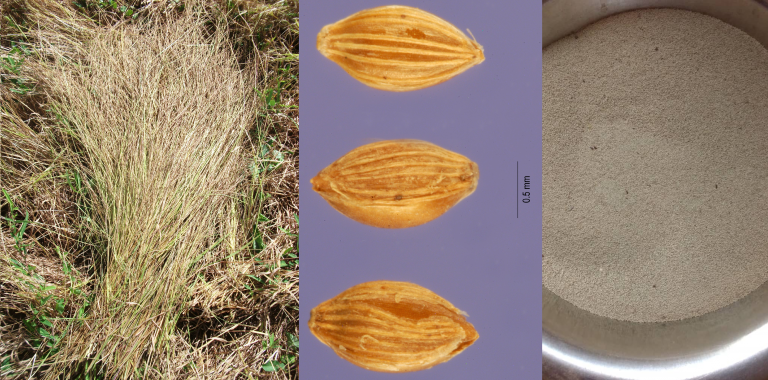 Source: Wikimedia Commons - adjusted photos from Toujours Passages, CC BY 2.0; Jose Hernandez, Public domain; KAG1LP2MDIAKITE, CC BY-SA 4.0
Fonio has had its own code in the Harmonised System (HS), HS 100840, since 2012. The fonio statistics in this study concern fonio grains. There are no available trade data for Fonio flour.
In December 2018, the European Commission approved the commercialisation of decorticated fonio grains, that is, having their bran removed, in Europe as a novel food under implementing regulation (EU) 2018/2016.
2.

What makes Europe an interesting market for fonio?
Europe shows first signs of a growing fonio market
There is little previous history of fonio use in Europe. Since December 2018, fonio has been officially recognised as a traditional food from a third country and approved as a novel food product in Europe.
Even before the authorisation, European buyers imported minor volumes of fonio between 33 and 172 tonnes annually starting in 2012. These smaller volumes were most likely used for testing, product development, small-scale or ethnic consumption, as well as for non-food uses such as bird seed.
After being officially authorised for human consumption as a novel food in the EU, it is very likely that imports will further increase, as interest from food companies grows. There are first signs that the fonio market is taking off: The import volume in the first two quarters of 2021 was already 226 tonnes, which forecasts a total annual volume of around 450 tonnes. This would be significantly more than in previous years, when import topped at 266 tonnes (see figure 3). Fonio grains not only reached specialised food channels such as organic stores and online health food web-shops, but also made its first entrance in the regular supermarkets. Examples are Carrefour in France, the online grocer Ocado in the United Kingdom and fonio as a private label product in Jumbo supermarkets in the Netherlands (see figure 2).
Important to know: Fonio remains new and unknown
However, a real market for fonio has yet to develop in Europe. For most consumers, fonio is still an unknown grain type. In this preliminary stage, investment in marketing is relatively high. Potential opportunities for fonio can be based on market characteristics and trends, but they remain highly hypothetical.
Figure 2: Fonio as private label brand in Jumbo supermarket in the Netherlands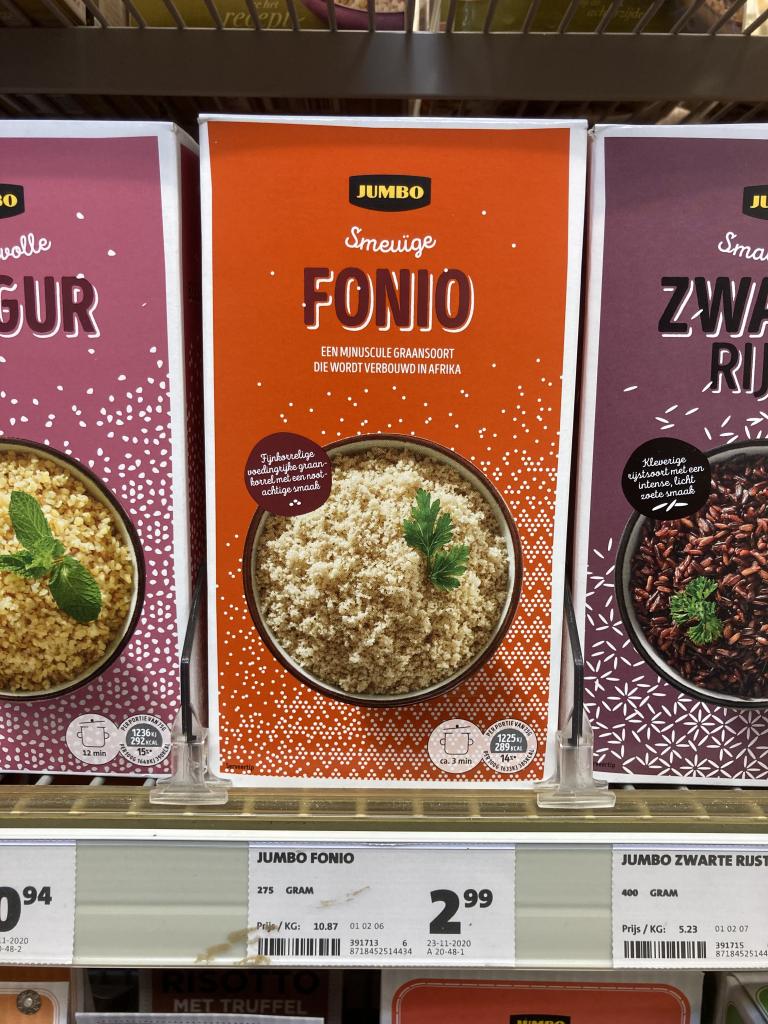 Photo by ICI Business
Tips:
Introduce fonio to potential buyers, for example, at specialised fairs, such as the Free From Expo in the Netherlands and the bakery trade fair iba in Germany, or at one of the major international food trade fairs, such as Food ingredients Europe, SIAL, Anuga and BioFach (organic).
Find your buyers on trade fair exhibitor lists, trade association member lists, for example via members of COCERAL, and company databases such as organic-bio and EUROPAGES. Remember that fonio is still a grain for pioneers, so these lists will mainly help to build your future prospects.
Usability and grain comparison predict positive future for fonio in Europe
Industry sources describe fonio flour as a very workable and strong flour. It is also gluten free, which makes it interesting for coeliac disease patients and gluten-intolerant consumers. This puts it on a par with other specialty, gluten-free and pseudo grains, such as millet, quinoa, amaranth, teff and buckwheat.
Fonio only represents a fraction of the import value of other niche grains. Quinoa, millet (often used as birdseed), buckwheat and other niche grains such as amaranth and teff are more common for European import than fonio. To measure its market potential, fonio has been regularly compared with quinoa, much in the same way teff has too. In 2020, quinoa was the specialty grain with the highest import value, at just over € 71 million. It is an example of a grain that reflects what promotion can do with the potential of fonio. If fonio is promoted and picked up by the European consumer like quinoa, fonio could grow exponentially. However, like most new grains, fonio also has many challenges to overcome.
Figure 4: European import of niche grains with non-European origin in 2020, in € million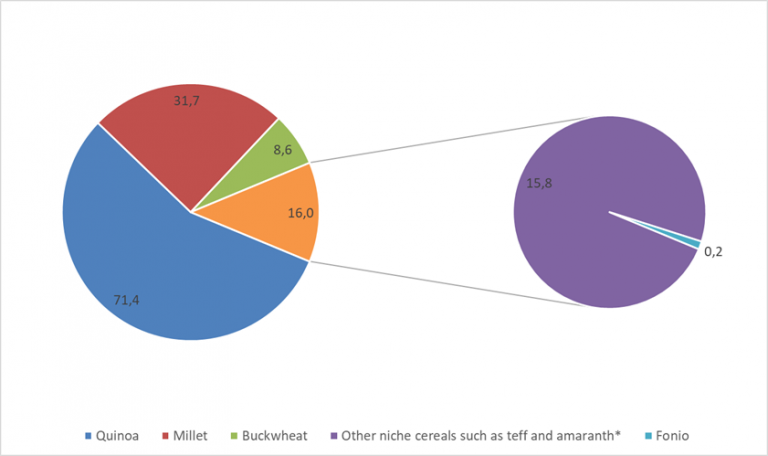 *excluding wheat and meslin, rye, barley, oats, maize, rice, grain sorghum, buckwheat, millet, canary seeds, fonio, quinoa and triticale
Source: ITC Trademap
Important to know: new hyped export products are risky
New products that are highly promoted often end in an unnaturally inflated price, followed by large overproduction, eventually resulting in big losses for producers or exporters. The advantage of fonio is that it already has a relatively large local consumption in Africa. Still, as a supplier you must be aware of the risks for if and when fonio becomes a new hyped export product.
Tips:
Keep up to date with market developments in niche grains via food news on Bakery and snacks, Food Ingredients 1st and Food Navigator.
Use the unique selling points and characteristics of fonio compared to other grains in your presentation. Compare the nutritional value, for example on Food Facts and Tips.
Plan your production: before producing or processing larger fonio volumes for export, first find adequate buyers for your product.
Crop combinations can facilitate fonio trade
European importers in general are not keen on taking risks. Demand for fonio is still very small, so buyers likely prefer dealing with small volumes. It can be interesting for them to start importing fonio in combination with other crops. By combining crops you can save on logistics and make the fonio trade less risky for buyers.
In Africa, fonio is ideally intercropped with other semi-arid tropical cereals and pulses, such as sorghum, groundnuts, cowpeas, pigeon peas and sesame. For example, Nigeria exported 10.1 thousand tonnes of sesame seeds to Europe in 2020, while Togo supplied around 1.6 thousand tonnes of ground nuts to France and Belgium. You can also try to offer fonio to existing buyers of other grains, seeds or pulses.
Important to know: No reliable production means no end market
The success of fonio in Europe will depend on how it is managed as an export product. Buyers can become interested if fonio is a feasible product for sourcing and worth the effort to promote.
The main challenges for fonio are the manual labour involved in processing the tiny seeds and the producers' lack of experience with the strict requirements of the European food industry. Smallholders often lack the capacity to keep up with large harvests, as well as proper equipment and food safety management systems.
Buyers need to be assured of reliable supplies and processing up to European standards. If the supply is not reliable or not compliant with European standards, there is no potential for a durable growth of fonio in Europe.
Tips:
Include a portfolio of different types of grains, seeds and pulses in your export strategy. This will help you diversify your assortment to buyers, reducing dependency on a single export product. It will also help to have previous experience exporting other more established products before going into fonio.
Be well prepared when offering fonio as a new product to buyers: Buyers will expect you to know your product and present all necessary details including samples, supply conditions, price information, export volumes and production process.
3.

Which European countries offer most opportunities for fonio?

To determine the potential for fonio, you can look at the import data for fonio and other specialty grains, the size of the gluten-free market, and specific sectors such as the bakery sector. In France, the Netherlands, Italy and the United Kingdom, fonio is already being promoted. The United Kingdom and Italy have a high demand for gluten-free food. Germany may offer more opportunities in the near future due to its market size and demand for other niche grains.

Table 1: Overview of comparable data of similar products and trade channels relevant to fonio
 

Import from non-European countries, in 1,000 euros

Bread and bakery revenues, in € billion

Gluten-free per capita spending, in USD

 

Fonio 2020

Quinoa 2020

Niche grains 2020

2019

2015

Forecast 2020

Netherlands

111

10000

2668

4

4,5

8,5

France

66

11640

370

12

 
 

United Kingdom

34

4977

1920

20

15

24

Germany

2

16914

4504

21

5

6

Italy

0

5272

1060

16

10,5

15

Switzerland

0

4034

1498

 

11,5

11
Sources: ITC Trade Map, Statista
France
A well-developed organic grain market and ethnic consumer groups may offer opportunities for the future development of a market for fonio in France.
France can be an interesting starting market for fonio. It has a small, but consistent import of fonio. The import value in 2020 was € 66 thousand and a total of € 404 thousand since 2016. Despite the small volumes the country has been the main importer of fonio in the past 5 years (see figure 5).
France has also been one of the pioneers to introduce quinoa in Europe and remains one of the primary importers (see table 1). Quinoa and fonio share many similarities: both are ancient or ancestral grains valued for their nutritional value and have a traditional production of smallholder farms. Quinoa gained traction in France in the organic food market. Organic certification and the promotion of smallholder farming could prove to be a successful strategy for fonio exporters. For example, the French company Gaia is already selling several organic and fair-trade certified fonio products.
France also has an advantage with a possible ethnic demand because of its close relation with French-speaking African countries. More than 160 thousand citizens of Mali, Senegal and Guinea live in France, a consumer group that may be already familiar with fonio.
Tip:
Verify if your product already or mostly complies with the European standards of organic agriculture. Check with a recognised control body and get your product certified, if possible, since France could be an interesting pioneer market for organic fonio.
Netherlands
The Netherlands is often a quick adopter of new food products. This can be used to your advantage to market your fonio grains through Dutch trade channels.
The reason that new products are easily adopted in the Netherlands is because it is a trade hub for many food products in Europe. A relatively high volume of specialty grains, such as quinoa, is imported and distributed through the Netherlands. The country has the biggest European seaport, Rotterdam, which is connected to an extensive logistical infrastructure taking products to other destinations throughout Europe. With € 111 thousand in 2020, the Netherlands imported the highest value of fonio in Europe in 2020 and much more than the years before.
One of the companies that has made this growth happen, was Symfonio B.V, a socially engaged company that supports organic agriculture for authentic African crops and food products. Symfonio has managed to get fonio in major organic Dutch supermarkets such as Ekoplaza and Odin.
When the fonio market in Europe expands, you can expect Dutch traders to play a significant role in re-exporting the grain to different neighbouring countries.
Italy
Italy offers good potential prospects for fonio and could be a good first target market. Having a large wheat-based industry, there is interest in alternative gluten-free products in the Italian market.
Italy was among the first European countries to adopt fonio. The application to authorise fonio as a novel food in Europe came from the Italian Obà food group, which assessed the Italian market and the potential of fonio. Obà serves both the consumer and the business-to-business market with fonio grains and flour. These pioneering companies are crucial to the promotion of fonio as a new ingredient in Italy's traditional food market. Even though Italy recorded little fonio import directly from origin countries, it is among the main European markets.
Italy has a large industry that works with wheat for bread, pizzas and pastas. But the country is also among the largest European markets for gluten-free products. In 2014, Italy accounted for 13% of the global sales of gluten-free products and 29% of gluten-free pasta sales. One of the leading Italian brands of gluten-free products is Schär. The demand for gluten-free ingredients will help new grains such as fonio to become more accepted.
United Kingdom
The United Kingdom is a strong innovator in healthy cereals. Fonio exporters can try to find opportunities in dominant food segments, such as gluten-free and healthy cereal snacks. In 2020, the United Kingdom was the third largest importer of fonio.
The demand for specialty grains comes from an innovative food industry and well-developed market for healthy cereal snacks, such as biscuits. These grains cater to a large number of consumers that seek convenient, nutritious and high-fibre products. The COVID-19 pandemic has given the demand for healthy snacks an extra push. According to news in Nutraceutical, nearly three in four UK consumers stated they were looking to change to healthier eating habits owing to the pandemic.
Within the health food segment there is a relatively large demand for gluten-free food, which sustains the growths of cereals such as fonio. British people are among the leading consumers of gluten-free food with a projected spending of 24 US Dollars per capita in 2020 (which equals approximately € 21). The UK has the second-largest population in Europe and approximately one per cent of consumers with Coeliac disease. An estimated 13% of people in the UK need to avoid gluten altogether, meaning the gluten-free market targets 660 thousand coeliac disease patients and 8.6 million people who avoid gluten in their diets.
Figure 6: Fonio of Aduna, a British brand focused on West-African food products.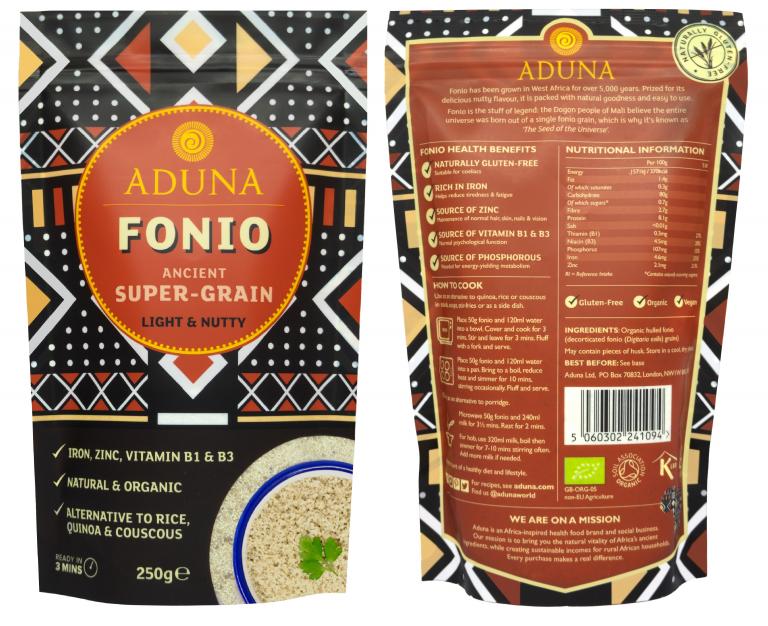 Source: Aduna
Germany
German fonio imports are still negligible, but it is potentially your largest market in Europe. Germany not only has Europe's largest population, but it also hosts a mature bakery sector which can form a basis for fonio in the future.
Germany is market leader in bakery products, with a bread and bakery industry worth more than €21 billion. There is a variety of nearly 3,200 different breads in Germany, where bread culture is so strong it has been included in the UNESCO world heritage list.
Consumers in Germany have a growing interest in ancient grains and bakery products with nutritious grains added. Millet, spelt, emmer, einkorn and quinoa are already widely used in the country. In 2016, a third of Germans ate quinoa and almost 48% consumed other ancient grains, such as millet and spelt. Fonio would fit perfectly in the range of 'super grains'.
German consumers that opt for these super grains are usually also focused on eating natural and clean products. This means that your fonio grains need to be free of any chemical residues, and preferably organically cultivated.
Tip:
Find relevant German and international companies in the bakery industry in the exhibitor list of iba, the leading trade fair in Germany for the bakery, pastry and snack trade.
Switzerland
While not part of the European Union (EU), Switzerland is located between Germany, France and Italy, three high potential markets for fonio. The population size may be much smaller, but health-oriented consumers with strong purchasing power distinguish Switzerland from its neighbours.
Swiss people can be described as conscious consumers who value quality, health and social responsibility. The country has one of the highest consumption rates per capita of organic food in Europe. The Swiss organic standard complies with both EU and Swiss organic regulations, but also applies stricter criteria in terms of social responsibility, animal welfare, soil health, and biodiversity.
For a small country, the import value of niche grains in Switzerland is relatively high. Fonio is already recognised as a gluten-free grain by organisations such as the Interest group for celiac disease in German-speaking Switzerland (Zöliakie) and promotion of the grain and its nutritious properties will likely result in more sales in the coming years.
4.

What trends create opportunities or risks in the European fonio market?

The trend of an increasing focus by European consumers on healthy and nutritious food can be beneficial for the development of fonio. An additional strength will be the story behind fonio grains and their potential to improve social and economic circumstances in the origin countries.
Ancient grains are attractive for consumers
The awareness of nutritious grains, especially 'ancient grains', is rising among European consumers. Fonio can be placed in the category of ancient grains, which are commonly defined as grains or pseudo cereals that are largely unchanged over the last several hundred years. These include for example einkorn, emmer, spelt, quinoa and teff.
When promoting ancient grains, it is important to highlight the story behind the product. The term ancient grain has become a common marketing concept for specialty and traditional grains. The story of traditional consumption combined with nutritional characteristics make these grains attractive for European consumers, who increasingly seek authentic and healthy foods.
The following brands and products in the European market include ancient grains or storytelling in their formulations, for example:
Tip:
Tell the story behind your product when selling fonio to the European market. Highlight the history of the grain, the nutritional benefits, the traditional production by small farmers and the long-term value in the local culture.
Potential for organic superfood
Superfood and 'super grains' have become regular marketing terms in Europe for all grains that provide additional nutritional benefits. Fonio has the potential to be marketed as a super grain too. Its nutritional composition offers more protein and fibre than brown rice and couscous or durum wheat, and has a lower value on the glycaemic index, the speed in which it increases blood glucose level.
Consumers in Europe increasingly seek information about the food they eat. The Covid-19 pandemic has further strengthened people's search for good nutrition and food with health properties. As awareness of nutrition grows, people also look for healthy food alternatives and ingredients for specific dietary needs. Fonio can offer a solution for popular dietary choices, such as vegan, gluten-free and low-glucose. By promoting these aspects, fonio can be placed together with other more established super grains, such as quinoa, amaranth and teff.
Providing nutritional information will help fonio to get adopted by brands that want to promote health or make a product appear healthier. The company Ibémi shares such information on their website.
Many healthy grains are brought to market as organic products to highlight their natural and sustainable quality. The organic market is continuously growing and especially relevant for these types of super grains. Retail sales of organic food in Europe were estimated at € 45 billion and increased by 8% between 2018 and 2019.
Tips:
Aim for companies that are most involved with food for specific consumer groups and consumers with special dietary needs, for example organic traders and gluten-free specialists.
Promote awareness of fonio by getting grain specialists involved. For example, get the attention of experts and members of the Healthgrain Forum and seek their support in advocating fonio as a healthy grain.
Consumers are becoming more interested in the social background
Consumers tend to be more informed about their food. With the promotion of fonio as an ancient and healthy grain from Western African smallholder farms, the importance of social compliance grows.
Diverse western media are already reporting on fonio as a very sustainable grain for Africa's agriculture. It requires little resources and can grow in semi-arid regions. The production of fonio supports small farmers as well as local access to nutritious food. By exporting the crop to Europe, the positive image of fonio grains may change if the local food security comes at risk. This is why it is important to show and communicate that your export does not impact food security – but instead, that fonio trade contributes to the wellbeing and economic prosperity in the origin country.
This study has been carried out on behalf of CBI by ICI Business.
Please review our market information disclaimer.
Follow us for the latest updates
Search
Enter search terms to find market research