What requirements must grains, pulses and oilseeds comply with to be allowed on the European market?
1.

What are mandatory requirements?
Food safety: Traceability, hygiene and control
Food safety is a key issue in European food legislation and regulated by the General Food Law. To guarantee food safety and to allow appropriate action in cases of unsafe food, food products must be traceable throughout the entire supply chain and risks of contamination must be reduced as much as possible.
Food operators in Europe are responsible for the safety of the products they sell. This also affects you as a supplier, because you are expected to control your supply chain according to the guidelines of Hazard Analysis and Critical Control Points (HACCP).
When you export grains, pulses or oilseeds, your product will be subject to official controls. Products that are considered unsafe will be denied access to the European Union. The Rapid Alert System for Food and Feed (RASFF) registers potential hazards and informs other European member states about the measures taken.
Food safety will continue to be a top priority in the grains, pulses and oilseeds trade. Non-compliance can lead to temporary import stops or to stricter control of products from your origin.
Phytosanitary regulation
Some products have extra phytosanitary requirements when being commercialised in Europe. For grains and pulses, you must have an official statement that your product is free from specific diseases or comes from an area where these diseases are not found. This includes, for example:
pulses (seeds of Phaseolus genus) that must be free from the bacteria Xanthomonas campestris;
wheat, rye, barley and other grains of the genus Triticum and Secale, that originate in Afghanistan, India, Iraq, Mexico, Nepal, Pakistan and the United States, which must be free from Tilletia indica Mitra.
maize that needs to be declared officially free from Erwinia stewartii.                                                                                                                                                                                                                                                          
Limited use of agro-chemicals
The European Union has set maximum residue levels (MRLs) for pesticides and other chemicals (active substances) in and on food products. Strict compliance with these MRLs are necessary to enter the European market. Products containing illegal pesticides or excessive chemical residues will be withdrawn from the European market.
Note that the MRLs applied by buyers in some countries are often stricter than those specified in European legislation. These stricter requirements are often enforced by large retail chains such as in Germany. Especially in the case of special and healthy food ingredients, European laboratory testing can be rigorous and more precise than in the country of origin. The slightest exceedance can be a reason for the buyer to decline your product.
The approval of all active substances is periodically reviewed. For suppliers of grains, pulses and oilseeds this means the maximum residue limits and legally allowed pesticides are subject to change. For example, there is a growing resistance against the herbicide Glyphosate, and its use and safety will be reviewed again after 2022.
Contaminants
Contaminants are substances that have not been intentionally added to food, but which may be present as a result of the various stages during production, packaging, transport or holding. To avoid the negative impact of contamination on the quality of food and the risk to human health, the European Union has set limits for several contaminants such as heavy metals and mycotoxins.
Common microbiological contaminations in grains, pulses and oilseeds are for example aflatoxins in oilseeds or cadmium in wheat or soybean.
Novel Food
Products that are new in the European food market, or products that were not widely consumed in the EU prior to 1997, are considered 'novel foods' and have specific legislation. Before introducing a new ingredient as a foodstuff, you must provide data proving it is safe for consumption within its suggested use and you must apply for an authorisation. Food ingredients that are already approved can be found on the union list of novel foods.
Follow the steps below when introducing a new food into the European Union, but take in mind that an application can be time consuming and expensive due to the scientific proof and technical data that is requested:
The assessment and authorisation procedure for a novel food can take up to 1.5 years, excluding the data collection you must do yourself.
Among the products that are currently included in the Novel Food regulation are, for example, chia seeds, fonio and cañihua/kañiwa. It will likely take many years for a Novel Food product to be assessed to be accepted as a regular food stuff.
Sprouted seeds
After an outbreak of E. coli in 2011, the European Union introduced specific regulations for sprouts and seeds intended for the production of sprouts. The import of sprouts and seeds for sprouting into the European Union must be accompanied by a certificate and be produced by an approved establishment that complies with the general hygiene provisions, traceability and the microbiological criteria.
The sprouting of seeds, such as mung beans, is almost exclusively done within Europe. When you export seeds to sprouting companies, you will have to deal with extra paper work and a higher chance of intensive food safety checks.
No GMOs
The European Union is very cautious towards genetically modified organisms (GMOs). Only a few genetically modified varieties have been authorised for soybeans, rapeseed and maize, and they are used primarily in the animal feed sector. For human consumption, most food businesses choose not to sell genetically modified food at all.
According to World-grain.com 95% of all GM crops grown in the E.U. is genetically modified maize grown in Spain.
Marketing standards
Each product has its own characteristics, which are often documented in a marketing standard. The Codex Alimentarius provides standards for several grains and pulses, such as couscous, sorghum grains, rice and whole, shelled or split pulses (beans, lentils, peas, chickpeas, field beans, and cowpeas). These standards cover characteristics such as moisture, purity, grain quality and appearance. Not all products are covered, but this does not mean that buyers of such products operate without a standard.
Labelling
Food placed on the European market must conform to the following legislation on food labelling:
Generic name and, if applicable, its treatment;
List of ingredients, including allergens;
Net quantity;
Date of minimum durability;
Special conditions for keeping or use;
Name and address of the manufacturer, packager or importer;
Place of origin;
Lot marking on pre-packaged foodstuffs.
Novel food and genetically modified foods require additional labelling.
Image 1: Business-to-business labelling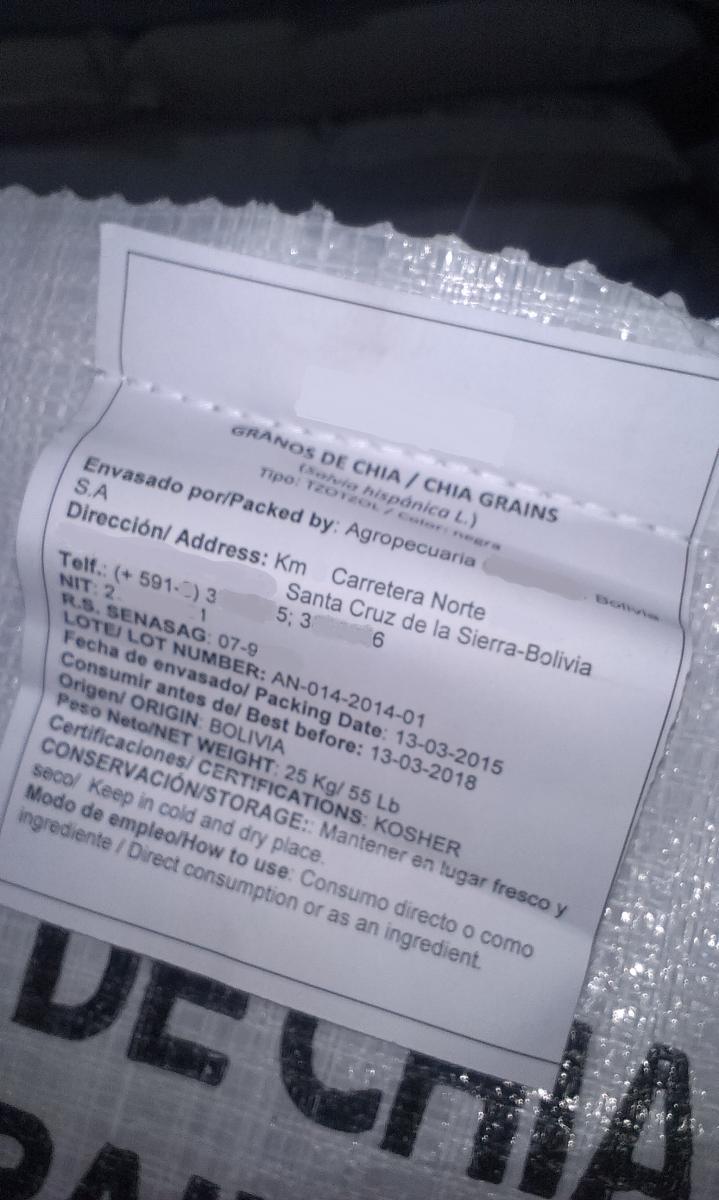 Photo made by ICI Business
Image 2: Consumer labelling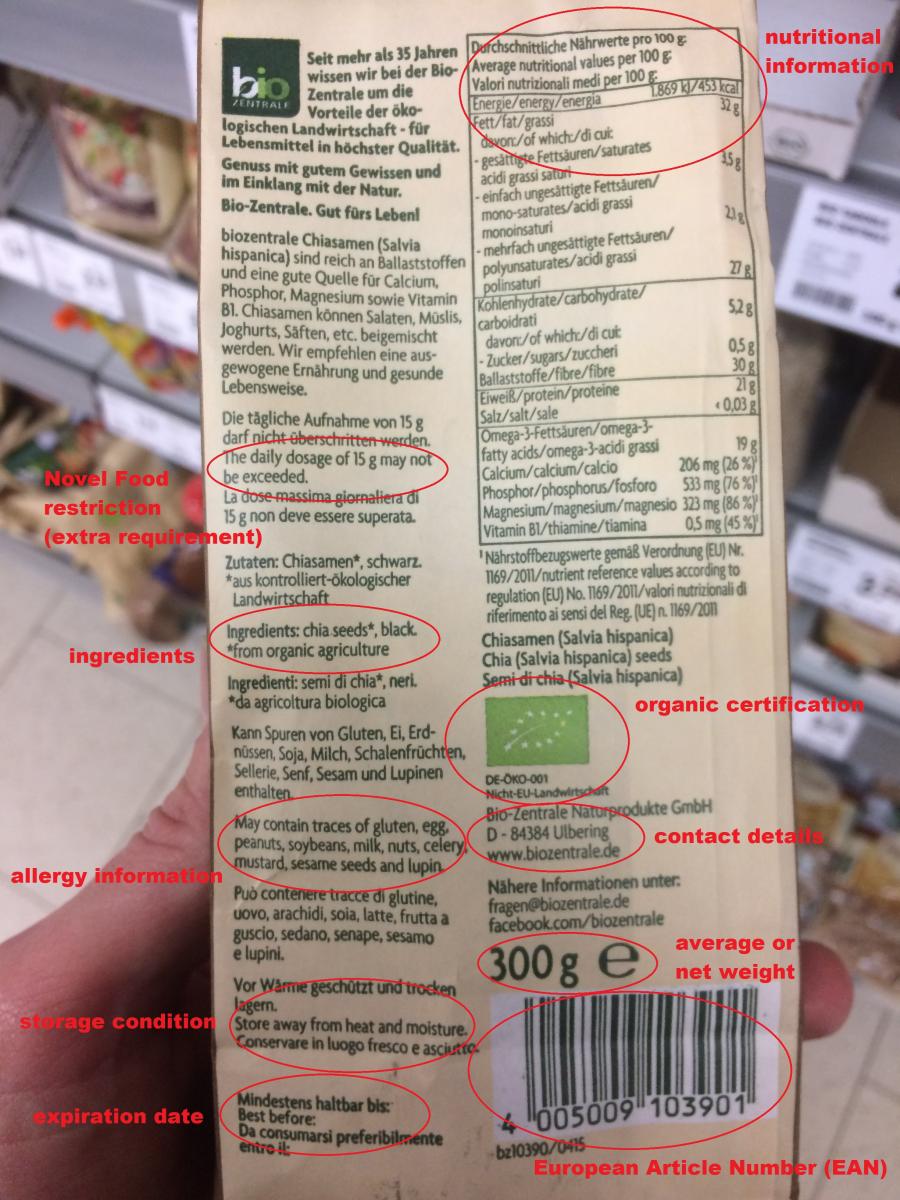 Photo made by ICI Business
2.

What additional requirements do buyers often have?
Certification as a guarantee
Since food safety is a top priority, most buyers are likely to request additional guarantees in the form of certifications. European food businesses are legally required to have a food safety management system based on the principles of Hazard Analysis and Critical Control Points (HACCP). Many buyers in Europe (e.g. traders, food processors, retailers) require the same from you as a foreign supplier.
Food safety management systems and certifications that are recognised by the Global Food Safety Initiative (GFSI) are widely accepted throughout Europe. The following are the most significant certifications:
The preferred certification schemes can vary between specific markets and buyers. Either way, the pressure of certification has increased on suppliers and will continue to do so.
Social and environmental practices
Social and environmental practices have become a pre-condition for the export of grains, pulses and oilseeds, which has resulted in a variety of private and collective standards that you must take into account.
Food businesses in Europe are increasingly paying attention to their corporate responsibilities with regard to the social and environmental impact of their businesses. This has led a number of supermarket chains and large industrial players to develop their own Corporate Social Responsibility (CSR) and sourcing policies. Smaller buyers have also incorporated social and sustainable practices into their business policies.
While the market increasingly desires transparency in food supply chains, actors in the supply chain are becoming more risk-averse and demanding. How this affects you as a supplier is through the extra proof you must show by filling in forms or signing a code of conduct, declaring you conduct your business in a responsible manner. Most buyers will visit you regularly.
Social compliance is supported by several important initiatives, which buyers often refer to, such as:
Larger commodities are sometimes part of a specific initiative, such as the Round Table on Responsible Soy (RTRS standard) and the Sustainable Rice Platform (voluntary sustainability standard for rice 2.0). The IDH, the sustainable trade initiative has defined targets for a responsible and zero-net-deforestation soy import.
3.

What are the requirements for niche markets?

In addition to the official and common requirements, specific requirements apply to niche markets (such as for organic grains and pulses or fair-trade products). These requirements can be particularly important for specific consumer groups or in the health-food segment.
Organic, a growing niche market
Consumers in Europe increasingly prefer food products that are produced and processed using natural and sustainable methods. Organic certification is often used for food products associated with health benefits. For example, the European market for quinoa has been developed entirely by organic trading companies.
In order to market organic products in the European Union, you must use organic production methods, which are specified in European legislation. You must have used these production methods for at least two years throughout the conversion period before you can certify your grains, pulses or oilseeds as organic.
If you wish to become an organic farmer or exporter, you must be registered and certified through a recognised control body. The control agency or body is responsible for verifying that the operator acts in compliance with organic rules. A yearly inspection and a set of checks make sure that you are complying with the rules on organic production.
After being audited by an accredited certifier, you can use the EU organic logo on your products, along with the logo of the standard holder.
All organic products imported into the EU must have the appropriate electronic certificate of inspection (e-COI). These are administered through the Trade Control and Expert System (TRACES). If you do not have an electronic certificate of inspection, your products will not be released from their port of arrival in the European Union.
In 2021, the new organic regulation (EU) 2018/848 will enter into force, together with the new Official Control Regulation. Besides checking the compliance with European rules for imported products, it will also reinforce the controls and enhance possible actions against fraudsters. As a third-country producer, you will have to comply with the same set of rules as those producers in the European Union.
Fair trade and environmental certification
Fair trade and sustainable certification are niche requirements that can help your product stand out from the masses and attract the more conscious consumers. These certification labels are consumer-focused and best applicable to products from smallholder farms. Well-known labels include Fair for Life, Rainforest Alliance and Fairtrade. Fairtrade International (FLO) introduced a new fair trade standard for cereals in 2016.
This study has been carried out on behalf of CBI by ICI Business.
Please review our market information disclaimer.