What requirements must grains, pulses and oilseeds comply with to be allowed on the European market?
1.

What are mandatory requirements?
Maintain food safety: Traceability, hygiene and control
Food safety is a key issue in European food legislation and regulated by the General Food Law. To guarantee food safety and to allow appropriate action in cases of unsafe food, food products must be traceable throughout the entire supply chain and risks of contamination must be reduced as much as possible.
Food operators in Europe are responsible for the safety of the products they sell. This also affects you as a supplier, because you are expected to control your supply chain according to the guidelines of Hazard Analysis and Critical Control Points (HACCP).
When you export grains, pulses or oilseeds, your product will be subject to official controls. Products that are considered unsafe will be denied access to the European Union. The Rapid Alert System for Food and Feed (RASFF) registers potential hazards and informs other European member states about the measures taken.
Food safety will continue to be a top priority in the grains, pulses and oilseeds trade. Non-compliance can lead to temporary import stops or to stricter control of products from your origin.
Comply with the phytosanitary regulation
Practically all seeds of grains, pulses and oilseeds for sowing require a phytosanitary certificate. Some grains and product origins have additional phytosanitary requirements for the export to Europe – this mainly applies to seeds for propagation/planting. For these products you must have an official statement that your product is free from specific diseases or comes from an area where these diseases are not found. For example:
Wheat, rye, barley and other grains of the genus Triticum and Secale originating in Afghanistan, India, Iraq, Mexico, Nepal, Pakistan, South Africa and the United States must be free from Tilletia indica Mitra. Wheat, rye and triticale from these countries require a phytosanitary certificate, also for food or feed purposes.
Maize imported into the European Union needs to be declared officially free from Pantoea stewartia. Maize requires a phytosanitary certificate, for both food and feed purposes.                                                                                                                                                                                                                     
Limit the use of agro-chemicals
The European Union has set maximum residue levels (MRLs) for pesticides and other chemicals (active substances) in and on food products. A general default MRL of 0.01 mg/kg applies where a pesticide is not specifically mentioned. Strict compliance with these MRLs are necessary to enter the European market. Products containing illegal pesticides or excessive chemical residues will be withdrawn from the European market.
Note that the MRLs applied by buyers in some countries are often stricter than those specified in European legislation. These stricter requirements are often enforced by large retail chains such as in Germany, especially in the case of special and healthy food ingredients. European laboratory testing can be rigorous and more precise than in the country of origin. The slightest exceedance can be a reason for the buyer to decline your product.
The 2020 annual report of The Rapid Alert System for Food and Feed (RASFF) shows an increased number of notifications of non-compliance in food products, by far most of which are recorded in Germany.
Typical problems that have been encountered recently (2020) included the presence of Ethylene oxide in sesame seeds from India. Ethylene oxide is not approved in the EU as an active substance in plant protection products. The EU has set the MRL for this chemical compound on sesame seeds at 0.05 mg/kg. Sesame seeds and sesame products that exceed this MRL, will be rejected.
The approval of all active substances is periodically reviewed. For suppliers of grains, pulses and oilseeds this means the maximum residue limits and legally allowed pesticides are subject to change. For example, there is a growing resistance against the herbicide Glyphosate, and its use and safety will be reviewed again after 2022.
Avoid contaminants
Contaminants are substances that have not been intentionally added to food, but which may be present as a result of the various stages during production, packaging, transport or holding. To avoid the negative impact of contamination on the quality of food and the risk to human health, the European Union has set limits for several contaminants such as heavy metals and mycotoxins.
The EU regulation 1881/2006 has established maximum levels for contaminants, for example:
For Mycotoxins such as aflatoxins in groundnuts, and for Ochratoxin A, Deoxynivalenol, Zearalenone  Fumonisins, T-2 and HT-2 toxin in cereals.
Heavy metals such as Lead in cereals and pulses, Cadmium in cereals, pulses and oilseeds, and inorganic Arsenic in rice.
Microbiological contaminants such as salmonella and E. coli should be avoided at all times.
It can also be challenging for European farmers to comply with this strict regulation. Feed Navigator writes that the occurrence of mycotoxins in cereals in Europe is increasing, while the tools to control mycotoxins are threatened by the EU Farm to Fork strategy that aims to make food systems fair, healthy and environmentally-friendly.
For certain countries outside Europe there is an increased control on the import of food and feed, or import is even suspended which is the case for foodstuffs consisting of dried beans from Nigeria (see table 1 for details).
Table 1: Temporary increase of official controls and emergency measures governing the entry into the Union of certain goods from certain third countries
Food and Feed

CN Code

Country of origin

Hazard

Frequency of identity and physical checks (%)

Food and feed from certain third countries subject to a temporary increase of official controls at border control posts and control points

Groundnuts (peanuts), in shell

12024100

Bolivia, Madagascar, Senegal

Aflatoxins

50

Groundnuts (peanuts), shelled

12024200

Groundnut flours and meals

1208900020

Groundnuts (peanuts), in shell

12024100

Brazil, China, United States

Aflatoxins

10

Groundnuts (peanuts), shelled

12024200

Groundnut flours and meals

1208900020

Sesamum seeds (food)

12074090

Ethiopia, Nigeria

Salmonella

50

Food and feed from certain third countries subject to special conditions for the entry into the Union due to contamination risk

Groundnuts (peanuts), in shell

12024100

Argentina

Aflatoxins

5

Groundnuts (peanuts), shelled

12024200

Groundnut flours and meals

1208900020

Groundnuts (peanuts), in shell

12024100

Egypt

Aflatoxins

20

Groundnuts (peanuts), shelled

12024200

Groundnut flours and meals

1208900020

Groundnuts (peanuts), in shell

12024100

Ghana, Gambia, India, Sudan

Aflatoxins

50

Groundnuts (peanuts), shelled

12024200

Groundnut flours and meals

1208900020

Sesamum seeds (food)

12074090

India

Salmonella, pesticide residues

50

Sesamum seeds (food)

12074090

Sudan, Uganda

Salmonella

20

Watermelon seeds (food)

12077000

Nigeria

Aflatoxins

50

Food and feed from certain third countries subject to suspension of entry into the Union

Foodstuffs consisting of dried beans (food)

07133500

07133900

07139000

Nigeria

Pesticide residues

Import suspended
Source: EU REGULATION 2019/1793 (see the regulation for a full overview of raw and processed products)
Contaminants that are not visible can be detected by laboratory testing. For larger contaminants the cleaning process of grains, pulses and (oil)seeds, should be adequate to remove any extraneous materials. Basic equipment for any post-harvest processor include mechanical sieves and metal detectors. More advanced technology includes optical sorting equipment.
Check if your product is a Novel Food
Products that are new in the European food market, or products that were not widely consumed in the EU prior to 1997, are considered 'novel foods' and subject to specific legislation. Before introducing a new ingredient as a foodstuff, you must provide data and prove it is safe for consumption within its suggested use and apply for an authorisation. Food ingredients that are already approved can be found on the union list of novel foods.
Follow the steps below when introducing a new food into the European Union, but take in mind that an application can be time consuming and expensive due to the scientific proof and technical data that may be requested:
Check for novel food status: Check with the Novel Food Catalogue and the consultation process on novel food status to see if your product is a novel food. In earlier consultations, you can see for example that mung bean protein isolate is novel when used in foods and cold-pressed Nigella sativa (black cumin) seed oil is not novel and has no restrictions.
Check if your product qualifies as a traditional food: Find out if you have substantial evidence of a traditional consumption, because traditional foods from third countries have a simplified assessment procedure. If the safety of the traditional food can be established based on the evidence of a consumption history, and there are no safety concerns raised in the European Union, the traditional food will be allowed to enter the European Union market.
Collect technical and scientific data: Find out what type of data is required to authorise your novel food in chapter 2 of the guidance document for the authorisation of traditional foods from third countries, or in chapter 2 of the guidance document for the authorisation of a novel food.
Submit an online application: Use the User Guide for the novel food e-submission system and make sure the application is in line with the requirements of Article 10 of the new Regulation.
Novel foods that have been allowed on the European market include, for example, chia seeds and fonio. The assessment and authorisation procedure for a novel food can take up to 1.5 years, excluding the data collection and assessments you must do yourself.
Comply with additional requirements for seeds for sprouting
After an outbreak of E. coli in 2011, the European Union introduced specific regulations for sprouts and seeds intended for the production of sprouts. The import of sprouts and seeds for sprouting into the European Union must be accompanied by a certificate and be produced by an approved establishment that complies with the general hygiene provisions, traceability and the microbiological criteria.
The sprouting of seeds, such as mung beans, is almost exclusively done within Europe. When you export seeds to sprouting companies, you will have to deal with extra paper work and a higher chance of intensive food safety checks.
Only export Non-GMO grains, pulses and oilseeds
The European Union is very cautious towards genetically modified organisms (GMOs). Only a few genetically modified varieties have been authorised for soybeans, rapeseed and maize, and they are used primarily in the animal feed sector. For human consumption, most food businesses choose not to sell genetically modified food at all.
However, the increasing focus on sustainable agriculture has made the EU call to rethink of GMO rules for gene-edited crops. Despite resistance from ecologists and Greenpeace, the attitude towards genetically engineered crops or gene-editing in Europe is changing.
In August 2021, the European Commission approved several genetically engineered crops (corn, soybean, rapeseed, and cotton) and renewed the authorisations for two corn and one rapeseed crop used for food and animal feed.
According to World-grain.com 95% of all GM crops grown in the E.U. is genetically modified maize grown in Spain.
Respect marketing standards
Each product has its own characteristics, which are often documented in a marketing standard. The Codex Alimentarius provides standards for several grains and pulses, such as couscous, sorghum grains, rice and whole, shelled or split pulses (beans, lentils, peas, chickpeas, field beans, and cowpeas). These standards cover characteristics such as moisture, purity, grain quality and appearance. Not all products are covered, but this does not mean that buyers of such products operate without a standard.
Use correct labelling
Food placed on the European market must conform to the following legislation on food labelling:
Generic name, variety and, if applicable, its treatment;
List of ingredients, if applicable, including allergens;
Net quantity;
Date of minimum durability;
Special conditions for keeping or use;
Name and address of the manufacturer, packager or importer;
Place of origin;
Lot marking on pre-packaged foodstuffs.
Novel food, organic food and genetically modified food require additional labelling. Note that labelling for consumers is much more detailed.
Figure 1: Business-to-business labelling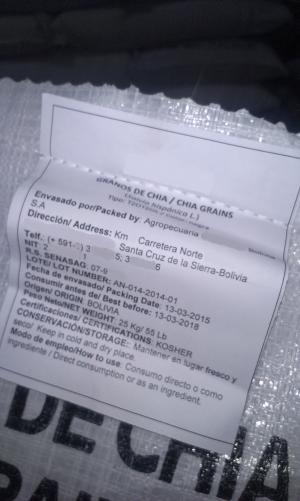 Photo made by ICI Business
Figure 2: Consumer labelling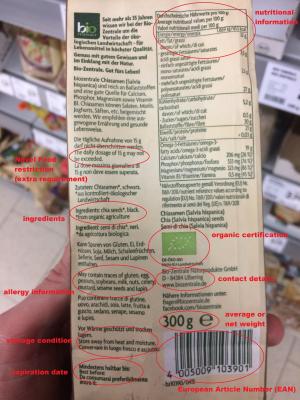 Photo made by ICI Business
2.

What additional requirements do buyers often have?
Certification as a guarantee
Since food safety is a top priority, most buyers are likely to request additional guarantees in the form of certifications. European food businesses are legally required to have a food safety management system based on the principles of Hazard Analysis and Critical Control Points (HACCP). Many buyers in Europe (e.g. traders, food processors, retailers) require the same from you as a foreign supplier.
Food safety management systems and certifications that are recognised by the Global Food Safety Initiative (GFSI) are widely accepted throughout Europe. The following are the most significant certifications:
The preferred certification schemes can vary between specific markets and buyers. Either way, the pressure of certification has increased on suppliers and will continue to do so.
Social and environmental practices
Social and environmental practices have become a pre-condition for the export of grains, pulses and oilseeds. This has resulted in a variety of private and collective standards that you must take into account.
Food companies in Europe are increasingly paying attention to their corporate responsibilities with regard to the social and environmental impact of their businesses. This has led a number of supermarket chains and large industrial players to develop their own Corporate Social Responsibility (CSR) and sourcing policies. Smaller buyers have also incorporated social and sustainable practices into their business policies.
The market increasingly desires transparency in food supply chains and supply chain actors are becoming more risk-averse and demanding. How this affects you as a supplier is through the extra proof you must show by filling in forms or signing a code of conduct, declaring you conduct your business in a responsible manner. Buyers may visit you regularly.
Social compliance is supported by several important initiatives, which buyers often refer to, such as:
Larger commodities are sometimes part of a specific initiative, such as the Round Table on Responsible Soy (RTRS certification) and the Sustainable Rice Platform (SRP Standard for Sustainable Rice Cultivation). IDH, the sustainable trade initiative has defined targets for a responsible and zero-net-deforestation soy import. The Soy Sourcing Guidelines (SSGs) of European Compound Feed Manufacturers' Federation (FEFAC) should also facilitate to source 'conversion-free soy'; soy that has not been grown on converted natural ecosystems such as forests, swamps and savannahs after a specific date.
The European Green Deal requires sustainable trade
In the coming years the European Green Deal will influence how resources are used and greenhouse gas emissions are reduced. The new policies on sustainability will prepare Europe for becoming the first climate-neutral continent by 2050.
The Farm to Fork Strategy is at the heart of the European Green Deal aiming to make food systems fair, healthy and environmentally-friendly. It will ensure a sustainable food production and address for example packaging and food waste. The new strategy will also favour crops that have a positive environmental impact, which is an advantage for pulses because they are known to fix nitrogen in the soil.
Global problems, such as deforestation in multinational supply chains, will be addressed as well. In fact, the European Commission is planning to adopt a combination of mandatory and voluntary due diligence rules the end of 2021 to prevent global deforestation in its supply chains.
Several European Union trade agreements with countries such as Canada, Ukraine and Mexico, already include rules on the susdstainable development of economic, environmental and social aspects of trade – other countries are expected to follow. For dry bean suppliers, it is important to look ahead of the increasing standards and try to be in the frontline of the developments.
3.

What are the requirements for niche markets?

In addition to the official and common requirements, specific requirements apply to niche markets. Niche markets include organic, fair-trade and ethnic products. These requirements can be particularly important for specific consumer groups or in the health-food segment.
Organic, a growing niche market
Consumers in Europe increasingly prefer food products that are produced and processed using natural and sustainable methods. Organic certification is often used for food products associated with health benefits. For example, the European market for quinoa has been developed initially by organic trading companies.
To market organic products in Europe, you have to use organic production methods according to European legislation. Note that starting January 2022, the new legislation Regulation (EU) 2018/848 will come into force after a year's delay due to COVID-19. Inspection of organic products will become stricter to prevent fraud and producers in third countries will have to comply with the same set of rules as those producing in the European Union.
There is no official guideline on chemical residue levels for organic products. In practice, it must not exceed the default MRL for substances without MRL, which is 0.01 mg/kg.
If you wish to become an organic farmer or exporter, you must be registered and certified through a recognised control body. The control agency or body is responsible for verifying that the operator acts in compliance with organic rules. A yearly inspection and a set of checks make sure that you are complying with the rules on organic production. You must have used these production methods for at least two years throughout the conversion period before you can certify your grains, pulses or oilseeds as organic. After being audited by an accredited certifier, you can use the EU organic logo (see image 3 below) on your products, along with the logo of the standard holder.
European countries may prefer a national organic standard, which is in line with the EU certification but often exceeds its requirements. National standards can be an addition when supplying specific markets, for example Naturland in Germany, KRAV in Sweden, BioSuisse in Switzerland.
All organic products imported into the EU must have the appropriate electronic certificate of inspection (e-COI). These are administered through the Trade Control and Expert System (TRACES), often done by your importer. If you do not have an electronic certificate of inspection, your products will not be released from their port of arrival in the European Union.
Figure 3: The logo for certified organic products in the European Union in three different colour schemes

Source: European Commission
Fair trade and social labels
Fair trade and social labels are niche requirements that can help your product stand out from the masses and attract the more conscious consumers. These certification labels are consumer-focused and best applicable to products from smallholder farms. Well-known labels include Fair for Life, Rainforest Alliance and Fairtrade. Fairtrade International introduced, for example, a Fairtrade Standard for Cereals and a Fairtrade Standard for Oilseeds and Oleaginous Fruit for small-scale producer organisations.
Ethnic certification
The Islamic dietary laws (Halal) and the Jewish dietary laws (Kosher) propose specific restrictions in diets. If you want to focus on Jewish or Islamic ethnic niche markets, you should consider the implementation of Halal or Kosher certification schemes.
This study has been carried out on behalf of CBI by ICI Business.
Please review our market information disclaimer.
Search
Enter search terms to find market research