What is the demand for fresh fruit and vegetables on the European market?
Europe has a large and mature market for fresh fruit and vegetables with stable demand overall. The need for year-round availability and the interest in new exotic produce maintain Europe's continuous dependence on external suppliers. You can find most opportunities in the off-season and in the growing demand for avocados, blueberries, mangoes and sweet potatoes, among others. The competition is often fierce for these products, and the ever stricter requirements, especially in Northern Europe, put pressure on you as an exporter.
1.

What makes Europe an interesting market for fresh fruit and vegetables?

Market size, a year-round demand and the dependence on external suppliers make Europe an attractive target market for suppliers in developing countries. Buyers in Europe look for reliable suppliers in strategic areas so they can offer fruit and vegetables to consumers at any time of the year.
Europe is responsible for 44% of the global trade
One of the main reasons for exporters to target the European market is its sheer size. Europe has a population of more than 500 million consumers and is responsible for 44% of the global trade value of fresh fruit and vegetables (see Figure 1). Europe has 5 of the global top 10 importing countries.
Europe's mature demand can offer stability
Europe is a mature and diverse market for fresh fruit and vegetables. The demand is relatively stable, although short-term needs and prices change regularly.
How can you take advantage of this?
It is not always easy to find the most profitable market in this already highly competitive region. To get a good return on your products, you must diversify your target markets, both in and outside of Europe. Know your markets and their key buyers and get regular market updates. International traders with re-export activities, which are common in the Netherlands, for example, are experts in finding the right end client. They can help distribute your products to different European markets.
Tips:
Stay up to date on the European market, using online news sources such as Freshplaza, Fruitnet, Fruitrop and Fresh Fruit Portal.
Diversify your markets and make sure you can fall back on alternative markets in and outside of Europe in case of changes in demand or oversupply or when your products are not up to standard or not suitable for your target market.
Establish your own agricultural production or work as closely together as possible with producers. Buyers often prefer to buy directly from growers when possible.
Most opportunities can be found off-season — timing is important
Europe imports a lot of fruit and vegetables because much of the tropical produce depends on specific seasons or tropical climates that cannot be found locally. Most European buyers try to establish a year-round assortment and look for ideal partners to achieve this. As an exporter, you will find your best opportunities during supply gaps and as a counter-seasonal supplier.
New varieties extend seasons
Producers worldwide, including in Europe, try to extend their production season by developing new varieties. For example, much of the growth in mandarins is now coming from late hybrids such as Nadorcotts (or W. Murcotts) from Spain, but also from South Africa, Morocco and Peru. These changes in varietal preference can influence your window of opportunity.
Local production is preferred
Be aware that local production normally has preference over imported fruit. Spain and Italy are the leading producers of fruit and vegetables in Europe, especially for citrus fruit, stone fruit, watermelons, table grapes, peppers and tomatoes (see Table 1). Spain is the strongest competitor, focusing more on export. Italy produces much more for its domestic market or for processing. As soon as the season ends in these producing countries, the opportunities for non-European and counter-seasonal suppliers increase significantly.
Table 1: European production in 2019 (in 1000 tonnes) and production share by country (with a production share larger than 10%)
| | | | | | | | | | | |
| --- | --- | --- | --- | --- | --- | --- | --- | --- | --- | --- |
|   | EU-27 + UK | Spain | Italy | Greece | Poland | Netherlands | France | Romania | UK | Germany |
| Apples | 12.102 |   | 19% |   | 25% |   | 15% |   |   |   |
| Asparagus | 321 | 18% | 16% |   |   |   |   |   |   |   |
| Aubergines | 829 | 30% | 36% |   |   |   |   |   |   |   |
| Avocados | 107 | 91% |   |   |   |   |   |   |   |   |
| Berries (excl. strawberries) | 633 | 19% |   |   | 46% |   |   |   |   |   |
| Citrus fruits, small* | 2.776 | 71% | 16% |   |   |   |   |   |   |   |
| Lemons and acid limes* | 1.638 | 66% | 26% |   |   |   |   |   |   |   |
| Nectarines | 1.285 | 47% | 32% | 12% |   |   |   |   |   |   |
| Onions | 6.246 | 23% |   |   |   | 20% |   |   |   |   |
| Oranges* | 6.166 | 53% | 26% |   |   |   |   |   |   |   |
| Peaches | 2.796 | 33% | 29% | 29% |   |   |   |   |   |   |
| Peas, fresh* | 978 | 13% |   |   |   |   | 29% |   | 16% |   |
| Peppers (capsicum) | 2.799 | 50% |   |   |   | 13% |   |   |   |   |
| Plums | 1.642 | 11% | 13% |   |   |   | 11% | 44% |   |   |
| Strawberries | 1.291 | 27% | 10% |   | 14% |   |   |   | 10% | 11% |
| Table grapes | 1.722 | 18% | 56% | 17% |   |   |   |   |   |   |
| Watermelons | 3.315 | 36% | 20% | 19% |   |   |   | 14% |   |   |
Source: Eurostat
* Based (partly) on data from 2018
Stagnated production creates need for external supply
Despite being a fundamental sector, the number of fruit and vegetables farms in Europe is decreasing. Technology and varietal development result in a higher product quality and yield, but the total production volume is barely growing.
Import share of common produce increases
The vegetable production in Europe is more or less stable and covers a large part of the year thanks to different climates and a well-developed greenhouse production. The long-term production trend for fruit is decreasing slightly. Stagnated production volumes will create future needs for external sources, even for some of the common fruits, such as oranges, grapes and plums. The market share of these imported fruits increased by a few percent in the past years (see Table 2).
Table 2: The average share of imported fruit in the total demand (production and import), in 2012-2014 and 2017-2019
| | | |
| --- | --- | --- |
|   | 2012-2014 | 2017-2019 |
| Oranges | 12% | 14% |
| Grapes | 25% | 28% |
| Plums | 5% | 6% |
Source: Eurostat
Opportunities for suppliers close to Europe
The supply from countries within a close distance to Europe has become an attractive and economical option, especially early in the season. This offers opportunities for nearby suppliers such as Egypt, Morocco and Turkey, which often overlap with the European harvest. When looking into the possibility of complementing the European production, you must be up to date with the developments and supply seasons in Europe.
Higher import value from developing countries
European fresh traders are accustomed to trading on a global level, dealing with more than 70 developing countries whose supply exceeds a million euros each.
Import from developing countries increased by 27%
in five years, the total import value from developing countries increased by 27% to 19.8 billion euros in 2019 (Figures 2 and 3 together). This is significantly larger than the import value of 3.2 billion euros from developed, non-European countries, which grew only 16% in the same period. Fresh fruit (Figure 2) has a higher impact on non-European import than fresh vegetables (Figure 3); Europe is much more self-sufficient in vegetables.
Higher value for imported products
Over a five-year period, the total trade value of fruit and vegetables has increased by approximately 19%, as opposed to a 12% growth in volume. This can be attributed to a higher share of valuable products, increasing prices and production costs, fluctuating exchange rates and the increasing complexity of sourcing and meeting the ever stricter European requirements.
The increasing import value and the growing share of high-value products are favourable for exporters in developing countries, but it is important to anticipate stricter buyer requirements and adverse circumstances in climate and currencies. In the long term, you can expect prices to gradually rise, but there will always be moments when temporary shortfalls or oversupply put pressure on either your contractual agreements or your margins.
Opportunities for well-prepared suppliers
Tropical and exotic fruit will continue to appeal to European consumers, creating a strong position for exporters from countries with the right climate circumstances and reliable volumes. Several countries have managed to use distinctive advantages and have scaled up their production. Longer seasons or unique supply windows, proximity to Europe, product specialisation or low-cost production, for example, can be advantages. Countries that are dominant in supply or that exceed average growth are:
Peru and South Africa: both are typical counter-seasonal suppliers. Peru has large-scale production projects and uses different climate zones to extend the season. South Africa competes in the same window with similar products such as citrus, grapes and avocados, among other fruits;
Morocco, Egypt and Turkey: price-competitive countries with the advantage of being close to Europe. Morocco is by far the most important supplier of vegetables to Europe;
India: India has increased its exports to Europe, especially grapes. The value of India's grape exports to Europe increased from 107 to 267 million euros between 2015 and 2019;
Mexico and Guatemala: Mexico is increasing its avocado and lime exports to Europe in an attempt to become less dependent on the United States as a destination market. Guatemala is still smaller in supply, but with a strong increase of 96% in five years. Guatemala has a trade agreement with Europe and a successful expansion in exports of banana, avocados, sugar snaps and limes;
Costa Rica, Colombia and Panama: typical suppliers of main tropical fruits such as bananas and pineapples (mainly Costa Rica). Colombia also has a growing export of avocados and exotic fruit.
Well-organised companies which can provide reliable volumes in particular can profit from the growing European imports. For small companies, it is getting more difficult to enter the market due to the high standards and the increasing buyer concentration, especially in Northern Europe. To have a chance in the European market, you must be able to meet product expectations and anticipate strong competition.
Tips:
Take your time when deciding to export to Europe for the first time. Compare yourself with successful exporters in the countries above and analyse if you have specific advantages in supply season or production costs or other strengths that differentiate you as a supplier.
Only enter into supply contracts that you can honour and inform your client if the climate has influenced your product quality or volume. Your client expects you to communicate pro-actively and to respect agreements made. See also the CBI tips for doing business with European buyers of fresh fruit and vegetables.
Read about the buyer requirements for fresh fruit and vegetables to learn how to prepare your company for the European market.
2.

Which European markets offer most opportunities for fresh fruit and vegetables?

Europe is a dynamic market with different opportunities and characteristics. It is important to consider your market entry in large consumer countries such as Germany, the United Kingdom and France. Germany and France often use the Netherlands or Belgium for logistics. Spain and Italy are both large producing and consuming countries, but with increasing imports of tropical fruit from non-European countries.
Each region provides different opportunities
Consumption volume and patterns are different throughout Europe. You can roughly group countries into three different regions: Northwest, Southern and Eastern Europe, although the reality is of course more complex.
Northwest Europe offers the best market for high-value exotics and organic
Purchasing power is highest in Northwest Europe, and the market here is dominated by large retail chains that maintain high standards of quality and food safety. Food safety and health consciousness are also the drivers of organic fruit and vegetables, especially in Germany and Scandinavian countries. Northwest Europe has the best market for exotics, but the total consumption of fresh fruit and vegetables is often smaller than in other parts of Europe.
Southern Europe offers opportunities for traditional and tropical products
Southern Europe is a traditionally strong production region of fruit and vegetables. In Spain, Italy and Portugal, consumption is far above average, especially of fruit. Consumers in this region often consider taste to be more important than the visual quality of the product. Imports of tropical fruit complement local production but also foster increasing consumption.
Eastern Europe is a good market for price-competitive fruit and vegetables
International trade and high-quality standards are less developed in Eastern Europe. The official daily consumption of fruit and vegetables is low and mostly oriented to local produce. Price is important because of a lower purchasing power compared to Western Europe. Although imports of tropical fruit and vegetables are still small and are often supplied by traders in Western Europe, the Eastern European market is in development and has potential for future growth of foreign supply.
Image 1: European fruit trade flows  in 2018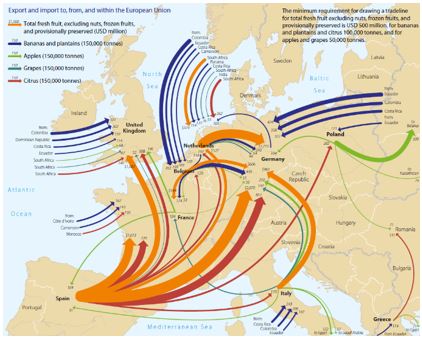 Source: Rabobank RaboResearch
Image 2: European vegetables trade flows in 2018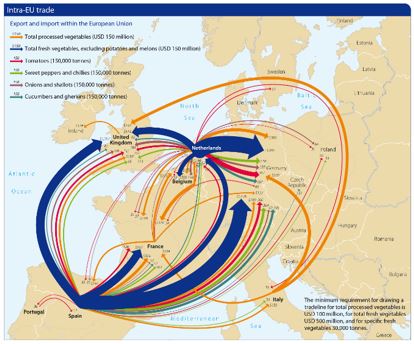 Source: Rabobank RaboResearch
The Netherlands and Belgium: distribution hubs
Belgium and the Netherlands are very relevant for the trade and distribution of fresh fruit, while the vegetable trade consists mostly of locally grown produce from greenhouse horticulture. Most of the €6.6 billion of Dutch fruit import is re-exported (see Figure 8).
The Netherlands is the main European trade hub for fruit and vegetables from developing countries. Dutch import value from non-European countries increased by 49% from 2015 to 2019, and by 56% when looking only at developing countries. In 2019, over 24% of the fresh fruit and vegetables entered Europe through the Netherlands. From the port of Rotterdam, the main entry point, Dutch and international traders distribute produce to the rest of Europe.
Dutch importers are highly specialised in matching supply and demand. When the demand for a specific product changes, trading companies in the Netherlands react accordingly. Most exotic fruits still have the best chance of being marketed through the Netherlands, so expect the Netherlands to be one of your main trading countries.
Belgium accounted for a 6.5% import share of fresh fruit and vegetables from non-European countries in 2019. The re-exported volume is high, although the country functions mainly as a logistics hub for bananas. Bananas were about a quarter of Belgium's fresh export.
Germany: the largest market for fresh produce
Germany is the largest European market for fresh fruit and vegetables. This is the reason why Dutch trading companies, as well as Spanish and Italian producers, focus strongly on supplying the German market.
In 2019, German companies imported a total value of 11.1 billion euros of fresh fruit and vegetables, which is equivalent to 19% of the combined imports of all European countries. The import from outside Europe was 3.2 billion euros. The German market shows positive growth in avocados and blueberries from developing countries in particular.
Germany is also the largest market for organic food, accounting for 29% of the total retail sales of organic products in the European Union in 2018. When targeting Germany as the final destination for your products, make sure to supply clean, pest-free produce. Pay extra attention to avoid pesticide residues, for which there is zero tolerance. Expect Germany to be one of the strictest countries when it comes to organic produce.
The United Kingdom: strong direct imports from developing countries
The United Kingdom (UK) is highly dependent on the external supply of fresh fruit and vegetables. In 2019, at least 43% of the fresh fruit and vegetables imports came directly from non-European suppliers, making it the second European market for exporters from developing countries, after the Netherlands.
The British market has several challenges for suppliers. Standards are high due to dominant market shares of supermarkets. Prices are currently under pressure because of inflation and the uncertainty after the Brexit – the UK's departure from the European Union. This has resulted in a stabilisation of the total import value.
The UK's decision to leave the European Union raises concerns that increasing prices will also have a negative impact on the British consumption of fresh fruit and vegetables. At the same time, a 'hard Brexit', meaning an abrupt break without a deal to accommodate trade with the European Union, could force British importers to find new supply routes. The UK trade agreements with non-EU countries in a no-deal Brexit will open a new door for exporters in various countries to start establishing partnerships.
Tips:
Be prepared for the United Kingdom's new status as non-EU country and start looking for potential trade relations, regardless of current prices. Stay up to date with the trade agreements with the United Kingdom on the GOV.UK website.
Make sure you understand the strict retail requirements in the United Kingdom. Implementation of standards such as GlobalGAP, British Retail Consortium (BRC) and Ethical Trading Initiative (ETI) make good starting points. In any case, you will also need at least GlobalGAP for other European Union markets.
France: important trade relation for West African suppliers
France has the second-largest population in Europe, making it one of the main target markets of fresh produce exporters. In 2019, France imported 1.9 billion euros of fruit and 0.7 billion euros of vegetables with non-European origin.
France maintains good trade relations with suppliers in Northwest Africa. France imported 746 million euros worth of fruit and vegetables from Morocco and 221 million euros from Ivory Coast (mostly bananas). For most fruit, France is a net importer. Statistics also show that France is Europe's main importer of vegetables from developing countries. However, this is mostly due to imports of Moroccan tomatoes, beans and bell peppers.
The French market channels vary from small ethnic wholesalers which supply specialist shops to large sourcing companies, such as Greenyard (formerly Katopé), which supply hypermarkets. Most French channels can be reached directly, but import via Spain and the Netherlands is also very common.
Tip:
Make sure you can communicate in French. Suppliers from Morocco and Ivory Coast have the advantage of French language skills, so you must be able to communicate with buyers in French as well.
Spain: Europe's garden and potential trade hub
Spain is Europe's number one producer and exporter of fresh fruit and vegetables. Spanish imports often involve off-season or counter-seasonal fruit and vegetables which are also grown in Spain. At the same time, Spain is developing into a potential trade hub.
Fruit and vegetables from North Africa and tropical fruit from Latin America are well represented in Spain. From 2015 to 2019, Spanish imports from non-European countries grew in value by 61% to 1.9 billion euros, which is the highest growth among the larger European import countries. Morocco exported more watermelons, tomatoes and soft fruit to Spain, while Peru increased the supply of avocados, mangoes and sweet onions.
Spain is possibly your biggest competitor in Europe during its harvest season. At the same time, Spain also provides good insights into production trends and potential partnerships. If you are able to produce fruits and vegetables outside the Spanish season, it is worthwhile to explore Spain as a future trade hub. But even then, Spanish traders often still use the Netherlands as their logistics hub.
Tip:
Meet potential trade partners and present your product at the annual Fruit Attraction trade fair in Madrid.
Italy: growth in tropical fruit
Italy is a traditional, large consumer market with an important local production of fruit and vegetables. Italian producers export part of their production, such as apples, grapes, watermelons, kiwis and herbs. Almost all imported products are consumed locally, so re-exports are limited. According to industry sources, Italy has little intention to develop re-export activities.
Introducing new or foreign products to Italy can be a long process, but demand for tropical fruit has been on the rise. Italian companies such as Orsero Group, McGarlet and Spreafico make smart use of the Italian processing tradition to cut and mix fresh products in convenient consumer packages, which has helped the promotion of tropical and exotic fruit.
Pineapples and bananas, which are sourced directly, are the most popular imported produce with Italian consumers. Other imports are mostly sourced via other European countries, such as the Netherlands or Spain. Nevertheless, avocados, kiwis, watermelons, mangoes and pomegranates also show strong growth in direct sourcing, which creates opportunities for exporters from developing countries.
Table 3: Italy's import of tropical and exotic fruit and vegetables (in 1000 tonnes) and 5-year growth (in %)
 

Total import (in 1000 tonnes)

From developing countries

 

Volume 2015

Volume 2019

5-year growth

Volume 2015

Volume 2019

5-year growth

Bananas

679

731

8%

622

697

12%

Pineapples

139

160

15%

125

149

19%

Watermelons

46

70

53%

3,9

10

156%

Niche fruit (mainly pomegranates)

31

35

12%

3,3

4,2

27%

Mangoes (incl. guavas and mangosteens)

8,3

16

94%

1,9

2,8

49%

Fresh coconuts in the inner shell ('endocarp')

3,0

4,0

35%

1,5

1,8

18%

Papayas

2,9

3,3

14%

1,3

1,4

9%

Kiwifruit

46

63

38%

0,3

0,5

73%

Avocados

11

26

132%

0,04

0,4

826%

Fresh tamarinds, cashew apples, lychees, jackfruit, sapodillo plums, passion fruit, carambola and pitahaya

2,5

3,3

32%

0,2

0,3

63%
Source: ITC Trademap
Tips:
Pay attention to companies and brands focusing on convenience products. These are generally large and capable of importing fruit from any origin. These large companies can turn into steady clients for exotic or tropical fruit.
Visit the annual Macfrut and the Tropical Fruit Congress, which happens during Macfrut, in the Italian city of Rimini to learn more about tropical fruit in Italy.
Organic market: increasing organic retail sales
Increased consumer attention to healthy and natural products makes Europe an interesting market for organic fruit and vegetables. In 2018, the European Union was in fact the second-largest market for organic products in the world, after the United States.
According to the Research Institute of Organic Agriculture (FiBL), the European Union also imported 3.3 million tonnes of organic agri-food products; 24% consisted of tropical fruit (including nuts and spices), 5% of vegetables and 4% of temperate fruit.
Organic facts in the European Union in 2018:
Retail sales value: 37.4 billion euros;
Growth rate: 7.7%;
Per capita consumption: 76 euros;
Import of organic agri-food products: 3.3 million tonnes;
Organic farmland: 13.8 million hectares.
Source: The World of Organic Agriculture (FiBL)
Germany held the highest retail sales value in 2018 with 10.9 billion euros. France, Switzerland and Denmark were the countries with the highest growth of the organic market, with growth between 13 and 15% in 2017-2018. The highest consumption per capita was reached in Switzerland and Denmark (312 euros). The demand for organic products is expected to further increase, although more and more sustainability labels for fresh produce will compete with the organic label as well.
3.

Which products from developing countries have the most potential in the European market for fresh fruit and vegetables?

The best opportunities for exporters from developing countries are in products which are gaining in popularity among consumers, with insufficient or limited production in Europe, such as avocados, blueberries, mangoes, sweet potatoes or dates. Alternatively, there are opportunities in common off-season products to complement the local supply of, for example, grapes, onions and strawberries.

The products with the most potential in 2020-2021 are:
Hass avocados
Blueberries
Fibreless mangoes
Sweet potatoes
Dates
Table grapes.
Products with the highest value from developing countries
Most of the major products from developing countries are tropical and semi-tropical fruits such as bananas, mangoes and avocados. A smaller part consists of counter-seasonal fruit and vegetables, with tomatoes being the only (pseudo-)vegetable in the top six.
Avocados and mangoes have most the potential for developing countries. For these products, the local production is minor and the growing consumption depends strongly on external supplies. The market for bananas and pineapples is large but very mature, so less growth should be expected. For other large import products, such as grapes and tomatoes, it is often important to focus on the off-season supply.
Top six of fresh produce with the highest import value:
Bananas (€5183 million): the multinationals Chiquita, Fyffes and Dole are dominant, with supply from Ecuador, Colombia and Costa Rica. Other exporting countries are increasing their supply, including Panama, Ivory Coast, Guatemala, Nicaragua and Ghana. Trade agreements and agricultural investments play an important role in the banana trade, while diseases affecting banana plantations may force buyers to diversify their sourcing origins;
Grapes (€1626 million): a large and relatively stable category. New varieties and competitive pricing make strong selling points for external suppliers. India and Egypt are becoming stronger suppliers thanks to competitive prices. Peru and Chile are focusing on marketing new varieties, creating differentiation in counter-seasonal grapes in the European market;
Avocados (€1489 million): avocados have surpassed mangoes and pineapples in import value since 2016 thanks to the increasing interest in health food and a successful marketing machine. Extensive investments in avocado production worldwide indicate further market growth, but managing supply and sustainable production will become a challenge;
Mangoes (€918 million): mangoes are the typical product from developing countries with a relatively high import value and a reasonable growth of 33% in five years. Europe imports most mangoes from Brazil and Peru between October and April, but there are many opportunities for West African suppliers throughout the rest of the year. Fibreless mangoes and a reliable volume and quality are important success factors;
Pineapples (€885 million): pineapples are among the most imported fruit from developing countries, but despite high demand, the market for pineapples is saturated and mainly dominated by Costa Rica. Italy, Germany and Spain are the largest consumption markets;
Tomatoes (€883 million): Europe has a high demand for tomatoes and complements its supply with nearby producing countries. More than 80% of the import value from developing countries comes from Morocco.
Tips:
Look into competitive advantages you may have compared to exporters from other countries regarding trade policy. Consult the list of trade agreements and use the TARIC database to search for custom tariffs in the European Union.
Check with potential buyers in Europe which specific varieties they are most interested in buying.
Produce from developing countries with most promising growth
Popular products from developing countries that showed the strongest import growth (in addition to avocados) include popular summer fruit, snack fruit and staple vegetables.
Traditional products with a large production volume throughout Europe, including potatoes, onions and strawberries, present the most growth from nearby countries such as Morocco and Egypt. Fruit and vegetables with the most diverse opportunities for developing countries are blueberries, sweet potatoes and watermelons. However, global production volumes are increasing fast, which may result in oversupply and depleting margins.
Top six of fresh produce with highest import growth (in five years):
Soft fruit: Blueberries (approx. 235%) and raspberries (approx. 169%) have become very popular in Europe as a convenient and healthy snack. Although commonly produced in Europe, supply shortages and off-season demand have doubled the import from developing countries in the past five years. In the short term, these fruits have good growth prospects for developing countries, especially the less fragile blueberries. But with global volumes and food safety standards increasing, they are not without risks;
Onions and shallots (149%): onions are a staple ingredient in Europe, and local production is complemented mainly by supply from Egypt. The demand will largely depend on the time of harvest and the volume in Europe. There are also opportunities for special varieties, such as sweet onions from Peru;
Potatoes (147%): potatoes are one of the most common foods in Europe, and a stagnated local availability provides opportunities for other producers nearby. Over the past years, Egypt has become a popular supplier of high-quality European potato varieties with an earlier harvest than mainland Europe;
 Sweet potatoes (140%): successfully promoted by North American growers, sweet potatoes have become a standard supermarket product in Europe. Adverse weather in the USA as well as increasing attention for sustainability have forced buyers to look for producers in and around Europe, such as Spain and Egypt. There are still opportunities for producers further away, such as Honduras, Brazil and South Africa, but future trade will likely require further specialisation of producing countries;
Watermelons (76%): watermelons are a summer fruit, and production in Southern Europe is not sufficient to cover the whole season. Morocco takes advantage of this seasonal gap and has significantly increased its watermelon exports to Europe. Growers farther away in Brazil and Costa Rica also have a supply window. The trade value per kilo is low, and switching to producing watermelons is relatively easy, so margins and competition can be unpredictable;
Strawberries (64%): a very popular fruit in summer with increasing import from Morocco and Egypt to cover the first months of the season. There is also demand for high-quality strawberries with origins like Jordan and Peru.
Table 4: Fastest-growing products in the European import from developing countries in 2019, with import value >40 million euros
| | | | |
| --- | --- | --- | --- |
|   | € million | 5-year growth | Market share of main supplying developing countries |
| Blueberries (incl. cranberries, bilberries and other fruits of the genus Vaccinium) | 634 | 235% | Peru 49%, Morocco 26%, South Africa 14%, Argentina 6% |
| Raspberries, blackberries, mulberries and loganberries | 384 | 169% | Morocco 81%, Mexico 10%, South Africa 3% |
| Onions and shallots | 266 | 149% | Egypt 58%, Peru 7%, China 5%, India 5% |
| Potatoes | 169 | 147% | Egypt 88%, Morocco 9% |
| Avocados | 1489 | 145% | Peru 43%, Mexico 19%, South Africa 11%, Colombia 10%, Kenya 7%, Morocco 3% |
| Sweet potatoes | 93 | 140% | Egypt 47%, China (processed) 17%, Honduras 12%, Brazil 6%, South Africa 5% |
| Watermelons | 282 | 76% | Morocco 36%, Brazil 22%, Costa Rica 19%, Panama 6%, Turkey 6% |
| Strawberries | 137 | 64% | Morocco 47%, Egypt 44%, Jordan 3% |
Source: ITC Trademap
Tips:
Always focus on A-quality and certified fruit when supplying high volumes. Category II fruit and vegetables are much more difficult to sell and mainly end up in the spot market. As such, they offer few guarantees and little stability for you as an exporter.
Invest in production size and use unique strengths such as climate, logistical route or supply season. European buyers look for producing exporters in strategic countries that offer a reliable and competitive supply. For example, Camposol has taken advantage of different climate zones in Peru to fill in a big supply window of avocados and blueberries. This type of specialisation will give you a stronger negotiation position in Europe.
Most interesting niche products
Thanks to its size and diversity, Europe offers an interesting market for many exotic and niche varieties. The following niche or specific products have a relatively high potential in market growth or value. For some of the niche products, the COVID-19 pandemic will have a temporary negative impact, reducing the potential in the short term. Products with minor trade volumes can be interesting for smaller, specialised exporters.
Top six of most interesting niche products (last five years until 2019):List:
Dates (€303 million, 44% growth): dates are a high-value Arab snack, popular with ethnic populations but also available in regular supermarkets now. For health-oriented consumers, dates are an ideal replacement for sugar in different food preparations. The demand for dates will likely continue to grow;
Exotic Fruit (€142, 40%): exotic fruit with HS code 08109020 includes lychees, passion fruit, pitahayas, carambolas, tamarinds, jackfruit, sapodilla plums and cashew apples. Their growth in import value is almost double the growth in volume. The European market is becoming more open to high-value exotics, providing opportunities for exporters of quality products. However, the COVID-19 pandemic has had a negative effect on the sales of these fruits to restaurants and other food service providers, so the forecast for 2020 and possibly 2021 may be reduced;
Limes (€177 million, 21%): Brazil and Mexico dominate in the European lime imports, although Colombia, Vietnam, Guatemala and Peru have shown the strongest recent growth. COVID-19 will definitely have a negative impact on lime consumption in bars and restaurants, so the best prospects for limes are for exporters with a medium to long-term vision;
Chilli peppers (€64 million, 28%): the long red and green chilli pepper (Capsicum annuum) is a regular product that is mass produced and supplied by Spain, Morocco and Turkey. Many other countries participate with a minor market share and other varieties, such as Uganda's Red Birdseye, Scotch Bonnet and Habanero. For some peppers, such as the Peruvian aji, the market is very niche and not yet well developed.
Manioc/cassava (€35 million, 60%): cassava is a root tuber that is mainly consumed in the ethnic market. The recent growth is an indication that it is becoming adopted more widely. Costa Rica remains the main supplier, but there is also strong growth from Thailand and Cameroon.
Coconuts (€11 million, 114%): coconuts have become very popular, as both fresh and processed products. The import of fresh coconuts in shell, such as young drinkable coconuts, has increased 114% in value over a period of five years (2015-2019). Fresh, young coconuts are airfreighted from Thailand and Vietnam. Ivory Coast dominates the regular coconut trade.
Table 5: Interesting niche products, imported by the European Union (EU-28) from non-European countries in 2019
| | | | |
| --- | --- | --- | --- |
|   | € million | 5-year growth | Market share of main supplying developing countries |
| Dates | 303 | 44% | Tunisia 35%, Israel 25%, Algeria 13%, Iran 6% |
| Exotic fruits: tamarinds, cashew apples, lychees, jackfruit, sapodilla plums, passion fruit, carambola and pitahaya | 142 | 40% | Colombia 27%, Madagascar (lychees) 22%, Vietnam 18%, South Africa 8% |
| Limes | 177 | 21% | Brazil 54%, Mexico 30%, Colombia 7%, Vietnam 4% |
| Chilli peppers (for fresh consumption) | 64 | 28% | Morocco 33%, Turkey 27%, Uganda 6%, India 4% |
| Manioc (cassava) | 35 | 60% | Costa Rica 80%, Thailand 5%, Cameroon 3% |
| Coconuts (in the inner shell ('endocarp')) | 11 | 114% | Ivory Coast 47%, Thailand 27%, Vietnam 7%, India 6% |
| Other niche fruit (HS 08109075, mainly pomegranate) | 201 | 21% | Peru 21%, Turkey 19%, Colombia (Physalis) 16%, Ghana 10%, India 9% |
Source: Eurostat/Market Access Database
Tips:
Specialise in niche products such as exotic or organic fruit or join forces with other growers if you are not able to compete in volume.
Combine the supply of several niche products or combine small exotic fruit with other more common products. This way, you can increase attractiveness as a supplier by offering combined shipments and a wider assortment.
Browse the CBI market information platform for information on exporting specific fruit and vegetables to Europe.
This study has been carried out on behalf of CBI by ICI Business.
Please review our market information disclaimer.
Follow us for the latest updates
Search
Enter search terms to find market research