What is the demand for fresh fruit and vegetables on the European market?
Europe is a large, mature market, with stable demand for most fresh fruit and vegetables. The demand for year-round availability and a wide choice of produce are keeping Europe dependent on external suppliers. The consumption of healthy fruits (like kiwi fruit, blueberries and avocados) will continue to increase. There is also room for niche products (like exotic roots and tubers). Climate and sustainability are expected to play a larger role in the future development of imports, thus bringing production closer to home.
1.

What makes Europe an interesting market for fresh fruit and vegetables?

Market size, year-round demand and dependence on external suppliers make Europe an attractive target market for suppliers in developing countries. Buyers in Europe are always looking for reliable suppliers in strategic areas so they can offer fruit and vegetables to consumers at any time of the year.
Europe's mature and large market offers stability for suppliers
Europe is a mature, diverse market for fresh fruit and vegetables. Although short-term needs and prices change regularly, overall demand is relatively stable, and volumes are large. For this reason, Europe is a good market to keep in your supply portfolio.
One of the main reasons for exporters to target the European market is its sheer size. Europe has a population of more than 530 million consumers, and it accounts for more than €62 billion, or 43% of the total global trade value of fresh fruit and vegetables (see Figure 1). Europe includes five of the ten largest importing countries in the world.
Europe is a high-volume market, and it is not always easy to find the most profitable market in this highly competitive region. To get a good return on your products, you should diversify your target markets, both within and outside of Europe. Know your markets and their key buyers, and get regular market updates. Germany, the United Kingdom and France are major markets to monitor. Trade hubs and countries with strong re-exports (like the Netherlands and Belgium) are good places to find traders and logistical service providers. International traders are experts in finding the right end client. They can help distribute your products to different European markets.
Higher value for imported fruit from developing countries
The import values of both fruit and vegetables continued to increase in 2021. With current  logistics costs, there was little expectation that the value would go down. Many products from developing countries are either tropical or off-season imports. Most of the opportunities for vegetables are for countries nearby Europe.
Developing countries play a significant role in the supply of fresh fruit and vegetables. Fresh fruit from developing countries accounted for 43% of the total trade value in 2021. The value of these imports was €17 billion in 2021, and it increases between 2% and 6% annually. Fresh fruit imports increased in both value and volume. The value of intra-European trade also increased in 2020 and 2021, indicating a stronger focus on local produce.
The demand for fresh vegetables is much more dependent on local production. The import volume from developing countries shows little growth in volume, but the value of imported products had increased to €4 billion in 2021. This increase is probably related to rising shipping costs. Vegetable imports from Morocco and Turkey nevertheless increased significantly in 2021. This reflects a gradual shift in vegetable production to countries nearby Europe.
Increasing import values can be positive for exporters. At the same time, however, production and shipping costs are increasing as well. Despite higher values in the end market, sourcing in developing countries also brings increasing complexity. It is important to anticipate stricter buyer requirements and adverse circumstances in terms of climate and currencies.
In the long term, prices and import values will probably rise gradually. There will always be times, however, when temporary shortfalls or oversupply will strain either your contractual agreements or your margins. Further in this report, you can read which products from developing countries have the most potential on the European market for fresh fruit and vegetables.
Opportunities for well-prepared suppliers
Growing demand for high-quality fruit and vegetables will strengthen the position of well-organised exporters. There are significant differences between supply countries in terms of organisation, reputation and potential.
Exporters can find opportunities in countries with the right climate circumstances and reliable volumes. Several countries have managed to use distinctive advantages and have scaled up production. Exporters can take advantage of many features, including longer seasons/unique supply windows, proximity to Europe, product specialisation and low-cost production. Many tropical and exotic fruits and vegetables cannot be produced well in Europe. This provides opportunities for suppliers in tropical regions who comply with all the requirements of European buyers.
Several countries excel in supply volume or growth, for different reasons:
Well-organised companies that can provide reliable volumes and high-quality products can profit from the growing European import. For small companies, it is becoming more difficult to enter the market due to high standards and increasing buyer concentration, especially in Northern Europe. To have a chance in the European market, you must be able to meet product expectations and anticipate strong competition.
Developments that impact the European demand
Local is the norm, but not always possible
There is a strong interest in sourcing fresh fruit and vegetables locally. If fresh produce can be sourced locally, it will be sourced locally. This trend has become stronger due to the COVID-19 pandemic and rising freight costs. However, the local availability of fruit is not always sufficient.
Stabilising production volumes in Europe and increasing foreign competition are important factors for more external supply. The number of fruit and vegetable farms in Europe is decreasing, and total production volume is not growing much at all. In the future, stagnating production volumes will create a need for external sources, including for some of the most common fruits and vegetables (like oranges, apples and tomatoes).
Climate change is another factor. In 2021, extreme weather conditions severely affected the European production of stone fruit. This gave producers in Turkey, Moldova and Serbia the opportunity to increase their supply. As a supplier, you should stay up to date with these developments.
European companies are sourcing more in nearby countries
Companies in Europe are extending or complementing their local supply by producing and sourcing more in nearby countries. This often occurs often in regions where the climate is favourable and production costs are low.
Producing in countries in close proximity to Europe has become an attractive alternative for European companies. Nearby production countries have seasons that overlap with European harvests. They can produce fresh fruit and vegetables early in the season, when European produce is not yet ready to go to market. This creates opportunities for suppliers in nearby countries (like Egypt, Morocco, Tunisia and Turkey). Morocco and Egypt are already major exporters, and they are among the fastest-growing suppliers to the European market. Imports from these two countries have grown by 44% and 36%, respectively, in the past five years (see Figure 5).
Competition during the peak season in Europe is difficult. It is possible only if local production in Europe is not sufficient. As a supplier you should always consider seasonal supply and demand (as shown in Figure 6).
When exporting to Europe within the European season, you cannot ignore the main producers in Europe. You should stay up to date on developments and supply seasons in Europe—particularly for the countries that contribute most to the European supply (like Spain and Italy). These countries are the leading producers of fruit and vegetables in Europe, especially for citrus fruit, stone fruit, watermelons, table grapes, peppers and tomatoes. Spain is the strongest competitor, as it focuses mostly on exports.
Figure 6: Indicative seasonal calendar for the production of some fruit and vegetables in Western/Northern Europe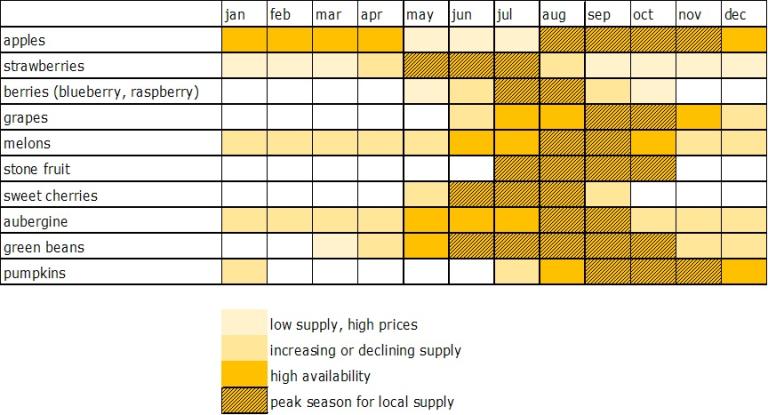 Source: Figure created by ICI Business.
Off-season remains the best time, but with narrower windows
Most European buyers try to establish a year-round assortment, and they look for the ideal partners to achieve this. The best opportunities for exporters occur during supply gaps and as counter-seasonal suppliers.
Much of the produce sold in Europe depends on specific seasons or specific climates (often tropical) that do not occur locally. For this reason, off-season remains the best time to export fresh produce to Europe. Seasons tend to shift, however, and supply windows are becoming narrower. Innovations in varieties, production technology and storage are helping to extend the seasons. This is occurring for most major fruit categories (like strawberries, mandarins and apples).
In Europe, efforts to extend the local season are in line with the growing preference for local and in-season fruit and vegetables. To complete the supply throughout the year, importers look for the most suitable production countries in terms of climate, season and reliability of production. The market ultimately strives to achieve a balance between optimising the local season and achieving year-round availability of fresh produce. Foreign production will remain an important way to fill gaps and secure a competitive, stable supply.
Figure 7: Greenhouse strawberry production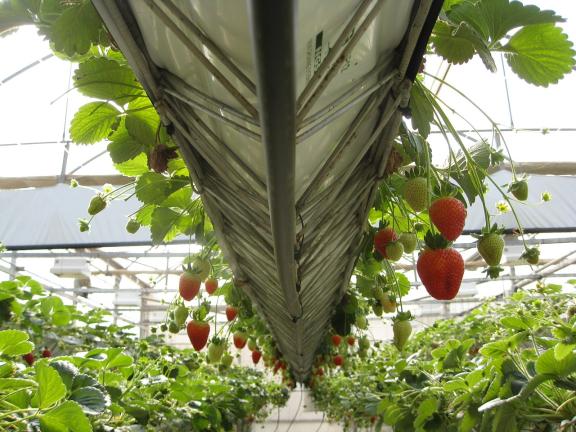 Source: Pixabay
Climate change is making imports more frequent and less regular
Climate change will play an increasingly important role in your ability to meet local demand for imported fresh fruit and vegetables. Severe droughts, heat waves, frost and heavy precipitation are increasingly affecting yields worldwide, including on the European continent. They are causing volatility in prices and product availability. Climate change will continue to move sustainability higher on the agenda.
According to the press release of the European Association of Fruit and Vegetable Processors (Profel) on the impact of climate change, the summers of 2017, 2018 and 2019 are proof of extreme differences in weather conditions throughout Europe. The uncertainty of weather conditions continued in the spring of 2021, when farmers in France tried to fight frost with improvised fires in the grape fields. This was also one of the worst years ever for the crop of cling peaches and apricots in Southern Europe, due to storms and frost. Moreover, the sowing and harvesting of vegetables (like beans, peas and carrots) in northern Europe were affected by heavy rains.
In its 2019 report, the European Environmental Agency predicted that the impact of climate change could result in losses of up to 16% in EU agricultural income by 2050. For Europe to maintain sustainable agriculture, farmers will need to resort to organic and high nature value (HNV) farming, instead of further intensification. With this in mind, it will be difficult for Europe to increase its production of fresh fruit and vegetables. While the need for imports will likely increase, it will be also become less regular.
In addition to its influence on production in Europe, climate change will have effects in other regions of the world. According to a briefing of the European Environment Agency, exotic fruits are extremely vulnerable to climate-related factors. Their suppliers are highly concentrated in certain countries.
Buyers in Europe are looking for stability and secure production sites, while diversifying the origins of their fruit and vegetables. For example, European specialists in fresh green beans do not wish to rely entirely on the crop of fine beans from Kenya, which sometimes suffers due to excessive rainfall. This provides opportunities for other countries (like Ethiopia and Rwanda), which are gradually exporting more fresh beans to Europe (see Figure 8).
As a supplier, you can reverse some of the negative effects of climate change by improving your response rate during shortfalls and focusing on counter-measures. To do this, you must be ready to respond quickly when producers in competing countries have difficulty supplying the European market. You must also expect sustainability to become more important in trade as well. For example, trade agreements are likely to include sustainability requirements. By implementing sustainable agricultural practices, you can improve both your reputation as a supplier and the security of your supply.
Inflation and shifting trade are a threat to consumption and profit margins
Inflation can pose a serious threat to the consumption of fresh fruit in Europe, particularly for products that are already more expensive in general. The war in Ukraine has driven up energy prices, and logistical costs have remained high since the COVID-19 pandemic.
At the same time, the war in Ukraine is causing a shift in trade. European suppliers no longer have access to the Russian market. For non-European countries, it will also become harder to export to Russia through Europe and Ukraine. Some fruit and vegetables will therefore be re-directed to other markets. The potentially larger and more concentrated volumes in the European market may keep prices affordable for consumers. At the same time, however, higher costs will strain profit margins. For example, the prices of fruit and vegetables in Turkey decreased by 50% when their exports to Russia and Ukraine stopped due to the war.
For suppliers of fresh produce, now is a good time to explore new logistical routes and target markets.
European demand for organic products boosted by COVID-19
The average organic market share in Europe is 4.7%, and it continues to increase. Fresh fruit and vegetables account for an important share of the organic food imports. The COVID-19 pandemic has provided an additional stimulus for both local and organic products. The available data on organic produce is nevertheless limited and mostly indicative.
The effects of COVID-19 on local and organic products
COVID-19 changed the entire dynamic of the fresh fruit and vegetable trade. International logistics became more challenging, and European consumers became more nationalistic. The pandemic strengthened the preference for local fruit and vegetables, and the demand was met locally whenever possible. Due to a lack of human resources during harvests, however, local supplies were not always sufficient. As a result, prices increased.
Due to the closure of restaurants during the COVID-19 pandemic, consumers were also able to spend more and make specific choices in supermarkets. Many opted for organic products and healthier options with a longer shelf life. According to the Research Institute of Organic Agriculture (FiBL), the COVID19 pandemic has revealed potential for the organic market to expand faster.
Organic retail sales and consumption are rising
Organic retail sales in the European Union increased to an estimated €44.8 billion in 2020 (€51.8 billion including the UK, Switzerland and Norway). This is a growth of 8% compared to 2019. Although organic products are a specialised market, general retail remains the most important channel for them. The market share for organic products ranges between 55% and 80% in most European countries.
The highest organic retail sales were realised in Germany (nearly €15 billion), followed by France (€12.7 billion). The strongest growth in 2020 occurred in German-speaking countries. Organic retail sales in Germany increased by 22.3%, with Switzerland increasing by 19.1% and Austria by 18.0%. Swiss and Danish consumers spent the highest value per capita on organic food. This pushed their organic market share to 10.8% and 13%, respectively.
Production in Europe remains insufficient
Currently, most of the organic fruit and vegetables in European shops are produced regionally. The share of organics in the production of fruit and vegetables is relatively high. Organic vegetables account for an average of 9.5% of all production. For organic fruits, the share is between 10.1% and 27.1%, with the highest percentage for berries.
The European Union has the ambition to expand organic agriculture. According to the Farm to Fork Strategy, at least 25% of all agricultural land must be used for organic farming by 2030. In 2020, however, the organic cultivation area had grown by only 5.3%. Organic retail sales are thus increasing more rapidly than the production in Europe. As a result, European traders will not be able to source all organic produce locally. To accommodate the growing interest in organics, more organic imports will be necessary.
Table 1: Shares of organic retail sales for fresh fruit and vegetables per country, in %
| | | | | | | | | | | |
| --- | --- | --- | --- | --- | --- | --- | --- | --- | --- | --- |
|   | Austria (2020) | Belgium (2020) | France (2019) | Germany (2020) | Italy (2019) | Norway (2018) | Spain (2017) | Sweden (2017) | Switzerland (2020) | United Kingdom (2020) |
| fresh vegetables | 17.6% | 8.4% | 7.6% | 13.8% | 4.7% | 4.2% | 3.3% | 12.2% | 26.9% | 4.8% |
| fruit | 11.7% | 6.3% | 8.8% | 9.9% | 6.6% | 2.2% | 1.7% | 18.4% | 18.4% | 3.0% |
Source: Willer, Helga, Jan Trávníček, Claudia Meier and Bernhard Schlatter (Eds.) (2022): The World of Organic Agriculture. Statistics and Emerging Trends 2022. Research Institute of Organic Agriculture FiBL, Frick, and IFOAM – Organics International, Bonn.
Fruit is prominent in organic imports
In all, 5,820 organic importers accounted for 2.8 million tonnes of organic food in 2020. Nearly one third of all organic imports consisted of organic tropical fruit (fresh or dried), nuts and spices. The countries with the highest imports were the Netherlands, Germany, Belgium and France (see also information on European markets below).
Future
Organic fruit and vegetables continue to be popular among European consumers. The demand for organic food will continue to develop in the coming years, with a particular preference for local products. Availability and pricing are crucial to organic sales.
For foreign suppliers, organics can be an interesting niche. To join the organic trade, you must comply with strict organic regulation. Keeping production and transport affordable will be crucial when exporting organic produce to Europe.
Bananas are the main fruit for Fairtrade certification
Consumer commitment to ethical and sustainably produced food is growing. At the same time, however, the fresh sector has not adopted Fairtrade in the same way as the coffee and cacao industries. Bananas are the main fruit with Fairtrade certification. Other fruit and vegetables rely much more on the sustainability and social standards of GLOBALG.A.P., SMETA (Sedex), Organic or the Rainforest Alliance.
In 2020, 1.37 million tonnes of bananas were Fairtrade certified. Of these certified bananas, 90% were produced in Latin America, with Colombia, Ecuador and the Dominican Republic being the top producers.
The United Kingdom, Germany, France, Switzerland and the Netherlands were the main markets for Fairtrade certified bananas in 2020. Fairtrade banana sales increased by 3% in 2020. Sales of organic Fairtrade bananas continued to grow, while sales of conventional Fairtrade bananas decreased slightly. The main reasons cited in the Fairtrade Annual Report 2020-2021 are the price wars in some markets, supply chain disruptions due to COVID-19 and climate-related crop losses.
2.

Which European markets offer the most opportunities for fresh fruit and vegetables?

Europe is a dynamic market with a variety of opportunities and characteristics. For your market entry, it is important to consider large consumer countries (like Germany, the United Kingdom and France). Germany and France often use the Netherlands or Belgium for logistics.

Spain and Italy are both major producers and major consumers. They are nevertheless increasing their imports of tropical fruit from non-European countries and becoming more interested in extending their own production seasons by sourcing in nearby countries.
Each region provides different opportunities
Volumes and patterns of consumption differ throughout Europe. Countries fall into roughly three regions: Northwestern, Southern and Eastern Europe. Reality is obviously more complex.
Northwestern Europe offers the best market for high-value exotics and organics
Purchasing power is highest in Northwestern Europe. The market in this region is dominated by large retail chains that maintain high standards of quality and food safety. Most countries, including smaller markets (like Switzerland and Sweden), have a negative trade balance. This means that their imports outweigh their exports. The Netherlands is the largest importer of fresh produce from developing countries.
Food safety and health consciousness also drive sales of organic fruit and vegetables, especially in Germany, Switzerland, Austria, Sweden and Denmark. Except for Germany, these countries are not amongst the leading markets for fresh fruit and vegetables, even though organic fruit and vegetables do occupy an important position in their domestic retail sales.
Southern Europe offers opportunities for traditional and tropical products
Southern Europe is a traditionally strong production region for fruit and vegetables. In Spain, Italy and Portugal, daily consumption is far above average, especially for fruit. Consumers in this region often consider taste to be more important than the visual quality of the product. Imports complement local production, while also catering to an increasing consumption of tropical fruits.
Eastern Europe is a good market for price-competitive fruit and vegetables
International trade and high quality standards are less developed in Eastern Europe. The official daily consumption of fruit and vegetables is low and mostly oriented towards local produce. Price is important, as purchasing power is lower here than it is in Western Europe. Imports of tropical fruit and vegetables are below the European average and are often supplied by traders in Western Europe. The Eastern-European market is developing, however, and it has the potential for future growth in foreign supply. Poland and Romania have shown most growth in recent years.
The Netherlands: Distribution hub
The Netherlands is one of the most important countries for foreign suppliers of fresh fruit and vegetables, due to its position in trade and logistics. The country is responsible for 20% of the total value of fresh fruit and vegetables from developing countries.
The Netherlands and, to a lesser extent, Belgium are important re-exporters of fresh fruit. A large share of the 4.6 million tonnes of imported fruit is distributed throughout Europe (see Figure 14). Most of the fresh vegetable trade consists of locally grown potatoes, onions and greenhouse vegetables (like tomatoes and bell peppers).
The Netherlands is the main European trade hub for fruit and vegetables from developing countries. The value of Dutch imports from developing countries increased by 38% from 2017 to 2021. From the port of Rotterdam, the main entry point, Dutch and international traders distribute produce to the rest of Europe. The highest concentration of fruit and vegetable traders is on the south side of Rotterdam.
Dutch importers are highly specialised in matching supply and demand. When the demand for a specific product changes, trading companies in the Netherlands react accordingly. The best chances for marketing most exotic fruits are through the Netherlands. You should therefore expect this country to be one of your main trading partners. The Netherlands is also the largest importer of organic products. According to the Research Institute of Organic Agriculture (FiBL), 30% (857,000 tonnes) of all organic food imported into the European Union in 2020 was imported by the Netherlands.
Germany: The largest market for fresh produce
With 83 million inhabitants and strong purchasing power, Germany is Europe's largest end-market for fresh fruit and vegetables. For this reason, Dutch trading companies focus strongly on supplying the German market. Spanish and Italian producers do this as well.
In 2021, German companies imported fresh fruit and vegetables amounting to a total value of €12.6 billion. This was more than 20% of the total value for all European countries combined. Direct imports from developing countries amounted to €3.1 billion. The German market was exceptionally good for small citrus fruit (like clementines and other hybrids). Nectarines and sweet potatoes continue to grow as well. Avocados, watermelons and blueberries have been the most popular import products in recent years, but their growth slowed in 2021.
Germany is also the largest consumer market for organic food. With more than 1,900 certified organic food importers, the country accounted for 29% of the total organic retail sales in Europe in 2020. When targeting Germany as the final destination for your products, be sure to supply clean, pest-free produce. Pay extra attention to avoid pesticide residues, for which Germany has zero tolerance. Expect Germany to be one of the strictest countries in terms of food safety and organic produce.
The United Kingdom: Strong direct imports from developing countries
The United Kingdom (UK) is highly dependent on the external supply of fresh fruit and vegetables. In 2021, almost €3.3 billion of the country's fresh fruit and vegetable imports came directly from developing countries. This makes it the second European market for exporters from developing countries, after the Netherlands.
On 31 January 2020, the UK decided to leave the European Union (EU). This decision (Brexit) increased the administrative burden for EU exporters to the UK, and it has made trade slower and more expensive. As a result, imports from the EU declined from 3.5 million tonnes in 2019 to 2.7 million tonnes in 2021.
Brexit has opened new opportunities for non-European suppliers, particularly for those that can replace some of the EU supply. In 2021, imports from countries such as Morocco and Egypt were significantly higher. The UK is also the main buyer of vegetables from Kenya.
The UK market poses several challenges to suppliers. Strong competition and limited market growth make it difficult to enter the country. Prices are continuously under pressure and product standards are high, due to the dominant market shares of supermarkets.
The UK has the ambition to become more self-reliant. Their dependence on imported fruit and vegetables is nevertheless unlikely to decrease. The demand for non-European imports will remain strong. The UK trade agreements with non-EU countries will open new opportunities for exporters in various countries to start establishing partnerships.
The UK is the leading market for ethical food. According to the CO-OP Ethical Consumerism Report 2021, ethical food and drinks in the UK increased by 12.3% (to a value of £14 billion) between 2019 and 2020. The main standards include Rainforest Alliance (£3.6 billion), Organic (£2.6 billion) and Fairtrade (£1.9 billion). In addition to bananas, new product lines are being developed (like Fairtrade-certified grapes, tomatoes and oranges).
France: Important trade relation for Northwest African suppliers
France has the second-largest population in Europe. It is therefore one of the main target markets for fresh produce exporters. In 2021, France imported fruit amounting to €1.7 billion and vegetables amounting to €0.8 billion from developing countries, particularly from Northwest Africa.
France maintains good trade relations with suppliers in Northwest Africa. In 2021, France imported fruit and vegetables amounting to €890 million from Morocco and €220 million from Ivory Coast (mostly bananas). The main imported products from Morocco were tomatoes, melons, peppers and beans. Due to the strong supply from Morocco, France is the largest European market for vegetables from developing countries.
Some of the products that performed well in the past five years include raspberries, blueberries and kiwi fruit. These fruits had a significant growth in volume from developing countries. The COVID-19 pandemic likely strengthened the demand for these healthy fruits. Morocco, South Africa and other countries are responding to this demand by increasing the berry supply. In 2021, France also imported more grapes from Morocco and more plums from Moldova and Serbia. This was likely because of climate difficulties that affected French production. It was also a relatively good year for exotic fruits from Vietnam and Madagascar. Known as an important supplier of lychees to France and Vietnam, Madagascar entered this market in 2021.
French market channels vary from small ethnic wholesalers that supply specialist shops to large sourcing companies. Examples include the French branch of Greenyard (formerly known as Katopé) and Compagnie Fruitière, which supply the main supermarkets and hypermarkets with bananas and pineapples from Africa. Although most French channels are directly accessible, imports through Spain and the Netherlands are also very common. From Spain, many products are traded through Perpignan in the south of France. Perpignan Saint-Charles International is regarded as one of Europe's main platforms for trading and transporting fresh produce. Rungis, near Paris, is one of Europe's main wholesale markets for fresh fruit and vegetables.
France is a productive country, and it can provide itself with a number of local, seasonal products (like apples, beans, peas, onions and local stone fruit varieties). Part of the local produce is cultivated organically. France has the largest area of organic cultivation in Europe (17%).
Although the organic market is strongly related to domestic production, there are opportunities for foreign organic suppliers as well. France is the largest market for organic sales after Germany, but it is much more concentrated, with only 662 organic importers in 2020.
Spain: Europe's garden and potential trade hub
Spain is Europe's leading producer and exporter of fresh fruit and vegetables. Spanish imports often involve off-season or counter-seasonal fruit and vegetables, which are also grown in Spain. At the same time, Spain is developing into a potential trade hub, particularly for Moroccan produce.
During its local season, Spain is the largest competitor in Europe. In 2021, Spain was responsible for 47% of all European production of watermelons, 36% of blueberries, 50% of peppers, 63% of small citrus fruit and 81% of avocados (see also Table 2 above).
Despite Spain's dominance in production, there are opportunities for partnerships. Some products for which Spanish production is declining (like tomatoes and stone fruits) offer opportunities for foreign suppliers. In the past five years, Spain has also imported an increasing value of mandarins, grapes, avocados and onions from developing countries.
From 2017 to 2021, imports from developing countries grew by almost 39% to a value of €1.9 billion. Its growth is thus amongst the fastest of the larger importing countries in Europe. Fruit and vegetables from North Africa and tropical fruit from Latin America are well-represented in Spain. Spanish growers are increasingly using nearby countries (like Morocco) to extend their local season.
Morocco is Spain's largest supplier, and it has been becoming more and more important for several years now. Morocco exports mainly watermelons, green beans, tomatoes, peppers and soft fruit to Spain. The strongest import growth in the past five years came from Peru (avocados, sweet onions, grapes), South Africa (citrus), Egypt (citrus), Ecuador (bananas), Kenya (avocados), Zimbabwe (oranges) and Guatemala (bananas, blackberries).
If you are able to produce fruits and vegetables outside the Spanish season, it would be worthwhile to explore Spain as a potential trade hub. For more exotic products, traders are likely to continue using the Netherlands as logistics hub.
Italy: Convenience helps to sell tropical fruit
Belgium seems to be the sixth most important market for fresh fruit and vegetables. This is mainly because of its logistical hub function for bananas. If we do not consider banana imports, Italy imports more than 100,000 tonnes more than Belgium.
Italy is a large, traditional consumer market with important local production of fruit and vegetables. Italian producers export part of their production (like apples, grapes, watermelons, kiwi fruit and herbs). Almost all imported products are consumed locally. According to industry sources, Italy has little intention to develop re-export activities.
In 2021, the value of imports from developing countries decreased slightly to €823 million. In general, however, Italy is a stable market with a total import demand of around 3.3 million tonnes of fruit and vegetables. About 36% of these imports come from developing countries. Pineapples and bananas, which are sourced directly, are the most popular import products from developing countries.
Avocados and sweet potatoes are relatively new products that are sourced in developing countries. The import volume for these products increased rapidly from only a few hundred tonnes in 2017 to 3,400 (avocados) and 2,700 tonnes (sweet potatoes) in 2021. Other specific products that showed positive growth in 2021 and the preceding years include dates (+66% in 5 years) and plantains (+73%). Many products are sourced through other European countries (like the Netherlands or Spain) or are produced locally.
The introduction of new or foreign products to Italy can be a long process. Italian companies (like the Orsero Group, McGarlet and Spreafico) make smart use of the Italian processing tradition to cut and mix fresh products in convenient consumer packages. This has helped the promotion of tropical and exotic fruit (see Figure 15).
Figure 15: Example of freshly cut coconut with grapes in Italy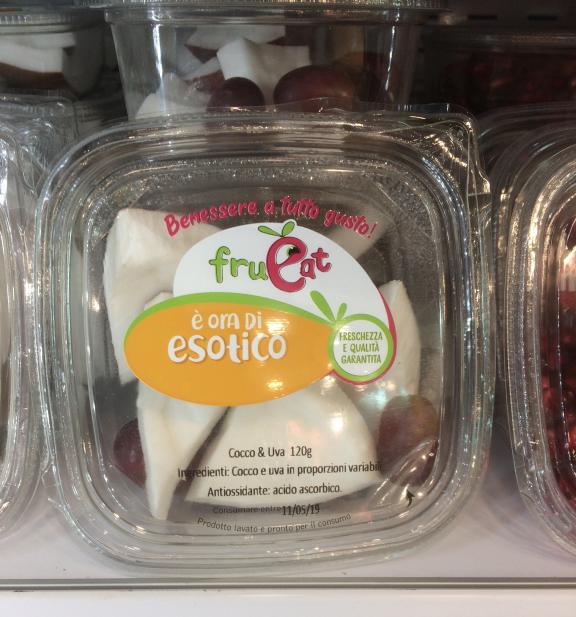 Source: Photo by ICI Business
3.

Which products from developing countries have the most potential on the European market for fresh fruit and vegetables?

The main products that are imported from developing countries are tropical fruits (like bananas and mangoes), or off-season grapes and citrus fruits.

The best opportunities can be found in products which are gaining popularity among consumers, such as sweet potatoes and healthy fruits such as avocados, blueberries and kiwi fruit. The import of these products has been increasing for several years.

There are also short-term opportunities for fruit and vegetables when the availability of European products is low. In 2021, this led to more imports of stone fruit, carrots and cucumbers from Turkey. Note that several fruits and vegetables can be sourced close to Europe. The closer a source is to Europe, the more likely it will be that its products will be used to complement European production.

Long-distance suppliers may find interesting niche markets. Markets are growing for exotic root vegetables, plantains, dates and special vegetable varieties (like mini-aubergines and baby broccoli).

Based on total value, growth and other factors, the following products have the most potential for developing countries in 2021-2022:
Kiwi fruit

Avocados

Berries (blueberries and raspberries)

Sweet potatoes

Exotic root vegetables

Mini-vegetables (and special vegetable varieties)
Please note that we base our results on high-potential product data from the developing countries where CBI is active. We calculate import values in the European market (EU27 + UK + European Free Trade Association) for these products. For more data on other high-potential products from CBI countries, see the complete statistics in the annex to this study.
Products with high trade value
Typical products from developing countries include tropical and semi-tropical fruits, like bananas, avocados, pineapples and mangoes. Other major products are counter-seasonal fruit and vegetables, like grapes, oranges, tomatoes and green beans. Blueberries also belong to the high-value imports, due to their higher value per kilo.
Some of the most commonly traded products are dominated by a select number of supply countries. For example, tomatoes and green beans are supplied to Europe mostly by Morocco. In the pineapple trade, Costa Rica is a market leader.
Once markets mature, growth is limited. In Europe, this is definitely the case for bananas and pineapples. As a supplier of these products, you will have to earn your place on the market. One advantage of larger categories, however, is that they provide room for diversification or differentiation. In the case of oversupply, the market can absorb the extra volumes relatively easily at lower prices.
Bananas (€4,878 million from developing countries): Bananas remain the main product imported from developing countries. The multinationals

Chiquita

,

Fyffes

and

Dole

are dominant in the market, with supply from Ecuador, Costa Rica and Colombia. In 2021, European banana imports decreased slightly. This was mainly due to logistical difficulties and a less favourable euro/dollar exchange rate. In many countries, the TR4 disease is affecting the banana crop. This disease has affected banana plantations in Asia, Australia and Africa. It has recently affected plantations in Colombia and Peru as well. This is currently threatening banana producers in nearby

Ecuador

and Costa Rica. It could lead to a shortage of bananas and force buyers to diversify their sourcing origins. In the long term, trade agreements and agricultural investments will play an important role in the banana trade.

Avocados

(€1,830 million from developing countries): Avocados have become the second most valuable product imported from developing countries. This success can be attributed to increasing interest in health food, a successful marketing machine and extensive investments in ripening facilities in Europe. Room for growth exists in Germany, Italy and various Eastern European countries. In the most mature markets (like France and the Scandinavian countries), growth can be expected to level out over the next five years. Throughout the world, many new orchards have yet to come into production. Competition has become much stronger, and periods of severe oversupply will occur more often.

Grapes (€1,662 million from developing countries): Grapes are one of the main fruits sold by supermarkets in Europe. In addition to local European production, grapes from several counter-seasonal sources (like South Africa, Peru, India, Egypt and Chile) are available on the market. Because their supply windows overlap, there are practically no supply gaps throughout the year. New suppliers usually have a low-price strategy or adopt newly developed (seedless) varieties of grapes.
Tomatoes (€1,217 million from developing countries

): Europe has a high demand for tomatoes, and it complements its own supply with nearby producing countries. In 2021, Europe imported nearly 50% more tomatoes from developing countries than it had five years earlier. Morocco is by far the largest non-European supplier, with more than €940 million in 2021. The remaining value comes mainly from Turkey, Tunisia and Senegal. 




Despite the year-round demand for tomatoes, it is important to consider seasonality. High volume allows for differentiation. As a supplier, you can try to differentiate with small snack tomatoes or tomatoes with superior taste. These varieties are a rapidly growing niche in Europe.

Mangoes (€953 million from developing countries): Mangoes are a typical fruit sourced in developing countries. In the European winter months, Peru and Brazil dominate the supply. Between March and September, many other countries export mangoes to Europe, including several West African countries (like Ghana, Ivory Coast, Burkina Faso and Senegal).
Pineapples (€750 million from developing countries): Pineapples are among the most commonly imported fruit from developing countries. Despite a year-round demand for pineapples in Europe, the current market for fresh pineapples has reached a stable level. In 2021, 84% of the market value was dominated by Costa Rica, a strong commercial supplier of mainly the MD2 variety. To date, the MD2 variety has very few competitors. To squeeze into the European market, farmers will need to invest in efficient and sustainable agricultural practices. Alternatively, they can differentiate with niche varieties and export perfectly ripened pineapples by air.
Produce from developing countries with promising growth
Healthy (snack) fruit such as kiwi fruit, blueberries, raspberries, and small citrus hybrids from developing countries had amongst the strongest import growth between 2017 and 2021. The COVID-19 pandemic gave an extra push to these fruits. Sweet potatoes and avocados have become very popular products in the last decade, and they continue to show growth.
Some of the most rapidly growing products are related to the successful expansion of cultivation area. Examples include raspberries in Morocco and blueberries and avocados in Peru. These countries show that it is possible to force growth in Europe by offering competitive, high-quality products combined with strong promotion. By following their example, you can become successful on the European market as well. For example, Egypt has achieved such success with sweet potatoes, which were initially introduced by North-American grower associations. A similar development occurred in Colombia, which identified a seasonal supply gap for avocados in Europe.
Another visible development is the increasing import of certain vegetables from suppliers nearby Europe. Turkey and Serbia are supplying more carrots and cucumbers to Eastern Europe, as local production has been limited. Morocco has been exporting more broccoli to Spain and the United Kingdom. Broccoli and cauliflower imports from developing countries have doubled in the past five years, with Kenya as the leading supplier. Although exact data are not available, a large part of the growth in value could be attributed to an increase in imports of 'baby broccoli' or 'broccolini'.
Kiwi fruit (312% growth from developing countries in 5 years): The largest non-European suppliers of kiwi fruit are New Zealand and Chile. Some of the recent growth has also come from Turkey, Argentina and South Africa. Kiwi fruit is high in vitamin C, and quality improvements are helping to increase consumption. The licensed Zespri kiwi fruit is the leading brand, and it has become popular in European retail.
Sweet potatoes (161% growth from developing countries)

: North American growers have successfully promoted sweet potatoes in Europe. They have become a standard supermarket product in Europe. Several other countries have successfully started to export sweet potato to Europe. In 2021, imports from Egypt (€59 million) and South Africa (€13 million) were at least five times greater than in 2017. Egypt is the leading country in terms of cost efficiency, and it dominates the market from August to the end of the year. Other significant suppliers include China, Honduras and Brazil. The long-distance supply poses several challenges, because sweet potatoes require proper curing to maintain shelf life during shipping. Current and short-term growth is strengthened by the European processing industries (for example, to make fries). Quality is an important success factor, and future trade will likely require further specialisation of producing countries.

Blueberries and other Vaccinium berries (128% growth from developing countries): Blueberries have become very popular in Europe as a convenient and healthy fruit. Consumption has increased exponentially, along with higher production volumes. Increased availability regularly results in discounted offers and promotions. 


For exporters, blueberries are a high-value product that also requires major investment. In light of increasing global volumes and food-safety standards, they also bring risks. There is also an increasing preference for fresh berries that can be sourced in or close to Europe. Despite this preference for local fruit, imports from developing countries are still increasing. Peru, Morocco and Chile dominated the supply in 2021, with a combined market value share of 84%. South Africa, Argentina and Serbia follow as suppliers.

Raspberries (124% approximate growth from developing countries): Raspberries are less frequently imported from developing countries than blueberries are, but they are following similar developments in consumption. In international trade, raspberries are not easy to handle, due to their fragility. Morocco exported a substantial value of €377 million in 2021. This made them the leading supplier, accounting for 85% of the total supply from developing countries. Other raspberry suppliers include Mexico, South Africa and Serbia. Perspectives are good, although long-distance import will remain limited due to the high cost of air freight.
Small citrus hybrids (112% growth from developing countries): Small citrus hybrids have performed well in terms of growth in import value. The main focus in Europe is on 'easy peelers' and small seedless citrus fruits. Imports of Wilkings and similar hybrids have increased (+112%). Tangerines and satsumas have also shown significant growth in the past five years (+74%). South Africa and Morocco have increased their supply the most. Peru is also one of the three largest suppliers to Europe.
Avocados (87% growth from developing countries): Avocados remain a rapidly growing product on the European market. The import value of avocados from developing countries has nearly doubled in the past five years. In 2021, Peru dominated with 47% of the total supply value. Upcoming suppliers (like Colombia, Kenya and Morocco) fill in most of the remaining supply, together with South Africa and Mexico. In the near future, exporters should expect stronger fluctuations in margins due to greater influx and temporary oversupplies (see also the previous paragraph).
Table 2: Rapidly growing products from developing countries (import value >€10 million) in European imports, in € million and % growth
| | | | | | | |
| --- | --- | --- | --- | --- | --- | --- |
| Product | Imports from all countries (incl. intra-EU)  |   | Imports from developing countries |   | Imports from CBI countries |   |
|   | 2021 | 5-year growth | 2021 | 5-year growth | 2021 | 5-year growth |
| Kiwi fruit | 1,658 | 35% | 13 | 312% | 0.11 | -29% |
| Sweet potatoes | 478 | 53% | 129 | 161% | 63 | 279% |
| Blueberries (incl. other fruits of the genus Vaccinium) | 2,148 | 88% | 842 | 128% | 295 | 153% |
| Raspberries (incl. blackberries, mulberries and loganberries) | 1,471 | 61% | 446 | 124% | 378 | 201% |
| Wilkings and similar citrus hybrids | 199 | 26% | 94 | 112% | 17 | 116% |
| Avocados | 3,097 | 45% | 1,830 | 87% | 238 | 129% |
| Cauliflowers and broccoli (e.g. 'baby broccoli' from Kenya) | 716 | 17% | 44 | 100% | 41 | 98% |
| Carrots and turnips (mainly Turkey) | 490 | 16% | 19 | 104% | 0.9 | 146% |
| Cucumbers and gherkins (mainly Turkey) | 1,504 | 15% | 97 | 91% | 11 | 11% |
Source: ITC Trademap
Interesting niche products from developing countries
Given its size and diversity, Europe offers an interesting market for exotic and niche varieties. Products with minor trade volumes are often destined for specialised market channels. This can be interesting for smaller exporters.
Niche products that show recent growth in Europe include durians, exotic roots, dates and plantains. The growth of other upcoming import products is due largely to Turkish suppliers, resulting in higher import values of aubergines, apricots, quinces and figs. For aubergines, there is an opportunity for more exotic varieties.
Durians (€8 million and 239% growth from developing countries): Imports of durians from Southeast Asia are increasing. Thailand is the main supplier, but there are also imports from Vietnam, Malaysia and Cambodia. In Thailand, growers concentrate mainly on meeting Chinese demand. The growing volumes have made Europe a target market as well. Europe's imports of Thai durians increased from €2.1 million in 2017 to €6.4 million in 2021. France, the Netherlands and Norway are the main import markets for durians in Europe.
Exotic roots (): Exotic roots are receiving increasing attention in Europe. This can be good news for countries that suffer from severe climate changes. According to a recent study,

root and tuber crops are more resilient to adverse climates

.


Cassava (€43 million, 42% growth): Cassava is a root tuber that is consumed mainly in the ethnic market. The recent growth is an indication that it is becoming adopted more widely. Costa Rica remains the main supplier, due to their superior post-harvest season and logistics. Other countries (like Thailand and Cameroon) also offer opportunities for exporters who are able to keep their export products fresh. The main buyers of cassava are the Netherlands, Spain and France.
Yams (€28 million, 33% growth): Yams are typically imported from Ghana, which is responsible for 71% of the total value of Europe's yam imports. Smaller suppliers include Costa Rica, China, Jamaica and Brazil. The United Kingdom has the largest demand for yams in Europe. The markets in France, the Netherlands and Belgium are growing.
Taro and Yautia (€11 million, 61%–200% growth): Taro and Yautia—often also sold as Eddo (closely related to taro), Dasheen or Coco Yam—are small niche products. Imports of these products show continuous growth, with the Netherlands and the United Kingdom in the lead. Costa Rica is the dominant supplier, accounting for approximately 50% of the total market value. Other suppliers to Europe include Vietnam, Ecuador, China and Madagascar.
Aubergines (€30 million and 41% growth from developing countries): Common aubergines represent a large segment of Europe's vegetable consumption. Demand is also growing for niche varieties. Turkey is the main supplier of common purple and long aubergines to Europe. In 2021, it nearly doubled its supply value. The increasing volumes imported from Turkey to Germany, Austria and Eastern Europe are the main reason for the strong import growth. More exotic varieties (like Thai, mini, Japanese and white aubergines) are sourced in Thailand (+53% in 5 years), Kenya (-44%), Uganda (+178%) and several smaller supply countries in Western Africa.
Dates (€261 million and 27% growth from developing countries): Dates are a high-value Arabic snack. They are popular with ethnic populations, and they are widely available in regular supermarkets. Dates are consumed throughout Europe, with France as the leading importer. Medjool dates capture the best prices, due to their superior quality. For health-oriented consumers, dates are an ideal replacement for sugar in a variety of food preparations. The demand for dates will likely continue to grow. Dates are imported mainly from Tunisia, Israel and Algeria.
Plums (and sloes) (€121 million and 18% growth from developing countries): South Africa is the largest non-European supplier of plums, with a counter-seasonal supply. The majority of the growth in these imports comes from the second and third largest suppliers: Moldova (+81% in 5 years) and Serbia (+122%). These countries can complement the declining European production. Suppliers in Moldova and Serbia have expanded their markets in Germany, Austria and Eastern Europe.
Plantains (€121 million and 13% growth from developing countries): Colombia, Ecuador and Costa Rica are by far the largest suppliers of plantains to Europe. They hold a market share of 86%. The total growth in imports is not due to the leading products. Supply is increasing from alternative countries, including Uganda (+142% in 5 years), Mexico (+157%) and Sri Lanka (+531%). The import values from these countries were all above €2 million in 2021.
Table 3: European imports of niche products with growth or growth potential, in € million and % growth
Imports from developing countries
| | | | | | | |
| --- | --- | --- | --- | --- | --- | --- |
| Products | Imports from all countries (incl. intra-EU)  |   | Imports from developing countries |   | Imports from CBI countries |   |
|   | 2021 | 5-year growth | 2021 | 5-year growth | 2021 | 5-year growth |
| Durians | 9 | 105% | 8.1 | 239% | 0.02 | 400% |
| Exotic roots: |   |   |   |   |   |   |
| | 1.4 | 177% | 1.2 | 200% | 0.07 | 97% |
| | 11 | 70% | 9.3 | 61% | 0.48 | 306% |
| | 53 | 40% | 43 | 42% | 1.2 | 75% |
| | 30 | 31% | 28 | 33% | 20 | 29% |
| Aubergines (all varieties) | 306 | 5% | 30 | 41% | 7.7 | 10% |
| Dates (fresh or dried) | 487 | 31% | 261 | 27% | 209 | 35% |
| Plums and sloes | 354 | 5% | 121 | 18% | 0.09 | 3% |
| Plantains | 252 | -14% | 121 | 13% | 8.8 | 124% |
| Figs (mainly Turkey) | 333 | 24% | 234 | 26% | 0.5 | 47% |
| Apricots (mainly Turkey) | 299 | 3% | 26 | 64% | 0.37 | -31% |
| Quinces (mainly Turkey) | 18 | 55% | 12 | 85% | 0.002 | 100% |
Source: ITC Trade Map
This study was carried out on behalf of CBI by ICI Business.
Please review our market information disclaimer.
Search
Enter search terms to find market research