What is the demand for fresh fruit and vegetables on the European market?
Europe has a large and mature market with stable demand for most fresh fruit and vegetables. The need for year-round availability and the interest in new exotic produce maintain Europe's dependence on external suppliers. The COVID-19 pandemic caused logistical difficulties worldwide, but despite higher prices, import levels of healthy fruit such as avocados, oranges and blueberries increased. Climate and sustainability are expected to play a larger role in the future development of the import, taking production closer to home.
1.

What makes Europe an interesting market for fresh fruit and vegetables?

Market size, a year-round demand and the dependence on external suppliers make Europe an attractive target market for suppliers in developing countries. Buyers in Europe look for reliable suppliers in strategic areas so they can offer fruit and vegetables to consumers at any time of the year.
Europe's mature and large market offers stability for suppliers
Europe is a mature and diverse market for fresh fruit and vegetables. Although short-term needs and prices change regularly, the overall demand is relatively stable and the volumes are large. For this reason, Europe is a good market to keep in your supply portfolio.
One of the main reasons for exporters to target the European market is its sheer size. Europe has a population of more than 500 million consumers and is responsible for over €60 billion or 44% of the global trade value of fresh fruit and vegetables (see Figure 1). Europe includes 5 of the 10 largest importing countries in the world.
Europe is a high-volume market and it is not always easy to find the most profitable market in this already highly competitive region. To get a good return on your products, you must diversify your target markets, both in and outside of Europe. Know your markets and their key buyers and get regular market updates. Germany, the United Kingdom and France are major markets to monitor. International traders with re-export activities, which are common in the Netherlands, for example, are experts in finding the right end client. They can help distribute your products to different European markets.
Import share is gaining over the local production
The market share of imported fruit and some vegetables that are common in European cultivation is increasing gradually (see table 1). Stabilising production volumes in Europe and increasing foreign competition are important factors for a more dominant external supply.
Technology and varietal development result in a higher product quality and yield, but the number of fruit and vegetable farms in Europe is decreasing and the total production volume is barely growing. Vegetable production in Europe is more or less stable and covers a large part of the year thanks to different climate areas and a well-developed greenhouse production. The long-term production trend for fruit is decreasing slightly. Stagnated production volumes will create future need for external sources, including for some of the most common fruits and vegetables, such as oranges, apples and tomatoes.
The EU agricultural outlook 2020-2030 provides a forecast for apples, stone fruit, oranges and tomatoes:
Apple production will remain relatively stable, with higher yields but a smaller area.
Production of peaches and nectarines will also remain stable but encounter more competition from other summer or tropical fruit, leading to a decreasing consumption.
Fresh oranges will be favoured over concentrated juices, so production and import should grow to cover the demand.
Fresh tomato production is projected to decline due to the international competition and a growing demand for small-sized varieties.
Table 1: The non-EU import as a percentage of the EU-27 production
| | | | | | |
| --- | --- | --- | --- | --- | --- |
|   | 2016 | 2017 | 2018 | 2019 | 2020 |
| Strawberries | 2,3% | 3,0% | 2,7% | 3,0% | 3,6% |
| Peaches & nectarines | 0,6% | 0,4% | 0,7% | 0,6% | 1,1% |
| Plums | 4,9% | 7,2% | 4,5% | 4,6% | 7,2% |
| Oranges | 12,8% | 14,8% | 14,5% | 13,8% | 14,3% |
| Table grapes | 25,9% | 29,8% | 28,9% | 29,8% | 28,4% |
| Apples | 2,6% | 3,5% | 3,3% | 3,2% | 3,4% |
| Fresh tomatoes | 6,9% | 8,0% | 8,6% | 9,4% | 9,9% |
Source: Eurostat
Climate change leads to more and irregular import
Climate change will play an increasingly important role in local production and the demand for imported fresh fruit and vegetables. It will also put sustainability higher on the agenda.
The resulting severe droughts, heat waves, frost and heavy precipitation are increasingly affecting yields, causing price volatility. According to the press release of the European Association of Fruit and Vegetable Processors (Profel) on climate change impact, the summers of 2017, 2018, and 2019 are proof of extreme differences in weather conditions throughout Europe. The uncertainty of weather conditions continued when in the spring of 2021 farmers in France tried to fight frost with improvised fires in the grape fields and the crop of cling peaches and apricots in Southern Europe had hit one of the worst years due to storms and frost.
The European Environmental Agency predicted in its 2019 report that the impact of climate change could result in a loss of up to 16% in EU agricultural income by 2050. For Europe to maintain a sustainable agriculture, farmers will need to resort to organic and High Nature Value (HNV) farming instead of further intensification. With this in mind, it will be difficult for Europe to increase its production of fresh fruit and vegetables. The need for import will increase, and will be more irregular at the same time.
Climate change will not only influence production in Europe, but also in other regions in the world. Expect sustainability to become more important for imported products as well, for example as part of a trade agreement.
Figure 2: Main climate change impacts on the agriculture sector for the main biogeographical regions in Europe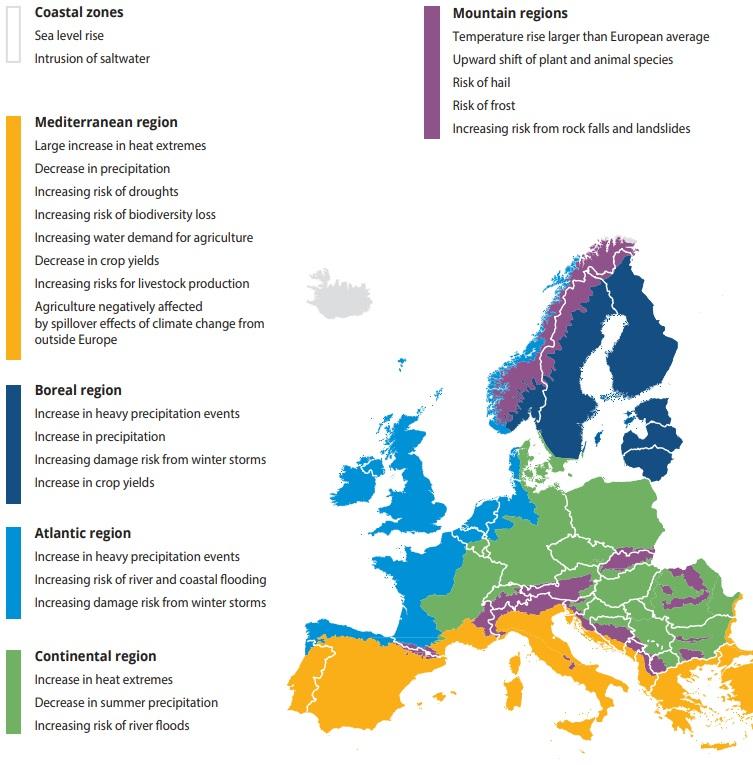 Source: EEA Report on Climate change adaptation in the agriculture sector in Europe © European Environment Agency, 2019
EU companies start to source more in nearby countries
Companies in Europe have started to extend or complement their local supply by producing and sourcing more in nearby countries, often in regions where the climate is favourable and production costs are lower.
Producing countries within a close distance to Europe have become an attractive and economical option for European companies. These countries have an overlapping season with the European harvest, but their production costs are lower and because of short-distance transport they still have a low environmental impact. They can produce fresh fruit and vegetables early in the season when European produce is not yet ready to go to market. This offers opportunities for nearby suppliers such as Egypt, Morocco, Tunisia and Turkey. Morocco, Egypt and Tunisia are among the fastest-growing suppliers to the European market.
When looking into the possibility of complementing the European production, you must be up to date with the developments and supply seasons in Europe – in particular the countries that contribute most to the European supply such as Spain and Italy. Spain and Italy are the leading producers of fruit and vegetables in Europe, especially for citrus fruit, stone fruit, watermelons, table grapes, peppers and tomatoes (see Table 2). Spain is the strongest competitor, focusing mostly on export. Italy produces much more for its domestic market and for processing. When the supply of these countries falls short, you can count on an increased demand from other nearby sources.
Table 2: Estimated European production in 2020 (in 1,000 tonnes) and production share by country (with a production share larger than 10%)
| | | | | | | | | | | | | |
| --- | --- | --- | --- | --- | --- | --- | --- | --- | --- | --- | --- | --- |
|   | EU-27 + UK | Spain | Italy | Greece | France | Poland | Netherlands | Germany | Belgium | Romania | United Kingdom* | Hungary |
| Apples | 11.084 | 5% | 13% |   | 15% | 30% |   |   |   |   |   |   |
| Onions | 6.984 | 19% |   |   | 10% |   | 24% |   |   |   |   |   |
| Oranges | 6.612 | 52% | 29% | 13% |   |   |   |   |   |   |   |   |
| Watermelons | 3.329 | 37% | 20% | 19% |   |   |   |   |   | 14% |   |   |
| Peppers (capsicum) | 2.934 | 50% |   |   |   |   | 15% |   |   |   |   |   |
| Small citrus fruits* | 2.893 | 63% | 26% |   |   |   |   |   |   |   |   |   |
| Peaches | 2.625 | 31% | 28% | 33% |   |   |   |   |   |   |   |   |
| Table grapes | 1.749 | 16% | 59% | 16% |   |   |   |   |   |   |   |   |
| Lemons and acid limes* | 1.446 | 61% | 31% |   |   |   |   |   |   |   |   |   |
| Plums | 1.299 | 12% | 12% |   | 15% |   |   |   |   | 36% |   |   |
| Strawberries | 1.219 | 22% | 10% |   |   | 15% |   | 12% |   |   | 10% |   |
| Fresh beans | 1.033 | 14% | 16% |   | 33% |   |   |   |   |   |   |   |
| Fresh peas | 988 | 12% |   |   | 26% |   |   |   | 10% |   | 15% | 10% |
| Nectarines | 981 | 49% | 28% | 13% |   |   |   |   |   |   |   |   |
| Eggplants | 858 | 33% | 35% |   |   |   |   |   |   |   |   |   |
| Asparagus | 312 | 21% | 15% |   |   |   |   | 38% |   |   |   |   |
| Blueberries | 125 | 39% |   |   |   | 30% |   |   |   |   |   |   |
| Avocados | 111 | 89% |   |   |   |   |   |   |   |   |   |   |
Source: Eurostat
*) based on data 2019
Off-season remains the best time but with narrower windows
Most European buyers try to establish a year-round assortment and look for the ideal partners to achieve this. As an exporter, you will find your best opportunities during supply gaps and as a counter-seasonal supplier.
Europe imports a lot of fruit and vegetables because much of the produce depends on specific seasons or (tropical) climates that cannot be found locally. For that reason, off-season remains the best time to export fresh produce to Europe. However, seasons tend to shift and supply windows become narrower through innovation.
Producers in Europe try to extend their production season with new varieties and modern technologies, for example:
Strawberries are available nearly all year round, although they are significantly more expensive in winter. Greenhouse production and the use of different early, mid-season and late varieties maximise their availability.
Much of the growth in mandarins is now coming from late hybrids such as Nadorcotts (or W. Murcotts) from Spain, but also from South Africa, Morocco and Peru. These changes in varietal preference shift the season forward and can influence your window of opportunity.
Advanced storage solutions such as controlled atmosphere storage can also prolong the local supply of certain fruit and vegetables, for example, in the case of apples. European apples are stored for months and continue to be sold on the market long after harvest.
Extending the local season is in line with the growing preference for local and in-season fruit and vegetables, and this tendency was strengthened during the COVID-19 pandemic. In the end, however, the market will strive for a balance between optimising the local season and achieving year-round availability of fresh produce. Foreign production will remain important to fill gaps and secure a competitive and stable supply.
COVID-19 boosted local and organic products
The COVID-19 pandemic has been an additional stimulus for the sourcing and consumption of local and organic products, in particular for vegetables. For international trading the pandemic showed the importance of reliable and efficient logistics.
COVID-19 changed the entire dynamic of the fresh fruit and vegetable trade. International logistics became more challenging and EU countries became more nationalistic. The demand was locally fulfilled where possible. But due to lack of human resources during harvests, local supply was not always sufficient. As a result, prices increased.
Europe is much more self-sufficient in vegetables than it is in fresh fruit. The import from developing countries mainly concerns counter-seasonal vegetables such as tomatoes, beans and peppers, and a selection of tropical vegetables. In 2020 the trade statistics show a stabilisation in the value of internationally traded vegetables (see figure 3). On country level less volume was imported, while prices were higher. This can be attributed to the COVID-19 lockdowns and the increased focus on domestically produced vegetables. The costs of international logistics also increased due to low availability of containers and higher airfreight rates. The recovery of the international logistics will keep a healthy supply from abroad in the years to come, especially from nearby countries.
Due to the closure of restaurants during the COVID-19 pandemic, consumers were also able to spend more in supermarkets and make specific choices for organic products and healthy products with a longer shelf life. According to the Research Institute of Organic Agriculture (FiBL) this boosted the retail sales of organic fruit and vegetables.
The demand for local and organic products will continue to develop over the coming years. But Europe will be unable to source everything locally and its organic production is not enough to fulfil the growing demand. For foreign suppliers organic can be an interesting niche, but having good access to logistical service suppliers and maintaining affordability for transport will be crucial for any export product.
Higher value for imported fruit from developing countries
Fresh fruit import continued to increase in 2020, both in volume and value. Despite the difficulties of COVID-19, exporters and importers did their best to keep the fresh fruit trade going. This was not possible for all products. Oranges, mandarins, avocados and blueberries were imported in larger quantities compared to 2019, while pineapples and melons declined.
Developing countries play an important role in supplying tropical fruits. The European fruit import from developing countries increased from €12.8 billion in 2016 to €16 billion in 2020, a growth of 25% in five years. In the last year (2020) €1.1 billion was added. The value and growth is significantly larger than the relatively stable €2.6 billion import from the rest of the world, or other non-European countries.
The import prices of fruit and vegetables have been increasing since a dip in 2018 (see figure 5). Highly demanded products such as bananas, citrus, grapes, avocados and mangoes have most influence on the average price development. The increase in product value can be attributed to increasing production costs, a higher share of valuable products, fluctuating exchange rates and the increasing complexity of sourcing and meeting the ever stricter European requirements. Most prices continued to increase in 2020/2021 due to a strong demand and increased logistics costs in times of COVID-19.
An increasing import value and the growing share of high-value products are favourable for exporters in developing countries, but it is important to anticipate stricter buyer requirements and adverse circumstances in climate and currencies. In the long term, you can expect prices and import values to gradually rise, but there will always be moments when temporary shortfalls or oversupply put pressure on either your contractual agreements or your margins.
Opportunities for well-prepared suppliers
A growing demand for quality fruit and vegetables from abroad will strengthen the position of well-organised exporters. There are significant differences between supply countries, in level of organisation as well as reputation and potential.
Tropical and exotic fruit will continue to appeal to European consumers, creating a strong position for exporters from countries with the right climate circumstances and reliable volumes. Several countries have managed to use distinctive advantages and have scaled up their production. You can find an advantage in longer seasons or unique supply windows, proximity to Europe, product specialisation or low-cost production. Countries that are dominant in supply or that exceed average growth are:
Peru and South Africa: both are typical counter-seasonal suppliers. Peru has large-scale production projects and uses different climate zones to extend the season. South Africa competes in the same window with similar products such as citrus, grapes and avocados, among other fruits;
Morocco, Egypt, Tunisia and Turkey: price-competitive countries with the advantage of being close to Europe. These countries are ideal for European markets to purchase out-of-season vegetables, as well as soft fruit, grapes, melons and citrus. Morocco is by far the most important supplier of vegetables to Europe. Tunisia is strengthening its position as a supplier of dates;
Costa Rica, Colombia and Panama: typical suppliers of main tropical fruits such as bananas and pineapples (mainly Costa Rica). Colombia also has a growing export of avocados and exotic fruit.
Kenya and Guatemala: Kenya and Guatemala are becoming larger suppliers to Europe. Kenya is increasing especially in avocados and beans. Guatemala has a trade agreement with Europe and a successful expansion in exports of banana, avocados, sugar snaps and limes.
Well-organised companies that can provide reliable volumes and high-quality products can profit from the growing European import. For small companies, it is getting more difficult to enter the market due to the high standards and the increasing buyer concentration, especially in Northern Europe. To have a chance in the European market, you must be able to meet product expectations and anticipate strong competition.
2.

Which European markets offer most opportunities for fresh fruit and vegetables?

Europe is a dynamic market with different opportunities and characteristics. For your market entry it is important to consider large consumer countries such as Germany, the United Kingdom and France. Germany and France often use the Netherlands or Belgium for logistics. Spain and Italy are both large producing and consuming countries, but with increasing imports of tropical fruit from non-European countries and growing interest to extend their own production season by sourcing in nearby countries.
Each region provides different opportunities
Consumption volume and patterns are different throughout Europe. You can roughly group countries into three different regions: Northwestern, Southern and Eastern Europe, although the reality is of course more complex.
Northwest Europe offers the best market for high-value exotics and organic
Purchasing power is highest in Northwestern Europe, and the market here is dominated by large retail chains that maintain high standards of quality and food safety. Several countries, including smaller markets such as Switzerland and Sweden, have a negative trade balance; their imports outweigh their exports. The Netherlands is the largest importer of fresh produce from developing countries.
Food safety and health-consciousness also drive sales of organic fruit and vegetables, especially in Germany, Switzerland, Austria, Sweden and Denmark. Except for Germany, these countries are not among the top markets for fresh fruit and vegetables, but organic fruit and vegetables take an important position in their domestic retail sales.
Southern Europe offers opportunities for traditional and tropical products
Southern Europe is a traditionally strong production region of fruit and vegetables. In Spain, Italy and Portugal, consumption is far above average, especially of fruit. Consumers in this region often consider taste to be more important than the visual quality of the product. Imports of tropical fruit complement local production but also foster increasing consumption.
Eastern Europe is a good market for price-competitive fruit and vegetables
International trade and high-quality standards are less developed in Eastern Europe. The official daily consumption of fruit and vegetables is low and mostly oriented to local produce. Price is important because of a lower purchasing power compared to Western Europe. While imports of tropical fruit and vegetables are still small and are often supplied by traders in Western Europe, the Eastern-European market is in development and has potential for future growth of foreign supply.
Germany: The largest market for fresh produce
Germany is the largest European market for fresh fruit and vegetables. This is the reason why Dutch trading companies, as well as Spanish and Italian producers, focus strongly on supplying the German market.
In 2020, German companies imported a total value of €12.4 billion of fresh fruit and vegetables, which is over 20% of all European countries combined. The import from outside Europe was valued €3.5 billion, of which €2.9 billion from developing countries. The German market shows positive growth in avocados, blueberries, raspberries, watermelon and sweet potatoes, as well as niche products such as plantains and exotic root vegetables. The German import of these products from non-European sources at least doubled in volume in the past 5 years (2016-2020).
Germany is also the largest consumer market for organic food, accounting for 29% of the total retail sales of organic products in the European Union in 2019. When targeting Germany as the final destination for your products, make sure to supply clean, pest-free produce. Pay extra attention to avoid pesticide residues, for which there is zero tolerance. Expect Germany to be one of the strictest countries when it comes to food safety and organic produce.
The United Kingdom: Strong direct imports from developing countries
The United Kingdom (UK) is highly dependent on the external supply of fresh fruit and vegetables. In 2020, approximately 48% of the fresh fruit and vegetables imports came directly from non-European suppliers, making it the second European market for exporters from developing countries, after the Netherlands.
The UK market has several challenges for suppliers. Standards are high due to dominant market shares of supermarkets and the limited market growth makes it a difficult country to enter. Prices have been under pressure due to Brexit; Britain's exit from the European Union.
The UK officially left the EU on 31 January 2020. Starting January 2022 documentary checks will apply for EU suppliers and physical checks at border control posts on fresh produce will start from March 2022. The UK's decision to leave the European Union increased the administrative burden for EU exporters to the UK and has made trade slower and more expensive. There are concerns that increasing prices will have a negative impact on the British consumption of fresh fruit and vegetables.
The first signs of decreasing trade with mainland Europe are already visible in trade statistics. In 2020, the UK imported an estimated 5.6% less fruit and vegetables from the EU, while the import from non-European countries barely increased (possibly partly influenced by COVID-19). In the first 5 months of 2021 the UK imported 20% less fruit and vegetables from the remaining 27 EU member states compared to the year before, opposed to +11% from non-European suppliers.
In the coming years the country will have to rely more on its domestic production, but there is a good chance that the demand for non-European imports will continue to increase. The UK trade agreements with non-EU countries will open a new door for exporters in various countries to start establishing partnerships.
France: Important trade relation for Northwest African suppliers
France has the second-largest population in Europe, making it one of the main target markets for fresh produce exporters. In 2020, France imported €2.0 billion of fruit and €0.7 billion of vegetables with non-European origin, in particular from Northwest Africa.
France maintains good trade relations with suppliers in Northwest Africa. In 2020, France imported €804 million worth of fruit and vegetables from Morocco and €213 million from Ivory Coast (mostly bananas). For most fruit, France is a net importer. Statistics also show that France is Europe's main importer of vegetables from developing countries. However, this is mostly due to imports of Moroccan tomatoes, beans and bell peppers.
Products that performed well in the past 5 years, growing significantly in volume, include blueberries and raspberries, watermelon, plantains, sweet potato and cassava.
The French market channels vary from small ethnic wholesalers, which supply specialist shops to large sourcing companies such as the French branch of Greenyard (formerly known as Katopé), which supply the main supermarkets and hypermarkets. Most French channels can be reached directly, but import via Spain and the Netherlands is also very common.
French retail recorded the highest growth in organic sales in Europe in 2019 (13.4%). The French organic market is catching up with Germany. However, organic in France is often strongly related with domestic cultivation.
Spain: Europe's garden and potential trade hub
Spain is Europe's number one producer and exporter of fresh fruit and vegetables. Spanish imports often involve off-season or counter-seasonal fruit and vegetables which are also grown in Spain. At the same time, Spain is developing into a potential trade hub.
Fruit and vegetables from North Africa and tropical fruit from Latin America are well-represented in Spain. From 2016 to 2020, imports from non-European countries grew in value by 38% to €2.0 billion, which puts it among the fastest growers of the larger European import countries. Morocco exported more watermelons, tomatoes and soft fruit to Spain, while Peru increased the supply of avocados, mangoes and sweet onions. The import volumes of plantains from Ecuador and Colombia are also increasing, as well as additional imports of sweet potatoes from Portugal, the USA and Egypt and mandarins from Morocco, Peru and South Africa.
Spain is possibly your biggest competitor in Europe during its harvest season. Spain is responsible for 37% of the European production of watermelon, 39% of the blueberries, 50% of the peppers, 63% of the small citrus fruit and 89% of the avocados (see also table 2 above). At the same time, Spain also provides good insights into production trends and potential partnerships. Spanish growers increasingly use nearby countries such as Morocco to extend their local season.
If you are able to produce fruits and vegetables outside the Spanish season, it is worthwhile to explore Spain as a future trade hub. For more exotic products traders will likely continue to use the Netherlands as logistics hub.
Italy: Convenience helps to sell tropical fruit
Italy is a traditional, large consumer market with an important local production of fruit and vegetables. Italian producers export part of their production, such as apples, grapes, watermelons, kiwis and herbs. Imported products are almost all consumed locally. According to industry sources, Italy has little intention to develop re-export activities.
The import value from developing countries remained relatively stable and averaged just over €840 million in the last 5 years (2016-2020). Introducing new or foreign products to Italy can be a long process. Italian companies such as Orsero Group, McGarlet and Spreafico make smart use of the Italian processing tradition to cut and mix fresh products in convenient consumer packages, which has helped the promotion of tropical and exotic fruit.
Pineapples and bananas, which are sourced directly, are the most popular imported produce with Italian consumers. Many other products are sourced via other European countries, such as the Netherlands or Spain, or are produced locally.
Despite Italy's domestic production and EU trade relations, Italy is using more and more regional producers to secure its supply. The import of several fresh products from non-European countries increased, for example, for watermelon from Tunisia, stone fruit from Turkey and Chile, tomatoes from Albania and Tunisia. Sweet potato is also becoming more popular with growing imports from China and Egypt.
Table 3: Italy's import and import growth of fruit and vegetables in 2020
Products

Italy's fresh fruit and vegetable imports

Market share of non-EU suppliers

Italy's import Growth in 5 years

 

in 1,000 tonnes

in %

From non-EU

From the world

Fruits and Vegetables

3343

38%

9%

9%

Bananas

782

95%

13%

10%

Pineapples

136

96%

3%

-4%

Watermelons

34

23%

170%

4%

Tomatoes

123

6%

595%

4%

Peaches and nectarines

111

2%

1517%

8%

Plums and sloes

14

19%

57%

50%

Sweet potatoes

15

15%

2579%

126%
 Source: ITC Trademap
Organic market: increasing organic retail sales
Organic food has a market share that varies between less than 1% (Romania, Hungary, Greece) to 12.1% (Denmark). Organic market shares increase annually. The domestic supply of organic fruit and vegetables generally cannot meet the demand, which provides opportunities for exporters outside Europe. To join the organic trade, you must comply with strict organic regulation.
According to the 2021 report by the Research Institute of Organic Agriculture FiBL and IFOAM Organics International, the European Union used 14.6 million hectares as organic farmland in 2019. Between 2010 and 2019 the organic area increased by two thirds. Spain continued to be the country with the largest organic area of 2.4 million hectares (ha) or 14% share, followed by France (2.2 million ha), Italy (2.0 million ha) and Germany (1.6 million ha). 56% of organic farmland is located in these four countries.
Berry production in the European Union has a particularly high organic share of 25.5% of the production area. For vegetables this is 8.7%, for citrus 11.1%, for grapes 12.1%, for temperate fruit 9.7% and for (sub)tropical fruit 12.9%.
The number of organic importers grew with 13.9% in 2019 to a total of 5,747 importers. This exceeds the growth in the number of producers and processors. Most organic food importers can be found in Germany and tropical fruit was the key product group in the organic imports. Some importers are specialised in organic fruit and vegetables, but part of the growth likely comes from regular importers that add organic products to their assortment.
The organic retail value in Europe more than doubled between 2010 and 2019, reaching a total of €41.5 billion. Germany held the highest retail sales value in 2019 with almost 12 billion euros (see figure 13), while France is catching up with a 13.4% growth from 2018 to 2019, the highest in Europe. The highest consumption per capita was registered in Denmark and Switzerland (344 and 338 euros). Denmark is also the country with the highest market share of organic food (12.1%).
The sales of organic fruit and vegetables is expected to continue, maybe not as fast as in the beginning years, but gradually organic will get a higher market share.
Table 4: Development of the organic market in the European Union in 2019 compared to 2018
| | | | |
| --- | --- | --- | --- |
| Organic market | 2018 | 2019 | change |
| Retail sales value | € 37.4 billion | € 41.5 billion | +€ 4.1 billion |
| Per capita consumption | € 79.1 | € 84.2 | +€ 5.1 |
| Organic market growth | 7.7% | 8% | +0.3% |
| Total organic agri-food import | 3.3 million tonnes | 3.2 million tonnes | -0.1 million tonnes |
| Import of organic tropical fruit nuts and spices | 793,597 tonnes | 885,930 tonnes | +92.333 tonnes |
Source: Willer, Helga, Jan Trávníček, Claudia Meier and Bernhard Schlatter (Eds.) (2021): The World of Organic Agriculture. Statistics and Emerging Trends 2021. Research Institute of Organic Agriculture FiBL, Frick, and IFOAM – Organics, International, Bonn (v20210301)
Table 5: Organic share of fruit and fresh vegetables in retail sales in 2019
| | | | | | | | | | | |
| --- | --- | --- | --- | --- | --- | --- | --- | --- | --- | --- |
|   | Austria | Finland | France | Germany | Italy | Norway (2018) | Spain (2017) | Sweden (2017) | Switzerland | United Kingdom |
| fresh vegetables | 16.0% | 4.5% | 7.6% | 9.8% | 4.7% | 4.2% | 3.3% | 12.2% | 23.1% | 4.3% |
| fruit | 11.0% | 7.5% | 8.8% | 7.5% | 6.6% | 2.2% | 1.7% | 18.4% | 17.5% | 2.8% |
Source: Willer, Helga, Jan Trávníček, Claudia Meier and Bernhard Schlatter (Eds.) (2021): The World of Organic Agriculture. Statistics and Emerging Trends 2021. Research Institute of Organic Agriculture FiBL, Frick, and IFOAM – Organics, International, Bonn (v20210301)
Source: Willer, Helga, Jan Trávníček, Claudia Meier and Bernhard Schlatter (Eds.) (2021):
The World of Organic Agriculture. Statistics and Emerging Trends 2021
. Research Institute of Organic Agriculture FiBL, Frick, and IFOAM – Organics, International, Bonn (v20210301)
3.

Which products from developing countries have the most potential on the European fresh fruit and vegetables market?

The best opportunities for exporters from developing countries are in products which are gaining popularity among consumers, such as avocados, sweet potatoes or dates. Alternatively, there are opportunities in common off-season products to complement the local supply of, such as blueberries, raspberries and watermelon. The most popular imported product from developing countries remains bananas.

The products with the most potential for developing countries in 2020-2021, based on different factors such as total value and growth, are:
Bananas
Avocados
Blueberries and raspberries
Sweet potato
Watermelon
Dates
Please note that we base our results on high-potential product data from the developing countries where CBI is active. We calculate import values in the European market for these products. We define the European market as EU27+UK+European Free Trade Association. For more data on other high-potential products from CBI countries, see the complete statistics in the annex to this study.
Products with a high trade value
Typical major products from developing countries are tropical and semi-tropical fruits such as banana, avocado, pineapple and mango. Other products are counter-seasonal fruit and vegetables such as oranges, tomatoes and green beans or high-value soft fruit such as raspberries and blueberries (see next paragraph about produce with promising growth). Some of the most traded products are dominated by a select number of supply countries. For example tomatoes and green beans from Morocco, pineapples from Costa Rica and oranges from South Africa.
When markets become mature, growth will be limited – which is the case with pineapples and green beans. Here you will have to earn your place on the market. However, bigger categories usually have the advantage that they provide room for diversification or differentiation. And in the case of oversupply, the market can absorb the extra volumes relatively easy at lower prices.
Bananas (€4,579 million from developing countries): Bananas remain the main imported product from developing countries. The multinationals Chiquita, Fyffes and Dole are dominant, with supply from Ecuador, Costa Rica and Colombia. Other exporting countries are increasing their supply, including Panama, Ivory Coast and Guatemala.
Trade agreements and agricultural investments play an important role in the banana trade. But the main factor that will influence the future import is the Panama or TR4 disease that has affected banana plantations in Asia, Africa and recently also in Colombia and Peru, threatening nearby banana producers Ecuador and Costa Rica. This could lead to a shortage of bananas and may force buyers to diversify their sourcing origins;
Avocados (€1,659 million): The import value of avocados from developing countries increased to almost €1.7 billion, becoming the second most valuable import product from developing countries. This success is thanks to the increasing interest in health food and a successful marketing machine. Extensive investments in avocado production worldwide indicate further market growth, but competition has become much stronger and the growing number of new orchards has yet to prove itself.
In Europe the demand continues to increase, although in the most mature markets such as France and Scandinavian countries the growth can be expected to level out over the next 5 years.
Tomatoes (€1,009 million): Europe has a high demand for tomatoes and complements its own supply with nearby producing countries. In 2020, Europe imported nearly 50% more tomatoes from developing countries than 5 years earlier. Around 80% of the import value from developing countries comes from Morocco. The remaining value is filled in by mainly Turkey, Tunisia and Senegal.
There is a year-round demand for tomatoes, but seasonality is important to take into account. The high volume allows for differentiation. As a supplier you can try to differentiate with superior tasting tomatoes or small snack tomatoes – a fast growing niche in Europe.
Pineapples (€683 million): pineapples are among the most imported fruit from developing countries. However, the market for pineapples is also saturated and mainly dominated by Costa Rica, which supplied 87% of the value in 2020.
To this day there is little competition for the MD2 variety and farmers will need to resort to efficient and sustainable agricultural practices to squeeze into the European market. An interesting and creative way to get more out of the pineapple production is shown by Piñatex, which uses pineapple leaves to make sustainable fashion.
Oranges (€910 million): Oranges is one of the key fruits for European consumers. The import value and orange prices were exceptionally high in 2020, mainly due to the demand for vitamin C during COVID-19. Consumers in Europe will be looking for more fresh oranges instead of prepared juices. This may create more room for external supply in the near future, but this will partially depend on the production scaling and varietal improvements in Spain.
Spain is the most important producer in Europe and still a big influence on the European market. The main developing country supplying oranges is South Africa, a counter-seasonal supplier with an import value share of nearly 60%. Egypt is the second-largest supplier and gaining terrain with a 50% growth in value, reaching €206 million in 2020. Egyptian producers are price competitive and manage to compete with the Spanish production in an overlapping season. In general, you can expect fluctuations in the trade value of oranges, depending on how seasons and production develop.
Beans (€428 million): Beans are an important vegetable for Europe and production is increasingly outsourced to nearby counties such as Morocco. Morocco takes up to 56% of Europe's import value in 2020, mostly with a mix of common green beans and runner beans. An interesting niche are fresh peas and haricot verts, which is more of a specialty for suppliers such as Kenya, Senegal and Guatemala. The diversity on the supply side of haricots verts makes the trade dynamic, with opportunities for different supply countries with a good air-freight connection. However, the market value in Europe has stabilised, and even shows a slight decrease in the past years. Future growth will experience pressure from the increasing aversion against air-flown vegetables.
Produce from developing countries with promising growth
Popular products from developing countries that showed the strongest import growth include avocados, healthy snack fruit such as blueberries and raspberries, popular summer fruit such as watermelons and plums and sweet potato as a staple vegetable. For these products to continue their market growth, Europe needs a reliable supply of quality products.
Some of the fast growing products are related to a successful expansion of cultivation area, such as raspberries and watermelons in Morocco and blueberries and avocado in Peru. Morocco and Peru also show that it is possible to force growth in Europe by offering competitive and quality products combined with a strong promotion. By following their example, you can become successful on the European market as well. This is for example what Egypt has achieved with a near-to-Europe production of sweet potatoes, a product that was initially introduced by North-American grower associations. And a similar development can be seen in Colombia, which has found a seasonal supply gap for avocados in Europe.
Blueberries (138% growth from developing countries in 5 years): Blueberries have become very popular in Europe as a convenient and healthy snack. Although commonly produced in Europe, supply shortages and off-season demand have increased the import value from several developing countries in the past five years. Peru and Morocco dominated the supply in 2020 with a market value share of 53% and 27% respectively. South Africa, Argentina and Serbia follow as suppliers. In the short term, these fruits have good growth prospects for developing countries, especially the less fragile blueberries. For exporters it is a high-value product that also requires a large investment. But with global volumes and food safety standards increasing, they are not without risks. Moreover, there is an increasing preference for fresh berries that can be sourced in or close to Europe.
Raspberries (approx. 135%): Raspberries are less frequently imported from developing countries than blueberries, but they follow a similar development. They are becoming more popular, but in international trade they are not easy to handle due to their fragility. Morocco managed to export a significant value of €343 million, which made them the leading supplier (85%). Raspberries are also imported from Mexico, South Africa and increasingly from Guatemala. Perspectives are good, although they carry the same risks and limitations as blueberries.
Sweet potatoes (133%): Sweet potatoes have been succeSweet potatoesssfully promoted by North American growers, and have become a standard supermarket product in Europe. Adverse weather in the USA as well as increasing attention for sustainability have forced buyers to look for producers in and around Europe, such as Spain and Egypt. Egypt is now the leading supplier among developing countries, responsible for almost half the import value. There are still opportunities for producers further away, such as Honduras, Brazil and South Africa to fill the year-round demand. Quality is an important success factor and future trade will likely require further specialisation of producing countries.
Avocados (100% growth): Avocado remains a fast-growing product on the European market. The import value of avocados from developing countries has doubled in the past 5 years, with Peru dominating 45% of the supply value of avocados. Upcoming suppliers such as Colombia, Kenya and Morocco fill in most of the rest of the supply together with South Africa and Mexico (see also previous paragraph).
Watermelons (95% growth): Watermelons are a summer fruit, and production in Southern Europe is not sufficient to cover the whole season. Morocco takes advantage of this gap and has significantly increased its watermelon exports to Europe from €45 million in 2016 to €163 million in 2020. This is nearly 50% of the total watermelon import from developing countries. Growers farther away in Brazil and Costa Rica also have a supply window, but their growth is much slower. The trade value per kilo for watermelon is low, and switching to producing watermelons is relatively easy, so production volumes, margins and competition can be unpredictable.
Plums (-3%): Plums are the most common stone fruit to import from developing countries after cherries. The import, however, fluctuates and the value in 2020 from developing countries was actually lower than 5 years ago. Nevertheless, it is worth mentioning because of the strong growth from Moldova, which is one of the countries where CBI is active. Traditionally, South Africa is the main supplier of plums. These imports decreased by a third in the last 5 years to €50 million. Moldova exported €2.8 million in 2016 and €15.9 million in 2020, making it the second valuable supplier after South Africa. Imports from Serbia also increased in the same period. Unlike South Africa, Moldova and Serbia mainly supply Romania, Germany, Poland and Austria. The growing demand in these countries provides opportunities for suppliers that have a good logistical connection with the eastern part of Europe.
Table 6: Fastest-growing products in the European import in 2020, with import value >10 million euros
Product

World (incl. intra-EU)

 

Developing countries

 

CBI countries

 

 

€ million

5-year growth

€ million

5-year growth

€ million

5-year growth

Blueberries

(incl. cranberries, bilberries and other fruits of the genus Vaccinium)

1,908

89%

743

138%

202

128%

Raspberries

(incl. blackberries, mulberries and loganberries)

1,296

65%

355

135%

311

250%

Sweet potatoes

453

58%

95

133%

63

130%

Avocados

3,012

68%

1,659

100%

222

200%

Watermelon

1,077

51%

330

95%

231

124%

Plums

318

-6%

87

-3%

16

469%
Source: ITC Trademap
Most interesting niche products from developing countries
Thanks to its size and diversity, Europe offers an interesting market for many exotic and niche varieties. The following niche products have relatively good potential for market growth or value. For some of the niche and typical food service products, the COVID-19 pandemic has had a temporary negative impact, reducing the potential in the short term. Products with minor trade volumes can be interesting for smaller, specialised exporters.
Dates (€270 million, 49% growth from developing countries): Dates are a high-value Arab snack, popular with ethnic populations but also widely available in regular supermarkets. For health-oriented consumers, dates are an ideal replacement for sugar in different food preparations. The demand for dates will likely continue to grow;
Exotic Fruit (€359 million, 21% growth): Exotic fruit with HS code 081090 includes passion fruit, lychees, pitahaya, jackfruit, tamarinds, carambola, cashew apples, sapodilla plums, among other fruits that do not have their own trade code.
The European market is becoming more open to high-value exotics, providing opportunities for exporters of quality products. However, the COVID-19 pandemic has had a negative effect on the sales of these fruits to restaurants and other food service providers, so the import value from 2019 to 2020 decreased by 3%. In the long term, exotic fruits such as pitahaya, lychees and passion fruit can count on a gradual growth if promoted well. Over the past 5 years this exotic product group has grown by 21%.
 Cassava (€38 million, 49% growth): Cassava is a root tuber that is mainly consumed in the ethnic market. The recent growth is an indication that it is becoming adopted more widely. Costa Rica remains the main supplier, but there is potential for other countries such as Thailand and Cameroon if exporters manage to keep the export product fresh.
Yams (€20 million, 17% growth): Ghana is responsible for 65% of Europe's import value of yams. Smaller suppliers include Costa Rica, Jamaica and Brazil. The gradually increasing import of yams goes hand in hand with the general growing interest in exotic roots. UK and France are good markets, both with growing imports.
Globe artichokes (€10 million, 88% growth): Tunisia and Egypt both supplied almost €5 million worth of artichokes. Italy is the main market for imported artichokes with more than 90% of the imported value. Italy is also the world's largest producer. Therefore the import of artichokes fluctuates a lot, but over a longer period it shows a moderate growth.
Taro (€8 million, 46% growth): Taro, often also sold as Eddo (closely related to taro), Dasheen or Coco Yam, is a small niche product. The total import value of this exotic root did not even reach €8 million in 2020, but it showed a continuous growth, even during the COVID-19 pandemic. Like with cassava, Costa Rica dominates the market value with 53%. Other countries with potential to slowly increase their export to Europe are Vietnam, China, Ecuador, Madagascar and Thailand.
Table 7: European import of niche products with growth potential, with import values between 1 and 500 and growth >10% in 2020
Product

World

Developing countries

CBI countries

€ million

5-year growth

€ million

5-year growth

€ million

5-year growth

Dates

(fresh or dried)

473

42%

270

49%

214

53%

Exotic fruit

(incl. passion fruit, lychees, pitahaya, jackfruit, tamarinds, carambola, cashew apples, sapodilla plums, and other edible fruit)

751

17%

359

21%

40

30%

Cassava

(fresh, frozen, dried whole roots or pellets)

49

60%

38

49%

30

33%

Yams "Dioscorea spp."

(fresh, frozen, dried whole roots or pellets)

23

19%

20

17%

17

13%

Globe artichokes

50

-1%

10

88%

10

88%

Taro "Colocasia spp."

(fresh, frozen, dried whole roots or pellets)

9

59%

8

46%

4

65%
Source: Eurostat/Market Access Database
This study has been carried out on behalf of CBI by ICI Business.
Please review our market information disclaimer.
Search
Enter search terms to find market research