What is the demand for fresh fruit and vegetables on the European market?
Europe has a large and mature market for fresh fruit and vegetables with stable demand overall. The need for year-round availability and the interest in new exotic produce maintain Europe's continuous dependence on external suppliers. You can find most opportunities in the off-season and in the growing demand for berries, avocados, watermelons and sweet potatoes, among others. The competition is often fierce in these products and the ever stricter requirements, especially in northern Europe, put pressure on you as an exporter.
1.

What makes Europe an interesting market for fresh fruit and vegetables?

Market size and seasonal demand make the most attractive points of Europe, meaning the European Union plus the European Free Trade Association, as a target market for suppliers in developing countries. These characteristics also define the buying habits of European importers. Buyers in Europe look for reliable suppliers in strategic areas so they can offer fruit and vegetables to consumers at any time of the year.
Europe is a large and mature market
A major reason for exporters to target the European market is its sheer size and purchasing power. With a population of more than 500 million consumers, Europe is responsible for 45% of the global trade value of fresh fruit and vegetables. Five of the global top 10 importing countries are in Europe.
Europe is a mature and diverse market of fresh fruit and vegetables. Demand overall is large and relatively stable, but short-term needs and prices change regularly. For example, 2018 was characterised by an oversupply of many products, including potatoes, garlic, avocados, blueberries and strawberries, among others.
It is not always easy to find the most profitable market in this already highly competitive region. You must diversify your target markets or at least get regular market updates from European countries, as well as outside of Europe, to guarantee good returns on your products.
International traders with re-export activities, which are common in the Netherlands, for example, are experts in finding the right end-client. They can distribute your products to different European markets.
Stable production retains the need for external suppliers
Fruit and vegetables accounted for approximately 14% of the total value of Europe's agricultural production in 2018. Spain and Italy are the leading producers of fruit and vegetables in Europe. Thanks to a favourable climate, the production share of these two countries is higher than that of other countries, especially citrus fruit, watermelon, peaches, peppers and tomatoes, table grapes and pears. Spain is the strongest competitor of these two, focusing more on export. Italy produces much more for its domestic market or for processing.
Despite being a fundamental sector, the number of fruit and vegetables farms in Europe is decreasing. European farmers opt for using technology and varietal development to increase yields, extend production seasons and improve product quality and characteristics. These efforts result in higher product quality, but total production volume barely grows.
Vegetable production in Europe is more or less stable. Production is also almost year-round thanks to different climates within Europe and a well-developed greenhouse production. The long-term production trend for fruit is slightly decreasing.
Stagnated production volumes will create future needs of external sources for common fruit, such as oranges, mandarins and plums. Import dependence within the total demand for mandarins and oranges increased from 11%–13% in 2014 to 15%–16% in 2018. Supplies originating in countries within close distance to Europe will be an attractive and economical option, especially early in the season. When looking into the possibility of complementing the European production, you must be up-to-date with the current developments in Europe.
Table 1: European production (in 1000 tonnes) and European production share by country, in 2017*
| | | | | | | | | | | | | | |
| --- | --- | --- | --- | --- | --- | --- | --- | --- | --- | --- | --- | --- | --- |
|   | Tomatoes | Apples | Onions | Oranges | Watermelons | Small citrus fruits | Peaches | Peppers (capsicum) | Table grapes | Lemons and acid limes | Plums | Berries (excl. strawberries) | Avocados |
| European Union - 28 countries | 17.399 | 10.041 | 6.740 | 6.206 | 3.204 | 2.927 | 2.906 | 2.654 | 1.642 | 1.419 | 1.297 | 601 | 103 |
| Spain | 30% |   | 20% | 54% | 35% | 67% | 37% | 48% | 16% | 65% | 13% | 14% | 91% |
| Italy | 32% | 19% |   | 25% | 18% | 22% | 27% |   | 56% | 26% | 16% |   |   |
| Greece |   |   |   | 15% | 20% |   | 27% |   | 19% |   |   |   |   |
| Poland |   | 24% | 10% |   |   |   |   |   |   |   |   | 52% |   |
| Netherlands |   |   | 26% |   |   |   |   | 14% |   |   |   |   |   |
| France |   | 17% |   |   |   |   |   |   |   |   | 16% |   |   |
| Romania |   |   |   |   | 15% |   |   |   |   |   | 33% |   |   |
| Portugal | 10% |   |   |   |   |   |   |   |   |   |   |   |   |
Source: Eurostat
*Only countries with production share larger than 10%.
Higher import value from developing countries
European fresh traders are accustomed to trading on a global level, dealing with more than 70 developing countries whose supply exceed 1 million euros each.
The total import value from developing countries increased 38% in five years to 18.2 billion euros in 2018, which is significantly larger than the 3.1 billion euros in imports from developed, non-European countries, which grew by 20% in the same period. Fresh fruit have a higher impact on the value of imports than fresh vegetables. This is because Europe is much more self-sufficient in vegetables than in fruit.
Although import value increased, many tropical products were sold for lower prices in 2018. This year was a disastrous year due to oversupplies in the fresh fruit sector. Still, over a five-year period, the total value of imported fruit has increased faster than volume at approximately 30% opposed to 24%, which can be attributed to:
A higher valuation of the US dollar compared to the euro;
An increased import share of high-value fruit and vegetables. Think of avocados, mangoes and limes, which have gained much in popularity among European consumers;
Climate difficulties resulting in higher production costs;
And possibly the increasing complexity of sourcing and meeting the ever stricter European requirements.
Higher import values and the growing share of high-value products are favourable elements for exporters in developing countries, but it is important to anticipate stricter buyer requirements and adverse circumstances in climate and currencies. In the long term, you can expect prices to gradually rise, but there will always be moments when temporary shortfalls or oversupply put pressure on either your contractual agreements or on your margins. See also the CBI Trends in the European market for fresh fruit and vegetables.
Opportunities for better prepared suppliers
Tropical and exotic fruit will continue to appeal to European consumers, creating a strong position for exporters from countries with the right climate circumstances and reliable volumes. The average import growth from developing countries was 38% from 2014 to 2018. Countries that have managed to scale up production, exceeding the average growth and offering distinctive advantages, include:
Peru
South Africa
Morocco
Egypt
India
Mexico
Guatemala
Peru and South Africa are strong counter-seasonal exporters and often large-scale producers. Peru is able to produce during an extensive supply period because of its different climate zones.
Morocco and Egypt have the advantage of being close to Europe and price competitive. Morocco is by far the most important supplier of vegetables to Europe.
India has increased its exports to Europe mainly in grapes. The value of India's grape exports to Europe exceeded 100 million euros for the first time in 2013 and 200 million euros in 2018.
Mexico is increasing avocado and lime exports to Europe in an attempt to become less dependent on the United States as a destination market.
Guatemalan exports to Europe are still minor compared to the previously mentioned countries. But Guatemal has exported 134% more in 2018 than five years earlier thanks to a trade agreement with Europe and the successful expansion of its banana exports combined with other popular products, such as avocados, sugar snaps and limes.
Well-organised companies which can provide reliable volumes are particularly able to profit from the growing European imports. For small companies, it is getting more difficult to enter the market due to the high standards and the increasing dominance of large supermarkets, especially in northern Europe. To have a chance in the European market, you must be able to meet volume expectations and anticipate strong competition.
Most opportunities can be found off-season — timing is important
Europe imports so much fresh fruit from developing countries because many important tropical fruit categories depend on specific seasons or tropical climates that cannot be found locally.
Most European buyers try to establish year-round assortments and look for ideal partners to achieve it. As an exporter, you will find your best opportunities during supply gaps and as a counter-seasonal supplier.
The month-per-month supply of citrus fruit in Image 1 below shows perfectly how Spanish producers and counter-seasonal supply from South Africa, Egypt and Argentina covers the whole calendar year.
Image 1: European month-by-month citrus fruit imports, in € million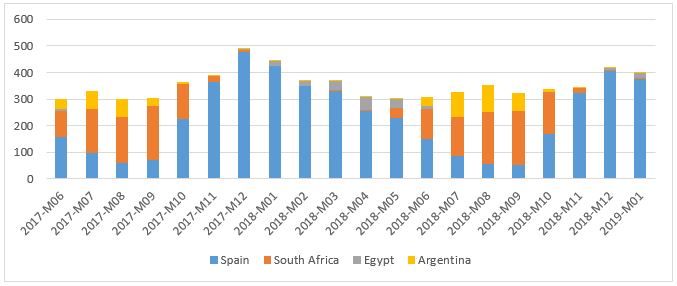 Source: ITC Trademap
Producers worldwide, including in Europe, try to extend their production season by developing new varieties. For example, much of the growth in mandarins is now coming from late hybrids such as Nadorcotts (or W. Murcotts) from Spain, but also from South Africa, Morocco and Peru. These changes in varietal preference can influence your window of opportunity.
You must consider fresh fruit and vegetables as a dynamic sector and expect continuous changes. It is also important to realise that local production normally has preference over imported fruit.
2.

Which European markets offer most opportunities for fresh fruit and vegetables?

Europe is a dynamic market with different opportunities and characteristics. It is important to consider your market entry in large consumer countries such as Germany and the United Kingdom. However, your biggest opportunity may well be with Dutch or Spanish traders whose imports from developing countries have been growing the most.
Each region provides different opportunities
Consumption volume and patterns are different in each European region. You can roughly group European countries in three different regions, although the reality is of course more complex:
Northwest Europe
Southern Europe
Eastern Europe
In northwest Europe, purchasing power is highest and the market is dominated by large retail chains that maintain high standards of quality and food safety. Food safety and health consciousness are also the drivers of organic fruit and vegetables, which is especially strong in Germany and Scandinavian countries. Northwest Europe makes the best market for exotics, but the total consumption of fresh fruit and vegetables is smaller than in other parts of Europe.
Southern Europe is a traditionally strong production region of fruit and vegetables. In Spain, Italy and Portugal, consumption is far above average, especially of fruit. Consumers in this region often consider taste to be more important than the technical quality of the product. Imports of tropical fruit complements local production but also fosters increasing consumption.
International trade and high-quality standards are less developed in Eastern Europe. Daily consumption of fruit and vegetables is low and mostly oriented to local produce. Although imports of tropical fruit and vegetables are still small and often supplied by traders in Western Europe, as a market, Eastern Europe is in development and has potential for future growth of foreign supply.
Also in terms of regional characteristics, you must also take into account the influence of diverse immigrant populations on trade and consumption. For example, Turkish wholesalers in Germany boost imports from Turkey. In the United Kingdom, the Indian and Pakistani communities provide opportunities for specific varieties, such as the Alphonso mango. Similar market opportunities and strong trade relationships exist between, for example, Spain and various Latin American countries, France and Northern African countries, as well as the Netherlands with Suriname and Indonesia.
Trade flows often involve Spain and the Netherlands
Spain and the Netherlands are often involved in the main fruit and vegetables trade flows. Spain is responsible for Europe's main fruit and vegetables trade flows, which principally consist of Spanish produce. The Netherlands exports a large amount of homegrown vegetables and re-exports fresh fruit from a wide range of origins.
It is good to note that European countries most often export to neighbouring markets. Spain, for example, exports a lot of produce to Portugal, France and Italy, while the Netherlands exports lots to Germany, Belgium and the UK. Germany has the largest import flows in the intra-European fruit and vegetables trade.
Analysing trade flows can help you with selecting the best point of entrance.
Image 2: European fruit trade flows 2018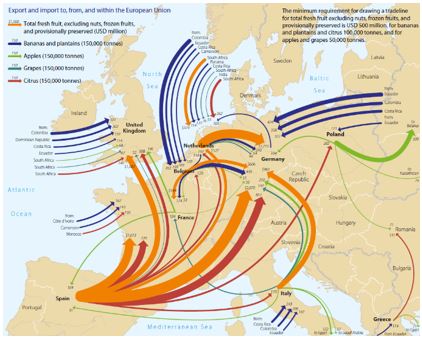 Source: Rabobank RaboResearch
Image 3: European vegetables trade flows 2018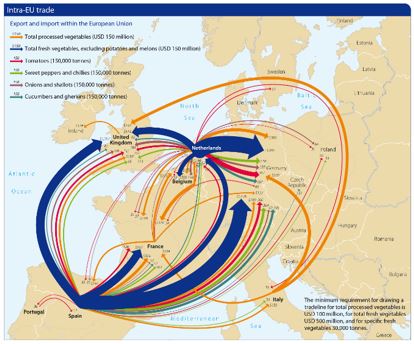 Source: Rabobank RaboResearch
The Netherlands and United Kingdom are most relevant for developing countries
Each European country has its own characteristics in the fresh fruit and vegetables trade. The Netherlands functions as an important trade hub in Europe. Belgium plays a similar role. The United Kingdom, Germany and France are important destination markets, although Germany and France often use the Netherlands or Belgium for logistics. Spain and Italy are both large producing and consuming countries, but Spain has also been growing as a trade hub.
The Netherlands and Belgium: Distribution Hubs
The Netherlands is the main European trade hub for fruit and vegetables from developing countries. Dutch import value of fresh fruit and vegetables from developing countries increased by 55% from 2014 to 2018. More than 20% of the fresh fruit and vegetables supplied by developing countries to Europe enters the EU through the Netherlands. From the port of Rotterdam, the main entry point, Dutch and international traders distribute produce to the rest of Europe.
Belgium also re-exports high volumes, although it functions mainly as a logistics hub for bananas. The country accounted for a 7% import share of fresh fruit and vegetables from developing countries in 2018.
Belgium and the Netherlands are very relevant for the trade and distribution of fresh fruit, while their vegetable exports consist mostly of their own locally grown produce from greenhouse horticulture. Only for exotic vegetables you can use the same distribution network as for fruit.
Dutch importers are highly specialised in matching supply and demand. When the demand for a specific product changes, trading companies in the Netherlands react. Most exotic fruits still have the best chance of being marketed through the Netherlands, so expect the Netherlands to be one of your main trading countries.
Make good use of your trade contacts in the Netherlands to match the quality, characteristics, size and variety of your product with the right markets in Europe.
Germany: The Largest Trade Flow
Germany is the largest European market for fresh fruit and vegetables. In 2018, German companies imported a total of 9.2 million tonnes of fruits and vegetables, which is equivalent to 16% of the combined imports of all European countries. This is the reason why Dutch trading companies, as well as Spanish and Italian producers, focus strongly on supplying to Germany.
From developing countries directly, Germany imported 2.4 million tonnes of fresh fruit and vegetables. The German market shows positive growth particularly in avocados and blueberries from developing countries.
When targeting Germany as the final destination for your products, make sure to supply clean, pest-free produce. German retailers are among the buyers which have the strictest standards.
United Kingdom: Direct Imports from Developing Countries
The United Kingdom is highly dependent on the external supply of fresh fruit and vegetables. In 2018, at least 40% of the UK's fresh fruit and vegetables imports came directly from developing countries, making it the second European destination market for exporters from developing countries, after the Netherlands.
The British market poses several challenges for suppliers. Standards are high, due to supermarket dominance. Prices are currently under pressure because of inflation and the uncertainty over Brexit, the UK's imminent departure from the European Union. This has resulted in a stabilisation of the total import value.
The UK's decision to leave the European Union raises concerns that increasing prices will also have a negative impact on the British consumption of fresh fruit and vegetables. At the same time, a hard Brexit, meaning an abrupt break without a deal to accommodate trade with the European Union, could force British importers to find new supply routes. This scenario could create an opportunity for other countries that have trade agreements in place with the United Kingdom. The United Kingdom intends to continue to give market access and trade preferences to developing countries, which opens an opportunity for exporters to start establishing partnerships.
France: Important Trade Relation with Morocco
France has the second largest population in Europe, making it one of the main target markets of fresh produce exporters. In 2018, France imported 3.5 million tonnes of fruit and 2.4 million tonnes of vegetables. For most fruit, France is both a net importer and an end market.
Statistics show that France is Europe's main importer of vegetables from developing countries. However, this is mostly due to imports of Moroccan tomatoes, beans and bell peppers.
France maintains good trade relations with suppliers in Northwest Africa. France imported 2 million tonnes of fruit and vegetables from developing countries in 2018, of which 600 thousand tonnes came from Morocco and 259 thousand tonnes of mostly bananas from Ivory Coast.
The French market channels vary from small ethnic wholesalers which supply specialist shops to large sourcing companies, such as Greenyard (formerly Katopé), which supply hypermarkets. Most French channels can be reached directly, but import via Spain and the Netherlands is not uncommon.
Spain: From Europe's Garden to Trade Hub
Spain is Europe's number one producer and exporter of fresh fruit and vegetables. Spanish imports emphasise off-season or counter-seasonal fruit and vegetables which are also grown in Spain. At the same time, Spain is developing into a potential trade hub. Among European countries with high import values from developing countries, Spain is growing the fastest. From 2014 to 2018. Spanish imports from developing countries grew by 57% in volume and 103% in value.
Fruit and vegetables from Northern Africa and tropical fruit from Latin America are well represented in Spain. Moroccan and Peruvian supplies in particular have been steadily growing. Morocco exports watermelons, tomatoes and soft fruit to Spain, while Peru supplies avocados, mangoes and sweet onions to Spain. Imports from Egypt, mostly oranges, also boomed from 648 to 21,439 tonnes in five years' time.
Spain is possibly your biggest competitor during its harvest season. At the same time, Spain also provides good insights into production trends and potential partnerships. When you are able to produce fruits and vegetables that are similar to what Spain produces, it is worthwhile to explore Spain as a future trade hub. Even then, Spanish traders still use the Netherlands as their logistics hub.
Italy: Growth in Tropical Fruit
Italy is a traditional, large consumer market with an important local production of fruits and vegetables. Italian producers do export part of their production, including apples, grapes, watermelon, kiwi and herbs. Italy imports less than Spain, but the Italian market consumes almost all imported products locally, so re-exports are limited. According to industry sources, Italy does not plan to develop re-export activities.
Introducing new or foreign products to Italy can be a long process, but demand for tropical fruit has been on the rise. Italian companies such as Orsero Group and Spreafico make smart use of the Italian processing tradition to cut and mix fresh products in convenient consumer packages, which has helped the promotion of tropical and exotic fruit.
Pineapples and bananas, which are sourced directly, are the most popular imported produce with Italian consumers. Other imports are mostly sourced via other European countries, such as the Netherlands or Spain. Nevertheless, avocado, kiwi and pomegranates show strong growth in direct sourcing, which creates opportunities for exporters in producing countries.
Table 2: Italy's tropical and exotic fruit and vegetables import volume (in 1000 tonnes) and growth (in %)
| | | | | |
| --- | --- | --- | --- | --- |
|   | Total imports 2014 | Total imports 2018 | Total imports growth | Growth in imports from developing countries |
| Bananas | 691 | 777 | 12% | 20% |
| Pineapples | 159 | 176 | 11% | 22% |
| Kiwifruit | 39 | 51 | 31% | 547% |
| Pomegranates and other niche fruit (fresh tamarinds, cashew apples, jackfruit, lychees, sapodilla plums, passion fruit, carambola, pitahaya) | 29 | 41 | 40% | 110% |
| Avocados | 9 | 22 | 139% | 583% |
| Mangoes (incl. guavas and mangosteens) | 7 | 14 | 93% | 24% |
| Peas 'Pisum sativum' | 2 | 5 | 124% | -43% |
| Fresh coconuts in the inner shell 'endocarp' | 3 | 5 | 60% | 47% |
Source: ITC Trademap
Organic: Germany leads in overall consumption value
Increased consumer attention to healthy and natural products makes Europe an interesting market for organic fruit and vegetables. The European Union is in fact, the second largest such market in the world, after the United States. According to the Research Institute of Organic Agriculture (FiBL), within Europe, Germany is the largest market for organic food, accounting for 27% of the total European retail sales of organic produce in 2017. Switzerland has the highest per capta consumption value of organics in Europe at 288 euros per year, followed by Denmark with 278 euros, Sweden at 237 euros, Luxembourg at 203 euros and Austria at 196 euros.
When exporting organic fruit and vegetables to Europe, you must follow European practices along the supply chain and pay extra attention to avoid pesticide residues, for which there is zero tolerance. Expect Germany to be one of the strictest countries when it comes to organic produce.
3.

Which products from developing countries have the most potential in the European market for fresh fruit and vegetables?

Europe offers a large market for a variety of fruits and vegetables. The best opportunities for exporters from developing countries are in products which are gaining popularity among consumers and which have insufficient or limited production in Europe, such as avocados, mangoes and sweet potatoes. Alternatively, there are opportunities also in off-season products to complement the local supply of citrus fruit, berries and watermelons.
Products with high demand from developing countries
In Europe, the main fresh produce imported from developing countries include the following tropical and semi-tropical fruits:
Bananas are the number one fresh fruit imported into Europe, whose trade is in large part dominated by multinationals such as Chiquita, Fyffes and Dole. Ecuador, Colombia and Costa Rica are the main suppliers of bananas to Europe but new exporting countries have been entering the banana trade, including Guatemala, Honduras, Nicaragua, Peru (with organic bananas), Ghana (with fair-trade bananas) and Angola. Trade agreements and agricultural investments play an important role in boosting the banana trade. At the same time, diseases affecting banana plantations may force buyers to diversify their sourcing origins.
Citrus fruit has been performing well in the market, trading easy peeler hybrids, lemons and limes. Diversification of varieties is expected to increase demand for mandarins and oranges, but overall citrus consumption has little perspective for rapid, long-term increases. Demand for lemons and limes can be erratic, rising together with weather temperatures in Europe, so large volumes and retailers' promotions hardly influence consumption.
Grapes are a large and relatively stable category. New varieties and competitive pricing make strong selling points for external suppliers. India and Egypt are becoming stronger suppliers thanks to competitive prices. Peru and Chile focus on marketing new varieties, creating a different advantage for counter-seasonal grapes in the European market.
Ready-to-eat Hass Avocados have been the biggest hit in recent years and have become a very popular fruit from developing countries in Europe. Avocados surpassed mangoes and pineapples in terms of import value since 2016. According to Fruitnet, availability and the marketing machine behind avocados explain why they have become so popular. Consumer interest in healthy foods and extensive investments in avocado production worldwide indicate further market growth, but managing supply and demand and keeping this growth sustainable will be a challenge.
Pineapples are among the most imported fruit from developing countries, but despite high demand, the market for pineapples is saturated and mainly dominated by Costa Rica. Italy, Germany and Spain are the largest consumption markets for markets.
Mangoes are the typical product from developing countries which is also relatively strong in the European market. The main recent change in the mango imports into Europe has been the shift towards Peru as supplying country. According to Fruitrop, Peru's industrial type mango orchards and large-scale logistics have gained ground at the expense of imports from West Africa. Europe's third largest supplier after Brazil and Peru, Ivory Coast has been particularly hit by Peru's growth.
Bananas, avocados and mangoes have minor local production in Europe, in comparison with imported volumes. For these products, Europe depends much on external supplies. Grapes, oranges and mandarins are extensively produced in Europe, especially in southern Europe. For these fruits, it is important to focus on off-season supply. Vegetables do not appear among the top import products also due to local production volumes within Europe.
Produce from developing countries with most promising growth
Specific products which have had recent strong growth in import value from developing countries, offering opportunities for exporters, in addition to avocado, mango and citrus fruit in general, include:
Soft fruit, such as blueberries and raspberries, which have become very popular in Europe, are sold in retail as a convenient and healthy snack. Although these fruits are also commonly produced in Europe, supply shortages and off-season demand have doubled imports from developing countries in the past five years. In the short term, blueberries and raspberries have good prospects, but this will remain a risky category which has many European and non-European suppliers.
Watermelons are a popular warm weather fruit, whose production in southern Europe is insufficient to cover the whole season. Morocco, especially, takes advantage of this seasonal gap, having significantly increased its watermelon exports to Europe. However, growers farther away in Brazil and Costa Rica also have a supply window. Switching production to watermelons from other crops is relatively easy, so competition can be unpredictable and varies depending on the decision of growers in different countries.
Sweet potatoes have really set their mark in Europe in the last decade. Producer associations from the United States have heavily promoted the product in Europe, making the US the most important supplier. However, demand is now strong enough to provide opportunities for other supplying countries. In addition, unfavourable weather conditions in the United States in 2018 have caused traders to look for alternative suppliers, such as Egypt and Honduras. In the future, expect the number of external suppliers to stabilise and more sweet potatoes to be sourced from Europe's own developing production.
Lemons and limes have had the most significant growth of all citrus fruit. Lemon imports are now almost three times as large as lime imports in volume. The growth in lemon imports has been most beneficial to Brazil, Egypt and South Africa. Brazil and Mexico dominate European lime imports, however, Guatemala, Vietnam, Peru and Colombia have shown the strongest recent growth, three to five times higher in the last five years, at the expense of Israel, Dominican Republic, Argentina and Venezuela.
Expect continuous growth in the near future for avocados, blueberries and sweet potatoes. However, global production volumes are also growing, which sometimes results in oversupply and depleting margins.
It is important to understand the location advantage but also the size and strength of your exporting company. European buyers look for producing exporters in strategic countries that offer the right climate, season, costs and logistics. For example, Camposol has taken advantage of different climate zones in Peru to fill in a big supply window of avocados and blueberries.
Table 3: European imports of fruit and vegetables from developing countries with the highest growth in value (in € million, % growth and % market participation)
| | | | |
| --- | --- | --- | --- |
|   | 2018 | 5-yr. growth | Main supplying developing countries |
| Blueberries (incl. cranberries, bilberries and other fruits of the genus Vaccinium) | 449 | 249% | Peru 46%; Morocco 28%; South Africa 14%; Argentina 8.5%; Ukraine 1.2% |
| Raspberries, blackberries, mulberries and loganberries (mainly raspberries) | 309 | 198% | Morocco 75%; Mexico 14%; South Africa 3.7%; Guatemala 1.9%; Serbia 1.4% |
| Avocados | 1,115 | 180% | Peru 49%; South Africa 14%; Mexico 13%; Kenya 7.4%; Colombia 6.2% |
| Watermelons | 283 | 129% | Morocco 43%; Brazil 21%; Costa Rica 16%; Turkey 7.2%; Panama 5.1% |
| Sweet potatoes | 51 | 83% | Egypt 34%; China 23%; Honduras 17%; Senegal 7.3%; Brazil 5.9% |
| Lemons and limes | 830 | 71% | Argentina 33%; South Africa 20%; Brazil 16%; Turkey 14%; Mexico 13% |
| Oranges | 770 | 52% | South Africa 54%; Egypt 22%; Morocco 7.2%; Argentina 4.7%; Zimbabwe 4.3% |
| Mangoes (incl. guavas and mangosteens) | 778 | 51% | Brazil 33%; Peru 33%; Ivory Coast 4.8%; Ghana 4.7%; Senegal3.4% |
Source: ITC Trademap
Most interesting niche products
Thanks to its size and diversity, Europe offers an interesting market for many exotic varieties. The following
products have import volumes above 40 thousand tonnes and strong growth rates:
Plums offer opportunities for both long distance suppliers from South Africa and Chile, as well as suppliers closer to Europe, such as Moldova, Serbia and Macedonia. Except for South Africa, all major supplying countries have increased their plum exports to Europe. Spain and Italy hold a majority of supply within Europe.
The long red and green chilli pepper (Capsicum annuum) is a regular product that is mass produced in Spain, Morocco and Turkey. Many other countries participate with a minor market share and other varieties, such as Uganda's Red Birdseye, Scotch Bonnet and Habanero. For some peppers, such as Peruvian Aji, the market is not yet well developed.
Coconut has become a very popular product in all kinds of processed forms, including dried, oil and coconut water. But imports of fresh coconut are also increasing, especially young coconuts in the shell. Fresh, young coconuts are airfreighted from Thailand. Ivory Coast dominates the regular coconut trade.
Pomegranate is one of the most interesting niche markets, however easily oversupplied. Spain, Turkey and Peru cover a large part of the European demand. Peruvian exporters increased their volumes from 5,641 tonnes in 2014 to 21,879 tonnes in 2018.
Other exotic produce such as passion fruit, lychees, rambutan, pitahaya and physalis represent smaller volumes, but can be interesting specialities for smaller exporters.
Table 4: European Union (EU-28) imports of niche products with high growth from non-EU suppliers (in 1,000 tonnes, % growth and % market participation)
| | | | |
| --- | --- | --- | --- |
|   | 2018 | 5-yr. growth | Main non-EU supplying countries |
| Plums | 97 | 62% | South Africa 40%, Chile 23%, Moldova 15%, Serbia 9%, Macedonia 6% |
| Chilli pepper (Capsicum/Pimenta) | 48 | 33% | Morocco 44%, Turkey 15%, Uganda 2%, Macedonia 2%, India 2% |
| Fresh coconut (with/without inner shell) | 47 | 32% | Coconut with inner shell: Ivory Coast 62%, Thailand 16%, India 10%, Nicaragua 5%, Vietnam 2%, Dom. Rep. 2% |
| Asparagus | 42 | 12% | Peru 77%, Mexico 15%, Morocco 1%, Thailand <1%, Ecuador <1% |
| Papaya | 42 | 17% | Brazil 91%, Ghana 3%, Thailand 2%, Jamaica 1%, Mexico 1% |
| Tamarinds, cashew apples, lychees, jackfruit, sapodilla plums, passion fruit, carambola and pitahaya | 41 | 14% | Madagascar (lychees) 40%, Colombia (passion fruit) 20%, Vietnam (pitahaya) 11%, South Africa (lychees) 8%, Malaysia 4% |
| Sugar snaps, snow peas and other peas (Pisum sativum) | 30 | 12% | Guatemala 31%, Zimbabwe 19%, Kenya 18%, Peru 12%, Egypt 8% |
| Other 'niche' fruit (mainly pomegranates, physalis, etc.) | 107 | 33% | Turkey 43%, Peru 20%, Israel 10%, Colombia (physalis) 6%, South Africa 4%, Egypt 4% |
Source: Market Access Database
This study has been carried out on behalf of CBI by ICI Business.

Please review our market information disclaimer.