10 tips for finding European coffee buyers
Europe is the largest coffee market in the world, where each buyer has their own approach to business, their own expectations and specific demands from suppliers. As a result, finding the right buyer can take time and effort. It will require you to clearly define your product offer, preferred target market and strategy. Work through the following tips to help you find European buyers for your coffee.
1.

Define your offer and know its potential

European buyers, notably those focusing on the specialty segment, are always looking for unique coffees with specific flavour notes from unique origins. As such, it is important for you to know the specific characteristics of your product and its potential. To go one step further, it is crucial to understand how your offer differs from that of your competition.

To attract a buyer's attention, you need to define your differentiating factor, your Unique Selling Point (USP). Think about what your story is. What sets you apart from the competition? What makes your coffee stand out? Where do your products come from? How are they grown and processed, and by whom? You should think about the following aspects:
Your coffee beans' genetic profile and variety, and potential supply volumes

Their agro-ecological context, such as micro-climates, surrounding forests and other natural factors

Characteristics of the post-harvest practices, such as fermentation and washing processes

The quality of your coffee, assessed by a consistent method and ideally verified by external experts

The special background of your farmers (example: women-led cooperative)

The impact you have on communities and nature

Existing awards won, such as the

Cup of Excellence

, or feedback from current buyers
Note that on the specialty market, the origin of coffee is especially important, and should be supported with storytelling and traceability. Coffee traders and importers will use your stories in their own communication with roasters. Roasters will, in turn, use your story to help market their products to consumers. By telling the right story, they are able to connect consumers to the coffee's origin, making coffee consumption a more complete experience.
Tips:
Always have up-to-date and reliable data about your cooperative or company, and about your green coffee offer. This includes up-to-date certifications and information about the number of producers in your network, quality assessment procedure, production volumes and availability of coffee for exports, among other things.

Define your unique selling point (USP) and what you can offer to European buyers. When you have found that, you should create your marketing story around these factors and promote it actively. Storytelling is very important, as both buyers and consumers love to see the story behind a product. Refer to tip 6 in this document to read more about investing in online marketing.

Never make claims that you cannot support, for instance on the quality or production volumes of your coffees or the impact you have made on communities. Make sure to back up your claims with numbers.

Measure the sustainable and ethical aspects of your coffee production and supply chain. For instance, fill out 

this online self-assessment form by Amfori BSCI

 to assess your social performance. This 

Excel form by the Sustainable Agriculture Initiative (SAI) Platform

 can be used to assess the sustainability performance of your farm.

Some specialty roasters may be interested in special fermentation techniques.

Refer to this

Guide to L

actic

and

A

naerobic

F

ermentation Methods for

c

offee

to get acquainted with innovative processing techniques.

Investigate whether you qualify for industry awards such as the

Cup of Excellence

. This can be an interesting way to profile yourself on the European market for specialty coffee.
2.

Explore your target market and identify your ideal buyer profile

Before starting your search for European buyers, it is important to understand your target market. European countries are all different in terms of consumption patterns, levels of trading, preferences for specific coffee varieties, the number of roasters, as well as their scale and sourcing practices.

You can start profiling your target market and its structure by asking questions such as: Which markets and channels offer most opportunities for my product? What is the demand for my type of coffee in the target country? Who else supplies my variety of coffee to the market? Where and how do they have access to the buyers?

The figure below shows you the most important entry channels for green coffee beans in Europe. Note that the European market is moving towards shortened supply chains. This means that roasters increasingly search for ways to source their green coffee directly from origin. Importers, however, do still play a major role in the coffee market and may act as a facilitator in direct trade.

In general, you should aim to look for buyers that are willing to develop long-term business relationships, either directly or through an importer. In fact, one of the most important initial questions is whether your potential client imports directly from origin or via an intermediary.

By analysing market information and identifying the main coffee buyers and their requirements, you will increase your chances of accessing the European market. Without this market knowledge, you will limit your possibilities, and this could have an effect on your success because you may target the wrong market(s) for you.

Figure 1: The main channels for export of coffee to Europe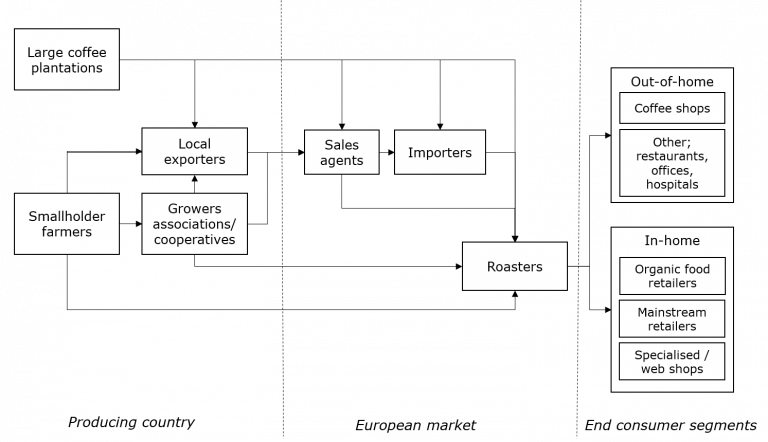 Source: ProFound, 2021
Tips:
Consider which entry channel is most suitable for your company: directly to coffee roasters, through an importer or trader, or through an agent or broker. Or maybe you are too small and need to export through an exporter in your own country for the time being.

Check out the websites of big and small roasters and importers in your target market. These websites will provide some initial information on from where and what kind of coffee they source. For instance, study the websites of the Dutch importers

This Side Up Coffees

or

The Coffee Quest

and German importer

Touton

to read more about their coffee suppliers' profiles.

Have a look at

this list

of green coffee importers worldwide, as provided by Boot Coffee Campus. You can also use the

SCA Coffee Directory

or visit online trading platforms such as

Algrano

and

Beyco

to find coffee importers and roasters.

Compile your own trade statistics on the 

International Trade Centre Trade Map

 and

Access2Markets

. Find trade statistics for coffee under chapter 9 of the Harmonised System (HS).

Read our study on 

demand for coffee in Europe

 and the 

information on specific countries

to read more about channels and segments in respective markets.
3.

Visit and participate in trade fairs or events

Trade fairs and coffee events provide an excellent opportunity to actively promote your products and meet potential customers. Exhibiting at a trade fair will increase exposure for your company and products and gives you the opportunity to assess your competition. However, exhibiting can be costly, and you should always carefully assess whether a trade fair will pay off in terms of returns.

If you do not have the means to exhibit as a participant, you can consider attending these events as a visitor. Being present, and meeting potential buyers face to face, is much more effective than email or telephone communication, especially when it comes to first impressions.

As exhibitor or visitor, it is always important to prepare your trade fair visit thoroughly. This implies you should:
Choose the right event to attend. Research the events, their main focus and exhibitor/visitor profile. Try to find out if the fair is mainly directed at consumers (such as coffee festivals) or roasters and importers. Check if the focus of the event is on green or roasted coffee.

Choose the right product offer. It is important that your products fit the fair you take part in. Look up new product trends being showcased at trade fairs.

Review the exhibitor list at the trade fair's website and select companies from that list that are relevant to your profile. This will help you focus, allow you to make appointments in advance, and to navigate through the exhibition grounds strategically.

Bring promotional materials but remember to keep them simple and short. A flyer or a business card are best, as long as they display contact details and other relevant information. Potential buyers will most probably not bring long brochures home.

Promote your trade fair participation online before and during the event. This way, your existing and potential buyers will know where to find you.

Prepare product documentation so you can answer any questions prospective buyers may have. You may want to consider translating your documentation to multiple languages.

Prepare and bring samples of each type of coffee you can offer. It is recommended to bring 20-30 samples of each type. Samples usually consist of 300 grams of green coffee beans. These are ideally vacuum-packed, but you can also pack them in zipped plastic bags. Use an attractive sticker with an accurate and adequate description of the coffee, including: Company name, Region, Country, Altitude (meters above sea level), Variety, Process, Screen size, Certification (if any), Contact details, and optional: Availability.

Practice your "elevator pitch"– a half a minute introduction to your company and product that impacts a potential buyer, using some of your unique selling points (USPs) – in English.

Besides making appointments with potential buyers, make sure to contact sector associations and trade promotion organisations. It is always good to have a good relationship with these organisations for possible future activities.

Fairs also include workshops, lectures, and cuppings and tastings sessions. Check the agenda of each fair and make a planning of the events you want to join.
The most important trade fairs in the coffee sector in Europe are:
Other interesting events include:
Exhibiting at a trade fair or visiting one can be combined with visits to traders, roasters and/or other potential partners in Europe. Note that appointments should be made weeks and sometimes months in advance and should have a clear purpose. If you are not able to exhibit at, or visit these events, you can still use the trade fair websites to compile a database of potential buyers.
Due to the COVID-19 pandemic in 2020-2021, several trade fairs and events were cancelled or held virtually. Some trade fairs have decided to hold future editions in a hybrid format. For instance, the German Coffee Association has created a permanent digital coffee trade fair. On this website, companies can quickly and easily find out about coffee-specific products and services in Germany and make new business contacts. 
Participating in a digital trade fair means you have to prepare an online presence. Note that engaging and interacting in digital fairs may be more difficult than simply approaching people at physical fairs. Digital communication is less personal and online trade fair participants may be distracted by other work. When taking part in a digital or hybrid trade fair, make sure to:
Review the exhibitor and visitor lists, which include contact details, and make a shortlist of companies relevant for you.

Present high-quality pictures that show your origin, production and final product. Company or product videos are also a good way to appeal to visitors' senses. Videos should not be too long, as your digital visitors' attention is limited.

Send samples to buyers that show serious interest.
Figure 2: World of Coffee trade fair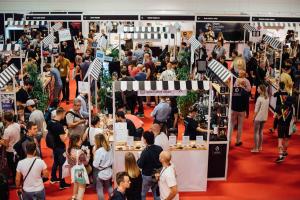 Source: World of Coffee
Tips:
Check out the exhibitors' lists of the events above to find out whether they are interesting for you. It is recommended to make appointments with exhibitors in advance. You can find their contact information on the website of the specific event.

Contact local export promoting agencies to help you participate in trade fairs; their support can be financial and/or technical. Examples of export promoting agencies include the

Ugandan Export Promotion Board

,

AGEXPORT

(Guatemala),

NAEB

(Rwanda) and

PromPerú

.

Sign up for a "Trade Fair Participation" workshop by a local or international export promotion agency, to learn how to get most out of going to a trade fair.

Access

ITC's directory of Business Support Organizations (BSOs)

to search for organisations promoting international trade and investment in your country.

Look into the possibility of a shared stand/pavilion with your national coffee export association or a pavilion hosted by a government trade programme or NGO. This can reduce your participation costs and increase your exposure at the trade fair. Examples of national coffee export associations are ECEA (Ethiopia) and GAEKI (Indonesia). You can find more associations in this

list of the International Coffee Organization

.

At the trade fair, write down questions that you cannot answer directly. After the event, follow up on specific requests such as quotations, further information on your company, product and certificates.

Always have your technical and promotional material as well as samples prepared when you go to a trade fair or event.

Refer to the

Trade show exhibition guide

to find more details and planning tools for coffee exporters on how to benefit most from trade events.

Use the 

trade fair benefit check

 after your exhibition. This software, free of charge, is a tool to calculate the cost and benefits for exhibitors and is available in different languages. 

Check

World Coffee Events

, the

Specialty Coffee Association Calendar

,

Perfect Daily Grind: Events

and the

Daily Coffee News: Events

to get updates about future events in the coffee sector.
4.

Use international and national sector and trade associations

As a coffee exporter, it is important to join your national or regional coffee association. They often offer interesting services, such as up-to-date market and price information, trade fair participation and marketing support. Examples of coffee farmers/exporters associations include:

It may also be interesting to become a member of one of the women's organisations forming part of the International Women's Coffee Alliance (IWCA). This alliance aims to empower women in the international coffee community by creating a global network.

Consuming countries also have sector and trade associations. In Europe, the European Coffee Federation (ECF) plays a prominent role in representing the interests of traders, roasters, manufacturers and other companies involved in the European coffee sector. Their website includes a valuable list of member companies, which is a good source to find potential buyers in different European countries.

Also check the websites of the national associations listed on the website of the International Coffee Organisation. Focus on associations and their members in countries which have a high demand for your product.

Get in touch with your national specialty coffee organisation

For specialty coffee, you can refer to the links of the national chapters of the Specialty Coffee Association (SCA) and the website of the Coffee Roasters Guild. Note that these chapters are located in coffee-consuming countries. In producing countries, there are also specialty coffee associations that liaise with SCA (e.g. use their scoring system) and that hold national championships to select delegates for SCA barista or cupping championships at trade fairs. Examples of specialty coffee associations in producer countries include:
Tip:
Consider becoming part of a trade association in your country or region. This enhances your credibility and helps you build up your network.
5.

Build and expand your business network

Apart from sector associations, there are other ways to search for potential buyers. For instance, you can search for potential buyers in the databases of certification bodies and sustainability platforms. Also, think of contacting trade promotion agencies, embassies, and chambers of commerce to find buyers. Do not forget about your existing business network: this may be the best place to start. In general, personal recommendations and connections are a good way to expand your network.
Check databases of certification bodies and sustainability platforms
Another way to find potential buyers is through the customer databases of certification bodies. For example, by accessing the database of FLOCERT you can find a list of Fairtrade certified organisations active in the coffee sector. Furthermore, the lists of UTZ-certified coffee farmers and supply chain actors and Rainforest Alliance certificate holders are a rich source of information. Organic-Bio also provides a list of organic-certified coffee supply chain actors.
You can also check which traders and/or roasters participate in specific sustainability platforms. For instance, have a look at the wide range of actors taking part in the Sustainable Coffee Challenge and the Global Coffee Platform.
Get in touch with support organisations and agencies
Embassies, trade promotion agencies and chambers of commerce often have export programmes, which offer matchmaking services and support for exhibiting at trade fairs. The organisers of these programmes have strong relationships with businesses in your target market. As such, they can help you identify, screen and meet potential buyers.
To find a matchmaking programme and/or trade mission in your sector, have a look at the pages of international and European trade promotion organisations. They target mostly small and medium-sized enterprises in selected partner countries that aim to export their products. Examples of such agencies include:
There are also several organisations that support coffee farmers and exporters worldwide, such as Progreso, Agriterra (specifically for farmer organisations and cooperatives), Oxfam-Novib, Solidaridad, GIZ, Rikolto, SNV, IDH and many others.
In addition to these agencies, you can contact your country's embassies in Europe. Your country's embassies in your target markets could also help you find potential buyers and/or identify the competition. They usually have a commercial attaché to help you with your enquiries. You also have European chambers of commerce with offices in your country or region. Examples include:
Tips:
Contact the embassy or trade promotion organisation in your country to see what kind of matchmaking facilities they can offer you.

To find out if your country has an embassy in your target market, go to the

Embassy Worldwide

website.

Check the websites of embassies, import promotion agencies and chambers of commerce to see what kinds of active export programmes they currently have.
6.

Invest (time) in online marketing

Online marketing is the best way to attract the attention of potential buyers. This applies even more since the COVID-19 pandemic, when trade fairs got cancelled and buyers could not travel to origin. Therefore, invest in your own social media account or set up a website. When you opt for a website, make sure that it is accurate and up-to-date. Your website must be clear and should provide relevant information regarding:
information on your coffee offer, including quality and availability

the origins of your product

the mission and history of your farm/cooperative/company

sustainability

certifications
The website should convey a reliable and unique image. As such, give your story a face, by providing good-quality photos of the plantations, the farmers and their families (ask for their permission). The website should be inspiring. See, for instance, how Cedro Alto (Colombia), O'Coffee, Café Campos Altos, SMC Specialty Coffees (Brazil), UniTrade Coffee (Guatemala), Caravela Coffee (Latin America), Don Pepe Estate Coffee (Panama), Rwashoscco (Rwanda), Ontosoroh (Indonesia) and Kerchanshe (Ethiopia) present their stories in clear and appealing ways.
Publish regular updates about your company, your products, your travels to trade fairs and other relevant news on social media, for example on Twitter, Facebook, LinkedIn, YouTube and Instagram. Share your story and inform your audience about your activities. Always pick the right platform and make sure to have attractive up-to-date profiles. Hence, do not start a YouTube channel if you do not have attractive videos. Buyers regularly use these online social media platforms to search for interesting suppliers, learn more about existing and new suppliers and promote their own products.
Tips:
Research options for generating visitors to your website. One way of doing this is through Search Engine Optimisation (SEO). SEO is a strategy that helps you to be found using online search engines. Minor changes to your website can positively impact your position on search result lists. For instance, see these tips

to create a Google-friendly website

or access the European Commission website for 

information about optimising your website for search listings

.

Link your Facebook, Twitter and Instagram sites so your posts will appear on the three platforms at the same time.

Websites are ideally written in good English.

Provide your client with anything they need for their social media pages and/or websites, in order for your coffee (under their brand) to become more popular.

Make sure to create a mobile-friendly website, as many potential buyers may read your company and product information from their mobile phones.

Read

this Forbes article

with tips on how to improve your social media presence to promote your business.

Watch

CBI's webinar on coffee exporter success stories

to learn how other coffee exporters communicate

their

value proposition

and get their promotional message across using

social media

.
7.

Use online trading platforms

Online green coffee sourcing sites are gaining popularity. These sites often serve as a platform to connect roasters with producers of green coffee. This is mainly directed at buyers and sellers in niche markets with higher-quality coffees. Participating in the communities on these websites provide you with great opportunities to create long-term relationships with buyers. In the absence of face-to-face interactions during the COVID-19 pandemic, online trading platforms have grown further in popularity.

Examples of online trading websites include Algrano, TYPICA, Almacena Platform, Beyco, ifinca and GrainChain. The latter three platforms are based on blockchain technology, which could over time improve accuracy, traceability and efficiency in the entire supply-chain. 

In addition, it is increasingly common to sell your high-quality coffees through online auctions. Auctions provide coffee producers with the possibility to promote their product. Auctions often yield relatively high prices for producers. Note that most of the highest-quality specialty coffees are sold at online actions, which implies that you can often only enter these auctions if you comply with strict production and quality requirements.

Examples of online auctions include Best of Panama, Sensible Coffee and Alliance for Coffee Excellence. In some countries, auctions are the common way of mainstream green coffee sales, as is the case in Kenya.
8.

Get to know your buyers

Once you have found a potential buyer, it is important to understand their business, their culture and their individual requirements and demands. Coffee buyers differ significantly from country to country, and that can be quite challenging in terms of doing business.

Visit your potential buyer's website. Gather as much information as you can about their business, their philosophy and business practices. Find out which segment(s) they operate in, for example, and where their products are sold. Do they buy mainstream products or niche products such as speciality, organic or fair trade coffee? Do they expect certification or do they have specific requirements on bean quality, packaging or transportation?
Tips:
Once you are convinced your coffee is suitable for a specific buyer, send an email with a specification or factsheet of your coffee, of which you can find some

examples here

.

Take your time to find the right buyer; research your possibilities and engage with business partners that match your company's philosophy and that you feel comfortable doing business with.
9.

Use the trade press for market information

What are the trends in the coffee sector? What influences business in Europe? And what affects your buyer's decision-making? The only way to find out is by keeping yourself up-to-date on market news.

Find out what is going on in the coffee sector. You can follow market developments that are published in trade magazines and websites. Not only do these publications bring up-to-date information on the coffee sector, but they also provide a database of potential buyers, such as traders and roasters.

The following magazines or news portals focus on coffee:
Tips:
Make sure you stay up-to-date on market news by exploring the websites mentioned above.

Consider using such trade websites as a way of advertising your product or company.

Check who is advertising on the above-mentioned platforms. These might include potential buyers or other exporters in your own country and elsewhere. In case of another exporter: check out their website, as it is important and useful to see what your competitors are doing.
10.

Be confident and persistent

Proper communication and confidence in your product are important elements to doing business. Being well-prepared will give you the confidence you need, and it will give your potential buyers trust in what you do.

It is always good to contact potential buyers by email in the run-up to trade fairs, usually a couple of weeks before the event. Schedule meetings for a specific time and place and reconfirm one day in advance. The trade fair is a good reason for contacting them; you could, for instance, propose a meeting at the event to discuss business possibilities together.

Remember that it takes time for a buyer to decide to commit to a new coffee supplier. Usually, the buyer has a number of good suppliers with longstanding relations. Do not expect to have a deal after you submit a first coffee sample. Sometimes, it takes one or two years of exchanging information and samples before you get an order.
Tips:
Plan your export marketing activities: schedule calls with prospective buyers, schedule updating the 'News' tab on your website and inform all prospective buyers when you visit Europe for example.

Make sure you have someone who speaks English available at your cooperative or company, and who checks and answers emails every day.

When contacting a buyer, keep your email short, relevant and concise, while giving complete and accurate information.

If a buyer does not answer, do not hesitate to send reminders. If you sent samples, ask for feedback on the cupping of your coffee sample.

Read our

Tips for organising your exports to Europe

, to help prepare for organising your first shipment or first coffee transaction. If you already successfully export green coffee to Europe, this study can increase your efficiency and can help you gain a competitive edge.
ProFound – Advisers In Development carried out this study on behalf of CBI.
Please review our market information disclaimer.
Search
Enter search terms to find market research