What are the opportunities for cruise tourism with guests from Europe?
Primary tabs
Takes about 19 minutes to read
Cruise tourism is one of the fastest growing segments in the tourism industry and can make a significant contribution to a destination's economy and local communities. As cruise lines are looking for new destinations, cruise tourism can offer opportunities for some developing countries. Business Support Organisations (BSOs) that want to develop cruise tourism have to make sure that they maintain the core natural and cultural values of their destination by developing policies that safeguard their nature and culture and that limit potential negative impacts of cruise tourism.
1 .

Introduction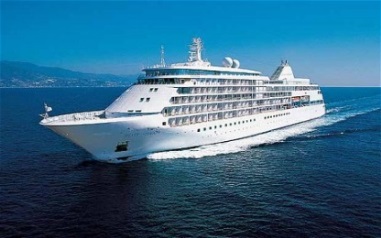 The cruise market is one of the fastest growing segments in the travel and tourism industry and can make a significant contribution to a destination's economy. As cruise lines are increasingly looking for new destinations, cruise tourism can offer opportunities to Developing countries with harbour facilities and an interesting hinterland. However, barriers to entrance are high as cruise tourism requires a lot of investments in accessibility and competition is fierce. Furthermore, cruise tourism can also bring negative impact on a destination, for example environmental pollution.
This Product Factsheet will give insights into the cruise tourism market. It is written for CBI Programme Managers and local Business Support Organisations (BSOs) to help them decide whether or not to invest in cruise tourism development.  
2 .

Product description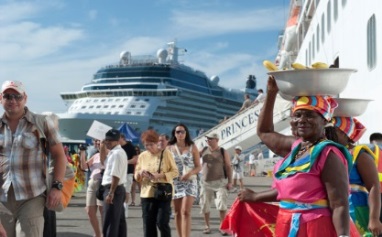 Cruise tourism is a form of travelling for leisure purposes, involving an all-inclusive holiday on a cruise ship of at least 48 hours, according to a specific itinerary in which the cruise ship calls at several ports or cities.
A cruise can be a one-way or a round trip and generally has several ports of call where passengers can come ashore to explore and experience the attractions, activities, culture, nature and shopping of that town, city or region. Sometimes travellers first fly to a specific destination, take a cruise trip from there and then fly back, the so-called 'fly & cruise'.
Cruise ships come in many styles and sizes, from under 100 to more than 6,000 passengers, with a wide range of variations in between. They also largely vary in price range, from budget cruises to luxury cruises. The focus of this Product Factsheets lies on small and medium-sized cruise ships, from around 80 to around 800 cabins. Large cruise ships generally have their own Destination Management Companies (DMCs) in which they have a share or a strong commitment. This makes it very difficult for small and medium-sized enterprises (SMEs) to work with them.
A distinction can be made between river cruises and high-sea cruises. This Product Factsheet focuses on high-sea cruises as this offers the best potential for Developing Countries. In the current list of Developing Countries there are hardly any countries that have or are able to offer river cruises with overnights on board.
3 .

Market size and developments
Dynamic growth: the global cruise market is experiencing exponential growth. The market grew from almost 3.8 million passengers in 1990 to more than 22.2 million in 2015. Growth in cruise tourism is expected to continue, reaching more than 25.3 million passengers in 2019. This adds up to an average annual passenger growth rate of 6.55% between 1990 and 2019. Over the past few years, cruise line routes have seen further diversification as well as global expansion. There is now a greater choice of worldwide cruise destinations and the number of transatlantic routes is rising as well. Due to continuing growth, cruise lines keep looking for new destinations.
Supply side: In 2015, there were 62 cruise lines. Together they operated 471 cruise ships (78 more than in 2013). A total of 27 new ocean, river and specialty ships are scheduled to debut in 2016. The passenger capacity of the global cruise industry is more than 466,000 beds according to the Cruise Lines International Association, who represents 95% of the global cruise capacity.
North America dominates demand: cruise demand predominantly comes from North America making up for almost 59% of the total number of cruise passengers (Figure 1). However, the cruise market is currently driven by growing demand from Europe and the rest of the world (especially Australia/New Zealand and Asia). European residents represent almost 26% of worldwide cruise passengers. European cruise passengers are an interesting target market for Developing Countries as they are interested in exploring culture and nature and are likely to disembark during their cruise trip. Furthermore, cruise lines can extend their seasonality by targeting new target groups such as European cruise passengers and new destinations like Developing Countries.
Including Russia and Central and Eastern European countries outside of the EU27
Source: Cruise Market Watch
Key European source markets: Germany, the United Kingdom and Ireland are the two largest European source markets for cruises, making up 28% and 26% of European demand for cruises, respectively. Italy, France and Spain are other large European source markets. It must be noted that the cruise market for passengers from Spain has seen a significant decrease from 2011 and onwards. The Spanish market for cruise tourism is stabilising, but is not expected to recover to the figures of 2010 anytime soon (Figure 2).
Source: Cruise Lines International Association (CLIA)
Worldwide Caribbean dominant destination: worldwide, the Caribbean and Europe (Mediterranean) continue to be the dominant cruise areas (Figure 3). The reason why these regions are so popular is because of their weather and seasonality. Within the Caribbean, the Bahamas, Cozumel (Mexico), US Virgin Islands, St Maarten, Cayman Islands, Jamaica and Puerto Rico are the most popular destinations with each of them having welcomed more than 1 million cruise passengers in 2014.
Europe most popular destination among Europeans: Among European residents, Europe is the most popular cruise destination. 54% of European residents that took a cruise in 2014 cruised in the Mediterranean and Atlantic Islands and 21% in Northern Europe. The remaining 25% cruised outside of Europe, primarily in the Caribbean. This is an increase of 13% compared to 2013.
4 .

Impact
Economic impact: cruise tourism can make a significant contribution to a destination's economy, generating revenue and creating jobs. The cruise industry globally represented roughly €119.9 billion in economic impact, €39.3 billion in wages and 939,000 jobs in 2014. However, cruise ships often represent all-inclusive holidays. They generally stock up before they leave and purchase little local foods or supplies. Furthermore, cruise tourists generally spend little in the destinations, as all meals are included on board as well as entertainment. Cruise passengers are estimated to spend on average €73 per port of call. In addition, shore excursions are often organised by the cruise ships, which take most of the profit. This means that sometimes few benefits actually flow to the local communities. However, cruise tourism remains interesting for smaller local tourism companies due to the high volume of passengers. Furthermore, as these passengers are clustered in groups they are easier to handle.
Environmental impact: cruise ships have environmental impacts. They emit for example more carbon per passenger kilometre than flying. Besides CO2, they also emit airborne particles, which have been linked to premature deaths worldwide. Furthermore, cruise ships can damage coral reefs and ecosystems and produce a large amount of waste water and solid waste which can be a major despoiler of the natural environment. Developing Countries that want to develop cruise tourism should therefore carefully research environmental impacts and develop policies to reduce these impacts as much as possible.
Social impact: cruise tourism can cause changes in value systems and behaviour and thereby threaten the indigenous identity. Changes often occur in community structure, family relationships, collective traditional life styles, ceremonies and morality. However, tourism can also generate positive impacts as it can serve as a supportive force for peace (peace stimulates tourism and tourism generates economic growth), foster pride in cultural traditions and help avoid urban relocation by creating local jobs.
5 .

Market trends

Social drivers
Exploring the unknown: cruise destinations and itineraries are becoming more globalised as cruise lines open new destinations to provide exciting new experiences for cruisers. This development also stimulated demand for 'fly and cruise'. The search for new, unknown destinations will drive new itinerary creation and cruise ship deployment and offers opportunities for Developing Countries that are able to comply with cruise tourism requirements, as they are often new or emerging destinations.
Increased specialisation: cruise lines are increasingly offering specialised cruises. Almost 78% of cruise agents say specialty cruising is a growing sales opportunity according to research of CLIA. The two segments, which are particularly large in specialisation, are families and thematic cruises.  Thematic cruises are centred on various educational themes or recreational activities such as culture, health, diving or wine tasting and the vessels are usually smaller. Furthermore, repeat cruisers are becoming more demanding, which is expected to result in a greater demand for specialised cruise products. This trend offers opportunities for Developing Countries that are able to offer specialised cruise products, for example a cultural heritage trail for specialised culture cruises, yoga classes at a natural scenery for health cruises or a safari for family cruises.
Technological drivers
Advanced technology: continuing development and availability of technology is facilitating and lowering the cost of on-board communication. Many large cruise ships are for example already offering wireless internet on-board. This means that cruise passengers have better access to internet while they are cruising which increases the chance that they will look for information about attractions and activities at the next port of call. This means that it is very important for cruise destinations and local suppliers to invest in online marketing, for example a mobile-friendly website.
Economic drivers
Consolidation: globalisation of the cruise industry has led to consolidation reducing the number of cruise operators to three main players: Carnival Cooperation, Royal Caribbean Cruises and Norwegian Cruise Lines. Together they control about 80% of the worldwide cruise market. Horizontal concentration of the industry will accelerate since the investment required to build a standard modern cruise ship easily exceeds €217 million. In this scenario, only small, highly specialised cruise lines can survive alongside the large groups, which actually correspond to the target group that Developing Countries should target for cruise tourism development. Smaller ships are generally more in line with the capacity in Developing Countries than large cruise ships. Furthermore, they can sail into smaller places and allow easier embarkation and disembarkation.
6 .

Trade Structure
Inbound tour operators/Destination Management Companies (DMCs): cruise lines tend to work with one or a few local partners in each cruise region who they rely on to make arrangements for excursions/activities at the ports of call. These partners are generally inbound tour operators or Destination Management Companies (DMCs). They are therefore an important link between destinations and cruise lines. 
Trade associations, trade events and databases are good sources to come into contact with cruise lines. Some examples are:
Cruise Lines International Association - international cruise industry trade association with representation in Europe, North and South America, Asia and Australasia. Go to 'Agencies & Agents', 'About CLIA' and select 'Members Line Roster' for an overview of members.
Besides cruise trade events in Europe, it is also worthwhile to attend cruise and shipping trade events in other parts of the world. Go to http://www.seatrade-insider.com/Seatrade-Events.html for an overview of such events.  
7 .

Market access requirements

Destinations/ports have to meet some key requirements of cruise lines in order to be considered as a potential cruise destination:
Accessibility: accessibility is imperative for cruise tourism and requires a great deal of initial investment in both infrastructure as well as maintenance costs. A destination that wants to focus on cruise tourism has to have a port that is able to safely receive cruise ships. This requires:
A cruise terminal or an alternative docking facility;
Docks of sufficient length (today's cruise ships often need around 300 metres of dock length);
Water of sufficient depth (cruise ships generally require between 8 and 9 metres of water to operate safely);
The possibility for cruise ships to turn around and a constant level of access regardless sea conditions;
Good facilities at the terminal or docking facility such as luggage handling space, gangways, parking area, airlift, customs area, waiting facilities, toilets and information centres.
Safety and security:  safety and security play an important role in cruise tourism. A destination/port must be able to accommodate cruise ships and their passengers safely. Because of its international nature, the cruise tourism industry is subject to the mandates and guidance of the International Maritime Organization (IMO) who is responsible for establishing international standards for cruise ship safety, design and construction.
Attractive shore offer: competition in the cruise market is fierce so a region/destination/port really has to have something attractive, special, unique or iconic if it wants to attract cruise lines and get cruise passengers from board. Cruise passengers have limited time ashore, with an average of eight hours to get to know a destination. They tend to do a different activity at each port and will not want to repeat an activity within the same trip.
Good infrastructure: the lack of adequate infrastructure often prevents cruise passengers from reaching interesting tourist attractions or landmarks. Good connections between cruise terminals or docking facilities and important tourism locations such as heritage sites, natural attractions or shopping centres are therefore needed and in addition will have a positive impact on the economy of the region as a whole.  There must also be one or more international airports in the region where cruise passenger can be flown in and out (in case of 'fly and cruise'). 
Capacity: cruise lines require professional, qualified ground handlers such as inbound tour operators and transport operators as they want nothing to go wrong. Capacity building is therefore very important for destinations that consider developing cruise tourism. 
Competitive pricing: cruise lines focus on the balance per port when developing itineraries, taking into consideration excursion revenues, port fees, tugboat tariffs, taxes and agency fees.
Sustainability: cruise lines are being watched carefully and are being criticized frequently on environmental and social practices. They therefore increasingly pay attention to sustainable practices. Most cruise lines have adopted a code of business conduct and ethics to conduct their business in compliance with the law and in accordance to the highest standards of business ethics. Such a code generally include guidelines to support human rights and labour principles, environmental protection and health and safety. Consequently, they often request their partners to adhere to their code.
8 .

Marketing requirements
Destination and port information: when cruise lines are considering new itineraries, they require destination and port information which they take into account in their decision-making process. The most important destination information requirements are related to attractions, safety & security and shore excursions (Figure 4). Important port information is related to nautical accessibility such as confined waters and berthing options/capacities, nautical information such as length of the pier, bridges or other port restrictions and also safety & security (Figure 5).
Fig 4: Destination information required by cruise lines, 2012, in %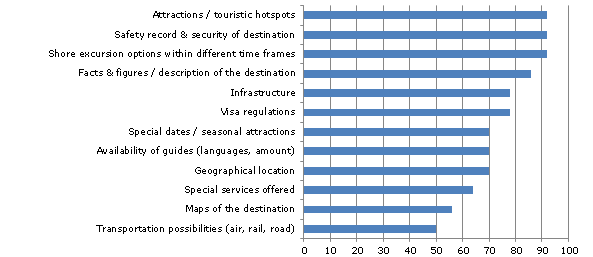 Fig 5: Port information required by cruise lines, 2012, in %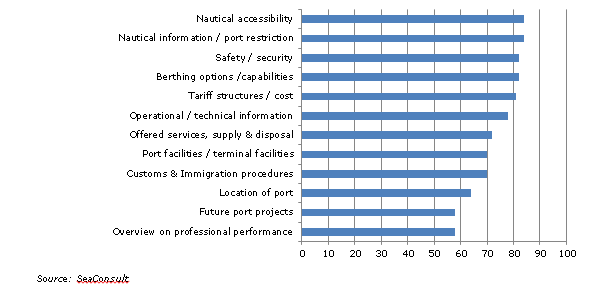 Marketing tools: most cruise lines prefer to receive destination and port information at conferences or trade shows. Other contact/information preferences are a personal visit, email or through a port/destination website (Figure 6).
Fig 6: How cruise lines prefer to receive information, 2012, in %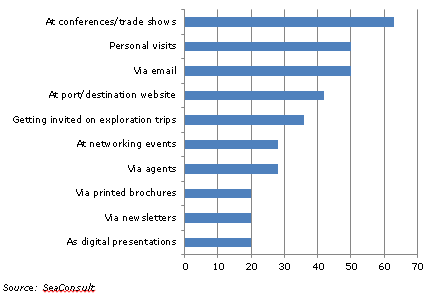 Source: SeaConsult
9 .

Recommendations
Approach the cruise tourism market together: Most local tourism companies in developing countries are too small to handle the capacity demanded by cruise lines. It is therefore recommended to approach the cruise tourism market together with other stakeholders in the region. You can, for example, inform governments and BSOs about the advantages and disadvantages of cruise tourism, assist in the development of cruise tourism policies and look at the possibilities for capacity-building trainings. Key training areas should be related to awareness of cruise tourism and cruise tourists, communication and hospitality, tourist safety and security, organisational management, language skills and environmental aspects.
Broad perspective: North America remains by far the largest source market in terms of cruise tourism passengers. When focussing on cruise tourism, BSOs should therefore have a broader perspective and not solely focus on Europe as a source market. 
Feasibility studies: BSOs should conduct feasibility studies regarding the potential of cruise tourism and potential cruise terminal locations or alternative docking options to decide on the best suitable solution for cruise tourism development. Consequently, cruise terminal or docking facility plans should be developed in consultation with key players such as cruise lines to make sure that the plans comply with their requirements.
Maintain core values of nature and culture: Destinations that want to develop cruise tourism have to make sure they maintain the core natural and cultural values of their destination. They have to develop policies that safeguard their nature and culture and that limit potential negative impacts.
Creation of an institution: BSOs should create an institution to support cruise tourism development, for example a national agency such as a Cruise Tourism Council in which representatives from tourism ministries, port authorities, shipping agencies, tour operators and other industry stakeholders are present.
Structure bankable Public-Private Partnership options: Accommodation of cruise ships into ports requires a great deal of initial capital investment in infrastructure as well as maintenance costs. BSOs and/or other stakeholder organisations should try to structure bankable Public-Private Partnership options for financing, tendering, planning and construction of cruise terminals or alternative docking facilities. Possible private entities that might want to be involved are cruise lines, cruise terminal operators, port operators, airlines, hoteliers or large entrepreneurs.
Reliable and consistent network: BSOs should make sure that there is a reliable and consistent network of local suppliers, as good collaboration is vital in the cruise tourism industry. They should form strong alliances with inbound tour operators who work or want to work with cruise lines, and together they should approach target cruise lines. Becoming a member of national and international sector associations and networks such as the Cruise Lines International Association (CLIA) can help increase the organisation's professional image.
Market research: BSOs should research which cruise itineraries are deployed in their region and which products/excursions are being sold during these itineraries. They should also consider how they can distinguish their offer.
Attractive shore offer: Focus on developing attractive, creative whole or half-day excursions for cruise passengers that include unique, authentic experiences. Consider focussing on theme-based excursions that are unique to the region/destination, such as a wine tour, a botanical tour, a history tour, a heritage tour or a birdwatching tour, as demand for theme-based excursions is increasing. Also invest in developing high-quality, safe infrastructure links between the port and important tourist locations.
Destination website: Develop a professional, high-quality cruise destination website that provides elaborate and up-to-date destination and port information and can easily be found with search engines such as Google. Make sure you address the information topics mentioned in Figures 4 and 5, as many cruise destination websites do not fulfil cruise lines' general information requirements.
Part of a region: BSOs should view their destination/port as part of a region and not exclusively individually. A cruise is usually characterised by visiting various destinations/ports within a defined itinerary. Other destinations/ports within one region are needed in order to offer cruise lines the ability to create itineraries and visit various ports within one cruise. One port does not make a cruise region.
Invest in marketing: BSOs and other stakeholder associations should invest in marketing in their main target markets to create a unique cruise destination image and differentiate their offer from competitors. A joint effort from all stakeholders is needed, both in the public and private sector, for example through a Cruise Tourism Council. BSOs should participate in international cruise trade events such as Seatrade to showcase their destination as an emerging cruise destination and communicate to key players their destination's readiness to receive cruise passengers. They should also organise road shows in their main target countries and arrange for familiarisation trips for representatives of target cruise lines.
Benchmarking: BSOs should continuously benchmark competitors to increase competitiveness. Benchmarking can be very useful as you can learn lessons from successful cruise destinations, which you can apply to your own destination.
10 .

Main sources

Disclaimer CBI market information tools: http://www.cbi.eu/disclaimer