10 tips for finding buyers on the European spices and herbs market
Europe is one the largest markets for spices and herbs in the world, representing 25% of the global market. Finding the right buyers is not easy, but it is possible. It starts with thoroughly analysing your own capabilities. The tips below will help you on your journey to find buyers.
1.

Define your offer

Your search for buyers can only start once you have clearly defined what you are providing. This includes your products and your services. You need to create detailed product descriptions that specify aspects such as:
quality
quantity
certificates
packaging
prices
delivery terms
After you have done this, you need to develop your unique selling proposition (USP). This is the message that you tell your buyers to highlight how your offer is special and different from the competition. Combined with your product descriptions, this will save you time when creating your list of potential buyers.
Tips:
Be precise: create detailed product specifications in measurable terms. You can use an internationally recognised standard to help you define your product range, like the European Spice Association's product information standard.
Be realistic: only offer what you can deliver.
For more information on creating your USP, see Copper's step-by-step guide.
2.

Identify promising markets and products

There are more than 30 countries in Europe. Each country is different, so you have to think of differences like the following:
market size and growth
competition
trends
preferences
legal and buyer requirements
You need to study the potential in the European markets carefully, to help you decide which markets and products to focus on. A good place to start is our market intelligence here at the CBI platform. Our studies on the European herbs and spices market offer you insights into topics like sector-wide demand, trends and market requirements.
These studies can help you make choices about your product and which country to focus on. For example:
In the sector-wide demand study, you can read that the biggest European markets for herbs and spices with the most potential are Germany, the Netherlands, France, the United Kingdom, Spain and Poland. These markets import large amounts of herbs and spices with large shares coming from developing countries.
The trends study shows that the availability of organic spices is still limited in the European market. Also, within Europe, the growth rate of organic spice consumption is thought to be particularly high in Sweden and the UK (more than 5.5% per year over the 2021–2026). If you export organic spices, Sweden and the UK could be interesting target markets.
The European Spice Association also publishes market information. Another helpful source is the European Union's Access2Markets platform. This has trade information, like tariffs, taxes, procedures and requirements. The ITC collection of tools for trade intelligence can also provide you with useful information. One of their most used tools is TradeMap, which you can use for trade data analysis. This can help you identify the best European markets for your products.
Tips:
Learn about opportunities on the European market for specific products through the CBI product studies. These product studies offer detailed information on market characteristics and market entry. They are available for cardamon, cinnamon, cloves, coriander, cumin seeds, turmeric, dried chillies, dried garlic, dried ginger, nutmeg, pepper, spice mixes, thyme, value-added herbs and spices, and vanilla.
Use advanced Google search options to find market intelligence.
Learn to use ITC TradeMap by viewing their video tutorials.
3.

Create your ideal buyer profile

Every European company that imports herbs and spices is different. At the same time, they have certain similarities. You can use these shared characteristics to group companies into categories and even create an 'ideal buyer' profile. This can help you focus your search on suitable buyers. You can base your ideal buyer profile on company characteristics like product range, primary activity, market segments and current suppliers.
Product range
What is the company's product range? Some buyers trade more than just herbs and spices. For example, they may also sell pulses, grains and seeds. Others specialise in spices or they may just focus on one product. Buyers that specialise in your specific product are generally your best option. Buyers that already source other products from your country or neighbouring countries may also offer you opportunities.
Primary activity
What is the company's primary activity? You can find two main types of buyers in the European herbs and spices industry:
Importers, agents and brokers: this group imports and re-sells unprocessed herbs and spices in bulk. These companies often sell internationally. Two examples of these companies are Catz International and European Spice Services.
Packaging companies: this group packs, mixes and blends herbs and spices for food retail, food service or industry packaging. These companies can have their own brands or produce for private labels. They mostly sell in their domestic markets. Examples of these companies are Euroma (the Netherlands), Fuchs (Germany) and Solina (France).
Importers, agents and brokers are generally most suitable, as they can re-sell your products throughout Europe. Their relatively large volume requirements may be a challenge.
Market segments
In what segment does the company operate? The European market can be divided into:
food retail,
food service, and
industrial use.
Some exporters from developing countries supply to buyers in these segments directly. This is usually the case for suppliers to the 'industrial use' and 'food service' segments. This is because packaging unit sizes are larger and labelling requirements are less demanding than for the food retail segment. However, this is not feasible for most, especially not for new exporters in the European market.
There are also some interesting niche markets in Europe, which are mainly based on certification. Examples are:
organic,
fairtrade, and
biodynamic ('Demeter' certified).
Companies that match your general sustainability ambitions can also be interesting. BCorp-certified companies are one such example.
Current suppliers
Does the company have existing relationships with leading exporters from the largest producing countries, such as China, Vietnam and India? Traditionally, companies would not be interested in relatively small suppliers from other countries. However, recent trade disruptions have made buyers more aware of the risks of being dependent on a single supplier or sourcing from one country. As a result, they may want to spread supply risks and add other countries to their portfolios.
Another relevant question is does the company have established relationships with exporters from your country or neighbouring countries? This can work positively and negatively. Good experiences with your region can make buyers keen to do business with you. However, bad experiences, or a need to diversify, may make them less likely to work with a supplier from the same region.
Tip:
Read our product-specific studies for information about types of buyers, segments, relevant certifications and examples for each product. Product studies are available for cardamon, cinnamon, cloves, coriander, cumin seeds, turmeric, dried chillies, dried garlic, dried ginger, nutmeg, pepper, spice mixes, thyme, value-added herbs and spices, and vanilla.
4.

Make yourself visible online

In the modern European market, online presence is key to success. Your website is where potential buyers get a first impression of your company. You need to make sure that the impression is lasting and positive.

Your website should contain your USP and clearly communicate to your 'ideal buyers' that you can become their new supplier. This means you need to think like your 'perfect buyer.' What are their interests? What would they like to know? Think in terms of text, pictures and videos. The Ptexim and LakCinnamon websites are good examples of websites that offer tailor-made content for targeted groups of potential buyers. They present their USP alongside clear product specifications and a company video. They also display their certifications and offer insights into their processing capacities and capabilities.

In general, a good website consists of the following building blocks:
Company profile, including a short history. Having a company video is optional.
Unique Value Proposition (UVP) explaining what is special about the company, how the company is different from other companies in the market. UVPs can be related to products, processes, quality certifications, service level, sustainable practices and more.
Contact details, including links to social media channels.
Product portfolio with clear product descriptions, specifications and pictures. Downloadable content, such as a catalogue or one-pager product information sheets, can be an option here as well.
Production and processing facilities and capacities.
Certifications and other quality management details, such as your quality assurance and quality control procedures.
Sustainability: how you take care of the environment, the local community, and how you conduct business in an ethical way.
All content, whether it is text, images or videos, should be professional, clear and to the point.
In addition, keeping your website up to date according to current search engine optimisation (SEO) standards will help potential buyers to find you. Buyers often use search engines to find new suppliers. This means that your website must appear prominently in the search results. You can achieve this by applying SEO guidelines. Essential keywords include the product name, and words like 'exporter,' 'producer,' 'supplier' and your country, but it is best if you mention the names of top supplying countries too.
Once you have optimised your website and search engine findability, it is time to promote your company on social media. Social platforms are a real-time communication tool for your company to interact with potential buyers and other stakeholders. The most popular social platforms in Europe include LinkedIn (professional networking), YouTube (videos), Facebook and Instagram (photos and videos).
Tips:
Update your website with news items on new product releases, certifications and milestones. Use social media to share your content and reach out to your network.
Improve your content writing and SEO skills using instructional books or online courses, such as Udemy and LinkedIn Learning. You can also hire professionals to create your content.
Get tips to improve your search engine ranking from the Google SEO Starter Guide.
As an example, take a look at how the company Pure Herbs and Spices from Egypt uses their Instagram channel to post pictures of their products.
Figure 1: Star anise seeds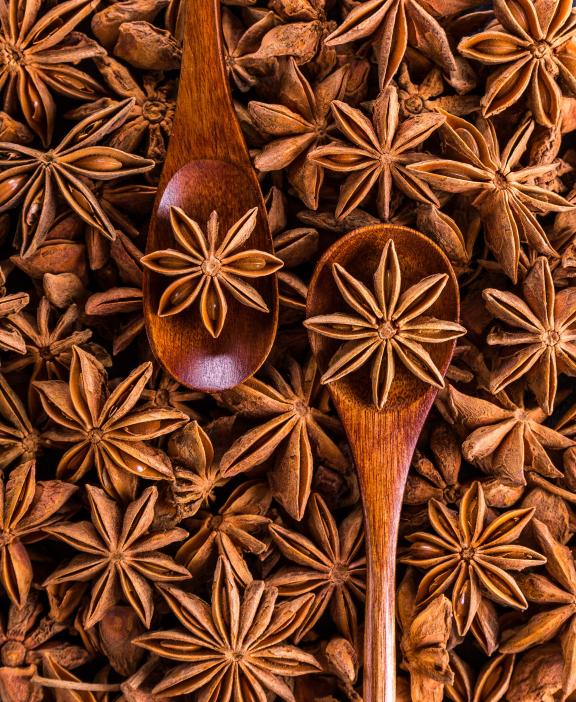 Source: Pexels.com
5.

Attend trade fairs and industry events

Meeting potential buyers face-to-face is a unique experience that goes far beyond anything online. Herb and spice companies often have exhibits at events dedicated to the food industry or the food ingredients industry. Conferences and annual meetings of sector associations may also offer you good opportunities to connect with potential buyers.

To decide whether you should exhibit at European trade fairs, you should attend as a visitor first. This will give you an idea of the potential benefits of taking part in a trade fair, and where your stand should be at a future edition.

The most important events in Europe are:

If you attend as an exhibitor, remember that careful preparation is key to successful participation. You will likely prepare your own promotional materials and pitch carefully. However, you should also prepare for questions from potential buyers. This is often forgotten. Potential buyers have their own reasons for searching for and meeting with potential suppliers. These reasons often relate to requirements, which can be legal or non-legal. In other words, while on one hand you are promoting yourself, on the other hand, you need to find out the potential buyer's needs too.
Tip:
Make yourself an expert in European legal and buyer requirements, and read the European market requirements study carefully. It provides a clear overview of the most critical requirements for entering the European market. These requirements will also be the top priority for European buyers. This knowledge will help you to promote yourself to potential buyers.
Figure 2: Anuga's recap movie of the 2021 edition
Source: Anuga Taste the Future @ Youtube
Another option is to visit or exhibit at trade shows closer to your country and outside Europe. This will save you money, and you will likely find potential buyers for herbs and spices too. It can be a good way to gain experience in visiting and participating at trade fairs in foreign countries. The most relevant trade fairs outside Europe are:
Tips:
Look for potential buyers in important trade fairs' online exhibitor databases, like those of Anuga, SIAL and Biofach.
As an exhibitor, confirm as many appointments with potential buyers as possible in advance. Biofach, Anuga and SIAL offer online matchmaking services.
Prepare your planned meetings carefully. What information are you and the potential buyer looking for? Ask the potential buyer for a product data sheet. This will enable you to check if you can match or even improve the product. Look at this example of a product data sheet for cinnamon.
6.

Scout buyers among members of associations

There are several herb and spices associations that represent their members' interests. These associations often publish their member lists on their websites, which can be good sources to find potential buyers. European associations usually offer a list of national member associations. In turn, these national associations can provide detailed lists of members in their countries. You should focus on associations in countries with the most demand for your product. These are likely going to be Germany, France, the Netherlands, the United Kingdom and Spain.

The most important herb and spice trade associations in Europe include:

Dutch Spice Trade Association – the website is in Dutch, but you can take a look at their list of around 70 member companies.
Tips:
Read our product-specific studies for the most promising target markets for each product.
Follow relevant associations for interesting events, press releases and other publications.
Scan the member lists of the European associations carefully. Consider the lessons you have learned to judge how interesting potential buyers might be.
Notify your country's national herb and spice association that ESA allows non-European members and associations to join. Some associations from non-European countries are already members.
7.

Check company databases

You can also use general and food-specific company databases to find other potential buyers.

Relevant databases include:
Tips:
Study the websites of the companies you selected to ensure they match your ideal buyer profile.
Tailor your email to the company you are contacting.
Follow up on your email with a telephone call.
8.

Share your offer on online marketplaces

Another way to find buyers is to use matchmaking services or online marketplaces. Probably the most famous Business to Business (B2B) marketplace is Alibaba. Alibaba is a marketplace for virtually all kind of products that one can think of. Spices and herbs can be found under the category 'single spices and herbs'. While Asian suppliers from China, Vietnam, India, Sri Lanka and Indonesia are rather familiar with Alibaba, and they have been using the platform for years, there are also several African suppliers on the platform. Examples are Egyptian suppliers of herbs and a Nigerian supplier of chillies.

Other examples of online marketplaces where herbs and spices are traded include the following:
Greentrade, an online marketplace for organic food. You can search current buyer announcements in the 'herbs, spices and condiments' category. You need to subscribe to see buyers' contact information.
Tridge is a platform for global trade of food and agricultural products. The name 'Tridge' comes from the blend of 'transaction' and 'bridge'. In other words, Tridge aims to bridge gaps in global supply and markets, thus enabling trade. Under the category 'Herbs, Spices and Seasonings' you can find a lot of profiles of companies from Asia and Africa.
1-2-Taste. This European marketplace has gained a lot of publicity over the last year. It is a food ingredients supply platform that focuses on companies from the European food and beverage industry. Service is key for the platform, products are easy to find, easy to select and easy to order. While the first companies that became 1-2-Taste platform suppliers are mainly from Europe, the platform is also open for companies from outside Europe.
Tips:
Ask for a trial subscription to check if Alibaba, Greentrade, Tridge or 1-2-Taste is suitable for you and your product. Also ask how many relevant buyers use the platform.
Find out more about how to become a supplier to 1-2-Taste.
9.

Enlist the help of export support organisations

Business Support Organisations (BSOs) can help you with your export activities. These can be organisations in your country or your target market, or internationally active organisations. BSOs from your own country are generally your best place to start. National export promotion organisations often provide services in market research, trade fair guidance and matchmaking. You can also contact export promotion agencies, chambers of commerce, sector associations and embassies.

The most relevant international BSOs include:
10.

Get more tips for exporting to Europe

Finding buyers is the first step in exporting to the European market. Once you are ready to approach your shortlisted buyers, our Tips for Doing Business with European Buyers can help you on your way. Our Tips for Organising Exports of Herbs and Spices to Europe provide you with essential tips on topics like logistics and payment terms.

This study was carried out on behalf of CBI by Globally Cool BV.

Please review our market information disclaimer.
Search
Enter search terms to find market research