Entering the European market for macadamia nuts
Food safety certification combined with reliable and frequent laboratory testing, helps create a positive image for macadamia nut producers wishing to export to Europe. Sustainable production and the implementation of corporate social responsibility measures will help emerging suppliers gain an additional advantage. The toughest existing competitors for new macadamia nut suppliers are South Africa, Kenya and Australia. The prices offered by Kenyan companies are lower than the prices of macadamia nuts from Australia and South Africa.
What are the mandatory requirements?
All foods, including macadamia nuts, sold in the European Union must be safe. This applies to imported products, as well. Additives must be approved. Limits are placed on levels of harmful contaminants, such as pesticide residues and mycotoxins. It should also be clear from the labelling that macadamia nuts may cause allergies.
Contaminant control in macadamia nuts
The European Commission Regulation sets maximum levels for certain contaminants in food products. This regulation is frequently updated and, apart from the limits set for general foodstuffs, a number of specific limits apply for contaminants in specific products including macadamia nuts. The most common requirements regarding contaminants in macadamia nuts relate to the presence of mycotoxins, pesticide residues, micro-organisms, and heavy metals.
Mycotoxins
The presence of mycotoxins is the main reason why nuts may be banned from the European market. The level of aflatoxin B1 in macadamia nuts must not exceed 2 μg/kg and the total aflatoxin content (B1, B2, G1 and G2) must not exceed 4 μg/kg. However, the incidence of aflatoxins is much lower in macadamia nuts than in other nuts, such as groundnuts. While macadamias may contain aflatoxins, the risk is far less than for other nuts due to the very hard and thick shell.
Pesticide residues
The European Union has set maximum residue levels (MRLs) for pesticides found in and on food products. Products containing a higher concentration of pesticide residues than allowed are withdrawn from the European market. However, it is fairly uncommon to encounter excessive levels of pesticides in the macadamia nut trade. This is because the shell, in which residues may accumulate, is removed before the nuts are placed on the market.
The European Union regularly publishes a list of pesticides which are approved for use in the European Union. This list is updated frequently. One of the most important changes is the level of Chlorpyrifos, which is set to 0.01ppm from November 2020.
Table 1: European Union pesticide limit changes relevant for macadamia nuts
| | | |
| --- | --- | --- |
| Pesticide name | Residue limit | Adoption date |
| Triasulfuron | 0.01 ppm | 18.05.2020 |
| Prochloraz | 0.01 ppm | 04.09.2020 |
| Myclobutanil | 0.01 ppm | 02.01.2021 |
| Napropamide | 0.01 ppm | 02.01.2021 |
| Sintofen | 0.01 ppm | 02.01.2021 |
| Chromafenozide | 0.01 ppm | 06.01.2021 |
| Pencycuron | 0.02 ppm | 06.01.2021 |
| Sedaxane | 0.01 ppm | 06.01.2021 |
| Triazoxide | 0.005 ppm | 06.01.2021 |
| Chlorpyrifos | 0.01 ppm | 06.01.2021 |
| Chlorpyrifos-methyl | 0.01 ppm | 06.01.2021 |
| Propineb | 0.2 ppm | 25.10.2021 |
| Amisulbrom | 0.01 ppm | 25.10.2021 |
| Flubendiamide (F) | 0.1 ppm | 25.10.2021 |
| Meptyldinocap | 0.01 ppm | 25.10.2021 |
| Imidacloprid | 0.01 ppm | 27.10.2021 |
| Flutianil | 0.01 ppm | 07.04.2022 |
Microbiological contaminants
The presence of very low levels of salmonella and E. coli in ready-to-eat or processed foods, including macadamias, is an important cause of foodborne illness. Tree nut processors should consider salmonella and E. coli as major public health risks in their hazard analysis, and critical control points (HACCP) plans.
Heavy metals
In August 2021, the European Commission set the maximum level of cadmium for macadamia nuts (and all other tree nuts except pine nuts) at 0.20 mg/kg wet weight.
What additional requirements do buyers often have?
Quality requirements
The quality of macadamia nut kernels is determined by the percentage of defective product, by number or weight, and by their size, shape and colour. The industry has defined several quality criteria, but some of them, such as taste and flavour, are subjective and cannot easily be determined on the basis of physical characteristics. Quality characteristics also depend on the implemented agricultural practices and postharvest handling. For example, rancidity can be a problem if the kernel is not correctly handled and packaged.
Specific macadamia nut quality requirements are established in several standards. The most widely applied standard in Europe is the standard established by the United Nations Economic Commission for Europe (UNECE). Similar but slightly different standards are also developed by producing countries such as the Australian Macadamia Society, South African Macadamia Growers Association or Brazilian Macadamia Association. The most important criteria used to define the quality of macadamia nuts are as follows:
Class – The European Union does not have an official standard for classification of macadamia nuts. However, the classification by UNECE is widely used. In this classification, macadamia nuts are divided into two main classes: 'Class I' and 'Class II'. This classification is made according to the permissible defects and degree of conformity to the specified nut sizes.

Grading – The European Union has not officially defined grading categories for macadamia nuts. The most frequently used grading classification comes from the UNECE. In this standard, size is determined by the maximum diameter of the equatorial section of the whole nut. Eight different categories are defined for wholes, halves, mixtures, chips and fine grains. For in-shell macadamia nuts, four categories are defined.

Special characteristics – the quality and price of the product is usually determined based on the characteristics of the macadamia nuts combined with the style of the product (whole, mixtures or pieces), appearance of the kernel and the grade and variety of the nut.
Food safety certification
Although food safety certification is not obligatory under European legislation, it has become a must for almost all European food importers. Most established European importers will not work with you if you cannot provide some type of food safety certification.
The majority of European buyers will ask for certification recognised by the Global Food Safety Initiative (GFSI). For macadamia nuts the most popular certification programmes, all of which are recognised by GFSI, are:
Please note that this list is not exhaustive and food certification systems are constantly under development. The majority of food safety certification programmes are similar to the ISO 22000 standard.
Although different food safety certification systems are based on similar principles, some buyers may prefer one management system in particular. For example, British buyers often require BRC, while IFS is more common for German retailers. It should also be noted that food safety certification is only a basis from which to start exporting to Europe. Serious buyers will usually visit/audit your production facilities within no more than a few years.
Corporate Social Responsibility
Companies have different requirements as regards social responsibility. Some companies will require adherence to their code of conduct or to common standards such as the Supplier Ethical Data Exchange (SEDEX), Ethical Trading Initiative (ETI) or Business Social Compliance Initiative code of conduct (BSCI).
Packaging requirements
There is no general rule for the size of the packaging for exported macadamia nuts, but the most common type of export packaging is vacuum bags placed in cartons. The most common weight is 25 lbs (11.34 kg) but some exporters deliver nuts in 10 kg packages.
The European Union is gradually decreasing the level of non-recyclable plastic packaging waste. Therefore, the switch from plastic to eco-friendlier forms of bulk packaging is expected soon.
Labelling requirements
The name of the product must appear on the label and either "macadamia nut kernels" or "macadamia nuts". Other trade names pertaining to form can be used in addition to "macadamia nut kernels". It is common for export package labelling to also include the crop year. Information about bulk packaging has to be indicated either on the packaging or in accompanying documents. Bulk package labelling must include the following information:
Name of the product

Lot identification number

Name and address of the manufacturer, packer, distributor or importer

Storage instructions — storage and transport instructions are very important due to the high oil content and sensitivity to high levels of moisture, which can negatively influence quality if not dealt with properly.
The lot identification number and the name and address of the manufacturer, packer, distributor or importer may be replaced by an identification mark.
In the case of retail packaging, product labelling must be in compliance with the European Union Regulation on the provision of food information to consumers. This regulation specifies requirements for nutrition labelling, origin labelling, allergen labelling and clear legibility (minimum font size for mandatory information). Please note that this regulation lists macadamia nuts as a product which can cause allergies or intolerances and therefore allergen information must be clearly visible on the retail packaging.
In addition to this regulation, from 1 April 2020, all food in retail packs in Europe must be labelled with the indication of origin. For example, if your macadamia nuts are packed in Germany, the packaging still needs to indicate the origin. This can be done by indicating a country (for example Kenya), by indicating "non-EU", or by declaring "product does not originate from Germany".
What are the requirements for niche markets?
Organic macadamia nuts
To market macadamia nuts as organic in Europe, they must be grown using organic production methods in line with European legislation in this respect. Growing and processing facilities must be audited by an accredited certifier before you are allowed to use the European Union's organic logo on your products, as well as the logo of the standard holder (for example, the Soil Association in the United Kingdom or Naturland in Germany).
Note that importing organic products to Europe is only possible if you are in possession of an electronic certificate of inspection (e‑COI). Each batch of organic products imported into the EU has to be accompanied by an electronic certificate of inspection as defined in Annex V of the regulation defining imports of organic products from third countries. This electronic certificate of inspection has to be generated via the Trade Control and Expert System (TRACES).
Sustainability certification
The two most commonly used sustainability certification schemes are Fairtrade and Rainforest Alliance. Fairtrade international has developed a specific standard for nuts intended for small-scale producer organisations. This standard defines protective measures for workers in macadamia nut processing facilities. Fairtrade also defines the terms of payment and Fairtrade Minimum Price for conventional and organic macadamia nut kernels in 10 different styles and sizes.
Besides certification focused on social and ethical aspects, new certification schemes focusing on environmental protection are appearing on the European market. These include certifications based on CO2 emissions, such as MyClimate or Carbon Footprint Certification. One certification scheme supporting several sustainability aspects is Planet Proof. Planet Proof includes several themes such as energy and climate, crop protection, biodiversity and landscape, soil fertility, clean water, packaging and waste.
In order to improve the sustainable production and sourcing of macadamia nuts, a group of primarily European companies and organisations formed the Sustainable Nuts Initiative in 2015. The main objective of this initiative is to improve the circumstances in nut-producing countries and work towards sustainable supply chains.
Ethnic certification
The Islamic dietary laws (Halal) and the Jewish dietary laws (Kosher) impose specific dietary restrictions. If you want to focus on Jewish or Islamic ethnic niche markets, you should consider implementing Halal or Kosher certification schemes.
Macadamia nuts are mostly used as a snack in Europe. They are also used as an ingredient in the food processing industry.
How is the end market segmented?
The largest user of macadamia nuts in Europe is the snack segment (accounting for approximately 90% of consumption). The ingredient application market is much smaller, but is growing faster than the snack macadamia market.
Figure 1: End-market segments for macadamia nuts in Europe

Source: Autentika Global for CBI
Snack segment 
In 2020, the retail value of the savoury snack market in Europe amounted to around €20.2 billion, which is nearly 1.4% of the total European food and drink market (€1.5 trillion). In 2021, the European food and drink market was valued at €1.3 trillion. Germany is the largest market for savoury snacks in Europe, with an estimated value of around €3.3 billion.
The most consumed salty snack in Europe is currently potato chips, but nuts (including macadamia nuts) are consumed increasingly frequently and perceived to be a healthier option. Snack nut consumption in the EU increased by almost 80% between 2009 and 2018.
From July 2020 to June 2021, 70% of all macadamia kernels were consumed as snacks in Germany, 25% were used as ingredients, and 5% were used in food services.
Companies in Australia and the United States are increasingly offering innovative spiced roasted combinations, but in Europe macadamias are still mainly sold as simple dry roasted snacks. As macadamia nuts are more expensive than other nuts, they are sometimes sold in a mix with other nuts to keep the price down. Chocolate-coated macadamia nuts are the innovative snack product which has just started to appear on the European markets.
Ingredient segment
The food processing segment is much smaller than the snack segment (approximately 10%). This food processing segment is expected to gain market share in the next several years. A variety of important product launches and developments are already described in the trends chapter of this study. The most common macadamia ingredient users include the following:
The confectionary industry mainly uses macadamia nuts in chocolate snacks similar to the way in which hazelnuts are traditionally used. Smaller grades of macadamia nuts are used in chocolate products.
The bakery industry uses chips, bits and diced macadamia nuts in cakes, cookies, muffins and biscuits.
Macadamia butter is a new product in several European markets. The butter is produced either from macadamia nuts only or in the form of mixtures with other nuts. Some producers also add honey or chocolate and promote those spreads as premium and luxury products.
Macadamia nuts are increasingly used as an ice cream topping. Usually, ice creams containing macadamias are promoted as luxury products.
Breakfast cereal producers are starting to use macadamia nuts in their product formulations. However, macadamias are still used a lot less than other nuts such as hazelnuts.
Macadamia oil is the most well-known macadamia product in the non-food sector. Macadamia oil can be used for cooking but due to its very high price, it is rarely sold in Europe as food product. Instead, macadamia oil is used in a variety of cosmetic formulations. Shampoos, conditioners and skin oils are some examples of the products that can contain macadamia oil.
Through what channels do macadamia nuts end up on the end-market?
Specialised nut importers represent the most important channel for macadamia nuts in Europe. There are also several alternative channels, such as agents, food processors or food service companies.
Important players in the macadamia nuts segment include roasting and packing companies. Some roasting companies have specialised in selling roasted, salted and spiced macadamia nuts to packers in bulk. Some important roasting companies in Europe include Ireco (Luxembourg, no website), Intersnack (Germany/International), Max Kiene (Germany) and Trigon (the United Kingdom). Many packing companies have roasting facilities in their factories, so they are able to develop different products which they can sell directly to consumer segments.
Figure 2: European market channels for macadamia nuts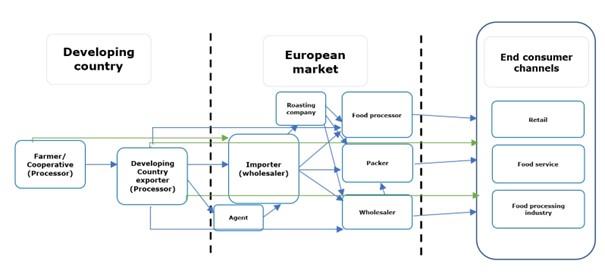 Source: CBI
Importers/wholesalers
In most cases, importers act as wholesalers. They often sell macadamia nuts to roasting companies which process and package them for sale into consumer packages. Some importers also have their own processing and packing equipment, so they can supply retail and food service channels directly.
Importers are usually quite knowledgeable when it comes to the European market and they closely monitor developments in macadamia nut producing countries. Therefore, they are your preferred contact, as they can inform you in good time about market developments and provide practical advice about exports. Macadamia nut importers normally import other types of edible nuts and dried fruit as well, so offering other products in addition to macadamia nuts can increase your competitiveness.
For new suppliers, the challenge is to establish lasting relationships with well-known importers, as they usually already work with selected suppliers. Established importers perform audits and visit producing countries on a regular basis. Many new contacts find they must offer the same quality at lower prices than their competitors, at the start of the relationship.
The positions of importers and food manufacturers are put under pressure by retailers. The higher demands imposed by the retail industry determine the supply chain dynamics from the top down. The pressure translates into lower prices but also added value in the form of as "sustainable," "natural," "organic," or "fair trade" products. As a result, transparency in the supply chain is needed. To achieve this, many importers develop their own codes of conduct and build long-lasting relationships with preferred developing country suppliers.
Agents/brokers
Agents normally act as independent companies that negotiate on behalf of their clients and as intermediaries between buyers and sellers. Typically, they charge commissions ranging from 2% to 4% of the sales price for their intermediary services.
Another activity performed by these parties is the supply of private labels for retail chains in Europe or the representation of specific brands as exclusive distributors. For most developing country suppliers, it is very challenging to participate in the demanding private label tendering procedures or to sell their own brands to the retailers. Therefore, some agents, in cooperation with their macadamia nut suppliers, participate in the procurement procedures put out by the retail chains.
Examples of macadamia nut agents in the leading European markets include the following: Hpm Warenhandelsagentur (Germany), California Direct (Germany), Global Trading (Netherlands), J.M. van de Sandt (Netherlands), Secoex (Spain) and R.S. Tinsley (the United Kingdom).
Retail channel
Retailers rarely buy directly from developing country exporters. However, certain developing country exporters (processors) package their products directly for private labels, or even their own label brands. Recently, the retail sector has become increasingly polarised, seeing a shift towards either the discount or high-level segment. Consolidation, market saturation, fierce competition and low prices are key characteristics of the European retail food market.
The leading food retail companies in Europe differ per country. The companies with the largest market shares are Schwartz Gruppe (Lidl and Kaufland brands), Carrefour, Tesco, Aldi, Edeka, Leclerc, Metro Group, Rewe Group, Auchan, Intermarché and Ahold (Delhaize, Albert Heijn and several other brands).
Food service channel
The food service channel (hotels, restaurants and catering establishments) is usually supplied by specialised importers (wholesalers). The food service segment often requires specific packaging of macadamia nuts in weights of 1kg to 5kg, which is different from the requirements for bulk or retail packaging.
World cuisines, healthy food and food enjoyment are the major driving forces in the European food service channel. The fastest-growing business types tend to be new (healthier) fast food, street food, pop up restaurants, as well as restaurants serving international cuisines and sandwich bars.
The food service segment was negatively impacted by COVID-19-related travel restrictions, closures and/or fewer visits to restaurants and hotels. The retail segment, however, increased its sales of macadamia nuts. Snacking increased during 2021 compared to previous years and this helped to stabilise total demand. In 2021, the snack product market in Europe was valued at €167.3 billion.
What is the most interesting channel for you?
Specialised importers seem to be the most useful contact if you aim to export macadamia nuts to the European market. This is specifically relevant for new suppliers as supplying the retail segment directly is very demanding and requires considerable investments in the area of quality and logistics.
However, packing for private labels may be an option for the well-equipped and price competitive producers. Still, private label packing is often done by importers that enter into contracts with retail chains in Europe. In addition, in order to have full control of the processing, it is easier to roast and pack macadamia nuts for the snack segment within Europe. As the cost of the labour in Europe is increasing, macadamia nut importers sometimes search for more cost-effective roasting operations, in Eastern Europe or developing countries, for instance.
Which countries are you competing with?
South Africa, Kenya and Australia are the main competitors for emerging suppliers of macadamia nuts to Europe. These three countries supply around 88% of all macadamias to Europe, followed by Malawi, which has a market share of around 8%. There are a lot of initiatives in other countries to increase production capacities. Planting of macadamia trees is the most intensive in China, so it is likely that China will become the most important supplier in the near future. It is expected that the global production and supply will be doubled by 2030.
South Africa, the leading supplier of macadamia nuts to Europe
South Africa is the world's largest producer and exporter of macadamia nuts, very closely followed by Australia. In 2021, South Africa produced around 54 thousand tonnes of in-shell macadamia nuts and exported 12 thousand tonnes of shelled macadamia nuts. Of these exports, 34% went to Europe.
In 2021, Europe imported 41% of its total in-shell macadamia nuts from South Africa.
In 2021, South Africa exported 3,235 tonnes of macadamia nuts to Europe. Of all South African macadamia nut exports to Europe, 37% went to Germany, followed by the Netherlands (32%), Spain (15%), the UK (7%) and Italy (3%).
Macadamia nut production is the fastest growing tree crop industry in South Africa. In 2021, 6,235 new macadamia hectares were planted. KwaZulu-Natal planted 2,691 new hectares, followed by Mpumalanga (2,233) and Limpopo (995). Beaumont (695 hectares) is the most widely planted cultivar, followed by A4, Nelmak 2, 816 and others. The industry is export-oriented, with more than 98% of annual production destined for exports.
South African growers have established an industry body, the Southern African Macadamia Growers Association (SAMAC). SAMAC supports the sustainable development of the South African macadamia industry through various activities. Considerable effort is invested in research and development programmes. Activities promoting exportation are also supported by the South African Department of Trade & Industry through participation in trade fairs and other marketing activities.
Kenya, the fast-growing supplier
Kenya is the third-largest producer of macadamia nuts in the world, responsible for around 16% of total production. It is also the third-biggest exporter of kernels. In 2021, Kenya produced 38.5 thousand tonnes of macadamia kernels. The export of macadamia nut kernels from Kenya showed significant growth until 2018, but decreased in 2019 and went up sharply again in 2021. In 2021, Kenya's macadamia exports reached 9.1 thousand tonnes.
In 2021, around 41% of all Kenyan kernels were exported to Europe. According to Eurostat, Kenyan exports of macadamia kernels to Europe reached 2,059 tonnes in 2021. The main destination for Kenyan macadamias is the Netherlands, with a 60% share, followed by Germany (19%), Spain (15%) and Slovakia (4%). Other minor export destinations in Europe are Lithuania and France (1% each).
In contrast to production in Australia and South Africa, the production of macadamia nuts in Kenya relies on small-scale farmers. In Kenya, more than 100 thousand farmers grow macadamia trees. The major macadamia production areas in Kenya are counties of Meru, Kirinyaga and Muranga. The Agriculture Food Authority (AFA) is officially responsible for the registration of macadamia processors in Kenya. There are now around 30 licensed macadamia processors in Kenya and this number increases every year. With increased acreage devoted to the crop, production is expected to reach 60 thousand tonnes by 2022.
In order to support the production of macadamia and other nuts in Kenya, companies have established the Nut Processors Association of Kenya (NutPAK). This industry platform is focuses specifically on macadamia nuts, cashew nuts and groundnuts. NutPak hosted the yearly International Macadamia Symposium in 2021.
Australia, a long tradition and the leading supplier of Asian markets
In 2021, Australia produced around 51,500 tonnes of in-shell macadamia nuts. Considering the average production over the last five years, Australia was producing quantities very similar to South Africa. Australia exported 17,758 tonnes of in-shell macadamia nuts and 9,819 shelled nuts in 2021.
Overall 2021 sales of Australian macadamia kernels to Europe decreased by 17% in volume compared to the preceding year, after growing by on average 1% annually since 2017. In 2021, Australia exported 1,082 tonnes of macadamia nuts to Europe. Most Australian exports go to the Netherlands (58%), followed by Germany (20%), Luxembourg (10%) and Spain and Italy (5% each).
Macadamias are grown along the eastern Coast of Australia. Approximately 41% of the Australian crop is produced in Bundaberg and 35% in the Northern Rivers region. Production is constantly increasing and over the next two years, the planting of macadamia trees in Queensland and in the Clarence Valley is expected to increase significantly. An additional 4 thousand hectares were planted during the last 2 years and a further 4 thousand hectares will be planted in the next 2 years. In 2021, approximately 800 macadamia growers produced macadamia nuts in Australia. The production area consists of 10.2 million macadamia trees on 36,000 hectares.
Macadamia production and marketing are strongly supported by the Australian Macadamia Society(AMS). AMS is a key platform for research, development and innovation in the Australian macadamia industry. AMS strongly promotes consumption of macadamias in Australia and worldwide. One of its activities is the organisation of the Macadamia Innovation Challenge with the aim to create new food applications for macadamia nuts. It seems that constant efforts to promote new ways of consuming macadamia nuts has resulted in Australia holding a larger share of ingredient segment (20-30%) than Europe. Within Europe, the promotion of Australian macadamias is currently focused on the German market with several activities including the creation of the specialised Australian Macadamias website in the German language.
Malawi, focus on export to the Netherlands
With a production of 8,000 tonnes in 2021, Malawi is the world's seventh-largest producer of macadamia nuts, accounting for 3% of global production. The leading export destination for Malawian macadamia nuts is the United States, followed by South Africa. Within Europe, most exports go to the Netherlands. In 2021, Malawi exported 549 tonnes of macadamia kernels to Europe, with 56% of that amount going to the Netherlands. The rest was exported to Germany (44%). Malawi's macadamia nut exports to the Netherlands have fluctuated over the past five years, declining by an average annual rate of 3%. Meanwhile, its exports to Germany have grown tremendously, reaching 158% per year. Germany went from importing 5.4 tonnes in 2017 to 239 tonnes in 2021.
In the past two years, 230 thousand macadamia trees have been planted in Malawi and the target is to reach 300 thousand trees. The country has five commercial processing facilities with Thyolo Nut as the leading processor. The production of macadamia nuts is supported by Tree Nut Growers Association of Malawi.
China, a growing market
China is the world's fourth-largest producer of in-shell macadamia nuts, with a production of 32,000 tonnes in 2021 and an added production of 9,600 tonnes of shelled macadamia nuts in the same year. Since 2020, production volumes of in-shell and shelled nuts increased by 5% and 9%, respectively. Macadamia nuts are typically cultivated in the hilly regions of Yunnan province and on the plains of Guangxi province.
Australia continues to be the single largest importer of Chinese shelled macadamia nuts. The United States has surpassed Japan to become the second-largest importer of in-shell macadamia nuts from China.
In 2021, China exported 181 tonnes of macadamia nuts (with a value of €2.8 million) to Europe, all of which was imported by Germany. Germany's imports of macadamia nuts have been growing at an annual average rate of 82% in the past five years.
USA: the origin of modern macadamia nuts
The United States is the world's fifth-largest producer of macadamia nuts, with a production of 23.13 thousand tonnes in 2021. Both kernels and in-shell nuts are exported. China is the main destination for exports of in-shell macadamias from the US, while Canada is the main market for macadamia kernels.
In 2021, exports to Europe totalled 125 tonnes, with most of these exports going to Luxembourg (49 tonnes), followed by the Netherlands (38 tonnes), France (34 tonnes) and Germany (3 tonnes). Luxembourg is a processing country where imported macadamias are roasted, packed and shipped to other European markets.
The centre for macadamia nuts in the United States is Hawaii, but they are also grown in Florida, California and the southern regions of Texas. The macadamia is native to Australia, but most of the world's cultivated macadamia trees were bred in Hawaii from seeds collected in Australia in the late 19th century. Recent genetic research suggests that the global macadamia industry originated from a site near Gympie in Queensland, Australia and possibly from a single tree.
The leading macadamia organisation in the United States is the Hawaii Macadamia Nut Association. This association actively promotes the growing of macadamia trees and organises events to inform members about the latest research on topics such as: grafting, soil analysis, pest control and food safety requirements.
Which companies are you competing with?
The macadamia nut supply chain consists of thousands of farming, processing and exporting companies all over the world. Therefore, the companies mentioned below are just a few examples of successful exporters to the European and international macadamia markets. There are many more. However, there are companies which are very international and not connected to a single production country. Those companies specialise in sourcing macadamia nuts from different origins. The two most notable examples are Green & Gold Macadamias and Marquis.
Both companies are among the world's leading marketers of processed macadamias. Although they are headquartered in Australia, they sell macadamias worldwide from the suppliers in different countries: Australia, South Africa, Brazil, Malawi and Kenya. This variety of sourcing is one of their key strengths, as supply is not affected by possible seasonal variations, crop failure or weather events in a specific region.
Another example of an internationally operating macadamia company is Camelia PLC, a global agricultural company, which is the second largest producer of macadamias in the world. Camelia produces macadamias on farms in Kenya, South Africa and Malawi. Specialised parts of Camellia include Maclands and two producing companies called Eastern Produce (Malawi and South Africa) and Kakuzi (Kenya). In 2022, Milkadamia, a dairy-free firm, announced a collaboration with Beverage World Inc., a beverage distributor, to introduce its macadamia-based products to the Canadian market. As a result of the deal, Milkadamia's line became available at retailers across Canada in late May 2022.
South African macadamia companies
Nearly 500 growers and 21 processing and export companies are members of SAMAC. A number of growers are Global GAP accredited and most of the cracking facilities are HACCP and/or ISO 9001 accredited. In addition to production and processing standards, many companies are certified by the Sustainable Initiative of South Africa (SIZA) for compliance with SIZA Social Standard.
Some of the notable companies in South Africa are the following:
Green Farm Nuts

– one of the leading processors of macadamias in South Africa. The company sources macadamias from a large network of growers which are supported by training and technical tools to improve production. With three large processing facilities, Green Farm Nuts is the largest processor in South Africa. In order to prepare for the expected increase of the macadamia crop in South Africa, Green Farm Nuts launched the world's largest macadamia processing facility in Mpumalanga in 2018. The company plans to continuously increase processing capacities to 25 thousand tonnes. Green Farm Nuts is one of the partners of Green & Gold Macadamias.

Other examples of South African macadamia companies include

Empire State Trading

,

Mayo Macs

,

Valley Macadamia Group

,

Golden Macadamias

,

Amber Macs

and

Khuvuka

.

A consortium of growers - called

Global Macadamias

, is constructing the world's largest macadamia processing plant in Alkmaar, Mpumalanga. The first phase involves the construction of a facility which will have the capacity to process 15 thousand tonnes and will be put into use in the 2020 season. Agristar Macadamias,

Barberton Valley Plantations,

Vosmac,

Ivory Macadamias

,

Joubert & Seuns

and Hotazel Developments are shareholders of this facility.
Kenyan macadamia companies
The Kenyan macadamia nut sector is characterised by a large number of small and medium-sized processors. However, one of the leaders is Kenya Nut Company, which is a globally recognised supplier of macadamia and cashew nuts. Kenya Nut Company has over 4000 employees and operates seven farms on over three thousand hectares of land. This macadamia processing factory is located in Thika town and represents one of the leading processing macadamia facilities in the world.
Other examples of Kenyan Macadamia Companies are:

Limbua

(German–Kenyan partnership specialised in the supply of organic macadamia nuts),

Kakuzi

(already mentioned as a part of the Camelia group),

Sasini

, Premier Agro Company,

Equatorial Nut Processors

,

Jungle Nuts

,

Afrimac

,

Privamnuts

,

Meru Equatorial Nuts

,

Superfine African Nuts

,

Paem

and

Hanjonuts

(another German-Kenyan organic macadamia partnership).
Australian macadamia companies
The Australian macadamia supply chain is very organised. More than 750 growers are united in cooperatives and they sell in-shell nuts to processors. The farmer's price is based on a quality assessment, variety of macadamia nut and percentage of kernels inside in-shell nuts. Many processing facilities are owned by grower cooperatives. Prices paid to farmers are transparent and are published regularly by AMS. After processing and packing for exportation, processors either offer macadamia nuts on the international market or they sell them via specialised marketing companies, such as Green & Gold Macadamias, which was already mentioned above.
One of the most notable Australian macadamia companies is the Macadamia Processing Company (MPC). MPC is owned by over 180 macadamia growers and processes between 10 thousand and 13 thousand tonnes of macadamia nuts annually (approximately 20-30% of the Australian crop). In 2019, MPC acquired Pacific Gold Macadamias.
Macadamia companies from other supplying countries
Malawi – Many macadamia companies in Malawi are the result of foreign investments. The companies which were already mentioned:

Eastern Produce

(macadamia division of

Camelia

) is the largest grower, cracker and exporter of macadamia nuts in Malawi.

Thyolo Nut

is a subsidiary of London based

PGI Group

, while Tropha Estate (part of Jacoma Estate) is part of the British based

AgDevCo

investment company.

The United States –

Mauna Loa

(the largest in Hawaii),

MacFarms

(Hawaii),

Olson Trust

(Hawaii),

Royal Hawaiian Orchards

(Hawaii, part of the Buderim Group).

Guatemala -

Alimentos Selectos

,

Camaco

, Industria Guatemalteca de Macadamia.
Which products are you competing with?
Macadamia nuts are a unique nut in terms of their flavour. It is unusual to consider alternatives to macadamias. Taking a broader view, other luxury 'tree' nuts such as almonds, pistachios and cashew nuts can be considered competitive with macadamia nuts. The competitive advantage of all other 'luxury' nuts is that they are still cheaper than macadamias.
Depending on the country, retail chain and brand, prices of macadamia nuts sold to final consumers vary significantly across Europe. The retail prices of salty roasted macadamia nuts usually range from €25/kg to €45/kg. This price indication does not tell macadamia nuts suppliers a lot as the final price is very different from the export price due to the addition of many other costs, such as transport, roasting, packing, sales and profit margins. The approximate breakdown of macadamia prices is shown below.
Table 2: Breakdown of the retail price for macadamia nuts
| | |
| --- | --- |
| Steps in the export process | Retail price breakdown (margin addition) |
| Farmers, traders and local shipping | 8% |
| Shelling and processing | 40% |
| Export, shipping and warehousing | 45% |
| Roasting, packing and distribution | 50% |
| Retailers price | 100% |
The export price of macadamia nut kernels has varied depending on the season. Prices depend on the form in which they are traded, quality, variety and origin. The prices of macadamias from South Africa and Australia are often higher than the prices of macadamias from Kenya and Malawi.
In February 2022, the price of macadamia nuts was €28.41/kg in Australia. Export prices from South Africa and Kenya were around 10% lower.
This study was carried out on behalf of CBI by Autentika Global and updated by M-Brain.
Please review our market information disclaimer.
Search
Enter search terms to find market research