Which trends offer opportunities or pose threats on the European processed fruit and vegetables market?
In 2021, the leading trend in the market for processed fruit and vegetables was sustainability. This included environmental issues (e.g. waste reduction). Other trends included more personalized and healthier diets, food safety, transparency and convenience. Suppliers who invest in sustainable production will have more opportunities on the European market.
1.

Sustainability is a major trend in the European market

Sustainability involves meeting our own needs while not decreasing the ability of future generations to meet their needs. It includes environmental, social and economic aspects. For the processed foods sector, this means producing and distributing food in a way that does not damage the environment (e.g. by using processes that are non-polluting and that conserve energy and natural resources). In social terms, it means production that is safe for workers, communities and consumers. Finally, economic sustainability means that production is economically efficient. For many years now, sustainability has been one of the most important topics within the European market. In 2020, the European Union signed the European Green Deal, a set of policy initiatives aimed at making Europe climate neutral by 2050. It includes the Farm to Fork Strategy and the Biodiversity Strategy. Both of these objectives influence the production and trade of food.

The Farm to Fork Strategy aims to ensure sustainability in the production, processing and distribution of food. Sustainable production targets include reducing pesticide usage and increasing organic production. This creates challenges for producers who rely on pesticides. It also creates opportunities for those who can supply organic products. Sustainable food processing will involve setting maximum nutrient levels for certain foods. This could require the reformulation of some foods to reduce sugar or salt content. New labelling rules and changes to food contact materials will impact packaging and distribution. The strategy will propose a sustainable food labelling framework in 2024.

Sustainability is also an important issue for consumers. According to an ECO survey, more than 50% of European consumers said that issues of sustainability had led them to change their eating habits. More than half (57%) of the consumers responding to this survey were of the opinion that sustainability information on food labels should be compulsory. Many companies have started placing sustainability claims on their products. Examples include 'carbon neutral', 'eco-friendly' and 'plastic free'.
Tips:
Read the Farm to Fork Strategy and start implementing its main goals. Source produce that is organic or grown with reduced pesticide usage. Inform yourself on the maximum allowable nutrient levels. Be sure that your products follow the regulation. Understand the new rules for food contact and labelling.
Use sustainable approaches to buyers and to improving your production efficiency.
Inform your buyers and consumers about your approach to sustainability. You can use the internet, social media and product packaging to tell your story. Promote the positive effects of your approach on the communities where production takes place. This is especially important if you are targeting younger consumers in Europe. Young consumers want to know the stories behind the brands they buy.
Read about examples of sustainable production from the European Association of Fruit and Vegetable Processors. Some examples include integration with farmers, precision farming and organic farming. Other examples include the use of solar energy, water re-usage and the use of waste to produce energy.
More certification and labelling
There is no official European requirement about sustainability certification for food. Some kind of certification will eventually be obligatory. We are observing an increase in the number of sustainability schemes and food labelling. In the future, this may lead to an increase in certification requirements and more complicated sourcing processes.
The following are examples of sustainability goals and certifications:
European products increasingly include labelling such as the Nutri-Score and the Eco-Score. The Nutri-Score system assigns a colour-coded nutritional quality score ranging from A to E. Several EU member states have implemented it on a voluntary basis. The Eco-Score label provides consumers with information about the environmental impact of products. European authorities are developing a standardized method for calculating environmental impact.
Tips:
Consult the Ecolabel Index to research and learn about the various ecolabels.
It is not possible to keep track of all the sustainability certifications. You should use the ones that are most common in your industry.
Ask your buyers to recommend the types of certifications they expect. Apply for those that would be easy to obtain based on the activities that have been implemented within your company.
Ask your buyers about the labelling they expect for your products.
Private-sector sustainability initiatives in the processed fruit and vegetables sector
There are also private sustainability initiatives in the processed fruit and vegetable sector. Notable initiatives include those of the fruit juice and the edible nuts industries.
Fruit juice sector initiatives: The European Fruit Juice Association (AIJN), together with Sociability have established the Juice CSR Platform. The platform is a space for collaboration and support for juice stakeholders. It aims to help integrate corporate social responsibility throughout the supply chain. The platform showcases CSR best practices implemented by juice stakeholders. It also provides insight into trends, opportunities, and principles relating to CSR. Another important initiative on sustainability is the Sustainable Juice Covenant (SJC). Its goal is to make the global sourcing, production and trade of juices, purees and their concentrates 100% sustainable by 2030.
Edible nut initiatives: Many traders, retailers and processors support the Sustainable Nut Initiative. Suppliers who join this initiative will be more competitive on the European market. Suppliers who care for farmers and for improving their lives have a competitive advantage in Europe.
2.

Sustainable packaging should be high on everyone's agenda

Sustainable packaging has become an important trend in the food industry. The Farm to Fork Strategy aims to decrease packaging volumes to prevent food loss and waste. Several European countries will set limits on the use of plastic and non-recyclable materials. The following are several examples:
As of January 2021, a new tax on non-recycled plastic packaging waste has applied in the EU.
As of January 2021, a new tax on non-recycled plastic packaging waste has applied in the EU.
As of July 2021, polystyrene has been banned from the EU market as a material for food and beverage packaging.
As of April 2022, a new tax has applied to plastic packaging that does not contain at least 30% recycled plastic in the United Kingdom.
By 2024, all beverage bottles under 3 litres must be closed using only tethered caps. Tethered caps are caps that remain attached to the bottle once it is opened.
By 2025, PET beverage bottles must consist of at least 25% recycled plastic.
By 2030, all bottles in the EU must be made from at least 30% recycled material.
Although caps for beverages and some other products can still be made of plastic, in the future, products will be required to bear the following labels:
Figure 1: Labels for products made of plastic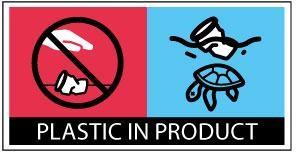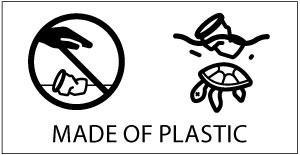 There are sustainable solutions for different categories of fruit and vegetable packaging:
Beverage cartons are the most popular recyclable material for the retail packaging of fruit juices. Cartons should be produced from responsible, e.g. FSC-certified, sources. The industry is searching for new beverage carton materials that are easier to recycle. One example is the reZorce beverage-packaging material.
Steel is used for canning fruit and vegetables. It is also used in bulk packaging of juices (bag-in-drum) and in bulk packaging of vegetable oils (drums). Although steel can be recycled many times without losing strength or quality, it is not a renewable material. The responsible sourcing of steel is encouraged through certifications, such as ResponsibleSteel.
Aluminium cans used for beverages are the most recycled packaging in Europe, with a recycling rate of 75%. Aluminium is not a renewable material. Producers of cans should follow responsible sourcing programmes, like the Chain of Custody Standard. Aluminium is also used in the inside coating of beverage cartons. Heat-resistant carton packaging – such as Combisafe (by SIG) or Tetra Recart (by Tetra Pak) – is also used for vegetables instead of cans.
Glass is often used for the packaging of fruit juices and jams. Juices in glass bottles are sold mainly in restaurants and bars. Supermarkets sell juices in cartons and bioplastic packaging. Most European consumers consider glass the most environmentally friendly packaging. It is fully and infinitely recyclable. The European Container Glass Federation introduced The Glass Hallmark to promote the recycling of glass.
Bioplastic is used in many different types of packaging. Polyethylene furanoate (PEF) It is one of the most widely promoted sustainable solutions for plastic materials in the beverage industry. PEF is made entirely from plants. It is fully recyclable, and it degrades in nature much faster than normal plastic. PEF plastic is also stronger than PET plastic. Most bioplastics are currently made from sugar cane. The scope of new raw materials is constantly increasing. For example, by-products of oil production, olive pits and sunflower seeds can be used for the production of bioplastics.
New sustainable packaging is being developed for the export of processed fruit and vegetables. Export packaging already uses some sustainable solutions, including carton boxes, jute bags, linen fabric bags and glass jars. Some bulk packaging contains plastic, as it is not easy to find suitable replacements. This includes vacuum bags for nuts, plastic liners inside boxes for dried fruit and metallized bags for juices. It also includes polyethylene bags for frozen fruit and vegetables, or plastic barrels for table olives. Even for bulk packaging, more sustainable solutions will be available soon.
Tips:
Follow the leading packaging trends in Europe. Connect to information sources, including Packaging Europe.
Explore which recyclable packaging solutions you could use. In B2B trade, consider using corrugated and millboard carton boxes, plywood boxes, jute bags, linen fabric bags, steel drums and containers, and glass jars.
Create a plan for phasing out the use of polyethylene bags, plastic containers and foil bags.
3.

The importance of storytelling and sharing your sustainability story

It is very important to inform your customers about your sustainability practices. Make this an integral part of the storytelling about your company, brand and products. Use language that is easy to understand and that shows the impact of your sustainability initiatives. You can show consumers how they contribute to this positive impact by buying your products.

The following are several ideas for telling your sustainability story well:
Inform consumers of how they are contributing to sustainability by buying your product. Example: 'By purchasing this juice, you are giving €0.50 to the farmer who picked the fruit'.
Show the environmental impact of your product. Example: 'Our Brazil nuts are carbon neutral and protect forests. They are not grown, but collected from Amazonian forests'.
Measure your contribution. Example: 'Each of our date trees absorbs 200 kg of CO2 every year, making our planet cleaner'.
Illustrate your sustainability certification. Example: 'We don't use monkeys to harvest coconuts'.
You can use your website, social media and product packaging to tell your story. When highlighting your approach to sustainability, it is important to base your claims on solid evidence.
Storytelling best practices
Johnny Cashew is a company with an inspiring sustainability story. The company's mission is to process cashew nuts in the African countries of origin rather than in Asia. This is done to reduce emissions and waste, while improving local economies. Johnny Cashew has made sustainability a central part of its identity. It promotes its sustainability mission and vision on the landing page of its website. It also showcases Impact Stories. These are stories of how Johnny Cashew and its partners are having an impact on communities in Tanzania.
4.

Growing health consciousness amongst European consumers

Awareness about the health aspects of foods is a growing trend amongst European consumers. Consumers are becoming more health-focused and better informed about food. They have been demanding that suppliers provide better health and nutrition information on the packaging. Providing better information to consumers is an official part of the European Farm to Fork Strategy. Beginning in late 2022, the EU will propose mandatory front-of-pack nutrition labelling.

Different countries and companies use different nutritional labelling schemes. The schemes are not harmonized at the EU level. Most use a simplified letter and colour system. The best-known nutritional labelling scheme is the Nutri-Score. It is used in France, Belgium, Germany, Spain, Luxembourg and the Netherlands. There is some opposition to the Nutri-Score system. Several organizations have developed alternative types of front-of-pack nutritional labelling. Other popular schemes include the following: Nutrinform battery (Italy), Traffic Light Labelling (the United Kingdom) and Keyhole (Sweden, Denmark, Norway, Iceland, Lithuania).

Figure 2: Examples of front-of-pack nutritional labelling used in Europe

Source: Author compilation from several sources
Some food companies have started to place quick response tracking codes (QR or barcodes) on products. They are intended to inform consumers about the origins of products. Some of these codes link to a corporate site. The site will provide additional information on such aspects as laboratory tests and ingredient origins. For example, the Tanzanian cashew nut producer YYTZ Agroprocessing uses blockchain technology to guarantee single origin. Each pack of cashews they produce has a QR code that consumers can scan to see exactly which farmer it came from.
European consumers are forcing manufacturers to provide more healthy product options (e.g. with reduced fat, sodium and sugar content). Public campaigns have made European consumers more concerned about the sugar content of the foods and beverages they consume. This has had a negative impact on the consumption of fruit juices, dried fruit and fruit preserves in several European countries. The juice industry has responded by introducing low-calorie juices. Examples include fruit and vegetable mixes, juices with coconut water and with increased proportions of low-sugar fruit. The fruit jams industry has started introducing smaller packages. Producers are increasing the fruit content to up to 70% and replacing sugar with alternative sweeteners, including artificial sweeteners, fructose and concentrated fruit juices.
Tips:
Consider how to reformulate your products. If they contain too much sugar, sodium or fat, be ready to produce healthier versions of your products.
Explore using alternatives to sugar. These could include birch-based xylitol, green stevia, natural syrups, concentrated fruit juice and date products. Consider replacing white sugar with coconut sugar. For products whose formulation requires crystallized sugar, you could use whole cane sugar.
5.

The rise of functional foods and ingredients

European consumers are looking for foods containing ingredients with specific health benefits. These are often referred to as 'functional ingredients'. Purchases of functional foods are increasing. The global market for functional foods is expected to grow to a value of USD 48,221 million by 2025. The five most popular functional ingredients are green tea, turmeric, apple cider vinegar, ginger and ginseng. They are used primarily because of their anti-oxidant and anti-inflammatory functions. Many processed fruits and vegetables are also promoted for their health-enhancing functions. They are often marketed as super foods. Examples include coconut water, edible nuts, dried tropical fruit, prunes and super-fruit juices.

The COVID-19 pandemic increased interest in the health benefits of food. It motivated consumers to buy products that support their immune systems. Companies are increasingly using ingredients (e.g. vitamin C, vitamin D, zinc, probiotics) in product formulations. According to Innova Market Insights, 60% of all global consumers want food and beverages that support their immune system. The fruit juice and beverage segment is a leader in immunity support. This is thanks to the use of additives such as vitamins, minerals, probiotics and popular super foods. Examples include ginger, acerola, matcha, turmeric, beetroot, spirulina and red berries. The juice industry has been capitalizing on this trend by introducing 'juice shots' – functional juices with added super foods and vitamins, sold in 100 ml packaging. Examples include Germany's Live Fresh and the UK's Moju and Plenish shots.
Tips:
Perform a laboratory analysis of the nutrients in your products. Use it as part of your product specification. If your product is rich in particular nutrients, you could use this as a unique selling proposition.
Start promoting your products based on their nutritional and functional benefits.
Avoid making health or nutritional claims that are not substantiated by scientific evidence. In the European Union, product labels are not allowed to claim that a food product prevents, treats or cures a disease.
6.

Organic and pesticide-free products are on the increase

Europe is the world's second-largest market for organic food, after the United States. Increasing the production and consumption of organic food is part of the official EU strategy. This strategy aims to increase the share of agricultural land in the EU that is used for organic farming to 25% by 2030. Another aim is to cut the use of pesticides by 50% by 2030.

Sales of organic foods continue to grow every year, as consumers seek:
Natural foods that make them feel like they are contributing to a better world
Foods that contain less or no pesticide residues
Foods that are produced in a more sustainable way.
Organic imports represented 2% of all EU imports. In 2020, the EU imported 2.79 million tonnes of organic agri-food products. The main suppliers of organic products to the EU are Ecuador (12%), the Dominican Republic (9%), China (8%) and Ukraine (8%). The largest product categories are tropical fruits, nuts and spices. Together, they represent 30% of the volume.
The largest market for organic food in Europe is Germany, followed by France and Italy. Denmark, Switzerland and Sweden have the highest per capita spending on organic products. Revenues from organic foods in Germany, increased from €10.3 billion in 2017 to €15.9 billion in 2021.
Organic food provides opportunities for suppliers from developing countries. It is nevertheless not easy to switch to organic production. Some fruit and vegetable varieties are highly sensitive to pests and illnesses. They cannot be produced organically in certain climates. Hydroponic agriculture is not deemed organic under EU rules. Obtaining organic certification is the best alternative to hydroponic produce. Some initiatives in Europe have established 'pesticide-free' certification schemes.
Many retailers have their own standards for minimum pesticide residues. Examples include the Danish operations of supermarket chains Coop, Aldi and Lidl. These chains are setting more stringent pesticide residue standards than required by law. Lidl requires 66%, Coop 50% and Aldi 20–30% less residues than mandated by EU legislation. European retailers will likely increase their demands concerning pesticide residues. Reducing pesticide residues in your products will improve your chances of selling to European retailers.
One interesting initiative comes from the German trader of dried fruit and seeds Specialty Brokers. The company registered the Integrated Pesticide Monitoring for its Turkish raisin cultivation project. In partnership with the processor Özgür, grapes are purchased only from certified and registered farmers. Farmers buy a maximum of four pro-active pesticides at subsidized prices from Özgür. All inspection reports are digital. They provide buyers with complete traceability back to the farmer.
7.

Natural and 'free-from' products are gaining market share

The market for products directed at food intolerances and allergies is experiencing significant growth. This is largely driven by the dramatic rise in food allergies and sensitivities. Many processed fruit and vegetable products are naturally free from additives and allergens. Producers are increasingly emphasizing this by adding claims on labels and packaging. Commonly used expressions include sugar-free, diabetic, gluten-free, lactose-free, allergen-free, trans-fat free, preservative-free and pesticide-free.

This new trend is generally described as 'clean labelling'. This term designates foods with ingredients that are natural, familiar and easy for the consumer to recognize and understand. For example, Döhler uses apple and citrus fibre powders as natural ingredients to give texture to a wide range of products. These products are minimally processed. They can be used instead of more processed ingredients (e.g. pectin, starch, locust bean, xanthan and guar gums).

Natural forms of processing (e.g. sun drying and fermentation) are increasing in the processed food industry. The use of juices as ingredients is also trending. For example, kombucha beverages are often sold with added super-fruit juices (e.g. cranberry or pomegranate). Sun drying is not favoured by European processors, however, as it increases the risk of contamination. Preservative-free (sulphite-free or sorbate-free) dried fruit is becoming popular on the market.

The healthy snacking trend continued throughout 2021. Healthy snacks have a significant vitamin content, are low in saturated fat and added sugars, and have a low sodium content. The healthy snacking market is expected to grow at an annual rate of 6% until 2025. Popular healthy snacking products include bars with natural ingredients. They can include dried fruit, cereals, nuts and nut butters. Examples of snacks with ingredients sourced from developing countries include guava fruit rolls from South Africa, mango and pineapple guava rolls from Ghana, banana bars from Colombia and baobab fruit bites from Africa.

Suppliers from developing countries can profit from these trends. They can start by developing product formulations without preservatives and other additives. They can promote products produced by simple processing without additions (e.g. frozen fruit or not-from-concentrate juices) as natural and 'free-from'.
Tips:
Invest in technology to shorten production processes. Simplify the supply chain, and increase naturalness and perceived value. This includes using not-from-concentrate juices, high-pressure processing of juices and pasteurizing dried fruit without preservatives.
Consider investing in natural ways of preserving fruits and vegetables. This could include sun drying, drying without preservatives, bleaching, preserving with natural acid and natural fermentation.
8.

Vegetable alternatives to animal products continue to be in high demand

Interest in vegetarianism and veganism is surging throughout Europe. This is due to the ethical, ecological and health-related advantages of these diets. Vegetarians comprise 10% or more of the population in Austria, Denmark, Finland, Germany, Sweden and the UK. According to a 2020 study by Veganz, the number of vegans in Europe has doubled between 2016 and 2020. It went from 1.3 to 2.6 million. Plant-based foods are better for the planet, as they a have smaller water and carbon footprint than meat production.

According to the European Vegetarian Union (EVU), Europe's plant-based food industry grew by 49% between 2018 and 2021. In 2021, it reached a total sales value of €3.6 billion. EVU is the organization behind the V-Label. V-Label is a standardized voluntary certification that identifies vegetarian and vegan products. According to its global survey, 92% of the 23,000 participants indicated that they would buy a product once they noticed that it carries the V-Label.

Vegan and vegetarian diets need to be supplemented with proteins that have the same nutritional value as animal proteins. For this reason, plant-based proteins are increasingly imported, produced and consumed in Europe. Edible nuts, beans, mushrooms and some vegetables are good sources of protein. Exporters of these products can profit from the rising demand. Edible nuts are a particularly popular option for healthy snacking. They are often used as ingredients in products, including plant-based drinks, desserts, yoghurt, ice cream and spreads. There has been an especially high average annual growth of 15% in the European sales of milk alternatives. Double-digit sales growth of plant-based plain milk has been reported in Poland (76%) and Romania (73%). Imports of all types of edible nuts increased between 2017 and 2021.

Source:

Eurostat 

The healthy snacking trend is continuing in 2021. Healthy snacks include those that have a significant vitamin content, are low in saturated fat and added sugars, and have a low sodium content. It is estimated that the healthy snacking market will grow at an annual rate of 6% until 2025. Popular healthy snacking products are bars with natural ingredients such as dried fruit, cereals, nuts and nut butters. Examples with ingredients sourced from developing countries are guava fruit rolls from South Africa, mango and pineapple guava rolls from Ghana, banana bars from Colombia and baobab fruit bites from Africa.

Substitutes for animal products are constantly appearing on the European market. Examples include vegan burgers, cheese, sausages and yoghurts. Proteins used in those products come from soya, peanuts, beans, seeds or pulses (e.g. lentils or chickpeas). One popular ingredient in vegan meat substitutes is jackfruit, which has a texture similar to meat. Coconut is used to produce vegan bacon. Many European companies are developing and popularizing plant-based proteins. Examples include meal-delivery platforms like Allplants and Simple Feast. Companies are also offering plant-based meat alternatives, like Planted, Meatless Farm, Heura and THIS. Some companies offer plant-based protein powders, drinks and supplements, like Huel, Simris and Nourished. Producers of plant-based snacks include Strong Roots.
Tip:
Use the opportunities offered by the growing demand for foods of non-animal origin. Promote edible nuts, coconut products and beans as healthy alternatives to animal protein.
9.

New processing technologies and digitalization

The main technology trends in the processed fruit and vegetables sector concern energy efficiency, the preservation of nutrients and digitalization. Heat treatments are still the most popular method of sterilization. Heat treatments require large energy consumption, however, and they can decrease nutrient content. To achieve sustainable food processing, the EU is supporting new innovative technologies. One example is the HiStabJuice project focus on juice colour and nutrient stability.
More sustainable and nutrient-saving technologies
The main advantage of new technologies is improved nutrient preservation. More research is still needed, as the final products often require refrigerated storage. Examples of emerging new technologies include:
Ohmic heating technology uses an electric current for product sterilization. It is much faster than classical heating. It is suitable for canned fruit and vegetables, fruit preparations and jams. It enables better colour and hardness of fruit pieces.
High Pressure Processing (HPP) technology uses high isostatic pressure on retail-packaged products. It is suitable for packaged fruit juices. It preserves more nutrients than heat pasteurization does. One disadvantage is that the product must be retail packaged, which is not common in the overseas juice trade. Another disadvantage is that products require cold storage.
Mechanical vapour re-compression (MVR) technology is useful in the production of concentrated juices. It can yield energy savings of more than 50% compared to common evaporation methods.
Pulsed Electric Fields (PEF) technology uses short electrical pulses for microbial inactivation. It could be suitable for various types of processed fruits and vegetables. It promotes better preservation of nutrients.
Pulsed Light technology uses high-intensity light pulses of short duration on foods.
Isochoric freezing preserves food at sub-freezing temperatures without the formation of ice crystals inside the product. It is more energy-efficient than traditional freezing methods are.
Vacuum-microwave drying technology uses a lower temperature than conventional drying methods. It is energy-efficient and provides a better-quality dried product. Bonduelle is combining vacuum-microwave drying and freezing for better taste and texture in vegetables.
Everything is going digital
Digitalization is another strong trend in the processed fruit and vegetables sector. This can be observed across the entire value chain. The main digital applications in the supply chain include:
Agriculture: precision farming, robotics and smart apps are making production more efficient and sustainable.
Fruit and vegetable processing: sensors are being used to measure raw material quality, to sort products and to automate production. At the sector level, big data are collected to establish quality parameters. Big data are also collected in processing facilities, often based on SCADA, and used to make better-informed decisions.
Smart logistics: robots, sensors and blockchain technology are making warehousing easier and more efficient. They are also reducing the costs of intermediaries and making the supply chain more transparent.
Export: big data are being used to generate market insights. For example, specialized companies are collecting enormous amounts of data from daily retail sales. These data are making it possible to gain insight into trends and to forecast market developments. Trade events and marketplaces are also becoming increasingly digital.
Retail sales: online shopping is booming around the world and has accelerated in response to the COVID-19 pandemic. The European online grocery market is expected to grow by 66% until 2023.
Consumers: there are many apps and devices that inform consumers about the food they are buying and that support personalized nutrition.
Tips:
Read our tips for going digital in the processed fruit and vegetables sector. Learn about specific digitalization trends and examples.
Apply to online matchmaking platforms. They are replacing physical visits to trade fairs. Examples of relevant platforms include: Saladplate, SupplySide 365, Ingredients Network, Frozen B2B and Vitafoods.
Talk to processing-equipment suppliers about the best digital and automatic processing solutions. Be sure that they are cost-effective and relevant to your type of production.
Always test machines and check their influence on quality before purchasing them.
Track the developments of blockchain applications in international transport and company logistics. Conduct cost-benefit analyses before deciding whether to use blockchain services.
Invest in online marketing. For more information on online promotion, read the CBI study on finding buyers on the European market.
10.

New sourcing origins and vertical integration are emerging

Fluctuations in the supply of raw materials are likely to increase, due to climate change. This will create difficulties for European processors. Dependency on a few source countries for materials used in production is increasing the sourcing problem. To ensure more stable supplies, European processors are looking for new sourcing origins. They are also investing directly in agricultural production in developing countries.

For example, the sourcing of frozen berry fruit has been expanding to new locations. Instability in berry prices is a cause of concern within the industry. Berries are used as ingredients in jams, dairy products, smoothies and in the frozen and confectionery industries. European processors rely primarily on production from Poland and Serbia. European buyers are increasingly buying from new entrants (e.g. Bosnia, Ukraine and Egypt).

One good example of vertical integration is a recent project funded by Danone in Mexico. The project helps to develop new areas for berry cultivation. The heart of the Mexican berry industry is the State of Michoacán. Danone intends to diversify production by supporting new areas. The goals of the project are to expand the company's sourcing opportunities, to support the growers and to ensure fair payments for farmers.

Other recent examples of vertical integration of European sourcing activities include:
HPW opening new fruit-drying factories in Kenya and in Ivory Coast
The Swiss company Hylea recently opening a processing plant for Brazil nuts in Bolivia's Pando department, in its first move to control its entire supply chain for Brazil nuts.

This study was carried out on behalf of CBI by Autentika Global and updated by M-Brain GmbH.
Please review our market information disclaimer.
Search
Enter search terms to find market research