Which trends offer opportunities or pose threats on the European processed fruit and vegetables market
Over the past year, the leading trends influencing the processed fruit and vegetables market in Europe involved sustainability, especially environmental issues such as waste reduction, changing consumer habits towards more personalised and healthier diets, food safety, transparency and convenience. Investing in more sustainable production and partnerships with European buyers to develop and promote healthy and sustainable products will increase opportunities for exporters from developing countries.
1.

Sustainability is the main trend with many challenges

Sustainability has become one of the most important topics on the official European agenda. The European Union implemented a set of policies and actions called the European Green Deal. The aim of the European Green Deal is to make the European economy more sustainable and climate neutral by 2050. The action plan also includes a Farm to Fork Strategy aiming to make food systems fair, healthy and environmentally-friendly.

Policies of the Farm to Fork Strategy include specific measures, which may impact supply from developing countries. Examples are a 50% reduction of the use of pesticides and increasing the share of agricultural land used for organic farming to 25% by 2030. This means many pesticides will be banned, and residue levels will decrease gradually over the next years.

Different sets of actions will be implemented to support the four main elements (showed in picture 1) of the Farm to Fork Strategy. Some aspects of the specific actions which may impact sourcing from developing countries are:
Sustainable Food Production activities include reduction of pesticide usage and increase of organic production. This may be challenging for suppliers from developing countries as they would need time to reduce the use of pesticides if they want to export to Europe. On the other hand, it is expected that the consumption of organic products will increase, which will provide opportunities for organic certified products.
Sustainable Food Processing and Distribution activities will include reformulation of processed food, including setting maximum levels for certain nutrients. This could mean a decrease of sugar usage in products such as canned fruit or jams and marmalades. A decrease of salt content in certain canned vegetable products is expected too. Also, food contact materials will be more sustainable. For suppliers from developing countries this can be challenging as some sectors commonly use plastic for export bulk packaging (for example the fruit juice and edible nuts industry).
Sustainable food consumption activities will stimulate consumers to make healthier food choices. Many types of processed fruit and vegetables and edible nuts are perceived as healthy. So European activities should also boost consumption of those products. However, more scientific research is needed to prove the health benefits of certain products. This means more clinical research and laboratory testing is expected on food products.
Food Loss and Waste Prevention activities may not have a large impact on sourcing from developing countries for all processed fruit and vegetable categories. The canned fruit and vegetables sector is already decreasing the packaging volumes of retail cans, jars and bottles to reduce food waste and to make products more convenient.
Picture 1: Main elements of the Farm to Fork Strategy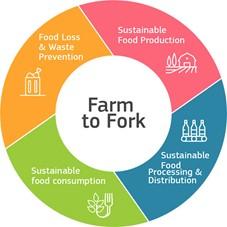 Source: The European Commission
European companies expect an increase in the use of sustainability certification schemes to ensure that food imported into the European Union is gradually produced in a sustainable way. Still some common certification schemes are not widely accepted, and importers, traders and retailers independently decide which certification to use. For suppliers from developing countries this could mean increasing certification requirements and a more complicated sourcing process.
Several sustainability private certifications, standards, audits and initiatives are already well known. Some focus on social and ethical impacts, such as FairTrade, SMETA, Ethical Trading Initiative, amfori BSCI, BCorp or Fair for Life. Some focus on a wider range of environmental issues such as Rainforest Alliance or ISO 14000, while some only deal with CO2 emission such as MyClimate or Carbon Footprint Certification.
There are also certification schemes that use a wide range of aspects, often based on ISO 26000 Guidance. One relatively new certification scheme supporting several sustainability aspects is Planet Proof. Planet Proof includes several themes such as energy and climate, crop protection, biodiversity and landscape, soil fertility, clean water, packaging and waste. There is still no official European requirement regarding sustainability certification. Many European buyers believe that some kind of certification will be obligatory.
In the processed fruit and vegetables sector there are several private sustainability initiatives. For example in the edible nuts sector, Sustainable Nut Initiative is supported by many large traders and processors. Joining this initiative can make suppliers from developing countries more competitive on the European market. In general, suppliers that care for farmers and for improving their livelihoods have a competitive advantage in European markets.
Another important initiative on sustainability in the processed fruit and vegetables sector is the Sustainable Juice Covenant (SJC). Formed by the leaders in the fruit juice industry, the covenant's goal is to make the global sourcing, production and trade of fruit- and vegetable-derived juices, purees and their concentrates 100% sustainable by 2030. The European Fruit Juice Association (AIJN) also established the Juice CSR Platform to increase social and environmental standards at the farming and processing stages through sustainability certifications.
You can find more information on some specific sustainability trends in the chapters below.
Tips:
Provide specific information to final consumers about your sustainability approach. You can use the internet, social media and even product packaging to tell your story and promote the positive effects on the communities where production takes place. This will be especially important for younger consumers in Europe, who want to know the story behind the brands they buy.
Use sustainable approaches not only to satisfy consumers but also to improve production efficiency and to cut costs. In the fruit industry, rather than thrown away, surplus produce can be repurposed and used in flavours or aromas, as well as natural animal feed or compost. In nuts production, shells and tree pruning can produce energy. In Argentina, for example, peanut husks are being used in the production of panels for architectural and design applications.
Consider using sustainability services and tools such as Fair Match Support to track, analyse and improve your sustainability.
Review corporate social responsibility (CSR) good practice examples on the Juice CSR Platform, which was co-initiated by the European Fruit Juice Association (AIJN) and Sociability and is endorsed and co-funded by the European Commission.
Get familiar with social and ethical standards on the International Trade Centre's Sustainability Map portal. You can use ISO 26000 guidance to improve your business' sustainability.
2.

Supply chains are becoming digital

Digitisation is already a part of our normal daily lives, not only in Europe but worldwide. Digitisation is also becoming increasingly important in the sourcing of processed fruit and vegetables. New trends include the use of digital tools and online activities to make the whole supply more transparent and sustainable. Digitised processes used in the supply chain of processed fruit and vegetables include:
On the farm level precise farming is used to decrease the use of pesticides and to use irrigation and fertilisation more efficiently. Advisory services such as digital and automatic weather stations are increasingly used.
On the processor level new technologies, equipment and databases enable precise measuring of the main quality parameters for certain products. This improves transparency and control over quality and food safety issues. In the processed fruit and vegetables sector this involves monitoring parameters such as moisture, brix level and size, as well as controlling foreign bodies.
On the sector association level lots of data is collected to establish quality parameters and gain market data. For example, SGF (self-control body of the juice industry) collects large amounts of laboratory and market data from around the world. This data is used to understand and improve quality parameters and to have better control over the supply chain. Collected data is also used to gain insights into the latest technologies, analysis methods and product innovations.
During transport blockchain technology is increasingly used to reduce the costs of intermediaries. Blockchain systems allow each stakeholder in the supply chain to view the progress of goods through the supply chain, monitor the container movement in real-time and to see the status of the customs documents. In addition to tracking the goods, blockchain technology can encrypt important documentation (for example quantities, prices and contracts).
Online retail food sales were specifically boosted during the COVID-19 pandemic in 2020. Exporters of processed fruit and vegetables still sell most of their products in the traditional B2B way, but there is a significant switch to online marketing. Some of the large traders and processors established online selling platforms. Döhler is an example of such a company, as one of the largest processors and traders of fruit and vegetables. Döhler has opened online shop for ingredient users. The German trader Bösch Boden Spies is another example, they established a B2B online shop.
On the consumer level many mobile applications are now helping consumers to make better informed food choices. Some applications simply help consumers to make online orders such as Deliveroo or many apps developed by specific retailers. Another type of applications help consumers to be better informed about nutritional values of food such as Open Food Facts. Very popular are wellness applications monitoring calory intakes and physical activities such as MyFitnessPal. Finally, producers use QR codes on the retail packaging to inform consumers about origin, farmers and to show more transparency.
Online trade events are being held, with marketing strongly focused on the online activities. The leading trade fair organisers started to organise online platforms and events. SIAL, the leading event in 2020, organised events such as SIAL Innovation or SIAL Insights online, for example. Another trade fair, Food Ingredient Europe, organised the FI Connect matchmaking event.
Picture 2: Example of the digitalisation in the fruit juice industry – analysis of the main components from passion fruit juices from Ecuador, Peru and Vietnam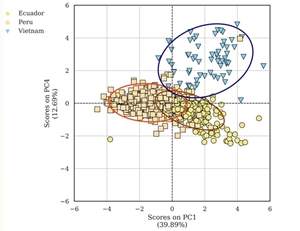 Source: SGF
Tips:
Apply to online matchmaking platforms, as there are replacing physical visits to trade fairs. It is especially important to be active and keep your network of contacts during the COVID-19 pandemic.
Talk to processing equipment suppliers about the best cost-effective digital and automatic processing solutions relevant for your type of production. Always try to test machines and check their influence on quality before purchasing them.
Monitor the developments of blockchain application in international transport and logistics from companies. Make cost and benefit analyses before deciding if you will use blockchain services.
Strongly invest in online marketing. For more tips related to your online promotion, read the CBI study on finding buyers on the European processed fruit and vegetables market.
3.

Imports, retail and online sales up, food service down

The coronavirus outbreak in 2020 has greatly affected people's behaviour. One of the first reactions across Europe was the fear of scarcity. People started buying huge amounts of shelf‑stable and processed food. This panic buying had a positive effect on shelf-stable products such as canned beans, fruit and vegetables. Also, sales of frozen fruit and vegetables increased. This was a surprising switch from buying fresh products to shelf-stable food. Producers of fresh products have had many order cancellations, forcing them to redirect products to processing.

The import of many categories of processed fruit and vegetables increased during 2020. The example of cashew nut imports is presented in picture 3.

Picture 3: Illustrative example of impact of COVID-19 – import of cashew nuts, thousand tonnes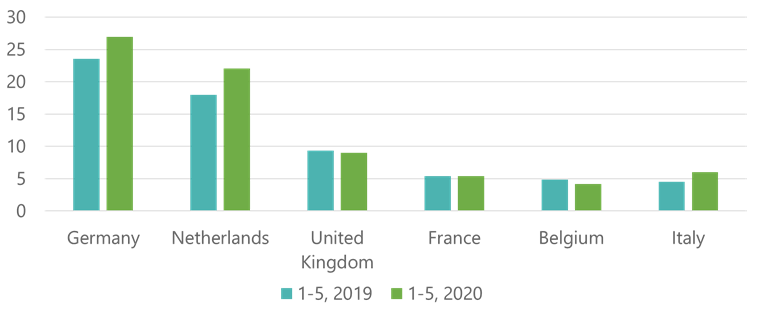 Source: ITC TradeMap
Food and grocery sales increased across all European markets. For example, between February (when the pandemic started to affect Europe) and June 2020, retail food sales increased by 11% in the UK, 15.2% in Spain and 10% in the Netherlands compared to the same period in 2019. This is largely attributed to lockdowns resulting in all meals being taken in the home, rather than eaten in restaurants. E-commerce surged across Europe during the lockdown, as it became the safest way of shopping.
It is expected that online food sales in Europe will remain popular even after the COVID-19 pandemic is over. It is difficult to forecast the increase of the online food shopping sales as it would differ per European country, but it is expected that the share of online grocery sales will continue to increase. For example, according to research conducted by Rabobank, online grocery sales could go up 6% by the end of 2021.   
Tip:
Increase your network of logistics services to ensure the timely shipments of goods. One of the most frequent problems was delay of deliveries due to increased controls and a lack of containers and trucks.
4.

Increased consumer awareness about what they eat

Consumers are increasingly watching what they eat, trying to reduce fat, sodium and sugar intakes. As consumer become better informed about food, they want to see health and nutrition facts on the packaging of products they purchase. A recent survey by IRI International revealed that 70% of people across Europe are buying food with less salt, sugar, fat and calories. This is an increase of 41% in just three years. The fruit and vegetable industry in Europe is following this trend by launching innovative products and informing consumers about food characteristics on product labels.

European consumers have been getting better informed about nutritional value and food product composition for the last several years. Part of this process includes spending more time reading labels than before. In response to this trend, some food companies have started to place quick response tracking codes on their products for consumers. Some of these codes link to a corporate site, where consumers can obtain more information on laboratory tests and ingredient origin, for example.

Providing information on sourcing and ingredients through new digital packaging printing methods is on the rise. One example is the growing use of QR codes in the foodservice industry, helping consumers make purchase according to their lifestyle.

An ongoing development is that of front-of-pack labelling schemes, which inform consumers about the nutritional quality of a product by using a simplified letter and colour system. The most famous and widely accepted nutritional labelling scheme by consumers is nutri-score. Nutri-score is supported by European consumer associations and accepted by private label products for retailers in France, the Netherlands and Belgium. However there is some opposition to this system (especially in Italy). There are also other front-of pack schemes in use, such as Nutriform battery (Italy), Traffic Light Labelling (the United Kingdom) or Keyhole (Sweden).

Picture 4: Examples of front of pack nutritional labelling used in Europe

Source: Author compilation from several sources
The growing attention to health and wellness among consumers is also strongly impacting the fast food offer in Europe. Many operators have started redefining products and offering healthier options. For example, many producers of wraps and burgers are now offering whole-grain bread and tortillas but also offering vegetarian and vegan choices in their menus. The industry is also adding functional ingredients to food products. In this regard, a popular trend in the fruit juice and drinks industry is the creation of drinks using antioxidants, phytonutrients, enzymes, probiotics, vitamins and minerals.
The European consumers' concerns about sugar are negatively affecting the fruit juice, jams and dried fruit industry. Healthcare professionals and consumers in Europe have been overwhelmed with information about the excessive levels of sugar in fruit juices in recent years. This scenario has resulted in a drop in fruit juice consumption, at least until 2019. To help stimulate consumption of 100% fruit juices, the European Fruit Juice Association started a promotional campaign using verified scientific information about the health benefits of fruit juice consumption, called Fruit Juice Matters.
Concerns about excessive sugar intake have also negatively influenced sales of jams and marmalades in several European countries, leading to increasing prices in some cases, and the introduction of smaller packaging in others. Due to rising health concerns, sugar is being replaced with alternatives, such as artificial sweeteners, fructose and concentrated fruit juices. The amount of fruit in jams is also increasing up to 70%, while labels now display claims such as 'less sugar, more fruit'.
Many processed fruit and vegetables are promoted as superfoods, including coconut water, edible nuts, dried tropical fruit, prunes and superfruit juices, among others. According to Dutch processor SVZ, superfruit juices is a wide category that covers berries, tropical fruits and coconuts as well as fruit and vegetable combinations, including carrot, red beet, green vegetables such as spinach and kale, as well as cucumber. Superfruit are also finding applications in the cosmetics industry.
Developing country suppliers can take advantage of this trend by promoting their products to importers and end consumers using online campaigns. Some examples of information that is relevant to consumers can be found on the websites of the Fruit Juice Matters campaign of the European Fruit Juice Association and the Nutfruit Power campaign of the International Nut and Dried Fruit Council.
Replacing sugar with alternatives can open more opportunities for developing country suppliers of processed fruit and vegetables in the European market. Examples of sweeteners include birch-based xylitol and green stevia, as well as natural syrups, such as coconut syrup and maple syrup. Lucuma, prickly pear, date syrup and liquorice root are other natural sweeteners worth exploring. If product formulation requires the use of crystallised sugars, then white sugar can be replaced with coconut sugar or whole cane sugar.
Tips:
Promote dried fruit and edible nuts using the resources from the International Nut and Dried Fruit Council.
Consider replacing added sugar in your products with other sweetening ingredients. An interesting alternative is using concentrated fruit juice as a natural sweetener in jams and dried fruit. Other frequently used sugar replacements are dates, date paste and date syrup. Other possible sweetening agents include lucuma powder, mesquite, stevia, banana puree and tree syrups, such as maple, birch, agave and yacon. In the fruit juice industry, coconut water is used as an innovative way to preserve sweetness, but to reduce sugar content in juices.
5.

Recyclable packaging

Sustainable food packaging was a very strong trend in the processed fruit and vegetables industry in the past year. New packaging options using sustainable, renewable and recyclable raw materials emerge in Europe frequently nowadays. Recyclable packaging is also supported by the European Commission. European producers continue to reduce the use of bisphenol A (BPA) in the manufacture of packaging for food and beverages, as the EU develops draft regulations on BPA limits.

Demand for sustainable packaging is likely to increase in the short and long terms. The EU has announced the introduction of new legislation concerning plastic packaging, mandating Member States to collect 90% of their plastic throw-away bottles from 2029. Also, some single-use plastics will be banned already from 2021 and the use of other types will be restricted. Items on the banned list include oxo-degradable plastic and expanded polystyrene take-away food and drink containers.

By 2030, all bottles in the EU must be made from at least 30% recycled materials. By 2024, all beverage bottles under 3 litres must be closed using only tethered caps. Tethered caps are caps which remain attached to the bottle once it is opened. The aim of this rule is to reduce the number of caps that are found in nature, as bottle caps represent 10% of plastic litter found on European beaches, for example.

During a meeting of the European Council in July 2020, it was agreed that a new tax on non-recycled plastic packaging waste will be applied in the European Union from 1 January 2021, at a rate of €0.80 per kilogram. The tax was announced within the agreed EU recovery deal to support member states during the COVID-19 pandemic, and the revenue generated by the tax is set to go directly into the EU budget.

Examples of new recyclable packaging in Europe whose presence is likely to grow include:
materials containing polyethene from sugar cane that can be recycled into new plastic
wood pulp and corn used for biodegradable packaging, such as the ones used by this UK producer of dried fruit snacks
the innovative bioplastic introduced by Austrian fruit processor Agrana, which is starch-based and 100% home compostable without leaving microplastic residues.
100% recyclable bottles, launched by German company KHS
Tetra Pak has announced the launch of its connected packaging platform, which will use digital tools such as code reading to provide full information about the traceability of product throughout the supply chain. This information will transform milk and juice packaging into interactive information channels through the use of digitalisation. Tetra Pak claims that the connected packaging platform 'will bring new benefits to food producers, retailers and shoppers'.
Apart from new materials, glass and aluminium packaging solutions will increasingly replace plastic packaging in Europe.
Sustainable packaging in business-to-business trade of processed fruit and vegetables means increased use of corrugated and millboard carton boxes, plywood boxes, jute bags, linen fabric bags and glass jars. The use of these materials opens opportunities for developing countries suppliers. On the other hand, they should reduce the use of polyethylene bags, plastic containers and foil bags. In many cases, suppliers can become more attractive to European buyers, while reducing packaging costs at the same time.
In bulk fruit juices, the switch to non-plastic materials will probably go slower. Plastic materials such as plastic drums and bags in a box made of polypropylene and polyester are still very convenient in transport and logistics. However, in the future, they might be increasingly replaced with steel drums and containers.
Tip:
Follow the leading packaging trends in Europe by connecting to information sources such as Packaging Europe.
6.

Organic and pesticide-free products on the increase

The European market for organic food is the second-largest in the world, after the United States. It continues to grow strongly in sales volume in several segments, as consumers look for:
natural foods that make them feel like they are contributing to a better world;
food that contains less or no pesticide residues;
food that is produced in a more sustainable way.
The number of processors and importers of organic food is growing faster than the number of producers, indicating that organic production cannot keep up with demand, which opens up new opportunities for exporters.
In Europe, organic food sales are growing every year. In 2018, the European organic market reached a value of €40.7 billion, which is 7.8% more than in the previous year. The largest market for organic food in Europe is Germany, with a turnover of over €10.9 billion, followed by France (€9.1 billion) and Italy (€3.5). Denmark, Switzerland and Sweden have the highest per capita spending for organic products.
Organic imports represented 2% of all EU imports. The Netherlands is the largest European importer of organic food with a 32% share, followed by Germany (13%), the United Kingdom (12%) and Belgium (11%). Organic tropical fruits, nuts and spices are the food categories with the highest import share of organic products.
Although the organic food market provides opportunities for developing country suppliers, switching to organic production is not easy in many cases. For example, some fruit and vegetable varieties are highly sensitive to pests and illnesses and cannot be efficiently produced under specific climatic conditions, for example where humidity is high due to frequent rain. Because hydroponic agriculture is not automatically deemed organic under EU rules, obtaining organic certification is the best alternative for hydroponic produce. Seeking solutions to those production issues, some initiatives in Europe have established 'free from pesticides' certification schemes.
Free from pesticides initiatives allow for the controlled use of phytochemicals combined with biological control and natural stimulation. The goal of these initiatives is to support controlled production with total degradation of residues, leading to less environmental impact. Under these schemes, residue free means that any active ingredient is measured at under 0.01 ppm when analysed under European maximum residue levels regulation. Zerya is an example of such an initiative, with an increasing number of certified producers. Consumer awareness and health concerns about pesticide use are on the rise, leading consumers to demand simple but accurate information regarding these issues.
Many European retailers have their own standards of minimum pesticide residues, as well as many other requirements for suppliers. Recent examples include the Danish operations of supermarket chains Coop, Aldi and Lidl, which request more stringent pesticide residues than legally required: Lidl requires 66% less residues, Coop 50% less and Aldi 20%–30% less than mandated by EU legislation. More European retailers are expected to increase their demands regarding pesticide residues. Suppliers that are able to reduce pesticide residues in their products will improve their chances of selling to European retailers.
7.

Natural and free-from products on the rise

The European market for products directed at food intolerances and allergies has experienced significant growth recently, driven largely by the dramatic rise in food allergies and sensitivities. Many processed fruit and vegetable products are naturally free from additives and allergens, but producers increasingly emphasise that anyway by adding claims on labels and packaging using the expressions sugar-free, diabetic, gluten-free, lactose-free, allergen-free, trans-fat free, preservative-free, pesticide-free and others.

This new trend is generally described as clean label, meaning foods whose labels carry claims that their ingredients are natural, familiar and easy for the consumer to recognise and understand. Product launches with clean label claims in Europe grew by 10% annually in the last five years. Sales of free-from products in the UK, for example, are expected to reach £673 million by 2020, a triple increase over a period of 10 years. In another example, the global market of lactose-free dairy products reached US$10.6 billion in 2017 and is expected to grow to approximately US$17.8 billion by 2027.

Natural forms of processing such as sun drying and fermentation are also gaining ground in the processed food industry, increasing sales of juices as ingredients. For example, the now popular kombucha beverage is increasingly sold with the addition of superfruit juices, such as cranberry and pomegranate. On the other side, sun drying is not favoured by European processors as it increases the risk of the contamination. Preservative-free (sulphite-free or sorbate-free) dried fruit is becoming popular on the market.

One healthier approach to processing includes high-pressure processing (HPP). HPP is used to produce cold-pressed juices. Micro-organisms in juices are inactivated by means of high pressure and the shelf life is prolonged compared to freshly squeezed juices. Examples of HPP juices include juice with added aromatic herbs (Daregal, France), vitamin fortified juices (Cold Press, the UK) and Live Fresh (Germany). Aside from retail products, HPP products are also produced by ingredient suppliers (for example Lemon Concentrate company).

Labels connected to specific dietary regimes, such as the denominational halal and kosher for Islamic and Jewish populations, are also growing in the market. These certifications have become increasingly important, for example, for airlines and foodservice companies.

Suppliers from developing countries can leverage these trends by developing product formulations without preservatives and other additives. Products commonly produced by simple processing without additions, like frozen fruit or not-from concentrate juices, should be promoted as natural and free from.
Tips:
Consider investing in technology to shorten production processes, simplify the supply chain, increase naturalness and perceived value. This includes, for example, using not-from-concentrate juices, high-pressure processing of juices and smoothies and pasteurising dried fruit without preservatives.
Consider investing in natural ways of preservation, such as sun drying fruits and vegetables, drying fruits and nuts without preservatives or bleaching, preserving vegetable juices with natural acid and vegetables by natural fermentation.
8.

Vegetable alternatives to animal products in high demand

Interest in veganism is surging in Europe. Many Europeans are adopting a (partly) vegan lifestyle. Vegans do not consume animal-based foods (like eggs and milk), they only consume plant-based foods like vegetables, pulses, mushrooms, seeds and grains. A vegan diet needs to be supplemented with food that has the same nutritional value as animal proteins have. Edible nuts, beans and some vegetables are a good source for this. Europeans choose to eat (partly) vegan for several reasons, including the ethical, ecological and health-related advantages.

According to Euromonitor, the global retail sales of meat substitute products will increase by 12% in 2020. The rapidly increasing growth of the vegan lifestyle can be illustrated by data from the United Kingdom, where a poll by the Vegan Society showed that the number of vegans in Britain has risen by more than 360% over the past decade, with over 500,000 people now adopting a vegan diet. Over the past two years, the number of Brits who have eaten meat-free foods has increased from 50% in 2017 to 65% in 2019.

In recent years, the vegan population in Germany also rapidly increased. Since 2014, the number of people identifying as either complete or nearly complete vegetarians has grown by approximately 700 thousand individuals, reaching about 8 million people in 2019. In 2019, a vegan supermarket chain, Veganz, conducted a survey in which it asked customers the reason why they had become vegetarians. At least 55 percent of the participants cited health reasons, and 80 percent cited environmental reasons.

The European Vegetarian Union (EVU), the umbrella organisation of vegan and vegetarian associations and societies throughout Europe, is the background organisation for the V-Label, a standardised voluntary European certification scheme that aims to make it easier to identify vegetarian and vegan products and services.

Processed fruit and vegetable producers are also taking advantage of the vegan trend, reformulating and creating new products. For example, jackfruit and coconut are now frequently used as meat substitutes, so many companies are creating new products using these ingredients. Until recently, products such as vegan burgers were mainly sold by independent brands, but now many retailers introduced private labels for those products. Examples include Beyond Burger by Lidl or IKEA's vegetable alternative for meatballs.

The growing consumer interest in vegan diets is helping to fuel demand for healthy snacks, such as nuts and nut products, including almond and cashew nut butters, as well as drinks, such as nut milks. The rationale behind it, is that consumers on vegan and vegetarian diets must still meet their protein needs and deal with lactose intolerance while not consuming animal protein.

However, many consumers switching to vegan and vegetarian diets still like the taste of meat, so food producers are introducing new plant-based products intended to look and taste like meat. Several companies recently joined a project at the Netherlands' Wageningen University to help develop a plant-based steak with similar taste, texture and appearance of beef. A similar product is a vegan steak that resembles pork muscle, cut by Spanish company Novameat. This pork is produced by the use of 3D printing technology.
Tip:
Take advantage of the opportunities in the growing demand for foods of non-animal origin. Edible nuts and nut milks, such as hazelnut, almond and coconut milk, can be promoted as healthy alternatives to animal protein. Implementing these strategies may require investments in production technology.
9.

Convenience

The European demand for processed fruit and vegetables offered in smaller portions that are customised to individual diet needs is growing. Vegetable manufacturers have also responded to this trend by introducing ready-to-cook frozen blends. Examples include ready-made frozen vegetables for pasta or frozen ready meals for microwave cooking. Convenience can also be aimed at retailers, not just consumers. For example, heat-resistant cartons like Tetra Recart are gaining popularity and replacing cans. They are lighter and save shelf space due to their rectangular shape.

A good example of the convenience trend is the growing demand for frozen fruit and frozen purees. Frozen fruits are convenient for consumers, who do not need to wash, peel and cut fruit. Mixtures of ready-made fruits for smoothies is an important trend in the frozen fruit category. Several brands and retailers have launched smoothie blend brands, such as REWE Bio Smoothies (Germany), Smoothie Rebels (Netherlands), Love Smoothies (UK), Farmersland (Germany) and Red Smoothie (Spain). Some of these smoothie products do not even require mixing in a blender or food processor but only the addition of water.

Another example of convenience products introduced in the processed fruit and vegetables industry includes small portions to satisfy targeted daily intake of specific nutrients, such as single snacking portions of dried fruit dubbed dried fruit shots and small portions of fortified fruit or vegetable drinks known as juice shots.

Dried fruit shots have recently been launched by the leading dried fruit company in the UK, Whitworths, while many companies produce juice shots, including Proviva (Sweden), Bumble Zest (UK), Kloster Kitchen (Germany) and Organic Human (Denmark). Made from fruit juices, vegetables, herbs and functional ingredients, juice shots are promoted as superfood targeting specific health issues.

A specific trend connected to healthy snacking is growing presence of fruit, nut, cereal and protein bars. Some companies are producing fruit bars directly in developing countries, such as Switzerland's Fruit Group, which produces Purafruta fruit bars in Colombia, and HPW, which produces fruit bars from tropical fruits in Ghana.
Tips:
Discuss with your buyers about the best formulations for frozen fruit mixtures that consumers can use to make homemade smoothies.
Consider investing in value-added products, such as fruit bars and ready-to-eat fruit purees.
Consider adding value to your range of dried fruit and juices. Consider also using the by-products of juices by extracting valuable ingredients, such as proteins and natural colourants. Examples of produce that provide natural colourants include black carrot, carrot, elderberry, plum, beetroot and sour cherry.
10.

New sourcing origins and vertical integration

Fluctuations in the supplies of raw materials, which are likely to increase due to climate change, creates difficulties for European processors. Strong dependency on only a few source countries for materials used in the production of specific products compounds the sourcing problem. To ensure more stable supplies, European processors are looking for new sourcing origins and investing directly into agricultural production in developing countries.

Sourcing of frozen berry fruit, for example, has been expanding to new locations. Instability in berry prices concerns the industry, because berries are widely used as ingredients in jams, dairy products, smoothies and in the frozen and confectionery industries. European processors rely mostly on production from Poland and Serbia, but European buyers are increasingly buying from new entrants, such as Bosnia, Ukraine and Egypt.

Ukraine, for instance, has become a growing sourcing origin of several products, including walnuts, tomato products, dried fruit and berries. Tomato production in Ukraine has grown 16% annually since 2012, reaching 850 thousand tonnes. Some experts expect Ukraine will increase its tomato processing capacity further to one million tonnes in the next few years. Ukrainian tomato exports have found inroads into Poland, Germany, Belarus and the Czech Republic.

A good example of vertical integration is a recent project funded by Danone in Mexico to help develop new areas for berry cultivation. The heart of the Mexican berry industry is the State of Michoacán, but Danone intends to diversify production by supporting new areas. The goal of the project is to expand the company's sourcing opportunities, while supporting growers and ensuring fair payments for farmers.

Other recent examples of vertical integration of European sourcing activities include:
Italy's Ferrero, the world's largest hazelnut purchaser, started negotiating with growers in Azerbaijan and Georgia, as part of its plans to acquire a plantation in the Caucasus region. This in turn is a continuation of Ferrero's production projects already launched in several countries in South America and southeast Europe.
Swiss company Hylea has just opened a processing plant for Brazil nuts in Bolivia's Pando department, in its first move to control its entire brazil nuts supply chain.
This study has been carried out on behalf of CBI by Autentika Global.
Please review our market information disclaimer.
Follow us for the latest updates
Search
Enter search terms to find market research