10 tips for finding buyers on the European home decoration and home textile market
Finding European buyers for your home decoration and home textile (HDHT) products is not easy. Being successful depends on factors such as the quality of your product, the number of suppliers already on the market, and the competitive landscape. The following tips will help you along by giving you an overview of the steps to take in your search.
1.

Clearly define your offering

Before you can start searching for buyers, you need to clearly define your offering. Having a clear offering or proposition allows potential buyers to learn exactly what you can do for them, and why they should choose you. Create a detailed description of your product range and list the quality and quantity you can provide, your price category, and any certificates you may have (organic, sustainable, etc.).

After you have defined your product offering, you should identify your unique selling point (USP): what makes your product different from its competitors? For example, do you use special local techniques and materials? Is your product innovative? Or do you simply provide excellent quality or attractive prices? Adding specific services to your offering is also becoming popular, such as design and sample development.

Defining your product and USP gives you a good idea of the type of buyers to look for. For instance, if you offer organic, sustainable home textiles, you can skip buyers that only sell low-cost mainstream products. This will save you time when creating a list of potential buyers.
Tips:
Be thorough when describing your product and USP. The more precise you are about what you offer, the better you can target the right buyers.
See our study on doing business with European Buyers for more information on USPs.
2.

Determine your segment

After defining your offering, you need to determine what segment it fits into. In HDHT, targeting the appropriate segment is more important than focusing on a specific country. This is because most western European importers sell their products across Europe, making the country of entry less relevant. Every European country has segments ranging from low to high end, although their sizes vary per country and product. If you connect to importers and distributors in your target segment, they will then sell your product in that segment across Europe.

Marketing your products randomly will lead to failure. To determine in which segment your offer will fit best, you should look at aspects such as pricing, quality, style and volumes. In general, the HDHT market is segmented into:
Low end: everyday basics that are functional but not always durable — designs are basic and prices low;
Mid end: trendier, but still affordable — functional and decorative pieces that fit into a specific style (such as cottage or minimalist), with opportunities to add value at the mid-high end;
High end or premium: more exclusive and expensive — with a focus on design, craftsmanship, sustainable values and branding, and high quality expectations.
For most products, the mid-mid to mid-high market generally has the highest potential. Targeting this segment allows you to avoid competition from the dominant low-cost high-volume manufacturers that are active in the low-end market. You have a better chance to create a niche market for your products in the mid-end market. It offers good opportunities for you to add value by using authentic materials or techniques that tell a story about the origin of your product. Sustainable values also have a place here.
Tips:
See our market-wide studies on trends, requirements and demand for more information about the characteristics of the European HDHT market.
For more product-specific insights, see our studies about promising export products.
Browse distributor websites to further increase your knowledge of market trends, different forms of communication, pricing, design inspiration, consumer needs, and buyer requirements.
3.

Target the right buyers

The next step is to select the right buyers. To find a good match for your company and products, you need to know your options. HDHT products generally reach the European market via traditional patterns. A lot of import takes place via importers/wholesalers that supply to retailers. Larger retail chains often bypass the importers/wholesalers and import themselves, while more and more smaller retailers have also started buying directly from the supplier. In some cases, buying agents play a role.

Figure 1: Trade channels HDHT in Europe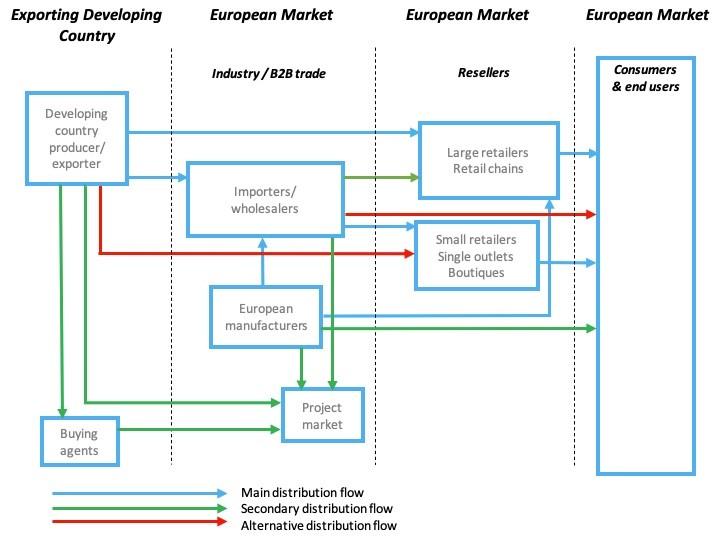 Although the exact patterns vary per product, Figure 1 shows you the main types of buyers in the European HDHT market:
A typical example of an importer and wholesaler is Chehoma from Belgium. They develop their own product ranges in collaboration with many producers, mainly from Asia. Maisons du Monde is a good example of an importing retailer. This French chain has more than 250 shops in Europe. An importer can also be both a wholesaler and a retailer: Lifestyle from the Netherlands has its own shops and sells their products to other retailers as well.
You can use the offer and target segment you have just defined to search for appropriate buyers. Does your product offer match or complement theirs? Which segment do they focus on? Do the values they communicate, such as sustainability or craftsmanship, match your USP? And of course, what is their role in the distribution chain: do they import directly, do they use agents? Be aware that importers and wholesalers and importing retailers usually buy medium to large volumes, while small retailers prefer small quantities delivered to their doorstep.
Ecommerce
The share of ecommerce in HDHT sales is growing, especially since the COVID-19 pandemic. Online stores can help you reach a broader range of customers, as they are well established and diversified. Although it is practically impossible for exporters like you to sell online directly to European consumers, European retailers often combine online and offline channels. Supplying to them (or to purely online retailers) is no different from supplying to companies that only sell in physical stores, since they also need to take stock before they can sell.
Tips:
Make sure you have clearly defined your offering and selected the appropriate segment before you start searching for buyers.
For more product-specific insights, see our studies about promising export products.
Instead of trying to directly sell your product online to European consumers, find an importing wholesaler or retailer with a strong online presence.
If you are considering supplying to independent retailers, see our study on alternative distribution channels.
Use the TARIC database to find out if you qualify for a preferential tariff. If so, you need a Certificate of Origin to claim it.
4.

Invest in your online presence

It is important that buyers looking for new offers, or potential buyers that you have contacted, can find you online. You need a professional, well-designed and up-to-date company website that reflects your offering, your target segment and your ideal buyer. To do so, you should clearly present your unique selling point, with a strong message. Luxury lifestyle company WOO is a good example of this.  Determine how you can attract potential buyers to your website — what is important to your target buyers? — and implement it on your website.

When your website is up and running, you need to make sure potential buyers can easily find it. They may use search engines to find new suppliers, so you should be visible in the search results. To boost your ranking, you can use search engine optimisation (SEO). A higher ranking will maximise the number of visitors to your website. If competition is particularly strong in your field and you struggle to stand out, you can also consider using paid services such as Google Ads or an SEO professional to increase your visibility.

In addition to your website, social media networks are a good tool to promote your company. They allow you to create and share content, and to connect with potential buyers, consumers and other stakeholders. The most popular social platforms in Europe include Facebook, Instagram (photos and videos), YouTube (videos), Twitter, and LinkedIn (professional networking). Furniture manufacturer Karpenter provides a good example of how to use Instagram to showcase your products.
Tips:
Be aware that you need to invest time and money in your online presence to achieve good results.
Keep your website up to date, for example with new product releases or certifications you have obtained. Share your content on social media to increase your visibility and interact with your network.
Use storytelling to highlight the unique background of your products and company, such as the special techniques or materials you use.
Create good quality photos and videos to showcase your products and illustrate your stories. This is especially relevant in a visual industry like HDHT. As the saying goes, a picture really is worth a thousand words. And a video even more!
Look at the Google Search Engine Optimisation Starter Guide for tips to improve your search engine ranking. You can also train your employees in how to best implement SEO.
5.

Attend trade fairs and industry events

After these preparations, you can start looking for buyers. Many European importers use the well-known trade fairs as their main showroom for introducing new collections to customers. These fairs are great occasions to meet potential buyers. As exhibiting is usually expensive, it is a good idea to attend as a visitor first. This allows you to get a feel for the event, and spend time talking with buyers and exhibitors without the stress of running your own stand. You can also find out which hall would be most suitable for you in the future.

Before attending a trade fair, you need to do your homework. Find out whether the fair suits your product and attracts the buyers you are looking for. Search on the website for a list of exhibitors and make appointments with potential buyers. This will save time and make communication easier. If you decide to attend as an exhibitor, try to build a new collection around this event, invite new and existing buyers, and set clear marketing objectives. As business will develop after the event, you have to take time to ensure effective follow-up.

The most important trade fairs in Europe include:

Relevant trade fairs outside Europe include:
Online and hybrid events
Many trade fairs have been cancelled or postponed due to the COVID-19 pandemic. In view of this, organisers are coming up with innovative ways to safely host their events. Some have taken the 2020 editions of their shows completely online, like the IHGF Delhi Fair in July and Maison et Objet in September. For 2021, many are planning to combine online and physical activities, with strict health and safety measures in place for the on-site events. As these innovations highlight the benefits of digital options, such hybrid events could prove to be the way forward.
Tips:
For more information about how trade fairs are responding to COVID-19 restrictions, see our article on how trade fairs are finding new ways to open their virtual doors.
Look for potential buyers in the online exhibitor databases of important trade fairs, such as Ambiente and Maison & Objet.
Make sure to get as many confirmed appointments with potential buyers as possible. First-time trade fair attendees often forget this step.
Prepare your questions for your potential buyers and think about what information they may need from you.
If you did not attend Maison et Objet's Digital Fair in 2020, replay their Digital Talks on YouTube.
6.

Visit the websites of sector associations

Sector associations play an important role in the representation and promotion of the sector. Each association typically focuses on a specific sub-sector within HDHT. They can provide you with important information on topics such as requirements and developments in a specific market. Associations often publish research findings and the latest news in the market, and some of them organise events. They also have an extensive network and, as such, can be a good source to find potential buyers.

Start by visiting websites of the associations that cover your product on an international level. European associations often consist of several national associations and large manufacturers in the industry, which they may have listed on their website. These national associations often have a directory on their website with information on their individual members. You can use these directories in your search for suitable buyers.

Important sector associations include:

There are also various product-specific associations, such as:
Tips:
Stay up to date on the developments in your specific market by visiting the websites of associations. You can also contact them to find out what else they can do for you.
Check out the member lists of relevant associations. Study the members' websites to decide if they are a good fit for you, before you consider adding them to your list of potential buyers.
7.

Be selective when using databases

You can use company databases to create a list of potential customers to target. Via national chambers of commerce (such as the Netherlands Chamber of Commerce), you can search for potential buyers.

Online business directories may also be helpful, such as:

In addition to free directories, you may also come across individuals or institutions (including trade fairs) that offer buyer databases for sale. These may contain hundreds, sometimes thousands of addresses. Although this may seem interesting, you should not buy such standard databases. While they may contain a lot of addresses, often many of them are irrelevant or outdated. In addition, sending unsolicited and standardised mass emails is generally ineffective and could actually turn potential buyers off.
Tips:
Carefully select relevant companies for your list of potential buyers, rather than copying and pasting standard databases.
If you have found an interesting company in a database or directory, study their website to see if they are a good fit for your company.
When you contact potential buyers, tailor your message to their specific company to make sure your offer is relevant. This also shows buyers you are serious about your inquiries and are interested in them specifically.
8.

Use matchmaking services

If you need help finding buyers, matchmakers such as CDH are a good option. They will link you to relevant potential buyers and prevent an overload of irrelevant addresses. Matchmakers usually work for a fee or on a commission basis, actively providing you with distributor contacts or contacting distributers on your behalf.

Matchmaking service providers are not organised in an industry association, so you will have to actively seek them out. You can do your own research online, or you can ask local non-governmental organisations (NGOs) or sector experts. Most of the leading European HDHT trade fairs also include matchmaking facilities.
Tips:
Visit trade fair websites to see if they offer matchmaking services.
If you use matchmaking services, make sure to provide the matchmaker with very precise information on your offer, target segments, positioning and production capacity. Lack of clarity and details often leads to mismatches.
Make a clear deal with matchmakers in which you outline mutual responsibilities and deliverables. Pay attention to the legal/contractual side of the deal and get legal or sectoral advice if you need it.
Consider a trial period for your matchmaker. Although matchmaking usually starts on a one-off basis, you can engage in a longer-term relationship if you are pleased with the results.
9.

Look for organisations that can support you

Governmental organisations and NGOs that support international business activities can often help you with your export. To get started with your export activities, you can contact embassies (both those of your target countries and your own), chambers of commerce or export promotion agencies in Europe.

In addition, Business Support Organisations (BSOs) fund export-related activities such as market research, matchmaking and trade fairs. Look for BSOs that can provide you with information on the specific market you are targeting.

Important European and international BSOs that could support you are:
Tips:
Check our current and upcoming export promotion projects and programmes for the HDHT sector.
Contact the BSOs (or visit their website) to see if they have interesting export-related projects for your target market.
10.

Read our other tips for exporting to Europe

This study has been carried out on behalf of CBI by Globally Cool B.V. in collaboration with GO! GoodOpportunity and Remco Kemper.

Please review our market information disclaimer.

Follow us for the latest updates
Search
Enter search terms to find market research