The European market potential for garden furniture
Between 2014 and 2018, the European consumption and imports of garden furniture increased steadily. Compared to global imports of garden furniture, European imports saw slightly higher average growth during the same period. While the export of garden furniture from developing countries to Europe is quite stable, there are good opportunities in the upper-middle market. Within Europe, the United Kingdom is a particularly interesting country to focus on, as it sources a relatively large share of garden furniture from developing countries.
1.

Product description

Within the home decoration sector, garden furniture belongs to the garden category. Garden furniture is a very wide product group, which includes the following products:
garden seats
tables of varying sizes
sofas, benches and day beds
swing seats
deck chairs and sun loungers
pouffes and beanbags
stools
This study uses the following codes in reference to trade in garden furniture:
Table 1: Product codes
Harmonised System (HS)

Prodcom

Description

9401.5100

3100.1230

seats made of bamboo or rattan

9401.5900

seats made of cane, osier or similar materials (excluding of bamboo or rattan)

9403.8100

furniture made of bamboo or rattan (excluding seats and medical, surgical, dental or veterinary furniture)

9403.8900

furniture made of cane, osier or similar materials (excluding those made of bamboo, rattan, metal, wood and plastics, and seats and medical, surgical, dental or veterinary furniture)
For the consumer, the garden is a place to relax and sunbathe. But it is also, a place to eat and entertain. Therefore, garden furniture can be split into active and passive seating.
Active seating is:
formal
ergonomically designed
relatively permanent (not intended to be moved around)
usually sold in sets.
Examples include dining tables with chairs and sets with a couch, sofas and table.
Passive seating is:
lightweight
can be moved around with the sun
usually sold individually.
Examples include lazy chairs, loungers and deck chairs.
Material
Garden furniture can be made of various raw materials, such as:
wood, such as teak or oak
metal
rattan
bamboo
cane
various synthetic materials
fabrics, or upholstered with fabric
The quality of the raw materials and finishing of the product are important. Convenience is a key need for consumers buying garden furniture. They like low-maintenance, easy-to-clean, climate-proof products. This means tropical hardwoods and synthetic or high-tech materials are likely to be preferred.
Durability
Garden furniture is an outdoor product. It needs to be able to withstand changing weather conditions. From hot sun to rain and snow. Otherwise, it needs to be placed under or inside  a protective cover.
Design
The aesthetic value of garden furniture is high. Especially in the upper segments of this product group. Innovation is increasingly important in terms of new materials and design. However, the furniture still needs to be comfortable and durable.
2.

What makes Europe an interesting market for garden furniture?

Europe's demand for garden furniture is higher than its production. This drives the need for imports. Between 2014 and 2018, the total imports of garden furniture into Europe increased from €431 million in 2014 to €511 million in 2018. The average annual growth between 2014 and 2018 was 4.3%. By comparison, the yearly growth of the global imports of garden furniture averaged 4% between 2014 and 2018, reaching almost €2.3 billion in 2018. European imports of garden furniture accounted for almost 20% of the total global garden furniture imports.

In 2018, almost 44% of the total European import value came from developing countries. As illustrated in Figure 1, between 2014 and 2015, developing countries were the leading suppliers of garden furniture to Europe, reaching an export value of €231 million in 2015. In the years after that (2016-2018), intra-EU trade took over the leading position. Imports from developing countries remained relatively stable, hovering around €220 million or €230 million per year. 

The European market is expected to continue to offer interesting opportunities for the garden furniture sector both in the residential and contract segment. Gardens, patios and balconies are increasingly becoming an extension of the living room, dining room and kitchen. The barrier between the indoors and outdoors is disappearing and garden furniture is becoming more and more similar to indoor furniture. Moreover, in urbanized areas, consumers are increasingly bringing the garden into their home, opening up opportunities for garden furniture that matches interior design and fits inside homes.

Moreover, the rising demand for environmentally-friendly outdoor furniture is one of the key trends that will stimulate market growth. Increasingly, vendors in the market are shifting their focus towards the adoption of green solutions by using natural materials and sustainably-produced furniture.
Tips:
Keep track of European trends in both garden furniture and interior design, to anticipate future changes in your sector by visiting European trade fairs such as Ambiente in Frankfurt, Germany, Maison et Objet in Paris, France and Salone del Mobile in Milan, Italy.
Assess your sustainability performance and to what extent you can offer European buyers a green solution. You can use the Sustainability Map of the International Trade Centre (ITC) that offers overviews of sustainability standards. You can use the online platform to conduct self-assessments against these standards. 
3.

Which European countries offer most opportunities for garden furniture?

Europe's main garden furniture importers are Germany and France, with Italy, the Netherlands and Spain following at some distance behind. Most of the leading importing countries have seen fluctuating imports over time, which is common in the sector, as it is sensitive to economic cycles and weather. While most of the leading countries recorded increases between 2014 and 2015, coming out of an economic recession, the imports decreased slightly and then stabilised. Seeing continuous growth, the Netherlands was an exception to this.

Other relevant indicators that may influence the expected demand for garden furniture in the years ahead are projected growth in private consumption expenditure and housing completions. Below we will discuss both in relation to the six leading import markets.
Real private consumption expenditure
Private consumption expenditure includes all purchases made by consumers, such as food, housing (rents), energy, clothing, home accessories, health, leisure, education, communication and transport, as well as hotel and restaurant services. It is an important indicator for the European home and garden furniture market. The sector is closely linked to economic cycles. When economic circumstances and prospects are dim, consumers postpone buying non-essential items. The other way around, when economic conditions are favourable, private consumption expenditure and purchases of home and garden furniture surge. In 2019 and 2020 most of the leading import countries are projected to have a lower level of private consumption expenditure than in 2018, due to an economic slowdown. In 2020, growth is likely to stabilize. The exception is the United Kingdom, which is expected to witness a further drop due to the Brexit (the withdrawal of the United Kingdom from the European Union).
Housing construction
A macro figure to take into account is the new housing construction forecast. New housing construction tends to drive consumption of garden furniture. In line with the data shown in Table 2, France and Germany are expected to complete a very sizeable number of houses over the next few years. Spain, in particular, is expected to experience a significant hike in housing completions from 2019 to 2021. 
Table 2: Housing completions in Europe for the top six import countries (2019 - 2021)
 

Forecast

 

 

2019

2020

2021

Growth

2019-2021

France

430

399

376

-12.6%

Germany

310

315

320

3.2%

United Kingdom

190

195

203

6.8%

Spain

85

95

110

29.4%

Italy

87

89

92

5.7%

Netherlands*

67

69

74

10.4%
*Due to the recent implementation of environmental regulations, housing construction is expected to be lower than the projected figures
Source: EUROCONSTRUCT, June 2019
Germany: the main market with more potential
Germany is Europe's leading importer of garden furniture, with an import value of €87 million in 2018. As shown in Figure 2, German imports of garden furniture increased every year between 2014 and 2016. However, in 2017 the growth stagnated and decreased by 12% in 2018. The trend in Germany is a reflection of the EU trend with long-term growth and a slight drop in 2018. With an average growth of 7% per year between 2014 and 2018, Germany is still the leading European importer of garden furniture.
A large share of the German imports come from developing countries, reaching 42% in 2018. Meanwhile the average growth in imports from developing countries declined slightly between 2014 and 2018. The declining trend started in 2017 and resulted in an average growth of -0.6% between 2014 and 2018.
Germany is Europe's largest economy and is home to 16% of the European Union's population. The German economy is widely considered the stabilising force within the EU. Between 2010 and 2018, the German economy grew at a rate of more than 2%. This is a higher rate than that observed in the United Kingdom, France and Italy. Housing construction and private consumption expenditure in Germany are both forecast to increase, which means that conditions are favourable for an increased consumption of home and garden furniture.
Despite the slight decline in imports from developing countries, the German market continues to offer good opportunities. The combination of the large share of imports from developing countries, the projected growth in private consumption expenditure and the country's stable economy, mean it will remain an interesting market for the foreseeable future. 
France sees positive growth in imports from developing countries
French imports of garden furniture saw stable growth between 2014 and 2017. Similar to the trend in Germany, growth declined in 2018. The total import value reached €89 million in 2017 and dropped to €80 million in 2018. However, the average growth between 2014 and 2018 was positive at 2%. France is the second largest European importer of garden furniture, with a share of total European imports of 16%.
France is one of the two countries that experienced positive growth in imports from developing countries, averaging 1.8% between 2014 and 2018. The country obtains 44% of the imports of garden furniture from developing countries, which reached a value of €36 million in 2018.
Although economic growth in France slowed down and global uncertainties and the effects of social unrest weighed on consumer confidence in 2018, the projections for 2019 and 2020 are positive with an  increase in private consumption expenditure expected. While housing construction is projected to slow down, France will still lead in Europe when it comes to new housing construction. Therefore, the impact on the demand for garden furniture is expected to be moderately positive. 
The United Kingdom relying heavily on imports from developing countries
Imports of garden furniture in the United Kingdom have fluctuated between 2014 and 2017. They peaked in 2017 at €66 million but declined sharply to €47 million in 2018. The main reason for the decrease was the economic fallout, depreciation of the British Pound and loss of consumer confidence due to the Brexit. As a result, the import value in 2018 was even lower than in 2014. However, in 2018, more than 75% of the country's import value came from developing countries, which makes the United Kingdom a particularly interesting market.
Although modest economic growth is projected for 2019 and 2020, Brexit is expected to continue to have a negative impact on the United Kingdom's consumer confidence throughout 2019 and 2020. This is also reflected in the private consumption growth, as shown in Figure 3. The growth in the United Kingdom is going down and it is likely to have an impact on the demand for garden furniture. At the same time, housing construction is still expected to grow at a solid rate. On the whole, while the share of developing countries in the import of garden furniture is high, prospects for exporters from developing countries for the next few years are uncertain and may be modest at best.
Italian market for garden furniture stagnating
Italian imports of garden furniture fluctuated between 2014 and 2018. The import value peaked in 2016, reaching €53 million. After 2016, Italian imports of garden furniture dropped and 2018 marked the second consecutive year of negative growth. The average growth between 2014 and 2018 fell to -2.5%.
45% of Italian imports of garden furniture come from developing countries. Although this is a large share, the average growth of imports from developing countries between 2014 and 2018 was slightly negative (-1%).
The Italian economy has been broadly stagnant for the last five quarters and projections for the near future are not very optimistic. The European Commission's forecast indicates that Italy will record economic growth of just 0.1% this year and 0.7% in 2020, which would make it the slowest-growing EU economy in both years. In line with the economic performance, Italian private expenditure growth is forecast to increase slightly in 2020 compared to 2019. Since the difference is minimal, it is not expected to have a significant impact. Housing construction is expected to increase at a modest rate. On the whole, due to the negative growth in both total import value and imports from developing countries, and weak forecasts, opportunities for exporters from developing countries in the short term are expected to be modest at best.
The Netherlands significantly increased imports from developing countries
The Netherlands saw significant average growth of 26% between 2014 and 2018, with the import value reaching €44 million in 2018. This favourable trend runs parallel to a long period of uninterrupted economic growth.
The Netherlands accounts for almost 9% of the total European imports of garden furniture. The significant and steady growth of imports makes the Netherlands an interesting market. Moreover, the Netherlands obtains 40% of its imports of garden furniture from developing countries. During the 2014 to 2018 period, imports from developing countries increased on average by 11%.
However, private consumption expenditure growth in the Netherlands is forecast to drop from 2.5% in 2018 to 1.1% in 2019. The Brexit as well as the international trade disputes between the United States and China, are having a big impact on the Netherlands. The country is relies heavily on international trade and negative developments in that respect have an  amplified effect on the country's economic performance. This will likely have an effect on economic growth, consumer confidence and the resulting consumption of garden furniture in the country. Due to the implementation of strict environmental regulations, the growth in housing construction will also be lower than projected, which will also dampen the growth in demand for garden furniture. 
At the same time, it should also be noted that the impact on imports of garden furniture will extend beyond the country itself, since the Netherlands is a big re-exporter of goods. As such, developments in other European countries will also play a role. Given the economic slowdown in Europe as a whole, a sharp increase in imports is not expected. On the other hand, a decrease is not likely either since the economies will still grow, albeit at a slower pace. 
Spain: more potential to be tapped
Spain is the smallest importing country of garden furniture of the six countries, with a total import value of €36 million in 2018. Between 2014 and 2018 the import value of garden furniture fluctuated, growing at an average rate of more than 4%. Together with The Netherlands, Spain is the only country that experienced positive growth in 2018. The country is responsible for 7% of the total European imports of garden furniture.
With regard to the country's private expenditure, the growth is forecast to stabilize at a reasonable level, the highest of the top six import markets. In addition, the projected growth in housing construction in Spain is the highest of the top six countries. As such, the conditions seem favourable for the growth in demand for garden furniture to increase.  
Over 60% of Spain's garden furniture comes from developing countries, reaching an import value of €22 million in 2018. The average growth of imports from developing countries was almost 8% between 2014 and 2018. This makes Spain an interesting country to target.
Tips:
Check the latest developments on ITC Trademap. ITC Trademap offers details of trade volumes and values, per year and per importing and exporting country.
Consider targeting leading European importing countries like Germany and France. Although the recent import trend is downward and hence competition may become fiercer, other indicators like private consumption expenditure and housing completions are favourable.
While the United Kingdom relies heavily on imports from developing countries, the import market is contracting and due to Brexit uncertainties and this trend is expected to continue. It may therefore not be the most promising country to target.  
Consider targeting smaller, fast-growing importers of garden furniture, especially the Netherlands and Spain. Although their import volumes are smaller, they may be interesting enough for small to medium-sized exporters to focus on.
4.

What trends offer opportunities on the European garden furniture market?

Almost all major consumer trends come together in the garden, increasing the need for the benefits that gardens bring, and, as such, the need for garden furniture and accessories.
Garden = wellness
The consumer is actively looking for ways to improve their physical and mental wellbeing. The garden brings people closer to nature and fresh air helps them feel healthy and invigorated. Gardens are also secluded places, which are often fenced off from the outside world. That helps an over-stimulated consumer to switch off, recharge their batteries and relax their mind. Furniture related to this trend must be highly ergonomic, to support the body in passive and more active resting positions.
Such health and wellbeing also comes from doing active and passive leisure activities in the garden, such as outdoor games, playing with the dog, reading, or simply taking a nap.
Image 1: Example of a lightweight, design deck chair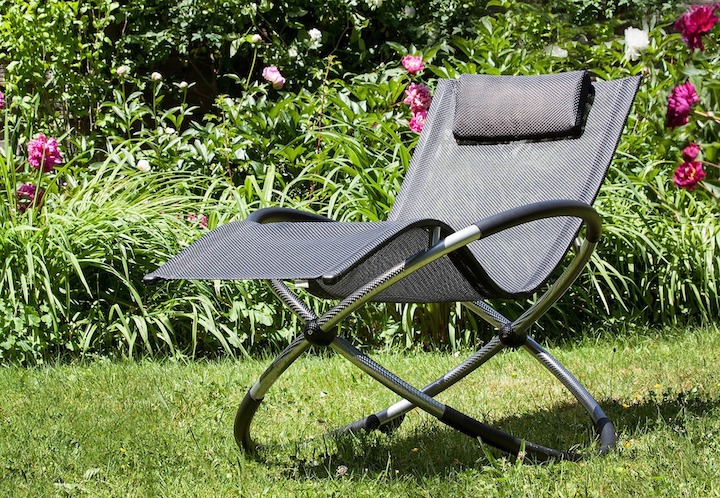 Tip:
To take advantage of this trend, develop garden furniture that can help consumers relax, such as in deck chairs and daybed couches, as well as more informal seating such as pouffes, beanbags and rocking chairs.
To facilitate the consumer in moving around the garden in search of the quietest of and sunniest spot, this type of garden furniture needs to be lightweight, collapsible and suitable for hard and soft surfaces.  
Social and environmental awareness: the purposeful garden
More than ever, social- and environmental-friendliness is influencing the consumer's buying behaviour. Wherever possible, consumers opt for products that avoid wasteful consumerism, excesses and wasteful materials, and that are fair to the makers. Today's consumers are savvier and more aware than ever. The new groups of Millennial consumers (born between 1981 and 1996) and professional buyers, in particular are quite inclined to "vote with their wallet" and favour concepts that are sustainable. 
Specifically, as a gardener, the consumer is taking a broader view than just removing the weeds and planting These days, the informed gardener's main consideration is: "me and the eco-system". That translates as: how can I make my garden and gardening more inviting for the birds and bees, in order to contribute to a better climate, including in urban settings. Increasingly, consumers are also growing fruit and vegetables for their own consumption.  

Tips:
To play a role in the segment of purposeful garden furniture, your offering must have verifiable sustainable aspects to it, such as, that it is made from renewable materials and was produced in a way that is both human and environmentally friendly, has a limited footprint (such as from transport), and facilitates recycling at the end of its useful lifetime.
Invest in consulting and process improvements to achieve a more sustainable concept.
Communicate your values on and offline (on the product), to cash in on the potential added value of offering sustainable garden furniture. Help the (importer and) consumer feel good about having contributed to a better ecosystem by making a sustainable purchase. 
Let's play! – the garden as a playground
Play is a deeply-rooted human desire. Today's consumers, young and old, play a lot: in private, as well as in public places, off- and online, to gain new insights at work and at school and in teams, alone or with virtual friends.
The garden is an ideal playground: consumers not only literally play, by participating in outdoor games, but also through role-playing. Part of the "master chef" trend involves consumers (mostly male) barbecuing, in the role of the experienced chef. Stimulated by the host of garden programmes on TV and garden magazines, consumers are also playing the part of the professional gardener, using the same professional toolkit as the gardeners on TV.
Tips:
To be successful in this fun-oriented segment of garden furniture, you have to tap into your inner child.  Playful garden furniture can be colourful, playful in terms of its shape and design (figurative or quirky), modular (allowing the consumer to "design" their own furniture), multi-purpose (e.g. a chair that can serve a hideaway for children). 
Your garden furniture can also support the master chef in his or her role by creating a fun and entertaining setting for the barbecue or outdoor dinner performance that is being given. Needless to say, such outdoor dinner furniture needs to weather proof as it will remain outside for most of the year.
Home sweet ... garden
"Home sweet home" is a trend that is about a slightly older consumer retreating into the safety and security of their own home, and making that a perfect, luxurious oasis. Home is also the place where genuine connection takes place with close friends and relatives. This is done by eating, cooking and enjoying entertainment together.
Sparked by this trend, the garden has become an extension of the home. We are seeing the lines between the indoor and outdoor areas of the home blur, so it looks as if the garden is also part of the living room. This is also done by decorating the garden in line with the style inside. The trend of blending indoor and outdoor styles, represents a much broader segment, ranging from mid-mid upwards. In this segment, the typical mid-market styles (e.g. romantic, "contemporary", colonial, nostalgic, Scandi) are also used in garden furniture.
Moreover, the garden has become a place for relaxing with friends and relatives. This garden furniture typically comes in complete sets, such as a couch and easy chair, with a low table. Brands are important as status symbols. Shapes are mostly conservative and often minimalist, with a limited colour palette. 
Trendy furniture constitutes a sub-segment of its own, that responds to the cyclical influence of certain interior trends, which are influenced by colour trends, in particular. Those colours then need to be used in your garden furniture as well, in this sub-segment. Overall, this is a price-sensitive market sub-segment.  
Image 2: A complete outdoor garden set, including couches, chairs and tables

Tips:
Consider this segment of the "luxurious oasis" to reach a growing target group.
Study specific interior styles and design/re-design your garden furniture accordingly. 
To be successful, it is important to stick to your chosen style and avoid diluting it with others.
Rapid urbanisation: the new garden
At present, 55% of the world's population lives in urban areas. The UN expects that percentage to grow to 68% by 2050. This process of rapid urbanisation might well represent a huge countertrend to all the trends mentioned above. After all, if urban centres become larger and more crowded, will there be space for gardens at all or will they disappear?
One of the developments in Europe related to this trend is that consumers are creating a "garden inside the home", putting plants all over the home, including perhaps on their tiny balcony. Consumers are also creating the associations with gardens and nature by using floral patterns in their home textiles and accessories, by using earthy and natural tones, and even scents from nature.
Housing prices will rise due to the increased scarcity of space in the urban centres. As a result, forms of shared living are being created, which include communal gardens. Urban planners are trying to redesign the urban space to make it future proof. This increasingly involves innovative garden concepts such as rooftop gardens and gardens on and around high rises and on disused train tracks. Such forms of human-centred urban developed are referred to as social design. 
Communal garden furniture must, above all, be functional, durable and foolproof, as it seems to be human nature to treat communally-owned property with less care than personal possessions. It makes the garden furniture also more price-sensitive as the turnaround cycle can be quite high. As shared gardens are still going to be small, the furniture needs to be compact, modular, easy to carry around and multi-purpose. Styles will be such that all inhabitants, often an inter-generational group, can accept them. So they must not be too exuberant.
This trend extends beyond the home to the office. In the workplace, consumers are increasingly in need of this same closeness to nature and are building their indoor garden in the office, as well. This is opening up new segments in "indoor garden furniture" in the project market.  The project market for urban garden furniture for city gardens is expected to flourish. Requirements and regulations aimed at protecting consumers/users and in relation to durability and fool-proofing are stringent. Styles can be quite exuberant.
Picture 3: Chair set made in organic shape and of natural materials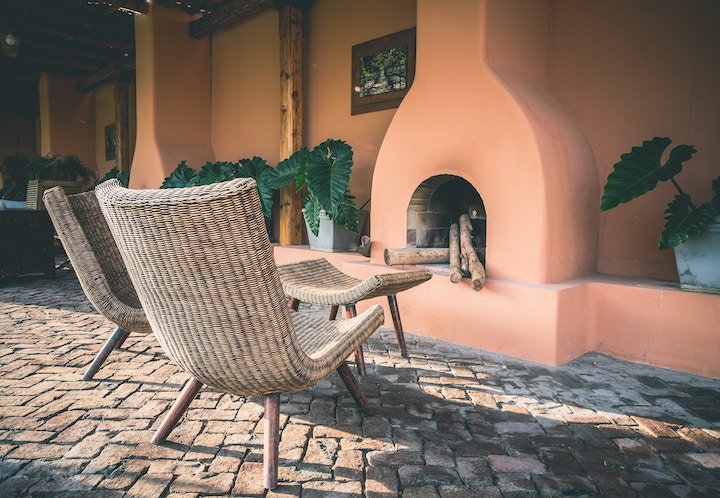 Tip:
Offer furniture made of natural materials, that stimulate the senses by highlighting the textures of natural fibres and materials and using patterns and natural tones. This will help the urban consumer experience the "indoor garden". Such "biomimicry" can be extended beyond the couch and chairs to the accessories, including shelving, planters and wall decorations.
Wisanka from Indonesia is an example of a company that has successfully tapped into these trends, both by producing furniture with eco-friendly material and by participating in environmental conservation by planting 650,000 teak trees. The company also produces furniture for the patio or smaller balconies, responding to the rapid urbanisation occurring worldwide.  
This study was carried out on behalf of CBI by Globally Cool B.V. in collaboration with GO! GoodOpportunity.
Please review our market information disclaimer.
Follow us for the latest updates