Entering the European market for chia seeds
Chia seeds are a typical product sold in the health food segment. This means that it is crucial to supply a pesticide residue-free product and, if possible, certified as organic. Due to the restricted use according to the novel food regulation, chia remains a niche ingredient, and with current price levels, it is not easy to compete with large exporters in South America. If you are not able to compete in price, focus on quality and reliability.
1.

What requirements must chia seeds comply with to be allowed on the European market?

Chia seeds must comply with the general requirements, which you can find in the buyer requirements for grains, pulses and oilseeds on the CBI market information platform. You can also use the Trade Helpdesk, which provides an overview of market access requirements for oilseeds per country using HS code 12079996 for chia seed. The most important requirements when exporting chia seeds to Europe are food safety, quality and a residue-free product.
What are mandatory requirements?
Food safety: Traceability, hygiene and control
The most important requirement for chia seeds is to make sure it is safe for consumption. Most chia seeds are consumed raw and unprocessed. This means that you must pay extra attention to controlling the levels of pesticides, contaminants and microbiological criteria.
The main concern for chia seeds is pesticide residues, as it is the most common problem identified by European buyers. Buyers in Germany are among the most alert companies for excessive pesticide residues. Conventional chia seeds must stay within the limits of the Maximum Residue Levels (MRLs) allowed by European regulation and organic chia seeds cannot have any chemical traces.
Contaminants such as Aflatoxins and micro-organisms such as Salmonella, E. coli and Listeria monocytogenes must be absent or within the limits according to European legislation.
Food safety and traceability should be your top priority. Non-compliance can lead to temporary import stops or to stricter controls for your origin country. As a supplier, you must make sure to work according the guidelines of Hazard Analysis and Critical Control Points (HACCP).
Tips:
Read more about pesticides, contaminants and micro-organisms on the website of the European Commission. Find out the MRLs for pesticides and active substances that are relevant for chia seeds by consulting the EU MRL database; Search for oilseeds (code number 0401000).
Reduce the amount of pesticides by applying integrated pest management (IPM) in production. IPM is an agricultural pest control strategy that includes growing practices and chemical management.
Pre-test your chia seeds at a recognised laboratory, preferably the same laboratory as your client, to avoid differences in testing methods. Use only representative samples.
Novel Food
Chia seeds are a Novel Food and their specifications, production process, additional labelling and usage are described in the Union list of Novel Food in the Regulation (EU) 2017/2470.
Chia seeds must be within the following Novel Food specifications and processes of table 1.
Table 1: Novel Food specifications for chia seeds
Product specifications:

Production process:

Maximum usage in products:

Additional labelling requirement:

Dry matter: 90-97 %
Protein: 15-26 %
Fat: 18-39 %
Carbohydrate (including the fibre value): 18-43 %
Crude Fibre (part of fibre made mainly of indigestible cellulose, pentosans and lignin): 18-43 %
Ash: 3-7 %

 

Post-harvest, the seeds are cleaned mechanically. Flowers, leaves and other parts of the plant are removed.
Production process of fruit juices and fruit juice blend beverages, containing Chia seeds, includes seed pre-hydration and pasteurisation steps. Microbiological controls and monitoring systems are in place.

 

In common practice, chia seeds are dried after harvest, cleaned, sorted and packed.

 

Bread products: 5% (whole or ground chia seeds)
Baked products: 10% whole chia seeds
Breakfast cereals: 10% whole chia seeds
Fruit, nut and seed mixes: 10% whole chia seeds
Fruit juice and fruit/vegetable blend beverages: 15 g/day for addition of whole, mashed or ground chia seeds
Pre-packaged Chia seed as such: 15 g/day whole chia seeds
Fruit spreads: 1% whole chia seeds
Yoghurt: 1.3g whole chia seeds per 100g of yoghurt or 4.3g whole chia seeds per 330g of yoghurt (portion)
Sterilised, ready-to-eat meals based on cereal grains, pseudocereal grains and/or pulses: 5% whole chia seeds

 

Novel foods are subject to the general labelling requirements laid down in Regulation (EU) No 1169/2011 and other relevant labelling requirements in European Union food law. As a novel food, chia seeds need specific and additional labelling:

The designation of the novel food on the labelling of the foodstuffs containing it shall be 'Chia seeds (Salvia hispanica)'
Pre-packaged Chia (Salvia hispanica) seeds shall carry additional labelling to inform the consumer that the daily intake is no more than 15 g.

 
To get new uses or an extension of use for chia approved, you must submit an application and provide evidence of safe consumption. On the website of the European Commission you can read how to submit a novel food application from a third country using the e-submission system. In the summary of applications and notifications, you can find several new proposed uses for chia seeds that are being assessed by the European Food Safety Authority (EFSA).
Recently, there have rising concerns about chia seeds in heated products, and the European Food Safety Authority published a Call for data relevant to the safety assessment of heat-treated chia seeds. As a supplier, it is important to follow these developments, as it can affect your end clients as well as exporters of processed chia seeds with heat exposure.
Nutritional claims
Chia seeds have become a popular ingredient due to their supposed health benefits, but you cannot claim or promote health benefits that are not approved by the European Union. Any nutrition and health claim should only be made in accordance with the requirements of the Health and Nutrition Claims Regulation (EC) No 1924/2006.
Packaging
The packaging of chia seeds must be suitable to protect the product and must be conform to the Regulation (EC) No 1935/2004 on materials and articles intended to come into contact with food.
Common types of packaging for raw whole chia seeds are 25kg polypropylene bags or multi-layer paper bags. For larger industrial users, big bags of around 1 tonne can be used.
What additional requirements do buyers often have?
Quality standards
There is no official quality standard for chia seeds and the quality will depend on the requirements and specifications of your buyer. Purity levels are often the main indicator for buyers to determine the quality.
Most importers demand the highest purity, but will still negotiate strongly on price. As the market for chia seeds develops, you can also expect more demand for chia seeds with different purity levels.
Table 2: General quality standards for chia seeds
Purity:

mostly 99.5 to 99.9% (discuss with buyer)

Moisture:

<8%

Visual quality:

Seeds must be intact
sound; not affected by rotting or deterioration such as to make it unfit for human consumption
clean; practically free of any visible foreign matter (see purity level)
sufficiently developed (avoid brown-coloured seeds)

Free from:

living pests
damage caused by pests, including the presence of dead insects
mould
rancidity
abnormal external moisture
foreign smell and/or taste
Tip:
Maintain strict compliance with quality standards and deliver the quality as agreed with your buyer. Being careless with your standards will give buyers a reason to claim on quality issues.
Certifications as a guarantee
As food safety is a top priority in all European food sectors, you can expect most buyers to request extra guarantees from you in the form of certification. Food management systems and certifications that are recognised by the Global Food Safety Initiative (GFSI) are widely accepted throughout Europe. For chia processors (cleaning and packing), a recognised food safety management system is a necessity to become a supplier to European buyers.
If you are a supplier of chia seeds, you may find one of the following certification schemes useful, depending on the role you play in the supply chain (production, distribution or processing):
Organic certification
An organic label is a common requirement for 'health' ingredients such as chia seeds, which is why a large part of the current demand consists of organic certified chia seeds.
In order to market organic products in Europe, you have to use organic production methods according to European legislation and apply for an organic certificate with an accredited certifier.
Although there is significant demand for organic chia seeds, the supply of genuinely organically produced chia seeds is limited. Chia is a sub-tropical product and producing organic seeds is not an easy practice and not necessarily more sustainable, especially when produced on a large scale.
Note that there have been complaints about pesticide residues and accusations of false organic certifications. Organic certified chia may not be organic according to European standards and organic prices may not be representative. This makes the organic chia market a very difficult market to compete in.
Tips:
Read the article Chia Seeds from Bolivia: Organic prices need to go up on LinkedIn to understand the trade of organic chia seeds.
Avoid by any means certification fraud, even if your buyer insists. On the short term this may seem profitable, but you risk a trade blockade when being controlled by food authorities.
Consider organic if your situation and location permits it. Remember that implementing organic production and becoming certified can be expensive. You must be prepared to comply with the whole organic process to market organic products. Read more about organic certification in the CBI study on buyer requirements for grains and pulses in Europe.
What are the requirements for niche markets?
Sustainability and social compliance
European buyers are paying increasing attention to corporate social responsibility (CSR), meaning the social and environmental impact of their business. As an exporter, you are part of the supply chain and share this responsibility.
Buyers will often have you fill in a set of documents and declarations before doing business or ask you to comply with a code of conduct. Applying standards and certifications will help you to fulfil the expectations of buyers. Initiatives or certification schemes that can help improve your CSR performance, are:
A consumer label for fair trade practices, such as Fairtrade International and Rainforest Alliance, is a niche requirement in the chia business for which you need very specific buyers.
2.

Through what channels can you get chia seeds on the European market?

The chia market is expanding in food manufacturing, but the number of large volume buyers is still limited. Chia remains a dominant product in the health segment and the best channels to get chia seeds onto the market are importers of special ingredients and brokers.
How is the end-market segmented?
The chia market can be segmented into different presentations, target groups and outlets (see figure 1).
Figure 1: Market segments for chia seeds in Europe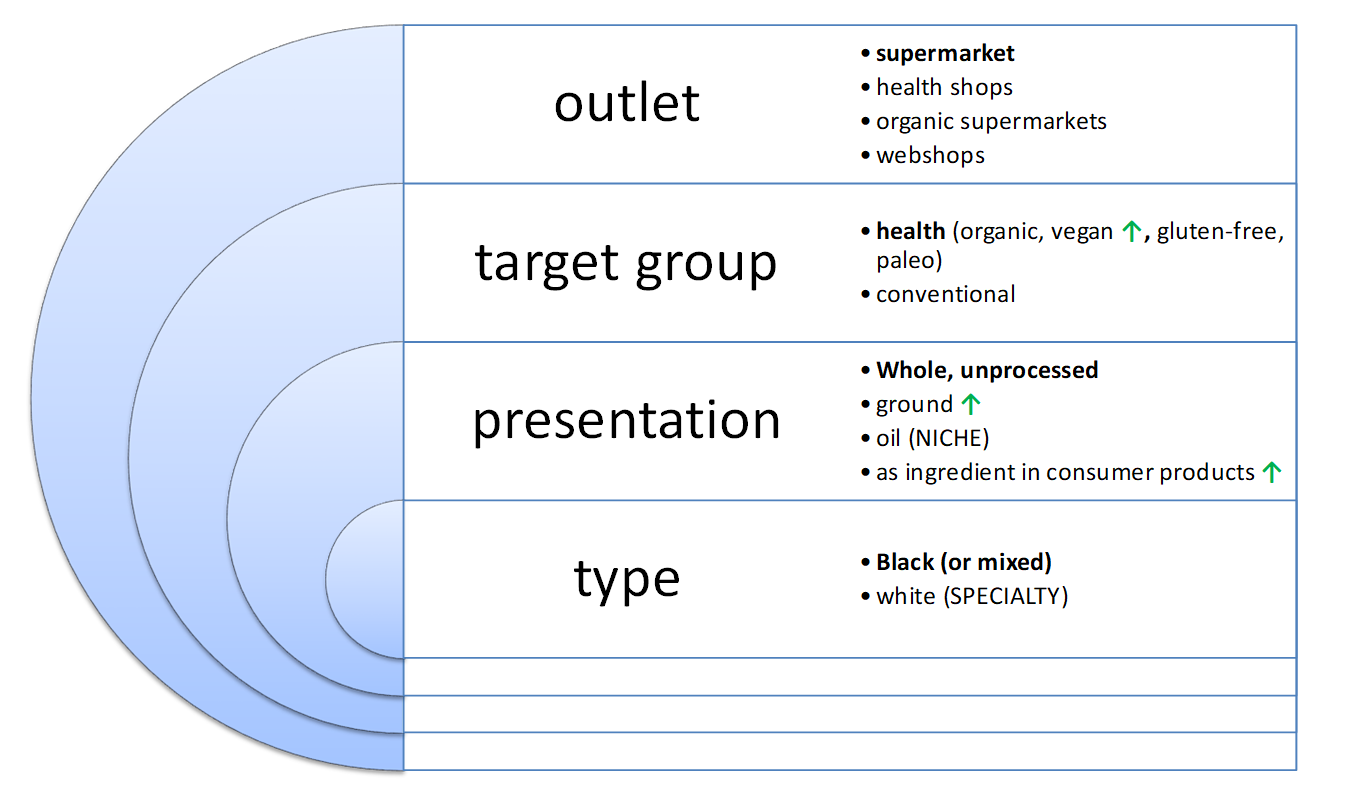 Presentation: Unprocessed vs ingredient
Whole, unprocessed chia is still the main segment in trade. The demand for ground chia is also increasing. De-fatted chia flour is not yet fully approved in the European Union, and chia oil is a specialty product with a very small market share.
The chia market in Europe started out with consumer packed chia, and information for consumers on how to use chia seeds was necessary. The use of chia seeds as an ingredient in food products is important for the future market development of chia. The growth of chia as an ingredient partly depends on the authorised uses within the Novel Food regulation. Typical products that have been introduced with chia seeds are juices and yoghurts such as Activia from Danone, bakery products such as Harry Vital+Chia Brot, muesli or fruit bars such as YES!, and in mixes with cereals, nuts and fruits. White chia is a specialty that is popular in certain products for which looks are important, such as desserts.
Target group: health-conscious people vs conventional consumers
The core groups that are most committed to chia consumption are health-conscious consumers and people with special dietary needs. Chia is popular as an ingredient in the growing vegan and gluten-free market, and as a healthy ingredient, chia seeds must be organic or pesticide free.
Chia is mostly sold as a healthy ingredient, but there are also growth perspectives with conventional consumers. Chia is increasingly being used as an addition to conventional products to boost the image of a product or add extra marketing value, such as the Roka cheese sticks with chia.
Image 1: Roka cheese sticks with chia seeds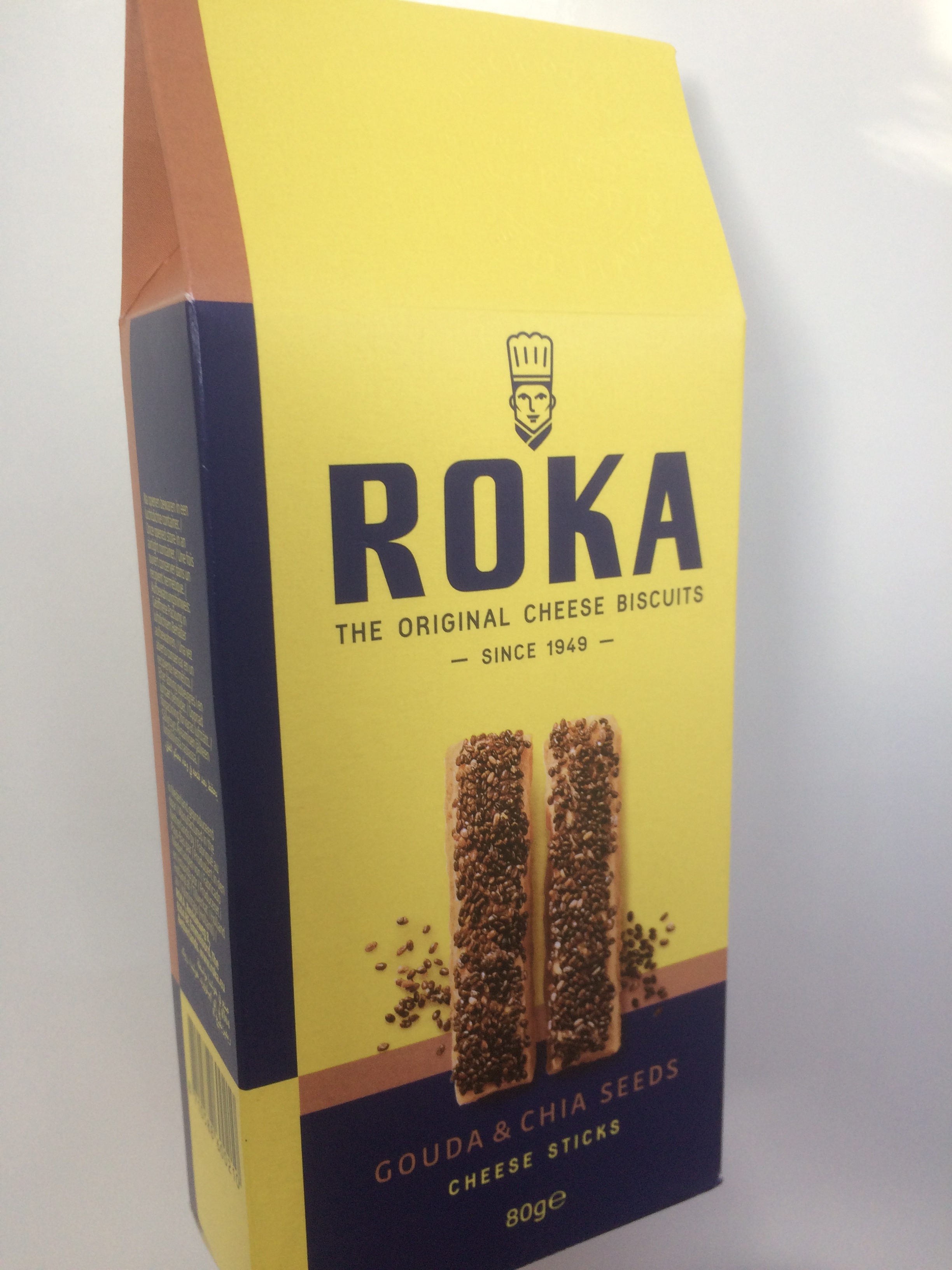 Image by ICI Business
Outlet: Supermarkets vs specialised retail
Supermarkets have a large share of the chia retail market and leave less room for specialised shops to differentiate with chia seeds and chia products, but chia remains a product and ingredient that is mostly sold from the shelves for health products. This means that it is still an important product for health and organic stores and shops for natural products. You can find specialised web shops that combine retail sales with wholesaling larger volumes, for example 25kg bags in the United Kingdom from Healthy Supplies and Buy Wholefoods Online.
Tips:
Visit European supermarkets and health shops to see what types of product are on offer with chia as an ingredient. Many have their products online, such as Rewe (Germany), Tesco, Holland&Barrett (United Kingdom), Albert Heijn and Ekoplaza (Netherlands). You can find a list of European supermarkets on Wikipedia.
Stay within the parameters of the Novel Food regulation when developing new chia products (see the requirements above).
Through what channels does a product end up on the end-market?
Importers / traders
Most of the chia is imported into Europe by traders of special ingredients. They have an important role in checking the quality and food safety specifications of the product, as well as in the distribution to smaller users and resellers of chia seeds. Distribution and wholesale activities are sometimes combined with services to pack chia under a private label.
Since its first introduction, the chia market has been dominated by a handful of importers, but others have entered the market as well throughout the years. However, the total volume of chia does not allow for so many importing companies.
Some of the importers started with a specialisation in chia seeds, such as OriginalChia (nowadays: House of Originals), Acanchia and Chiabia. Other companies have included chia in their assortment of ingredients, often organic, such as Naturkost Übelhör and Tradin Organic, or in combination with other 'superfoods' such as Rhumveld.
Brokers
Some of the chia seeds are traded through brokers. These are often individuals or small companies that link your product to buyers in Europe and take a commission on the sales. Their function is purely commercial, and as a supplier, you will remain responsible for most of the logistical process.
Brand owners and food manufacturers
Most companies that use chia as an ingredient or sell chia seeds under a brand will buy from specialised importers. Large users, brand owners and packers of chia seeds, which have a strong interest in chia seeds, get involved in the sourcing process. These include, for example, the companies Davert (Germany) and Pedon (Italy).
In some cases, the supply chain is integrated from production to brand, which is the case for The Chia Co (Australia) and Benexia (Chile).
Figure 2: Market channels for chia seeds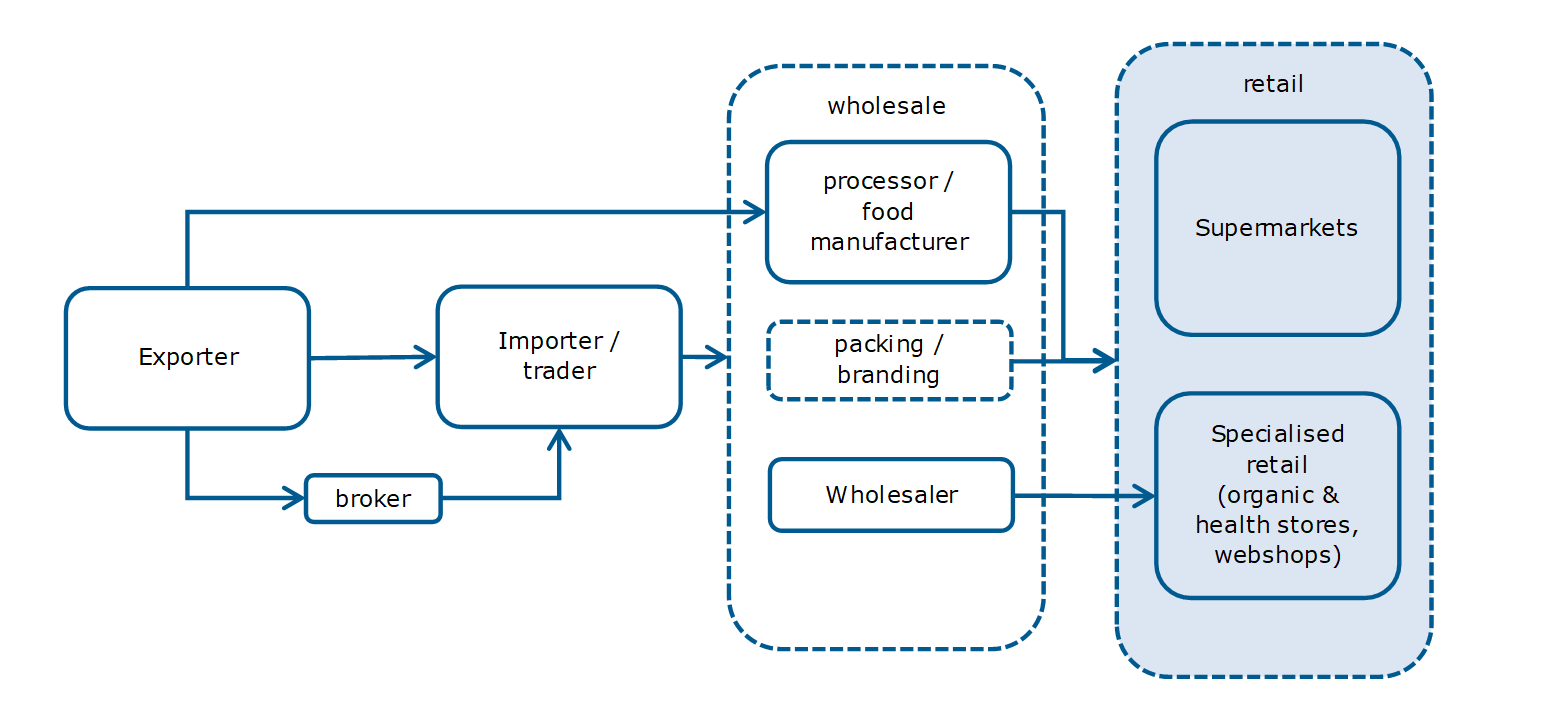 Tip:
Check the potential of your buyer in terms of volume, integration with brands and client networks. If you find a buyer with a high demand for chia, you can explore the possibility for a long-term partnership. You can benefit both from the security of a stable demand and supply.
What is the most interesting channel for you?
The market for chia seeds is relatively small, and so the main chia importers are the most logical channel for most foreign suppliers. Major importers are often committed to one or two large suppliers, so when you are new in the market, you may have to resort to smaller buyers or pursue other options. Brokers can be a solution if you lack the resources and time to do your own networking and marketing in Europe, such as at trade fairs.
When selecting your potential channel, you must take into account the experience and different end markets of certain importers.
Companies such as Voicevale (United Kingdom) and House of Originals (Denmark) are early adopters of chia, so you can expect them to be well informed about the product and its market. But when selling organic chia, you may want to focus on organic specialists such as Tradin Organic (Netherlands) or Naturkost Übelhör (Germany).
For the food industry, importing companies such as Neupert Ingredients (Germany) and Royal Ingredients (Netherlands) include chia in their wide portfolio of starches, protein and fibres. Companies that have a more direct link to retailers are, for example, Pedon (Italy) and Davert (Germany). Suppliers to supermarkets maintain strict compliance with quality and food safety standards, which will affect you as an exporter as well.
You will find many of the buyers of chia seeds in northern Europe, including the Netherlands, Germany and the United Kingdom, and there is a growing number of buyers in Spain and Italy as well.
Wholesale activities are often filled in by importers, food brands or other companies that can add value in packing or processing. When you sell from stock in Europe, you can also work with wholesale volumes and sell to smaller outlets further down the value chain, but be aware that you will be competing with well-established importers, and that the total market size is still limited for a large amount of traders.
3.

What competition do you face on the European chia seeds market?

While chia seeds originated in Mexico, the supply nowadays is dominated by large-scale production in the Gran Chaco region of Paraguay, Bolivia and Argentina (see image 2). After the cultivation boom in 2014, there has been no shortage of chia seeds on the market, and this has kept prices on the low side. However, exporting quality and residue-free chia seeds remains a challenge for many suppliers.
Which countries are you competing with?
Image 2: The Gran Chaco region where the majority of today's chia is cultivated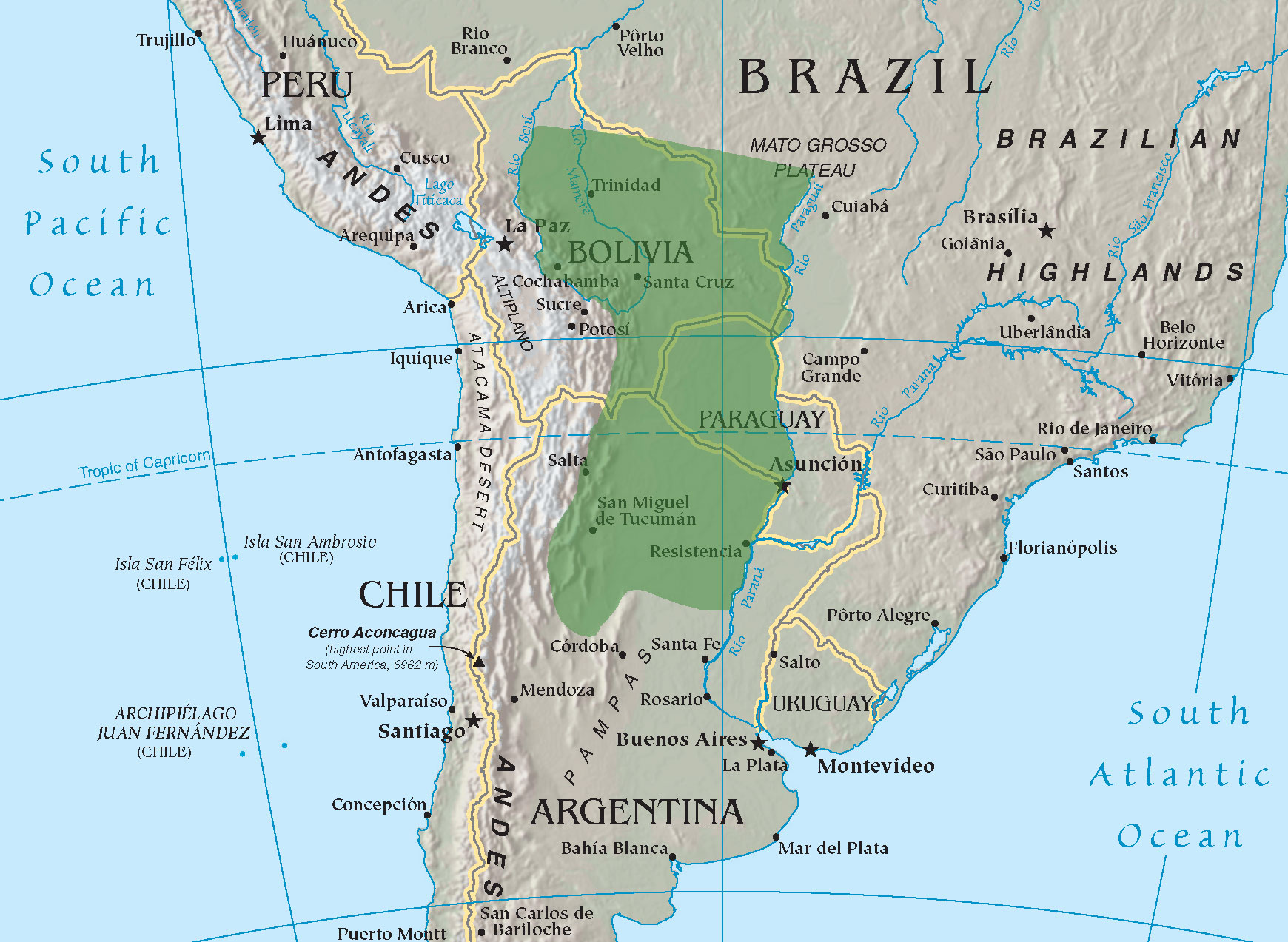 Source: Wikipedia
Paraguay: high volume and price competitive
Paraguay is currently the largest producer and exporter of chia seeds worldwide. Chia seeds are produced as a commodity crop, similar to soy bean and maize. Farmers have the advantage of large, cost-competitive volumes, but with a risk of cross contamination with conventional and heavy pesticide-using crops.
The estimated production of chia seeds in 2019 was between 25 and 30 thousand tonnes, but according to European buyers, this could be an exaggeration. In total, Europe imported 5 thousand tonnes of chia from Paraguay, with Germany being the main destination. But due to informal trade with countries in the region, the total volume of Paraguayan chia into Europe may be much higher.
Bolivia: professionalised with challenging climate
Bolivia is the second-largest chia producer with a similar production capacity as Paraguay. Several professional operations have been set up in the eastern part of Bolivia to tap into the chia consumption trend, but farmers have learned a hard lesson from the overproduction in earlier years (2014) and are less motivated to grow chia for the current prices. The production volume in 2019 was just under 10 thousand tonnes.
Besides market prices, climate has been a decisive factor in the volumes of Bolivian chia. The crop is rain fed, and increasingly common droughts and strong winds make chia production challenging. Most of the chia export to Europe is divided between Germany, the Netherlands and the United Kingdom.
Argentina: knowledgeable in chia cultivation
Argentina is one of the larger producers of chia seeds and has given an impulse to chia cultivation in the region. A lot of agricultural knowledge for growing chia comes from Argentina and many businesses in Bolivia and Paraguay are linked to Argentinian professionals.
Despite a large number of farmers who returned to cultivating conventional crops such as maize and soybean, Argentina still has a strong foothold in the chia business. The country produced nearly as much as Bolivia in 2019.
Argentinian exporters to Europe performed best in the Netherlands, but export has become more expensive since the government has limited the access to the foreign exchange market.
Mexico: the origin of chia seeds
Mexico is one of the origin countries for chia seeds. Their potential production volume is less than in South American countries and cultivation costs are higher. On the upside, the country and the climate are more suitable to producing organic chia. Moreover, Mexico produced a decent volume of 8 thousand tonnes in 2019, according to industry sources.
Mexico has also found good markets in the Netherlands and Germany, but with access to the Chinese market and its proximity to the United States, Mexico has several options for export and does not depend on the European market.
Peru: commercial power
Peru is not a big producer of chia seeds, but commercially, they are very potent. Peruvian exporters buy chia from nearby countries such as Paraguay and Bolivia to re-process and sell from Peru. This has turned Peru into one of the leading exporters of chia seeds. Especially in the United Kingdom and the Netherlands, Peruvian exporters have gained market share.
Uganda: new supplier of chia seeds
In several African countries, farmers have started to grow chia seeds. Uganda is one of the main upcoming countries besides Tanzania and Kenya. Production is small in scale, which is ideal for organic production, but in terms of competitiveness, most African suppliers cannot match the low-cost production of South America. Still, several traders in the Netherlands and Germany have expressed interest, including the large German chia buyer Naturkost Übelhör, which started a chia project in Uganda.
Tips:
Invest in knowledge and experience in efficient cultivation and processing techniques. This will help you get a low cost-price and become more competitive with large-scale suppliers. Connect with producer groups, agronomists or local agricultural research centres to exchange experiences.
Keep up to date with the global chia production, especially in South America. Find reliable contacts in the production countries to get first-hand information about the expected yields and production volume. When production falls short, it can be a good opportunity for other producers to step in.
Which companies are you competing with?
Alquimia, competitive sourcing company
Paraguay has several large chia operations, Alquimia is one of these. The company works with a large number of smallholder farms to bring organic and conventional crops to the market, including chia, sesame, amaranth, pulses and quinoa. All together, they are able to reach a high volume and maintain a very competitive price.
Some of the European buyers have little confidence in organic chia from the Gran Chaco region (Paraguay, Argentina, Bolivia) due to the large scale of conventional crop production. This reputation may influence the decision of buyers to source chia seeds in alternative production countries such as Mexico or Uganda.
Andes Harvest, an agricultural powerhouse
With 70 thousand hectares divided between Bolivia and Argentina, Andes Harvest is an agricultural powerhouse. Chia seeds are produced together with soybean, maize, pulses, wheat, sunflower and sesame seeds. As an international producer, the company does not depend on one type of crop or region. The products are marketed internationally through a commercial office in Chile.
The large-scale operation and location does not really allow for organic production, which is a disadvantage in the trade of chia seeds.
Benexia, an innovator and pioneer in chia
Benexia (Chile) is an innovative pioneer in the chia business. The company uses top-of-the-line processing equipment to reduce microbiological contamination and has developed several sub-products such as protein powders and chia oil.
The company has built a quality brand for processors as well as retailers, but they are facing fierce competition from price-focused companies that focus less on quality. This is due to the fact that for some market players, the laboratory report has become leading, while the compliance with European organic standards is more difficult to control.
Tips:
Diversify your product portfolio and do not depend entirely on chia seeds. Both the production and the market are difficult to predict, which makes chia a risky business. The survivors in chia export are the companies that have diversified their supply.
Make sure to supply organic chia that is genuine and not just according to the expectations of your client. Some buyers are just interested in the certificate and the laboratory test, but you must realise that any wrongdoing will be your responsibility as a supplier.
Which products are you competing with?
Besides chia seeds, you can find several oilseeds in Europe that are sold as a food ingredient, such as linseed, hemp seed and sesame seed. Food manufacturers make a choice of ingredients based on nutritional value, marketing value and price. In terms of price, chia is less attractive than most other oilseeds, but its marketing and nutritional value is superior.
Also, chia has the characteristic that it becomes becomes a jelly-like substance when liquid is added. The high dietary fibre content and the ability to control viscosity and texture in food make chia seeds into a functional ingredient. This gives it unique thickening properties for fruit shakes and marmalades.
Tip:
Make it easy for food brands and consumers to understand the possibilities of chia seeds. Find strategic partners such as food brands that can promote chia and its different uses. Look for brands in European stores and webshops that have already included other nutritional seeds into their products, such as quinoa or linseed.
4.

What are the prices for chia seeds on the European market?

The price of chia seeds is determined by the availability of the product and the sentiment of professional buyers. There is often a difference between the expected production and the actual harvested volume, which can influence prices and price corrections in the short term.

Chia trade prices were driven up to records of 6 up to excesses of 9 euros per kilo in 2013 when the demand for chia seeds boomed in the United States and started off in Europe. Speculation resulted in significant overproduction in the following year, and prices plummeted. The new niche market for chia seeds got overstocked and farmers without proper storage sold out.

Since then, the chia prices have been relatively stable, between 1.8 to 2.2 euros/kg for conventional chia and 2.5 to 3.0 euros/kg for certified organic chia. In autumn 2019, chia prices averaged 1.9 euros/kg for conventional chia and between 2.6 and 2.8 euro/kg for organic chia. The trade prices for chia are likely to remain stable in the following years as long as the climate and speculation remain under control.

The retail prices for chia seeds fluctuate significantly, depending on the sales channel and product. Large bulk packages of several kilos are sold for as low as 6 euros/kg in online shops (and 4.5 euros/kg for a 25kg bag), while the highest price of around 20 euros/kg can be seen for small organic brands at specialised stores. In general, retail margins are high because chia has a slow rotation speed: consumers do not need to buy chia seeds on a daily basis.

This study has been carried out on behalf of CBI by ICI Business.

Please review our market information disclaimer.

Follow us for the latest updates