The European market potential for fresh herbs
Fresh herbs are gaining popularity as consumers are becoming more interested in natural, healthier products and culinary experiences. Herb preferences and consumption vary throughout Europe but overall the trade value is increasing with a stable import from non-European suppliers. Northern European countries show most potential for imported fresh herbs.
1.

Product description

Fresh herbs (herbaceous plants) refer to leafy green parts of a plant that have a culinary, aromatic, cosmetic, decorative or medicinal use. This study focuses mainly on fresh culinary herbs used to flavour food and beverages.

Typical fresh herbs that are used in Europe are, for example, basil, parsley and mint. These herbs are available as freshly cut and packaged herbs, frozen herbs and potted plants. Potted herbs are generally not imported due to phytosanitary regulations and inefficiency in logistics.

Image 1: Example of freshly packed herbs in a French supermarket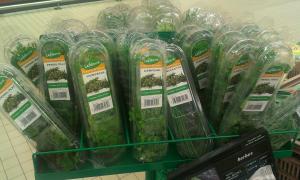 Image by ICI Business
In trade data, fresh culinary herbs belong to the HS code 07099990 for "Other vegetables, fresh or chilled, not mentioned elsewhere". This code also includes niche vegetables such as okra, wild onions and bitter lemon. Dried herbs are not part of the statistical analysis.
Note that fresh herbs not destined as culinary vegetables are registered under the HS code 12119086 for "Other plants and parts of plants used primarily in perfumery, in pharmacy or for insecticidal, fungicidal or similar purposes, fresh, chilled, frozen or dried, whether or not cut, crushed or powdered". These may include basil, mint, oregano, sage and curry leaves. There are also several other HS codes that may include (fresh) herbs (see table 1).
Table 1: Product codes for fresh herbs
Harmonized System (HS) code

07099990 "Other vegetables, fresh or chilled, not elsewhere specified"

Sub codes

0709999040      Parsley

0709999072      Coriander leaves

0709999090      Other (including fresh culinary herbs)

Other HS codes that may include (fresh) herbs

0709400090      Cutting celery

07039000          Chives (leeks and other alliaceous vegetables)

09109933          Thyme (spices)

09109950          Bay leaves (spices)

12119086          Herbs primarily with non-food purposes

Examples of common fresh herbs in Europe

Basil (Ocimum basilicum)
Parsley (Petroselinum crispum)
Coriander or cilantro (Coriandrum sativum)
Chives (Allium schoenoprasum)
Thyme (Thymus vulgaris)
Oregano (Origanum vulgare)
Rosemary (Rosmarinus officinalis)
Dill (Anethum graveolens)
Mint (Mentha)
Sage (Salvia officinalis)
Tarragon (Artemisia dracunculus)
Chervil (Anthriscus cerefolium)
Marjoram (Origanum majorana)
Lemongrass (Cymbopogon citratus)
2.

What makes Europe an interesting market for fresh herbs?

Important European markets have increased their import value over the past years with a stable supply from non-European herb growers. The interest in a wide variety of fresh herbs will keep the demand in Europe strong.
Trade value of fresh herbs increases
The trade value of "other vegetables" with HS code 07099990 is increasing throughout Europe. This statistical code includes fresh herbs, but also other niche vegetables such as okra, wild onions and bitter lemon. The increasing value suggests the demand for fresh culinary herbs is increasing.
The majority of fresh herbs are sourced within Europe. But despite the preference of local produce, a significant amount of herbs is still imported from non-EU countries. The supply from the main non-European suppliers seems to be stable and a rough estimation of the non-EU market share would be between 5 and 10%. Countries such as Kenya, Morocco, Thailand, Jordan, Israel and Turkey supplied over 50 million euros worth of "other vegetables", of which assumingly most were fresh herbs and some okra. Only Thailand is also known to produce bitter lemon.
The value per kilo is relatively high and has room for higher shipping costs such as air freight. That is why European buyers can opt for large distance suppliers in Kenya and Thailand. You can be part of the fresh herb supply chain if you have access to efficient logistics.
Tip:
Calculate and discuss prices and logistical costs with your prospective buyers. Know what your buyer is ready to pay and compare your product and air-freight prices with other countries.
Europe has potential for a wide variety of fresh herbs
Consumers for fresh herbs in Europe are diverse. Each region, segment and occasion has its own characteristics in demand and you can find opportunities for both mainstream and niche fresh herbs.
Common herbs
The most popular fresh herbs in Europe are basil, chives, mint and parsley. Basil is the most popular culinary fresh herb in Europe, making up between 60 and 75 percent of the total consumption. Basil is typically used in Italian dishes and pesto. Other herbs that are often available in the fresh department include coriander, rosemary, dill, thyme, sage, oregano, tarragon, leaf celery and occasionally marjoram and chervil.
Exotic herbs
The popularity of international cuisines and large ethnic groups help exotic herbs and leafy vegetables such as Thai basil, lemongrass, Tong ho, Kayang leaf (Rice paddy herb) and Makrut lime leaf gain market share. Some of these exotic herbs are also produced in Europe nowadays, often in Spain or the Netherlands.
Regional demand
North-western Europe is a stable and growing market for fresh herbs with relatively steady prices. Small differences in preferences could influence your focus. For example, dill is very popular in the Scandinavian countries, Germany has a strong consumption of chives and mint and France is a good market for a variety of fine culinary herbs.
Eastern Europe is a more volatile market, but suitable as a spot market and less demanding in terms of packaging standards. Consumers in this region have a preference for rich meals that include herbs such as bay leaves, dill, parsley and oregano.
Southern Europe uses a high volume of fresh herbs that are typical for the Mediterranean kitchen, such as oregano, basil, but also parsley and rosemary. Their local production makes import less necessary.
See the opportunities that different countries can provide below.
Temporary increase in demand
Timing can also be a factor for the consumption of fresh herbs. For example, the demand for fresh basil increases when the outdoor tomato is in season, and Christmas drives additional sales of for fresh thyme and rosemary.
3.

Which European countries offer most opportunities for fresh herbs?

Culinary tradition and ethnic communities are a significant influence in the amount and types of fresh herbs that are consumed. Flavours and preferences in herbs are different throughout the region. Important herb importing countries are Germany, the Netherlands, France, Belgium, United Kingdom and Spain.
Germany: Strong import growth for fresh herbs
Germany is probably the largest market in Europe for imported fresh herbs. The value of fresh vegetables (including herbs) is increasing in a fast pace.
Parsley, chives and dill are dominant fresh herbs in German culinary consumption. Mint and basil are also popular. A large share of these herbs is produced nationally. Eurostat recorded a production of 128 thousand tonnes of leafy and stalked vegetables, other than the usual chicory, leeks, lettuce and cabbages.
Imported fresh herbs are most common from October to March, when German production stops. The indicative import value has grown with 42% from 2015 to 2019. With an increasing interest in international cuisines and natural flavouring, you can expect a further growth in the next couple of years and possibly beyond. However, the growth curve may be flattening.
Most import comes from the Netherlands, Italy and Spain, but Germany is also an important market for non-European fresh herbs. Fresh herbs and niche vegetables are imported from Israel, India, Thailand, Morocco and Kenya, with Israel being the largest supplier with 2.9 million euros in 2019.
The Netherlands: Partner in horticulture and logistics
The Netherlands has the second highest import value of fresh herbs (among other niche vegetables). Local consumption is increasing, but most of the imported fresh products are re-packed and re-exported to neighbouring countries. The Dutch tradition in trade and logistics are key for many foreign suppliers.
The Netherlands has always positioned itself as a supplier of international produce and at the same time it has a professional horticultural production of fresh herbs. Growers have made an effort to introduce new herb varieties by growing different kinds of fresh herbs in greenhouses. During the winter foreign produce is added to this local supply. Companies such as Van Vugt Kruiden grow herbs in the Netherlands as well as in other European countries and Kenya.
In the Netherlands, mint is very popular and often used for making fresh mint tea. The Indo-Asian influence raises the consumption of coriander and lemongrass.
Dutch imports reached a value of 136 million euros in 2019. Most is imported from Belgium, Spain, Italy and Germany. Kenya is the main non-European supplier with 2.9 million euros. Several million euros of the total import value concerns okra and other exotic vegetables, for example from Suriname, the Dominican Republic and Costa Rica. The Netherlands will remain an important hub for exotics, which also provides opportunities for exporters of niche herb varieties.
Tip:
Use the Netherlands for logistics or distribution if you cannot supply your fresh herbs directly to other countries in the area such as Germany and Belgium. Associating with a Netherlands-based herb company such as Van Vugt, VNK Herbs or Vitacress Real could also be a good strategy. For selling exotic varieties it may be best to find a specialised buyer.
France: Country with a herb tradition
Herbs and spices are indispensable in the French culinary tradition. Not surprisingly France is one of the major European producers of leafy vegetables and fresh herbs. But demand also requires some fresh herbs to be imported.
The French cuisine is known for its four fine herbs: chives, tarragon, parsley and chervil. Northern African communities in France also increase the demand for parsley and coriander. Several herb blends have a French origin, for example:
"Herbes de Provence": a mixture of (mostly dried) herbs typically used for grilled foods or stews, such as savory, marjoram, rosemary, thyme, and oregano.
"Fines herbes": is a traditional French blend of fresh mild herbs, include ing parsley, chives, chervil, tarragon and sometimes thyme.
"Bouquet Garni": a small French bundle of fresh herbs that is traditionally tied together, often containing thyme, parsley and bay leaf to flavour soups, sauces or casseroles.
French consumers often have a preference for local and in-season produce. However, the culinary tradition results in an excessive demand which makes import inevitable. Despite being one of the biggest producers of leafy vegetables and aromatic and culinary herbs, this import dependency is not likely to change.
Most of the 125 million euros of imported products in 2019 originate either from Spain or the Netherlands (the normal import value goes up to 80 million euros, so the higher value of 2019 will likely be revised). There is a high import value from Honduras (9.1 million euros of mostly okra, not fresh herbs) and Thailand (3.1 million euros). Morocco and Israel are also significant suppliers with over a million euros in value which is mostly fresh herb related.
Belgium: A taste for new herbs
Belgium is a relatively large fresh herb importer for its country size. Its import value in 2019 equals the value of the much larger United Kingdom market. Especially savoury herbs are popular in Belgium.
The Belgian fresh herb market is supplied by national producers as well as foreign suppliers. The Netherlands and France are obvious suppliers to the Belgian market, but there is also a strong import from Kenya (4.5 million euros) and Israel (2.8 million euros), which are typical suppliers of horticultural products such as fresh herbs. At a national level there are different types of herb companies active: Nurseries with a wide variety of herbs (such as Claus Kruiden), specialists in potted herbs (such as Vegobel) and companies that turn them into frozen herbs (such as HerbaFrost).
The classic herbs thyme, rosemary, and basil are popular, but according to Claus Kruiden there is also an increasing taste for new herbs such as the silty oyster leaf, sea fennel and salicornia, as well as aromatic herbs such as orange and lemon thyme. You can expect the variation of herbs to grow further in Belgium.
United Kingdom: Diverse and relevant country for non-European suppliers
The United Kingdom is a large and diverse market for fresh herbs. Although fresh herb imports seem to be in decline in the trade statistics, it is actually one of the most relevant markets for non-European suppliers.
Spain dominates the off-season supply of fresh herbs in the United Kingdom. A variety of non-European countries are also relevant suppliers, including Kenya, Jordan and Mexico. The United Kingdom has a strong connection with Kenya, from where it imported 8.6 million euros of fresh herbs (including niche vegetables). This value dropped significantly from 15.9 million euros in 2015 – which can be explained by the banned import of Khat, a leafy herb that is chewed as a stimulant.
Fresh herb consumption in the United Kingdom is diverse. On one hand there is a traditional consumption of parsley, rosemary, chives, sage and thyme, which rises during Christmas season. Basil is one of the main consumed herb throughout the year with 40% share in the potted herb sales, according to Tesco. On the other hand different ethnicities drive the consumption of coriander, Thai basil and other spicy herbs, made available by companies such as Thai Food Online. British herb companies increase the interest in novelties such as Thai basil, which was first launched in the Waitrose retail chain by R&G Fresh Herbs.
Due to difficulties in the local production, the United Kingdom will continue to import fresh herbs. According to the British Herb Trade Association (BHTA) the local sector faces challenges in increasing wages, poor availability of labour and an uncertain climate. As production costs are rising, it may become more attractive for foreign growers to supply freshly cut herbs and even consumer packed herbs to the United Kingdom.
Spain: Potential for Moroccan growers
Spain uses culinary herbs intensively and the national consumption of certain herbs is high. With its favourable climate, Spain is able to grow most herbs all year round. For Moroccan growers it can be interesting to provide additional fresh herbs.
Spanish herb growers are responsible for fulfilling the local demand as well as other European markets. In Spain, popular herbs include coriander, rosemary and parsley. Basil and oregano are popular throughout the whole Mediterranean region including Spain.
Professional growers use open fields and plastic tunnels to grow herbs throughout the year. When production slows down, the import from neighbouring countries increases. In this case, Spanish companies increasingly look at Morocco to extend their productiveness. In 2019 Spain imported 9.8 million euros worth of fresh herbs from Morocco (among other vegetables – see product description above), a value that has increased over 2.5 times since 2015. This makes Spain the main buying market for Moroccan herb growers.
4.

Which trends offer opportunities on the European fresh herb market?

Culinary experiences and natural eating increases the consumer interest in using fresh herbs in cooking and other food products. This interest in fresh herbs provides opportunities to suppliers that understand how to manage quality and presentation of their products.
Culinary experience broadens the interest in fresh herbs
There is a growing interest in new culinary experiences. Taste makers such as fresh herbs are part of these experiences, stimulating their consumption.
Consumers are often inspired by restaurants, cooking programmes on television and online recipes. Also, ethnic cooking with Asian and African ingredients is becoming more and more integrated in Europe. As a result, consumers are open to trying new products and include more culinary herbs in their cooking.
This trend gives a boost to new herb varieties. For example, coriander is a non-traditional herb in Northern Europe, but it is becoming more popular because of Eastern influences. Exotic varieties such as salicornia (samphire) and Thai basil used to be sold mainly to the catering industry, but they are now also becoming more popular in the retail channels.
Suppliers that profit from this broadening consumer interest are companies with a diverse or unique offer. These are, for example, companies such as AdaFresh with a wide assortment from Israel and Kenya that includes red basil, salicornia and sorrel.
A shift to fresh eating and natural flavouring
Consumers in Europe have an increasing appreciation for fresh, unprocessed products. Natural and fresh relates best to people's increasingly healthy lifestyles. Freshness must be your key objective in supplying fresh herbs.
Fresh herbs are considered to be more natural than dried or processed herbs. They provide better customer satisfaction. Herbs that have been traditionally sold as dried herbs are now widely available as fresh herbs, such as fresh oregano and marjoram. These fresh herbs are used for flavouring all kinds of food or drinks, in a broad range of segments. For example, you can find fresh mint used in restaurants and bars for mojitos or fresh mint tea, and in supermarkets you can find it mixed in fruit juices, water or ready-made meals.
Natural eating and health also feeds the demand of organic and 'potted' herbs (grow your own). These products are especially in demand in Northern Europe and there are even initiatives of supermarkets such as Marks & Spencer that grow herbs instore. Potted and organic herbs are mostly supplied by local growers. As an exporter you must make sure your product can compete by keeping it as fresh as possible and, if possible, organically cultivated.
The handling of herbs as a fresh product can be very demanding. Retailers ensure their freshness by packing them in convenient refrigerated packages. As an exporter you must maintain an excellent cold chain, an unbroken chain from producer to consumer with a constantly maintained temperature.
Search
Enter search terms to find market research