Entering the European market for denim
This report explains what the most important opportunities and requirements are in the European market for denim. You will learn about the rules and regulations for exporting denim to Europe, about the best channels to get your product on the market, about the countries where your competitors are and the best ways to provide a quotation for a potential buyer.
1.

What requirements and certification must denim comply with to be allowed on the European market?

You will only be successful in exporting denim to the EU if you understand all the legal and non-legal requirements of European buyers. Global competition has increased, and the requirements of buyers in the EU have become more demanding. In addition to focusing on quality, price and speed, buyers now also require good service, flexibility and sustainability.
Mandatory requirements
There are many legal requirements you need to comply with if you want to export denim to Europe, including those concerning product safety, the use of chemicals (REACH), quality and labelling. Check the EU Access2Markets online helpdesk for an overview. Additionally, many buyers have non-negotiable terms and conditions for their suppliers. Although meeting these requirements is not required by law, you will have to comply with them if you want to do business with these buyers.
Follow these steps to ensure that your product complies with the relevant legal requirements:
Non-legal mandatory requirements
Besides the legal requirements mentioned above, you may be confronted with non-negotiable terms and conditions that buyers have created for dealing with suppliers. Such requirements are non-legal, but still mandatory.
Sustainable production and social compliance
Regarding harmful substances and organic production, European buyers may request standards such as the Standard 100 by Oekotex®, EU Ecolabel, BCI (Better Cotton Initiative), GOTS (Global Organic Textile Standard) or Bluesign®.
Regarding social compliance BSCI (Business Social Compliance Initiative) is the most popular (and often only) certification that European buyers will require. Other popular social standards are WRAP, SEDEX, ETI, SA8000, ISO 26000, FWF and Fair Trade.
Some of the biggest denim brands, notably Levi Strauss & co and G-Star RAW, have been pioneering the concept of supply chain transparency. Both brands publish their manufacturers in the Open Apparel Registry. Many denim brands also present supply chain information on their websites and some even on hangtags. For information on how to comply with transparency requirements, go to the website of the Clean Clothes Campaign and Human Rights Watch or check the Open Data Standard for the Apparel Sector.
Other sustainability requirements may be:
Use of fabrics made with recycled content. Read all about this trend on Sourcing Journal. The most used certifications for recycled content are The Recycled Claim Standard (RCS) and the Global Recycled Standard (GRS).
Use of organic cotton. This is cotton grown without the use of GMOs ('genetically modified organisms') and synthetic chemicals. Read more about organic cotton in the CBI study on Sustainable cotton.
Use of denim blended with eco-friendly fibres such as hemp, regenerated fibres such as REPREVE™, or Tencel®, Modal® and Refibra™ by Lenzing, or even with innovative bio-based polymer fibres such as PLA, milk, seaweed and soy.
Saving water during production by dyeing fabrics with new techniques (using CO2 instead of water) such as Dyecoo or Kitotex®.
Replacing fading techniques such as sandblasting, stone finishing and the use of potassium permanganate with sustainable alternatives like ozone washing, laser engraving and printing.
Using vegan 'Jacron paper' patches instead of leather patches. See, for instance, Swedish denim brand Nudie.
Phasing out the use of metal rivets to make it easier to recycle denim apparel, which fits in a circular economy strategy. See, for instance, the 'Jeans Redesign pledge' by The Ellen MacArthur Foundation and the launch of Tommy Hilfiger's first circular jeans collection in March 2021. The accompanying guideline with practical tips shows how to design jeans in a circular fashion.
Packaging requirements
In most cases, your buyer will give you instructions on how to package the order, in a manual. If you agree with your buyer that they will clear customs in the country of import (which is the norm), it is their responsibility to ensure the instructions comply with EU import procedures. Your buyer will also appreciate any efforts you make to reduce the environmental impact (and financial cost) of the use of packaging materials.
Payment terms
For a first-time order, European buyers may agree to a down payment (for instance, 30%). They will pay the rest (70%) after the order has been completed. The safest payment method for you as a manufacturer is the LC (Letter of Credit). An LC obligates a buyer's bank to pay the supplier when both parties meet the conditions they have agreed upon. However, many buyers no longer favour LCs, as these tie up their cash flow. Be aware that LCs do not offer financial protection against bankruptcies!
For any further orders, most European buyers will ask for a TT (Telegraphic Transfer) after 30, 60, 90 or sometimes even 120 days. This means you as a manufacturer finish the production and hand over the shipment to the buyer, including the original documents, before payment is due. The payment will be made after the number of days that you have agreed with the buyer. This is a risky payment agreement because you are taking the full financial risk.
Tip:
COVID-19 has shown the negative impact of extended payment terms for manufacturers. It is advisable to negotiate a down payment on every order and a balance payment before handover. This reduces the risk of a cancellation due to a lockdown.
The buyer manual
When you do business with a European buyer for the first time, they will typically give you a contract and/or a manual to sign. By signing the contract, you confirm that you will comply with all the listed requirements. This means that you will be held liable in case of a problem after the delivery of an order. Complying with REACH can be especially challenging. With small orders, most European buyers will not ask for expensive testing, but if illegal chemicals are discovered after delivery, you will bear all expenses involved.
What additional requirements do buyers often have?
Next to legal and non-legal mandatory requirements, there are many services that buyers implicitly expect, or at least highly appreciate, if you want to do business with them. These requirements can differ from buyer to buyer.
Product design and development
European buyers are always looking for special designs, materials or production methods that will help them stand out in the market. That is why they appreciate manufacturers who have their own ideas on product design and development.
Consider for instance:
Fabrics in different colours than the popular blue, black and grey, such as white denim or other vibrant colours.
Blended fabrics or different weaving and/or knitting techniques.
Innovative finishes and prints, preferably using sustainable techniques (see above).
The most popular denim jeans style in Europe used to be the skinny jeans, but this cut has been losing ground to more relaxed silhouettes such as the slim and straight cut. Other popular styles are: the loose fit (wide straight cut from waste to ankle); bootcut (narrow around the thighs, loose below the knees); flared jeans (tight fit and flair cut below the knees); capri (3/4 length); stretched jeans (jeans that easily stretch over thighs and make the legs look long); and the high rise (made in almost every cut).
Denim shorts for men and denim mini-skirts for women have recently also become popular in Europe during the spring and summer seasons.
Figure 1: Sales in more relaxed silhouettes, such as the slim and straight cut, are now growing fastest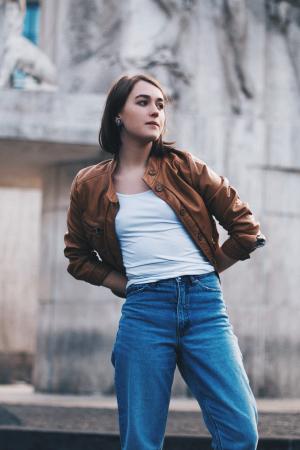 Photo by Mikail Duran on Unsplash.
Figure 2: The skinny has been losing ground but is still a popular cut for denim jeans in Europe
Photo by Engin Akyurt on Unsplash
Communication
Smooth communication is an implicit requirement that all buyers have. Always reply to every e-mail within 24 hours, even if it is just to confirm that you have received the e-mail and will send a more detailed reply later. If you encounter a problem with a production order, notify the customer immediately and try to offer a solution. Another good tip is to create a T&A (time and arrival) of every order and share it with your buyer. This file will help you to manage expectations, monitor progress and is the best guarantee for timely delivery.
Flexibility
Many factories focus only on getting 'convenient' orders: simple styles, large quantities and long delivery times. However, if you want to start a business relationship with a European buyer, be prepared to accept complicated orders first. Buyers will want to test your factory before giving you big, easy orders. Make sure at the start that a buyer will not continue to only place difficult orders with you and convenient orders elsewhere.
Expect a European buyer to require for his or her first order:
high material quality and impeccable workmanship;
order quantities below your normal Minimum Order Quantity (MOQ);
a price level that is lower than you normally would accept for small quantity orders.
Niche requirements
The following niche categories, although relatively small, are experiencing growth and offer opportunities for denim manufacturers. The required qualities, styles, and quantities, often differ from mainstream production. This means you need to adjust your manufacturing and sourcing setup if you want to be profitable.
Jogg jeans
Jogg jeans is a denim trouser that combines the look of denim jeans with the comfort of activewear. It is made using a stretchy fabric that is a mix of denim and jersey. Jogg denim is also called hybrid denim. This product started as a niche item some years ago, but is now moving towards mainstream. Jogg jeans need to be made to look as much like regular denim jeans as possible (often including fading) but with maximum comfort. Your employees must adjust to working with knitted fabrics instead of wovens, which can temporarily lower efficiency.
Jeggings
A jegging is a legging made to look like denim, with fake pockets and beltloops. The jegging was originally designed using a denim fabric with the elasticity of a legging. As the EU apparel market moves more towards sportswear and activewear, these popular product categories are also influencing mainstream categories. A jegging is a good example of two different categories mixed together. Your employees need to adjust to working with knitted fabrics instead of wovens.
Recycle
There are many denims in the market that are a mix of virgin material and recycled denim. It is not yet possible to develop new denim fabrics that are made from 100% recycled post-consumer waste, but the industry is continuously increasing the percentage of recycled material in denims. As a manufacturer of denim styles, you need to create a circular business model that will enable your customer to manufacture new styles but also return used denim for recycling purposes.
Re-done
Re-done jeans is an increasingly popular style of denim trousers that is made by stitching cut out parts of second-hand denim items onto new pairs. The look shows colour and shade differences, highlighting the fact that it is made from old jeans. Recycling cuttings or second-hand jeans is preferable because of waste reduction, but not a strict requirement. Several brands have been known to develop new jeans that look like re-done denim but are made entirely using new fabrics.
Customised jeans
Some denim brands, including Levi's, have started to offer end-consumers the opportunity to customise their jeans. Italian denim brand Diesel launched something similar in 2020 with their 'Unforgettable' jeans campaign. Dutch retailer Atelier Munro offers a made-to-measure service for jeans. Such services require a highly flexible supply chain.
Tips:
If you decide to focus on a niche, investigate the specific requirements and make sure you can comply. Be aware that order quantities in niche markets are usually smaller than in mainstream markets.
Try to think ahead in your product development if you service niche markets. New innovations are introduced almost daily. Try to find workable innovations that will not only give you the tools to diversify, but also to cut expenses.
For more information, read our report on trends in the European apparel market or sign up for trend forecaster WGSN's newsletter. For an analysis of the latest trends in the European denim market (including the effects of COVID-19), read the Edited Denim Report (March 2020).
2.

Through what channels can you get denim on the European market?

Before you start to approach European denim buyers, you need to determine what market segment fits your company best and through what channel(s) you want to sell your product.
How is the end-market segmented?
In addition to the obvious segmentation based on gender, age and product type, segments in the denim market can best be distinguished by price/quality level. The largest segments are the luxury market, the upper-middle and middle market and the budget segment.
Table 1: Denim market segmentation
Consumer type

Price level

Fashionability

Material use

Functionality

Luxury consumer

Very high

Unique, original styles and designs

Unique, high-quality materials and finishes 

Low functionality and often hand wash/dry clean only

Fashion conscious consumer

High

Combination of fashionable styles and basic styles

High-quality materials and finishes

Mix of sensitive materials and practical, user-friendly qualities

The middle market

 

Medium

Wide range of basic to fashionable styles

Often blends to improve fabric characteristics and durability

Functional and user friendly. Machine wash only

The budget market

 

(Extremely) low

Fashionable and basic styles with a focus on mainstream consumers

Low-price materials meeting consumers' quality expectations

Machine wash only
The luxury consumer
For many European luxury brands like Versace, Gucci, Dolce & Gabbana, denims are a side product. Just like the rest of their collections, the denims such brands offer are extremely fashionable, unique and luxurious designs with a very high retail price. Because buyers in this segment have extremely high standards regarding design, workmanship, material quality and brand image, production mostly takes place in Europe. Order quantities are low.
The fashion-conscious consumer
The upper-middle market caters to fashion-conscious consumers and is the biggest market for denim jeans. It is home to A brands such as G-Star RAW, Diesel and Ted Baker selling creative designs, but in a less conspicuous way than in the luxury segment. Consumers appreciate brands for their brand image, original designs and high-quality materials. Smaller brands with a distinct sustainable profile such as Armed Angels, Nudie and Kings of Indigo operate in this segment. Retail prices are high, order quantities are low to medium.
The middle market
Practical consumers shop in the middle market. Here, you will find brands and retailers such as Petrol, Tom Tailor and Kaporal selling both fashionable and basic styles. The focus is on washability, fit and medium-quality materials. Buyers will sometimes require organic fabrics. Order quantities are high, retail prices low to medium.
The budget market
Price-conscious consumers looking for both inconspicuous but fashionable and more basic designs shop for denim jeans at large retail chains such as H&M (basic-fashionable), Primark (basic-fashionable), HEMA (basic) and Carrefour (basic). Sustainable materials are in small demand, with notable exceptions such as C&A and Zeeman. Order quantities are high and retail prices are (very) low, so your margins are, too.
Tips:
A 2018 denim survey by German trade medium TextilWirtschaft shows that, for most consumers and vendors, quality, innovation, and customer service, are the most important drivers for purchasing denim jeans. Price ranked fifth.
For inspiration on denim styles check European online shopping platforms such as Yoox (brands in upper-middle to luxury market), Zalando (brands in all market segments) and Asos (brands in lower and middle market).
Add value for higher segments that offer higher profit margins. Focus on design, quality and material use.
Search the Material District database for hundreds of innovative and sustainable fibres and fabrics.
Through what channels does the product end up on the end-market?
Their place up the value chain determines how buyers will do business with you. Each buyer requires a specific approach. Always try to find out in what part of the value chain your buyer is operating, what challenges they face in the market and how you can contribute to their sales strategy.
Figure 3: Denim market value chain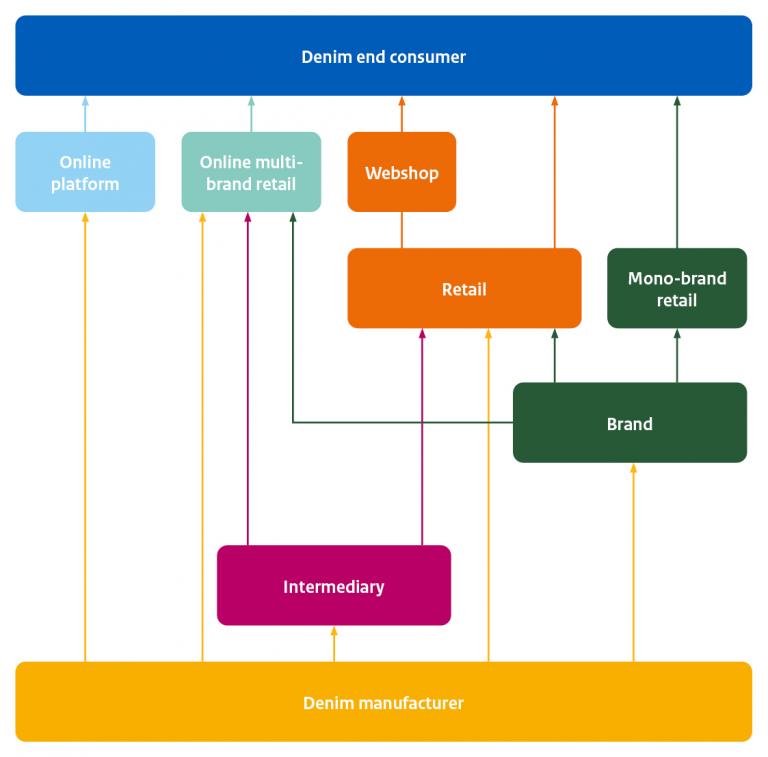 What is the most interesting channel for you?
As you move higher up the value chain, your margin will increase, but the service level that buyers demand will also increase. If you have little experience with exporting to Europe, intermediaries and brands are likely the best starting point for you.
Intermediaries
Intermediaries (agents, traders, importers and private label companies) are the most adventurous types of buyers and are usually the first to explore new sourcing destinations (from their perspective) and factories. By doing business with these types of buyers, you will have access to many different buyers further up the value chain and you can learn how to service them by following their instructions.
Brands
For many European fashion brands, denim is part of their concept. Others specialise in denim. There is usually more room for price negotiation with brands (especially in the higher market segments), but brands also demand a higher service level than intermediaries. Make sure you can supply low minimum order quantities (MOQs) and offer flexibility.
Retail
Most large European fashion retailers are used to doing business with manufacturers in developing countries. It can be very difficult to start a business relationship if you do not comply with all mandatory requirements. Besides delivering a good quality product for a competitive price, your service level needs to be very high. Retailers may lack professional expertise on denim, so advice on product quality and development is highly appreciated.
Online multi-brand retailers
Also promising are multi-brand online stores that produce private collections. This is a budget market with low profit margins, but potentially big volumes, mostly spread over many small orders. Check out '8' , for instance, by Yoox, Zalando's private label brand 'YOURTURN', or 'ASOS DESIGN' by Asos.
Tips:
You can find intermediaries specialised in denim by using an online search engine. Use keywords such as 'full service', 'garment' or 'denim' plus 'solution'. Trader's websites usually show the brands they are working with.
Check the online Retail-Index, which contains profiles of major apparel (including denim) retailers in Europe.
3.

What competition do you face on the European denim market?

Many leading European denim brands have been in business for decades. They have built a strong position in the market and they usually work with a fixed selection of suppliers, making it difficult for newcomers to enter the market. If you want to be competitive, it is very beneficial if you have local availability of export-quality cotton and synthetic fibres and materials, flexible MOQ's (Minimal Order Quantity) and an innovative mindset regarding materials and construction techniques.
Which countries are you competing with?
'Near sourcing' manufacturing countries like Turkey, Morocco, Tunisia and Egypt focus on fast delivery and high fashion input, which enables buyers to respond quickly to market trends. The bulk of denim production used to be manufactured in China but has moved to countries like Bangladesh, Pakistan and Cambodia due to price pressure. These countries are increasingly investing in design and innovation to diversify.
Table 2: Competing countries
Country

Strengths

Challenges

Bangladesh

High-volume production, low production costs and a competitive price level. Bangladesh enjoys GSP status.

Less flexibility than in China. Although yarns are increasingly spun locally, Bangladesh still imports many materials.

Turkey

Close to Europe, which results in very short lead times. The country produces high-quality apparel in small quantities and it has a European business culture. Turkish manufacturers accept payment in euros.

Turkish prices are relatively high compared to Asia. Unauthorised sub-contracting may occur.

Pakistan

 

Produces high-quality, relatively cheap denim jeans. The country grows its own high-quality long staple cotton and enjoys GSP status.

Relatively high MOQs and security issues. Many buyers do not want to travel to Pakistan (or are prohibited from doing so by their company).

China

Technical innovation, high quality, high efficiency, excellent customer service, flexible MOQs and local availability of yarns and trims.

Increasing labour, transport and production costs, human rights concerns and China lacks General Scheme of Preferences (GSP) status that removes import duties to the EU.

Tunisia

Located close to Europe, resulting in very short lead times. Experienced in producing trousers and denim.

The country's biggest challenge is competing on cost due to relatively high wages, inflation and a small working population.

Cambodia

Cambodia supplies high-quality products at a competitive price level. Many factories in Cambodia have been set up by foreign investors, who also supply their expertise.

Cambodia's challenges include having an inexperienced and relatively small workforce. Social compliance concerns and political repression have caused Cambodia to lose its duty-free GSP status in 2020.
Tips:
Most online search engines will let you create a 'news alert' on a topic. This way, you can automatically follow the latest developments in the apparel industry in a specific country.
Before you approach any buyer, determine your USPs and define your ideal buyer. Note that selling your company is even more important than selling your product, so focus on certifications and CSR. For more information, read our report on trends in the European apparel market.
Opportunities exist for lower cost manufacturers that can also offer value added services and smooth and consistent supply, particularly regarding quality and on-trend materials. Build up your knowledge of fabrics and create a reliable network of mills by visiting relevant trade shows.
Study the countries you are competing with, compare their strengths and weaknesses to yours and advertise the advantages of doing business with you. Besides GSP, consider factors such as distance to Europe, ease of doing business, transparency and occurrence of CSR risks.
Which companies are you competing with?
Denim Expert is one of the leading denim manufacturers in Bangladesh. The factory is ACCORD, BSCI, WRAP and Sedex certified. On its website, it first presents an elaborate story of its history, people and vision, before showing its facilities and product range. Denim Expert focuses heavily on product development and design (which it showcases on its website) and sustainable production.
Realkom in Turkey is a fully integrated manufacturer of high-quality denim jeans. The company invests heavily in research and development and has a big wash development centre. In addition to cut-make-trim, Realkom offers advice on trends, designs, fabrics and washings. The company publishes its own sustainability report, with scores on different Sustainable Development Goals.
Wiser Globe is a full-service denim supplier with offices in Amsterdam and Los Angeles and factories in Asia. The company positions itself not just as a denim manufacturer, but as a partner offering fashion brands advice on anything from marketing, design and development to transport and finance. Wiser Globe offers a range of sustainable solutions for fabrics, dyeing and fading.
Tips:
If you want to compete with the market leaders in denim production: be flexible in your minimum order quantity, even if the product has a high quality and finishing standard; innovate in product development and design and offer excellent customer service.
Check the free online database Open Apparel Registry. This website lets you look up the suppliers of hundreds of European fashion brands, including buyers of denim.
Read the CBI study 10 Tips for Doing Business with European Buyers to learn how to approach and engage with buyers. This report also describes how you can get practical help with understanding European business culture, analysing your USPs and doing business with European buyers.
Explore possibilities for different types of collaborative partnerships that can offer market access opportunities, and/or raise your knowledge and service level. In the highly competitive European market, companies are looking for a competitive edge that will enable them to differentiate themselves from others. Co-creation and new ideas from partners are usually welcome.
Which products are you competing with?
Denim has long been a staple in European wardrobes, with many European consumers owning several pairs of denim jeans. Denim imports into Europe have grown steadily between 2014-2019, but they declined by 0.34% in 2019. Some industry insiders blame a lack of innovation and creativity in product development for this decline, as well as the growing popularity of the following apparel categories.
Athleisure
Athleisure is to denim what denim once was to more formal styles of apparel: a comfortable alternative that you can even wear to work. For many (online) retailers, denim is still the dominant style for trousers, but more comfortable styles like leggings and joggings are catching up. Denim items that adopt comfortable features like stretch do relatively well.
Loungewear
An even more informal offshoot of the Athleisure trend is loungewear: extremely comfortable styles designed to be worn in and around the house. This trend is boosted by ever more people in Europe preferring to stay at home, both for work and recreation. This trend was already on the rise before the COVID-19 pandemic (when it was referred to as the 'Netflix generation'), but accelerated in 2020-'21 due to the lockdowns in many European countries.
Non-denim trousers
The import of non-denims such as cotton chinos and woollen trousers grew an average of 5.7% per year between 2014-2019. This category is becoming increasingly popular among European consumers. As with the athleisure trend, items blended with elastane for stretch and comfort are doing relatively well.
Second-hand denims
The market for second-hand apparel is growing steadily in Europe, helped by convenient reselling, renting and swapping apps such as Vinted, United Wardrobe, Vestiaire Collective and By Rotation. This could in time threaten the import of denims into Europe.
Tips:
Stay informed about the trends on the European denim market and try to adapt your product portfolio to new developments, even if it means also using non-denim materials.
Develop a close cooperation with your fabric supplier. By combining your expertise on product development, you will increase your competitiveness.
4.

What are the prices for denim on the European market?

The factory price of your product (in fashion industry jargon, your 'FOB price': Free On Board) is influenced by many factors, such as the cost of materials, the efficiency of your employees and your overhead and profit margin.

The average cost breakdown of your FOB price should look like this:

Note that these percentages may differ per factory and per order. Some factories accept lower profit margins during off-season periods, or when order volumes are high. In addition, the percentages for labour versus fabrics may differ, depending on the efficiency and wage level of the workforce and the price of the materials. Efficiency goes up and material prices go down when producing large volume orders.
Retail pricing
The retail price of a denim item is on average 4-8 times the FOB price (this is called the 'retail markup'). It follows that the FOB-price is on average 12,5-25% of the retail price of the product. Exceptions do occur. In the budget market, some large European retail chains may only double the FOB price mark up. Retailers mark up the FOB-price by 4-8 times because they need to account for (among other things) import duties, transport, rent, marketing, overhead, stock keeping, markdowns, VAT (15-27% in EU-countries).
According to Eurostat's 2020 comparison of retail prices for apparel, compared to the European average of 100, France had the highest price level among the top six European importers of apparel and footwear in 2020, with a price level index of 107.6, followed by the Netherlands (106.1), Italy (101), Germany (98.2) and Spain (92.2). The UK, which is now out of the EU, had a price level index of 90.7 in 2019. Note that brands and retailers that sell in multiple European countries usually keep prices equal or deviate only slightly from the standard retail price.
This study has been carried out on behalf of CBI by Frans Tilstra and Giovanni Beatrice for FT Journalistiek
Please review our market information disclaimer.
Follow us for the latest updates
Search
Enter search terms to find market research