Which trends offer opportunities or pose threats in the European apparel market?
The European apparel market is affected by multiple trends. The main trend is sustainability, connected with corporate social responsibility and transparency. The second major trend is the influence of technology on production processes, sales, and the relationships between buyers, suppliers, and consumers. Although some trends pose threats, others if properly explored could generate big opportunities for developing country exporters.
1.

Sustainability is new industry standard

The fashion industry is one of the major polluting industries in the world, largely due to overproduction, the use of synthetic fibres and colours, and the agricultural crop pollution. The apparel sector alone produces, in total, 10% of all Co² emissions, creates 20% of all wastewater, and uses 10-20% of all pesticides for the production of cotton.
In April 2021, the European Commission launched a campaign aimed at raising awareness of the environmental impact of the fast fashion industry. With the campaign 'Beyond your clothes', it wants to reverse the fast fashion trend. In the past fifteen years, clothes purchase increased by 60%, with the industry seeing 52 micro-seasons compared to 2 a few decades ago. This purchase behaviour has consequence for our environment.

As European consumers and governments are becoming more environmentally aware, sustainability becomes central to apparel industry trends and strategies. Producers are approaching the issue from multiple angles including climate neutrality, use of sustainable and alternative materials, material recycling and upcycling, more sustainable production techniques, chemical management, and animal friendliness. The developing country suppliers who are the fastest in adjusting their sourcing and production to these trends, will have the biggest opportunities in the European market.
Climate neutrality
The fashion industry is responsible for 10 percent of the carbon footprint of the world according to UNFCCC. It is set to rise by more than 60 percent by 2030 if the industry does not transform towards sustainability. Currently, fibre production, yarn preparation, dyeing and finishing account for over 50% of emissions in apparel production.
Industry players (including H&M Group, Inditex, Kering, Hugo Boss, Adidas and Puma) and the United Nations Climate Change are working together on reducing greenhouse emissions and in 2018 signed the Fashion Industry Charter for Climate Action. The Charter pledges net zero emissions for the fashion industry by 2050. In 2021, the European Union agreed on a law striving for climate neutrality by 2025 and negative emissions after 2050. The plan sets different milestones for 2030 and 2040, supported by a special greenhouse gas budget announced by the European Commission. The new law is strictly tied to the goal established for the Paris Agreement.
Some companies have even more ambitious goals, for example, H&M aims to become climate positive across its entire value chain by 2040, Marks&Spencer's is working with its partners to reduce value chain emissions by 13.3 million tonnes by 2030 and Patagonia aims to eliminate or mitigate all of its carbon emissions by 2025. Small labels use sustainable approaches to enter the industry. Thought, founded in 1995 in the UK, is a founding partner of Common Objective.
Apparel producers plan to reduce their emissions through several measures, such as greater usage of materials with low climate impact, focus on energy efficiency, using less water within the production, use of renewable energies, commitment to not installing new coal-fired boilers, or other coal-fired power sources. It is expected that in the medium term, regulations around the fashion industry emissions will become increasingly stricter.
The apparel companies are expected to start setting increasingly stricter targets on carbon emissions. For suppliers, this means that already within the next 3-5 years, they will have to work on reducing their emissions and that they need to develop a longer-term strategy for further emission reductions.
Use of more sustainable material mixes and alternative materials
Commonly used fibres such as cotton, virgin polyester, virgin polyamide, or cellulosic fibres have a significant negative impact on the environment. The production of cotton requires large amounts of water and pesticides. Virgin polyester and polyamide are made from crude oil, and cellulosic fibres are often linked with deforestation and require a chemically intensive manufacturing process.
Major apparel producers are increasingly committing to using more sustainable materials. H&M aims to only use recycled or sustainably sourced materials by 2030 and has therefore introduced its Conscious Collection made of organic cotton and recycled polyester. Equal collections have also been established by C&A, Only, Zara, and others. Adidas and the Bestseller Group have committed to sourcing only sustainably produced cotton and will increasingly use recycled polyester in the next 3-5 years. Earth Polo, one brand of Ralph Lauren, aims to save 170 million plastic bottles from landfills by 2025. 
Companies are also turning to low-impact, biodegradable fibres from hemp, flax, banana plants or nettles and are developing alternative fibres from agricultural waste, for example from corn fibre or citrus juice by-products, milk or naturally occurring biopolymers. Sustainable man-made alternatives in the form of lyocells such as Tencel, Modal Micro and Ecovero provide closed loop systems that reuse water and chemicals to manufacture yarns.
Another factor is the growing departure from the use of animal materials. For example, Asos demands that suppliers do not use animal-derived materials that are part of vulnerable, endangered, exotic, or wild-caught species. H&M and Inditex also have animal welfare policies in place. Leather alternatives are currently being produced from apples, pineapples, and mushrooms. Europe is currently the biggest market for sustainable material alternatives.
A production based on innovative, sustainable, and biodegradable materials creates an opportunity for developing country suppliers, especially if the fibre material can be sourced locally and if it can demonstrate much lower water and energy usage than traditional materials.
More sustainable production techniques
Current production techniques, especially in the fast fashion segment have a very negative impact on the environment. For example, textile dyeing is the second largest polluter of clean water globally, after agriculture.
In Europe, the use of hazardous chemicals in clothes, textiles and footwear is regulated under the REACH Regulation. Many hazardous chemicals are banned and more strictly regulated in Europe than in the United States of America and other parts of the world. Brands are pressured through this regulation and other campaigns into removing toxic chemicals from their supply chains. Many fashion companies have joined the Zero Discharge of Hazardous Chemicals (ZDHC) Association, which aims to ban harmful substances from apparel production processes.
Leading apparel companies are increasingly using more sustainable techniques that reduce the usage of water and energy and limit the use of harmful chemicals in the production process. An example includes waterless dyeing technologies, such as DyeCoo's CO2-based technology, which also eliminates the need for processing chemicals and reduces energy consumption. But digital and laser fabric printing as used for Levi's laser technology in denim finishing, which cuts the chemical processing, also reduces the finishing time and allows for personalisation, and can reduce the need for chemicals.
The overall use of more environmentally friendly dyes and processes like anilin-free dyes and new dyeing technologies such as Colorifix, which is naturally produced by organisms such as microbes, plants, animals or insects, can help to increase the current situation. Milk-based tissues like milk fibre yarn can be produced out of a by-product of the milk industry and need fifty times less water for the production of 1 kg of material than cotton.
However, leading fashion brands have signed the New Plastics Economy Global Commitment, which aims to reduce plastic waste. ZDHC is working with the Sustainable Apparel Coalition, which has developed the Higg Index, a set of supply management tools increasingly requested from their suppliers by fashion brands. The reduced usage of plastic-based production materials does also help to limit the amount of microplastics in the final product.  
Recycling and circular business models
Growing amounts of textile waste are an unintended consequence of fast fashion since people buy more clothes more frequently and do not keep them as long as they used to. The circular model reuses materials wherever possible to turn them into new fabrics or garments with the help of new recycling technologies.
In 2018, the European Parliament adopted a Europe-wide strategy on plastics and new legislation on waste and the circular economy to reduce the amount of landfill waste. In 2021, the European Parliament additionally agreed on the Circular Economy Action Plan, which aims to act as a framework for future legislation on a circular (textile) system and against greenwashing and false environmental claims. At the same time, the European textile Association Euratex announced plans to open 5 hubs (called "ReHubs") in Europe focused on the treatment of textile waste and the coordination of upcycling processes in the region.  
There are some promising new technologies that are able to separate the most common blend of cotton and polyester, such as Worn Again and Blend Re:wind. There is also a number of companies who are innovating textile recycling, for example Resyntex, Re:newcell and Evrnu Technologies produce secondary raw materials from textile waste, Infinited Fiber turns textile, cardboard and agricultural waste into new cotton, Worn Again Technologies turns polyester polymers and cellulose from cotton, non-reusable textiles, and PET bottles and packaging into new textile raw materials. Additionally, the Swedish forest company Södra announced a new recycling technology that is capable of recycling large amounts of blended textiles at a time.
Apparel companies, like H&M or C&A, offer consumers incentives for returning their used clothing and are increasingly using recycled materials in their collections. Adidas, Ralph Lauren and Aquafil have launched collections made of recycled plastic waste and Diesel has teamed up with Coca-Cola to launch The (Re)Collection, made of partially recycled materials, including plastic bottles and recycled cotton.
The H&M Weekday brand releases designs based on remade garments from old collections. Companies are also increasingly exploring circular sales models such as clothing rental, resale, and upcycling. These models lengthen the product life cycle and improve sustainability. Clothing rental is offered by companies like Rent the Runway, MUD Jeans and Tchibo. &Other Stories, Patagonia, R.E.I and the French luxury department store Galeries Lafayette are all entering the fashion resale market. Online platforms such as eBay and apps like Vinted enable consumers to sell used clothing peer-to-peer. Clothing resale is forecast to have a tremendous growth potential.
However, H&M also recently launched a repair and customisation facilities across its stores in France, Germany, and Norway. The recycling trend creates opportunities for companies who find good ways of designing more circular fashion production and those who produce higher quality, longer-lasting garments. Although in the short term, this trend constitutes a small share of the fashion market, it is expected that it will accelerate in the next 10-15 years. It will effectively constitute a growing threat to the fast fashion industry. The Circular Design Software offers a platform for material suppliers, fashion brands, and recyclers to create an identification scheme for reusable materials to simplify its assignment for the use by clothing manufacturers. It is connected to a sorting software, product development tools, and guidelines for circular design.
The evolving recycling technology could result in greater nearshoring as it would make fibre material available at the production sites. Additionally, resale, refurbishment and upcycling of used apparel could result in a declining demand for new apparel in the form of the "ReCommerce" trend and the consumers' desire to "buy less". Not only by the distribution of second-hand products, but also leasing schemes (for example jeans by MudJeans) and apparel renting platforms like E-Garderobe. Due to this trend for "less", developing country suppliers should therefore think about diversifying their production between fast and slow fashion, as well as explore upcycling and recycling strategies
Social media and the preference of vintage clothing are further supporting the market. Influencers like @notbuyingnew share photos of recycled/upcycled and charity shop-sourced dresses under #progressnotperfection, #slowstyle and #capsulewardrobe hashtags. On Facebook and TikTok, users are also showing how they upcycle their old clothes and share tips and insights on sustainable brands. 
"Slow Fashion"
Following the phenomena of the slow food movement, the Centre for Sustainable Fashion has established the term of Slow Fashion. The term opposes the "Fast Fashion" scheme implemented by clothing brands like H&M more than 20 years ago. Slow fashion brands focus on the creation of high-quality apparel made of sustainable, high-quality material like linen.
The style of this fashion is aimed to be more "timeless" than trendy, and are often thought of as permanent collections that hit the market a maximum of three times the year. The products are mainly locally produced "on demand" to avoid waste and often sold in small (local) stores instead of huge fashion chains. This meets the trend of a group of customers who is ready to pay more for better quality than buying a high amount of fashion at a time for a lower price.
Likewise, the German brand Lanius only offers products based on GOTS-certified cotton and got all its production facilities licensed under the fair fashion label SA8000 and has become a member of the Fair Wear Foundation. The fashion brand TwoThirds from Spain follows the principle of "on demand" production. The company collects orders during one month in a pre-order manner and then produces only the number of items needed.
It is expected that going forward the environmental and sustainability practices of apparel players will become a major purchasing criterion for European consumers. For more detail on sustainable apparel, see the CBI study Exporting sustainable apparel to Europe.
Tips:
Innovate your production processes to reduce water, energy, and chemical consumption. Give up coal as an energy source and, if possible, change to renewable energy sources. Inform yourself on the new production technologies that are more environmentally friendly, innovative, and sustainable. Refer to this guide for information on Ethical & Sustainable Fashion Trade Shows. Invest in wastewater treatment plants that can recycle water.
Inform yourself about trends and possibilities to reduce the use of microplastics in fashion. Therefore, read articles like CBI's recent report on Europe's aspiration to get rid of microplastic and stay up to date with corresponding state regulations.  
Adjust your production processes to provide cleaner products by using non-toxic dyes, better dyeing techniques and improving wastewater treatment. Consider using natural dye options for your products, such as Ecofoot and SpinDye. Keep yourself informed about new textile dyeing methods and partner up with companies with sustainable technologies.
Read CBI's article on the transition to sustainability in the fashion and apparel industry and other reports to inform yourself about Europe's drive for sustainability and running projects and collaborations in the field.
Keep your eyes open for cheap local materials that can be handled in a sustainable matter to be used as alternative material for clothing. As large parts of the European textile waste and second-hand clothing gets transported to developing countries, these could turn out as interesting apparel materials.
If you produce eco-apparel, apply for internationally recognized certifications such as the EU Ecolabel, Nordic Swan Ecolabel, Öko-Tex, GOTS, and BSCI, and clearly indicate your certifications through your labelling. For more information about labelling, refer to the CBI Buyer Requirements in Apparel.
Join platform organizations or associations that support sustainability and help apparel manufacturers with innovation. Some helpful organizations include Fashion for Good        , ZDHC and Sustainable Apparel Coalition. Use assessment tools like the Higgs Index or the MADE-BY Environmental Benchmark for Fibres and Textile Exchange's Benchmark. Participate in offered trainings, audits, and assessments.
Minimize waste and explore waste management solutions. A strong or innovative waste management performance can significantly improve your market position and competitiveness.
As smaller companies are currently entering the market in the sustainable sector, interesting points for market entry can come up for companies from developing countries by collaborating with these newly upcoming brands.
2.

Corporate Social Responsibility (CSR) and supply chain transparency gain importance

Social fairness is increasingly becoming a big trend in the apparel industry and together with transparency, it is becoming a key sourcing criterion for European buyers. Surveys show that ~37.5% of consumers across Europe's biggest apparel markets (Germany, France, Italy, Spain, and the UK) state they consider environmental and social impacts when buying clothes.

Consumers increasingly want to know more about where their clothes are made and by whom. They are also interested in learning what fashion companies are doing to address social and environmental issues. Companies are increasingly sourcing from contractors who can assure that manufacturing is done in proper working conditions, in safe facilities, with workers wearing protective gear and not being exposed to hazardous or life-threatening production processes that are outlawed in Europe.

Pushed by the actual demand for transparency, companies have implemented an internal approach on their Corporate Social Responsibility policy in the form of a framework and/or a Code of Conduct. This framework can be certified under the ISO26000 and is often supported by the companies' evaluation systems and the regular publication of a sustainability report, which is aimed at offering full transparency to all consumers and partners.

There are different initiatives aimed at ranking apparel companies based on their transparency, such as Fashion Revolution's Fashion Transparency Index, which in 2019 ranked Adidas, Reebok and Patagonia as the most transparent fashion brands. The social fairness and transparency trend creates opportunities for fashion producers who focus on social responsibility and whose production is organized in a way that it benefits local communities.

Companies that are transparent about their practices and the practices of their partners along the supply chain will have more opportunities in the European market. On the other hand, working with suppliers who and not socially responsible and who do not respect social fairness will jeopardize your contracts with fashion brands.
Tips:
Ensure that your factories are safe to work in and are not at a preventable risk of fire, electrical or structural safety. Be aware that buyers may want to inspect your factories and your suppliers' factories.
Eliminate hazardous and outlawed production processes (for example sandblasting and PP spraying) and replace them with alternatives (for example there are machines available that can eliminate manual spraying).
Create a Corporate Social Responsibility (CSR) standard for your company. social compliance policies for your company and introduce and observe proper workplace safety guidelines. The European Commission has summarised for its website the importance of a CSR strategy and shares insights on EU regulations and shares guidelines.
Train your employees on occupational safety and chemical management (for example through ZDHC). Equip your employees with protective clothing, provide them with training on how to use it and explain the risks of working without it. Make one person responsible for the personal protective equipment and safety issues.
Make sure that all the companies in your supply chain are compliant with sustainable practices and workplace safety. Prepare and publish a list of all the companies you work with in a sourcing and production cycle (sewing, washing, printing) to present to buyers. You can use the supplier list of H&M as a template.
Pay all your employees fair living wages, and capture this in your CSR standard.
3.

The apparel industry is increasingly driven by technology

Though textile production has traditionally been considered a labour-intensive industry, it is now increasingly driven and influenced by technology. Developments in digital technologies, automation, artificial intelligence, data analytics, and in IT platforms, make product development, production, and sales faster and more efficient. Technological innovation also changes the power dynamics between consumers, brands, and retailers.

Digital transformation initiatives in textiles are becoming more widespread. Digital technologies such as 3D design, digital prototyping, digital sampling, and digital showrooms are increasingly being used by apparel companies in product development. They help companies shorten design times, visualise products and samples, increase the speed to market and cut costs. Hugo Boss has fully digitised product development for parts of its brand, Nike is using digital samples, Tommy Hilfiger introduced a digital showroom for wholesalers and Holy Fashion Group has digitised its entire value chain.
E-Commerce and mobile commerce
All known brands and suppliers are representing their products and services on professional-looking websites these days. This enables the companies to tie together networks and find new customers. The growing number of online shops poses an increasing threat to local stores, but increases the potential of companies acting primarily online. Younger and middle-aged consumers are more likely to permanently shift apparel spending online compared to senior shoppers. Just 17.0% of over 65-year-olds expect to shift fashion spending online compared with 27.3% for 35 to 44-year-olds in Europe.
Likewise, pure online retailers like Zalando make less margin per item sold than offline stores, but sell much larger amounts of apparel items. Through the creation of specific partner contracts, fashion brands are also profiting from this trend, and sell more than through their own web shop.
Manufacturers can use online sales channels to sell their products right to the customers and bypass the brand or fashion retailer. On the other side, manufacturers often profit from the services of online wholesalers, which offer them the opportunity to distribute their products worldwide. Likewise, the Trident Group from India partners with Amazon to sell its products to end-customers in Europe (and worldwide).
The Internet of Things and smart clothing
Through the implementation of (invisible) chips and sensors, clothes can be equipped with information that can be easily read and interpreted by the customers, the manufacturers, the fashion retailers, and anybody else who owns a device capable of reading out the information. The technology is most popular with wearables and sports clothes, which can help the customers to track their activity and health status. But other clothes can also be equipped with the technology to share information on the material, the needed care, and the location.  
Likewise, Macy's implemented beacons into selected clothes to provide the consumer with advertisements adjusted to the customer's current location. Nike has launched a shoe that transfers running statistics to the Nike+ app on the owner's Apple devices. The shirts of the brand Hexoskin carry a chip that can trace the users' heart rate and temperature. NADI X's yoga pants have built-in sensors to correct the users' posture by vibrating as they move through yoga poses.
Artificial Intelligence (AI) and data analytics
Data analytics and machine learning algorithms use historical shopping and search data to understand consumer preferences and predict consumer demand. Additionally, these technologies help companies to gain an automated overview of manufacturing processes, as well as industry news and developments (for example through a business intelligence platform). This helps companies to be better and more accurate when it comes to inventory management. AI-powered tools can help retailers reduce forecasting errors by up to 50% while reducing inventory by 20-50%. AI technologies can also play a role in textile manufacturing.
AI vision technologies can streamline quality assurance processes, for example, they can be used to spot defects in fabric or ensure colour match between produced textile and the original design. Machine learning technologies are also being used to make supply chains more efficient. Many brands use AI for communicating with their clients and to offer both styling recommendations, like Zalando, and sizing recommendations like for example ASOS.
However, artificial intelligence is explicitly useful for fashion retailers who focus on a (pure) online distribution of products. Implemented algorithms in the web shops analyse the customers' purchasing behaviour and lead the customer to further products and a personalised portfolio of products that might suit the style and choice of the customer. This is aimed at increasing the volume of the customer's digital cart.
Acting as a Chinese fashion retailer, Ali Baba launched a FashionAI concept store in 2018. The store features smart garment tags, intelligent mirrors, along with Bluetooth chips embedded within every product. Customers here are provided with a personalised choice of items the customer can choose from. Tommy Hilfiger collaborated with IBM for the "Reimagine Retail" project, which equips fashion designers with AI skills for the designing of new clothing.
It is expected that in the future, the fashion industry will be increasingly shaped by advancements in AI and machine learning technology. Apparel suppliers should adopt AI technologies as soon as possible to gain advantage in the market. For 2022, industry experts expect the spending on AI technologies by fashion and retail industry to reach annual spending of USD 7.3 million. 
Virtual and Augmented Reality (VR and AR)
Also driven by AI technology, virtual and augmented reality are increasingly being used for marketing purposes. Fashion retailers use this technology to close the gap between the online and in-store customer experience. In most cases, the fashion brands collaborate with specialised technology companies since the implementation of VR and AR demands a high level of expertise. Exemplary companies include NexTech AR Solutions, which has developed a Try-It-On AR software for fashion brands. The brand Tommy Hilfiger has created a virtual image of its pop-up retail store to engage customers from all locations with the brand's special collection, while H&M presented 6 AR image filters to promote a new streetwear collection. The fashion brand Zara has announced that it will cut 1,200 stores over two years and invest €2.7 billion into store-based digital means.
The bridal brand Suzanne Harward has launched the Virtual View of its apparel products. The app enables customers to check out the portfolio on real-life models with the possibility to zoom into the dresses' details. Equally, GAP has launched a virtual dressing room that works based on a virtual avatar with the customer's real body masses and likewise allows the customers to try on the product virtually.
Robotics and automation
Application of automation and robotics allows companies to make production faster, more demand focused, cheaper, and more agile. Due to the technology, the production velocity can be enhanced and the planning of more than one season collections is possible.  
Automation is already used extensively in the footwear industry and is now increasingly incorporated in apparel production. The key automation technologies include sewing automation, and 3D knitting and finishing technologies (such as digital and laser printing). Other areas that may benefit from automation include fabric inspection, spreading, cutting, sewing, pressing and material handling.
Sewing robot technologies such as the ones of Softwear Automation and Sewbo cut production time and labour costs. Automation technology can create new business models such as in-store factories or micro-factories that could further drive the trend towards apparel customization, e.g., in 2017, Adidas launched a pop-up store in Berlin, which scanned customers and knitted a custom sweater for them within four hours. The company's production facilities in Germany have been already automated. At the same time, the company plans, together with a Chinese manufacturer, to produce 800,000 items a day with sewing robots to supply the European market. Levi's is launching a new feature on its website that will allow customers to customize their jeans using laser finishing technology.
Selling digital clothing helps gauge market appetite, engages with customers and caters to both Instagram culture and sustainability. Carlings, a Scandinavian brand, has created and sold a T-shirt whose design can be changed digitally using Instagram AR filters. Selling digital clothing is becoming more popular. For example, Louis Vuitton designed "skins" for League of Legends characters and Drest sold digitised versions of Farfetch inventory.
3D Printing
Currently, many explorative studies are in the process of discovering and developing the potential of 3D-printed apparel items printed at home. Similar solutions free fashion brands from the whole production process and would draw the focus of the companies to designing the apparel products.
In 2018, Nike has launched the Flyprint, its first 3D-printed textile upper. The technology enables the production of sneakers through solid deposit modelling, a process whereby a TPU filament is unwound from a coil, melted and laid down in layers. Due to this process, Nike is 16 times faster in the production of product prototyping and simplifies the testing phase for new products.
Tech companies like Intel are further working on the commercialisation of 3D Printing for the apparel industry, in many cases in combination with smart technologies for athletes and other persons active in sports. Designers that are already active in the creation of 3D fashion include Annie Foo, Anouk Wipprecht, Ganit Goldstein, Iris van Herpen, Julia Körner, and many more. Manufacturers like Shima Seiki turn cones of yarn into a full, seamless garment in less than an hour.
A further related technology is 3D knitting solutions, which automate the whole apparel knitting process. While many companies have already implemented this technology in their factories to speed up the production of items and minimize waste, innovative companies like Kniterate aim to bring these machines to private houses.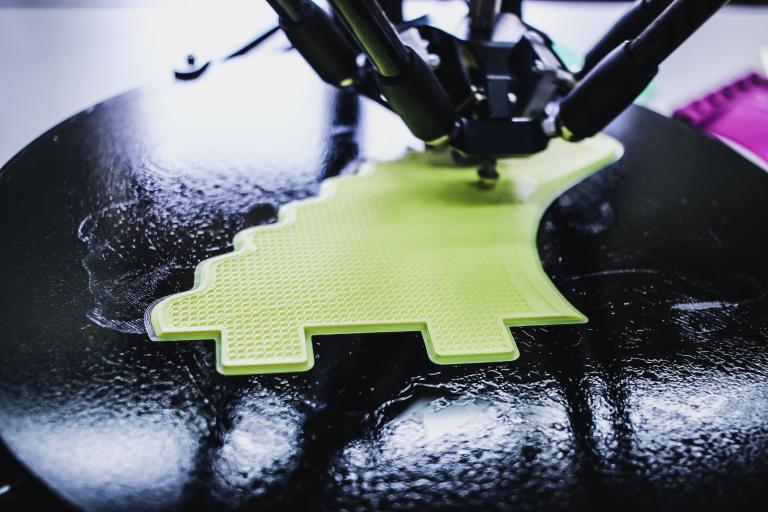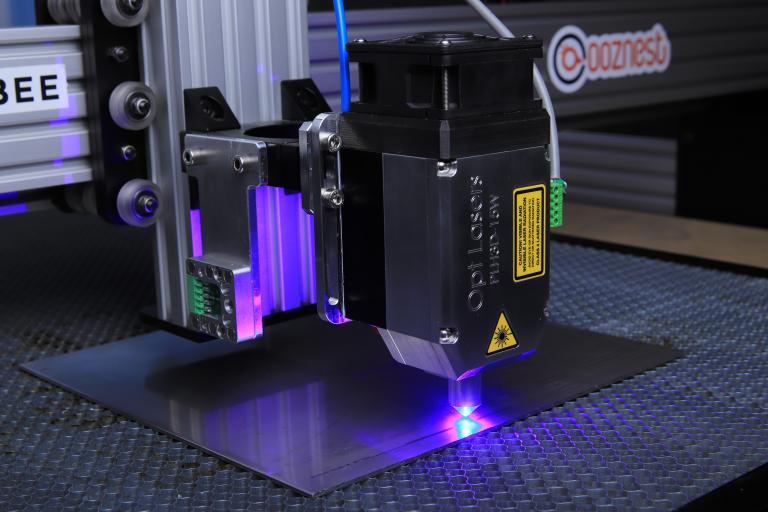 Source: Unsplash
IT platforms
There has been increasing investment in management platforms and data monitoring tools in the apparel industry. It is expected that in the future, apparel companies and their suppliers will increasingly get networked over integrated IT platforms. These platforms will be able to provide automatic information on free production capacity or possible efficiency improvement potential and will allow the buyers and suppliers to react faster to changes in demand.
The Italian company The ID Factory leads an initiative to mark all products with a QR Code that draws all material and sourcing information from a cloud platform with the simple use of a smartphone. Another company tracing back the source of apparel products is TextileGenisis from Hong Kong, which has developed a platform based on Blockchain technology.
Already in 2004, Euratex created the European Technology Platform for the Future of Textiles and Clothing, connecting over 200 member organisations and more than 500 registered individual experts. It is the largest European textile research and innovation expert network. The platform is expected to bring together industry players and industry experts, inform them about industry developments and changes, and improve the level of industry education.
The smartphone application "DE-Brands" is the first app for the management of denim and sportswear sourcing procedures. It brings together buyers and suppliers by working as a platform, including interaction tools and opportunities for suppliers to showcase their products. Buyers can search products worldwide, select numerous categories, and connect with suppliers and mills. In the future, similar solutions are expected to become more common and include a growing number of app participants.
Driven by the need for innovation and change, several apparel hubs and incubators have been opened in Europe that focus on the development of new and sustainable solutions in which technology plays a major role. Many ideas are currently entering the market and will most probably enter the industry sphere soon.
For more detail on data analytics, AI and other technologies affecting the apparel industry, see the CBI study on Technology trends in the apparel industry and the most recent McKinsey "State of Fashion" study
Tips:
Have a digital transformation strategy in place, with a clear mission with specific objectives that outline your expectations and lay out a scope and volume of your digital transition, including changes to the design process, legacy system updates, cost/benefit analyses, supply chain partnerships. Learn from peers who successfully underwent such transformation, some examples include Pacific Textiles and Getzner Textiles. 
Update your IT to accelerate your communication with buyers and to streamline the ordering process. Investigate the different IT management platforms and systems and find out which platforms your clients work with and would allow for best integration. Read this blog on Sharecloth for an overview of IT management software for apparel industry.
Start systematically collecting data with focus on market and internal company data (e.g. fabric data, production times, pricing, lead times, shipping, ecological footprint or sales). Internal data analysis can help with improving the efficiency and sustainability of your business. Data collection and management can be done through Enterprise Resource Planning software and online analytics. Diversify your product range to include items that have less nearshoring potential, such as labour-intensive, complex products that cannot be made by robots.
Provide digital data for your products including photos and videos, find out whether your buyer needs different kinds of packaging and logistics solutions for e-commerce.
4.

The potential of senior customers is recognized

Senior customers have traditionally been overlooked. However, this segment in Europe is growing in both number and purchase interest. The total population of the EU-27 is projected to increase marginally from 447 million at the start of 2019 to peak at 449 million during the period 2026-2029, before falling slowly back to 442 million by 2050. The population of older people (defined here as those aged 65 years or older) in the EU-27 will increase significantly, rising from 90.5 million at the start of 2019 to reach 130 million by 2050 (30% of the population). During this period, the number of people in the EU-27 aged 75-84 years is projected to expand by 56%.
Even though Europeans are getting older, the boundaries of old age are shifting. Older Europeans increasingly remain active professionally, travel, use the internet and do not want to be seen as old.

The ageing of the society creates opportunities in apparel targeting older and elderly consumers, including adaptive clothing (clothing designed for people with disabilities and the elderly who may experience difficulty dressing themselves due to inability to manipulate closures, or due to a lack of full range of motion) The high-activity level of the ageing populations creates opportunities for creating activewear styles for mature buyers. Currently the senior buyers are underserved, while most companies focus on targeting the younger consumers. Some brands which successfully target seniors include Ulla Popken, Gerry Weber, Taifun. Aging influencers like Baddie Winkle and Iris Apfel show how social media can also inspire senior citizens.
Tips:
Recognise the importance of the senior segment, assess the potential of these customers and come up with suitable offerings to this group.
Inform yourself about the demographics when deciding on the clothing segments that you want to enter. Research and understand the forecasted size for each segment, growth, demand, fashion taste and buying habits.
The senior categories will become increasingly important, especially over the long term. You should consider and research different clothing niches for seniors such as activewear, workwear, leisure wear and adaptive apparel. Research senior styles popular in Europe by checking the offering of the main market players. Conversely, baby and child wear are expected to grow at a much slower pace.
Focus your exports on Germany, France, the United Kingdom, and Italy, four of the biggest European markets. Research opportunities for subcontracting for big brands or retailers who are successful in one or more of these countries, for example H&M, ASOS, the Bestseller brands, Inditex.
Connect with the senior segment with authentic content and embrace supports of relevant influencers.
5.

The power of social media is unstoppable

Apparel companies need to gain more insight into consumers and their buying behaviour to provide them with a more personalized and predictive shopping experience. The role of the consumer is shifting from being a passive purchaser to be more of an influencer, cocreating and interacting with the brands. Apparel companies have lost much of their power in trendsetting.

Today's hottest trends in mass fashion are often made by individual influencers and consumers. Social media is becoming increasingly more important with Instagram and Facebook becoming some of the leading channels for consumers to discover new styles. A vast majority of consumers use digital channels all throughout the purchase process. This means that most brands must become digitally savvy to successfully compete in the market. Social media marketing creates an opportunity for companies to strengthen their brands, drive traffic to their websites, gain marketplace insights and even sell.

Instagram has become a new sales channel and now enables users to shop directly in its app through its Checkout tool (launched in cooperation with 20 apparel brands. Adidas, H&M and Zara, participated in the launch of Instagram's new feature, which includes a "shop now" button to boost e-commerce. Other social media channels like TikTok and Twitch have increased their influence primarily on the younger generations. TikTok users like Wisdom Kaye and Charli d'Amelio have accumulated several million followers and have been hired by modelling agencies after being very successful in representing fashion on TikTok.

Companies with successful social media strategies and presence include Missguided, Nike, Reebok, Everlane and Zara. Some strategies for creating successful social media presence and customer involvement include using stories and emotion, using beautiful and stylized imagery, creating user-friendly ways of referrals, creating surprising and viral content and promoting sustainability and social responsibility. Monki, one of the H&M brands, co-creates their community and boosts livestream shopping, using Bambuser's technology, a Swedish start-up.
Tips:
Familiarize yourself with the latest fashion trends on social media by following the fashion influencers and/or leading European apparel players in your product segment. Check Harper's Bazaar recommendations of best fashion Instagrammers.
Develop strong design and production competencies in your selected fashion segments. Follow online trends and developments to stay ahead of what is fashionable in Europe and what the next big thing might be. Master the look and feel of the European market.
Design a social media strategy. Decide which channels you want to be present on (Instagram, Facebook, Pinterest, Snapchat, Twitter) and which will work the best with your brand. Focus on a maximum of two channels that are most used by the demographic you are trying to reach. Draw inspiration from the brands that already have a successful strategy and large following. Cupshe's Instagram account is an example of a company that is very successful in marketing its brand via social media.
Update your social media channels regularly and interact with your consumers. Have a dedicated person for answering questions and comment. Create a positive exchange to create trust and brand following.
Familiarise yourself with the latest fashion trends on social media by following relevant fashion influencers and leading European apparel players. Check Harper's Bazaar selection, for example, for top fashion influencers on Instagram.
Active wear outfits are becoming the new norm
As the SARS COVID-19 pandemic hit Europe and consumers were increasingly sent to work from home, they increasingly got used to wearing more comfortable clothing during the normal working hours, too. In many cases, the more comfortable leisure wear has been combined with more professional workwear to be comfortable but ready for suddenly upcoming conference calls.
Industry experts and players expect this trend to continue influencing workwear after regulations for working from home have ended, so many retailers have started to launch more comfortable workwear collections. Key points of change are the consumers' drive for simple, minimalistic wear and their demand for stretchy and flowy workwear that can be worn throughout the day. Brands are expanding their athleisure offerings. Major fast fashion brands like H&M are favoured for their affordable sportswear lines.
At the same time, fitness wear not only has to look sportive, but has to be comfortable, too. The so-called "Athleisure" (a combination of athletic and leisure) wear market is expected to grow by 7% on average per year until 2026. The global athleisure market is set to grow to close to €480 billion in 2023 from less than €350 billion in 2019. Europe is one of the more significant importers of sportswear in the world. Most fashion brands and sportswear brands have therefore launched new athleisure collections; Nike, H&M, Adidas, Zara and many more brands, of which many have included cooling, comforting and skin-sensitive technologies into their new products. As consumers have become far more conscious of their health and well-being, athleisure or active sportswear is not seen to be a short-term trend.
Another fast-growing category that is characterised by practicality and comfort around the house is streetwear or streetstyle. According to the industry trends 2021 of Brandwatch, streetwear is now being embraced by luxury retailers as well. They (Brandwatch) report a 124% mention increase (on social media) in 2020 for sportswear and a 309% mention increase for streetwear. This is a category that continues to disrupt the market.
Tips:
Catering athleisure pieces to satisfy health and wellness needs is one of the effective approaches to winning customers' hearts.
Inform yourself about segment-specific apparel trends by reading CBI's market entry study on (fashion) sportswear and market potential analysis on workwear.
Exploit the use of high-performance fabric to produce functional and technical athletic clothes. North Face, for example, introduced extra thin polyurethane fibers via nanospinning technology, protecting users from harsh weather.
Work with influencers – an effective tool to build a brand profile as a cool sports or athleisure brand. Pair up with celebrities, like Daniel Fuchs – one of the most popular male influencers in Germany, for an ad campaign or a collection.
Stay informed and search the internet for trends that are doing well. Here is one example for streetwear trends for 2021. Don't be afraid to innovate and stand out yourself.
Gender inclusivity drives unisex clothing
Questions of self-perception and awareness have long reached Europe's fashion market. One of the key topics of this segment is the social dispute on gender and body positivity, as well as how fashion and here active industry players are shaping and influencing the social perception of identity.
As most fashion collections are clearly divided into women's and men's fashion categories, the previously clear frontiers are increasingly melting and submerging. Correspondingly, female clothing is now often available in larger sizes to include not only obese women, but anybody who does not fit into the shapes traditionally seen as "feminine" shapes.
Additionally, some fashion brands have focused on or have started to offer unisex collections. Nicopanda, Gypsy Sport, and Charles Jeffrey Loverboy belong to the brands describing themselves as explicitly genderless and are actively promoting the message of inclusivity. But also, H&M and Zara have made first steps into unisex fashion with the launch of the Denim United line and the Ungendered collection.
Similar collections and stores have popped up, especially in France, Spain, and Germany. However, the topic proves to still be explorative, and the players are acting as pioneers in the segment at the moment. For now, it is unclear in how far they will define the market of the future.
Tips:
As unisex clothing is serving the female and male fashion markets at the same time, this subsegment of the fashion industry could turn out to be an interesting entry point for you to start business with European companies.
Inform yourself about the ideology of gender inclusivity and the current fashion pioneers in the market. Since the market is quite fresh, you can yourself act as a pioneer and offer suppliers and retailers interesting approaches.
Even if you aim to act in the female apparel segment, be ready to produce larger sizes and very simple designs for the consumers in Europe.
The COVID-19 pandemic creates challenges and opportunities
The COVID-19 pandemic in 2020/2021 has increased the success of brands and retails that mainly sell their products online. The interrelated lockdowns, regulations for working from home, and closing of local shops has forced consumers to check on everything they need online. Also, consumers have spent more time researching online and have likewise sharpened their handling of online searches. This development is not only expected to have created a new level of acceptance and habit towards e-commerce, but is also thought to have raised the chances for many new industry players (worldwide) that were only visible through the internet.
In 2020, European turnover fell by 17.7% for clothing in comparison to 2019. Especially during the middle of the year, the industry experienced production losses of approximately 50%. EU imports increased by 5.5% in 2020. However, this increase was mostly due to the import of personal protective equipment (including facemasks), especially from China (increase from €1 billion in 2019 to €20 billion in 2020). Brands and retailers, including EU-based brands such as C&A, Primark and Bestseller, are breaking contracts, cancelling orders, delaying shipments and asking for discounts.
Tips:
Frequently and clearly communicate with employees, making offers of assistance or time off and providing necessary solutions for working from home.
Protect customers, introducing new processes and policies such as safety procedures for handling and delivering online orders.
Work closely and support long-term partners by clearly reviewing inventory positions and maybe engaging in joint planning.
Enhance digital presence, via own efforts or partnerships.
Besides the immediate "must-dos", plan medium and long-term actions to overcome any setbacks and be ready to seize new opportunities.
Further details to cope with the COVID-19 crisis can be found on this CBI study.
This study has been carried out on behalf of CBI by M-Brain GmbH.
Please review our market information disclaimer.
Follow us for the latest updates
Search
Enter search terms to find market research