Cooking oil crisis: Alternative oilseeds are essential

Sunflower oil is a popular cooking oil worldwide. Recently, the demand for sunflower oil and other edible oils has been rising. This is due to the global trend to reduce the dependency on palm oil and the global cooking oil crisis resulting from the war between Russia and Ukraine. Currently, the price of sunflower seeds and sunflower oil is much higher than before. Trends and high prices are causing leading food companies to search for healthy oil alternatives.
Sunflower oil challenges in Europe
Russia and Ukraine are top suppliers of sunflower oil to Europe. There is currently a global supply shortage because of trade sanctions due to the war between the countries. The war has destroyed infrastructure and processing plants and closed ports and transport routes. Another reason for the supply shortage is inflation and an increase in the price of sunflower seeds and oil.
The importance of palm oil alternatives
The war makes a varied and steady supply of different oilseeds more important. The global trend to depend less on palm oil has also had an effect. It has increased the demand for sunflower oil and other edible oils. Palm oil use decreased globally because of human and labour rights violation reports. But also due to environmental damage and the land grabbing associated with palm oil production. Indonesia is the largest producer of palm oil in the world. Its government recently banned palm oil exports in an effort to tackle Indonesia's cooking oil crisis.
Health effects of vegetable oils
Another reason for the reduction in palm oil use is its possible negative health effects. Palm oil contains trans fats, which increase the risk of heart disease. Many other edible vegetable oils are free from industrial trans fats. Natural trans fats exist in some meat and dairy products. But industrial trans fats form when manufacturers convert vegetable oils to solid fats. Solid oils have a longer shelf life. You can find solid oils in hard margarine, baking and frying fats and snacks. The human body struggles to process industrial trans fats. So, the World Health Organisation (WHO) wants to remove industrial trans fats from the global food chain by 2023.
Flavour and benefits of sunflower oil
In reducing palm oil use, many prefer sunflower oil over other edible oils. This is due to its neutral taste and high vitamin E content. Next to that, sunflower oil has a low saturated fat content and a high smoke point. Other edible oils have similar properties. These properties are important to look for in alternatives to palm oil and sunflower oil. The challenge is to develop safe oil alternatives that have as many of the advantages of sunflower oil as possible. Food engineers say that it is important that research focuses on the scientific functions of sunflower oil properties. Right now, the efforts to introduce innovations are increasing.
Alternatives to sunflower oil
A steady supply and a wide variety of oilseeds can contribute to innovation. People are using sesame seeds and linseeds more and more often as an alternative to sunflower seeds. These seeds are also popular ingredients in bakery products and snacks. Other alternatives include groundnuts, olive oil, rapeseed and pistachios. These are high in monounsaturated fat. Rapeseed oil is also high in vitamin E and omega fats. Omega fats are beneficial for the brain and heart.
Sesame oil can help to lower cholesterol levels and lower the risks of cardiovascular disease. That is because of its polyunsaturated fats. High-quality refined or light olive oil and groundnut or peanut oil have a good and neutral flavour. And they have a relatively high smoke point compared to other vegetable oils.
The following figure presents possible sunflower oil alternatives based on their properties.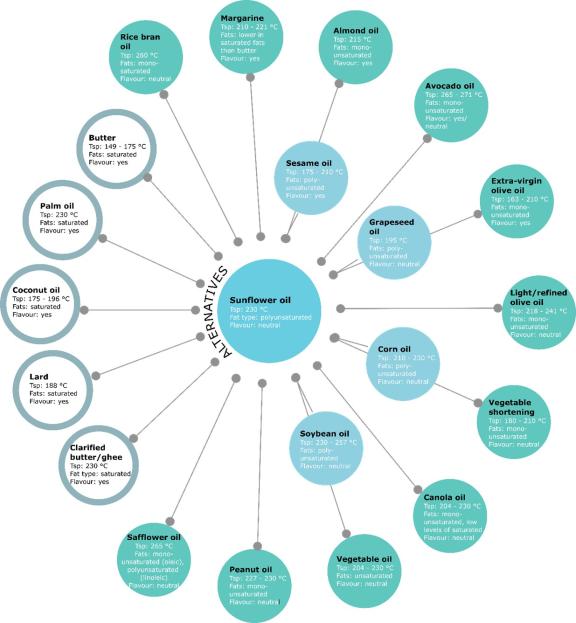 Source: Sagentia Innovation
These alternative oils have low market penetration compared to palm oil and sunflower oil. That makes a sustained supply of alternative edible oils even more important. The development of wide-ranging and sustainable value chains needs to improve.
Learn more
Read more about opportunities for alternative oilseeds in the European market:   
We are currently working on studies with more detailed information on alternative edible oils.
Profundo wrote this news article for CBI.
Stay informed
To stay informed on the latest developments in the alternative oilseed sector, subscribe to our newsletter.