The European market potential for pistachios
In the long term, the European market for pistachios is expected to show stable growth. This growth is likely to be driven by changes in the consumption patterns of European consumers, including the rising demand for healthier snacking options and interest in Eastern Mediterranean cuisine. Germany, Italy, Spain, France, Belgium and the United Kingdom offer opportunities for developing country suppliers.
1.

Product description

Pistachios or pistachio nuts are seeds from the pistachio tree (Pistacia vera). Pistachio trees are native to Central Asia, but today they are grown in several countries across the globe. Pistachio nuts grow in fruit clusters of multiple nuts (similar to grapes). Pistachio nuts consist of a hull and shell that enclose a seed (kernel). When ripe pistachios discard their hulls its shell splits, partially revealing the kernel inside. Split in-shell pistachios are the most commonly consumed type of pistachios and are mostly produced as a salted, roasted nut. Consumers fully split shells when eating pistachios. Pistachios can be also completely shelled and sold as just kernels.

Naturally open in-shell pistachios are the main export product, and they are mostly exported as raw, dried product. After import, open in-shell pistachios are usually processed by roasting. Some of the pistachios will not split their shells after harvesting, and are mechanically shelled. After the shelling, the pistachio kernels are also exported. Kernels are commonly used as an ingredient in the confectionery and bakery industries and in home cooking. Kernels can also be produced before full ripening. Those green kernels are used as a more luxury product, for example as a topping on ice creams and as an ingredient in the confectionery industry.

There are many pistachio cultivars grown today, but the most popular are Kerman (the USA), Fandoghi, Kalleh and Ghouchi (Iran), Uzun and Kirmizi (Turkey), Napoletana (Italy), Sirora (Australia) and Red Aleppo (Syria).

Production of pistachios typically includes the following main steps (with a lot of smaller steps in between):
Harvesting - either mechanically by the simultaneous work of two machines (one shaking the tree and another collecting nuts) or by hand. Mechanical harvesting is the most common way in the USA, while hand harvesting is more common in Iran, Turkey and Syria.
Hulling – removing the hulls from the nuts
Water sorting (unripe nuts float in water)
Drying (sun drying or machine drying)
Separation of open-shell nuts from closed-shell nuts
Sizing (into 2 or 3 grades)
Packaging
The largest quantities of pistachios in international trade are packed in bulk and exported as raw in-shell split nuts (quality categories are described in more detail in the market entry part of this study. Processing operations (such as roasting and salting) usually happen in Europe, but some exporters can also perform processing according to the request of European buyers.
This study covers general information regarding the market for pistachios in Europe that is of interest to producers in developing countries. Pistachios are traded under two different Harmonised System (HS) codes. The HS code for in-shell pistachios is 080251, while the HS code for shelled pistachios (kernels) is 080252.
Picture 1 Mechanised pistachios shelling      Picture 2 Pistachios sun drying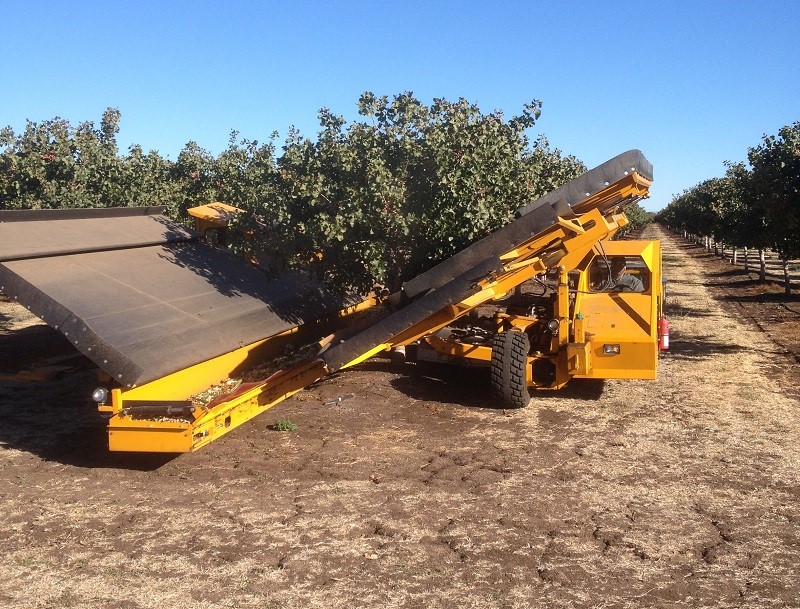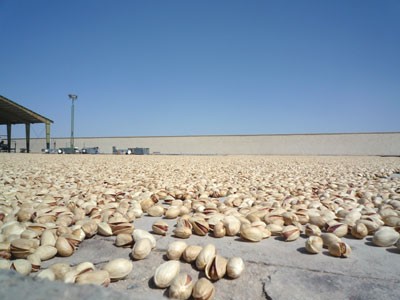 Picture 3 In shell pistachios                             Picture 4 Pistachio kernel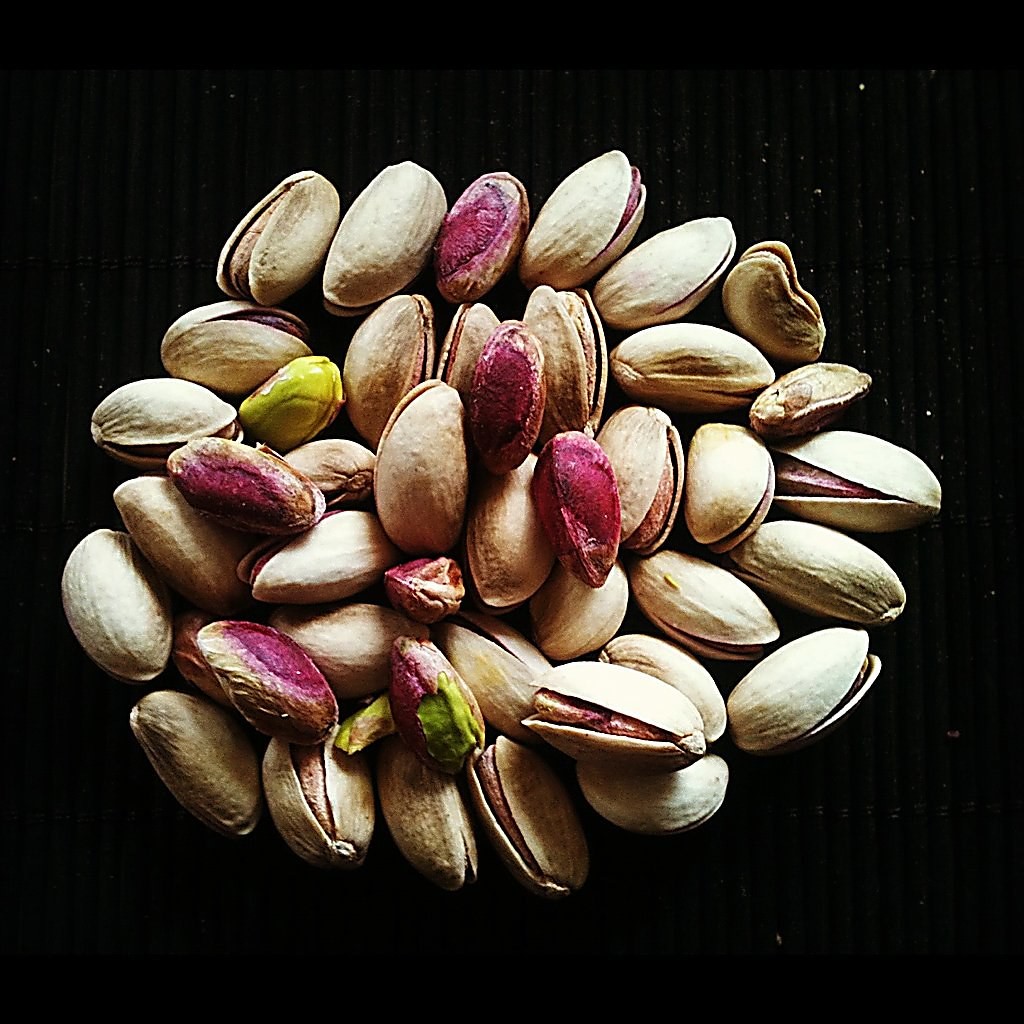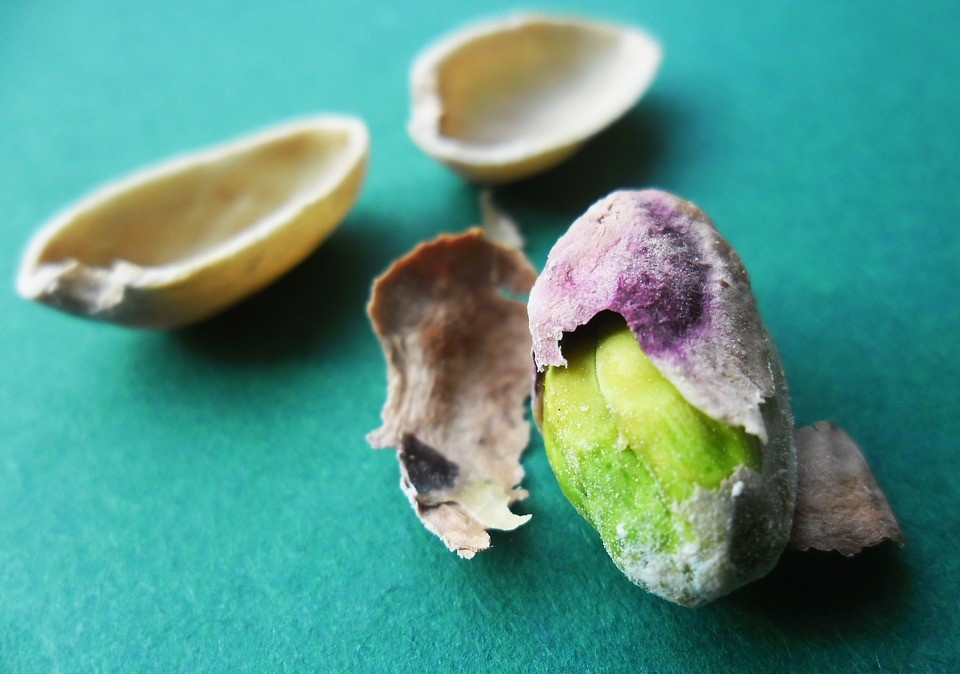 2.

What makes Europe an interesting market for pistachios?

Europe is the second-largest market for pistachios (after the United States), but the largest importing region in the world, accounting for around one-third of the total world trade. European imports of pistachios have increased by an average 3.8% in volume in the period 2014-2018. 28% of all imports from outside Europe come from developing countries. In the next five years, the European market for pistachios is likely to increase with an annual growth rate of 4-6%. Regular fluctuations in imports will continue to be influenced by harvested crop volumes and price fluctuations rather than changes in demand.

Between 2014 and 2018, European imports of pistachios grew every year by an average of 4.8% in value and 3.8% in volume to a value of €1.1 billion and a quantity of 122 thousand tonnes in 2018. Import of in-shell pistachios accounts for 82% of the total, the rest are shelled pistachios.

More than 30% of pistachios are traded within Europe (so-called intra-European trade). Internal European trade consists of simple re-exporting of imported raw pistachios, but a very significant part consists of added-value trade of processed pistachios (salting, spicing and roasting). European imports from developing countries increased over the last 5 years, from 20 thousand tonnes in 2014 to 23 thousand tonnes in 2018.

The European market for pistachios is very concentrated, as the two largest suppliers (the United States and Iran) supply 99% of the total market. The largest supplier of pistachios to Europe is the United States, accounting for almost 77% of total supply, followed by Iran (22%). The developing country supplier with the highest growth is Syria, but quantities are still very small. European imports from Syria have increased from 37 tonnes in 2014 to 127 tonnes in 2018. Syria is considered to be the home of the pistachio tree, and ranked fourth globally in pistachio production in 2010, before the civil war.

Over the last five years, consumption fluctuated due to variable supply from the leading producing countries, but the average annual consumption growth rate was 1%. Pistachio trees show an alternate bearing pattern, meaning that trees produce a greater than average crop one year, and a lower than average crop the following year. In order to have a stable supply, leading producers are always stocking some portion of the production.

The total European consumption of pistachios was estimated at around 88 thousand tonnes in 2018. Of this quantity, around 77 thousand tonnes were consumed as in-shell nuts (87%) and 11 thousand tonnes as kernels (13%). Germany is the largest market for pistachios, followed by Italy, Spain and France. According to the International Nuts and Dried Fruit Council (INC), per capita consumption in Germany is the highest in Europe, with an average consumption of 0.38 kg/year (or 1.16 kg/year if only the population that consumes pistachios is counted).
3.

Which European countries offer most opportunities for pistachios?

As the main importer of pistachios in Europe, Germany is a good market to focus on. Italy and Spain are also interesting markets with growing demand. Italy and Spain produce pistachios themselves, but production (although increasing) is not sufficient to satisfy domestic demand. Belgium is a large transit country with specialised traders offering opportunities as a trade hub. France and the United Kingdom are interesting consuming markets.
Germany: the largest European importer
Germany is Europe's largest and the world's second largest importer of pistachios (after China). The German import value was €364 million in total in 2018, good for 35% of total EU imports. German imports increased in volume by 5.9% annually between 2014 and 2018, reaching 42 thousand tonnes. Germany is the European country with the largest import share of shelled pistachios. In 2018, Germany imported 10.6 thousand tonnes of shelled pistachios, good for 47% of total European imports.
Germany is also a re-exporter of imported pistachios. More than one-third of all imported pistachios are re‑exported from Germany to other European markets. Re-export activities are performed by specialised traders and agents, many of them located in Hamburg (the largest port in Germany). The main target markets for German export of pistachios are Italy (with a 26% share in 2018) followed by Spain (18% share), the United Kingdom (12% share) and the Netherlands (11% share).
Currently, the German import market for pistachios is very concentrated, as Germany imports 95% of all pistachios from the United States and Iran. The only developing country supplier that is gaining market share in Germany is Turkey, which has increased its pistachio export to Germany from 188 tonnes in 2014 to 483 tonnes in 2018.
Most of the German imports are raw, unprocessed pistachios. After import, pistachios are commonly processed by several specialised companies before they reach the final user. The most common type of processing is roasting, but pistachio kernels are also cut into smaller pieces for use as an ingredient in various products. Pistachio roasters and other processors within Germany are Intersnack (with 5 production facilities across Germany), Omnitrade, Max Kiene, A.M.A and Moll Marzipan.
Some of the leading pistachio snack brands in Germany are ültje (owned by Intersnack), Max (owned by Max Kiene), Seeberger and Kluth. Private label brands of supermarket chains also account for an important share of the market. In addition, pistachio is used as an ingredient in ice creams, chocolates, cakes, yoghurts, cakes and salamis.
German consumption of pistachios is boosted by the healthy snacking trend and the increasing use by the food industry (especially by ice cream producers). Pistachios are promoted as high in monounsaturated fat, fibre, thiamine, vitamin B6 and minerals such as phosphorus, potassium, copper and manganese.
Picture 5 Pistachio kernels retail brand           Picture 6 Mortadella type sausage with
example in Germany                                          pitsachios retail brand example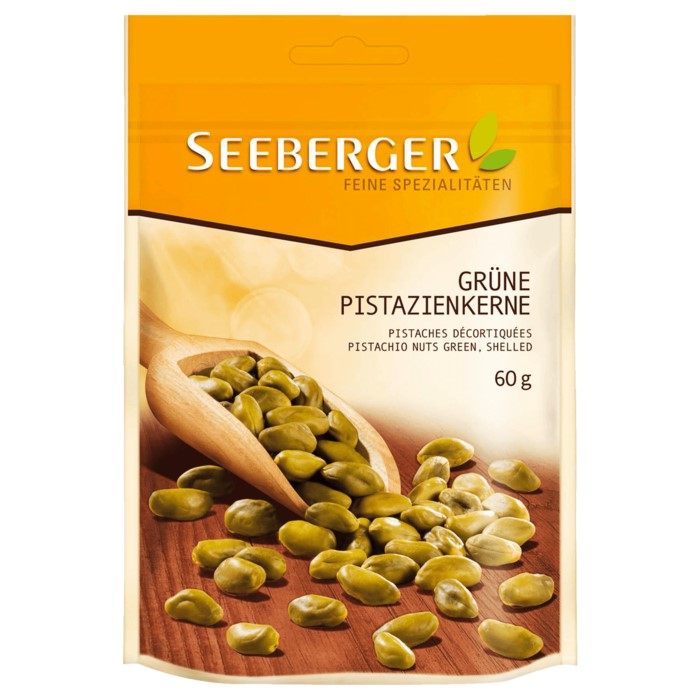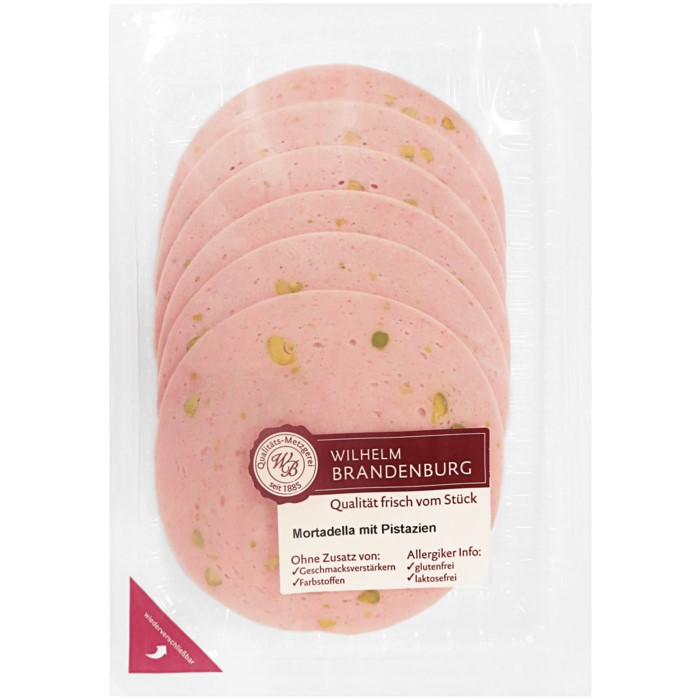 Italy: the traditional ingredient pistachio market
Italy is an important importer of pistachios in Europe, good for 13% of total EU imports. Italy is the second‑largest importer of shelled pistachios in the world (after Germany). Italy is also believed to be the largest per capita consumer of shelled pistachios in Europe, although exact data does not exist.
Italian pistachio imports increased by 11% annually between 2014 and 2018. In 2018, the Italian import of pistachios amounted to 15.8 thousand tonnes, good for €153 million. Most of the imported pistachios in Italy are consumed within the country and only around 7% of the total supply is re-exported. In 2018, Italy imported most of its pistachios from the United States (35%), followed by Germany as transit country (23%) and Iran (14%). Turkey is quickly gaining in market share, increasing its exports to Italy from 424 tonnes in 2014 to 1.5 thousand tonnes in 2018.
Pistachios are also produced in Italy, with more than 90% of the production concentrated in the Bronte area (the Eastern Sicilian province of Catania). Total production of the marketable crop (in-shell pistachios) in Italy varies between 2.5 and 3 thousand tonnes per year. Production in Italy is characterised by shelling and production of green kernels. Bronte pistachio kernels have been geographically protected since 2009, and the local community promotes this product by organising an annual speciality pistachio event - Sagra Del Pistacchio Bronte.
Most of the roasted pistachios in Italy are sold by private label brands of supermarkets such as Coop, Conad or Carrefour. Examples of retail brands include Noberasco, Ventura, Cameo, Noccioltost and several others. United States brands are also promoted in Italy. Recently, the Italian company New Factor made a deal to distribute the US brand Wonderful. Significant quantities are also sold as unbranded snacks, measured and sold by weight.
Pistachio kernels are traditionally used in Italian cuisine as an ingredient. Italian ice cream producers use significant quantities of green pistachio kernels. Other products with pistachio as an ingredient include different pasta dishes, traditional desserts and sweet brittles. Some quantities are processed into pasta for fillings into bakery products. Also, Mortadella, the traditional Italian sausage, contains pistachios.
Spain: the fastest growth in imports
Spain is the third-largest importer and consumer of pistachios in Europe. In 2018, imports reached 11.6 thousand tonnes and consumption is estimated at 11.1 thousand tonnes. Almost all imported pistachios are processed and consumed within the country.  
Imports increased by 15% in value and 14% in quantity between 2014 and 2018. In 2018, per capita consumption of pistachios was estimated at 0.24 kg/year. Home consumption of pistachios in Spain has reached more than 7 thousand tonnes, while the industry uses the remaining 4 tonnes. The majority of pistachios in Spain is consumed as a salty snack.
The United States is the leading supplier of pistachios to Spain (49% share in 2018), followed by Iran (33% share) and Germany as a transit country (15%). Imports from Greece have experienced rapid growth (+43% per year), but the imported quantities are still insignificant compared to the largest suppliers (207 tonnes in 2018).
Spain also produces pistachios, and the average annual production is 1.2 thousand tonnes per year. Production in Spain is showing an increasing trend (a record crop of 3,000 tonnes was achieved in 2018). Production and consumption of pistachio in Spain is being popularised through the recent establishment of the Spanish Pistachio Association. The newly established association will try to establish a national pistachio brand. Most of the Spanish pistachios are produced in the region of Castile-La Mancha.
According to a recent survey, the majority of pistachios in Spain are consumed as a salty snack between meals, at home. They are also a popular side snack served with drinks in bars. Usage of pistachio kernels as an ingredient is also increasing, driven by the healthy eating trend. Pistachios are frequently used as an ingredient to create more balanced diets, often as a topping or mixed in salads. They are also a popular ingredient in ice creams and sweets. Although Spanish consumers are aware of the general health benefits of nuts, the specific benefits of pistachios are still unknown to the majority of Spanish consumers.
Pistachios are predominantly sold by the private labels of the Spanish supermarkets (such as Mercadona, Carrefour, Alcampo), discounters (such as Lidl, Aldi, Dia) or department stores (such as El Corte Ingles). Examples of independent brands include Borges, Frit Ravich, Wonderful (the USA brand), Campomar (organic) and Eagle. There are also a couple of brands of locally produced pistachios such as Nazaries or Maña (organic pistachio products including pistachio paste).
France: stable pistachio market
France is also an important and relatively stable importer of pistachios. French import fluctuated slightly between 2014 and 2018. and in 2018 imports reached 8.6 thousand tonnes and €80 million. In 2018, France imported most of its pistachios from the United States (73%), followed by Iran (19%) and Spain (3%). Apart from Iran, the only developing country supplier of pistachios to France is Turkey, but with very modest quantities.
The largest quantities of salted, roasted pistachios are sold under private label brands by retail chains such as Carrefour, Intermarché, Auchan, Lidl and others. Examples of retail snack brands include Daco Bello, Vico (brand owned by Intersnack), Wonderful (the USA brand), Menguy's and Juste Bio (organic). The French food processing industry uses pistachios in a variety of ways. They are very popular as an ingredient in sausages, ice creams, bakery products and chocolate products.
Belgium: European pistachio transit country
Belgium is the fourth largest European importer of pistachios. Although large in import volume, Belgian consumption is rather small, as more than 90% of imported pistachios are re-exported to other European markets every year. Belgium is characterised by the presence of brokers that source and supply a wide range of nuts and nut-based products.
Belgian imports of pistachios increased by 12% in value and 10% in volume annually between 2014 and 2018. Import of pistachios in Belgium has reached more than 10 thousand tonnes and €80 million in 2018. Belgium is the most concentrated market in Europe, importing more than 90% of pistachios from the United States. Iran, the second-largest European supplier, is losing market share in Belgium. Import from Iran decreased from 1.3 thousand tonnes in 2014 to only 230 tonnes in 2018.
In 2018, Luxemburg was the second-largest pistachio supplier to Belgium with a supply of more than 430 tonnes. Belgium exports pistachios to Luxembourg for processing (roasting and packaging). After processing, retail-ready products come back to Belgium for further trade.
Most pistachios are sold under the private label brands of big retailers such as Delhaize. Independent pistachio brands have a small market share. The USA brand Wonderful is gaining in market share in Belgium. This company is running a strong campaign to increase sales in several European countries and their main office for European sales is located in Belgium (in Gent).
United Kingdom: Increasing consumption of pistachios
Consumption of pistachios is almost equal to imports, as the United Kingdom does not export pistachios. Between 2014 and 2018, the UK's imports increased annually by 2.0% in quantity, but remained stable in value. The difference between the growth rates of value and volume indicates a decrease in imports prices.
In 2018, import reached 4.8 thousand tonnes and €43 million. The largest supplier is the United States, with a 59% volume share, followed by the Netherlands (16%) and Germany (15%). Iran, although the second-largest supplier to Europe, is barely present as a direct supplier to the UK. The United Kingdom imports 40% of its pistachios from other European transit countries. Developing country suppliers can explore the possibility of more direct exports to the United Kingdom.
The United Kingdom's food processing industry is increasingly using pistachio nut kernels in ice creams and chocolate products. Also, several producers have launched 100% pistachio pastes, such as Anthap, Natural World, Meridian, Raw Ecstasy or Active Foods.
4.

What trends offer opportunities on the European pistachios market?

The increasing demand for healthy snacking, combined with the luxury perception of pistachios by European consumers, are the main driving forces behind the growing interest in pistachios in Europe. Also, interest in Eastern Mediterranean cuisine is favourable for pistachio consumption.
Healthy snacking
Nuts enjoy a good reputation among European consumers. Consumption of nuts is expected to see the highest growth in the snack segment. In major markets, nuts, including pistachios, are considered a healthier alternative to other savoury snacks, such as crisps and extruded snacks, and more beneficial to health than peanuts.
Apart from the health aspect, in-shell consumption of pistachios also offers the pleasure of opening the shells when eating. Pistachios are perceived as a more luxury snack compared to the majority of other nuts. Also, slowly eating pistachios helps to prevent obesity. Eating pistachios piece by piece (because of de-shelling) results in a relatively low calorie intake over a given period.
According to a research by market research firm IRI, analysis of six markets – the UK, France, Germany, Italy, Spain and the Netherlands – showed that consumers are opting for healthier or lighter products. With their busy lifestyle, European consumers are substituting traditional lunch breaks with healthy snacks, with nuts as an important ingredient. Consumers also use pistachios in vegan/vegetarian diets, as a baking ingredient, in salad mixes, and in other home cooking applications.
Pistachios are promoted as a rich source of vitamins and minerals, fibre, vitamin B6, thiamine, potassium, antioxidants and unsaturated fats. According to several published studies, pistachios are beneficial for heart health, reduce the risk of lung cancer and have anti-inflammatory benefits.
'Premiumisation' of the market and luxury products
European consumers are searching for unique flavours and sensory experiences. Pistachios are perceived as more premium, luxury and exotic compared to most other ingredients. This is also the main reason that luxury brands of, for example, ice cream and chocolate, are launching products with pistachios as ingredient.
Several international ice cream manufacturers have launched innovative pistachio ice creams. Some examples include Unilever's new brand of premium ice cream – Culture Republick (with pistachio and salted caramel), O mochi (combination of Italian ice cream and traditional Japanese rice dough), Perfect World (low-calorie pistachio ice cream), Ben and Jerry's (Fair Trade pistachio ice cream), Hackney Gelato (made with Bronte pistachios from Sicily) and Mövenpick pistachio ice cream.
Other examples of premium products are different types of chocolates with pistachios including famous brands such as Lindt, Damak (special pistachio chocolate brand by Nestle) or Cote d'Or.
Growing interest in Eastern Mediterranean cuisine
The popularity of ethnic cuisines is driving demand for new spice and flavour combinations. According to leading market trend agencies Innova Market Insights and MINTEL, Eastern Mediterranean cuisine (Middle East flavours), such as recipes from Lebanon, Israel, Iran and Turkey, is becoming quite popular among European consumers.
This trend is also increasing the use of pistachios as an ingredient. For example, pistachios are a frequent ingredient in 'oriental' sweets such as Turkish delight, baklava, Lebanese pistachio mafruka etc. The increasing popularity of Eastern Mediterranean cuisine will support the consumption of food that is common in these cuisines, such as dates, olive oil, mint and pistachios.
A good example of a company that successfully promotes Mediterranean ingredients from Iran, including pistachios, is the company Sun Export. In order to promote Iranian pistachios and other nuts, the company has created the PersianNuts online shop.
Promote the various applications and nutritional properties of pistachios. However, avoid health or nutritional claims that are not substantiated by scientific evidence. Check the Health Research Database of INC to find studies that have been published in scientific journals.
Read the CBI Market Statistics and Outlook study for Processed Fruit, Vegetables and Edible nuts to learn more about the general trade trends and the size of specific market segments
Check the websites of European trade shows and exhibitions to discover the newest trends. The most important trade fairs in Europe that are relevant to pistachios are SIAL (France, every even year in October), Anuga (Germany, every uneven year in October), BioFach (Germany; organic products, every year in February) and ISM (Germany; confectionary and snack products, every uneven year in February).
This study has been carried out on behalf of CBI by Autentika Global.
Please review our market information disclaimer.
Search
Enter search terms to find market research