The European market potential for dried mango
In the medium to long term, the European market for dried mango is expected to show a stable volume growth of 5-6% annually. This growth is likely to be driven by changes in the consumption patterns of European consumers, including the rising demand for healthier snacking options and a decrease in the consumption of snacks containing sugar. The United Kingdom, Germany, France, the Netherlands, Switzerland and Italy offer the best opportunities for developing country suppliers.
1.

Product description

Dried mango is the product prepared from sound and mature ripe fruit of varieties of Mangifera spp., processed by drying. Mango can be dried by the sun or by other recognized methods of dehydration, such as tunnel drying.

According to product specifications, dried mango can be produced as natural or sweetened. These categories contain additional subcategories such as type of cut (cubes, slices, cheeks, etc.), use of preservatives (sulphites) and processing method.
Natural dried mangoes - are produced without sugar addition. This type account for the majority of the sales in Europe. They are often produced with the addition of sulphites. Sulphites are used as a preservative to prolong shelf life and to retain the intense bright yellow colour. If dried mangoes are produced as organic, sulphites cannot be used.
Sweetened dried mangoes - are produced with sugar addition. They are not sold in Europe in high quantities. In Asia, it is the other way around, there sweetened dried mangoes account for most retail sales. The typical amount of sugar in dried mangoes is around 10%. This product should not be confused with candied mangoes where fruit cuts are preserved by sugar. This is a totally different type of product (candied fruit) with a 50-70% sugar content. This study does not further discuss this candied fruit.  
Dried mango is used at home, as a snack or cooking ingredient, out of home in hotels, restaurants and other places, and in the food industry, such as in bakery and confectionery products, or in breakfast cereal mixtures.
This study covers general information regarding the market for dried mangoes in Europe, that is of interest to producers in developing countries. When "Europe" is referred to in this survey, it involves the 27 member states of the European Union, the United Kingdom (the UK), Iceland, Liechtenstein, Norway and Switzerland.
There is no specific statistical international trade code (HS code) available for dried mangoes. This means there are no detailed statistics for the import of dried mangoes to Europe. Dried mango is statistically defined in the same group with fresh products, under the code 08045000 (Fresh or dried guavas, mangoes and mangosteens). Therefore, quantitative data presented in this study are based on industry estimations.
2.

What makes Europe an interesting market for dried mango?

It is estimated that European imports of dried mango increased by an average of 8-12% (in volume) in the 2015-2019 period. Virtually all imports from outside Europe come from developing countries. In the next five years, the European market for dried mango is likely to continue to increase, but with a somewhat lower annual growth rate of 6-9%. The main drivers behind the forecasted grow will be the healthy snacking trend, new product launches containing dried mango and the general popularity of mango flavour.

In 2019, according to industry estimations, imported quantity of dried mango reached 6500–7000 thousand tonnes. Conventional dried mangoes account for around 75% (about 4,800 tonnes), organic dried mangoes for around 20% (1300 tonnes) and sweetened dried mango for the remaining 5% (300 tonnes). It is estimated that the share of organic mango will increase, especially following the intensive investments in the dried mango industry in Burkina Faso.

Internal European trade consists of simple re-exporting of imported dried mangoes, but a significant part consists of added-value trade, including operations such as retail packing and usage of dried mango as an ingredient in products such as dried fruit mixtures, breakfast cereals, tea mixes and fruit bars.
3.

Which European countries offer most opportunities for dried mango?

As Europe's main importers of dried mango, the United Kingdom and Germany are interesting focus markets. The UK provides specific opportunities for Fairtrade certified dried mango, while Germany provides opportunities for organic dried mango. Switzerland and the Netherlands are important trade hubs for the re-export of dried mango to other European countries. Other interesting markets are France, Belgium and Italy.
The United Kingdom: the largest European importer
The UK is the largest European importer and market for dried mango within Europe. The largest share of the imported quantity is consumed within the country, as less than 20% is re-exported. Total consumption is estimated to be around 1600 thousand tonnes. Approximately 60% of imported dried mangoes are sold in the form of retail snacks, while the remaining 40% is consumed either as a part of a dried fruit mixture or as an ingredient in other products.
The leading suppliers of dried mango to the United Kingdom are South Africa, Burkina Faso, Ghana and the Philippines. The UK is also a relatively large consumer of sweetened dried mangoes, which are mostly imported from Thailand. A specific characteristic of the market in the United Kingdom is the popularity of the carabao mango variety from the Philippines. While other European markets predominantly use other varieties of dried mangoes (such as Kent, Keitt, Tommy Atkins), companies in the UK perceive the carabao variety to be superior compared to others, and sell it for higher prices.
The large market shares are captured by private labels of retail chains such as Tesco, Sainsbury's, ASDA, and Morrisons and ALDI (the Foodie market brand). A leading independent brand is Whitworths. Other independent brands include Forest Feast, Urban Fruit, Wholefoods and Crazy Jack. Dried mango is increasingly used as an ingredient in fruit and cereal bars. Some examples include Get Fruity, Bear (by Urban Fresh Foods – a subsidiary of Belgian Lotus Bakeries), Traidcraft (Fairtrade certified), or the Food Doctor.
The market in the UK offers specific opportunities for suppliers of Fairtrade certified dried mangoes, as the country is home to one of the largest Fairtrade products markets in Europe. Currently there are around 5,000 Fairtrade certified products offered in the country.
Picture 1: Example of a dried mango brand in the United Kingdom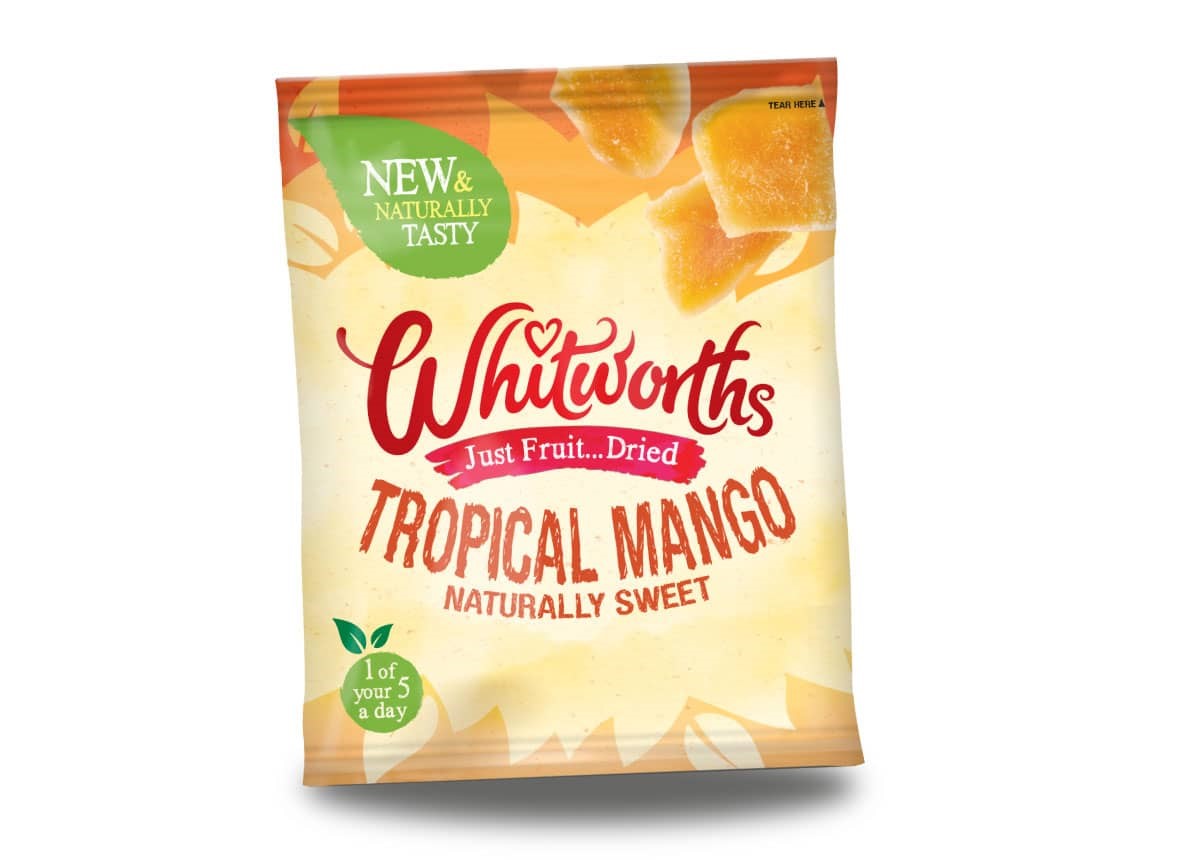 Source: Whitworths
Picture 2: Example of a private label mango brand (by ALDI)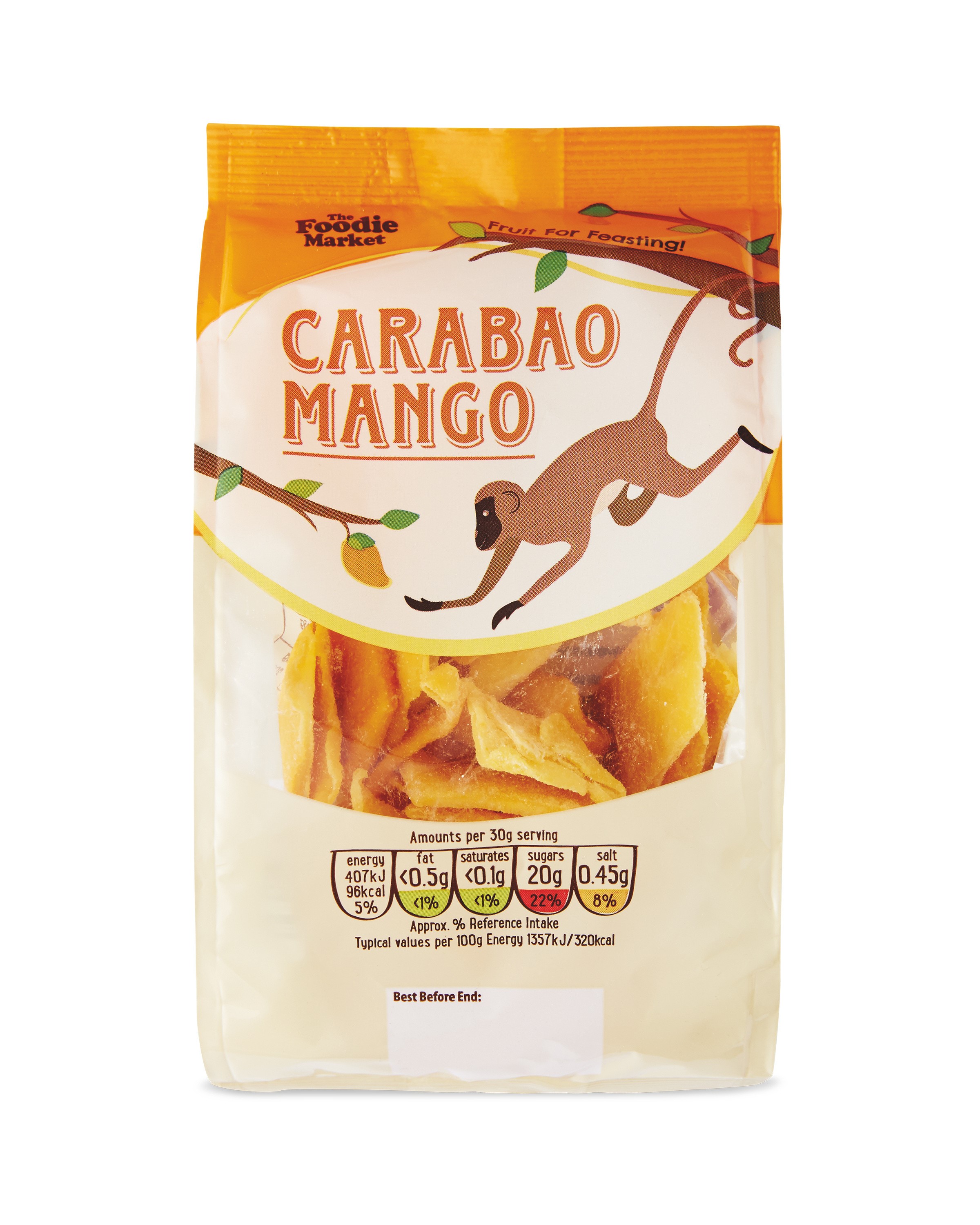 Source: Aldi
Germany: a huge and growing market
Together with the United Kingdom, Germany represents half of the European market for dried mango. Germany is a fast-growing market. Until a few years ago, dried mangoes were mainly sold in specialised stores, but now they are also sold in big discounters such as Aldi or Lidl. German dried mango sales are forecast to increase quickly. In the medium to long term, German sales will reach the same values as in the UK.
Germany is a particularly attractive market for organic dried mango as the country is the largest European market for organic food. Also, sales of sugar-free and preservative-free dried mango are increasing. One of the market segments providing specific opportunities for suppliers of dried mango is the fruit bar segment. There is an increasing number of launches of fruit bars and similar snacks that contain dried mango. Examples include Yammbits, Lubs, Alnatura, DM. However, note that some fruit bars containing mango are produced from mango purees and not from dried mango.
Significant quantities of mangoes in Germany are sold as private label. Those include labels like Alesto Fine (by discounter chain Lidl), Rewe Beste Wahl (by REWE) and Edeka (by Edeka). Examples of independent German dried mango brands include Seeberger, Farmer's Snack, Kluth, Marsch and Welt Parnter. A large share of organic dried mango is sold as private label brands of specialised organic retailers, such as Denn's, DM or Alnatura. There are also independent organic brands such as Rapunzel, Clasen Bio, Keimling, Morgenland or KoRo.
Apart from snacks and the already mentioned fruit bars, dried mango is an important ingredient of breakfast cereal mixtures. Still, the usage of candied mango in breakfast cereals is larger than the application of natural dried mango. However, it is expected that no added sugar dried fruit in breakfast cereals will overtake sugar infused fruit in the near future.
France: fast-growing and ethically aware market
France is one of the fastest-growing markets for dried mango with an estimated growth rate of 15% per year over the last five years. France is a particularly attractive market for French-speaking suppliers of dried mango from West Africa (such as Burkina Faso and Ivory Coast).
Leading independent private brands include Brousse Vergez and Maître Prunille. Foreign dried mango brands are also competing with local brands such as German "Seeberger" and Italian "Noberasco". Brands that are strong in the organic segment include Bio Day, Juste Bio and Daco Bello. Dried organic mango is increasingly used in breakfast cereal. However, some producers use tropical fruit from freeze-dried purees instead of dried mango.
Dried mangoes are also sold in French supermarkets as not branded, per weight or in simple transparent packaging of retailers. Also, dried mango is often sold in mixtures with other dried fruit and nuts. All supermarket brands (private labels) in France started to use nutriscore to label dried mangoes. Dried mangoes are usually labelled "C" meaning that they have the average nutritional value.
A lot of dried mango is imported to France through the Netherlands or the United Kingdom, but there is an increasing number of companies that source directly from producing countries. Those companies are investing in ethical sourcing and trying to help local communities in developing countries. Examples of such companies are Agro Sourcing, Ethiquable, and Direct Producteurs Fruits Secs.
Picture 3: Example of a German dried mango brand in France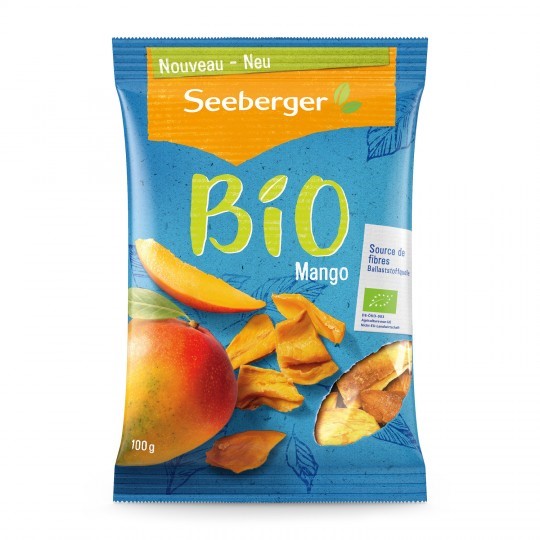 Source: Carrefour
Picture 4: Example of private label of organic dried mango in the Netherlands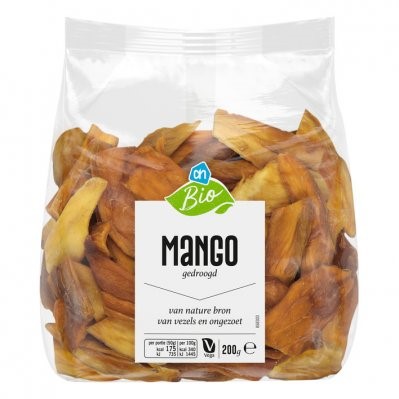 Source: Albert Heijn
The Netherlands: the trade hub
In terms of imported quantities, the Netherlands is the third-largest importer of dried mango in Europe. However, they re-exported large quantities to other European destinations. Current consumption is estimated to lay around 300 tonnes per year. This makes the Netherlands the 4th largest consumer of dried mango in Europe, after France.
The growing consumption of dried mango in the Netherlands is driven by the healthy snacking trend and the popularity of "exotic" flavours. Apart from snacking, dried mango is increasingly used as an ingredient in fruit bars, bakery and confectionery products and breakfast cereals. The Netherlands is characterised by a high import share for sugar-infused dried mango, especially from Thailand. It is expected that share of sugar-infused dried mango will decrease, and no-added sugar products will gain market share.
A large share of traded dried mango in the Netherlands is sold by private labels of supermarkets such as Albert Heijn (AH and AH Bio labels), Jumbo (Jumbo label), discounters such as Lidl (Alesto Bio label) and in health retail shops such as Holland & Barrett. The import volume of organic dried mango in the Netherlands is relatively high, and led by one of the largest European specialised organic importers, Tradin Organic. Tradin Organic sources organic dried mango from several origins, such as Mexico, Gambia and Burkina Faso. In Burkina Faso, the company has its own mango drying project.
Switzerland, producing and trading country
Although small in terms of its consumption, Switzerland is home to a few very large trading and processing companies which together sell around one quarter of European dried mango. Switzerland is particularly attractive for trading organic dried mangoes. Swiss company HPW has its own mango processing facility in Ghana, which is one of the largest in Africa. HPW has its headquarters in Switzerland, so some trade is performed through Switzerland, making the country important trade hub. Another important Swiss company is Gebana, which is also trading and producing dried mangoes in Africa.
A significant share of dried mango in Switzerland is sold as private label, through leading retail chains such as Coop (Coop naturaplan label) and Migros (Sun Quin, Migros Selection and Migros Bio labels). A smaller share is sold by independent brand such as German Seeberger. HPW has developed and launched fruit bars and fruit rolls based on dried mango.
Italy: growing imports and re-exports
Italy is increasing its import of dried mango. Dried mango is consumed in Italy mainly as a snack. Sales are dominated by supermarket private labels such as Coop, Conad or Carrefour. A very popular way of dried fruit sales is in small discount packages of €1 per package (for 100 g of dried fruit). The leading independent brand is Noberasco, but there are more brands such as Semplicemente frutta (by Euro company) or Life. The leading Italian organic brand, also selling dried mangoes, is Almaverde Bio.
Significant quantities of imported dried mango are exported to other European countries. This re-export is led by the presence of strong brands (such as Noberasco) in other European countries as well as presence of strong Italian traders (such as Besana).
4.

Which trends offer opportunities on the European dried mango market?

The increasing demand for healthy snacking, combined with product innovation are the leading driving forces behind the growing consumer interest in dried mango in Europe. Also, sustainable and ethical production is becoming an important aspect for European traders and consumers.
Healthy snacking
A major trend that is in line with increased consumption of dried mango is healthy snacking. Consumers are searching for healthier alternatives for snacking between meals or for snacks which can replace meals. Young consumers that take more care of their general health and wellness no longer favour savoury snacks such as potato chips and other crisps. As a result, nuts, as well as dried fruit are becoming increasingly popular as a snack.
Consumers are increasingly looking for flexible, light and convenient snacking options that they can eat on the go. According to a research by IRI, analysis of six markets – the United Kingdom, France, Germany, Italy, Spain and the Netherlands – showed that consumers are opting for healthier or lighter products. With their busy lifestyle, European consumers are replacing traditional lunch breaks with healthy snacking moments. According to Innova Market Insights 63% of consumers born after 2000 are replacing meals with snacks as they are busy.
Clean label
Especially important for consumers are "clean labels" on dried fruit packs. "Clean" means that there are no additives used during the production process. Popular labels for dried mango packs are organic, gluten-free, sugar-free, "nothing added," 100% fruit and the like. One of the new trends is the production of additive-free dried mango. The main additives used to preserve the intense original fruit colour are sulphites. Producers that do not apply sulphites, often use the claim "sulphur-free". The problem connected with "sulphur-free" products is the darkening of the fruit which makes the fruit less appealing to consumers.
According to Innova Market Insights, a sharp growth occurred in "low sugar", "sugar-free", and "no added sugar" labels, which was driven by the significant rise in natural fruit snacks.
Mango is a popular exotic flavour
The flavour of mango is very popular, especially among younger consumers. According to Innova Market Insight, global product launches incorporating mango flavours have increased by 240% over the last ten years. In Europe, consumers like exotic tastes but not "too exotic" according to Food Navigator. Mango fits perfectly into this category and several ingredients suppliers forecast further growth for mango products. Austrian ingredient supplier "Esarom" even called 2018 the year of the mango. This trends continues according to NovoTaste in 2020.
For consumers it is very important that dried mango has a similar taste as a fresh mango. Two years ago (March 2017), a MSc thesis was presented at Wageningen University exploring taste preferences in dried mango by Dutch consumers. Among others, the most desired attributes of dried mango were the sweet taste, a strong flavour similar to fresh mangoes and a pale orange colour.
Innovative processing technologies and products
Freeze-drying technology, consumption of fruit and bars, new breakfast options and innovative snacking products are some of the main influences on the dried mango market. During ANUGA 2019 in Cologne (leading food exhibition) many products with dried mangoes were presented. Those include the following:
Picture 5: Example of fruit snack based on dried mango

Source: Tropicks
Picture 6: Example of dried mango fruit bar brand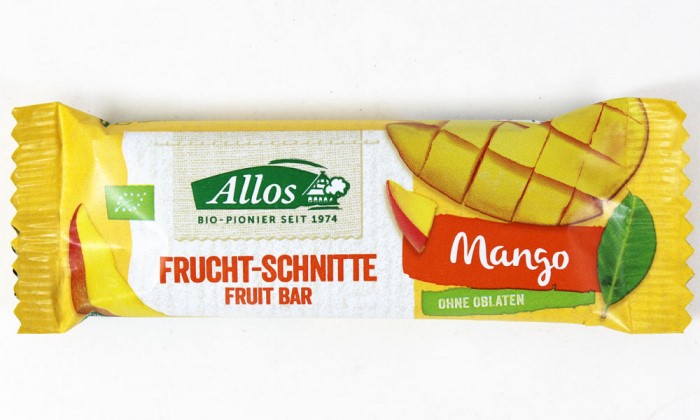 Source: Allos
Sustainability and ethical production
Several sustainability initiatives are in implementation in dried mango production countries. In general it can be said that consumers and retailers are increasingly interested in sustainable and ethically produced fruit products, including dried mango.
Some of companies that focus on ethical production, source their products from a specific country and via a project in that country. Sometimes, they have a partnership with a company from the sourcing country. An example of a European company that works like this, is HPW from Switzerland. This companies sells a range of dried mango products from Ghana in several European countries, for example in the Netherlands. More information on sustainable and ethical production trends can be found in the CBI processed fruit and vegetables trends study.  
Tips:
Promote the various applications and nutritional properties of dried mango. However, avoid health or nutritional claims that are not substantiated by scientific evidence (nutritional analysis in case of nutritional claims). Check the Health Research Database of INC to find studies that have been published in scientific journals.
Read the CBI Market Statistics and Outlook on Processed Fruit & Vegetables study to learn more about general trade trends and the size of the specific market segments.
Check the websites of trade shows and exhibitions to discover the newest trends. The most important trade fairs in Europe relevant to dried mangoes are SIAL (France, every even year in October), Anuga (Germany, every uneven year in October) and BioFach (Germany, organic products, every year in February).
This study has been carried out on behalf of CBI by Autentika Global.
Please review our market information disclaimer.
Follow us for the latest updates