The European market potential for desiccated coconut
Europe is the world's largest importer of desiccated coconut, accounting for more than 30% of global imports. Desiccated coconut is a traditional and popular bakery and confectionery ingredient in many European countries. It has been gaining more attention recently thanks to growing consumer interest in Asian cooking. Europe's imports of desiccated coconut have been growing; the leading importing countries being the Netherlands, Germany, the United Kingdom, Poland, France and Belgium.
1.

Product description

Desiccated coconut is the dried, shredded white meat of the coconut kernel, produced from fresh coconut. It is used as an ingredient in many sweet bakery, pastry and chocolate products (several brands of coconut chocolate bars with desiccated coconut are internationally famous, such as Bounty or Raffaello), but also in some savoury Asian dishes.

Desiccated coconut processing can vary according to the country and processor, but it generally includes the operations described below.
Selection of coconuts – the quality of desiccated coconut depends on the quality of the harvested nuts. Desiccated coconut are produced from fully matured (10 to 13-month-old) coconuts. Around 8-10 coconuts are needed to produce one kg of desiccated coconut.
Harvesting – the coconut harvest varies among regions. One method is to wait for ripened coconuts to fall from the tree and simply pick them off the ground. Other methods involve trained pickers who either climb the tree and pick nuts by hand, or use a bamboo pole with a knife attached to the end. Mechanised harvesting and climbing devices are still not used on a large scale. Trained monkeys are still occasionally used (in Thailand), but this is considered unethical.
Mature coconuts are stored for maximum 2 weeks  with the husk, to absorb the water inside the kernels.
De-husking – before further processing, the husk is removed from the coconuts to make them less bulky for transport. In most producing regions, the husk is removed manually by pushing the coconuts against a metal spike. Husks can also be removed by pedal operated device or with a machete/knife. Several de-husking machines have been developed, but they are not widely used.
De-shelling (also known as "hatcheting") – the de-husked coconut is usually split into two halves with a machete. Before splitting, drilling is often used to collect coconut water. The coconut kernel is then removed from the shell with knife-like devices.
Removing the testa (paring/peeling) – when the husk is removed, the kernel has a brown skin. In most cases this skin (testa) is removed by hand peeling. Peeling can be also performed on the whole nuts and cracking can be done after peeling. The brown skin can be also kept, to produce coconut pieces with brown edges (sometimes called smiles). However, for most desiccated coconut, the skin is completely removed, and the presence of paring specks is considered a defect.
Washing and pasteurisation – the white kernels are washed and sterilised to remove microbiological contaminants. Pasteurisation (or sterilisation) depends on the installed processing lines and often includes soaking in sodium metabisulphite and heating. Other options are the use of boiling water or hot steam.
Disintegrating – the pasteurised kernel is cut and shredded into small pieces on specially constructed machines. The size of the coconut pieces can be customised by adjusting the cutting equipment.
Drying – the coconut pieces are air dried on trays until they reach the desired moisture level (usually around 3%).
Sieving and packaging – the dried coconut pieces are classified into different sizes using sieves, and then packed into bulk packaging.
After this process, the final product is 'full fat' desiccated coconut with an oil content higher than 60%. Desiccated coconut can also be produced as a by-product of coconut milk production, but this type has a lower fat content.
Desiccated coconut is produced in almost all coconut-producing countries, but most quantities are produced in Southeast Asia, with the Philippines and Indonesia being the main processors.
This study covers general information regarding the market for desiccated coconut in Europe, which is of interest to producers in developing countries. For statistical trade analyses, the combined nomenclature code 08011100 ("Desiccated coconut") is used. When 'Europe' is referred to in this study, it means the 27 member states of the European Union, plus the United Kingdom, Iceland, Liechtenstein, Norway and Switzerland.
Tip:
See our study about coconut water in Europe to learn more about the European market potential for this product, which is often obtained as a side product of desiccated coconut production. Increasing your range of coconut products (such as coconut milk, oil or water) can increase your profit, sustainability and competitiveness.
2.

What makes Europe an interesting market for desiccated coconut?

Europe is a large importing region for desiccated coconut, accounting for a 30% share of the world's total imports, followed by the United States of America (10%), Singapore (8%) and the Russian Federation (4%). European imports of desiccated coconut are relatively stable. Since 2016, they have slightly decreased in quantity (by 0.6% annually) and in value (by 2% annually).

European imports of desiccated coconut reached 118 thousand tonnes in 2020, worth €211 million. However, a large share (26%) of traded quantities is actually internal European trade. Direct imports from coconut producing countries (all of which are developing countries) amounted to 85 thousand tonnes in 2020.

The slight import decrease over the last two years (figure 1) was not caused by lower European demand, but by the situation in the main producing countries. Worldwide coconut production decreased in the 2018-2019 season, and during 2020, it was impacted by the COVID-19 pandemic. During 2020 and 2021, the leading Southeast Asian desiccated coconut producing countries experienced frequent lockdowns and diminished processing capacities.

Over the next five years, the European market for desiccated coconut is expected to grow at an average annual rate of 1-2%. This forecast is based on the popularity of the coconut flavour and on the expected economic growth in Central and Eastern European countries. Desiccated coconut is a traditional baking and confectionery ingredient in many European countries, and is used in a variety of sweet products. It is also used as an ingredient in Asian savoury dishes and gaining more attention thanks to growing consumer interest in Asian cooking.

The European market for desiccated coconut is moderately concentrated. Three countries have a share of more than 50% of total imports. The Netherlands was the leading importer in Europe (27% import share) in 2020, followed by Germany (17%), the United Kingdom (13%), Poland (8%) and France (6%).

The coronavirus outbreak in 2020 and 2021 affected the European food market, including desiccated coconut. This mainly influenced the market structure. Sales through the food service segment (as an ingredient) decreased due to the closure of restaurants and hotels. On the other hand, retail sales and home delivery sales increased.

Import procedures were not influenced by the pandemic, but there were frequent shipment delays. It is expected that the European market will get close to normal at the end of 2021, because of increased immunity due to vaccination. Still, it is not possible to give a reliable forecast due to the appearance of new virus variants.
Tip:
Read CBI's demand study for a broader view of the processed fruit and vegetables market in Europe.
3.

Which European countries offer most opportunities for desiccated coconut?

The main importers of desiccated coconut in Europe are also the leading consumers: the Netherlands, Germany and the United Kingdom. Figure 3 represents apparent consumption. Apparent consumption is expressed as the difference between imports and exports. These data are quite reliable, but they do not include stocks. This means that local consumption in the Netherlands and Germany is a bit lower than shown in the graph because most large Dutch and German traders regularly keep stocks of desiccated coconut to ensure a stable supply.

The consumption of desiccated coconut is less concentrated than the import. The Netherlands, the United Kingdom and Germany together consume less than 50% of the European consumption. This smaller share is different from the imports, where those top 3 importers dominate the market. This means that large quantities are re-exported, particularly by the Netherlands and Germany.

Over the last five years, the highest growth rate for consumption was noted in the Netherlands, Poland and the United Kingdom. Other large consuming countries show fluctuating and slightly decreasing consumption trends. This means that competition for new suppliers is high. According to industry insights, the influence of COVID-19 did not provide specific opportunities for new suppliers. Although the supply was not stable during the COVID-19 crisis, most large importers did not switch suppliers, as this would be too risky compared to trade with already established partners.
The Netherlands: the largest importer, consumer and re-exporter of desiccated coconut
The Netherlands is Europe's largest and the world's second-largest importer of desiccated coconut. The country's desiccated coconut imports of 32 thousand tonnes, worth almost €50 million, account for 27% of European imports. Over the last five years, the Dutch average annual import growth rate - in quantity - was 14%. Until 2019, Dutch imports of desiccated coconut showed steady growth to the current level, but they remained relatively stable in 2020. This was due to unstable supply influenced by the COVID-19 crisis.
The Netherlands imports most of its desiccated coconut directly from producing countries (94%). In 2020, the leading supplying country of desiccated coconut to the Netherlands was the Philippines with an 81% share, followed by Indonesia (14%), Sri Lanka (3%) and Costa Rica (2%). Costa Rica is the developing country whose share of Dutch desiccated coconut imports is growing the fastest (from 50 tonnes in 2016 to 615 tonnes in 2020), but it still has a relatively small share.
The Netherlands domestically consumes around 50% (15 thousand tonnes) of its imported desiccated coconut, while the other half (and often more) is re-exported. Thanks to the location of the largest European port of Rotterdam and a long history of trade in coconut products, the Netherlands has positioned itself as a unique trade hub for coconut products.It is home to the largest desiccated coconut company in Europe, Catz International, specialised in a wide range of coconut produce.
Apart from trade, the Netherlands is also the largest consumer of desiccated coconut. Desiccated coconut is used in many bakery products, cakes and cookies as a food industry ingredient, as well as in home cooking. One of the heaviest users of desiccated coconut is the Mars Incorporated factory located in Veghel, which produces Bounty coconut chocolate bars. Also, some typical Dutch food such as coconut bread (kokosbrood) uses desiccated coconut as an ingredient. Indonesian and Caribbean dishes with desiccated coconut as an ingredient are popular in the Netherlands as well, because of the Dutch colonial history and the influence of the diaspora.
For home consumption, desiccated coconut in the Netherlands is packed under private labels of the leading retail chains such as Albert Heijn (AH and AH Bio labels), Jumbo (Jumbo Label), Lidl (Belbake label), Superunie (several supermarkets with private label Sum & Sam) and others. Independent brands include packing companies, organic food traders, importers and ethnic food suppliers such as Smaakt (organic), Theha (also an importer and processor), Damhert (a Belgian organic brand), Take One (a local brand), Conimex (Indonesian and Asian products), and Puur Mieke.
Figure 5: Coconut bread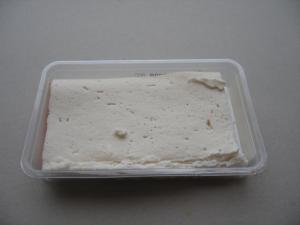 Source: Wikipedia, Author: Basvb, Licence CC BY-SA 3.0
Figure 6: Bounty coconut chocolate bar (by Mars) produced in the Netherlands
Source: Wikipedia, Author Evan-Amos, Licence Public Domain
The United Kingdom: Huge domestic consumption
The United Kingdom's desiccated coconut import volume in 2020 was 15.5 thousand tonnes, worth €28 million, which is equivalent to 13% of total European imports. On average, the United Kingdom's imports increased annually by 3% between 2016 and 2020, despite the unstable supply due to the COVID-19 outbreak. A specific characteristic of the British desiccated coconut market is that most of the imported quantities are consumed within the country. Less than 10% of imported quantities are re-exported to other countries.
The United Kingdom imports around half of its desiccated coconut from the Philippines, followed by Indonesia (25%), Malaysia (15%) and Sri Lanka (15%). The United Kingdom is the main European market for Malaysian desiccated coconut. The share of desiccated coconut of Philippine and Indonesian origin is likely to be a few percent higher, considering that 3% is imported from the Netherlands. Meanwhile, Vietnam is gaining market share in the British market, but quantities are still very small (69 tonnes in 2020).
Like in the Netherlands, most desiccated coconut is used by the confectionery industry to give a specific aroma to cakes, chocolate products, pastries, cookies and similar products. Around 40 companies participate in the direct import of desiccated coconut, but the largest share is imported by a few large traders. A significant share of imported desiccated coconut is also traded by companies specialised in Asian products. Some of those ethnic food traders have developed their own popular brands such as East End Foods, Alamgeer or Milagrosa.
As desiccated coconut is considered a commodity ingredient, final consumers are not very familiar with the quality characteristics and brands of retail-packed desiccated coconut. The retail market is largely dominated by private labels of retail chains such as Tesco, Sainsbury's, ASDA, Morrisons and others. Some of the established independent brands are Whitworths, Coconut Merchant or Crazy Jack. Keep in mind that many packers in the United Kingdom, even with established brands, do not import directly, instead buying desiccated coconut from specialised importers.
Fairtrade certified desiccated coconut can offer opportunities for new suppliers, as the United Kingdom is the largest Fairtrade market in Europe. However, the number of direct importers of Fair-trade desiccated coconut and other coconut products is small, currently only including a couple of companies such as First Grade International (also one of the largest British importers) or smaller importers such as Traidcraft.
Like in many European countries, online retail sales in the United Kingdom increased significantly during the COVID-19 pandemic in 2020. For example, internet-only grocery retailer Ocado increased its sales by 35% during the last year, from 1.62 billion pounds in fiscal 2019 to 2.19 billion pounds in 2020.
Germany: a market where organic is not niche anymore
In 2020, Germany imported 20 thousand tonnes of desiccated coconut, worth €26 million. At the same time, it (re-)exported 8.7 thousand tonnes, leaving 11.3 thousand tonnes for domestic consumption. German imports fluctuated slightly over the last five years. Despite import fluctuations, the German market was relatively stable, as those fluctuations were usually not higher than 1 thousand tonnes between years. Around 25% of quantities imported by Germany comes from re-export by other European (mostly Dutch) suppliers.
When it comes to desiccated coconut imports directly from producing countries, in 2020, Germany sourced 46% of these imports from Indonesia and 44% from the Philippines. Other main suppliers were Sri Lanka with an 8% share and Ghana with a 1% share. None of the other suppliers had a more than 1% share. However, Ghana is gaining German market share at the fastest rate, although still with relatively small quantities. Ghana increased its export of desiccated coconut to Germany from only 7 tonnes in 2016 to 170 tonnes in 2020. It is also interesting to mention that Germany is the main European market for Sri Lankan desiccated coconut.
Germany is a particularly attractive market for organic desiccated coconut, as the country is the largest European market for organic food consumption. The German organic food market increased by 22% in 2020 and reached a value of almost €15 billion. A large share of organic desiccated coconut for home consumption is sold under the private label brands of specialised organic retailers, such as Bio Markt, DM and Alnatura. There are also independent organic brands, such as Rapunzel, Clasen Bio and Morgenland.
Organic desiccated coconut in Germany is also used as an ingredient in a large variety of products. Some examples are fruit and protein bars (such as mogli, Alnatura or Veganz), breakfast cereals (such as dm, Alnatura, Biozentrale or Seitenbacher), and curry sauces (such as Biozentrale or Rapunzel).
As a commodity product, desiccated coconut is used as an ingredient in a variety of foods such as cookies, ice cream, chocolate bars, cakes and pastries. For home consumption, desiccated coconut are sold in large quantities under private labels, including Belbake (by discounter chain Lidl), K Classic (by Kaufland), Back Family (by Aldi Süd and Aldi Nord), ja! (by REWE), Edeka and Ediba Bio (by Edeka). Examples of independent brands are Seeberger, KoRo and Dr. Goerg.
Figure 7: Organic brand of coconut fruit bar in Germany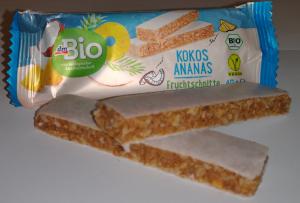 Source: Autentika Global
Figure 8: Organic chocolate coconut bar in Germany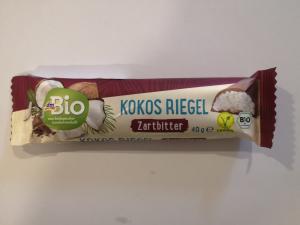 Source: Autentika Global
Tip:
Find German traders of desiccated coconut on the website of the specialised German association Waren-Verein and in the German company directory Wer Liefert Was.
Poland: the strongest growth market
Poland's market for desiccated coconut saw strong import growth over the last five years. In 2016, Poland was ranked as the 6th largest desiccated coconut importer in Europe, but the country overtook France and Belgium to reach the 4th position in 2020. Polish imports increased at an annual average rate of 3%, reaching 9.2 thousand tonnes and €19.5 million in 2020. Most of the imported quantities are consumed within the country, with small quantities re-exported (mostly to Ukraine and Hungary). Estimated consumption in Poland is 8.5 thousand tonnes.
Most of the quantities imported to Poland are sourced directly from producing countries. Less than 10% is imported from other European traders; mostly from Germany, the Netherlands and the United Kingdom. The leading supplier of desiccated coconut to Poland is the Philippines, with a more than 50% share, followed by Indonesia with a 38% share. Only 3% is imported from other coconut production countries: Sri Lanka, India, Ivory Coast, Malaysia and Thailand.
Like in other European countries, desiccated coconut in Poland is mainly used as an ingredient for the processing industry to produce mostly sweet food. The quantities used for savoury Asian dishes are much smaller compared to West European countries. For home consumption, there are several packing companies offering desiccated coconut, either as a private label or own brand.
The market share of desiccated coconut sold under private label in Poland is estimated to be more than 50%, led by retail chain Biedronka and followed by Lidl, Tesco, ABC, Kaufland and others. Some of the independent brands include Bakalland, Kresto (by Vog), Krukam and Vivio (organic).
France: the home of European bakery and pastry excellence
France is the fifth largest importer and consumer of desiccated coconut in Europe. Over the last five years, French imports of desiccated coconut has fluctuated, with an average decrease rate of 4% in quantity and 1% in value. This decrease does not mean that the demand for desiccated coconut in France is weak. One of the reasons for the fluctuating imports is the influence of COVID-19 in 2020. During the pandemic, some French traders decided to import desiccated coconut through Dutch and German importers rather than directly from producing countries due to unstable supplies.
The leading supplier of coconuts to France is the Philippines with a 44% import share, followed by Indonesia (18%) and Sri Lanka (11%). Since a significant quantity of imports comes from the Netherlands and Germany, the share of desiccated coconut from main origins is estimated to be higher. For example, the industry estimation is that 60% of desiccated coconut in the French market originates from the Philippines. Emerging suppliers from Ghana and Benin are increasing their exports to France too.
In France, most desiccated coconut is used by the bakery and confectionary industry. The French bakery and pastry industry is one of the most developed in Europe, with several industry associations. Desiccated coconut is widely used in a variety of desserts, such as French coconut macaroons, French coconut pie, coconut cake and many others. Some of the largest bakery and pastry companies import desiccated coconut directly, but most of them are supplied through importers and wholesalers.
Desiccated coconut for home consumption in France is sold through the re-packing activities of many suppliers. Most of the market share for packed products is held by leading retail chains such as Carrefour (Carrefour, Carrefour Bio and Petit Prix labels), Leclerc (Tablier Blanc label), Super U (U label), Intermarché (Chabrior label) and Auchan (Auchan label). Independent brands include Vahine, La Pateliere, Sainte Lucie and several others.
Belgium: large sweets producing industry
Belgium is a heavy industrial user of desiccated coconut, despite having a smaller population than other top European markets. Belgian imports of desiccated coconut fluctuated over the last five years, reaching 5.8 thousand tonnes and a value of €11.7 million. Belgium imports most of its desiccated coconut from the Netherlands (46%), followed by the Philippines (37%) and Sri Lanka (4%). One of the reasons for the large share of import from the Netherlands is the existence of good trade relations with some of the large Dutch traders.
Belgium is home to several large-scale producers of chocolate products, pastries, cookies and other desserts where desiccated coconut is used as an ingredient. For example, Belgium is the home of the largest chocolate factory in the world: Barry Callebaut with a factory in Wieze. Another notable example is the Italian group Ferrero, which exclusively manufactures desiccated coconut pralines Raffaello for the entire world in the Belgian city of Arlon.
Retail sales of desiccated coconut in Belgium are led by the private labels of supermarket chains Colruyt and Delhaize. The market share of independent brands is small and includes examples such as Vahine or Smaakt.
Figure 9: Example of private label cookies brand with desiccated coconut in Belgium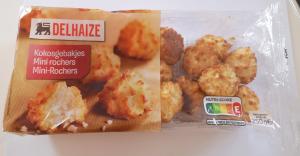 Source: Autentika Global
Figure 10: "Rafaello" (by Ferrero) desiccated coconut praline produced in Belgium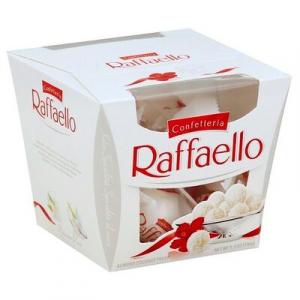 Source: Open Food Facts (licensed under the Creative Commons Attribution-Share Alike 3.0 Unported license)
4.

Which trends offer opportunities on the European desiccated coconut market?

The COVID-19 pandemic impacted all food markets, including ingredients such as desiccated coconut, from two opposite directions. On the one hand, people could not move around due to travel restrictions, which led to an increase in the consumption of sweet snacks. This contributed to the stable use of desiccated coconut in dessert products. On the other hand, people started looking for healthier and plant-based foods, which contributed to the increased consumption of natural coconut snacks. Another trend shaping the European market is sustainability. Together, these trends are driving the demand for desiccated coconut in Europe.

Below is a summary of the trends for desiccated coconut specifically. To find out more about general trends, read our study Trends in the European Processed Fruit and Vegetables Market[A1] .

Sourcing of sustainably produced coconut products

Sustainability has become one of the most important topics on the official European agenda. The European Union has implemented a set of policies and actions called the European Green Deal. The aim of this Green Deal is to make the European economy more sustainable and climate neutral by 2050. The action plan also includes a Farm to Fork Strategy aimed at making food systems fairer, healthier and more environmentally friendly.

Responsible and sustainable business and fair treatment of all people in the supply chain are becoming increasingly important. To encourage companies to better manage human rights and environmental impacts in their supply chains, the European Union announced mandatory legislation on due diligence in March 2021. This legislation is intended to ensure respect for human rights and the environment throughout the entire supply chain. To comply with this objective, several European companies have launched their own support projects in coconut producing countries. A notable example is the Catz Charity Foundation, founded by Catz International.

An estimated 95% of coconuts produced globally is harvested by smallholders whose negotiation power is not strong enough to ensure their rights in the supply chain. Also, due to the increasing demand for coconut products, there is intensive planting of young palms, leading to deforestation. To ensure a stable and sustainable supply of coconuts, as well as increase the income of smallholders, a group of companies has formed the Sustainable Coconut and Coconut Oil Roundtable.

One example of the sustainability support activities is of the Franklin Baker Company of the Philippines. The company is involved in the sustainability and transparency project together with the Livelihoods Funds. In this project, smallholders sell their crop directly to Franklin Baker through farmer-owned cooperatives. Franklin Baker in turn sells the processed coconut to one of the leading desiccated coconut users - Mars.

The Franklin Baker, Mars and Livelihoods Funds project supports sustainability in several ways. Firstly, it will help to organise the farmers into groups, giving them more power and making the supply chain more transparent. Also, a transparent price mechanism will be defined in each step of the chain to ensure long-term supply stability. Other sustainability supporting activities of the Franklin Baker company include housing projects for poor communities, medical and dental programmes, and tree planting.
Tips:
Watch Ecovadis' videos about sustainability and their Getting Started Guide after COVID-19 to broaden your view about a sustainable approach to supply chains.
Teach farmers how to increase the production of coconut palms without damaging the environment. This includes integrated pest management, planting trees at a sufficient distance, harvesting nuts at full maturity, fertilisation based on soil analysis, and the use of organic fertilisers.
Consider investing in sustainable certification schemes such as Rainforest Alliance or Fairtrade to ensure a stable production and better access to European markets.
Healthy and environmentally friendly coconut snacking
Desiccated coconut is becoming an interesting trendy product, as it fits perfectly into the general plant-based diet trend. There are 2 main drivers behind product innovations, illustrated with examples below:
Healthy snacking and plant-based diets stimulate the invention of several types of coconut snacks. One type of snack is coconut chips, produced by drying slices of fresh coconut. Coconut chips may contain brown skin, but can also be produced without it. They can be produced as raw, toasted or sweetened, and in differently shaped cuts. They are used as snacks but also as an ingredient in breakfast cereal mixes.
Processed desiccated coconut snacks are produced by different processing methods. They include milling to produce coconut flour, or partial rehydration to make cuts more tender. They are also mixed with other ingredients (such as sweeteners or flavours) to make the product more attractive. One example of such a product is illustrated in figure 11.
Figure 11: Desiccated coconut snack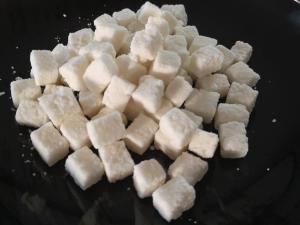 Source: Autentika Global
Final consumers are becoming more interested in the nutritional value of the food they eat. Standard desiccated coconut has an average nutritional value because of its high fat content. In the 'Nutri-Score' system it is usually represented by C or D, on a scale from A to E. To lower the calories of desiccated coconut, some packers use reduced-fat desiccated coconut, which is a by-product after the extraction of coconut milk. An example of the 'Nutri-Score' labelling for desiccated coconut is presented in figure 12.
Figure 12: Example of Nutri-Score labelling for desiccated coconut
Source: Autentika Global
In addition to nutritional labelling, a new initiative has been launched to label the environmental impact of food. It is called Eco-Score. This initiative was developed by the Eco2Initiative in France and is already being used by some retail chains, including the leading French retailer Carrefour.
Tips:
Suggest new product developments such as coconut snacks to your buyers. European buyers are constantly looking for innovations to increase their sales.
Support innovations in the sectors that use desiccated coconut as ingredients, for example by sharing ideas for new product launches with food manufacturers.
Check the websites of European trade shows and exhibitions to discover the newest trends. The most important trade fairs in Europe relevant to desiccated coconut are SIAL (France, every even year in October), Anuga (Germany, every uneven year in October), and BioFach for organic products (Germany, every year in February).
Invest in marketing via social media and participate in leading trade fairs in Europe to increase awareness of lesser known desiccated coconut products. European consumers are commonly aware of standard fine cut desiccated coconut, but many are not aware of innovative snacks made from desiccated coconut.
This study has been carried out on behalf of CBI by Autentika Global.
Please review our market information disclaimer.
Follow us for the latest updates
Search
Enter search terms to find market research