The European market potential for dates
In the long term, the European market for dates is expected to show stable growth. This growth will likely be driven by changes in the consumption patterns of European consumers. This includes the growing interest in healthy snacks and sugar replacements. Another driving force has to do with the large numbers of immigrants arriving in Europe. Many of them consume dates regularly. France, Germany, the United Kingdom, the Netherlands, Italy and Spain offer the most opportunities for suppliers from developing countries.
1.

Product description

Dates are the fruit of the date palm tree (Phoenix dactylifera). Depending on the maturity of the fruit, they are referred to as either fresh or dried. Fresh dates (usually with a moisture content of >50%) are rarely sold on the European market. The season for fresh dates is very short in producing countries, and only a few varieties are suitable for eating at this stage. This study therefore discusses only the European market for dried dates (sometimes known as 'table dates').

When left on the tree, dates ripen, change colour, soften and reduce in size, weight and moisture content, while increasing in sugar content. When picked early to avoid damage by rain, insects or other factors, dates may need to be ripened further after harvest. After they have been harvested and cleaned, dates are protected from insects through fumigation, commonly rehydrated to enhance softness, sterilized by exposure to higher temperatures, sorted into grades by quality and size, and stored in a cool atmosphere.

Figure 1: Unripe and ripening dates on a date palm tree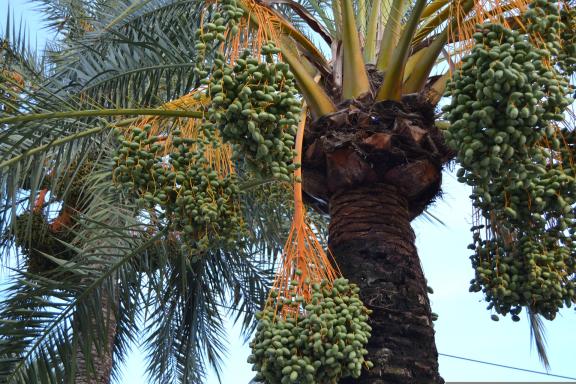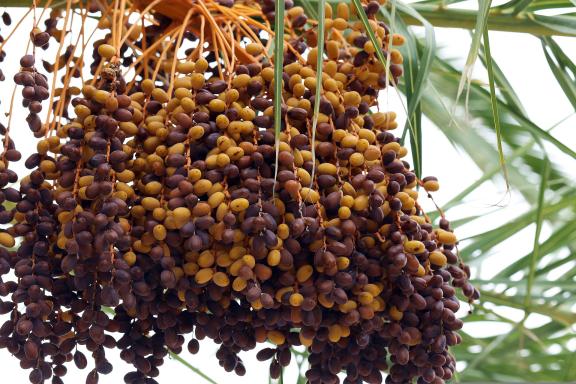 Source: Webandi and Pompi via Pixabay
Dates that are produced without any treatment after harvesting are known as natural dates. They can also be treated after harvesting, including rehydration and coating with glucose syrup or sorbitol. These dates are known as conditioned dates. Dates can also be produced with a lower moisture content (<30%) or a higher moisture content (<60%). Those with a higher moisture content need to be stored at a temperature between 0 and 4°C. Even when dry, dates are often stored in frozen form to prolong shelf life. In general, therefore, a frozen cold chain is maintained during transport and further storage. On retail shelves, processed dates are presented at ambient or refrigerated temperatures.
Although dates are normally used as end-consumer products (e.g. as fruit snacks), they are also used as an ingredient in home cooking and baked goods, as well as in confectionery and other food products. When dates are consumed as a snack, they are generally used whole, either with pits (stones) inside or pitted (de-stoned). They can also be chopped and used as an ingredient (e.g. in muesli or dried fruit mixtures). In addition, dates can be processed further into products, such as date paste, date juice (syrup) and liquid date sugar. Even the pits can be used to produce oil and coffee substitutes.
Most of the world's date production is concentrated in the subtropical climate of North Africa and the Middle East. The harvest season extends from July to late November, depending on the variety. The main harvest starts in September. Global date production has been increasing at a steady pace, reaching 1.1 million tonnes in 2021. Saudi Arabia is the leading producer, with a 20% share of all world production. It is followed by Egypt and the United Arab Emirates (13% each), Iran (12%), Tunisia (11%) and Algeria (10%).
More than 3,000 date cultivars are grown worldwide. They are generally classified into two categories: cane sugar varieties and invert sugar varieties. In most varieties, the sugar content consists almost entirely of the inverted form (glucose or fructose), although a few varieties contain cane sugar (sucrose). The two cultivars are distinguished by their popularity on the world market: Medjool (invert sugar variety) and Deglet Nour (cane sugar variety). Medjool dates are particularly popular, representing around 25% of the total world exports.
Figure 2: Medjool dates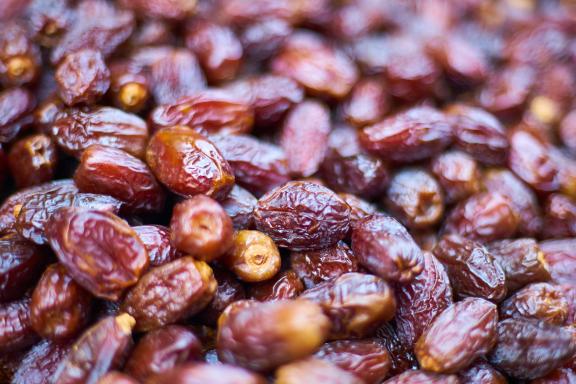 Source: Engin Akyurt, via Unsplash
This study covers general information regarding the date market in Europe, which is of interest to producers in developing countries. For statistical analysis, the following combined nomenclature code is used:
| | |
| --- | --- |
| Combined Nomenclature Number | Product |
| 08041000 | fresh or dried dates |
Production statistics mentioned in the study cover statistics on dried dates that are packaged and presented for sale as such (approximately 15% of all global production of raw dates).
2.

What makes Europe an interesting market for dates?

Although Europe is not the largest import market for dates, it is the fastest-growing importing region in the world. Europe's share of global imports of fresh and dried dates by value increased from 25% in 2017 to 28% in 2021. Total European date imports reached a volume of 191,000 tonnes and a value of €465 million in 2021 (up from 146,000 tonnes and €351 million in 2017). More than 29,000 tonnes were traded within Europe.

Over 84% of all European date imports are from developing countries. Internal European trade consists of simple re-exports of imported dates, but a significant part consists of added-value trade, including retail packing and other operations. European imports from developing countries have increased over the last five years, from 119,000 tonnes in 2017 to 164,000 tonnes in 2021. The current and expected increases in import quantities offer good opportunities for suppliers from developing countries.

Because table dates are not produced in Europe, demand is fully dependent on import. Although some small quantities are produced in Spain, these are all sold as fresh in local markets. In the next five years, the European market for dates is likely to increase at an annual growth rate of 7–10%. The high import growth rate is predicted based on the growing demand for natural sweeteners that can be used as alternatives for sugar. Together with the import of table dates, imports of date syrup and date paste are likely to increase as well.

Source: ITC TradeMap and Eurostat

The European market for dates is moderately concentrated. Three countries account for more than 53% of the total imports. France was the leading importer within Europe (with a 24% import share) in 2021, followed by Germany (15%) and the United Kingdom (14%). Other leading European importers include the Netherlands (10%), Italy (9%) and Spain (7%). Considering the difference between imports and exports, France is also the largest date-consuming country in the region, with consumption totalling 33,500 tonnes in 2021.

One important reason underlying France's high consumption volume is its large share of diaspora population from North African date-producing countries. Per capita consumption in Europe is highest in the Netherlands, with an average consumption of 0.4 kg/year per person. In Europe, the consumption of dates as a snack has a strong seasonal character. There are usually two peaks in consumption. One is related to the Muslim population in Europe, who consume most dates during the month of Ramadan. Another peak is during winter holidays, such as New Year's Eve and Christmas.

The outbreak of COVID-19 in 2020 and 2021 affected the European food market, including dates. The primary influence was observed in the market structure. Sales through the food-service segment decreased due to the closure of restaurants and hotels. At the same time, however, retail sales and home delivery sales increased. Import volumes and regular import procedures were not influenced by the pandemic, and Europe continued to increase its import of dates and date products. The market structure is returning to its pre-pandemic state, however, as the food-service sector is showing recovery from 2021.

Source: ITC TradeMap and Eurostat
3.

Which European countries offer most opportunities for dates?

The main importers of dates in Europe are also the leading consumers: France, Germany, the United Kingdom, the Netherlands, Italy and Spain. Apparent consumption is depicted in Figure 5. These data also include industrial consumption. Year-to-year variations in the quantities produced may create a false impression of constant fluctuation in demand. In reality, demand is stable and increasing, as is clearly evident from the constantly increasing retail sales of dates.

France, Germany and the United Kingdom are the largest European import markets for dates, representing more than 53% of the region's total imports. Over the past five years, high import growth was observed in the Netherlands, Italy and Spain. All of the leading six countries thus offer significant opportunities to emerging suppliers of dates to Europe. Other countries with an extreme increase in imports include Belgium (9% annual growth rate since 2017), Sweden (6%) and Poland (5%). Although they are small importers, Luxembourg and Portugal have exhibited annual growth rates of 16% and 15%, respectively, since 2017.

Source: ITC TradeMap and Eurostat

Note: The figure above represents apparent consumption (difference between imports and exports). Exact data on consumption per country are unavailable.
France: the leading European market for dates
France is the largest importer of dates in Europe, representing around 24% of the European market. French date imports have increased in the past five years, reaching a volume of more than 46,000 tonnes and a value of €95 million in 2021. Imports from developing countries accounted for around 92% of this volume, with Israel being the only significant supplier from the rest of the world (2,900 tonnes), followed by the United States (~24 tonnes). In 2021, France exported 12,000 tonnes of dates, with Germany being its main export market.
In 2021, France imported 52% of its dates from Algeria, followed by Tunisia (33%) and Israel (6%). France is the only European country for which Algeria is the leading date supplier. This is explained by the well-established trade relationship and historical background between the two countries, as well as by their shared language (French). Apart from the three leading suppliers, no other country has a share of more than 2% in the French market. The emerging suppliers Palestine, Jordan and Saudi Arabia have demonstrated a notable increase in exports to France. In the past five years, Jordan almost doubled its exports to France: from 314 tonnes in 2017 to 620 tonnes in 2021.
In France, most dates (perhaps more than 70%) are sold through retail channels. The remaining 30% are sold to the industrial and food-service sectors. The date variety that is imported and consumed most in France is Deglet Nour, but the number of varieties is increasing. Dates are consumed throughout the year, but the highest consumption is found during winter months, especially at the end of the year. In addition, consumption is higher amongst the Muslim population during Ramadan.
Large quantities of dates are also sold under private labels (brands of retail chains), including Carrefour (Carrefour, Carrefour Bio and Petit Prix labels), Leclerc (Couleurs Vives label), Super U (U label), Intermarché (Paquito label) and Auchan (Auchan, Mmm and Bio). Independent brands include La Favorite and Sun (by Color Foods), Holy Fruits (by Mondial Fruits Secs), Brousse (by Brousse Vergez), Daco Bello (by Daco France) and Maître Prunille. Producer-specific brands are also present on the market. In some shops, dates are sold unbranded by weight.
Ethical sourcing and the sourcing of organic dates is also developing in France. Examples of ethically sourcing companies and date importers include Agro Sourcing and Direct Producteurs Fruits Secs.
French brands usually promote specific date cultivars (most commonly, Deglet Nour or Medjool) and, in some cases, origin (most often Algeria or Tunisia). Promoting the origin of the dates means that Tunisia and Algeria are recognized as quality suppliers to France. The most frequent size of retail packs is 500 g, but many other sizes are available as well. All supermarket brands (private labels) in France have started to use Nutri-Score to label dates. Dates are usually labelled 'B' or sometimes 'A', depending on sugar content.
Germany: a European importer with a large organic market
In the past five years, German imports of dates increased at an average annual growth rate of 8%. In 2021, German date imports reached a volume of almost 29,000 tonnes and a value of €73 million. Germany also exported 7,7000 tonnes, leaving around 21,000 tonnes for domestic consumption. Germany's per capita consumption of dates is estimated at 0.37 kg/year.
In 2021, Germany imported 40% of its dates from Tunisia, followed by Pakistan and Algeria (11% each). Other suppliers with increasing exports to Germany include Iran, the United Arab Emirates and Israel. The highest increase in imports was noted for the United Arab Emirates, where imports increased from 500 tonnes in 2017 to 1000 tonnes in 2021. Other emerging suppliers include Saudi Arabia, Palestine, Turkey, Jordan, Egypt and Iraq.
Germany is a particularly attractive market for organic dates, as the country is the largest European market for organic food. Most organic dates sold in Germany are imported from Tunisia. The use of dates as an ingredient is also increasing in the organic segment. Examples of organic products containing dates in Germany include fruit bars (for example, Lubs, Hej, Alnatura and Lebepur), baby purees (for example, the Swiss brand Holle), fruit snacks (for example, DM and bio zentrale) and breakfast porridge mixtures (for example, Stark, Hammermühle and Austrian Verival).
Sustainable sourcing has become very important to German date importers. For example, the German organic food company Rapunzel has developed its own fair-trade programme and certification known as 'hand in hand'. This certification guarantees fair prices, good working conditions, social security and transparency for suppliers. Centre de conditionnement de fruits (CCF), a Tunisian date processor, has benefited from this programme and has become a direct supplier to Rapunzel. Most members of the CCF staff are women with permanent contracts, and all employees have social security benefits. The company has its own medical room, in which all employees receive free regular medical check-ups.
Significant quantities of dates in Germany are sold under private labels, including Alesto (by discounter chain Lidl), Trader Joe's (by Aldi Süd and Aldi Nord), ja! (by REWE) and Edeka and Ediba Bio (by Edeka). Examples of independent brands include Seeberger, Farmer's Snack and Kluth. A large share of organic dates are sold under the private label brands of specialized organic retailers, such as Bio Markt, DM and Alnatura. There are also independent organic brands, such as Rapunzel, Clasen Bio, Farmer's Snack and Morgenland.
The United Kingdom: opportunities for emerging suppliers
In 2021, the United Kingdom imported 26,000 tonnes of dates, amounting to a value of €68 million. Most imported dates are consumed within the country. There percentage of re-exports is relatively small. Date consumption in the United Kingdom has been estimated to have reached 24,000 tonnes in 2021. During the same period, per capita consumption was reported at 0.36 kg/year.
The import market structure in the United Kingdom is quite specific, and it differs from other leading European markets. In 2021, the United Kingdom imported dates from Pakistan (a 24% share), Israel (15%), United Arab Emirates (12%), Saudi Arabia (11%) and Tunisia (9%). Algeria, the second-largest European supplier, had a market share of just 1.1%. The United Kingdom is the only European country for which Pakistan is the leading date supplier. This is explained by the large Pakistani-born population in the United Kingdom, who established trade relationships with Pakistan.
Another characteristic of date imports in the United Kingdom is the presence of a large number of importers that import smaller quantities. In 2021, more than 180 different companies were importing dates in the United Kingdom. Many suppliers specialize in the ethnic segment and sell dates to specialized ethnic shops. Examples of ethnic suppliers and importers include Fudco, Afak Trading, Al Harmain Dates, Damasgate, Golden Saffron, Organic UK, Sahara UK Foods and WG Buchanan.
The large market shares are captured by the private labels of retail chains, including Tesco, Sainsbury's, ASDA and Morrisons. One leading independent brand is Whitworths. The presence of other brands (aside from private labels) is relatively small and includes such brands as Crazy Jack, and Wholefoods. Some exporters are successfully selling their own brands, like Hadiklaim from Israel (Jordan river brand) and Siafa International from Saudi Arabia (Madina brand). The French cooperative Maître Prunille also sells the Eat Me brand in the United Kingdom.
In the United Kingdom, dates are increasingly being used as an ingredient in fruit snacks without added sugar. In those products, dates (or date paste) are used to provide sweetness. Many fruit bar snacks with dates have been launched in the last several years. Examples include Get Buzzing, Nakd, Trek, Good (brand by Western Commodities) and Deliciously Ella.
The market in the United Kingdom offers specific opportunities for suppliers of Fairtrade-certified dates, as the country is home to one of Europe's largest markets for Fairtrade products. Around 4,500 Fairtrade-certified products are currently on sale in the United Kingdom.
The Netherlands: re-exporter of dates
Date imports in the Netherlands have been increasing at an average annual rate of 15% since 2017. Imports reached a volume of 19,000 tonnes and a value of €59 million in 2021. Although the Netherlands imports more dates than Italy and Spain, consumption is relatively small, as the majority of dates are re-exported. In 2021, the Netherlands re-exported more than 12,000 tonnes of dates, leaving around 7,000 tonnes for domestic consumption.
The Netherlands is the only European country for which Israel is the leading supplier. In 2021, the country imported 31% of its dates from Israel, followed by Tunisia (14%), Saudi Arabia (8%), Iran (7%), Germany (6%) and France (6%). Tunisia is gaining market share in the Netherlands at the fastest rate, having gone from 1,400 tonnes in 2017 to 2,400 tonnes in 2021. The leading market for dates re-exported from the Netherlands is Germany, followed by France.
The majority of dates in the Netherlands are sold under private labels. The leading retail chains selling dates under their own labels in the Netherlands include Albert Heijn (AH label), Aldi (Trader Joe's label), Jumbo (Jumbo label) and Lidl (Alesto label). Large Medjool dates are sometimes packed in more luxurious packaging. Several brands are sold under the labels of producers, especially in ethnic shops. One of the leading organic brands for dates is Smaakt Bio, but organic dates are also packed and sold under private labels.
Italy: supply dominated by Tunisia
In 2021, Italy imported 18,000 tonnes of dates at a value of €40 million. Around 2,500 tonnes were re-exported, leaving around 15,500 tonnes for domestic consumption. Per capita consumption of dates was estimated at 0.26 kg/year. Date imports to Italy show a strong seasonal pattern. Italy imports more than 50% of its dates in the last quarter of the year, reaching a peak in November. This is explained by the increased use of dates during the winter holidays in Italy. More dried fruits, including dates, are generally eaten during winter holidays, such as New Year's Eve and Christmas.
In 2021, Italy imported 75% of its dates from Tunisia, followed by Israel (8%) and Algeria (4%). Italy imports some quantities through re-export from France, due to the presence of France-based retailers. French retailers pack dried fruits (including dates) in France and then export them to Italy. Palestine is present on the Italian market with a 2% share of direct exports. Other emerging suppliers include Jordan, Pakistan, Iran and Egypt.
Sales are dominated by private supermarket labels, such as Coop, Conad and Carrefour. Independent brands include Fatina (by Murano), Ventura, Noberasco and Life. Sales of organic dates in Italy are increasing. The best-selling variety is Deglet Nour, with Tunisia as the main origin. Several retail brands note the name of the date cultivar (Medjool or Deglet Nour) on the retail label. One characteristic that is specific to the Italian retail segment is the small packaging of 60 g, which is sold in shops at a price of €1 (€0.99).
Spain: significant increase in imports
Spanish date imports show a significant increase, with an annual growth rate of 10%. Spain's date imports increased from 9,000 tonnes in 2017 to 13,000 tonnes in 2021, for a total value of €35.8 million. Spanish date consumption is estimated to have been around 12,000 tonnes in 2021. Per capita consumption has been roughly 0.25 kg/year.
In 2021, Spain imported 39% of its dates from Algeria, followed by Tunisia (25%) and Israel (18%). Large quantities (1,800 tonnes) were imported from France through re-exports. Some of the re-exported quantities were packed by France-based retailers and sold in Spain. Algeria is gaining market share at the fastest rate in Spain, having increased its supply from 3,000 tonnes in 2017 to 5,000 tonnes in 2021.
Most dates are sold under the private labels of Spanish retail chains, such as Mercadona (Hacendado label), Carrefour, Lidl (Alesto label), Alcampo (Auchan label), Eroski, Dia and Aldi. Examples of independent brands include El Monaguillo (by Bernabe Biosca Alimentacion, produced in Tunisia), Casa Pons (by Importaco, sold in Mercadona), Frumesa, Borges, Fernández and Campomar (organic). Some quantities are also sold unbranded by weight.
4.

Which trends offer opportunities or pose threats on the European dates market?

The growing interest in dates amongst European consumers is being driven by an increasing demand for healthy snacking and alternatives to sugar, combined with product innovation. Sustainable and ethical production is also becoming an important aspect for European traders and consumers.
Sugar replacement
Sugar consumption is decreasing in Europe. Dates are one of the sweetest fruits, containing only naturally occurring sugars. As such, dates and date products are increasingly being used as a sugar replacement. Many innovative fruit snacks and other products containing dates make clean and clear label claims, including the following: free of refined sugar, no added sugar, reduced sugar and low sugar. Dates also add flavour and colour, replacing the need for artificial additives, thus creating a clear ingredient label.
Dates are used in home cooking to give natural sweetness to a variety of products, including smoothies, shakes, healthy snacks and other dishes. Industrial users are increasingly using date products, including date paste and date syrup (concentrated date juice), as sugar replacements. Some companies use the popularity of vegan food as an opportunity to promote dates as a vegan sugar replacement. (Honey is not vegan, as it is produced by bees.)
Producers and exporters of dates are also spreading their offerings by introducing new products in addition to date syrup and date paste. One good example of a producing company that offers several innovative products is Boudjebel, based in Tunisia. This company produces date crystal sugar, date powder, date paste, date syrup, date kernel oil and date bread.
Healthy snacking for athletes
One major trend that is in line with increased consumption of dried fruit (including dates) is healthy snacking. Consumers are searching for healthier alternatives for snacking between meals or for snacks that can replace meals. Younger consumers who are taking better care of their health and wellness no longer favour sweets (such as candies or chocolate snacks), but are switching to protein bars and other low-sugar alternatives. As a result, dried fruit (combined with nuts) is becoming increasingly popular as a snack.
Dates are not considered light snacks, however, as they are rich in carbohydrates. Depending on the variety, dates contain between 45% and 80% sugar. Sugar from dates has a low glycaemic index, which means that it is digested slowly, thus keeping energy levels even throughout the day. A slow release of energy ensures that athletes will have enough strength to perform well during their activities. They are also used as snacks after intensive training sessions to support glycogen replacement in the muscles.
Innovative date-based products
Innovative fruit snacks and other products are increasingly using dates as an ingredient. During ANUGA (a leading food exhibition) 2019 and 2021, many new products with dates as an ingredient (see table below) were presented.
Table 1: Innovative products presented at ANUGA 2019 and 2021
Category
Description/Product examples
Fruit snacks with dates

The popularity of fruit bars in Europe has increased in recent years. The natural sweetening function of dried fruit makes it possible to create sweet products without adding sugar. Dates and date paste are often used in fruit bars because of their sweetness.

 

Some examples are Raw-Bite (Denmark), Nakd (the United Kingdom), Veganz (Germany), Hemp and Ginger Bites (Slovenia) and Pharmind (Czech Republic).

 

Breakfast cereals with dates

Many breakfast cereals use added sugar to give sweetness to muesli, granola and other products. As consumers search for alternatives with no added sugar, some breakfast-cereal producers have started to use dates in the composition of their products.

 

Examples include Dorset Cereals (the United Kingdom), Verival (Austria), Risenta (Sweden), Charles Vignon (France) and LeSillon (France).

 

Traditional sweet snacks using dates as sweeteners

Examples of products that use dates as a sweetener include sweet spreads, chocolate products, cookies and crisp products. These are used as an alternative to traditional, high-sugar jams and marmalades.

 

One example of an innovative company in this field is the Soua Soua company (France), which produces spreads made from Algerian dates. In addition to spreads, Soua Soua produces other innovative products, including fermented milk with dates. Another example is the Polish company Me Gusto, which produces organic chocolates and wafers sweetened with dates.
Sustainability and ethical production
Consumers and retailers are increasingly interested in sustainably produced fruit products, including dates. Read more about these trends in the CBI trends study on processed fruit and vegetables.
Some companies that focus on ethical production source their products from specific countries and support producers through specific projects. A few ethical sourcing projects have been launched in Palestine. Examples include the Unicop project from Florence (Italy) and Zaytoun in the United Kingdom. Both of these projects support the selling of Palestinian Medjool dates. Another example is the Date project (by SKT Welfare, United Kingdom). This project collects funds to support the welfare of families in Syria and Palestine. For each box of dates sold, funds are donated in the form of humanitarian aid to Syria and Palestine.
This study was carried out on behalf of CBI by Autentika Global and updated by M-Brain.
Please review our market information disclaimer.
Search
Enter search terms to find market research