Entering the European market for software development services
You must comply with mandatory requirements, such as copyright law and the General Data Protection Regulation. Buyers may have additional requirements regarding issues such as quality management and corporate social responsibility (CSR), as well as industry-specific standards. European service providers and intermediaries are your most realistic market entry channels. As competition is strong, you should differentiate on quality and specialise to reduce competition.
1.

What requirements should software development services comply with to be allowed on the European market?

On the European market for software development services, requirements vary per industry, segment and even country. Different industry-specific standards, rules and regulations exist for education, healthcare and so on. New legislation is always in the making. As listing or knowing all of these regulations would be impossible, this chapter discusses the most common requirements. For more information, see our study about the requirements outsourcing services must comply with on the European market.
What are mandatory requirements?
Mandatory outsourcing requirements for the European software development services market can be divided into legal and non-legal mandatory requirements. Legal requirements include legislation about copyright and data protection. Privacy is highly protected in Europe, via the General Data Protection Regulation (GDPR) and the ePrivacy Directive. Non-legal requirements mainly deal with security. Although you are not obliged to comply by law, they are considered minimum requirements to enter the European market.
Copyright
The European Union (EU) has established specific legislation to protect computer programs by means of copyright. According to the Directive on the legal protection of computer programs, you have to make sure not to breach any copyright when placing your computer program (software) on the market.
General Data Protection Regulation
The General Data Protection Regulation (GDPR) is designed to protect individuals in Europe from privacy and data breaches. It aims to give people more control over their personal data and let businesses benefit from a level playing field. The GDPR applies to all companies processing the personal data of individuals in Europe, regardless of the company's location. This means it also applies to you directly.
Under the GDPR, any company or individual that processes data is responsible for its protection. Examples of protected personal data are names, email addresses, bank details, social media content, photos and IP addresses.
While not all software development projects concern personal data, many do. As the personal data aspect is expected to grow in the coming years, complying with the GDPR is becoming increasingly relevant.
ePrivacy Directive
The ePrivacy Directive, commonly known as the "cookie law", contains specific regulations for data protection in the electric communications sector. For example, it prohibits unsolicited commercial electronic messages ("spam"). It contains strict rules on cookies, and contact details may only be published with the subject's consent.
Security
Data security is one of the main challenges for IT outsourcing (ITO) service providers. This includes both data protection and recovery systems. Many European buyers expect you to implement an information security and management system, especially in industries in which security is essential, such as finance and banking, or healthcare. Although there is no specific legislation on this, the ISO 27000 family contains common standards and guidelines for information security.
What additional requirements do buyers often have?
European buyers of software development services often have additional requirements. These are mainly about quality management and corporate social responsibility (CSR).
Quality management systems
Some European buyers only do business with companies that have a quality management system. Such a system shows that you are well organised and able to deliver the required service quality. They include, for example, backup and recovery schemes, network and infrastructure security, communication plans and relocation options.
Even though implementing a quality management system does not automatically guarantee good-quality software, it proves that you have a repeatable process and that you are a serious company that values standardisation. Acknowledged systems are ISO 9001:2015 and the Capability Maturity Model Integration.
Corporate Social Responsibility
Corporate Social Responsibility (CSR) refers to companies taking responsibility for their impact on the world. Not only in the products or services they offer, but also when it comes to consumer rights, staff training and education, human rights, health, working conditions, innovation and the environment. The importance of the environmental aspects in ITO is debated, as the impact from small companies in this industry is often marginal.
CSR is becoming particularly important to large companies and governments in Northern and Western Europe. Many European companies involve their suppliers in their CSR policies. Having a well-documented CSR policy may therefore give you a competitive advantage over companies without one. The ISO 26000 standard provides guidance on CSR. For small software companies, the most relevant and practical aspects of this standard are labour practices, fair operating practices and community involvement.
Up-to-date knowledge and skills
As a software development service provider, you continually have to stay on top of the developments in the market. As European buyers expect you to work with the latest technology, you need to stay informed about the latest technologies, platforms, frameworks and innovations, and to keep your skills up to date.
What are the requirements for niche markets?
European buyers often require you to comply with a sector- and/or industry-specific standard or code of practice. There are also many technologies, technical standards, protocols and frameworks related to software development. They are developed and maintained by various organisations, and they can differ significantly.
Keep in mind that these are only some examples. The requirements for niche markets vary greatly because the software development market is very diverse. There are a lot of technologies, and companies often focus on horizontal and/or vertical markets, so you need to research your specific situation, market and requirements.
2.

Through what channels can you get software development services on the European market?
How is the end market segmented?
The market for software development services can be segmented by horizontal market (type of service) and by vertical market (type of industry).
Figure 1: Horizontal and vertical market segments with opportunities for service providers

The most promising horizontal markets are AI, big data, blockchain, cloud, digital security, digital transformation, (I)IoT, machine learning, mobile development, robotics and VR/AR. It is difficult to say which offers you the best opportunities. Software as a Service (SaaS) / cloud development is interesting because demand is high. However, the European market is quite saturated with SaaS/cloud service providers, so the competition is very strong. The same applies to mobile development, as these are basically commodity services.
On the service provider side, there are generalists and specialists. Specialists focus on (and have extensive experience in) a specific vertical or horizontal market. Generalists, on the other hand, do not specialise in any particular segment. Opportunities to sell your own human resources (HR), enterprise resource planning (ERP), accounting or administration software are limited. However, positioning your company as a specialist in these fields strengthens your offer as a provider of software development services.
Through what channels do software development services end up on the end market?
Figure 2 provides an overview of the trade structure for outsourcing. This structure is more or less the same in every European country.
Figure 2: Trade structure for outsourcing software development services in the European market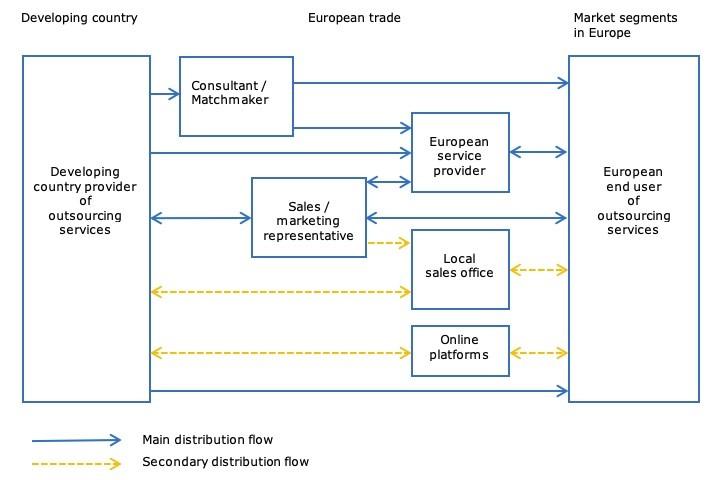 What is the most interesting channel for you?
Your most common and most promising market entry channels are European service providers, consultants/matchmakers, and sales/marketing representatives. Other options are working with a local sales office or direct sales (possibly through online platforms).
Selecting a channel depends on your type of company, the nature of your product or service, your target market, and your available resources for market entry. Regardless of the channel you choose, your own marketing and promotion is a vital part of your market entry strategy, for which you are responsible.
European service provider
Subcontracting for European service providers is your most realistic market entry channel. A provider that is similar to your company would be most suitable. Ideally, this company should design, develop, market, sell and maintain its own software products and offer IT services that are similar to yours. For software development, a European service provider is usually an Independent Software Vendor (ISV) in the target country.
You can find a European service provider to partner up with either directly or by working with a matchmaker and/or a sales representative. Because many European companies prefer to deal with a local contact person, an intermediary is a good option.
Consultant/matchmaker
A consultant/matchmaker is a person or company with many relevant contacts in a specific market segment or industry. As an intermediary, they are a "door opener" and not an agent to make cold calls or send cold emails. You have to properly inform your consultant/matchmaker about your company. They speak with many potential customers and often create long lists of potential outsourcing providers. The more information they have on your company and the better they understand your capabilities, the more they can spread the word about you.
A retainer + success fee can be expensive. While the success fee depends on what the intermediary has delivered, you must pay the retainer (usually a fixed monthly payment) regardless of their performance. Together, they should provide a strong motivation for the intermediary to deliver: the retainer should be high enough to cover some of the costs, but low enough to encourage delivery. A properly drafted contract, by a lawyer, is a must!
You also need to determine an exit strategy in the contract, with a clearly defined period after which the contract can be terminated without any further consequences. This period is usually not longer than three or four months, after which the contract will be evaluated and can be terminated or prolonged. For this period, there should be clearly defined delivery expectations and targets for the consultant/matchmaker (such as the number of relevant contacts, meetings and leads). You could also negotiate a trial period.
Sales/marketing representative
Another type of intermediary is a sales/marketing representative. These representatives are more involved in the sales process than consultants/matchmakers.
A good sales/marketing representative has a large, relevant network, so they do not make cold calls. Their success fee is often a percentage of the projects they bring in. Hiring a sales/marketing representative will increase your expenses, but you will be free to focus on your core business and search for other markets yourself.
Local sales office
Ideally, you should establish a local sales office in your European target market. A local presence makes it easier to build long-term relationships with customers through personal contact. It also increases your credibility, builds trust and allows you to retain complete control over your marketing and sales activities. However, this is very difficult in practice, as it requires a lot of experience and large investments. Most companies in developing countries are simply too small and do not have the financial strength for this.
Direct sales and online marketplaces
You can also try to sell your software development services directly to European end users. Many European companies are looking for cost reduction and delivery capacity, which developing countries can often provide. This is one of your unique selling points. However, you should be aware that these end users might not have qualified IT staff to work with.
Electronic marketplaces are a cheap marketing tool that may make direct sales easier. They can also help you find companies to work for. Possibly as an independent consultant (someone from your team), or as a subcontracting team. These platforms used to focus on freelancers, but are increasingly suitable for SMEs.
Direct sales require experience in the European market and are most suitable for relatively large providers that want to target large European end users. Your best bet is to focus on a small, underserved niche market. For most suppliers from developing countries, however, it is very challenging to sell software development services directly. Sometimes, they work together to make a direct sales offer. Having one or more existing customers in Europe will help, as references are a must for direct sales.
3.

What competition do you face on the European software development services outsourcing market?
Which countries are you competing with?
European companies generally prefer outsourcing to providers within their country (also known as homesourcing, or simply as outsourcing). When they do outsource to companies abroad, they usually prefer nearshore locations, because of proximity, language, cultural similarities and the minimal time difference. For more information on nearshoring vs offshoring, see our study on the European market potential for software development services.
The Global Services Location Index (GSLI) ranks the competitiveness of ITO/BPO destinations based on: financial attractiveness, people skills and availability, business environment and digital resonance. For software development services, these six countries can be considered your strongest competition.
India
India is expected to have the largest software developer population in the world by 2024. The country continues to lead the GSLI, mainly due to the combination of excellent English language skills and low-cost services. However, it ranks 17th on digital resonance, with a modest performance on digital skills and outputs.
China
China is home to the fastest-growing software developer population in the world. The runner-up in the GSLI is catching up with India, performing well on digital resonance. In 2019, Microsoft opened the world's largest IoT and AI laboratory in Shanghai. However, if the trade conflict between the United States (US) and China and its technology companies continues, this may deter global investors.
Like India, China offers some of the lowest hourly software development rates in the world. Again, the ambivalence of buyers towards extremely low rates is reflected in the perceived quality of the developer population. With a score of 76%, Chinese software developers are ranked 43rd out of 44 countries. Combined with the relatively moderate English proficiency in China, this offers you opportunities to compete.
Poland
Poland is a major player in software development outsourcing. As a Central and Eastern European (CEE) country, it benefits from European buyers' preference for nearshore providers. Poland is ranked 14th in the GSLI, mainly due to its financial attractiveness and start-up activity. CEE rates are higher than in offshore destinations, but this does not deter European buyers, who are often prepared to pay for the benefits of nearshoring.
The country is home to about 25% of the CEE developer population, adding up to around 300,000 professional developers. They rank as the number 3 best developers in the world with a score of 93%, adding to Poland's popularity as a nearshore destination. Polish people also score very high on English proficiency, making it easy for European clients to communicate with them. This makes the country a particularly fierce competitor.
However, as its software industry flourishes, Poland may increasingly need offshore partners to meet demand. With the highest hourly rates for software development in CEE (€35 to €48), Polish software companies can save quite some costs by outsourcing (subcontracting) to you.
Egypt
Egypt is a strongly emerging African destination for software development offshoring. Its time zone (GMT+2) partly overlaps with Western and Northern Europe, eliminating the time differences generally associated with offshoring. The country ranks 15th in the GSLI, with considerable investments in infrastructure and cybersecurity boosting its business environment performance. The government's Digital Egypt project strives to transform Egypt into a digital society and build a strong digital economy, based in infrastructure and legislation.
The country is home to a large technically educated workforce, skilled in English, Arabic, French, German and other European languages. With a score of 77%, the quality of Egyptian software developers is ranked 41st, between India and China. As buyers become more familiar with the country as a sourcing destination, this rating could well improve. The hourly software development rates in Egypt are relatively low; comparable to Asia.
Czechia
Czechia is another well-known CEE destination for software development nearshoring. Like Poland, the country benefits from its location close to the main Northern and Western European markets. There are more than 100,000 Czech software developers. They are rated as the number 6 highest-quality software developers in the world, at just 0.3% behind Polish professionals. Czech people are also highly proficient in English. This makes Czechia strong competition for you.
However, in 2020, 76% of Czech companies with IT vacancies struggled to fill these positions. This was the highest rate in Europe. Although the pandemic may temporarily ease this labour shortage, economic recovery may drive Czech software companies towards subcontracting. Like in Poland, the relatively high hourly rates for software development in Czechia add to the benefits of offshore subcontracting for these companies.
Ukraine
Ukraine is home to nearly 200,000 software developers, the second-largest CEE developer population after Poland. They are ranked as the number 5 best developers in the world, scoring just 0.2% lower than Poland. Although Ukrainians generally have low English proficiency, most Ukrainian software developers have intermediate to upper-intermediate English language skills.
Ukraine's hourly software development rates are relatively low for a CEE country. For senior developers, they are comparable to rates in Asia. Combined with the high perceived quality of Ukrainian developers and the benefits of nearshoring, this makes Ukraine an attractive destination for European buyers.
Which companies are you competing with?
Examples are:
EXECOM
Serbian company EXECOM has an office in the Netherlands, which undoubtedly has helped them acquire clients across Europe. Their Agile teams provide services throughout the software development life cycle. The company website clearly communicates who they are, what services they offer and how they work. It describes their expertise and highlights some (high-profile) clients per domain. In 2020, US-based HTEC Group acquired EXECOM to expand their engineering capacity and expertise in new verticals.
Eastern Peak
Eastern Peak is a custom hardware and software development company from Israel, with offices in the United Kingdom, Cyprus and Ukraine. They focus on helping businesses reach their full potential, highlighting modern technologies such as IoT, AI, cloud, big data and AR/VR. Their website clearly explains the software development life cycle, and the services Eastern Peak provides throughout. The company's clients include the European Commission and various well-known companies.
Orchtech
Egypt-based Orchtech is an Agile software development company with clients across Europe. They offer English- and French-speaking developers, who are university graduates in software engineering or computer science. Orchtech provides software outsourcing services via staff augmentation and project-based models. Their homepage highlights some of the company's international clients, and Orchtech's commitment to CSR and innovation.
Which products are you competing with?
In software development, the product is the service. This means that the real question is: what makes one service provider different from another? The answer is: technical knowledge, available capacity, references, domain knowledge, flexibility, scalability, reliability, communication and language capabilities, quality management, security infrastructure, vertical and/or horizontal market focus and niche market orientation, among other things. The service provider's location is also an important factor.
4.

What are the prices for software development services outsourcing?

Although price is often not the most important selection criterion for software development services, it must be right and competitive. The price for these services is influenced by technological requirements, skill levels, project complexity, length of the contract and other requirements written in the Service Level Agreement (SLA).

Your offer should include the price, with your hourly rates and an honest estimation of the number of hours you expect to work on the project. You must also choose a price model for your product or service. There are three popular working models: Fixed-Price Contract, Time and Material Approach and Dedicated Team. The most common price model for software development is a Fixed-Price Contract: an all-inclusive offer, where clients are billed based on pre-defined (in the SLA) milestones.

Making an exact price breakdown is impossible. First of all, software development projects are so diverse that there is no single price breakdown that suits all (or even most) projects. Secondly, it requires so much estimating and unforeseen elements that even the process itself is an estimation. Software development projects change frequently, raising other questions about topics such as scope definition, change management and acceptance. Also, if the project uses Agile, there is no pre-determined specification, which makes estimation a big challenge.

What is clear however, is that if you focus on a niche or non-commodity market, European buyers are often less price sensitive.

This study has been carried out on behalf of CBI by Globally Cool B.V. in collaboration with Laszlo Klucs.

Please review our market information disclaimer.
Search
Enter search terms to find market research