The European market potential for contact centre services
The growing market for contact centre services makes Europe an interesting market for you. To provide contact centre services for European companies, you must offer fluent language skills and a multi or omnichannel approach. Non-voice services are becoming increasingly important. The current pandemic has accelerated the need for digital transformation, including cloud-based solutions that facilitate remote working. Another important development is the increasing use of artificial intelligence in contact centre applications.
1.

Product description

A contact centre is a facility that manages customer contact through a range of activities and channels.

The main contact centre activities include:
Customer service and non-technical complaint handling;
Technical support;
Dispatching and event registration;
Pre-sale activities, such as lead generation and appointments;
Satisfaction, qualification and market research surveys;
Loyalty and retention activities;
Sales (telemarketing);
Credit collection.                                                                                       
Contact centre activities can be divided into inbound and outbound activities. Inbound activities consist of managing incoming contacts, such as requests for customer service or technical support. Outbound activities include cold calling (often related to sales) and following up on previous contact requests.
Contact centres operate via various channels:
Telephone;
Email;
Voice portal / interactive voice response (IVR) self-service;
Live chat with humans or chatbots;
Social media;
Online self-service channels;
SMS;
Paper (mail/fax).
Voice channels (particularly telephone) and email continue to be the most used, especially for complex interactions. Social media and chat/messaging are becoming increasingly popular, particularly for relatively simple interactions. These channels allow consumers to continue doing what they were doing while their request is processed, and they enable contact centre agents to deal with multiple requests simultaneously.
European companies' customers expect support to be available anytime, anywhere and from any device. Because of this, companies generally prefer service providers that offer multichannel services or even omnichannel services. In multichannel customer service, customers can choose from various channels but can only use one at a time. Omnichannel environments integrate channels. This allows customers to switch, for example between phone and tablet support, while completing an enquiry, with the relevant context preserved across channels.
Language skills
Because customer contact relies on good communication, European consumers and business customers expect customer service to be available in their native language. This means that European companies select their contact centre service providers based on the availability of agents that are fluent in the required language(s) for their market.
Tips:
Offer a multi or omnichannel customer service approach.
Check your omnichannel readiness with CCW's assessment quiz.
For more information, see Aqcuire's omnichannel customer service best practice tips.
Focus on European countries whose languages your agents speak fluently. Although working with native speakers is easiest, this is not a must. For example, Samres manages to service the Swedish market from Senegal by providing their agents with intensive language courses.
2.

What makes Europe an interesting market for contact centre outsourcing?

The European market for contact centre outsourcing is growing, as companies of all sizes outsource their contact centre operations. Outsourcing offers considerable cost savings. It also allows end-user companies to focus on their core activities. Although European companies traditionally prefer domestic or nearshore providers, increasing costs are making them more open towards offshoring. This offers you opportunities on the European contact centre market.
A growing European market for contact centre services
The exact value of the contact centre market is difficult to establish, as it spans various industries and both in-house and specialised service providers. The European market for contact centre outsourcing had an estimated value of around €20 billion in 2018. The global market for contact centre outsourcing is expected to grow at an average annual rate of almost 5.8% between 2018 and 2025. Following this projection, the European market value for contact centre outsourcing will be more than €30 billion in 2025.
However, it should be noted that this prediction was made before the onset of the global COVID-19 crisis. Disruptions are expected, but the exact effect of the pandemic on the market is not yet clear and may vary across services and industries. Generally, uncertain situations lead to an increased need for support. Especially in particularly affected industries such as tourism, demand for support may continue to be considerably higher. This is because consumers are unsure of how the new and changing situation affects their current and future purchases.
Companies of all sizes outsource their contact centre operations. Start-ups and small companies generally do not have the budget to invest in their own customer contact equipment and staff. Medium and large companies need contact centre services for various types of activities and channels. They often prefer to outsource most of these services. Some choose to only outsource specialised services such as IVR, telemarketing and debt collection. Size-wise, fellow small and medium-sized enterprises (SMEs) are your most realistic buyers.
Tip:
Target European SMEs, rather than large companies.
Cost reduction
Cost reduction remains an important reason for European companies to outsource contact centre activities to providers abroad. Contact centre agents in developing countries normally cost less per hour than they do in Europe. As contact centre activities are very labour intensive, outsourcing can offer significant cost savings. To attract European buyers, your pricing should be competitive, clear and transparent.
Companies that were/are affected by the COVID-19 crisis have tighter budgets than before. This could make offshoring to developing countries more attractive. Be aware, however, that if your offer is 'too cheap', European buyers may think it must be too good to be true and assume your service quality is low.
Tips:
Emphasise how outsourcing contact centre services will improve your customers' business processes.
Offer competitive pricing, but do not compromise on the quality of your services.
Clearly communicate that outsourcing contact centre services does not only save money on labour costs, but also reduces expenses with equipment, such as communication and computer systems, and IT expenditures with development, deployment and maintenance of systems and networks.
Be transparent in your pricing. Clearly show what service clients get for what price. Make sure you include everything they might need in your offer to avoid hidden costs, such as costs they have to pay for extra services that were not mentioned beforehand.
Focus on core business functions
A major advantage of outsourcing contact centre services is that European end-user companies do not need to hire in-house expertise if they outsource these activities. Outsourcing allows them to focus on their core business. It also means they do not have to spend time and money on hiring and training contact centre staff, nor on providing the necessary infrastructure.
This is particularly relevant during the recovery from the COVID-19 crisis. Companies need the staff they retained to perform their core activities, which may already include additional tasks from colleagues that were fired or furloughed. There is also relatively little room in the budgets for new hires, making outsourcing an attractive solution.
Nearshoring versus offshoring
European companies prefer to outsource services to providers within the same country, a practice also known as domestic outsourcing. When outsourcing abroad, they prefer providers in nearshore locations because of language, proximity, cultural similarities and minimal time difference. However, in contact centre services, a time difference can also be an advantage, because Europeans increasingly expect contact centres to be available and responsive 24/7.
The most popular nearshoring locations for Western European companies are Central and Eastern European (CEE) countries, such as Poland, Bulgaria and Romania. Not only do these countries offer the usual nearshoring benefits, but they are members of the European Union, so contracts and payments are governed and protected by the same European legislation as in the buyer countries.
However, prices in nearshore countries are rising, especially within the European Union. This makes service providers in these countries less price competitive than offshore service providers. This makes European companies more open to outsourcing to farther destinations. You can choose to form subcontracting partnerships with these nearshoring providers, or compete with them.
Tips:
Limit the possible disadvantages of being offshore. Provide excellent communication, availability in the required time zone, and good security and privacy measures.
Differentiate yourself from domestic and nearshore providers to remain competitive. Emphasise how you are different in your marketing message. Do not compete only on price, but also analyse what other advantages you can offer, such as access to skills or specialised industry expertise.
Research what your competitors are doing right and wrong, to learn how you can differentiate yourself from them.
Partner with nearshore service providers, for example in CEE countries, that may be looking for cheaper providers with available workforce. Many service providers in developing countries have not yet recognised this opportunity.
3.

Which European countries offer most opportunities for contact centre outsourcing?

Northern and Western European countries are traditionally the biggest outsourcing markets. While the largest countries offer opportunities based on their size, some of the smaller countries are relatively open to outsourcing. In addition, the language skills you are able to offer are a key factor in deciding which European markets you should target.
The United Kingdom remains attractive despite the Brexit
The United Kingdom is the second-largest economy in Europe. Among its main sectors are finance and banking, which are included in the services sector, the biggest contributor to the British Gross Domestic Product (GDP). Outsourcing contact centre services is a common practice in this sector, stimulating the demand for these services in the United Kingdom.
Of all European markets, the United Kingdom is the most open to offshore outsourcing and the least cautious about doing business with developing countries. This openness is due to the nation's cost-saving business culture and historical ties to many countries across the globe. Language barriers are low, as the United Kingdom's official language is English. This makes the British market relatively accessible for offshore providers.
In our study about the demand for IT outsourcing in Europe, you can read how the United Kingdom's withdrawal from the European Union (Brexit) made British companies more cautious about outsourcing, which contributed to a decline in outsourcing after 2016.
Germany is Europe's largest economy
Germany is the largest economy in Europe, home to 19% of the European Union's population. The German economy is widely considered the stabilising force within the European Union, historically showing a higher growth rate than other Member States. In fact, according to the Economist, Germany will be the first major European economy to recover from the current crisis. This expectation is based on both the country's healthy finances before the crisis and its large industrial sector, the reboot of which also benefits suppliers abroad.
Although its size makes Germany an interesting market, companies are less open to offshore outsourcing than in countries like the United Kingdom and the Netherlands. However, as German businesses continue to face skills shortages and become more experienced in offshoring, their attitude towards it is improving. In addition, the COVID-19 crisis may create more opportunities for you on the German market, as it has softened Germany's generally stiff corporate culture and shown companies what is possible with remote working and outsourcing.
Language barriers are relatively high, as you need agents that are fluent in German to provide contact centre services to German customers. German companies also prefer to do business in German, which is why they tend to prefer nearshoring when they outsource. You can increase your chances of success by collaborating with a German-speaking partner, rather than approaching end users directly. If you meet these language requirements, you could also target German-speaking companies in Austria and Switzerland.
France is interesting for francophone African providers
As the third-largest economy in Europe, France is another European market that is particularly interesting because of its size. However, the French economy is projected to need longer to recover from the pandemic than that of Germany, as it mainly relies on its large services sector. The country's Gross Domestic Product (GDP) is not expected to reach its 2019 levels again until 2023.
To provide contact centre services to French customers, your agents need to speak French fluently. French is the official language in 29 countries worldwide, so for many service providers, this requirement is not a barrier to market entry. Instead, it makes France a particularly interesting target market for providers from African countries such as Senegal. Offering services in French also allows you to target francophone companies in Belgium and Switzerland.
Spain offers opportunities for Latin American companies
Spain is another relatively large European market, with the fifth-highest GDP after Italy. However, the country is particularly affected by the current COVID-19 crisis. In fact, the Spanish economy is expected to experience the deepest contraction in Europe and be among the least recovered European economies by end-2021.
Spanish is the world's second-most-common native language, after Chinese Mandarin. It is the official language in 20 countries worldwide, 18 of which are in Latin America. This means that, although language barriers are relatively high for providers in non-Spanish-speaking countries, Spain is a particularly interesting market for Latin American companies.
The Netherlands is a relatively small but open market
The Netherlands has the sixth-highest GDP per capita in Europe. An impressive 60% of all Forbes 2000 IT companies have established operations in the Netherlands, making the country a real IT hotspot. The country's economy seems to be among the less affected by the pandemic, as the Dutch GDP is expected to return to its 2019 level at the end of 2022.
Companies in the Netherlands are traditionally fairly open towards outsourcing. More than a third of Dutch companies outsource their customer service, with 8% outsourcing to providers outside of Europe. Language barriers for doing business in the Netherlands are generally low, as the Dutch are very proficient in English. However, the country is no exception to the rule that your agents need to speak the language (Dutch) to be able to provide contact centre services. This also allows you to target Dutch-speaking companies in Belgium.
The Nordic economies show relatively modest contractions
The Nordic countries individually are smaller than other European markets, but they can be relatively open to outsourcing their contact centre services. For example, back in 2003, Sweden already outsourced 20% of its call-centre services, which was double the European average at the time. With the highest contact centre agent salaries in Europe, Nordic companies can realise considerable cost savings by outsourcing their contact centre services, especially by offshoring to developing countries.
Like in the Netherlands, the Nordic economies are expected to be among the less affected by the COVID-19 crisis. In fact, the Danish GDP is projected to be the first in Northern and Western Europe to return to its pre-pandemic level. Another similarity to the Netherlands is the excellent English proficiency in the Nordic countries, which makes doing business relatively easy. However, again, to provide contact centre services in these markets, you need agents that speak the national languages.
4.

What trends offer opportunities on the European market for contact centre outsourcing?

The current pandemic is accelerating various existing trends. Contact centre providers need to invest in their business continuity and in fostering partnerships with their clients. Digital transformation and automation strategies that were planned for the long term had to be rolled out within weeks, as both consumers and businesses were in direct need of digital solutions. The crisis emphasised the need for the integration of artificial intelligence (AI) and cloud strategies in contact centre services. For more information, see our study on trends for ITO/BPO.
The COVID-19 crisis and contact centres
The COVID-19 pandemic has disrupted business on a global scale, affecting many outsourcing providers. Clients have cancelled non-essential activities, moved their outsourced tasks back in-house or even ceased trading altogether. Both clients and service providers often turned out to be unprepared for the restricted movement of people. Lockdowns forced thousands of contact centre agents around the world to stay home. In many cases, this led to a delay in contact centre activities, and sometimes it even brought them a complete halt.
Picture 1: Lockdowns have led to empty cubicles worldwide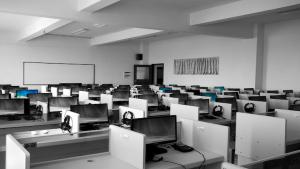 While some contracts specifically prohibited working from home, remote working also posed a considerable challenge. For example, due to inadequate Internet connections, some platforms could not be accessed from home, and there were data security issues as well. Unfortunately, some offshore providers handled the situation extremely poorly, resulting in negative publicity. This may have further stimulated European companies to move their contact centre services back in-house or to domestic/nearshore providers.
At the same time, many offshore contact centre service providers did quickly achieve an impressive level of change and adjustment to the new circumstances. Providers that have managed to demonstrate reliability and flexibility during the most immediate crisis are coming out of this with a stronger relationship with their clients and a sense of partnership.
A key lesson from the COVID-19 crisis is that contact centre service providers need to future-proof their way of working and inspire trust. You need to make provisions for remote working and/or facilitate social distancing in your office space. You also have to set out a clear strategy for dealing with potential future crises. Now that customers have become particularly aware of the risks that these types of disruptions pose, they are likely to ask you how you ensure continuity before deciding whether to work or continue to work with you.
Tips:
Learn from the current situation and make the necessary changes to prepare your company for potential future disruptions. For example, you need to enable remote working by investing in secure technology (devices and platforms) and by negotiating realistic terms in new contracts.
For more information about preparing for and guiding your company through crisis situations, see our study on how to respond to COVID-19 in the IT and Business Process Outsourcing sector (ITO/ BPO).
Study contact centre-specific information for lessons, best practices and tips for the industry. For example, see Sabio's whitepaper and webinar on CX Realities 2020 and the impact of COVID-19, Calabrio's State of the Contact Centre, Poly's Business as Unusual – Call Centers Take on a New Role, Freshworks' Rethink CX webinar series, and PCI Pal and ContactBabel's guide to contact centre remote working solutions.
Invest in the relationship with your clients, to create a true partnership based on reliability and trust. For more information on managing sourcing relationships, see the Global Sourcing Association's webinar on collaborating in a pandemic.
Clearly document your strategy and precautions in a crisis plan and a business continuity plan. Having these plans in place both benefits your company's operations and instils trust in current and potential clients.
Digital transformation and automation
Digital transformation (also known as DT or DX) refers to the use of new, fast and frequently changing digital technology to solve problems. Non-digital or manual processes are digitalised, and existing digital processes are modified and improved to keep up with new needs and possibilities.
This transformation was already a priority for European companies before the COVID-19 crisis. For example, around 30% of British companies had a digital transformation strategy in place, and another 50% were in the process of implementing one. Almost all of the remaining 20% were planning to have a strategy within 12 months.
According to recent data, digital adoption has made 5 years' worth of progress in just 8 weeks during the crisis. For many contact centre service providers, the switch to homeworking accelerated their digital transformation, as agents needed remote access to platforms. In addition, consumers increased their use of digital channels. This was probably due to both the availability of channels such as chats and social media when phonelines were flooded and a new familiarity with digital channels as consumers switched to e-commerce during lockdown.
For some, self-service channels offered relief from extremely high call volumes during the crisis, due to either increased numbers of requests or limited availability of contact centre agents during lockdown. Self-service channels allow customers to obtain information, solve problems and/or process transactions via online knowledge bases or chat/IVR applications, rather than through personal contact with agents.
Although this type of Robotic Process Automation (RPA) means fewer contact centre agents are needed to solve customer issues, European companies are often not able to host their own self-service applications. This offers you opportunities. In addition, RPA can actually make agents' jobs easier, for example by processing vast volumes of data, creating summary scripts, updating customer profiles and making predictions. Agents, in turn, can use this information in their customer interactions.
Artificial intelligence
AI is increasingly used in contact centres. At the moment, it is mainly used to help streamline contact centre experiences by predictive analytics, which can benefit both agents and customers.
While AI is not yet capable of managing all customer contact, chatbot use is growing exponentially thanks to growing Internet penetration, booming demand for smart customer engagement, the need for understanding consumer behaviour and the adoption of cloud-based technology. Gartner expects the use of virtual customer assistants in customer service operations to increase from <2% in 2017 to 25% in 2020.
In 2019, 59% of customer contact leaders listed AI and automation as a priority. A recent survey highlighted how the COVID-19 crisis has further stimulated the increasing role of AI technology in contact centres. In addition to those that already have comprehensive natural language understanding (NLU) automation, more than half of the respondents indicated that the pandemic either increased the priority of NLU automation in their organisation or highlighted its value.
A simple way to involve virtual assistants (chatbots or IVR applications) is to let them acquire some relevant information from customers before referring them to a designated human agent, who then handles the call further. This makes wait times shorter and allows customers to be connected to agents with the relevant knowledge for their specific requests.
A more sophisticated use of chatbot and IVR technologies is as an actual self-service channel, where they actually handle the requests themselves. As natural language processing (NLP) and NLU technology improves, these systems are becoming increasingly efficient. When the requests are simple, virtual assistants can often solve them better and quicker than humans.
Especially for more complex interactions, however, escapes should be built in that allow customers to be connected to a human customer service agent. Sometimes, virtual assistants may not be able to resolve an issue, while at other times, a consumer may simply prefer to interact with an actual agent. In 2019, 29% of consumers indicated they would never use chatbots and/or only want support from a real person. However, 35-44% would be willing to use them for basic transactions and very simple transactions.
This illustrates that, although the use of AI in customer service is expected to grow significantly over the upcoming years, human agents will continue to be of vital importance to the industry.
Cloud-based infrastructure
The cloud has become a vital part of contact centre outsourcing, as a tool for seamless team communication, integration and collaboration. A common reason for moving into the cloud is cost reduction. Using a cloud-based infrastructure also offers contact centres key benefits such as flexibility, scalability and security. While the cloud used to be associated with security issues, nowadays it is often more secure than on-premise servers, due to measures including multi-level authentication and firewall protection, data encryption, testing and monitoring.
Another major reason to consider cloud-based solutions is that it gives remote workers secure access to the platforms and tools they need to do their job from home. This has proven vital for the continuity of contact centres during the COVID-19 crisis. Providers that already used a cloud-based infrastructure could switch to remote working much more easily, allowing them to continue providing their services fairly consistently. This reliability strengthened their relationship with their clients.
Moving to the cloud does not have to happen all at once. There are hybrid cloud options that allow you to transfer partially or gradually. You can also choose to move specific types of applications or functionality into the cloud, while keeping others on-site.
Tips:
Use cloud-based solutions to make sure you are prepared and can easily switch to remote working, should another situation occur that requires this.
Demonstrate your capabilities in working with cloud environments and with remote teams of call centre agents. This shows current and potential clients that you are a reliable partner in times of disruption.
For more information about the various applications of cloud technology in contact centres, see PCI Pal and ContactBabel's inner circle guide to cloud-based contact centre solutions. This report also includes tips and considerations for when you are considering contracting a cloud provider.
This study has been carried out on behalf of CBI by Globally Cool B.V. in collaboration with Laszlo Klucs.
Please review our market information disclaimer.
Follow us for the latest updates