Which trends offer opportunities or pose a threat to the European market for natural food additives?
Demand for natural food additives in Europe is growing. Food companies are reformulating their products with natural ingredients in response to consumer demand for natural, 'clean' products. In times of uncertainty, consumers wish for a sense of stability and assurance. To protect our health and our planet, the food and drink industry can empower consumers to take confident decisions by offering transparency. This includes transparency along the supply chains that develop to redirect the global food system with shortened, sustainable and resilient food supply chains. Various opportunities for exporters from developing countries open up, although limits and risks must be considered too.
1.

Clean label - concerns about synthetic ingredients grow in Europe

European consumers are demanding natural products containing natural ingredients that have undergone little processing. Long and complex names and lists on product labels are becoming less and less attractive to them. Consumer concerns over the safety and allergenic characteristics of added ingredients have been growing steadily in recent years, especially for synthetically-produced ingredients.

The trend of substituting synthetic ingredients with natural ingredients in food products is gaining momentum in Europe. Rising consumer awareness as well as regulations pave the way towards food and drinks with a 'clean label'. Clean label means healthy and free from artificial additives or preservatives. Even without an official definition, the clean-label trend is evolving. Clean label is often thought of as what isn't on the ingredients list. Common ingredients that consumers do not wish to see on the ingredient list include artificial sweeteners and colours, preservatives, nitrates and high-profile additives.

Product claims associated with the clean-label megatrend include natural and GMO-free. According to the GutCheck Study, consumers' interpretation of the clean label ranges from healthier (48) to natural (44%), fresh (41%), no chemicals (41%), no artificial ingredients (37%) and organic (34%). Those terms connected to clean label indicate that consumers are looking for food and beverage products without synthetic additives.

Figure 1: Understanding clean-label purchases: Why do consumers choose clean-label products?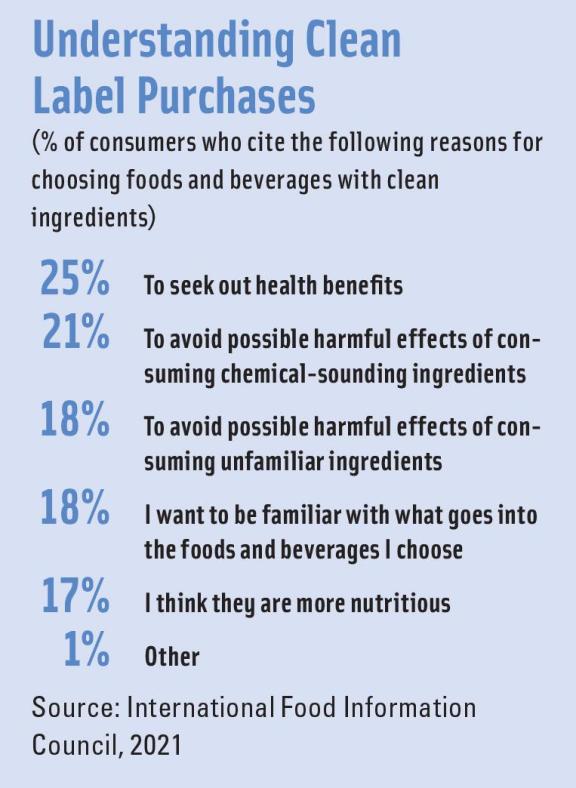 Source: IFT Institute of Food Technologists, 2021
Since the Covid-19 pandemic hit worldwide, transparency and responsible production are aspects that are moving more into the focus of consumers. This impact has expanded the definition of clean label – it is not only about the simplicity of the ingredient list anymore, consumers also put an emphasis on healthier eating for personal well-being and for the planet.
In this context, Figure 1 presents consumers' perception of clean label and why they are choosing foods and beverages with clean ingredients. Health benefits in general and avoiding harmful effects account for over 60% of the answers.
This is underlined by several studies showing links between artificial food additives and disease. This article by Harvard Health Publishing, for example, lists various interactions between food additives and children's health highlighted in a warning of the American Academy of Paediatrics, including that artificial colourants have been found to increase symptoms in children suffering from attention deficit hyperactivity disorder (ADHD).
As consumer awareness of synthetic ingredients grows, so will the demand for more chemical-free food products. The Food and Agricultural Organization of the United Nations (FAO) and the EU Commission also consider natural food additives as safe to use, raising their credibility.
Consumers expect safe products, truth in labelling, and unadulterated food ingredients. Clean label – summing up to a consistent demand for healthy food – is a big market driver for this shift.
In response to this, food and beverage companies in Europe are looking for innovative natural food additives, such as flavourings, sweeteners and colourants, thus providing export opportunities for natural ingredient suppliers in developing countries. This trend is expected to continue in the coming years, providing room for SMEs to adapt. For example, the Indian exporter of oleoresins Plant Lipids has tapped into this trend offering flavour ingredients for natural and clean-label solutions.
Tips:
Be prepared to address questions about your ingredients, more specifically their properties. Share with potential buyers your product descriptions, also called specifications. Pay special attention to how you present your product and company to potential European buyers, including product specifications, certificates, packaging and Unique Selling Points (USP).
Bring your product in line with EU regulations , such as the European Union regulations on labelling the origin of primary ingredients in food, which is meant to provide more transparency for EU consumers about food origin. This regulation stipulates that the origin of primary ingredients must be specified if different from the origin of the food.
Do research on which natural ingredients can replace synthetic ones, and discuss it with buyers and R&D professionals. Make sure you can back up any claims with evidence. For more information on natural food additives, visit the Food Navigator website, look up blogs and articles, and visit trade shows (such as Food Ingredients Europe FIE) to find out about trends in innovation.
Learn more about your raw material suppliers – wild collectors and farmers. European buyers are keen to know about raw material origins and the people involved. This creates trust and transparency, which enables them to share this information with consumers.
2.

European industry demands transparency in food chains

Related to the clean-label trend, European consumers are looking for more labelling transparency in the food and drink products they consume. Part of this trend relates to ingredients such as natural food additives. Consumers want ingredients to be instantly recognisable and understandable, and know exactly where they come from. This reflects directly onto the food and beverage industry, which needs to adopt traceability and sustainability measures at each step along their supply chains. This responsibility also falls upon ingredient suppliers outside of Europe.

In the food industry it is important to identify and trace each product to its origins. Problems occur in supply chains, such as adulteration and mislabelling, or issues involving food safety and product recalls. Therefore, food and drink manufacturers are constantly looking for ways to improve transparency and traceability in their supply chains. For example, US-based DDW The Color House's chlorophyll green is fully traceable to the site where it is grown in the UK. The demand has also influenced the industry to adopt codes of conduct that safeguard harmonious interpretation and practices related to this topic. The NATCOL Code of Conduct, adopted by industry leaders like GNT, defines principles of classification, sourcing, manufacturing, quality and safety of natural food colours.

Consumer trust is vital for the positive change in the agrifood industry. A supply chain with all its stakeholders presents gains but also risks. Digital traceability tracks a product via digital systems, alleviating and reducing many of the most pressing risks. The latest technology can help create more transparent, safe and sustainable food systems.

The European Commission's European Green Deal aims to transition the EU market towards greater resource efficiency and a more competitive, sustainable and circular economy by 2050. At its heart is the Farm to Fork strategy: traceability is supporting sustainability. Making raw materials and products traceable is therefore a critical step.

Sustainability is a central value, with steadily rising interest, especially for the younger generation. However, the discrepancy between real and favoured consumer behaviour is significant. The pursuit to buy sustainable products is often hampered by the lack of offer. Impulses to finally change the system come from committed producers and retailers, as well as from the legal side.

Due to the high priority that sustainability has on the international agenda, European companies are also looking into projects they can develop at origin related to social and environmental impact. For example, visit the sustainability page of the German company Doehler.

A digital product passport, as initiated by the European Commission, aims to store and share all relevant information along the product lifecycle, from the raw material origin to due diligence and manufacturing conditions.

Figure 2: The Digital Product Passport. A tool to store and share product lifecycle information for traceability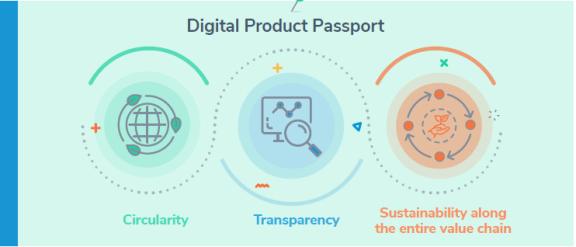 Source: Ecostandard 2022
With the introduction of such initiatives, farmers and consumers have to be connected by traceability through all steps of the process: from planting and collecting to the finished product on the shelf. To truly enable this, the entire supply chain needs to be incentivised to change internal patterns and take the risk of change. This is a continuing trend in Europe, which will be further enhanced by rising consumer awareness and by stakeholders in the food and beverage industry, who are also continuing to adapt to stricter European regulations on traceability and sustainability.
Tips:
Evaluate your internal system of traceability and adapt where necessary. Remember that it is not only a marketing tool for the final markets' consumers, but first of all a risk-mitigation process for the producing companies.
Europe is working on a Supply Chain Act. For instance, the German Supply Chain Due Diligence Act is coming into force on 1 January 2023, aiming for greater protection for people and the environment in the global economy. Keep yourself updated on the latest developments.
Communicate with buyers about their specific requirements for transparency and traceability before engaging in specific practices or investing in technology. Be open to introducing new technologies in your supply chain when requested by trade partners.
Educate yourself on new technologies that improve traceability in supply chains. You can find news on innovation in supply chain technologies on websites such as Supply Chain Digital and Supply Chain Movement.
3.

Unstable supplies due to global changes translate into search for alternative origins

Agricultural commodity supplies and prices have always depended on external conditions, such as weather, farming circumstances, trade policies and financial markets. However, climate change and its effects on the environment are causing unstable supplies and thus higher volatility. This leads European importers to search for alternative suppliers and origins for natural food additives, creating an opportunity for new suppliers to enter the market.

Agriculture is one of the sectors to be most affected by future climate change. Climate change has already reduced agricultural productivity, increased degradation of soil and water resources, created new health challenges to rural populations and livestock, increased vulnerability and reduced the adaptive capacity of rural communities. In reverse, agriculture is a major part of the climate problem.

Producers in developing countries are especially vulnerable to the impacts of climate change. With limited technological and financial resources to adapt and recover from the effects of climate change, such as poor harvests, erratic weather conditions and difficulties obtaining agricultural inputs, small-holders in developing countries face high risks and need to enhance resilience.

The acacia tree, from which the natural food additive gum arabic is produced, is native to the African Sahel, one of the regions most vulnerable to climate change in the world. It is particularly prone to a lack of water, drought and desertification. Producers of gum arabic in Sudan – which has the densest acacia forests of all the Sahel region's countries – face droughts as a result of global climate change. This is a major concern. Alland & Robert, one of the world's leading manufacturers of gum arabic, has launched reforestation projects in the African Sahel to tackle climate change.

Even before the pandemic, producers of natural food additives faced challenges regarding procurement and logistics that affected the entire supply chain. Lockdown measures and emergency measures introduced by governments have disrupted the global supply chain. The situation of the past years has highlighted the fragility of all supply chains.

Relying on a few trade partners can lead from imbalances and vulnerabilities to shocks in both importing and exporting countries. While global food and agricultural trade become more balanced and resilient on the aggregate, there are considerable dependencies at specific product levels. Sourcing one product from two or more different origins is not common business sense.

Not only the pandemic but also the war in Ukraine has proven the necessity to diversify origins and products to build up resilience to global disruptions.

As a consequence, European importers are actively starting to look for alternative origins and new suppliers, opening up opportunities to enter the European market for producers from developing countries and emerging markets. With direct sourcing in the countries of origin, importers secure their access to resources and thus supplies.
Tips:
Creating visibility – both virtually and by attending international trade fairs (like Sial & Anuga, Food and Health Ingredients Europe) – combined with high-quality production based on state-of-the-art equipment can open doors to Europe.
Value addition in the countries of origin mitigates risk and creates opportunities for income. Due to the tense logistics importers are increasingly open to purchasing the natural food additives in the country of origin rather than sourcing just plant material for processing in Europe. So get ready to level up your processing to comply with European standards.
Read the latest version of FAO's 'The State of Agricultural Commodity Markets 2022'.
4.

Organic for health and food safety

Organic certification has overcome the hurdle of being 'just' organic, with the consumer not grasping the full picture. In the meantime, demand for organic products is growing in the natural ingredients market due to its environmental and ethical profile, and also because organic certification is a guarantee of product safety and reduces the risk of contamination by pesticide residues and other impurities.

Specifically, as the extraction processes of botanical plant material potentiates the content of impurities, contamination by pesticide residues is an outstanding challenge regarding plant material used for the processing of natural food additives.

According to European industry sources, organic certification is developing into a minimum requirement for some segments, notably for companies active in the market for flavours and fragrances. This goes hand-in-hand with specific buyer requirements at the level of other food safety certifications (ISO22000 and GFSI certifications), Corporate Social Responsibility (CSR) and voluntary sustainability standards (VSS).

Organic agriculture is an approach to address various challenges, like climate change and safer products. The use of agrochemicals is limited or prohibited, which reduces the risk of contamination. Food safety measures that are relevant to certifications, such as those from GFSI, are not yet included in the organic standard. Merely the absence of synthetic fertilisers and pesticides is enough to create a safer product.

According to FiBL's 'The World of Organic Agriculture 2022', the European organic market reached a record high in 2020. It increased by 15% and reached €52 billion, which presents the highest growth rate of the past decade. The European Union is the second-largest single market after the US and China. Within the EU, Germany is the largest market for organic food, followed by France, Italy and Switzerland.

Organic food sales have grown since 2020 despite the uncertainties and the expected economic crisis. That is because health became a primary concern in the height of the pandemic and also now that Covid has slowed down. Organic food is considered a healthier alternative to conventional produce, due to lower pesticide and antibiotic exposure. It is not only health and food safety, but also matters of sustainability which have increasingly created incentives for consumers to buy organic products. This involves not only the environmental aspects, consumers are also interested in hearing the story of the people behind the product.

The growing demand for organic products translates into demand for natural food additives, since European organic standards prevent the use of many synthetic ingredients in food products. This is an ever-growing trend in Europe, where many brands and ingredient formulators are looking for ingredients that comply with the organic standard. For example, many organic food companies use natural flavours and colours, such as essential oils and oleoresins, as well as natural thickeners and emulsifiers, such as gums and seaweed extracts. For suppliers of organic natural food additives this trend holds continuous opportunities from origins outside of Europe.

Many organic food and beverage companies also prefer to use natural sweeteners, like stevia and coconut sugar. Such sweeteners can have a higher nutritional profile than sugar, sitting well with the healthy positioning of organic foods.

Indonesia's Aliet Green makes a good example of an organisation capitalising on this trend. Based in Yogyakarta, the women-owned social enterprise has set up supply chains for organic and fair-trade agricultural products. It was the first organisation in Indonesia to export organic and fair-trade coconut sugar, which is used as a sugar alternative. In 2018 Aliet Green was a finalist in the Sustainability Leadership Award category, and its organic coconut sugar came in second place in the Sustainable Ingredient Award category at the 2018 Sustainable Food Awards.
5.

European uptake on natural foods and ingredients drives up imports

The increased use of natural ingredients in several food categories in Europe drives up imports of various plant-based alternatives. Suppliers that are able to identify the growing product categories and applications will have a head start in expanding their market opportunities in Europe.

Plant-based products are no longer a novelty on the shelves and fridges of supermarkets and discount stores across Europe. A 2021 EU-funded project revealed that Europe's plant-based food industry grew by an astonishing 49% overall in 2018-2020, amounting to a total sales value of €3.6 billion. Plant-based, natural ingredients find application in meat, dairy products and fish. 'Veganising' of traditional recipes will be a big part of future food culture, with new interpretation of meat and fish alternatives as well as other adaptions without a complex ingredient list.

The outlook from 2022 to 2029 shows an expected growth of the European plant-based food market at a CAGR of 10.1%. The drivers for this forecasted development are decreasing meat consumption and increasing preference for natural, plant-based food. As European consumers are opting more for vegan, vegetarian and flexitarian diets, for ethical reasons and environmental considerations, opportunities for exporters of natural food additives that can replace traditional animal-based food additives are opening up.

To quantify the growing trend towards vegetarianism and veganism: between 2018 to 2022 the number of vegans in Europe doubled to a current estimate of 2.6 million, which represent 3.2% of the population. The demand for plant-based products goes beyond meat and dairy products, extending to baked goods and other snacks, according to the German vegan food brand Veganz.

Switching to veganism or vegetarianism (collectively also called veg*nism) is motivated by animal protection and environmental concerns, but mainly by health. Although this is not only due to Covid (despite the pandemic accelerating the trend), our society is witnessing a re-thinking of food, as health consciousness and interest in well-being rise significantly among consumers.

Examples of natural food additives that can be used in vegan products are natural sweeteners, natural gums and colours, and seaweed extracts. Natural sweeteners like stevia and coconut sugar provide a plant-based alternative to some traditional sugars. Surprisingly, not all sugars on the supermarket shelf are vegan. Gum arabic and guar gum are plant-based and can be used as alternatives to gelatine in certain applications. Gums can be used in vegan coatings, ice cream, confectionery and candy. Also in gluten-free products, the use of gum arabic can be applied as a preservative (improving shelf life by 50%).

In another example, plant-based diets require complex solutions for food colour to make products like meat substitutes more visually appealing: Naturex (part of Givaudan) launched a product line made from beetroot and other natural extracts called VegebriteTM Veggie Reds, aimed at achieving an authentic meat-like colour in meat substitutes. The main market drivers in Europe – in a nutshell: clean-label, (free-from) foods and health awareness – are driving plant-based innovations in food technology. Natural food additives producers in developing countries and emerging markets can capitalise on this opportunity by offering high-quality ingredients that comply with European food ingredients requirements. As mentioned, these trends will continue to grow in the years to come.
Tips:
Stay up-to-date with vegan trends on websites and associations like the European Vegetarian Union, the Vegan Society and the Vegetarian Society.
Inform yourself about requirements for 'vegan' certification. After obtaining the certification, make full use when promoting your company and product.
Present the ways of application and options for substitution of synthetic ingredients in your product description.
Do not make any medical claims. Familiarise yourself with EU health claims regulations. See the list of permitted health claims under EU law.
Keep an eye on international events like trade fairs specialised in vegan and flexitarian diets to identify existing opportunities and potential applications for your natural food colours, like Free From Functional Food Expo in Amsterdam or Veggie World in Hamburg.
6.

Regulatory changes and industry commitments in the EU expand possibilities

For the EU, ensuring the highest standards of food safety for its citizens is a key policy priority. This is why Europe has some of the strongest regulatory frameworks for food products in the world. These regulations have been getting stricter over the years, creating barriers to market entry for ingredient suppliers from developing countries. It is extremely important to understand the consequences of European regulation on your direct buyers and what you need to do in order to comply, since regulation will only get stricter in the coming years. On the other hand, restrictive regulation on synthetic ingredients provides opportunities for suppliers of natural alternatives.

Consumer demand for sustainable and plant-based options have been key drivers for the natural food additives industry. The EU's regulatory framework is also a major driver for the growing market for the category. All food additives in the EU must be authorised and listed with conditions of use in the EU's positive list based on:
A safety assessment
The technological need
Ensuring that use of the additive will not mislead consumers
Regulation (EC) 1333/2008 sets the general rules on food additives, such as preservatives, colours, antioxidants and others. It contains the Union list (Annexes II and III) of approved food additives. Further, Regulation (EU) No 231/2012 lays down specifications for the additives listed in Annexes II and III.
The regulation undergoes steady evaluation and amendments, offering possibilities of expansion. For instance, the market grew rapidly after the approval of stevia extracts for use in the European Union in November 2011. Recent regulatory developments have favoured the increased use of stevia in ever-expanding forms and applications. Developments in labelling also expand market opportunities. The new EU labelling update, from 'steviol glycosides (E960)' to 'steviol glycosides from stevia (E960)' gives consumers more clarity on the plant origin of the product, plus greater transparency.
The push for the European industry to reduce added sugar or to use substitute colours and flavours with natural alternatives is also fostering the demand for natural food additives like stevia, oleoresins and others.
Some food additives that are allowed for consumption in the United States are prohibited or restricted in Europe because of stricter EU regulations. For instance, potassium bromate and azodicarbonamide (ADA) in baked goods are allowed in small quantities in the US, while Europe and several other jurisdictions have banned their use because these substances have been linked to cancer in scientific studies. Similarly, butylated hydroxyanisole (BHA) and butylated hydroxytoluene (BHT), which are preservatives and flavour enhancers, are rigorously monitored and restricted by the EU for potential links to cancer in the human body.
Safer, natural alternatives are being adopted across the board for all food categories in Europe due to growing regulatory limits. This opens up opportunities for exporters of natural food additives.
Tips:
As Europe's strict regulation can be a major challenge for food ingredients and food additives suppliers, also compare other markets (e.g. US and Asian) to evaluate your options.
Provide complete product documentation to your potential European buyers, highlighting the performance, stability, consistency and safety of natural colours. If you are dealing with a new product, make sure to have a dossier to back up your claims. Refer to CBI's Workbook on how to prepare a dossier for food additives for more information on this topic.
Work closely with importers to ensure your documentation is up-to-date and compliant with regulations. Importers can use this information when approaching their own customers (food and beverage companies). Take a look at the Peruvian company Imbarex: besides its various food safety certificates, it also presents complete product information on its website. Imbarex moreover highlights the farmlands where its crops are produced.
Stay up-to-date on the European food and beverage market, specifically for developments on natural food additives, by regularly visiting relevant websites such as Food and Drink Europe, Food Navigator and Food Ingredients First.
This study was conducted on behalf of CBI by Teresa Hüttenhofer and Gustavo Ferro.
Please review our market information disclaimer.
Follow us for the latest updates
Search
Enter search terms to find market research