What requirements must natural food additives comply with to be allowed on the European markets?
To enter the European market of natural food additives you need to comply with strict food safety regulations and market requirements. Showing compliance with sustainability, in terms of both social and environmental aspects, is becoming a minimum requirement due to new and upcoming EU legislation such as the European Green Deal and the Directive for corporate sustainability. Organic certification is a requirement in niche markets that is expected to continue growing in the coming years, especially among buyers that are looking for clean label ingredients.
1.

What are mandatory requirements for natural food additives?
The general food law
All food products and their ingredients must comply with Regulation (EC) No 178/2022. This regulation lays down the general principles and requirements of food law, establishes the European Food Safety Authority and lays down procedures in matters of food safety. The General Food Law defines three principles: transparency, risk analysis and the precautionary principle. According to these principles, the European legislation requires the implementation of procedures based on Hazard Analysis and Critical Control Points (HACCP).
Those products that fail to comply with the food safety requirements stipulated in the law will be notified in RASFF, the Rapid Alert System for Food and Feed of the European Union. The information exchanged through RASFF can result in products being recalled from the market, and this would represent a burden for your buyer as well as for your company.
Authorised food and the new transparency regulation
Authorisation of foodstuffs in the EU is regulated by different legislations, depending on the classification of the food. Regulation (EC) No 1331/2008 determines a common authorisation procedure (CAP) for food additives, food enzymes and food flavourings. The CAP describes the procedural arrangements to update the corresponding Union lists.
The new transparency regulation to ensure further transparency of the risk assessment in the food chain became applicable on 27 March 2021. Although this regulation introduced significant changes to the approval process for products such as food additives, flavourings and novel foods, it is unlikely to directly affect your company. Remember that the authorisation of new products is an extensive and expensive process that normally needs the involvement of large companies. These large companies may nevertheless be your potential buyers, and being aware of upcoming product authorisations can help you predict the market demand for new ingredients.
Food additives regulation
Regulation (EC) No 1333/2008 lays down detailed rules on food additives. Annex II lists the food additives that are approved for use in foods and the conditions of use, Annex III lists the food additives approved for use in food additives and their conditions of use. Food additives are used, among others, to preserve, colour and stabilise food during its production, packaging or storage.
Each food additive that is approved in the European Union gets an E-number assigned. Having an E-number means that an additive has passed safety tests and is authorised for use. Steps towards the approval process of food additives, regardless of whether they are natural or synthetic, include a previous assessment by the Scientific Committee on Food (SCF) and/or the European Food Safety Authority (EFSA). Examples of natural food additives are rosemary extract (E392), which is used as an antioxidant, the natural colour curcumin (E100) and the natural thickener guar gum (E412).
Flavouring legislation
Regulation (EC) No 1334/2008, also known as the EU flavouring legislation, establishes the general requirements of flavourings and certain food ingredients with flavouring properties for use in and on foods. Natural ingredients such as oleoresins, essential oils and some extracts are classified as flavourings and must comply with this regulation.
Novel food regulation
The Novel Food Regulation (EU) 2015/2283 defines novel foods as foods that were not being consumed to a significant degree by humans in the European Union before 15 May 1997. In the EU, the procedure to authorise a novel food involves a scientific evaluation that considers elements such as product composition, history of consumption among a considerable population, and scientific test results to assess the risk of consumption. Several products have been consumed for years in developing countries but are either not authorised or were authorised at a later stage in the EU – for example stevia leaves, which were consumed in developing countries for a long time before being authorised for consumption in the EU in 2017.
The novel food authorisations mainly affect vegetable oils and extracts that are not considered and listed as food additives. As mentioned, food additives and flavours have specific and independent regulatory frameworks.
Contaminants
Contaminants are substances that have not been intentionally added to food but may be present in it as a result of the various stages of its production, processing or transport. They can also result from environmental contamination. As contaminants may pose a risk to human health, the European Union has established different regulations to control their presence in food. The regulated substances include process contaminants like acrylamide and furan; natural toxins like mycotoxins and alkaloids; environmental pollutants like brominated flame retardants, dioxins and polychlorinated biphenyls; and metals.
The main EU legislation for contaminants is:
Purity criteria for food additives with an E-number are stipulated on a case-by-case basis in the Annex of Regulation (EU) No 231/2012.
In September 2020, Belgium raised the alarm about ethylene oxide contamination in products with sesame seeds from India. Since then, many items with ethylene oxide contamination have been reported in RASFF, including locus bean gum, guar gum and xanthan gum. The number of products recalled from the market hit historic records in 2021, despite the adoption of stricter import rules to combat this issue. Suppliers from developing countries must be aware of this ethylene oxide situation that has already lasted more than two years. Food manufacturers and importers will continue implementing measures to have a clear understanding of their supply chain and will be demanding information and transparency from you. Stricter quality controls and audits are taking place and are expected to continue.
Pesticide residues
The maximum residue levels (MRLs) for pesticides on food are specified in Regulation (EC) No 396/2005. The limits on raw materials also apply proportionally to the derivative products, such as extracts and food additives.
Remember that extraction processes may potentialise even minimal pesticide residues present in the raw material of your product. You should therefore carefully monitor your laboratory analysis, to ensure compliance with the MRLs.
Extraction solvents
For food additives with an E-number, the specifications for the use of extraction solvents are stipulated on a case-by-case basis in Regulation (EU) No 231/2012. For example, for curcumin E100 the only solvents that may be used in the extraction are ethylacetate, acetone, carbon dioxide, dichloromethane, n-butanol, methanol, ethanol, hexane and propan-2-ol. The purity criteria found in this regulation establish maximum solvent residue levels for each solvent, singly or in combination.
The use of extraction solvents for all other foodstuffs and food ingredients is regulated by Directive 2009/32/EC. Annex I contains a list of the authorised extraction solvents for use in food and the conditions of use. For example, sulphur dioxide extraction is not authorised.
Remember that because of the strict purity criteria, and to avoid issues with solvent residue levels, the industry is moving towards solvent-free substances and many buyers prefer to buy extracts from steam distillation.
Classification, labelling and packaging
The Globally Harmonized System of Classification and Labelling of Chemicals (GHS) was developed to standardise and harmonise the management of global chemicals. In the EU, this is implemented through Regulation 1272/2008 on the classification, labelling and packaging (CLP) of substances and mixtures. The CLP regulation applies to food additives and flavours, but not to finished foodstuffs.
The classification and labelling database (C&L Inventory) contains classification and labelling information on notified and registered substances received from manufacturers and importers. The database is available from the European Chemicals Agency (ECHA) website and also includes the list of harmonised classifications. Some natural food additives included in the database are annatto, peppermint essential oil and guar gum.
Figure 1 illustrates a label for a substance supplied in a 1-litre package, not for the general public. All obligatory labelling information is displayed: the product identifiers, identity of the supplier, hazard pictograms, signal word, hazard, and supplemental hazard statement. To further understand this example and see additional ones, check page 64 of the Guidance on Labelling and Packaging published by ECHA.
Figure 1: Example of a single-language label for a substance containing supplemental hazard statements (not for the general public), in accordance with CLP.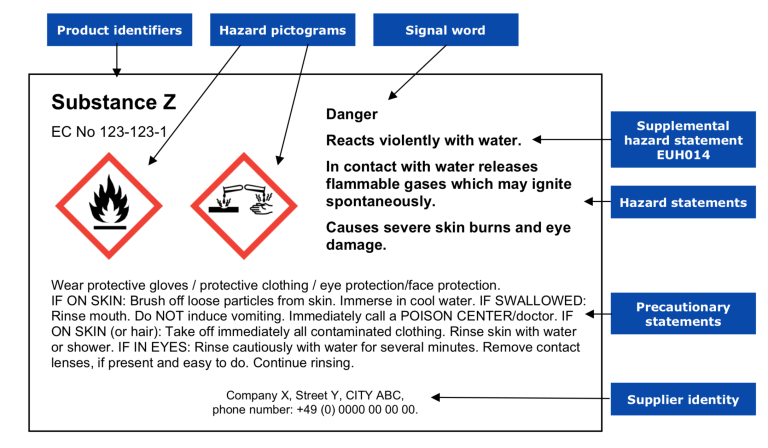 Source: Page 64 of Guidance on labelling and packaging in accordance with Regulation (EC) No 1272/2008 Version 4.2 March 2021.
Besides CLP, packaging materials must also comply with Regulation (EC) No 1935/2004 on materials and articles intended to come into contact with food. This regulation aims to prevent contamination of food to guarantee the safety of consumers.
CITES – Endangered species protection
The Convention on International Trade in Endangered Species of Wild Fauna and Flora (CITES) is an international treaty to protect the trade of endangered species of animals and plants (or parts or derivatives made thereof). The EU wildlife legislation, Regulation (EC) 338/97, is based on CITES and includes a double-checking system involving export and import controls at the country of origin and at the EU level.
As the natural food additives industry is constantly looking for plants to substitute synthetic ingredients, this regulation has obligations for both exporters and importers in the sector. In addition to the basic requirements of compliance with CITES, suppliers for companies like Givaudan have more complex obligations in terms of biodiversity. These include the use of High Conservation Values and High Carbon Stock methodologies for the identification and loss of biodiversity, implementation of water management plans, minimisation of waste and post-harvest losses, and control and progressive reduction of greenhouse gas emissions. Smaller European companies have different ways to approach CITES-related issues. Some companies avoid using raw materials registered in CITES, while others require that species listed in CITES come from cultivation instead of wild collection. In any event, you as a supplier are responsible for having the necessary documentation. European companies will often cooperate with you to gather information and ensure compliance with the EU regulation.
To find out if your product is subject to the CITES regulation and to have a better understanding of this import requirement, visit Access2Markets, the previously mentioned EU trade information portal. Figure 2 shows the search results for product code 3203.00.10 (colouring matter of vegetable origin and preparations based thereon) from Peru to Germany. The CITES regulation is displayed under the specific import requirements applicable to this product.
Figure 2: Example of import requirements review for product code 3203.00.10 from Peru to Germany using Access2Markets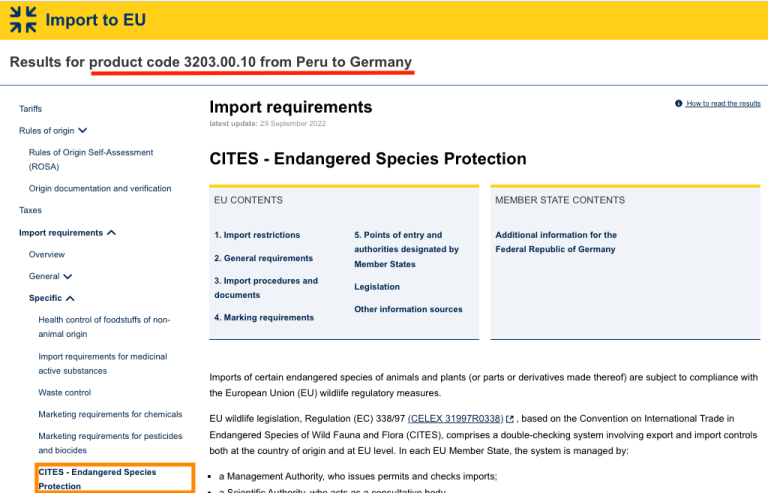 Source: Access2Markets
Access and Benefit Sharing (ABS)
The Nagoya Protocol on Access and Benefit Sharing aims at sharing the benefits that arise from the utilisation of genetic resources in a fair and equitable way. The European Union is a signatory of the protocol, meaning that the Union and the countries at the individual level are legally obliged to implement mechanisms to comply with its principles. Regulation EU 511/2014 is the implementation of the Nagoya Protocol.
As the Nagoya Protocol is implemented differently in the regulations of each country, European buyers expect their suppliers to know the local regulatory framework relating to ABS and to cooperate to facilitate their compliance. Some European companies may require their suppliers to obtain the Internationally Recognized Certificate of Compliance (IRCC) issued by the Access and Benefit Sharing Clearing House (ABSCH). This certificate ensures that companies have legal access to genetic resources according to the Nagoya Protocol, and it is often asked from suppliers from developing countries where a high risk of non-compliance with the ABS regulation has been identified.
2.

What additional requirements and certifications do natural food additives buyers often ask for?
Quality management and food safety certifications
European buyers of natural food additives often require their suppliers to have the ISO 9001 certification on quality management systems and the ISO 22000 certification on food safety management. For several European buyers the implementation of standards and certifications recognised by the Global Food Safety Initiative (GFSI) is increasingly becoming a minimum requirement, the most popular ones being FSSC 22000, BRCGS and IFS.
For some buyers, especially for large European companies, quality management requirements also apply to the production of the raw materials. In such cases, buyers want to ensure that the raw material used to produce the corresponding natural food additive is cultivated under Good Agricultural Practices (GAP). The Farmer Sustainability Assessment (FSA) of the SAI Platform is among the popular tools used by European companies to evaluate quality management in raw materials production.
Sustainability requirements
Sustainability is a crucial and cross-cutting topic in Europe. Companies of all sizes are integrating sustainability into their business strategy, driven not only by their own conviction or by consumer demands, but also by upcoming changes in legislation, aiming to make sustainability the norm. An example of these legislative changes is the proposal for a Directive on corporate sustainability due diligence, which was adopted by the European Commission in February 2022. The new rules will ensure that businesses address adverse human rights and environmental impacts of their actions, including their value chains inside and outside Europe. This directive proposal is in line with the Farm to Fork strategy, part of the European Green Deal. The Farm to Fork strategy aims for fair, healthy and environmentally friendly food systems across Europe.
For several European companies of the natural food additives sector, sustainability is important and is becoming part of every corporate decision. As shown in Figure 3, 90% of the 34,000+ European companies of the food ingredients sector surveyed by Fi Global Insights agreed that governments should establish a minimum legal standard for corporate sustainability and due diligence. 81% said businesses should be penalised if they did not adhere to the minimum legal standard for corporate sustainability and due diligence.
Source: Fi Global Insights, 2022
There are some basic steps that you can start working on, to be prepared for the upcoming changes and the increasing relevance of sustainability, in terms of both social and environmental aspects. First, start by identifying the social and environmental risks present in your value chain and production processes. Once you identify these risks, think about the strategies and activities that your company can implement in the short and the long term to address them. Several buyers are willing to cooperate with you to make the complete value chain more sustainable. Helping them define the topics to focus on will give you a competitive advantage. The next natural step is to show your compliance and efforts through certification.
Among the most popular certifications and social standards applicable to the natural food additives sector are Sedex/ SMETA, BSCI (Business Social Compliance Initiative), Fairtrade and Fair for Life. Ecovadis and the Union for Ethical Biotrade (UEBT) are additional certifications relevant for certain ingredients.
In terms of environmental sustainability, certifications like Fair Wild and Rainforest Alliance are amongst the most common ones. Each European buyer may have a different position towards certifications: some companies prefer to implement their own auditing by visiting their suppliers, while others require their suppliers to get certified.
Although the above-mentioned certifications are the most commonly used in the natural food additives industry, requirements may vary by buyer. Therefore, before getting certified you should talk to your buyers and verify their needs.
There are also industry-specific initiatives and voluntary frameworks to which companies belong, such as the Sustainability Charter of the International Fragrance Association (IFRA) and the International Organization of the Flavour Industry (IOFI). Another common practice is the implementation of codes of conduct for suppliers. These codes of conduct are frequently based on the UN Global Compact and the Sustainable Development Goals.
Table 1: Most important certifications requested by buyers in the natural food additives sector
Name of certification
Type
Cost for companies
Most used in European end-markets
Additional information on getting certification
Food Safety Systems Certification (FSSC) 22000
Food Safety

Certification costs depend on company size, number of audit days and number of products. For small companies (<20 employees), costs depend on number of products but are typically in the range of €1,500–€3,500. An additional fee is paid for annual audits. The audit certificate is valid for 3 years.

 

Additional costs typically include a consultancy fee for preparing the first audit. Certification may also imply infrastructural investments.

EU-wide but mainly in:

 

The Netherlands

Italy

France

Spain

Switzerland

Scandinavia

Find FSSC 22000 certification preparation courses in your country to prepare yourself for the certification.

 

Find a list of conformity assessment bodies to request an offer.

 

British Retail Consortium Global Standards (BRCGS)
Food Safety

Certification costs are not fixed. They depend on company size, number of products and your role in the supply chain. BRCGS certification costs are usually higher than those for IFS and FSSC 22000. Typical certification costs for a small company with up to 3 products are around €3,500, excluding  auditors' travel expenses.

 

For many companies it is common to be certified with one more scheme in addition to BRCGS. In that case, the certification costs may be lower if both certificates are issued by the same body. 

UK

Germany

France

To find a certification body, visit the BRCGS directory.

 

Consider starting with BRCGS START, the certification for small and medium-sized businesses.

 

Visit the BRCGS Training Courses website to inquire about available trainings in your region.

International Featured Standards (IFS)
Food Safety

Certification costs are not fixed. They depend on number of products, number of certification days and company size. Average price for the 2-day audit for SMEs and 3–5 products is usually around €3,000. Additional costs include annual re-certification. The certificate is valid until the end of the second calendar year after the first certification date. Initial certification may imply infrastructural investments (to be paid for separately).

 

EU-wide but mainly in:

 

Germany

France

Visit the IFS Academy portal for information about the standard and how to implement it. For a personalised preparation, you can also search the IFS Consultants Database and the training centres list.

 

Contact the authorised certification bodies in your country to receive an offer for your company.

 

Use the IFS audit time calculator to calculate the minimum audit duration.

FairWild
Environmental sustainability

Calculations of the certification audit costs are made individually. They depend on location, size and complexity of operations, and include audit, evaluation, certification and office costs. Audits take place every 1-2 years.

 

Read the frequently asked questions for businesses on the FairWild website, which include information on certification costs and fair trade price for collectors.

Germany

UK

France

Check the list of approved control bodies to conduct audits.

 

Visit the documents section of the FairWild website for more information on the standard and its implementation.

Rainforest Alliance
Environmental sustainability

Certification costs are not fixed. Companies must apply to the authorised certification body for an offer. Total costs include administrative costs, audit fees, a premium price paid to farmers, sustainability investment costs and a volume-based royalty.

 

Read this article by Rainforest Alliance to find out more about the certification costs.

 

 

EU-wide but mainly in Western and Northern Europe

 

Contact an authorised certification body in your country to find out about their fees and process to get certified.

 

Consult the guide for farmers and the guide for companies on how to get certified. Operators usually undergo a full re-certification audit process every 2-3 years.

Sedex Members Ethical Trade Audit (SMETA)
Social sustainability

Certification costs include a £100 membership fee per production site and audit costs paid to the SMETA-approved auditor. Costs of the first certification are agreed with the auditor and are not fixed, but for most SMEs they are between €1,000 and €2,300, excluding auditors' travel expenses.

 

The costs depend on e.g. number of employees, value chains assessed, number of sites.

Most European buyers recognise the SMETA audit as a valid assessment, but it is mainly popular in:

 

UK

Germany

Read more about the SMETA audit and use the guidance documents to familiarise yourself with the audit methodology.

 

Check the list of the Affiliate Audit Companies authorised to offer SMETA audits.

Business Social Compliance Initiative

(amfori BSCI)

Social sustainability

Certification costs are not fixed and are agreed with the audit company. For SMEs, the costs are generally similar to the SMETA audit costs – around €1,000.

 

Germany

Netherlands

 

Check the list of amfori BSCI auditing, training and consultancy companies to request an offer for your company.
Fairtrade
Social sustainability and ethics

Certification costs depend on number of hired workers, products and processing plants. Fees start at around €2,000. This includes application fee, certification fee and processing fee.

 

Check the cost calculator of FLOCERT to get an estimation of your costs for getting Fairtrade-certified.

 

UK

Germany

Benelux

 

Check the website of FLOCERT, the Fairtrade certification body.

 

Consult this link to learn how to become a Fairtrade producer. Operators usually undergo a full re-certification audit process every 1-2 years.

Fair for Life
Social sustainability and ethics

Certification costs vary depending on the operation's size and complexity and the location of your operation and of producers.

 

 

Visit the website of ECOCERT, the Fair for Life certification body.

 

Access the Fair for Life certification process to learn about the steps required to become certified. Operators usually undergo a full re-certification audit process every year.

EU Organic
Environmental Sustainability

Products must be certified at the farmer level before being processed. Costs for individual farmers are considerably lower if farmers are united in an association and pay a joint fee. Average costs are around €1,000 for SMEs and the certificate must be renewed every year.

 

European Union

 

All European countries have their own domestic organic labels

Access the list of recognised control bodies and control authorities for EU Organic, issued by the EU.

 

Refer to Regulation (EU) 2018/848 to learn more about the legislative requirements.
Source: Dana Chahin, 2022 (Information retrieved and updated from Authentika Global, ProFound Advisors for Development, and specific standards' websites)
Documentation
The documentation that your buyer will ask you to provide is not only used to evaluate the compliance of your product with European regulations, but also to assess the fulfilment of the agreed purchasing specifications, in line with the requirements of the final industry user. Documentation requested will therefore depend on the final client requirements as well as on the market segment where you are selling your natural food additive. There are, however, some essential documents you will be asked to submit:
Other documents or information that may also be requested are:
Allergens declaration
Radioactive-free certification
Heavy metals declaration
Non-GMO certificate
Gluten-free
Check this natural flavouring Technical Data Sheet containing allergen data and non-GMO status information.
Up-to-date certifications on quality management systems, food safety, organic, fair trade, kosher, halal and others must also be submitted, according to the buyer requirements.
Several buyers distribute a supplier questionnaire to evaluate new suppliers. These questionnaires ask for information on e.g. production specifications, CITES documentation, toxicology, raw material origin and production details (use of pesticides, fertilisers, size of farm and crop, use of water, etc.), effectiveness data, packaging materials and processing activities.
3.

What are the requirements and certifications for natural food additives niche markets?
Organic production and certification
For some European companies, organic certification is a minimum requirement. Some companies focus on sourcing only organic ingredients and foodstuffs, while others offer both conventional and organic products. Organic certification is especially relevant among buyers that are looking for clean label ingredients.
Demand for organic products is growing because of environmental and ethical concerns. Moreover, organic agriculture diminishes the risks of pesticide residue contamination, which is particularly high in plant-based extracts. For this reason, many buyers are demanding organic certification or at least the implementation of organic agricultural practices, to comply with strict food safety requirements. This is especially popular among buyers of essential oils, oleoresins and plant extracts used in the flavour and colouring industry.
In the European Union, a product can have the organic production logo if it has been certified, and only if at least 95% of the ingredients from agricultural origin are organically produced. The new organic regulation became applicable on 1 January 2022. As in the previous regulation, only certain food additives may be used: check the positive list of additives (Part A of Annex V).
The new organic regulation represents an opportunity for suppliers in developing countries, as greater flexibility on the origin of the products was introduced. Under the previous regulation products with the label sign 'EU Agriculture' could contain up to 2% of non-EU ingredients; the new regulation increased this percentage to 5%.
Halal and kosher
Having kosher and halal certification can represent a competitive advantage and be attractive to European buyers, as these certifications are on the rise. However, they are still a requisite of niche markets and are not a common requirement in Europe. Examples are Ensemble Foods, a French company offering plant-based products that are halal-, kosher- and vegan-certified, and Stringer Flavours Ltd, which has several kosher-certified flavours in their product assortment.
Being kosher- and halal-certified can send a positive signal to your buyers in terms of your quality processes, as these standards require adherence to strict hygiene practices. Figure 4 shows examples of kosher and halal certifications.
Figure 4: Examples of kosher and halal certifications for the European market

Source: KLBD, European Certification Centre for Halal, European Fatwa Council
This study was carried out on behalf of CBI by Dana Chahin of Global Trade Promotion.
Please review our market information disclaimer.
Search
Enter search terms to find market research