The European market potential for ceramic dinnerware
The European market for ceramic dinnerware is growing. Almost half of the imports come from developing countries, making Europe an interesting market for you. Market growth is driven by an increased interest in home cooking and social dining, as well as the need for casual dinnerware, particularly from younger consumers. You can further add value to your dinnerware with sustainable elements and handmade designs.
1.

Product description

In home decoration and home textiles (HDHT), the homeware category consists of two sub-categories: dinnerware (related to eating) and cookware (related to food preparation).

Dinnerware generally consists of:
mugs, cups, and saucers
plates and platters
bowls
jugs
other accessories, such as cake stands or sauceboats
It can be sold in complete sets of 12 to 16 pieces, or individually. Besides the consumer market, the hospitality market (hotels, catering establishments) is a specific segment. Well-known brands with high levels of customer loyalty dominate the dinnerware market.
This study focuses on ceramic dinnerware. Many developing countries have a long tradition in processing ceramics. This gives them a competitive advantage in the trade of these products. This study uses the following codes to indicate trade in these products:
Table 1: Product codes for dinnerware
| | | |
| --- | --- | --- |
| Harmonised System (HS) | Prodcom | Description |
| 6911 10 | 23 41 11 30 | Tableware and kitchenware, made of porcelain or china (excluding ornamental articles, pots, jars, carboys and similar receptacles for the conveyance or packaging of goods, and coffee grinders and spice mills with receptacles made of ceramics and working parts of metal) |
| 6912 00 21 | 23 41 12 10 | Tableware, kitchenware, other household articles and toilet articles, made of common pottery (excluding statuettes and other ornamental articles, pots, jars, carboys and similar receptacles for the conveyance or packaging of goods, and coffee grinders and spice mills with receptacles made of ceramics and working parts made of metal) |
| 6912 00 23 | 23 41 12 30 | Tableware, kitchenware, other household articles and toilet articles, made of stoneware (excluding baths, bidets, sinks and similar sanitary fixtures, statuettes and other ornamental articles, pots, jars, carboys and similar receptacles for the conveyance or packaging of goods, and coffee grinders and spice mills with receptacles made of ceramics and working parts made of metal) |
| 6912 00 25 | 23 41 12 50 | Tableware, kitchenware, other household articles and toilet articles, made of earthenware or fine pottery (excluding baths, bidets, sinks and similar sanitary fixtures, statuettes and other ornamental articles, pots, jars, carboys and similar receptacles for the conveyance or packaging of goods, and coffee grinders and spice mills with receptacles made of ceramics and working parts made of metal) |
Functionality
Dinnerware is used to serve and consume food and drinks. The type of dinnerware pieces displayed on the table depends on the:
type of meal (for instance breakfast or cooked dinner)
occasion (formal or informal dining)
location (inside or outside, at home or in a restaurant)
culture (such as the British "oversized" tea mug or Italian extended meal courses)
Material
The main materials used for ceramic dinnerware are earthenware, stoneware, porcelain and bone china, which refers to material composition and firing temperatures. Each material has a different effect on the toughness, strength and translucence of the dinnerware piece.
Durability
Consumers use their dinnerware frequently, making the sturdiness of the material critical. Durability depends on the ability to resist scratching, chipping and breaking when dropped. The items must be dishwasher-, microwave- and refrigerator-proof.
The hospitality sector uses its dinnerware particularly intensively. At the same time, professional kitchens may handle their dinnerware quite roughly. This leads to a much greater emphasis on durability. In this market, high-fired dinnerware (bone china, porcelain or special compositions) is preferred. Where durability is less of an issue (for example, at picnics or parties), disposable materials or synthetics (such as melamine) are an option.
Design
As the demand for more expressive tableware rises, individuality and the aesthetic quality of dinnerware have become a more central buying motive for consumers. Design value is mostly added through shape, colour and decoration.
2.

What makes Europe an interesting market for ceramic dinnerware?

The European market for ceramic dinnerware has grown in recent years. Almost half of the import value is sourced from developing countries, making Europe an interesting market for you.

The coronavirus pandemic and the measures taken against it worldwide are expected to have a large impact on international trade and the European market for many products and services, including HDHT. Please note that the below analysis is based on the statistics that are currently available (2015–2019). Therefore, the expected impact of the pandemic on the European market and global supply chains have not been taken into account in this report. For the latest news in your sector, please check CBI News.

The pandemic is expected to affect demand for HDHT products. The current crisis results in very low consumer confidence globally. In addition to worrying about their health, consumers also worry about whether they will have work and income, and to what extent their livelihood will be under pressure. This scenario obviously does not stimulate sales in HDHT. Many brick and mortar retail businesses in HDHT have been forced to close under local government public health rules (being non-essential), and many will not survive the crisis for financial reasons. In addition, the distribution chain in HDHT has also been also severely affected.

Europe's ceramic dinnerware imports increased from €1.8 billion to €2 billion between 2015 and 2019, at an average 2.6% annual growth. Imports from developing countries increased from €879 million to €946 million, at an average annual rate of 1.9%, making up an import market share of 47%. These numbers indicate that Europe is an interesting market for you, as an exporter from a developing country.

Market growth is driven by increased interest in home cooking and social dining, as well as demand for casual dinnerware. For more drivers of demand, see 'which trends offer opportunities?' below.
3.

Which European countries offer most opportunities for ceramic dinnerware?

The larger western European economies are the main importers of dinnerware. However, importers in these countries generally sell their products to clients in other European countries. Your best strategy therefore is to focus on a particular segment, rather than a specific country.

Germany is the leading European importer of ceramic dinnerware with 16% of the import value, followed by the United Kingdom (13%), France (10%) and Italy (10%). Together, they accounted for approximately half of Europe's total ceramic dinnerware imports. The Netherlands (9%) and Spain (6%) round up the top-six leading importing countries but are smaller markets with shares smaller than 10%.

However, be aware that in the European market, different countries have different roles. You can make a rough distinction between countries that are mainly importers and countries that are mainly manufacturers. Most western European importing countries do not just import products for sales within their own country, but also to re-export to other countries in Europe. This explains why countries with small HDHT markets, like Denmark and the Netherlands, often import much more than the demand in their own domestic markets.

In terms of marketing, take into account also that a specific country does not necessarily correspond to a target market. In HDHT, each European country has different market segments, ranging from low to high (see also our study on market entry for ceramic dinnerware), although their sizes may vary per country. Therefore, it makes much more sense for you to identify a particular segment in your product group and connect to the importers and distributors in that segment, instead of focusing on a specific country. These distributors will then sell in that segment, not only in their own country but in other countries in Europe.
Real private consumption expenditure
An important indicator for growth in demand is real private consumption expenditure. The HDHT sector, which includes the ceramic dinnerware market, is sensitive to economic cycles. When economic circumstances and prospects are dim, consumers postpone buying non-essential items. Conversely, when economic conditions are favourable, private consumption expenditure and purchases of non-essential HDHT products surge.
In recent years, real private consumption expenditure in the leading European markets grew at annual growth of 1%–3%. Previous forecasts for the coming years suggested this positive trend would continue, but the coronavirus pandemic has made any predictions all but uncertain. The HDHT market responds to economic cycles, so demand is expected to reflect any potential economic fluctuations.
Germany is the largest European importer
Between 2015 and 2019, German ceramic dinnerware imports fluctuated slightly around €325 million. About 47% of it (€155 million) comes from developing countries, matching the European average. With €124 million in import value, China is Germany's leading supplier. Other developing country suppliers to Germany include Turkey (€11 million) and Thailand (€9.3 million).
Germany is the largest economy in Europe, home to 19% of the European Union's population. The German economy is widely considered the stabilising force within the European Union, historically showing a higher growth rate than other member states. In fact, according to The Economist, Germany will be the first major European economy to recover from the pandemic crisis. This expectation is based on the country's healthy finances before the crisis and the sheer size of its large industrial sector, whose reboot will consequently benefit suppliers abroad.
In addition to having a large domestic market, Germany is also a key trade hub within Europe. Combined with a good-sized market for developing countries and the forecast economic recovery, this scenario makes Germany an interesting market for you.
Brexit may negatively impact UK demand
British ceramic dinnerware imports also fluctuated a little between 2015 and 2019, around €250 million. The import market share of developing countries is fairly stable at 79%, the highest in Europe, at a value of €207 million in 2019.
Although most British dinnerware imports come from China (€169 million in 2019), other developing countries perform well too. Particularly notable is Thailand, which supplied €16 million worth of ceramic dinnerware to the United Kingdom in 2019.
The United Kingdom's withdrawal from the European Union (Brexit) may have a major impact on consumer confidence. The uncertainties related to Brexit, the Covid-19 pandemic and the resulting economic slowdown are expected to affect HDHT product sales, including ceramic dinnerware. As such, your prospects in the UK for the next few years may be modest, despite the high import share of developing countries.
France's growth slows down
French imports of ceramic dinnerware were relatively stable between 2015 and 2019, at around €205 million. With €37 million in 2019, developing countries had a 40% import market share in 2019, which is slightly below the European average. France's leading ceramic dinnerware supplier is China (31%), followed by Belgium (11%), Germany (11%), and Portugal (10%).
France's economic growth has slowed down recently after a gradual recovery in previous years. Global uncertainties and the effects of social unrests weighed on consumer confidence and sales of non-essential products. This negative scenario is expected to be reflected in the country's ceramic dinnerware imports in the coming years.
The Netherlands is an important European trade hub
Dutch imports of ceramic dinnerware increased considerably from €117 million in 2015 to €173 million in 2019, at an average annual rate of 10%. This performance reflects a long period of consecutive economic growth in the Netherlands.
Developing countries had a relatively stable share of Dutch dinnerware imports at around 53%, adding up to €100 million in 2019. China is the Netherlands' leading supplier, with 44% of ceramic dinnerware imports. Other developing country suppliers include Thailand and Turkey, with a 5% share each.
Brexit, the Covid-19 pandemic, the international trade dispute between the United States and China, and the trade dispute between the United States and Europe, all are expected to have a big impact on the Netherlands. Because the country heavily depends on international trade, negative developments in that area strongly affect its economic performance, which in turn would affect dinnerware sales.
Since the Netherlands is a big re-exporter of goods, the impact on HDHT imports goes beyond the Dutch market itself to include developments in other European countries. Given the economic slowdown in Europe as a whole, a significant increase in imports is not expected for the coming year. However, the Netherlands' strong performance as a trade hub continues to make it a relatively interesting market.
Italy focuses on China
Italy's ceramic dinnerware imports grew strongly between 2015 and 2019, from €146 million to €193 million at an average annual rate of 7.3%. Developing countries supplied around 46% of Italy's imports in 2019, worth €79 million. Italy's leading suppliers of ceramic dinnerware are China (30%) and Germany (20%).
Economic growth in Italy is likely to slow down as the country is particularly affected by the coronavirus pandemic, which is expected to affect consumer confidence and consumption of luxury products in 2020.
Spain's economy expected to recover particularly slowly
Spain imports the least among the top-six European ceramic dinnerware importers. Spanish ceramic dinnerware imports grew from €103 million in 2015 to €116 million in 2019, at an average yearly rate of 3%. Imports from developing countries have stabilised at around €50 million, a 43% share. Most of these imports come from China, which is Spain's leading ceramic dinnerware supplier with an import market share of 32%.
Whether Spain can sustain demand for HDHT products largely depends on the effects of the coronavirus pandemic. At the moment, The Economist expects the Spanish economy to experience the deepest contraction in Europe and be among the least recovered European economies by the end of 2021, which of course limits your opportunities in Spain for the coming years.
Tip:
Do not just focus on specific European countries. Instead, identify the appropriate segment and let your buyers distribute your products across Europe within this segment.
4.

What trends offer opportunities on the European ceramic dinnerware market?

Ceramic dinnerware follows some of the major consumer trends in HDHT, such as Home Sweet Home and Wellness. For more information on these trends, see our study about trends in HDHT. We outline each trend below, starting with the potential effects of the Covid-19 pandemic on the HDHT market.
The pandemic and trends in HDHT and ceramic dinnerware
It is hard to forecast post-pandemic consumer trends in HDHT in the short and long terms. However, early trends that are already visible include:
more consumers ordering more online;
consumers spending more time at home are looking for entertainment and comfort;
consumers are renovating their homes, including the garden.
These short-term trends can be considered a continuation of consumer trends that were already ongoing, but some may accelerate.
A major factor in post-pandemic consumer spending is an expected reduction in disposable income, causing economic recession and job losses. Consumer confidence, a strong indicator of consumer spending, is at an almost historically low.
Tips:
Follow the international news, for example on The Economist, especially on consumption, work, and travel patterns. Reflect on the possible short- and long-term effects on HDHT and your business.
See how big global companies are responding to the pandemic, both at contributing positively to society, and at shielding themselves from financial losses. Look for possible changes you can implement in your post-crisis domestic and international marketing. For example, Ikea responded to the crisis by producing personal protective equipment and assisting suppliers with loans, swift invoice payments and help with accessing government support packages.
Home Sweet Home and Social Dining
This trend is about a slightly older consumer retreating into the safety and security of their own home, and making that a perfect, luxurious oasis. Home is also the place where genuine connection takes place with close friends and relatives. This is done by eating, cooking and enjoying entertainment together.
The dinnerware that is part of this tradition contributes to the overall atmosphere of old friends sharing good stories, on a special occasion that has also become a tradition in itself. The brand of the dinnerware is typically a traditional, European name in ceramics and the set may have been in the family for several generations, such as Wedgwood. Younger generations and young families are less open and loyal to brands, so they select what they need and like, freely mixing designs.
Picture 1: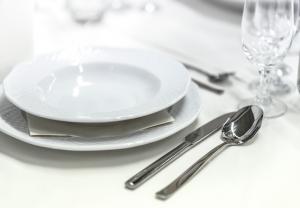 'Master Chef'
Northern European countries are increasingly developing a dining culture. This is inspired by the French or Italian food culture, for instance, but also by non-European cultures like Morocco and Japan. This means consumers are taking more time to sit and enjoy dinner. They make it into a social event with family and friends, using their best dinnerware. These consumers have learnt to identify and appreciate good dinnerware and are increasingly making individual choices.
Social dining, or 'slow' dining, has been much stimulated by the 'master chef' trend, which is characterised by consumers taking pride in developing and showing off their cooking skills. As these European consumers are rediscovering their joy of cooking, they also want to use dinnerware that the master chefs use and promote on television and other media. This makes them slightly less price-sensitive and more susceptible to branding.
Master chefs enjoy specialised items, for example for fish dinners. Oven-to-table dinnerware is also popular. These items are used to prepare food but are decorative enough to put on the table, such as decorated casserole dishes.
Wellness
Wellness is a dominant consumer trend. Consumers are seeking to improve their physical and mental health in different areas of their lives, including what they buy. The slow dining trend, which includes being with and feeling surrounded by friends and family, contributes to consumers' mental health, therefore tying the master chef trend to the wellness trend.
When it comes to physical wellness, slow dining has close links to slow cooking, which is about eating consciously, preparing healthy dinners and taking time to digest the food. Occasions such as these are accompanied by a well laid table with the best and consciously chosen dinnerware. The consumer is no longer afraid to look beyond their culture to adopt healthy dishes, including vegetarian and vegan options. These changes are also broadening the options on dinnerware, for example, adding more types of fish plates or serving bowls.
Made by hand
In slow dining, consumers take pride in their dinnerware, which makes them slightly less price sensitive and more design oriented. Such consumers prefer individual, seemingly one-of-a-kind pieces that have been handmade or hand finished to display their individual, discerning taste.
Handmade dinnerware forms a niche in a dinnerware sector where industrial production is the norm. Handmade production can range from hand-throwing to hand-decorating. Dinnerware that is wholly or partly handmade starts from mid-high and can go into the premium segments as a suitable proposition for consumers adopting the Home Sweet Home trend.    
Tips:
Stay informed on the trends in food, cooking, and dining by following food-oriented trade fairs, such as Anuga or Biofach, viewing cooking programmes, and reading magazines on the subject.
Be aware that offering handmade products can move you up in the value segments, but that volumes may be limited.
Consider gift packaging. Dinnerware for this group of consumers makes for very good gifts, so gift packaging can add value for both your importer and the reseller.
Millennials: Casual dining
 Millennials will soon  make up the dominant consumer group and most professional HDHT buyers. They are often associated with increased urbanisation, the need for instant gratification, eagerness not to miss out on anything, multitasking and being online 24/7.
Casual dining, or 'fast' dining, is particularly associated with millennial consumers. Instead of the set-piece family dinner, casual diners opt for TV dinners, casual meals (individually, not at set times and in a set arrangement at a set table) and eating out (often at fast-food restaurants). They prefer more everyday functional and affordable dinnerware. As Millennials do not want to stick to traditional norms in dinnerware, such as the need to buy a complete set in a coherent style, they require flexibility – particularly in terms of mixing and matching.
Brand loyalty is not important to millennials, so many heritage brands struggle to capture them. Instead, millennials are quite open to new entrants, with new directions in the use of materials and techniques or with new stories and origins. This scenario offers opportunities for you to produce for new western brands in ceramics or retail.  
Picture 2: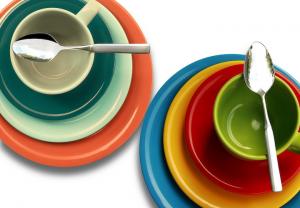 However, today's consumers are flexible: they can be "casual diners" on worknights but turn into "social diners" at the weekend. This creates a need for both dinnerware for special occasions and dinnerware for everyday use.
Tips:
Be aware that offering a mix-and-match option in dinnerware can be attractive but may also mean smaller order volumes per single item.
Consistently experiment with your glazes to achieve as wide as possible a palette for your importer to choose from. As colours can be quite trendy, some colours may have a fast turnaround.
Sustainability: gaining importance across all segments
The industry, and in its wake the consumer, is becoming more concerned about the environmental and social implications of production and consumption. The key reason for mass manufacturers to embrace people-and-planet values is to achieve a competitive edge through cost and reputation benefits. Leaner processes, with more effective use of inputs and energy can be beneficial for both the environment and the cost structure of a product. Established brands may see it as a way to appeal to a younger target group, such as millennials.
Sustainability is a priority for millennials. For them, sustainability is about their future well-being. Millennials, much more so than previous consumer generations, are likely to 'vote with their wallets', that is expressing their preferences through consumption. They buy products that contribute to a better world. Concepts in dinnerware with socially or environmentally friendly principles and practices may win their business.
Tips:
Use sustainable solutions for raw materials, production, transport and distribution, consumer use and waste disposal to make a positive or reduce your environmental impact.
Clearly communicate your sustainable values through your marketing materials.
If your importer is interested, consider certification options such as fair trade. For more information, see our study about buyer requirements.
Artizen creates studio-quality handcrafted dinnerware and homeware in ceramics, copper, and cast iron, materials traditionally used in the craft-rich culture of India. A lot of Artizen's dinnerware is made by hand, and the designs are influenced by nature and Indian cultural expressions. This is quite a niche proposition, which can work in mid-high segments. Interestingly, this is a father-daughter owned business and as such the future of the business seems assured, which is not always the case in the more traditional handmade sector.
This study was carried out on behalf of CBI by Globally Cool B.V. in collaboration with GO! GoodOpportunity.
Please review our market information disclaimer.
Follow us for the latest updates
Search
Enter search terms to find market research