9 tips to go digital in the Seafood sector
As technology advances, many seafood companies are investing more and more in digitalisation and in transforming their businesses into data-driven ones. It is important for you as an exporter to know the opportunities that come with digitalisation. This includes using data for monitoring production of aquaculture or fisheries, opportunities provided by e-commerce platforms, new technologies to aid your production and sales, and digital trading solutions that offer you opportunities to connect with buyers.
1.

Monitor digital trends across the supply chain

The digitalisation of the seafood industry allows producers from developing countries to be able to efficiently enter and do business with the European market. Depending on the part of the seafood supply chain, there are various ways to go digital in the seafood sector, both in fisheries and aquaculture.
Production/fishing
On the production and fishing level, the most common way to go digital is data gathering and analysis. In the seafood sector, knowledge is key and allows you to maximise your production output, predict trends, and manage risks. This can be done by means of smart apps, farm activity or fishing activity tracking apps. It can even be done with drone technology to monitor your aquaculture farms or fishing activities. To make this possible, data monitoring is done by means of data digitalisation, artificial intelligence (AI) or Internet of Things (IoT). Mobile applications to make data analysis faster, easier, and more convenient are also widely available.
Processing
On the processing level, there are various new technologies that can contribute to more efficient processing, such as the use of AI, robotics, automation or software solutions.
Logistics
Digitising logistical operations is important in making sure that the documentation of your products is in good order. Proper labels or certifications attached to your product are also important and are made easier through digitized CATCH certificates.   
Trade
The seafood sector is a highly personal industry that thrives on personal connections and extended networks. At this level of the supply chain, exporters must be able to connect digitally. Today, digital trading solutions such as digital marketplaces that connect buyers and sellers are important to maintain connections in the seafood trade.
Retail and food service
At this level of the seafood supply chain, traceability is key. That is why the most important trends on this level are technologies that help trace your products and monitor your supply chain such as blockchain or DNA technology.
E-commerce and mobile applications also play a huge role in making your products visible online. Many European retailers (especially in North-western Europe) are already using e-commerce to market their products directly to consumers. This is an opportunity to reach out to or partner with importers to allow your products to be displayed in web shops. With home deliveries of products through e-commerce, there is an increased chance for niche products that would otherwise have no shelf space in a physical store to be sold. Using e-commerce platforms and also online marketing increases not only your visibility but also your brand awareness.
2.

Invest in data gathering and analysis

The seafood industry generates a lot of data. However, there is a scarcity of digitised data. That makes it harder for many developing-country exporters to track and analyse their production and trade. For you as an exporter, it is worthwhile to invest in data analysis and data gathering that could help you better understand your business. This can support you in two major ways. By using digitised data on the farmers' production level or data from the fisheries level, you can assess the risks during production. You can also use this data to track historical trends or make predictive analyses on production. Digitising data is useful when you are monitoring quality, volume or price developments, and allows you to make strategic decisions.

In the aquaculture sector, much of the data analysis platforms focus on how to optimise farming, such as by monitoring growth of your farmed species or through disease risk management. For an exporter, this type of data is useful to optimise your production. It is also a great way to connect with other industry players. On a larger scale, there are mapping tool platforms that help local governments monitor farms. An example is Aquascape, which provides quantitative aquaculture sustainability metrics for farmers for disease management. The platform analyses the impact of each shrimp pond for over 300,000 ponds in Indonesia. It uses a mapping tool to assess risks in water quality, water treatment and frequency or intensity of diseases.

"The platform allows the central ministry to have an overview, but on the other side, it also allows the local government or agencies to report more efficiently to the central government in Jakarta either for statistical purposes or export purposes," Rui Gomes of the Longline Environment (LLE), which provides the Aquascape platform, said. The LLE also has other tech solutions including Aquarisk, which monitors financial and farming risks, and Organix, which monitors environmental footprints in aquaculture. Read more about Aquascape's project in Indonesia, and how it is using historical data in order to identify key risks in aquaculture in this article published by the ShrimpTails magazine.

In the fisheries sector, data gathering is mostly used for e-monitoring of fisheries and quality assessment of fishery products. These platforms use various types of technology including satellite data, artificial intelligence, and cloud systems in order to track fishing activity or monitor oceanographic conditions to optimise fishing activities. Other technologies that are used to gather data are quality assessment technologies, which analyses and assesses the products before they are sold to buyers.

An example of a technology that captures data and allows fishermen to share content easily is mFish, which gathers necessary data at the first link, fishermen and farmers who catch and harvest, and enables access to this information through a shared network and via mobile technology.

Another interesting business solution to check out is ThisFish, which uses seafood traceability software and AI to digitise seafood industries from data collection to automating workflows, inventory cost accounting and sales. Their technology can also be configured to comply with various standards and integrate with blockchain technology. Below you will find some samples of the companies and platforms that focus on data analysis.

Table 1: List of companies for fisheries and aquaculture for data gathering and analysis
Fisheries

Aquaculture

Fishery data and e-monitoring

 

Quality Assessment

Data analysis and farm management
Source: Seafood TIP, 2021
Tips:
Check which kind of data gathering platform works best for your business. Assess where your business lacks data and how this data can help your business develop further. 
Go mobile for easy and faster access to information. Check out Verifik8, another platform that collects real-time data from farms, suppliers and processors. Verifik8 assesses the performance of your farms by monitoring these analytics and developments via their mobile or web applications. Big companies such as Thai Union use their services to monitor farm-level developments by using automated voice call surveys to farm workers.
3.

Use big data to your advantage

Apart from production and fisheries data which help you monitor data on a production level, it is also important to be able to monitor trends in the market such as in trade, prices or consumption. In the seafood industry, there are digital platforms that help you analyse and aggregate big data, such as production or trade data or movement of prices. These data can be consequently used for predictive analysis purposes, making it easier to track future trends.

Many large-scale companies already have their own research and data team or department that tracks and analyses this information. However, not many developing-country exporters have the capacity or the knowledge to record, monitor and analyse data.

Developing-country exporters can access data analysis and insights through the European Market Observatory for fisheries and aquaculture (EUMOFA) website, which contains a number of free studies and reports. Developing-country exporters can also use international trade tools to check statistics such as TradeMap and the Access to Markets statistics page of the European Commission.

For companies looking into a deep dive into the seafood sector, you can also check consultancy services of market intelligence platforms such as Kontali, which has an extensive database on aquaculture and fisheries and Seafood TIP (part of Kontali) which also offers data analysis, trade insights and price updates for various seafood species. Atuna (focused on tuna) and Undercurrent News (focused on various species), also member-based platforms, have their own data platforms which include price updates and trade updates.
4.

Consider investing in new technologies to improve production/fisheries

To improve the efficiency of your aquaculture production or fisheries, it is also important to monitor the latest technologies available today. New technologies can improve your production and thus generate more income, and ensure better quality control and safety of your laborers. Another reason why it's important to be up to date is that European importers may be interested in these new technologies. If you employ new technologies in your production, this could consequently be your "Unique Selling Point" (USP) when you present your company to them. It shows that your company continues to improve your production methods through technology.
Robotics and automation
Automation and remote control options have become the latest trend in a futuristic fisheries and aquaculture industry. Technologies like robotic production are being considered for the canning industry in Europe or in the production of farmed fish products.
In the tuna sector, a robot technology called SpecTUNA can help modernise the tuna canning industry, especially those plants that continue to rely on whole round frozen fish rather than buying already cleaned loins. The SpecTUNA automatises the preparation prior to canning, cutting and classifying by automatising processes that used to be done manually. It also provides information on the quality of each of the tuna pieces. This innovation is expected to extend beyond the tuna industry, as the concept can likely also be applied to other fish products such as salmon, hake, or cod.
Figure 1: SpecTUNA exhibition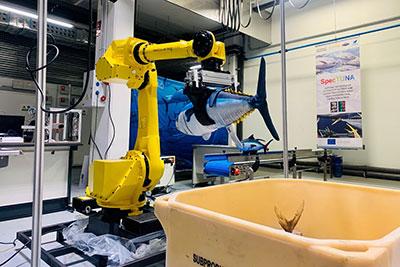 Source: European Commission featuring SpecTUNA
In the shrimp sector, machine peeling solutions that combine various steps such as beheading, peeling and deveining are being offered by some companies such as Laitram machinery. Companies such as Octofrost provide solutions for processing seafood through automation while ensuring food safety and energy efficiency. Automation allows "no hand touch" after heat treatment which is required in some processing lines.
Some new technologies that improve production are also able to record data for future use. In Indonesia, for example, automatic feeders like e-fishery's Smart Feeder is able to record fish growth data digitally. According to its website, eFishery has now evolved into the "first Aquaculture Intelligence Company in Indonesia". Such automatic feeders could potentially lower production costs and even reduce labor.
These technologies may require huge investments from developing-country exporters. As an exporter, it is important to make sure that it matches the needs of your companies and the products you offer before you invest in a technology.
Artificial intelligence and IoT
One of the most important digital disruptors in the seafood industry is the use of AI and Internet of Things (IoT) in fisheries and aquaculture operations. In the seafood industry, AI is already widely used, such as for machine learning for fishery and aquaculture data systems, species recognition (FishFace), tuna quality and tuna grading inspection (TunaScope and GoMicro), and electronic monitoring of fishing activity (SnapIT).
AI can also be used to increase transparency and trust in transactions. XpertSea's platform uses image recognition to predict growth rates and allows users to assess crop data before closing the deal. The marketplace also includes a smartphone app with AI features, which allows producers to capture accurate shrimp health and quality data simply by taking a photo. This enables them to adjust feeding regimes, identify anomalies in animal growth, and make better decisions on how to grow their crops and transact business. AquaByte uses AI to count sea lice and growth rates of salmon. 
The use of Internet of Things (IoT) is also becoming increasingly interesting for producers and fishermen. IoT refers to devices fitted with intelligent sensors that can transmit data to other connected devices over a closed network. There are numerous benefits to using this technology, such as monitoring and creating predictive models for more confident decision-making. In aquaculture, for example, these sensors can be used to measure water conditions to determine the perfect amount of feed and the best time to nourish the tuna according to the environment. Aquacloud is one example of a platform that uses high-resolution data and an IoT-based standard for sensors to identify and analyse sea lice outbreaks.
Drone and ROVs
Remote operated vehicles (ROVs) such as drones have opened up a whole new set of opportunities in the seafood industry. These gadgets allow for a more in-depth inspection without humans actually being physically present at the inspection site.
In aquaculture, some of the uses of ROVs are for accessing and inspecting fish cages and farms for quality inspection. They can also be used for dead fish retrieval systems with live access video and a recorded video for future viewing. An example of such technology is Deep Trekker, which is an underwater drone. Anchors of farming cages can be at a depth of 100 meters; with a drone this depths can be reached safely and when needed.
In the fisheries sector, drones are also used for monitoring of vessel activity, habitat mapping and abundance estimates. Fishermen who have access to drones could use this to spot schools of fish for their catch. An example of a drone for fishing is Tunadrone, which will be commercially available soon, according to the Marine Instruments' website. It allows for easy identification of tuna schools for more efficient fishing operations.
Figure 2: Underwater drone and tuna fishing drone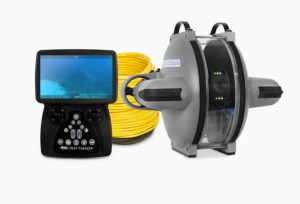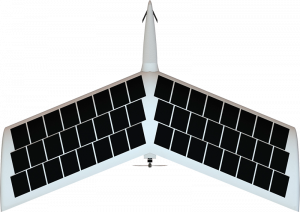 Source: DeepTrekker (left), Marine Instruments (right)
Drones are also used to monitor illegal fishing. Read more on the potential of using drones to monitor illegal fishing in this article by Seafood Source.
Tips:
Assess the need for using such technologies and check if the cost of using these new technologies would be beneficial to your company. You can always arrange for a demo or contact these suppliers beforehand for a personal consultation. Usually these first demos are free and non-committal and help assess if there is a match between the buyer and supplier.
Read this article on the opportunities and new technologies in robotics and automation by the Global Aquaculture Alliance.
Check out new innovations in the shrimp industry which includes new technology and digital disruption in this ShrimpTails magazine edition.
Do not miss out on new technologies by going to the Technology Section or searching with the keyword "technology" in some industry news websites such as Intrafish, Seafood Source, or Undercurrent News.
5.

Check out how satellite imageries can help your business

Satellite imagery has revolutionised our perspective of the fisheries and aquaculture sector as it allows us to gather data from space and increase transparency within the seafood sector. As this technology is quite expensive, this is usually used by organisations or governments to monitor fisheries or huge aquaculture hubs. While satellite technology may be too expensive for you to purchase on your own, as an exporter, you can use information gathered through satellite imagery to understand what is happening in the seafood sector.

For example, Spain-based Satlink, which specialises in technological solutions and developments based on satellite communications, has launched a program designed to train on-board human fishery observers to perform fishery monitoring through video data and satellite imaging.

The program will give regional fishery management organisations (RFMOs), governments, and fishing companies a method of observational compliance that sidesteps complications regarding placing observers on-board vessels during the coronavirus pandemic.

If you are interested in seeing how fishing industries interact with the ocean, or promote sustainable fishing practices, SkyTruth is a good platform to check out. This allows commercial fishing companies to monitor vessel activity and they can also use this platform to promote their own fishing activities. Visit the webpage of SkyTruth or the website of Global Fishing Watch to monitor and identify commercial fishing activities and fishing vessels. The basis of these efforts is the Automatic Identification System (AIS), a tracking system that employs transceivers on ships; over 200,000 vessels now broadcast their location via a transponder.

Figure 3: Harvesting satellite data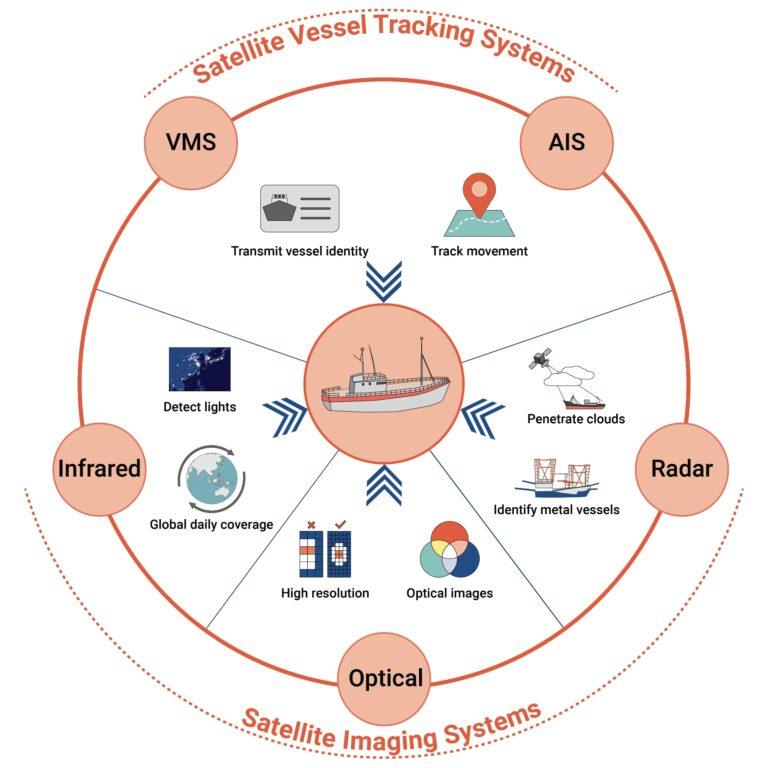 Source: Global Fishing Watch
There are also some companies that offer region or farm site monitoring which can be used on a smaller scale. You can inquire about their services or consultancies on how satellite imagery can be of use to your business.
For example, if you are working in the aquaculture sector, satellite imagery can also be used to gather data from your ponds for better management and monitoring. This can be done on a regional basis or through farm site monitoring. Check out how US-based company SeaWarden monitors shrimp farming activity using satellite observation technology. The technology aims to optimise delivery of inputs, equipment, and technical services to farms, and to enhance the traceability of farmed seafood. With their mobile platform, farmers are also able to share and trade collected data.
In the photo below, for example, you can see how satellite imagery can be used in disaster response. Sea Warden helps detect which farms are affected by the cyclone and how great the damage is to farms.
Figure 4: Colour-enhanced satellite observations from before and after Cyclone Yaas (vegetation displayed in red) hit Eastern India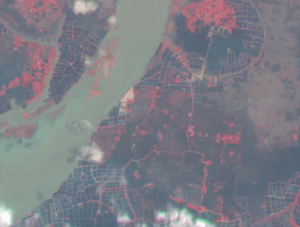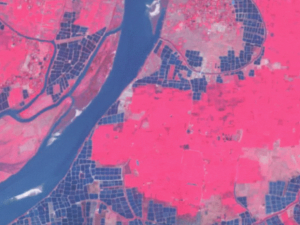 Source: Sea Warden
6.

Trade in digital marketplaces

As more seafood companies use a data-driven approach to improve their production and trade, digital trading platforms have been developed to connect importers and exporters easily, especially in the absence of face-to-face interactions. As an exporter, this could be another method to trade and to introduce your products to the market, get access to financing and insurance, and meet buyers. These digital marketplaces are different from online trade fairs in which you get the chance to meet buyers.

In a digital trading platform, producers can showcase their products, and buyers are also able to choose and assess the product before buying it. By showing what happens on the production and trade side by way of transparent data and information, these marketplaces also have the potential to open opportunities for investments and other incentives that stimulate efficient and sustainable practices. They also try to help farmers access financing and insurance.

Figure 5: A farmer using the digital marketplace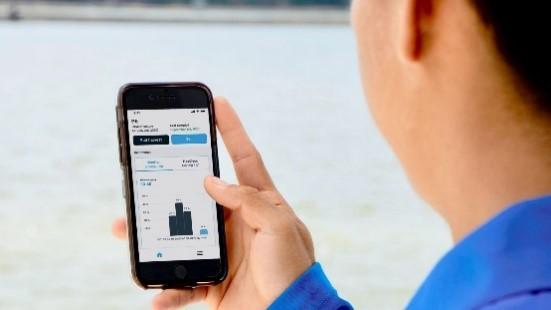 Source: XpertSea
Some digital trading platforms also allow for a same-day payment scheme that gives producers rapid access to fresh capital for their business. Such is the case with XpertSea's data-driven marketplace which has been launched for Ecuadorian shrimp farmers and is looking into expanding in India.  
In a digital marketplace, data reliability and consistency are crucial for building trust between farmers and buyers. Many start-ups and companies are trying to facilitate such online connections, but it isn't an easy task, especially when many traditional seafood companies are very used to physical transactions. Many exporters also do not have the internet connectivity or the access to digital data needed in order to successfully participate in a digital marketplace. Data security and safe financial transactions are also a must in these platforms.
Figure 6: Automated Sales/Request for Purchase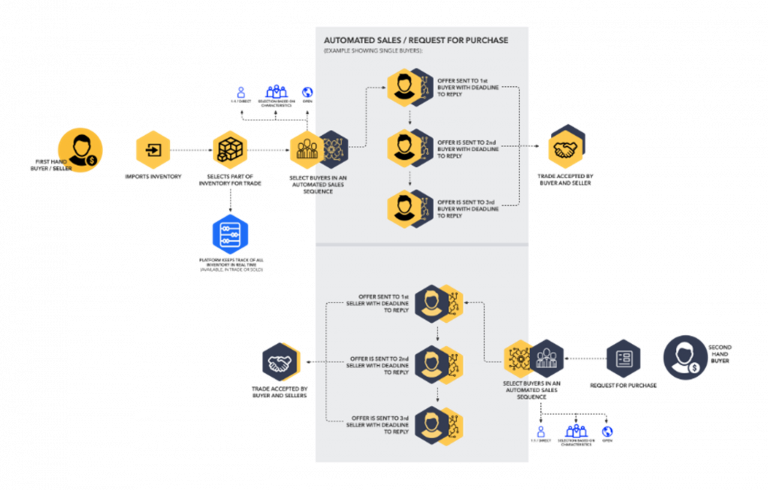 Source: Marine Fish Trade
Some examples of digital trading platforms are:
Tips:
When choosing a digital trading platform, make sure that you understand all the terms. Deal only with verified buyers and sellers.
Check out this article on "The Need for a Digital Marketplace" and "Digital Disruption" in the shrimp industry published by the ShrimpTails Magazine in order to understand which trading solutions are already in place and the importance of going digital in the shrimp sector.
7.

Make sure your supply chain is traceable

As discussed in the previous tip on transactions in a digital marketplace, trust is an important factor in doing business in Europe. It is crucial not only for European importers, but also for consumers in Europe. The European Union itself is promoting the "farm to fork" strategy to enable business to make fair, responsible and sustainable choices. One of the ways to achieve this is through traceability.

The General Food Law Regulation in the EU has required all food businesses to work on traceability by following the principle of "one step back, one step forward". This means that a business must be able to trace a product back to their direct supplier and identify the product's direct recipient through product and batch coding.

Traceability allows buyers to check the supply chain of your product from "sea to table" for wild-caught products or from "farm to fork" for aquaculture products. For European buyers, full traceability and transparency means that documentation on all the steps of the supply chain is available, and that you are open and transparent in your communication about your company. Having traceability ensures that your seafood products provide assurance and transparency for your end consumers.

In the diagram below, you will see that traceability is a key element that helps push digitisation in the global seafood industry.

Figure 7: Factors driving digital transformation in Seafood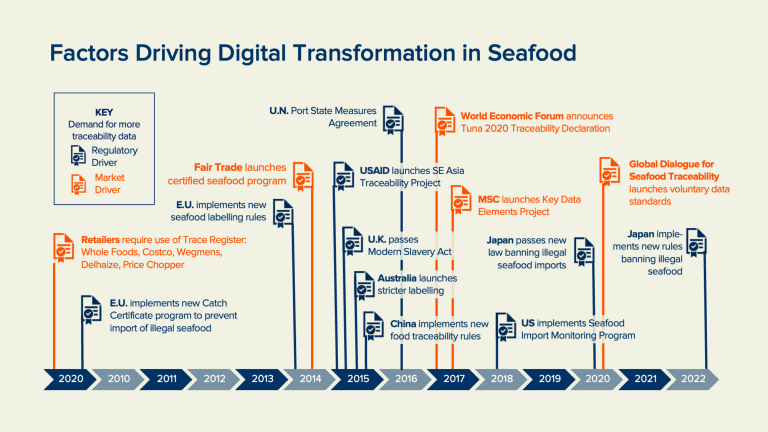 Source: ThisFish
There are many ways to ensure your product is traceable. Blockchain and DNA technology are two of the most commonly used in the seafood sector. Exporters can look into these technologies in order to monitor their supply chain and digitise all relevant information, which exporters can use in pitching their products to European importers. Traceability is becoming more and more important today as the demand for assurance in aquaculture and fisheries increases. Therefore, exporters who make their products traceable not only improve their supply chain, they also are able to expand their market access as more European retailers use traceability as a requirement. For example, digital traceability is important for the Marine Stewardship Council. Read more about Supply Chain Assurance in the MSC's Annual Report 2019-2020. 
Blockchain Technology
Blockchain is already used by some of the larger companies in the seafood industry. Blockchain works like an online bulletin board where you can track and add and share information. Some of the most common seafood commodities that integrate blockchain are tuna, Patagonian toothfish and farmed shrimp. By using this technology, not only are exporters able to have a higher level of control and real-time monitoring of their supply chain, it also deters illegal activities through transparency.
Figure 8: Tracing shrimp with Blockchain
Source: ShrimpTails
In the fisheries sector, traceability is also equally important in fisheries management. Companies such as Thai Union use blockchain technology in order to increase their traceability. In an article written by Dr. Darian McBain, Thai Union's Sustainability director, she said that "Traceability increases customer confidence in food products, thanks to verification that it's been procured sustainably, and the ability to prove the legality of a product is an important step towards addressing IUU fishing."
Thai Union, a huge player in the canned fish industry, has committed to a global tracking service for their brands. For example, John West (part of Thai Union Group) promoted their ability to provide sourcing information to consumers who purchased their canned fish through the "Trace your plate initiative."
For exporters who are able to prove that their products are and can be traceable, this could be a good selling point to retailers and food service parties in Europe. As an example, a group of major producers in Ecuador, the Sustainable Shrimp Partnership (SSP), introduced a traceability web application based on blockchain technology. With this technology, buyers, retailers and consumers around the world can scan the QR code and discover how the shrimp was grown and see key indicators on its safety.
DNA Technology
You can also use DNA technology to monitor your supply chain. IdentiGEN, which already works in Thailand and Vietnam, ensures that the products sold to the end consumer originates from approved sources that meet the required standards.
MSC also conducts an independent DNA Testing Program for MSC-labelled products to ensure that they are correctly labelled. According to MSC, DNA barcoding provides a vital tool to verify the authenticity of seafood products, deterring the commercialisation of endangered and vulnerable fish species and preventing seafood fraud.
Figure 9: The DNA Testing Process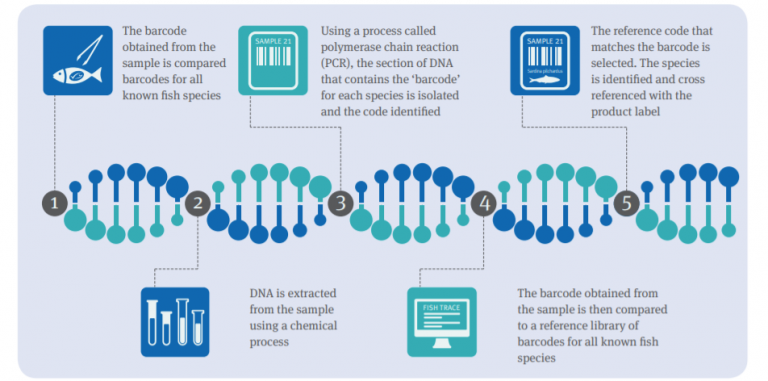 Source: MSC
Table 2: Samples of companies working on traceability methods using blockchain and DNA technology
Source: Seafood TIP
Tips:
Traceability is a strong and unique selling point to importers in Europe as traceability becomes more in demand. Promote your ability to submit data about your product and supply chain to potential buyers.
If you do not have a traceability system in place, it is good to first assess your supply chain and how well it is connected. Check if every part of your supply chain is documented properly and digitally. Then assess the need for incorporating blockchain technology or DNA technology in your supply chain.
Read the study on the application of blockchain in the seafood supply chain by the Globefish FAO.
Review our Trends study and our study on the European demand for seafood to understand the importance of traceability and transparency for European importers for retail and the food service sector, and the increasing demand for traceable seafood. It is important to monitor these seafood trends in order to help you in your business-making decisions as well as to build more connections.
Check out ShrimpTails' magazine article on using blockchain in the shrimp supply chain as written in the September 2018 edition, which focused on innovation in the shrimp industry.
E-monitoring
In the fisheries sector, one of the most pressing issues is illegal, unregulated and unreported (IUU) fishing. Through electronic monitoring (e-monitoring) technology which uses GPS monitoring and video feeds, tracking these illegal practices has been made easier. Moreover, vessel tracking technologies combined with new software and data collection platforms are being integrated into supply chains. Vessel monitoring also informs fishing authorities on the location, course and speed of vessels.
Why is it important to learn about e-monitoring? As an exporter, making sure that IUU, traceability and transparency are addressed is also a vital component in applying for certifications such as the Marine Stewardship Council (MSC) label. Having the MSC label opens more markets for your product in Europe, particularly in the retail sector where certifications are increasingly required.
Through e-monitoring, human rights violations such as trafficking and other abuses can also be reduced. In recent years, mobile technology has also become popular among ship crew staying at sea for longer periods of time. This could provide opportunities to check with family or authorities, and to keep track of the whereabouts of workers at any point in time. An example is smartphone applications to build an online community for migrant workers. This bridges the social connection lost with their families while at sea, and also makes labour monitoring and workers' protection easier. The Project Issara uses voice reporting technology to track and monitor welfare of workers at sea and detect labour and social risks while working.
Another example of digitalisation in the field of e-monitoring is the use of electronic documentation. Electronic catch documentation and traceability (eCDT) is the practice of documenting key information about the harvest, processing, and transportation of fisheries products to enable traceability. Doing so electronically, electronic catch documentation and traceability ensures this information can be more quickly and easily captured, shared, and managed.
Another initiative by the EU to increase traceability that exporters should know about is CATCH. It is the first IT tool to streamline checks and verifications of catch certificates for fishery products entering the EU market. The Regulation establishes a catch certificate (CC) scheme to assist member state authorities in detecting and blocking illegally sourced products at their borders. The CC scheme also identifies and flags third countries who are not cooperating in the fight against IUU fishing.
The EU also provides ways for exporters to check and verify the compliance of fishery products entering the EU market through TRACES, an online platform for sanitary certification required for the import of seafood products. The main objective of TRACES is to streamline the certification process and all linked entry procedures and to offer a fully digitised and paperless workflow. Through TRACES, exporters are also able to check why certain products are flagged by the EU or are rejected at the border.
8.

Use the boom of e-commerce to your advantage

A recent study by EUMOFA showed that e-commerce or online shopping is becoming increasingly widespread in the European Union (EU). Consumers continue to appreciate the various advantages that come with shopping from home, including freedom to shop remotely at any time, access to a broad range of products, and ease of making price comparisons. E-commerce in the EU has grown steadily in recent years across all commodity groups. Today, the EU is one of the largest e-commerce markets in the world. The proportion of e-shoppers varies considerably across Europe. The proportion of individuals aged 16–74 having shopped online in the 12 months prior to the 2019 survey stood at 63%.

Below you will find some examples of retail stores that are also active in online sales.

Table 3: Examples of online supermarkets with e-commerce services

Source: Seafood TIP, 2021

Online platforms such as search engines, e-commerce platforms, app stores, and price comparison websites play an increasingly important role today. In the earlier section, we discussed the importance of using digital trading platforms to introduce your products to potential buyers. As more European importers (mostly retailers) engage in e-commerce platforms, the exporters' products also have the potential to be featured in the web shops and get an increased visibility online.

For exporters, it is important to monitor the e-commerce activity of their importers, and if possible, to enter a joint venture or discuss a collaborative project where buyers from e-commerce platforms can directly see details about the products' exporters. This could be an opportunity for exporters to tell their own story about sustainability or how a product is caught or farmed. By directly reaching out to your importers who host e-commerce platforms, you can also find out if there are any needs or changes in requirements that would make your products more sellable to online consumers, for example, including stories about the products' sustainability and origin in the web shop, or tailoring the packaging of your products for online delivery. By collaborating with importers (and retailers), your niche products that would otherwise have no shelf space in the physical stores of retailers could also be included in the web shops.

In seafood, most of these e-commerce initiatives are usually combined with the sales of their physical shops and rely on what is present in their stock/inventory. They are particularly strong in Northern Europe where online retail is thriving. Many of the products that developing-country exporters supply also fall in the ethnic retail chain, especially targeted to the ethnic population.

The advantage of using e-commerce platforms are broad and include improved promotion of products, increased sales and marketing, and also diversity of customers. Some traditional fishmongers or wholesalers may see online e-commerce platforms as a threat; however, there is also an opportunity to make e-commerce platforms complementary to the traditional business. Online sales also allow for better monitoring of sales volume and unit value, useful information that can help producers to better know their market. As the possibilities of e-commerce are endless, your platform can also be supported by additional services such as blogs, cooking tips, or videos that can attract attention. You can discuss the opportunity of e-commerce with your buyers (whether in retail or food service) regarding the possibility of offering the products online.

Alternatively, you can also set up your own e-commerce platform that is targeted more to importers and potential buyers. If you already have a website, you can add a web shop feature that allows importers or potential buyers to know your product catalogue and the prices. This kind of approach is more targeted to B2B transactions. Not a lot of exporters have this web shop feature available. At the moment, most exporters usually partner with retailers for their e-commerce activities, however, building your own e-commerce platform could also present some opportunities for faster and easier transaction with importers.

Using e-commerce platforms can be expensive. First, you need skilled IT workers or administrators to operate your platform. Moreover, the lack of trust is a key factor that can be a barrier to the development of online sales in a sector where seeing the product before purchase has been important to guarantee origin, freshness, etc. Trust issues mostly arise from buyers when buying remotely and from producers used to being paid immediately. In e-commerce, one of the most important online platforms is social media. In this digital age, the power and influence of social media has become even more relevant.
9.

Use various digital tools to keep updated

Finding the right digital solution for you largely depends on the needs of your company. Thus, it is good to keep up to date on the latest digital technology available and how it can help your business.
Consider investing in business software or outsource digital tech
Enterprise Resource Planning (ERP) software applications have been used since the last couple of decades for better planning and optimisation of company resources. The ERP system can cover supply chain management, traceability, tracking inventory, quality and control management, purchasing and sales. It can also help you oversee financial aspects of your business and can help you build predictive analysis models, which will allow you to stay ahead of developments and monitor trends in the country you are exporting to.
ERP platforms are usually generic and are applied to almost all business. There are some platforms that are used in a different range of industries (but can possibly also be applied to seafood) such as Oodoo. However, some of the platforms that focus on seafood industry ERP and business solutions are Inecta Seafood, Baass, CSB, and SEDNA Technologies. ERP solutions are commonly used by some of the larger fishery companies. However, for small businesses and enterprises, you can try some of the cheaper software solutions that are focused on time management, CRS management, job scheduling, payroll applications for fishermen and farmers or team management.
Be constantly updated with the latest digital innovations and technologies
Perhaps the most obvious way to stay connected digitally is to maintain presence and activity online. Various media sources help exporters keep track of the latest innovations in the fisheries and aquaculture sector digitally. You can do this by searching keywords such as "digital", "innovation," "technology" or other relevant keywords in the search box and see what new articles and stories come up.
Some examples of news media websites updated daily are Undercurrent News, Seafood Source, Atuna (specifically for the tuna industry), and Intrafish Media. In some publications, you can also occasionally see articles that focus on digital trends and innovations, and these magazines or publications can give you a deeper understanding of these innovations. Some examples are ShrimpTails magazine, Fish Farmer magazine, Aquaculture magazine, Aquaculture Europe, and American Fisheries Society.
Attend seafood conferences and fairs to update your knowledge
Seafood shows, trade fairs and conferences are a good way to brush up on the latest technology available to the industry. At these conferences and fairs there is usually a dedicated session for new technology and innovations which could provide you with knowledge and updates on the latest innovations and technologies in the industry. In these sessions, exporters also have the chance to ask questions or speak with a panelist or a presenter about a specific technology, and can also build connections and network.
Some seafood shows to monitor are the Seafood Global Expo, GOAL conference, TARS Aquaculture, European Tuna Conference, AquaExpo, and Infofish. For more information about attending online seafood shows and webinars, please read this article written by CBI.
This study has been carried out on behalf of CBI by Seafood TIP.
Please review our market information disclaimer.
Follow us for the latest updates
Search
Enter search terms to find market research