Entering the European market for pacific white shrimp
To get your pacific white shrimp on the European market, you first have to make sure you comply with all the mandatory requirements. In Europe, Pacific white shrimp is the most popular shrimp product on the market, due to high availability and relatively low prices. This offers you a huge opportunity, as the product has its place in both mainstream markets, like supermarkets and food service, and niche markets. However, this also makes for a highly competitive market, which has its own requirements.
1.

What requirements must Pacific white shrimp comply with to be allowed on the European market?
What are mandatory requirements?
Specific approval for exports of aquaculture products
To export your Pacific white shrimp to Europe, your government needs to have a residue monitoring plan (RMP) in place which has been approved by the European food safety authority. This plan needs to detail how the competent authority in your country ensures that no forbidden substances (like antibiotics that are important to human health) are used during the production of aquaculture products destined for export to Europe in order for those products to be considered safe for human consumption.
The 'competent authority' is the government department in your country that the European Union finds the most capable (competent) of monitoring the seafood and fisheries products to be sent to the European Union. The European Union enters into an agreement with this department, giving them responsibility for the mandatory control measures before export.
In India, the competent authority is the Export Inspection Council, which delegates part of the responsibility to the Marine Products Export Development Authority (MPEDA), both under the Ministry of Commerce. In Bangladesh this is the Department of Fisheries under the Ministry of Agriculture, Fisheries and Rural Development. In Vietnam it is NAVIQAD, the Quality Department of the Department of Fisheries under the Ministry of Agriculture. In general, the competent authority is a department in the ministry under which aquaculture and fisheries are regulated.
Once the European authorities have approved your country's residue monitoring plan, your country is allowed to export aquaculture products to Europe. However, your company itself also needs to have approval, so the competent authority will need to audit your facilities and management systems and ensure that these comply with the requirements in the RMP. Your company will then get an 'Aq' code, which stands for Aquaculture processing facility on Europe's list of approved facilities.
Aside from approving your facility for processing, the competent authority should be able to trace back a problem to its source. An example is the case of a shipping container of Pacific white shrimp being rejected in Europe due to the presence of a forbidden substance. Your government must ensure that your competent authority is able to trace the problem back to its source, if needed down to the level of the farm from which the product in the container was sourced. The European authorities will require that your company and the competent authority submit a corrective action plan to prevent future repetition of the issue.
It is crucial for you and your competent authority to work together to comply with European regulations, as becomes clear from the recent case of India. India is currently being subjected to a 100% check rate for containers of Pacific white shrimp exported to Europe, because various containers of Indian shrimp were rejected in previous years due to the presence of antibiotics. Indian authorities failed to convince European authorities that India would be able to prevent more rejections through the right corrective measure. As a result, European authorities imposed more checks, making exports from India to Europe risky for importers.
European authorities will audit your country's RMP on a regular basis. This is a separate audit, only focusing on the control of residues in aquaculture operations. You will need to work together with the competent authorities to follow up on any shortcomings identified by the audit team. If you follow up constructively and actively, it is very likely that this will satisfy the European authorities. The main aim of the audit is to ensure that the situation in your country is being continuously improved, until all requirements of European legislation are met.
Tips:
Check whether your company, or those of your competitors, have already been approved for exports of aquaculture products to the European Union on the European Union's website. If not, contact your competent authority to find out how approval can be achieved.
To understand how the European Union audits your country's RMP, check whether a recent audit report has been published on the European Union website. If no report has been published for your country, check the latest audit report of India's RMP to understand the type of questions that are asked and requirements that exist.
Search for information in the database of the Rapid Alert System for Food and Foodstuff (RASFF) to learn which shrimps have been withdrawn from the market and why.
You need to be able to trace your shrimp back to the farm
The European Union requires that you have the systems in place to identify the immediate supplier and buyer of your products (1 supply chain step forward and back). This means that, when you mix products from various suppliers in 1 lot, you need to be able to show the different suppliers per lot. Similarly, this applies when you source directly from farms or different agents. In any case, you need to be able to identify the products in such a way that you can trace the raw materials back to the harvesting stage. The more precisely you do this, the fewer products you have to recall when a problem occurs.
Labelling is slightly different for aquaculture products than for wild-caught products
Pacific white shrimp products need to be labelled according to the European labelling requirements for aquaculture products. To understand the complete overview of labelling requirements read the CBI buyer requirement study. The following requirements are relevant, especially if you export Pacific white shrimp to Europe.
Contrary to wild-caught seafood products where you need to mention the specific catch method, for aquaculture products you only need to mention the production method: 'farmed'.
For wild-caught seafood products, you are required to include the FAO zone where the seafood was caught. For aquaculture products, you only need to mention country of production (for example, Honduras). If your product consists of Pacific white shrimp from various origins (for example if you sourced raw materials from another country) you should include all countries on the label.
As mentioned in our trend study, there is increased attention for how added water must be labelled. For value-added products, the added water must also be included on the package labelling if the added water makes up more than 5% of the weight of the finished product.
For the last couple of years, the label should include the net weight of the product. Listing the gross weight on the package labelling is no longer allowed, as this is considered to be misleading to consumers.
Tips:
Check the European Union's pocket guide for labelling of wild-caught and aquaculture products for a full overview of how to label your Pacific white shrimp products.
Be sure that you and your client are aligned on how the product should be labelled. The buyer should be able to provide you with all required input.
What additional requirements do buyers often have?
Buyers want extra guarantees on food safety and on the well-being of people
Many European buyers want products that are processed under quality standards that exceed the standard European hygiene rules. There are certificates that guarantee these stricter standards.
Some of those additional requirements include temperature control during processing, hygiene, traceability, condition of the cold store and safety protocols. Several internationally known quality certifications give buyers those guarantees. The most requested food safety certifications are International Food Standard (IFS) and/or British Retail Consortium (BRC). Making this investment is clearly a good idea, since it is not only a must for the European market, but also for other markets around the world.
Another requirement that is more in demand is to have your Corporate Social Responsibility (CSR) in place. This proves that you are involved in the well-being of your staff and community. Even some sustainability standards, such as ASC, are now developing their CSR standards which can be combined with the production standard. However, there are also more focused labels.
Tips:
Different buyers use different payment terms
With seafood purchases, there are no standard terms of payment and delivery, as each party negotiates for the terms that best suit them. In these negotiations, company size and the volume of its purchases, as well as how much competition either the buyer or seller faces, can determine the bargaining power of each party. To understand how to work with European buyers, we advise you to read organising your exports with Europe. There, you will find more details on what terms buyers might prefer and what terms might be better for you.
Specific sustainability certifications requested by buyers
If you want to do business with European supermarkets, you will need to invest in getting your farms or your suppliers certified for sustainability. At the moment, the leading certification scheme within European retail is the Aquaculture Stewardship Council (ASC) shrimp standard.
However, over the last years, the Global Sustainable Seafood Initiative (GSSI) has worked on a benchmark system for sustainability certifications. Through this, they ensure all GSSI-approved certifications are aligned with the FAO standard and are therefore the best to use. As more standards are included now, a lot of retailers (and other seafood companies) align themselves with GSSI.
This provides an opportunity for you as an exporter, as more seafood certification schemes will enter the market, such as Best Aquaculture Practise (BAP) of the Global Aquaculture Alliance. However, most consumers are not yet familiar with these other standards, so retailers might keep their focus on ASC for now. These sustainability standards will be a licence to produce in a couple of years.
Specific product requirements per market
Other requirements mainly relate to the type of products. For instance, the colour of the raw frozen and the cooked frozen product. For example, head-on shell-on size requirements might be specified to produce specific products. An overview of the most common product specifications is provided in the table below.
Table 1: Requirements from 2 main markets for different products
Market

Segment

Main products required

Colours required

Main HOSO sizes required

Southern Europe

Raw material chilled market

Raw HOSO bulk

A2 but mainly A3/A4

21/30 - 51/60

Finished product retail / food service

Raw HOSO boxes

A2 and A3

21/30 - 51/60

Finished product retail / food service

Raw and cooked HLSO and peeled bags

Not relevant

41/50 - 80/120

North-western Europe

Raw material chilled market

Raw and cooked PD and PUD blocks

A1 to A3

41/50 - 80/120

Finished product retail / food service

Raw and cooked HLSO and peeled bags

Not relevant

41/50 - 80/120
Source: Seafood TIP (2020)
What are the requirements for niche markets?
Europe's Pacific white shrimp market includes a niche market for organic products. According to the European Union organic aquaculture standard, only species that are native to the production area can be certified as organic. This means that only Pacific white shrimp farms located in South, Central or North America can be certified organic, since Pacific white shrimp is not native to Africa, Asia, Europe or Oceania.
The European Union organic aquaculture standard is the minimal requirement buyers for the organic niche will have. Some buyers may require additional certificates like Naturland from Germany or Agriculture Biologique from France.
Tip:
To understand the requirements you need to comply with to get organic certification, check out the European Union organic aquaculture standard or the standard published by the German based Naturland. You can also see in this list which companies around the world have been certified by Naturland for Pacific white shrimp.
2.

Through what channels can you get Pacific white shrimp on the European market?

The most relevant European end-market segments for Pacific white shrimp are retail, wholesale and food service. You can access the market through partnerships with retailers or importers or by going through an agent. As the European market for Pacific white shrimp is really diverse, it also depends on what type of products you can offer. If you do not have sustainability certifications, it is better to start at the wholesale level instead of retail.
How is the end market segmented?
Retail consists of supermarkets, specialised fishmongers and street market stalls that sell Pacific white shrimp directly to consumers. Wholesale and food service consist of specialised and broadline wholesalers that sell Pacific white shrimp to restaurant chefs.
In retail, Pacific white shrimp is often sold both chilled (refreshed) as well as frozen. In wholesale and food service, Pacific white shrimp sales are almost entirely frozen.
The importance of 1 segment compared to the other can vary significantly between different parts of Europe. For example, in southern Europe, street markets and specialised fish shops have quite a strong position in the market, and some consumers prefer buying their chilled shrimp there. In north-western Europe, supermarkets account for a larger proportion of shrimp purchases. Throughout Europe, at least somewhere around 50% of shrimp for home consumption is purchased in supermarkets.
In this section, we will focus on supermarkets and the broader wholesale market. Jointly, these 2 channels represent the vast majority of the European market for Pacific white shrimp.
Figure 1: End-market segments for Pacific white shrimp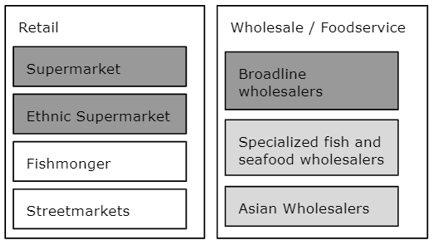 Source: Seafood TIP (2020)
Retail
Pacific white shrimp is continuously gaining market share due to the low price levels. It is often the cheapest option and European consumers are price oriented. Overall, although shrimp sales have increased in general, Pacific white shrimp sales have grown even faster than average. The demand for Pacific white shrimp was clearly visible during the first COVID-19 outbreak in Europe. Supermarket sales spiked, and retailers mentioned they sold 40-60% more Pacific white shrimp than normal, both fresh/refreshed and frozen.
Almost all supermarket chains will sell Pacific white shrimp in their frozen assortment, and in their fresh and refreshed assortment. In southern Europe, the fresh and refreshed products are mainly sold at fresh counters, with a small portion sold pre-packaged, while in the rest of Europe fresh and refreshed products are mainly pre-packaged. In southern European supermarkets, it is mainly sold as cooked head-on shell-on (HOSO). In the rest of Europe, it is mainly sold as raw peeled products, sometimes marinated in a sauce.
In the frozen assortment of supermarkets in both regions, peeled Pacific white shrimp products is mainly sold in 250 g-1 kg bags. In southern Europe, IQF or Semi-IQF HOSO Pacific white shrimp is also offered in 500 g-1 kg carton boxes. Most of the bigger retail organisations sell frozen shrimp under their private label, but often also have a few other brands in their assortment. In ethnic retail, most products are sold under supplier brands, either the brand of the European importer or the brand of the producing country's exporter.
In general, high-end supermarkets have a wider assortment of shrimp than budget supermarkets. However, this does not necessarily mean that they sell more Pacific white shrimp. Higher-end supermarkets, especially in southern Europe, will often also offer a variety of wild-caught species and black tiger shrimp. Most budget supermarkets, which are of course more price oriented, will sell only Pacific white shrimp.
In terms of the quality of raw materials, it is important to understand that requirements for HOSO products are much more stringent than for peeled products. The end quality is associated with the freshness of the product before freezing and the colour of the shrimp before cooking.
Wholesale
Pacific white shrimp has recently been gaining market share in the wholesale market at the cost of other, more expensive, species. There are 3 types of wholesalers relevant for you. The first is the broadline wholesaler who sells a full range of products to chefs.
Broadline wholesalers often have a relatively limited seafood product range, which often includes Pacific white shrimp, but certainly also other shrimp species. The volumes sold by these broadline wholesalers are often relatively large, as they operate many shops throughout the country. Examples of international wholesalers active in Europe are Hanos and Bidvest.
Specialised wholesalers are those who only sell seafood (sometimes in combination with meat). In general, they will have a broader and perhaps more exclusive product range. For these wholesalers, Pacific white shrimp might be slightly less dominant in their sales portfolio. However, especially for cooked shrimp dishes like curries, soups and pastas, the cheapest option is preferred, and this is often Pacific white shrimp. Examples of specialised wholesalers are Jan van As in the Netherlands and Rari in Germany.
The ethnic wholesale market for Pacific white shrimp consists mainly of Asian wholesalers supplying Asian restaurants in Europe. Shrimp is a solid menu item in Asian cuisine, whether it is Chinese, Japanese or Vietnamese. Traditionally, the Asian market would purchase more black tiger shrimp, but nowadays many have shifted to Pacific white shrimp. They mainly buy headless shell-on and peeled blocks, to thaw out and sell to Asian restaurants.
Broadline wholesalers mostly work with importers, while specialised importers sometimes import directly. For broadline wholesalers, shrimp is just 1 of many items. For specialised wholesalers, shrimp is a key product. For the Asian market, there are specialised traders who import full container loads for Asian wholesalers. An example of such an importer is the Belgian importer Seacorin.
Tips:
Read this report on the seafood market in France to find facts and figures on the seafood French consumers prefer and where they buy it.
Study websites of retailers in southern and north-western Europe to get a better understanding of product assortments.
Use Google Translate if you are trying to access a company website linked in this study and the website is not available in a language you are familiar with. Companies that you might be interested in may only have their websites translated into the languages that they use most often.
Through what channels does a product end up on the end market?
Although there are many channels through which a product reaches the end market, the most important are the ones that supply supermarkets and wholesalers respectively. Take a closer look at these in Figure 2, which shows how products move along the supply chain from an exporter in a developing country to a supermarket in Europe. The figure is followed by an explanation of the role of each actor in the supply chain.
Figure 2: Market channels in the European shrimp market
Source: Seafood TIP (2020)
In the figure above, the actors in lighter boxes are those who are only a service provider to a buyer or a seller. These actors never actually own the shrimp and are often not involved in the financial transactions related to the ownership of the shrimp. Such actors include the local agents, who support buyers in sourcing products or quality control, and logistics providers who ensure the cold-chain during transportation but never own the product. The actors in the darker boxes in the figure are those who actually buy and sell the product.
Local agents play a crucial role in the Pacific white shrimp trade. Although buyers regularly visit potential suppliers, they also need boots on the ground who can ensure that quality requirements are met, that the best suppliers are selected and that the best prices are secured. Even though there is a tendency among certain importers to want to do business more directly, quality control and sometimes even negotiations and logistics often remain outsourced, in which case an agent will act as primary contact point between you and your client. Examples of such agencies are OFCO and Fresh Studio.
Some larger importers have set up local offices in countries like Vietnam, where they have local staff who ensure the quality of products destined for Europe and who facilitate price negotiations with potential suppliers. In that case, agents are no longer needed. Seafood Connection, for example, has its own office in Vietnam, which is responsible for coordinating all purchases for the company and is also involved in exporting some European products to the Asian market. Only bigger players have offices; smaller importers will work with agents.
Some retailers and bigger wholesalers also have purchase offices that coordinate direct purchases at origin, such as Bidvest, Metro (both global broadline wholesale companies) and Colruyt (the largest Belgium-based retailer). All 3 have their purchase offices in Hong Kong.
The most common type of importer in Europe are the ones that import frozen products in finished form. There are more suppliers that supply wholesale than ones that supply retail, because retail requires more financial strength and stronger logistics. There are even fewer importers that supply refreshed products to the retail sector, since being able to supply refreshed means that an importer needs to have a huge infrastructure available for thawing, preparing and packing the product, as well as for fresh logistics.
Those doing business with supermarkets are bigger than those only serving the wholesale segment. Doing business with retail requires a stronger financial position and a stronger logistical set-up.
In wholesale there are importers who sell entire container loads, and even ones selling at master carton level. The importers take care of all logistics from the moment that the container arrives in Europe, until when the container or master carton reaches the customer.
Examples of importers who supply retail with frozen final products are Fisherman's Choice and Seafood Connection in the Netherlands, Shore in Belgium, Argis and Escal in France, Delfin in Spain, and The Big Prawn Company in the United Kingdom. Examples of importers that are more focused on the wholesale market are Dayseaday in the Netherlands, Hottlet and Seacorin in Belgium, Frial in France, and Dockside in the United Kingdom. The Pacific white shrimp import volumes of these companies may range from a couple hundred of tonnes to a couple thousands of tonnes each.
The group of importers of re-processed products for supermarkets is much smaller. In southern Europe, there are about 10-20 companies (Gambafresh, for example) that have their own cooking facilities where they further process HOSO shrimp, before they supply it to the ready-meal industry or supermarkets. In Northwestern Europe, there are another 10-15 companies, like Foppen, that import peeled products in bulk to further process these into chilled products for industry and supermarkets.
The main activity of these companies is to thaw the products, further process them, repackage them (in bulk for industry or consumer packaging for supermarkets), and then distribute the product. The facilities required for processing and logistics are substantial, and only a few groups are able to make these kinds of investments.
The most important reprocessing groups in north-western Europe are Heiploeg (Parlevliet van de Plas), Klaas Puul (Dutch Seafood Company), Morubel (Shore) and Lyons Seafood. In southern Europe, the biggest cookeries are owned by Labeyrie Fine Foods, Pescanova and Gambastar. These buyers buy much bigger volumes than importers who supply frozen shrimp only. Volumes may range from 2 tonnes to 20 thousand tonnes.
In some cases, the European processors supply their goods to other industry players, mainly those in the ready-meal sectors. The ready-meal segment in European supermarkets is expanding rapidly, with Pacific white shrimp included on the menu. Pacific white shrimp is used as toppings for salads, pizzas and pasta dishes. However, shrimp is often considered too expensive. The ready-meal segment is very price oriented and margins are small; chicken is often the preferred protein ingredient in ready-meals.
If a retailer or wholesaler/food service company buys directly from the source and skips the importer, they are likely to make use of a strong logistical service provider who takes care of all logistics that normally would be the importer's responsibility. Often this service provider is a cold storage company that also offers freight handling services. Examples of companies that handle significant volumes of Pacific white shrimp are Antwerp Coldstores in Belgium and Frigocare in the Netherlands.
Tip:
Engage with European-run agencies: in general, European buyers like to do business with a European agent who speaks the same language.
What is the most interesting channel for you?
The supermarket channel in Europe is only interesting for you if you have already certified your farms, factory and processing establishments with ASC or another sustainability or organic certification, or if this is a realistic option in the short to mid-term. If this is not the case, it is better to focus on finding customers in the wholesale market or the ethnic retail channels. These channels offer ample opportunities, and such certification requirements are less common.
When COVID-19 took hold in Europe, 1 of the first industries to take a direct hit was the food service industry. This meant stocks built up quickly at importers, and even shipments were placed on hold or rejected. As a result, importers for the wholesale and food service sectors have become more careful with their purchases. Importers for retail have had empty stock as a result of the peak demand in March and April and the continuation of the good sales in retail. While some of the stock from the food service sector has been made ready for retail, there is still stock present. If you want to enter the European market, remember the dynamics which the sector has experienced during COVID-19 and remember that importers will be careful. If you are already exporting, read this study about how to respond to COVID-19.
While the number of players selling fresh and refreshed shrimp to retail is under 2 dozen, the number of players selling frozen shrimp to supermarkets is probably in the range of 50 to 100 importers, while the number of frozen shrimp suppliers selling to wholesale and ethnic retail can easily add up to more than 300 or 400. The disadvantage is that these segments are more volatile and unpredictable than the supermarket segment. This forces you to be flexible and maintain a broad network of buyers to always have a market for your product.
In the Netherlands, potential end buyers of your products are broadline wholesalers Hocras or Sligro, specialised wholesaler Jan van As, or ethnic wholesaler Ebo van de Bor. Your client would normally be an importer who takes care of all logistics and customer service to the wholesaler. You will only be responsible for loading the shipping container. Examples of big Dutch wholesale suppliers are Seafood Connection, Dayseaday, Fisherman's Choice, W.G. den Heijer and Mooijer.
Tips:
If you have made up your mind about which market in Europe you want to enter or expand in, hire an agent or consultant who can help you identify the buyers in whatever market that may match your profile.
Visit websites of sector associations in Europe in which shrimp importers have organised themselves, like SIPA, in Belgium. Here you can find member lists that will give you a quick overview of the relevant buyers. Be sure to study the companies in detail before you approach them. You only have 1 chance for a first impression.
For some origins like Ecuador, Colombia and the United States, it is possible to purchase customs data that will allow you to see who is buying what from whom. This level of detail may be very helpful, as it allows you to see in more detail who is buying what and at what price levels, shedding light on your own opportunities for bringing your product to market.
3.

What competition do you face on the European Pacific white shrimp market?

Due to the rise of Pacific white shrimp in the marketplace, many countries and companies that predominantly produced black tiger shrimp have shifted their production species. This means that there is a lot of competition. ASC certification, as well as being able to offer consistent quality and volumes at competitive prices, will help your company stand out and allow you to sell your product to the European market. Having import tariff preferences could be necessary to be price competitive, however.
Which countries are you competing with?
While other countries also offer Pacific white shrimp to the European market, your main competition comes from Vietnam, India and Ecuador.
Ecuador and other South and Central American suppliers
In 2019, Ecuador exported 117,405 tonnes to Europe. It is 1 of the leading suppliers to Southern Europe. Peru and Ecuador export shrimp to Europe at a 0% duty under the European Free Trade Agreement.
Shrimp farms in South and Central America are often large in terms of production volume per farm. Factories often work directly together with farmers, in order to manage supply and demand efficiently. Many processors also own farms and limit their dependence on other farmers. Supply chains between farms and factories are short, and quality and traceability can easily be ensured. All the necessary conditions are present to produce high-quality head-on shell-on Pacific white shrimp in the majority of the region's producing areas.
The image of Ecuador's Pacific white shrimp (and that of other South and Central American countries) is much better than the image of most Asian suppliers. While European buyers associate South and Central America with extensive production of high-quality shrimp by well-organised companies with professional teams in charge, they often associate Asian suppliers with complicated supply chains, quality risks, and sometimes with unreliable business partners. Doing business with South American suppliers is considered as lower risk than with Asian suppliers.
On the downside, labour is very expensive in South and Central America. This results in South American suppliers being unable to compete with Asian suppliers on the price of peeled and value-added products. South and Central American companies with a business model focused on head-on shell-on and headless shell-on exports often export peeled products only as a by-product; shrimp that lacks the quality required for exporting head-on shell-on is peeled and exported as a value-added product.
With regard to organic Pacific white shrimp, Ecuador and other South and Central American suppliers only compete with each other. According to the European Union's organic aquaculture regulation, you can only certify shrimp as organic if it is a native species of the production area. As a result, Asian suppliers cannot produce organic Pacific white shrimp.
The majority of organic Pacific white shrimp is currently produced in Ecuador by only 3 producers (the biggest is Omarsa). There is also a certified supplier, Rainbow Exports (part of Shore), in Costa Rica.
While most buyers associate South America with Ecuador, they are aware of other suppliers in the region and, when questioned about their perception, they attribute the same benefits Ecuador has to other suppliers like Honduras, Guatemala and Nicaragua. Some suppliers, like Venezuela and Cuba, are very competitive on price, but are often seen as delivering lower consistency and quality.
Vietnam
In 2019, Vietnam exported a volume of 64,962 tonnes to Europe, which largely consisted of peeled and value-added products. As labour is more affordable than in Ecuador, factories are set up to process raw materials into peeled and value-added products. Vietnam is the preferred supplier of cooked and other Pacific white shrimp products for supermarkets, because of its history in the processing industry and the wide availability of ASC-certified products. Regarding prices, Vietnam has always been more expensive than India; this made many European buyers, especially those active in the wholesale segment, move to India, where prices are generally lower (especially for smaller sizes like 60-count and smaller). The price benefit of Indian producers may not be long-lived, as Vietnam has signed a free trade agreement with Europe, meaning that the import tariffs will be reduced to 0% by 2024, which will close the price gap between the 2 countries.
India
In 2019, India exported 74,052 tonnes to Europe consisting of a variety of products, but largely catering to the wholesale level. The industry in India is developing rapidly, with Indian exporters having doubled or almost tripled their volumes over the past 5 to 10 years. To keep up with those volumes, many packers have built new production facilities with state-of-the-art equipment; they now produce not only raw frozen products, but also cooked ones. The number of ASC-certified suppliers is increasing, and – in terms of price – India is often cheapest.
Nevertheless, India is facing difficult times with its market access to Europe. The rapid expansion of shrimp farming in India has caused challenges for Indian authorities in managing all those farmers. In recent years, there have been several cases of antibiotic use in shrimp farming and containers have been rejected in European ports as a result. Audit recommendations made by the European authorities have not been sufficiently addressed by Indian authorities. As a result, India has been confronted with 50% checks in European ports for the last 2 years, and more than 10 Indian exporters lost their European Union approval.
Tips:
Do you want to check farm gate prices for different sizes of Pacific white shrimp, comparing various origins? Check the farm gate price portal of Seafood TIP. Get a free 1-month trial to try it out.
Compare the tariffs that you would have to pay when exporting shrimp to Europe with what your competitors from other origins would be paying.
Which companies are you competing with?
There are hundreds of Pacific white shrimp exporters around the world. Here, we will discuss the examples of Omarsa from Ecuador, Minh Phu from Vietnam and Ram's Assorted Cold Storage Limited from India. Each of these companies is a major player in their respective countries and exports large volumes of Pacific white shrimp to Europe.
Omarsa
Omarsa is 1 of Ecuador's top 3 shrimp exporters. The company has just opened its new factory, fully designed to export high-quality HOSO shrimp. The factory is largely automated, and the number of workers is limited to a few hundred. Omarsa owns 3,600 hectares of extensive shrimp ponds, of which part are ASC certified, part BAP 4* and part organic certified. Omarsa is also a proud member of Ecuador's Sustainable Shrimp Partnership (SSP).
In Europe, Omarsa's farms supply a major portion of the organic Pacific white shrimp sold in supermarkets. Omarsa's key markets are China and southern Europe, where it thrives on its market image. The challenge for Omarsa is to find a good market for its peeled products, for which competing with its Asian competitors is difficult, thanks to their cheap labour force.
Omarsa is a preferred supplier for European supermarkets that source from Ecuador. For smaller buyers, it is difficult to do business at this scale. The volume that Omarsa is processing (which in 2019 may reach 50,000 tonnes) means that the company is only interested in larger orders. For a company like Omarsa, it is not easy to be flexible or to take spot orders; they need big clients with continuous standardised orders. If you can be more flexible and tailor to the needs of smaller buyers while offering similar quality, there might be a role for you to play.
'Spot orders' are those in which the buyer purchases a container when there is demand for it from whichever buyer has the best price at the time. The alternative is 'programme business', in which buyers and suppliers work together in long-term relationships to fulfil larger, more regular contracts for large food-service and retail companies.
Minh Phu
Vietnam's top exporter is Minh Phu. Just like Omarsa, Minh Phu has parts of it supply chain integrated with a network of both its own farms and contracted farms. Minh Phu exported more than 60,000 tonnes of shrimp in 2018. Minh Phu exports Pacific white as well as black tiger shrimp. A big part of its black tiger exports are organic certified, while a big part of its Pacific white shrimp is ASC and BAP 4* certified. Minh Phu exports a mix of peeled, value-added, raw and cooked products.
Although Minh Phu has a relatively good image in the market, there are also worries. Minh Phu is 1 of Vietnam's largest importers of Indian shrimp. Minh Phu imports blocks from India, which it then reprocesses into finished products to export to other markets. In principle, this is not a problem, as long as the chain of custody is maintained. There are rumours, however, that Minh Phu illegally exports Indian shrimp as Vietnamese. European buyers sometimes express their worries that sooner or later this will become a problem for European authorities.
Like Omarsa, Minh Phu is a large company. It can offer a broad product range and, as such, can be a 1-stop shop for its clients. The size of Minh Phu makes it difficult for the company to deal with smaller clients. Some buyers also do not like the power that big companies have, as it minimises their bargaining position. Just like in the case of Omarsa, this is where you could come in. If you can deal with smaller orders and can tailor to smaller buyers' needs, you might have a role to play. In this case, your buyers would normally come from the wholesale segment.
Recently, Mitsui, a Japanese business conglomerate, invested heavily in Minh Phu to further expand its business.
Ram's
Ram's Assorted Cold Storage Limited is in a different league than Omarsa and Minh Phu. It is a medium-sized exporter from Orissa, India. The company owns 2 processing establishments, 2 corporate farms, a hatchery and a feed finance business for farmers. The company exports a volume of 5,000 to 8,000 tonnes per year. Its products consist mainly of peeled and headless shell-on raw frozen products. It does not have any cooking or further value-added facilities.
While previously Ram's was mainly selling to wholesalers in the United State and Europe, its farm recently was ASC certified. The company has also invested in an Aquaculture Improvement Project where it aims to support small-scale farmers in its supply chain in getting certified. Since its achieving ASC certification, Europe's buyers who supply retail have suddenly shown increased interest in doing business with the company. The number of ASC-certified suppliers in India is limited and buyers like to have options.
The managing director of Ram's is the next generation of a family-owned business (Omarsa and Minh Phu are also family owned). He did an MBA in the United States and returned to India with a new mind-set. He wants to develop his business into a long-term focused, healthy, sustainable and less risky organisation. Ram's intends to focus more on supplying raw material to factories than on exporting, minimising some of the market-price associated risks involved with exports.
Tips:
Look at your management team. Do you have any highly educated team members who can support you in making your company future-proof and taking it to the next level?
Look at the websites of some of the major Pacific white shrimp exporters in different origins to better understand how they present themselves and who is managing the companies. Think about how you can present your unique selling points to your potential buyer.
At trade shows, besides looking for buyers, also try to engage with your competitors and ask them about the challenges and opportunities they face. See what you can learn from them.
Which products are you competing with?
Pacific white shrimp has a wide range of competition, with the key drivers being size and prices. For larger counts, competition comes mainly from Argentine red shrimp (Pleoticus muelleri), farmed black tiger shrimp (Penaeus monodon) and other types of wild-caught Asian tiger shrimp (also Penaeus monodon, sometimes referred to as 'seatiger' or 'sea tiger'). For the smaller sizes, competition comes from the wild-caught pinks (Farfantepenaeus duorarum, a species of marine penaeid shrimp) and from coldwater species like Atlantic seabob (Xiphopenaeus kroyeri) or Northern prawn (Pandalus borealis).
Argentine red shrimp, farmed black tiger shrimp and other wild-caught Asian tiger shrimp
Pacific white shrimp is often the cheapest option around, and its supply volume is relatively consistent but growing. These are the main benefits that a commodity, a high-volume product, should have.
Despite only being available in smaller volumes and in certain seasons, as well as being priced less favourably, the other species are often regarded as having a better taste, colour or texture. If prices of these species are not much higher than the prices of Pacific white shrimp, clients may prefer 1 of these options. Also, in case of wild-caught species, certain consumers may prefer these because of the negative association they have with shrimp from aquaculture.
The competition between Pacific white shrimp and the other species is strongest in the wholesale segment and the ethnic markets. In regular supermarkets, the product assortment is often less broad and Pacific white shrimp is more often the preferred species.
Wild-caught coldwater species
For the smaller sizes, for which there is a big market in Europe's ready-meal industry, there is competition from various species of wild-caught shrimp. These wild-caught species are caught and peeled. Sizes range from 80-count to 500-count and are often the cheapest option for the industry. Because it eventually sells to supermarkets, the industry often requires the products to be sustainably certified. As such, only a few fisheries, and the companies that control these fisheries, can supply this market.
If you are able to produce small sizes of ASC-certified Pacific white shrimp (such as HOSO 100-200 count) at a similar price level as the wild-caught alternatives, then there is a good chance you can compete in the tenders of supermarkets and industrial players looking for ingredients for their ready-meals.
4.

What are Pacific white shrimp prices on the European market?

The price of Pacific white shrimp is coming down. This has as disadvantage that the margins of the companies involved in the supply chain are also dropping. The advantage is that prices have come down to such a level that it is more affordable for consumers and can compete better with other species. We expect that Pacific white shrimp prices will remain stable in the short term, but in the long term will decline further, along with the increase of the global production of the species.

Table 2: Consumer prices of different products of Pacific white shrimp at retail level
| | | | | |
| --- | --- | --- | --- | --- |
| Country | Supermarket | Refreshed or frozen | Product description | Price per kilogramme (euros) |
| France | Carrefour | Refreshed | Cooked head-on shell-on 40/60 pcs per kg | 15.85 |
|   | Carrefour | Frozen | Cooked head-on shell-on small size Organic | 26.50 |
|   | Carrefour | Refreshed | RAW peeled tail-on 40/60 size | 15.85 |
| Netherlands | Albert Heijn | Refreshed | Cooked peeled small-medium size ASC | 26.9 |
|   | Albert Heijn | Refreshed | Cooked peeled small-medium size Organic | 37.90 |
|   | Albert Heijn | Refreshed | Cooked peeled small shrimp in garlic tapa ASC | 24.95 |
|   | Albert Heijn | Frozen | Raw peeled medium size ASC | 18.71 |
|   | Albert Heijn | Frozen | Cooked head-on shell-on medium size ASC | 15.98 |
| UK | Sainsbury's | Refreshed | Cooked and peeled small size | 13.15 |
|   | Sainsbury's | Refreshed | Cooked and peeled medium size | 20.39 |
|   | Sainsbury's | Refreshed | Raw peeled medium size | 20.94 |
|   | Sainsbury's | Frozen | Raw peeled medium-large size | 22.18 |
| Spain | Eroski | Frozen | Raw peeled 60-80 per kg | 17.19 |
|   | Eroski | Refreshed | Cooked head-on shell-on 30-40 size | 14.00 |
|   | Eroski | Refreshed | Raw head-on shell-on medium size | 12.22 |
Source: Seafood TIP (2020)
Although the exact distribution of margins really differs from 1 product to the other, we can look at an example from a study of the French shrimp industry from 2016. There, the French cookery imported raw materials at the cost of €7.00, sold to the retailer at the cost of €8.35, while the retailer sold to the consumer for €11.30 (excluding Value Added Tax). The net margin for the retailer was €1.00, while the French cookery had a net margin of only €0.30. The raw material accounted for 60% of the retail value, the importer 35% and the retailer 15%.
Although this example is based on a calculation taken from a real-life scenario, in many cases we would expect a higher margin and contribution to the value of the retailer. This will especially be the case when the retailer buys finished frozen products, which are packed at origin. In this case, the contribution to the value of the importer is much smaller than in the case when the importer is a processor. In the case of frozen products, the importer's role is much more limited.
This study has been carried out on behalf of CBI by Seafood TIP.
Please review our market information disclaimer.
Follow us for the latest updates
Search
Enter search terms to find market research