8 tips to go digital in the apparel sector
Since the first industrial revolution machines, electronics and digital computers have made apparel production ever more efficient. Now we are in the middle of the '4th industrial revolution'. This means self-monitoring and self-learning software and machines exchange data to integrate the production process and match supply to market demand. The aim is a value chain that is more transparent, efficient, flexible and cost-effective than ever. This report will help you understand what digitalisation means for the apparel industry and how you can benefit from it.
Automation of manual labour and digitisation of analogue data is nothing new in the apparel industry. The reason experts now speak of 'smart' factories operating in an 'Industry 4.0' is the large-scale use of digital data to integrate different steps in the production process, such as purchasing, inventory management, design, tech pack creation, costing, manufacturing, and sales. The tracking and exchange of data between the software and machines that are used for these processes is what makes a supply chain truly digitalised.
There are two different types of digitalisation in the apparel industry:
The collection of manufacturing data. The purpose of this is to improve working conditions and reduce environmental impact. Manufacturing data can also be used to improve production efficiency and manufacturing and product quality. This will result in increased profitability and accountability and overall reduction of costs.

The collection of market and customer data. The purpose of this is to ensure efficient communication, on-time delivery and increased speed to market. Market and consumer data can also save time and costs in the confirmation process. This will result in increased profitability and an overall reduction of costs.
Covid-19 and digitalisation
Since the Covid-19 pandemic digitalisation has become even more urgent. Due to travel restrictions and lockdowns European consumption shifted away from physical retail to e-commerce. Trade fairs went online because buyers were unable to visit factories. This increased the need to digitalise the approval process of anything from lab dips to fit samples. Moreover, the growing demand for small orders and flexible service accelerated the already ongoing automation and digitalisation of apparel production.
The pandemic has shown us that by implementing a more digital way of working the buyer does not need to be as actively involved in manufacturing as before. The implementation of a digital manufacturing environment is therefore welcomed by the buyers, as this enables them to monitor their orders from a distance. As buyers and manufacturers have become used to this new way of working, this trend is likely to stay.
Digital innovations are used in every part of the apparel value chain: from the production of raw materials to sales of ready-made products.
Table 1: digital innovations in every step of the apparel value chain
Value chain tier

Overview of digital innovations

Raw material production

For the production of raw materials precision farm management systems such as

CropIn

or

AgroCares

are used to optimise cotton growth by use of weather and soil nutrient data and satellite imagery. For synthetic materials digitalised input and waste management systems are used to reduce environmental impact and optimise efficiency. Adding marking techniques to raw materials such as

Haelixa

or

FibreTrace

enables factories to digitally trace materials back to their origins, enabling compliancy with buyer's sourcing policies.

Fabric making

In weaving, knitting, dyeing, washing, and finishing digitalisation and machine learning is primarily used to control and reduce inputs (raw materials, energy, water, chemicals); to recycle solid and liquid waste; to measure and predict fabric performance; to control quality and to plan fabric and accessory ordering. Automation can also increase worker safety. A fully automated and closed dyeing and laundry system lowers the exposure of employees to potentially dangerous chemicals and machinery.

Manufacturing

An important development in manufacturing is 3D design and prototyping. Designing garments in 3D software makes designers understand fit better, reduces quality issues and eliminates the need to send samples back and forth for approval, saving time and money. In cutting, sewing and finishing

handling takes 80% of production time and cost. Here AI-controlled

CNC/CAD/CAM pattern and cutting machines,

overhead conveyors and tracking terminals at the workstation improve productivity and reduce energy use and wastage.

Logistics

Digitalising logistics can reduce cost and improve speed and flexibility. The newest tracking solutions such as barcodes, RFID-chips and online platforms enable manufacturers to track incoming and outgoing shipments in real-time and to track material flow through the factory. Brands and retailers use AI to predict sales of specific products in certain locations, adjusting their inventory accordingly in nearby warehouses. Digitalisation can also be used to measure and report on environmental impacts of different modes of transportation.

Sales

Running a profitable business means you need to constantly analyse sales to your buyer and how the apparel items perform in the end-market. Collecting and analysing sales data enables you to optimise product development and stock keeping, maximising sales and liquidity. Sales data include: turn around speed, colours, returns, fitting, quality, price vs. sales, profitability, trends and sizing. New developments such as digital showrooms and catwalk shows also reduce time and cost when engaging with (potential) buyers.

Full supply chain transparency

To secure market and buyer compliant production, full supply chain transparency is required. Organisations are putting more focus on providing the buyer and the consumer with information about where and how their products are made. See for instance

Tex Tracer

,

Ecovadis

or

Ecochain

.
Tips:
Invest in Enterprise Resource Planning (ERP) software to integrate your planning, inventory, sales, marketing, finance, human resources, and more. Check review platform SoftwareAdvice for

a (non-extensive) overview of available ERP systems for the apparel industry

.

For inspiration on how to apply digitalisation in your factory, check factories such as

Sun Tekstil

(Turkey, use of Artificial Intelligence in production),

Hugo Boss

(Turkey, use of AI and tablets for tracking production data) or

Daehan

(Indonesia, applying Internet of Things to optimise the sewing process).
1.

Use Europe's growing e-commerce industry to your advantage

Online shopping is continuing to grow in Europe, stimulated by changing consumer preferences. According to Statista, online sales are expected to grow to 48% of all apparel sales in 2025. The shift to online sales offers several opportunities for manufacturers. First, it opens a sales channel for direct B2C-sales in Europe. Second, it offers a wealth of (freely accessible) data on market preferences and trends, applicable to both B2B and B2C sales.
Business-to-consumer sales
If you want to build your own brand and target European end-consumers directly, try selling via platforms such as Alibaba, Wish, Amazon or niche platforms such as Depop or Wolf & Badger for independent brands. Most online consumers can be found in countries in Europe's northwest, with apparel being the most popular category that people shop for online. You need to invest in a web shop, stock, order management, customer service, and a brand image. Return policies and a lack of brand awareness will be your biggest challenge.
Business-to-business sales
Online multi-brand retailers such as Zalando, Asos, Lyst, Yoox or Aboutyou sell apparel brands and develop their own private collections. These are mostly value brands. Online retailers are data-driven companies, that can detect new trends in the market very fast and will immediately react upon sales data. Usually such companies will place a small test order first. If the item is selling well, they will place the actual production order. You must be able to deliver very fast to service such buyers.
Market intelligence
Thanks to the rise of e-commerce, the traditional practice of sending designers on a spy-shopping trip to several physical shops is no longer necessary. Having online retailers present their collections in a freely accessible, online public database (their webshop), enables you to do your market research remotely. If you need help, consultancies such as Edited track billions of stock keeping units daily and offer paid advice about trends in garment styles, colours, patterns and descriptions. See also the section on data, below.
2.

Start by gathering data within your factory

The first step on your journey towards digitalising your factory does not have to be a huge investment in state-of-the art software or hardware. Highly digitalised apparel factories may use expensive machinery, materials and production lines equipped with QR-codes, RFID-chips, intelligent sensors and cameras connected to computer-controlled machinery using Artificial Intelligence. But remember, digitalisation is not an end. It is a means to reduce costs and increase efficiency, using data from the factory floor. That process can start simple.

The basic principle to cost reduction is to track and monitor every cost item in your factory. That can be done by hand by an employee with a clipboard and a pen.

To reduce costs, gather data on:
Working hours. How many hours are your employees working for you?

Effective working time. How long are they effectively at work?

Purchasing. Can you get better conditions by consolidating relations with your supplier(s)?

Stock management. What do you have in stock? What is the value and lead time of each item? Can you minimise stock? Ideally, try to have materials in your warehouse 3 days before production starts.

Energy consumption. Consider investing in energy saving machinery and lighting to save costs and reduce environmental impact.
To improve efficiency, gather data on:
The production line balance. How is the flow? Are there hick-ups in the production line?

Employee motivation. What are their ambitions? What is the retention rate, sick leave, (living) wage level? What can you do to improve employee motivation?

Working procedures. Are there clear working procedures? Are they properly communicated? Does everybody understand them?

The competition. What are they offering their employees? How are their wages, secondary benefits?
Tips:
First try to optimise your production efficiency with the means you already have available in your factory (expertise, machinery, factory set-up, software).

When gathering data on cost items, don't focus only on big cost items. Cost reduction can also be achieved by saving on many small ones.

Kanban is a much applied and relatively easy reflexive management system focussed on optimising production flow on the factory floor. The basic principles are explained in

this article on Apparel Resources

.

Read the CBI report '

Which trends offer opportunities on the European apparel market

'. It offers a useful section on new technologies in apparel production. Further information is also available in the CBI study '

Technology trends in the apparel industry

'.
3.

Grow your business with the help of new technologies

The concept of digitalisation goes beyond using software to handle your administration, emailing buyers and using computer-controlled cutting or sewing machines. Digitalisation is about real-time performance measurement, discovering patterns in the data and using interconnected software and machinery to optimise production, minimising the need for human intervention. There are many technological solutions available. Some are costly, others complicated. Sometimes they are both. Choose the ones that fit your business.
Software
When it comes to software, there are many different systems available that can help optimise your factory management, including integrated Enterprise Resource Planning (ERP) systems, Product Lifecycle Management (PLM) systems, and specific software programmes for anything from stock management, order management and HR management to Customer Relationship management (CRM). New 3D-designing solutions can seriously increase your efficiency and flexibility in the communication process with buyers.
Machinery
A truly digitalised apparel factory uses software to interconnect 'smart machines': from the material warehouse to the sampling room, cutting department, assembly line, finishing department and product warehouse. Companies such as Kuris or Zünd provide the latest technologies in digital cutting techniques, including 3D-cutting. Companies such as Juki provide sewing machines that can be digitally linked to a smart factory software system, integrating the cutting and sewing department, optimising efficiency by balancing the line.
Tips:
When you are looking for a software solution for your factory process, always make sure you choose a method that suits your needs and fits your business. Look at price and service level and find a product that matches your factory size. Most software is modular, enabling you to expand with need.

When you consider purchasing a new software product or piece of machinery, always ask the supplier to what extend it can be adjusted to your specific needs.

If you are not sure what software solutions to choose for your company, try to ask others in the industry what they are using.

Check 3D design software providers such as

CLO

,

Gerber

or

Alvanon

to learn about the latest techniques in 3D designing and prototyping.

When you are considering shifting to 3D-sampling techniques,

remember that many designers still prefer to draw by hand. Working digitally requires training.

Read this article on trade medium Drapers about the

ongoing digitalisation of the fashion industry in Turkey

, a country heavily investing in digitalisation, sustainability and innovation.

Watch this short video on YouTube by Juki (

sewing polo plackets

) and Richpeace Group (

automatic sewing machine for attaching zippers

) to get an idea of the type of

production processes that can be automated.
4.

Let experts help you implement new technologies in your production line

Establishing a truly automated, digitally interconnected production line requires a lot of expertise. It is not as easy as plugging in a machine and pressing the on button. To what extent your factory can integrate different departments (cutting, sewing, assembly, finishing, etc.) depends on many things. How is your production line organised at the moment? What machinery do you use? How suitable are your machines for digital interconnection? What fits your service level best? These issues are not solved by factories alone.

Often machinery suppliers such as Brother (US), Juki (US) or Jack (China) will provide technical support on site. This means they will send their experts to your factory to install or upgrade software and hardware. They can also help you integrate the machinery in a smart factory (software) system that lets you measure and improve the performance of your production line. This also includes training your staff on how to properly operate the machines and software. Many machinery suppliers work from local offices in production countries.

For more neutral (and usually more general) advice on apparel technology and innovation, try to connect with local institutions. Many production countries have organisations connected to industry associations, universities or technology hubs that can support you in automating the production process. See for example:
Tips:
Watch

this short video on YouTube

by machine manufacturer Jack about their analysis of machine utilisation data and how it can be used to improve efficiency.

Watch

this short video on YouTube

by machine manufacturer Juki about their solutions for balancing the production line using their smart factory system JaNets.  
Figure 1: Hadayana in Jordan uses integrated digital pattern-making machinery in a highly automated production process.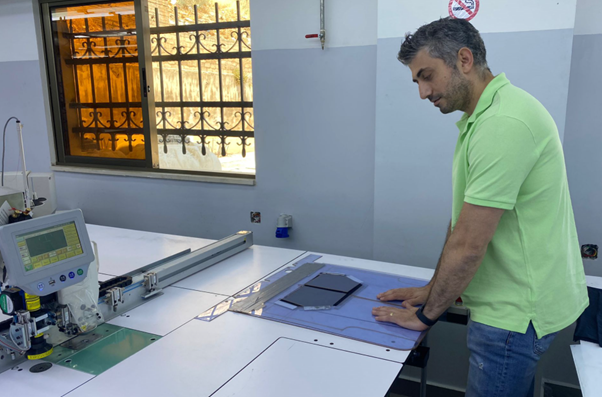 Image source: FT Journalistiek
5.

Know the jargon

When you read about digitalisation, you may come across different terms, such as 'Artificial Intelligence', 'big data' and the 'Internet of Things'. Often these terms are used interchangeably. What do they mean?

Table 2: Digitalisation jargon and its meaning
| | |
| --- | --- |
| Artificial Intelligence | Intelligence demonstrated by machines that can sense their environment and perform actions autonomously. |
| Automation | Technologies that reduce the need for human intervention in factory processes. |
| Big data | The use of Artificial Intelligence to extract meaningful management data from sets of data that are too big for conventional software to manage. |
| Blockchain | Online decentralised data storage system, used to share and verify supply chain information between manufacturers, suppliers and vendors. |
| Digitalisation | The increasing use of digital data and automated machines to increase production efficiency and flow. |
| Internet of Things | The network of machines equipped with sensors and processing software, connected to the internet. |
| Machine learning | The capability of computer algorithms to improve their output by learning from inputs (and the associated desired outputs). |
6.

Let market data drive your sales strategy

The recipe for success in the apparel industry has always been having the right product in store at the right price, at the right moment. Traditionally, fashion professionals tried to achieve this by intuition, and sometimes pure speculation. Today the industry trusts ever more in data: big amounts of it. Anything from inventory, material input, workflow and sales to online engagement via clicks, reviews and even likes and comments is being tracked and analysed. The aim is to uncover patterns and to optimise production and sales accordingly.

European buyers are primarily interested in big data and Artificial Intelligence because it offers an opportunity to better match supply and demand, to make more successful designs and to offer end-customers a hyper-personalised shopping experience. Analysing big amounts of data points on sales and consumer preference makes it easier for designers and buyers to predict what will be the right style, silhouette, shape/fit, sizing, retail price and even the right way to describe and present the items online or instore and to whom.
The benefits of knowing your market
Manufacturers can use big data about market trends to determine which markets are growing or declining or getting more competitive, and which markets, segments and product categories fit best with their own strengths. It offers an opportunity to not only focus on what happens in your own business, with your own clients, but to learn from what competitors are doing. Gaining such insights before talking to (potential) buyers can give you an upper hand in negotiations, and reduce the amount of issues during production and approval.
Free services such as Google trends or paid alternatives such as Semrush or KWFinder let you track and analyse Google search data for every search phrase imaginable, including apparel items. You can narrow your search by geographic location or time-period.
Tips:
 

Learn from

this article on Medium

how apparel companies use big data to better curate products for their end-consumers, provide product recommendations, and improve targeting, resulting in a hyper-personalised shopping experience.

Consider taking paid advice from consultancies such as

Edited

, who track billions of stock keeping units daily to analyse market trends.

Read

The State of Fashion 2022 report by consultancy firm McKinsey

(PDF). It contains useful information about different growth strategies for online sales.
Figure 2: Online retail data offers a huge source of useful information for understanding market trends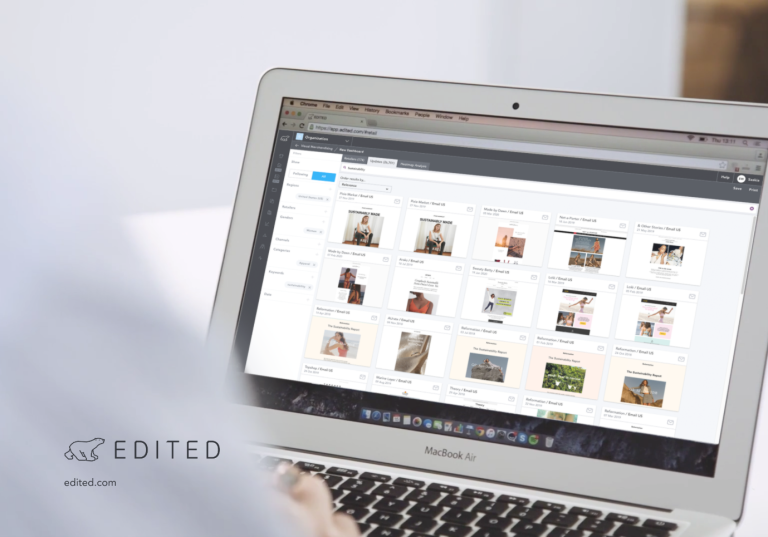 Market intelligence consultancies such as Edited.com analyse billions of stock-keeping units daily to get real-time data on market trends. The results can be accessed through an online dashboard.
7.

Use digitalisation to become more sustainable

Sustainability and digitalisation are interrelated subjects. They belong closely together because no supply chain can improve on sustainability without measuring impacts, which requires digitalisation. Digitalisation is used to measure, monitor and report on criteria in different stages of the value chain, such as soil depletion, use of herbicides and pesticides, animal wellbeing, forest maintenance, (loss of) biodiversity, water and energy use, carbon emissions, working hours, living wage, waste management and circularity.
Transparency
As Fashion Revolution writes in its 2022 Fashion Transparency Index, the first step towards sustainability is transparency. Without knowledge of your value chain and the impacts that occur, there is no possibility to improve. Also in this case, digitalisation enables professionals to measure impacts on workers, communities and the environment, to analyse them, find patterns and to implement improvements. In the tips below some technologies are mentioned that can trace raw materials back to their source.
The need for more transparency and sustainability in the apparel supply chain is obvious. The European Environment Agency (EEA) has reported that textiles are the fourth-largest cause of environmental pressure after food, housing and transport. A report by Mckinsey (2020) on consumer sentiment towards sustainability in fashion revealed that 57% of UK and German consumers have made significant changes to their lifestyles to reduce their environmental impact with 65% making a commitment to purchase more durable fashion items.
The trend in the consumer market for sustainability is so strong, that the Austrian raw material manufacturer Lenzing Group has even decided to directly engage with end-consumers via an e-shop. This webshop showcases over 200 products made of Tencel branded lyocell and modal fibre items online.
Tips:
Use tracing technology such as

Haelixa

or

FibreTrace

to physically and digitally trace raw materials back to their source.

Use digital labelling solutions such as

Avery Dennison

to trace ready-made products during and after use. This makes it easier to collect, sort and eventually recycle apparel items.

Consider registering your CSR performance on online platforms such as

ISEAL

,

SIM Supply Chain

,

GSES

,

Ecovadis

or

Ecochain

. This makes monitoring and reporting on sustainability easy and transparent.
Figure 3: Digital 3D-modelling speeds up the sampling-process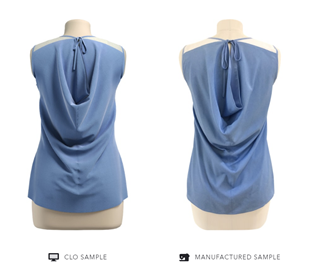 3D modelling has become so sophisticated that it has become difficult to distinguish between digital and physical samples. Example by CLO3D.com.
3D sampling
These developments are likely to stay, even with the reopening of stores in Europe and the easing of travel restrictions. One technology that has risen in popularity is 3D-sampling. Even before the pandemic, 83% of respondents in a 2019 report by McKinsey believed physical samples will be used less often than virtual samples by 2025. During the pandemic, ever more factories and brands started using Artificial Intelligence and 3D-modelling technology, allowing suppliers to offer digital samples and speed up the approval process.
The use of 3D-avatars connected to online databases with big data on body types of European end-consumers allows manufacturers not only to speed up the approval process but also to reduce wrong fits to a minimum. CLO offers a blog-page on their website with user stories by companies such as Adidas, Dainese and Emilio Pucci. 3D-solutions provider Browzwear offers user stories by companies such as Fruit of the Loom and Superdry.
3D-avatars can be used not only in the approval process between manufacturers and brands, but also to set up virtual showrooms. When applied in (online) retail it even allows end-consumers to better chose the right apparel item (fit, shape, appearance), significantly reducing returns. A good example is H&M's innovation lab in Berlin, Germany. It recently developed technology based on a 3D-photogrammetry scanner. The virtual fitting solution will enable customers to try out clothing on their own individual avatars.
In October and November 2021, H&M customers had the opportunity to virtually try on perfect-fit looks from the new collection from home and outside of store opening hours via digital fitting rooms in two stores in Berlin and one H&M store in Hamburg.
8.

Maximise your flexibility using digital tools

A hyper-personalised product is the pinnacle of 'the right product, for the right price, at the right time. Unsold stock and the associated risk will be history if brands and retailers can provide end-consumers with the apparel items that they exactly want, in every detail. Already European apparel buyers demand ever more flexible service, smaller order quantities and higher speed to market. The application of digital tools increasingly offers manufacturers the capability to offer maximum flexibility and eventually even tailor-made apparel.
Mass customisation
'Mass customisation' is not a new concept. Already in 1992 Joseph Pine called it 'the new frontier in business competition'. Since then it's break through has been predicted many times. Now finally thanks to digital technologies such as 3D-sampling, online fitting rooms and fully automated machinery more companies are experimenting with 'mass customisation'. According to consultancy firm Deloitte customised apparel could account for as much as 30% of the clothing market by 2030.
There are many examples of fashion brands and retailers offering personalised clothing:
The benefit of mass customisation for factories and brands and retailers is the potentially significant reduction in waste and unsold stock.
Further Reading
The CBI report 'Which trends offer opportunities on the European apparel market' offers a useful section on new technologies in apparel production.
The CBI report '10 Tips for Finding European Buyers' can help you with finding interesting prospects and how to approach them.
The CBI study '10 Tips for Doing Business with European Buyers' provides tips on how to successfully approach a potential buyer and develop a long-lasting business relationship with them.
This study was carried out on behalf of CBI by Frans Tilstra and Giovanni Beatrice for FT Journalistiek.
Please review our market information disclaimer.
Search
Enter search terms to find market research