How inflation affects the fresh fruit and vegetable market

This year, high inflation has characterised Europe's fresh fruit and vegetable market. For example, production and logistics costs have increased due to the war in Ukraine. Inflation will influence future developments in Europe's fruit and vegetable market, and the high inflation rates are the cause of the following trends.
Trend 1: Local food becomes the new normal
During the COVID-19 pandemic, more and more consumers shifted towards local fruit and vegetables. And, because freight rates remain high in 2022, the trend to eat more local food continues. But, only if Europe can increase its production, which could be a challenge due to climate change. This trend is an opportunity for exporters close to Europe to supply affordable products.
Figure: Example of sea freight prices for 40'HQ containers that go from China base port to New York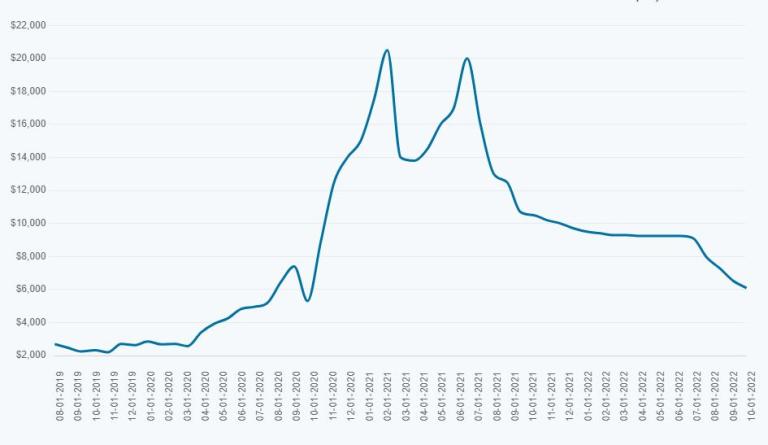 Source:  SHIFEX
Trend 2: Consumers are conscious about their spending
Consumers are more careful of what they spend on groceries because fresh fruits and vegetables have become more expensive. So, affordable fruits and vegetables gain market share over premium and high-value products. This shift has the following consequences:
consumers buy more common fruits and vegetables, such as apples;
consumers buy fewer small and perishable exotic fruits and vegetables and organic products; and
consumers only buy affordable organic products when the price is similar to non-organic fruit and vegetables.  
Trend 3: A growing gap between supplier success rates
The need for efficiency to keep products affordable increases due to inflation and triggers technological development. Larger companies with more money can invest in:
agricultural innovations;
mechanisation; and
the development of new varieties.  
As a result, the gap between these companies and small suppliers could increase. So, smaller suppliers need to integrate with other companies or specialise in less common fruits and vegetables.
Trend 4: The connection between sustainability and inflation
Meeting requirements for environmental standards and the consumers' expectations of a sustainable product increase costs for producers. And that can further increase inflation. Next, large retailers have a more dominant position due to inflation, and supermarket chains are among the most competitive channels. But they also have to meet the highest requirements when it comes to (new) sustainable standards, such as:
GlobalG.A.P.;
SMETA certifications; and
Rainforest Alliance.  
And that means that consumers will pay higher prices, too.
Suppliers must always be alert about market developments and make sure they are among the best suppliers through:
efficiency;
compliance;
partnerships;
specialisation; and
a well-organised supply chain.  
Learn more
Do you want to learn more about a future in the fresh fruit and vegetables sector? Or do you want to enter the European market? CBI's trend study and information on European demand provide guidance in this complex market.
ICI Business wrote this news article for CBI.
Stay informed
To stay informed on the latest developments in the fruit and vegetable sector, subscribe to our newsletter.