4 tips for attracting European cycling tourists

Cycling tourism from Europe is a growth market. This market offers opportunities for suppliers from destinations in developing countries. Even before the pandemic, the interest in cycling holidays was increasing. This was due to trends like slow and conscious travel, the urge to connect with nature and travelling sustainably. The pandemic further increased the growth in this market. Over the past 2 years, many travellers have chosen cycling holidays nearby. Now that the travel restrictions have been lifted, Europeans are eager to go on cycling holidays further away. Make sure you have the right package ready for them.
Why should you focus on cycling tourism?
Many tourism niches will grow as soon as the travel restrictions are lifted. But, attracting cycling tourists will bring you more than growth. It gives you the opportunity to make travel more sustainable. Cycling does not result in CO2 emissions. And it is not likely to lead to over-tourism. Also, cycling tourists spend a large part of their holiday budget in the destination country.
Tip 1: Focus on a specific target group
Many cycling tourism suppliers lack focus. Do not offer all kinds of cycling tourism. Instead, focus on a specialist niche market.
Figure 1: Specialist niches and passion groups of cycling tourism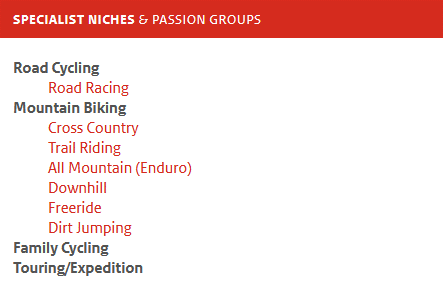 Source: CBI (2022)
Once you have decided on the niche market, select a passion or target group. For example, if you offer mountain biking, you need to be very specific about what kind of mountain biking you are offering. Are you offering cross country, single track, gravel bike, enduro, downhill, freeriding or dirt jumping?
If you offer tour cycling, decide whether you are focusing on young adults without children (20-35 years old) or older cyclists (50-70 years old). The Millennial target group with young children may be less interesting unless you focus on family cycling.
Tip 2: Identify the needs of your target group
After choosing your focus, it is important to get even more specific. Create specific personas. Who are your clients? Why should they pick your offering? What are their likes and dislikes? What does their customer journey look like? It is important to ask your clients these questions. For tips and tricks on how to create personas, read our study on how to start developing your tourism product. 
Tip 3: Create a tour that suits your target group
Your tour must suit your target group. For example, if you offer tour cycling for young adults, make sure your clients can choose between normal bikes and e-bikes. Also, offer a basic service level for a lower price, for example, offer tents or homestays as accommodation. Provide tips for restaurants where this target group can eat healthy budget meals and offer some off-track routes.
For older cyclists, it is important to offer more luxurious accommodation and nicer meals. Offer the option to transport their luggage to their accommodation by car. Also, make sure that cycle routes are well paved. For this target group, offering e-bikes for rent is essential.
Tip 4: Offer enough information
Especially for long-haul destinations, cycling tourists must have enough information to make their decision. The more information available, the more confident travellers will be that your destination is a safe choice. You should inform travellers about:
The length of the daily trips;
The quality of the roads;
What to do if they get a flat tyre or something breaks; and
Where to find food, water and accommodation.
Providing photos can help inspire travellers and give them an idea of what to expect. An easy way to provide more detailed information is to refer to travel blogs that review your route. 
For more examples, tips and information, read our study on opportunities in the European cycling tourism market.
Tjalling de Boer wrote this news article for CBI.
Stay informed
To stay informed on the latest developments in the tourism sector, subscribe to our newsletter.