The European market potential for dried chillies
The popularity of international cuisine and spicy food contributes to the increasing demand for dried chillies on the European market. Veganism has also contributed to the increasing consumption of chillies, as they serve as taste enhancers in vegan meals. European dried chilli consumers prefer mild chilli varieties and are showing interest in the authentic and new chilli flavours. Spain is the largest dried chilli importer in Europe, but the market is largely concentrated around imports of cheap dried chillies from China. Therefore, opportunities for new developing-country suppliers can be found in less concentrated markets such as Germany, the United Kingdom, the Netherlands, France and Poland.
1.

Product description

Dried chillies are obtained by drying the fresh ripe fruit of the paprika, which is a plant from the Capsicum genus. The most widely spread species of Capsicum genus used for the production of dried chillies is Capsicum annuum, which includes three main groups of varieties: longum (elongated shape), grossum (bell-shaped) and abbreviatum (round to flattened shape). Aside from Capsicum annum, other Capsicum species are also used for drying, including Capsicum frutescens, Capsicum baccatum, Capsicum chinense and Capsicum pubescens.

Figure 1: Dried cayenne chilli paper flakes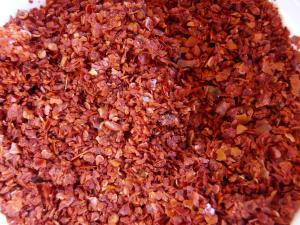 Source: Pixabay   
Figure 2: Korean chilli powder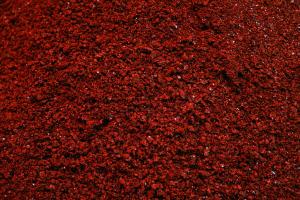 Source: http://uci.or.kr/G903:PI0-000321402 through Wikimedia Commons
In botanical terms, chilli peppers and sweet peppers are the same species but the difference is in the presence of a component called capsaicin, which gives the spicy heat (pungency) to chilli peppers.
Although chilli pepper originates in South America, it is now widely grown on all continents. Currently, Asian (especially Indian) and African production of dried chillies is significantly larger than production in South America. Still, European consumers are more familiar with the names of South American cultivars (such as Ancho, Cayenne, Chipotle, Jalapeño, Piri Piri etc.) compared to Asian cultivars (such as Sannam, Teja, Byadgie or Wonderhot).
Dried chillies can be naturally sun-dried or dehydrated in hot air circulation tunnels. Dried chillies are produced in different forms, but there are three main forms: as a whole, crushed flakes and ground powder. Crushed or ground chillies can be produced with or without seeds.
Dried chillies are traded under two different Harmonized System (HS) codes. The HS code for dried chillies that are neither crushed nor ground is 090421. Crushed and ground chillies are included in HS code 090422, together with all other capsicums, including sweet peppers.
The trade data presented in this fact sheet combine whole and crushed/ground chillies, unless otherwise specified.
Figure 3: Thai Phrik Haeng chillies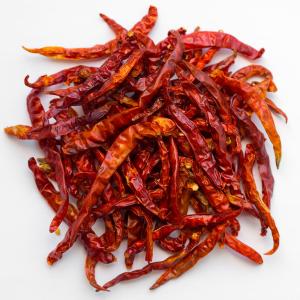 Source: Wikimedia Commons, CC BY-SA 4.0 licence
Figure 4: Byadgie chillies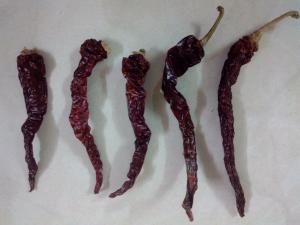 Source: Rajaramraok through Wikimedia Commons, CC BY-SA 4.0 licence
2.

What makes Europe an interesting market for dried chillies?
The enormous European food industry offers broad applications
The European food and drink market is one of the largest in the world. According to Food and Drink Europe, the industry has a turnover of nearly EUR 1.1 trillion. Within the food industry, the segments for meat products and various other food products are particularly important for dried chillies, making up 36% of the total food industry.
European dried chili imports are significant and growing
Europe is the second-largest importer of dried chillies in the world – after Asia but ahead of the USA – accounting for around 40% share of total world's imports. As European production of dried chillies is not self-sufficient, it depends on imports.
European imports of dried chillies grew continuously in the period between 2017 and 2021. Between 2017 and 2027, European imports of dried chillies grew by 7.5% in value and 6.1% in volume each year, up to a value of €449 million and a quantity of 178 thousand tonnes in 2021, as seen in Figure 6.
The statistics above include all types of dried 'capsicum' species. Although precise statistics are not available, an estimated 80% of all quantities consist of spicy dried chili peppers while the remaining 20% consist of dried sweet peppers.
Around 70% of European imports come directly from developing countries. The largest share of the intra-European trade consists of re-exports of dried chillies that originally come from developing countries. Europe produces less than 80 thousand tonnes of dried chillies and other dried paprika, which is 50% of the imported quantities. The leading producers are Romania, Hungary and Spain – but these countries have a sizeable domestic market. In Romania and Hungary, dried chilli pepper and paprika are traditionally used in the cooking of meat, vegetable and bean stews, with a large share of those products actually consisting of dried sweet peppers.
Whole dried chillies account for 55% of the total dried chillies imported from developing countries, while the remaining 45% consists of crushed and ground chillies. In intra-European trade, supplies of crushed or ground chillies have a much higher share, accounting for 86% of imports versus 14% in imports of whole chillies. This indicates that a significant quantity of whole dried chillies is processed (crushed, ground and mixed) within Europe after importing.
In the next five years, European imports are likely to increase at annual rates similar to those registered in previous years, as growth has been very consistent. The highest growth is expected for dried chillies with medium pungency, as extremely hot chillies are generally not popular among European consumers. Also, strong growth is forecasted for new and exotic chilli varieties that add more complexity to flavours. Although significant, import growth in Europe is forecasted to remain lower than in Asia where economic growth is much higher and markets are expanding rapidly. But European markets offer a price advantage over Asian markets for high-quality and sustainably produced and traded dried chilli supplies.
3.

Which European countries offer most opportunities for dried chillies?

As Europe's main importer of dried chillies, Spain is an interesting focus market. However, Spain consumes a relatively small share of imported dried chillies using imported chillies for further processing, blending and re‑exports. Germany, the United Kingdom, the Netherlands, France and Poland are even more promising leading markets for value-added chillies with a relatively large consumption and import share from developing countries.
Spain: Europe's largest importer of dried chillies
Spain is Europe's largest importer of dried chillies by far, recording its highest-ever import volume of 72 thousand tonnes in 2021. Spain's import value totalled €147 million, accounting for 28% of all European imports in 2021. Spain's imports increased at an annual rate of 8.5% in volume between 2017 and 2021.
Spain is also a relatively large producer and the third-largest exporter of dried chillies in the world (after India and China) but a large share of Spanish exports consists of re-exports. A large amount (around 76%) of imported dried chillies is imported as whole chillies, which are further crushed or ground and re-exported in the form of powder or flakes. The main target market for Spain's exports/re-exports of both whole and crushed/ground chillies is the United States (with an export share of 27%), followed by Germany (11%) and the United Kingdom (9.4%).
The Spanish import market for dried chillies is very concentrated, as Spain imports over 80% of all dried chillies from China and around 10% from Peru, leaving relatively little room for other suppliers. The main reason behind the large import share from China lies in low import prices compared to other suppliers, averaging €1.89/kg in 2021; this includes both whole and crushed/ground.
For developing-country suppliers, Spain is an interesting trade market for dried chillies but not very attractive as a final consumer market. Although very popular in Spanish cuisine, chilli peppers are predominantly consumed fresh and these are available all year round. Spain is also the largest exporter of fresh chillies in the world. Domestic consumption of dried chillies in Spain accounts to around 1.2 thousand tonnes (according to FAOSTAT and international trade data) which is far behind Germany.
The most consumed types of dried chillies in Spain are moderately hot cayenne peppers. Popular cultivars used for drying in Spain include La Nora (round) and Choricero (famous for its use in the production of chorizo sausages). The most famous type of Spanish chilli is Ibarra chilli, but it is commonly produced as pickled and not dried.
There are around 110 companies in Spain specialised in the trade and manufacturing of dried chilies and other spices. Most of them are located in regions of Castile-La Mancha, Valencia, Murcia, Aragon, Catalonia and Andalusia.
In the retail segment, dried chillies are sold mostly under the private labels of Spanish retail chains, such as Mercadona (Hacendado), Carrefour (Carrefour Classic), Alcampo (Auchan), Lidl (Kania), Eroski (Eroski) and Dia (% label). Independent chilli brands in Spain include Ducros (acquired by McCormick), Carmencita (by Jesús Navarro) and Dani. Traders of dried chillies in Spain include Ramón Sabater, Dani, Caylan, Paprimpur, Carmencita, Juan José Albarracín and Juan Navarro.
Spain has an association for spice processors and packers (AEC), consisting of around 20 members targeting the retail and the food industry. The country has a very dynamic food industry, focusing strongly on formulations for the food industry, seasonings and spices.
Several Spanish importers have a considerable processing capacity and supply many other European countries. Common processing activities performed by Spanish companies include grinding and mixing of whole chillies but also added-value processing, such as the production of oleoresins. The Spanish supply of processed chillies (usually in the form of powder) often contains mixed chillies of different origins. If you are targeting the processing segment, the dynamic Spanish industry represents interesting opportunities for you.
Spain is the main trader of South American types of chillies in Europe, such as Amarillo Mirasol, Poblano or Guajillo. Due to being highly specialised in the trade of chillies, Spanish traders are constantly looking for new and 'exotic' varieties. This explains the increasing imports from emerging origins such as Zimbabwe, Zambia, Malawi, Senegal or Uganda.
Germany: a large food-processing industry
Germany offers good opportunities as the largest consuming market of dried chillies in Europe. In 2021, imports reached 26 thousand tonnes, at €78 million. Imports increased by 4.8% in value and by 2.7% in volume annually between 2017 and 2021.
The German market is less concentrated compared to Spain, with 40% of supplies coming from China. But note that the second-largest supplier is Spain, with a share of 28%; some of the Spanish exports to Germany also include re-exported and processed dried chillies imported from China. In 2021, other suppliers included Uzbekistan (4.7% of total German imports), whose supplies to Germany increased at a strong annual rate of 32% since 2017, Mexico (4.4%), Brazil (4.1%) and Turkey (3.1%).
Dried chillies and dried sweet peppers are the third-largest imported spice category in Germany after black pepper and ginger. German companies mainly import dried chillies and further process them either by simple crushing and packing or by using them as ingredients in spice blends and seasoning preparations. A significant share of dried chillies in Germany is used in the meat processing industry, especially for the production of sausages.
There are almost 90 companies that are members of the German Spice Association. Those companies are primarily engaged in refining spices and producing spice blends, spice preparations and other seasoning ingredients – in 2018 they made up for more than €1.2 billion. There are also several relevant spice traders in the country, connecting suppliers to various end-using companies like Worlée, Schuco and AKO The Spice Company.
Of the independent brands, Fuchs Group (officially called DF World of Spices) has the largest retail market share. It has several brands of spices that include chillies, such as Fuchs, Ostmann and BioWagner (an organic brand). In addition to their own brands, it also packages pepper and other spices for several German private labels. Fuchs is the largest European spice manufacturer and the leading privately owned global spice company.
The main private labels in Germany are Kania (of discounter chain Lidl), Le Gusto (by Aldi Süd), Portland (by Aldi Nord), Gut & Günstig (by Edeka), and REWE and REWE Beste Wahl (by REWE).
Apart from the large consumption of dried chillies by the meat processing industry in Germany, at-home consumption is also increasing. Wide presence of ethnic cuisines is stimulating demand of chillies as German consumers also like to try new dishes at home. The usage of chillies in innovative recipes is popularised by famous German celebrity chefs such as Stefan Marquard, Tim Mälzer or Alexander Herrmann.
Moreover, Germany is a highly important market for sustainable and niche products. Besides companies offering high volumes, Germany also provides opportunities to suppliers of certified and high-quality dried chillies. For example, the organic food market in Germany is the largest in Europe. As a result, there are several spice companies handling organic-certified chilies and chili-containing mixes active in the German market. They include Herbaria, Hartkorn (which offers whole Bird's Eye chilies in a ceramic pot) and Grünberg.
The United Kingdom: the leading European importer of Indian chillies
The United Kingdom is the third-largest importer of dried chillies in Europe. Imports increased by 5.5% in volume and 7.5% in value each year between 2017 and 2021, amounting to nearly 16 thousand tonnes or €52 million.
The United Kingdom's imports are influenced significantly by Indian supplies. This is mainly due to the country's large Indian community, as dried chillies are often used in traditional Indian recipes. Indian is among the most common non-UK nationalities in the UK at 795,000 inhabitants in 2022, and it continues to expand as India is also the most common non-UK country of birth for UK citizens. The United Kingdom imports 32% of its dried chillies from India, only second to Spain, which accounted for 35% of total imports. Another important supplier to the United Kingdom is China, with a 9.5% share in total imports.
In the retail segment, the private labels of retail chains like Tesco, Sainsbury's, ASDA, and Morrisons, have the largest market shares for dried chillies. Two leading independent brands selling dried chillies are Schwartz, owned by McCormick, and Bart, which is part of the Germany-based Fuchs Group. If you supply consistent quality at large volumes, this type of buyer could represent an opportunity for you in the UK market.
At the same time, the industry estimates that there are more than 80 importers of dried chilli pepper in the UK, some of which trade in small quantities. So if you are a supplier of smaller quantities and specific varieties, the UK might also be the market for you. Some of the importers specialise in the supply of ethnic-style (mostly Asian) shops such as TRS, Interlink Direct, Fudco, East End Foods or Asco Foods. Several of the larger companies are members of the Seasoning and Spice Association.
The Netherlands: re-exporter and main European market for Thai dried chillies
The Netherlands is a major importer of dried chillies. Its imports increased each year by 10% in volume and by 17% in value between 2017 and 2021. In 2021, Dutch imports of dried chillies reached 15 thousand tonnes or €36 million. The Netherlands plays an important role as a trade hub in Europe, as it re-exports around half of all imported dried chillies to other European countries.
The origins of Dutch imports of dried chillies are quite diverse, since there is no particular country that strongly dominates the supply. The Netherlands is the main European market for imports of dried chillies from Thailand. This is because the Netherlands is home to several specialised traders in the importation of food and spices from Thai origin. In 2021, 12% of total imported value came from Thailand, second only to Spain, at 24%. In volume, Thailand occupied the first spot, at 30% of total imports. Other important suppliers are India (11% of total imports) and China (10%). Due to its diversified supply, the Netherlands offers rather good opportunities for emerging suppliers such as Mexico, South Korea, Kenya and Peru, countries that saw their exports to the Netherlands increase in recent years.
Major retail chains like Albert Heijn (AH label), Aldi (De Kruidencompany label) and Jumbo control a lot of the dried chilli retail sales in the Netherlands. Silvo (part of the McCormick group), Verstegen and Euroma are among the top spice companies in the Dutch market. These companies import spices directly from developing-country suppliers. Important Dutch spice traders include Catz and Nedspice; smaller traders also distributing chillies are companies like H.J. Albring and Keyzer & Company. A full list of Dutch companies trading spices is available on the website of the Dutch Spice Association.
The Dutch Spice Association strongly supports sustainable sourcing of spices. The association is committed to Corporate Social Responsibility, and a leading group of spice importers in the Netherlands has set up the international Sustainable Spices Initiative with members from the Netherlands and other countries.
France: a small producer and interesting market
French imports of dried chillies increased by an average of 7.9% in value and 6.8% in volume each year between 2017 and 2021. In 2021, imports of dried chillies to France reached 7.1 thousand tonnes or €25 million. The leading supplier of dried chillies to France was Spain, with a share of 44% of total imports, followed by China (11%) and India (10%). Other countries that have significantly increased exports to France over the last five years are Mexico, Turkey, Malawi, Guatemala and Uganda. France is the only European country with significant imports of dried chillies from Tunisia, which accounted for 1.1% of total French imports in 2021.
Apart from imports, France produces smaller quantities of dried chillies. An especially important chilli variety in France is a medium-heat Espelette pepper (Piment d'Espelette in French), which has a designated protection of origin. According to the Association of Espellete chillies there are 160 producers producing around 200 tonnes of dried chillies of the Espellette variety.
Most retail chains in France sell dried chillies under their own private labels, including Carrefour (Carrefour and Carrefour Bio labels), Leclerc (Rustica and eco labels), and Auchan (Auchan and Auchan bio labels). Leading independent spice brands that also sell dried chillies in France are Ducros (now owned by McCormick) and Cepasco. Examples of other brands are Fuchs (German brand), Sainte Lucie, Albert Menes and Espig. French retailers select packers of private labels in competitive tender processes, so some of the private label pepper is packaged in other countries.
France is likewise characterised by a large number of small and medium-sized companies, which makes the role of traders significant. The French market has large mainstream importers like SOCO herb and more specialised importers like L'Arcadie and Comptoir des Épices. More companies involved in dried chillies and other spices are listed on the website of the National Union of Processors of Pepper, Spices, Herbs and Vanilla.
Poland: a fast-growing importer and gateway into Central and Eastern Europe
Poland is also an important and fast-growing importer of dried chillies. Between 2017 and 2021, Polish imports increased each year by 11% in volume and 14% in value, reaching 7.4 thousand tonnes or €22 million. In 2021, Poland's largest supplier in terms of volume was China, with an import share of 32%, followed by Spain (27%), Mexico (17%) and Peru (4.8%).
Polish spice imports are carried out by Polish traders like Rolmex and TomPol, but also by production facilities of German spice manufacturers in Poland, most notably AVO. Last but not least, Poland is home to production facilities of the British company AB World Foods, the parent company of, among others, the two major European brands of Asian sauces and pastes, Blue Dragon and Pataks. While AB World Foods also has production facilities in the UK, it can be assumed that over half of the production for the European continent comes from the facilities in Poland.
Poland also re-exports dried chillies to other Central and Eastern European countries, being a trade hub into these markets. Russia was the main destination for Polish exports in 2021, at 21% of Polish re-exports – a situation that probably changed in 2022 due to EU trade sanctions against Russia. But countries like Romania, Czechia, Ukraine, Latvia, Hungary and Slovakia were also among the top-10 destinations for Polish re-exports in 2021.
4.

What trends offer opportunities on the European dried chillies market?

The increasing interest for the international ethnic cuisines combined with the need for stable and sustainable sourcing are the leading driving forces behind the growing consumer interest in dried chillies in Europe. To find out more about general trends, read our study about trends on the European spices and herbs market.
Consumers are getting better informed about chillies they eat
Consumers are becoming familiar with different chilli flavours. Flavorchem's 'Flavor & Trend Forecast' forecasted an increasing demand for hot flavours in 2021. Such flavours include habanero, chamoy sauce, ghost pepper, guajillo, gochujang, Nashville Hot, chipotle, and Carolina Reaper pepper. The demand for hot flavours has also been accompanied by an increase in consumer interest in different chilli types. Flavour company Wixon revealed that Jalapeño is the most prolific pepper type in this category, but that interest in chilli types that add heat and depth of flavour, including aji amarillo, guajillo, habanero, and poblano, is also on the rise.
Consumer knowledge is also related to the clean label trend. Consumers are demanding cleaner label products, made with only natural and recognisable ingredients. In the selection of dried chillies consumers prefer products which contain only dried chillies and nothing more. Clean label dried chillies usually refer to absence of colour preservation additives (such as ethoxyquin) and anticaking agents (such as Silicon Dioxide). Some companies such as Spanish Evesa actively promote dried chilli products as 'clean label'.
The heat level of dried chillies is decreasing
Although chilli spices are in demand it seems that the level of heat is decreasing. According to the market research company Kalsec, the frequency of consumption of hot and spicy foods is increasing, but heat levels are moderating. While consumers are still incorporating heat into their consumption patterns, heat is taking on more complexity, such as sweet heat combinations or ethnic cuisines that combine a variety of herbs and spices with some type of chilli pepper.
Initiatives to fight fraud in the production of dried chillies are increasing
Due to the increasing popularity of different chilli flavours, European producers are faced with the offer of wrongly declared types of chillies. Also additives such as colour enhancers (such as Sudan dyes), flavour enhancers (such as oleoresins) are sometimes not declared, which is considered fraud. In order to fight adulteration the European Spice Association published the Adulteration Awareness document, while the UK Spice and Seasoning Association published a guidance on authenticity of herbs and spices.
Dried chillies are among the focus products for the EU-wide survey about herbs and spices authenticity, published in 2021. The goal of the study was to protect consumers from misleading and potentially unsafe products. It looked at six different herbs and spices. The study revealed that the percentage of samples deemed at risk of adulteration for paprika/chilli was lower than for other products, at 6%. By comparison, 17% of the samples for pepper were deemed at risk.
The Mexican Grocery Processors Association (Canainca) has launched the initiative for new labelling rules for the EU in order to clarify the Mexican origin of dried chillies exported to Europe. According to Canainca, "many Turkish and Asian processors are exporting fake Mexican chilli to the EU using its variety designations, such as chipotle and jalapeño, and national symbols, such as the mariachi hat, on its labelling, trying to take advantage of the global success of the traditional Mexican recipes."
Tips:
Consider the development of new chilli spices of moderate heat level. More complex flavours can be achieved by searing, roasting, toasting or smoking chilli rather than using the chilli without further processing.
Make sure to provide complete documentation and specifications of your dried chillies to European buyers. This information will allow them to assess the authenticity of your product and to develop trust. See the example of a product specification sheet from the Dutch company 12Taste to identify the type of data that can be useful to your potential buyers.
Read the UK Spice and Seasoning Association guidance on authenticity of herbs and spices to learn about measures you can take to prevent fraud in your supply chain.
Promote ethical aspects of your production process and transparency of your supply chain. This means you should be able to prove and communicate a traceable chain back to the raw materials. Visit, for example, the website of Mace Foods, in Kenya. The company is Fairtrade-certified (WFTO) and follows a clear Corporate Social Responsibility (CSR) policy, especially on gender issues. Mace Food also promotes partnerships with NGOs and donors, as well as microfinances institutions and other organisations to reach its sustainability goals.
Read our study on trends for spices and herbs to learn more about current trends in the European market.
This study was conducted on behalf of CBI by Autentika Global and updated by Gustavo Ferro.
Please review our market information disclaimer.
Follow us for the latest updates
Search
Enter search terms to find market research