Exporting pineapple juice to Europe
The European Union is the largest market of pineapple juice with more than 50% share of the total world imports. The Netherlands is the largest European importer of pineapple juice, followed by France and Germany. The major developing country suppliers are Thailand and Costa Rica. This product factsheet provides information on product specifications, statistics, trends, market channels and segments, and competitiveness of pineapple juice in the European market..
Pineapple juice is the juice obtained by mechanical process from the flesh or parts of sound, ripe pineapple (Ananas comosus). Pineapple juice may contain finely divided insoluble solids, but it does not contain pieces of shell, seeds, or other coarse or hard substances or excess pulp. The juice intended for export is usually concentrated and later reconstituted with water due to practical reasons of lowering transportation costs which would otherwise include transport cost for water and packaging.
Vitamins and minerals can be added into fruit juice according to the Regulation (EC) No 1925/2006 as well additives in accordance with Regulation (EC) No 1333/2008. Other allowed ingredients are restored flavour, pulp and cells.
Refer to Table 1 in the annex for the trade classification. When 'pineapple juice' is referred to in this survey, it involves both single strength and concentrate, as specified in the Annex, unless stated otherwise
Quality
The basic quality requirements for pineapple juice are defined by the following parameters:
Colour: characteristic of the variety, most commonly golden yellow to amber.
Flavour and odour: distinct pineapple flavour and odour, free from foreign flavours and odours.
Brix level: quality of concentrated pineapple juices is mainly defined by the Brix level (sugar content of an aqueous solution) and Brix level directly influences the price of the product. According to trade classification the highest category for pineapple juices is defined with Brix level exceeding 67. However, in European industry practice the most common concentrated pineapple juices used by bottlers are around 60-61 Brix and 65 Brix. According to the European Union directive minimum Brix level for reconstituted pineapple juice is 12.8.
Additional quality requirements:
Pulp content: pulp content may vary and commonly it is between 6 and 18% in the concentrated pineapple juice. Importers may require more pulp content as visible pulp in juices is becoming more popular among European consumers.
Acid level: citric acid level is beside Brix the most common parameter that influence the quality and price of the product. Usually acid level for concentrated pineapple juice is 2-4% of citric acid. Acid levels differ between pineapple varieties and producing countries. The most common variety of pineapple used for juice production in Asian countries is Smooth Cayenne, while in Costa Rica it is MD2 or Golden Pineapple. One of the important quality parameters is also Brix to acid ratio and as juice have higher ratio it is considered as better in quality terms. Usually pineapple juice from Golden Pineapple has 23-28 ratio while juice from Smooth Cayenne has a 15-20 ratio. However the lower ratio (and sweeter taste) of MD2 variety allows production of "Not from Concentrate Juices" (NFC).
Labelling
The product must be labelled as pineapple juice or concentrated fruit juice. If water or/and sweeteners are added to fruit juice product must be labelled as nectar and not fruit juice according to the EU Fruit Juice Directive 2012/12. Pineapple nectars must have declared a percentage volume of the pineapple juice on the packaging which must be minimum 50%. However imports of nectars are not very common in majority of the European Union member countries. Labelling of pineapple juice (including concentrated) shall bear a reference indicating the presence and quantity of added lemon juice or lime juice at levels of up to 3 g per litre of juice.
In the case of retail packaging product labelling must be in compliance with the EU Regulation 1169/2011. This regulation entered into application on 13 December 2014 but the obligation to provide nutrition information will apply from 13 December 2016.
In the common case of export bulk packaging, the information required above must either be placed on the container or be given in accompanying documents, except that "pineapple juice or concentrated pineapple juice" and the name and address of the manufacturer or packer must appear on the container. It is common that product specification declares Brix and acid level.
Packaging
Packaging used for pineapple juices must protect the organoleptic and quality characteristics of the product, protect the product from bacteriological and other contamination (including contamination from the packaging material itself), protect the product from moisture loss, dehydration and, where appropriate, leakage as far as technologically practicable and not pass on to the product any odour, taste, colour or other foreign characteristics.
The most common export types of concentrated fruit juices packaging are aseptic or sterile filled: bag-in-Box 20 L, plastic container 20 L, steel drum 200–250 L, plastic drum 200–250 L, stainless steel container (200 L and 800 L), foldable container 1,000 L and truck tankers of 25,000 L.
Regarding retail packaging most fruit juices in the European markets are sold in cartons (62.7%), followed by plastic (26.4%), glass (7.4%) and other (3.4%) in 2013.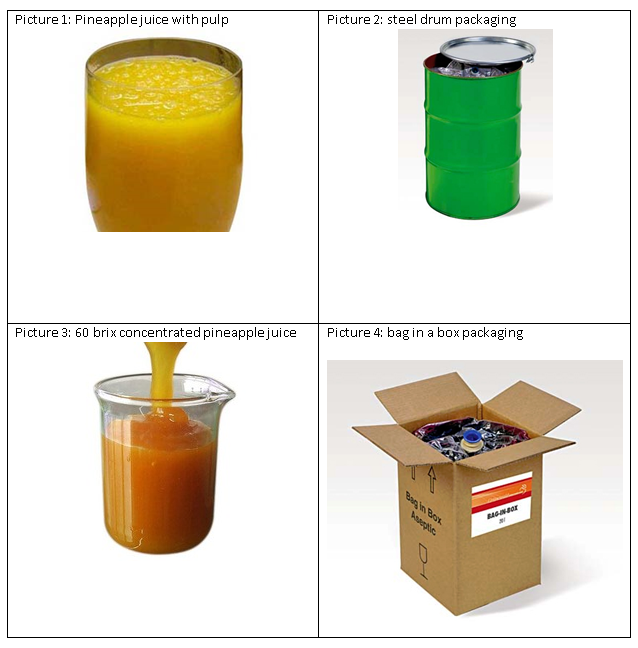 1.

Which European markets offer opportunities for exporters of pineapple juice?

For general overview of the statistical analysis of the processed fruit and vegetables sector in the EU please refer to CBI Trade Statistics for Processed Fruit and Vegetables.
Imports
Analysis and interpretation
Over the last five years, imports of pineapple juice in the European Union have increased annually by an average 9% in value, but decreased by 1% in quantity, reaching €521 million and 376,000 tonnes in 2016.
Decreasing import quantity compared to value indicates an increase in import prices in 2016. The average import price for concentrated pineapple juice in Europe increased from €1.7/kg (CIF) to €2.4/kg.
As the European Union is not a producer of pineapples, exports represent mainly re-exports with a small share of trade with pineapple juices usually made with reconstitution from concentrated pineapple juice.
European Union imports of pineapple juice are concentrated, and three top importers (the Netherlands, France and Spain) together account for more than 60% of total European imports.
Although European imports of pineapple juice in quantity have decreased, some countries have continued to increase their imports, such as the Netherlands, France and Poland.
Countries which are not leading importers of pineapple juice but which showed significant import growth over the last 5 years are Cyprus (13% average annual growth), Lithuania (8% growth) and Denmark (6%).
The largest imports from countries outside the European Union are from Thailand and Costa Rica. Together they hold almost 80% of the total market. Although the Philippines is the largest exporter of pineapple juice in the world, they are traditionally more focused on the US market.
Imports from Brazil showed very significant average annual growth of 103% over the last five years. Other growing exporters are China (56% annual growth) South Africa (37%) and Kenya (15%). The largest annual growth was actually noted from Panama, from just €6 thousand in 2012 to €330 thousand in 2016. However, Panama still has a very small share (just 0.1%) in the total European Union supply.
The pineapple processing industry in major supplying countries is strongly influenced by two US‑based multinational companies: Dole and Del Monte. Developing country independent processors need to compete in price and quality with big players in order to keep their business.
Re-exports of pineapple juice are dominated by the Netherlands. Over the last five years, exports of pineapple juice have increased by 11% in value, but decreased 4% in quantity (indicating an increase in export prices). Exports reached €258 million and 192,000 tonnes in 2016.
The leading external destinations for pineapple juice processed in Europe are Saudi Arabia, Iran and Egypt. There was a very high export increase to Iran, from €129 thousand in 2012 to €3.4 million in 2016. This export to Iran is mainly recorded from Germany.
The main Dutch imports come from Thailand and Costa Rica. However, imports also come from many other developing countries such as the Philippines, Brazil, China, Indonesia, South Africa and Vietnam. This diversification of imports provides opportunities for many suppliers from developing countries which are able to meet product quality requirements.
Tips:
In addition to targeting the main import hubs, consider diversifying your exports of pineapple juice to the growing European markets such as Baltic or Scandinavian countries.
Compare your company with competitors from Thailand, Costa Rica and Philippines. Carefully monitor pineapple crop in both countries as in the years with lower harvest there is an increasing demand for pineapple products other developing countries and a chance to open the market and establish a future position on the European Union market. Production data and trends can be found on the website of Association of Pineapple Producers and Exporters of Costa Rica (Spanish only) or you can contact Thai Pineapple Industry Association.
Learn from other Developing Countries suppliers who are gaining market share in the European Union such as Kenya and Philippines which are increasing their supply and offering pineapple juice in the European market when there is a tight supply from Thailand and Costa Rica.
Analysis and interpretation
Due to geographical location European Union member countries are not able to produce concentrated pineapple juice so production data represents only the pineapple juice which is produced by reconstitution of water from concentrated juice. The largest number of fruit juice manufacturers is in Germany. Every second fruit company of the European Union, in total 375 companies, has its headquarters in this country.
In 2013 pineapple juice was ranked as the 4rd in the European Union market with the 3.6% share of the fruit juices and nectars total market. Traditionally Spanish consumers have the highest preference for pineapple juice flavour with 19.6% market share and the second rank after the orange juice. Other countries with a particularly higher taste for pineapple flavour where pineapple flavour is ranked among the 5 flavours are: France (3.6% share), UK (3.2%), Cyprus (6.1%), Denmark (2.7%), Lithuania (5.5%), Norway (1.3%) and Switzerland (1.3%).
NFC pineapple juice continues to increase in consumption where Costa Rica is the leading European suppliers due to appropriate pineapple juice composition which is not very acid.
Tips:
You can focus your export to countries with the high consumption of pineapple juice such as Spain but only if you are able to find bottling companies that are sourcing directly from processor as it is very common that bottling companies buy concentrates from well-established European suppliers. However more feasible chances for direct selling go bottlers can be found in export of NFC pineapple juice if you are able to produce juices from convenient varieties such as MD 2.
Regular information about crop, processing and market situation for pineapple juice can be found on the leading European information service for processed fruit and vegetables FoodNews.
More specifically you can find information on European fruit juice production and consumption on the website of the European Fruit Juice Association.
2.

Which trends offer opportunities on the European market for pineapple juice?

A general overview of the most relevant general market trends for developing countries exporters can be found on CBI Trends for Processed Fruit and Vegetables. In addition, there are some remarks that can be made about specific products.
Over the last 5 years imports from Thailand dropped by 8% as many Thai farmers shifted to other crops and neglected their pineapple plantations due to low prices of fresh pineapples. Currently there is a shortage of pineapples in the world production, thus it can be expected that prices of pineapple juice will increase in the next year (2016). Costa Rica has had a different supply problem in recent years: it is exporting more and more of its pineapples as fresh. Despite an energetic planting campaign, there has not really been enough fruit to supply the demands of the fresh, NFC and concentrated pineapple juice markets together.
There is still a definitive value chain in consumption of pineapple juice, beginning with syrups at the most affordable price point for developing market consumers (such as in Eastern and Central European countries), climbing to low juice content drinks, then nectars, 100% juices and NFS pineapple juices.
The package itself is hugely important, in all markets but particularly in developed markets, not only because it showcases the freshness of the product but because consumers read labels more than ever before.
The retail environment for juice is going to fragment and change pretty dramatically in mature markets. Even today, in a traditional supermarket, there are successful points of sale (in coolers next to fresh produce) and lagging points of sale at the back of the store where juice presently gets a lot of shelf space that is going to be increasingly hard to justify. On the other hand premium juice is going to enter non-traditional environments such as gyms, yoga clubs: places where it is easier to reach health conscious shoppers.
Corporate and environmentally responsibility initiatives are increasing the impact on the EU markets. Particularly the fair-trade market, organic market and functional foods market are growing.
Demand for organic pineapple juice continues to increase. Organic pineapple juice is notably difficult to source, since organic pineapple production is difficult and the main global producers focus on sustainable production but not organic. If you can offer organic or organic and fair-trade pineapple juice, you are likely to find a good market. According to IFOAM the European countries with the highest spending on consumption of organic food are Switzerland (€189 per capita yearly), Denmark (€159) and Luxembourg (€143).
Tips:
Anuga trade fair is the best place to monitor market trends and to meet potential prospects in Europe. It is held every two years in Cologne in Germany. Another trade fair that is important to visit is SIAL which is held every two years in Paris in France.
Developing countries exporters can benefit from the current "healthy living" trend. Use of the scientifically proven health – benefit medical research is commonly used in the marketing of pineapple juice. Some strong selling points of pineapple juice are high level of digestive enzymes, especially Bromelain and vitamin C content where one glass of pineapple juice contain almost 30% of recommended daily intake. Bromelain is produced from pineapple stems but also bromelain extract is product extracted from pineapple juice. On the other hand, the traditional healthy image of fruit juices is rapidly changing, since consumers are more aware than ever of the sugar content.
The internet and social media are great opportunities to introduce your company and market pineapple juice on the European markets.
Use the increasing opportunity to sell organic and NFC pineapple juice, especially to the suppliers of the new market channels such as juice bars.
World production and market trends can be monitored on special blogs such as the blog of International Pineapple Organisation.
3.

With which requirements should pineapple juice comply to be allowed on the European market?

For the general overview of the buyer requirements in the EU please refer to CBI Buyer requirement for processed fruit and vegetables.

Specifically for pineapple juice you can consult the EU Export Helpdesk where you can select pineapples under specific HS codes 200941 and 200949.

For information on commonly requested standards check the International Trade Centre's Standards Map, an online tool which provides comprehensive information on over 170 voluntary sustainability standards and other similar initiatives covering issues such as food quality and safety.
Legal Requirements
The composition and quality of fruit juices, including pineapple juice, are covered by a specific European Fruit Juice Directive. This Directive stipulates the specific characteristics of fruit juices and fruit-based drinks to guarantee the best possible products are put on the European market. It defines the composition of the various products that can be produced, including not only fruit juices, but also dehydrated fruit juice and fruit nectars. It specifies the criteria with which the various products must comply, including which fruits can be used, their minimum content, what ingredients can or cannot be added and how these products must be designated on the label. As an example, it must be clearly indicated on the label when a product has been sweetened or when it has been obtained from concentrated juice.
With the latest European Fruit Juice Directive EU Commission wanted to align directive closer to the Codex Alimentarius standard for Fruit Juices. In this view new amendments can be expected as in July 2015 the new proposal to reduce maximum level of lead in fruit juices and nectars from 0.05 to 0.03 mg/kg was formally adopted by the Codex Committee on Contaminants in Food.
The description of nutritional and health benefits is now regulated by the Nutrition and Health Claims Regulation, This law requires that no nutrition claim or health claim may be used if it has not first been approved. It will in future also specify nutritional criteria (nutrient profiles) that products need to respect before a health claim can be made.
In the event of repeated non-compliance of specific products originating from particular countries, they can only be imported under stricter conditions such as having to be accompanied with a health certificate and analytical test report. Products from countries that have shown repeated non-compliance are put on a list included in the Annex of Regulation (EC) 669/2009. At the moment (from March 2016) there is no pineapple juice on the list.
Regarding the laboratory testing of the pineapple juice the most common problem European importers are facing is C4 sugar addition to pineapple juice what is illegal and therefore forbidden. Water addition to NFC juice is the second common authenticity issue.
Labelling Requirements
In December 2014 EU Regulation 1169/2011 went into effect. New labelling legislation forbids to mislead the consumer and to attribute to any food the property of preventing, treating or curing a human disease. Another change is allergens labelling where allergens have to be highlighted in the list of ingredients and requirements on information on allergens will also cover non pre-packed foods including those sold in restaurants and cafés. Also nutrition information is mandatory for most products. However, pineapple juice is not on the obligatory list of the allergens.
Common and niche requirements
Food safety certification is a common request by the European Union importers. The most usual certification schemes accepted on the European markets are IFS, FSSC22000 and BRC.
Environmental protection, organic and fair trade certification schemes are becoming more and more popular in the European Union. For organic production you can consider IFOAM standard. The EU regulates both organic food and drink produced and/or processed within the EU and organic goods from elsewhere Commission Regulation (EC) No. 1235/2008 with detailed rules concerning import of organic products from third countries. These can readily be imported from non-EU countries whose rules on organic production and control are equivalent to the EU's - currently Argentina, Australia, Canada, Costa Rica, India, Israel, Japan, New Zealand, Tunisia, Switzerland and the USA.
For all other non-EU countries, importers can have their organic products certified for import into the EU by independent private control bodies approved by the European Commission.
Tips:
Refer to The Code of Practice of the European Fruit Juice Association for guidelines specifying Good Manufacturing Practices in production of fruit juices and nectars. Ensure that any practices that you are using are legal in the European Union. For example the use of celluloses in the European Union are not permitted so you cannot use total liquefaction of the fruit to extract juice and sell it to European Union member countries.
New laboratory testing methods can easily discover addition of non-permitted sugars or water into pineapple juice. It takes a long time and a lot on money to build a good reputation in European markets but this can be lost very quickly if you are caught with adulterated or "sub-standard" products.
To find out the Maximum Residue Levels (MRL) that are relevant for pineapple juice, you can use the EU MRL database in which all harmonised MRLs can be found. For pineapples there is definition of maximum residue levels for 457 different pesticides.
Check with the importers and experts if the food safety certification company used is approved by the European Union buyers.
4.

What competition will I be facing on the European pineapple juice market?

Read the Top 10 Tips for doing business with European Buyers.

The implementation of food safety systems and regulatory laboratory testing of pineapple juice is just the first step of entering the European market. On the market there is already a lot of competition in the form of substitute products and other companies which you should be aware of.
Product competition
Major substitute products for pineapple juices are fresh pineapples from which fresh juice can be extracted at home and other types of fruit juices.
Juice bars, unpackaged juices and juice prepared at home have a clear advantage in the ability to convey natural ingredients or authenticity. Juice bars focused to lifestyle consumers with an interest in juicing or green juice as a meal replacement option are growing and they became USD 500 million segment in Western Europe.
Regarding other competing types of fruit juices the inclusion of pineapple within the top five flavours of fruit juices in Europe is primarily due to the traditional propensity for these flavours on the Spanish market. Traditionally leading tastes in Europe are orange, flavour mixes and apple. However in many individual European markets pineapple juice is ranked below the top five and overrun by peaches, berries, pear, grapes, apricot, tomato, plum, mango, cherry, grapefruit and even vegetable juices.
Company competition
Developing countries exporters of pineapple juice should be aware of the main competitors from main suppling countries, such as Thailand and Costa Rica, as well as emerging pineapple juice exporters, such as Kenya.
Tips:
You can try to diversify a part your offer with fresh pineapples. However, this is quite a different ballgame requiring sophisticated logistics. For more info see the CBI market surveys on Fresh Fruit and Vegetables.
Try to find data about competitors from other countries who are present on the European market. You can quickly make a selection by searching on export promotion organisations from competitors' countries. The list of trade promotion organizations is available on the ITC website.
5.

Which channels can you use to put pineapple juice on the European market?

Figure 7: Common trade channels for pineapple juice on the European Union market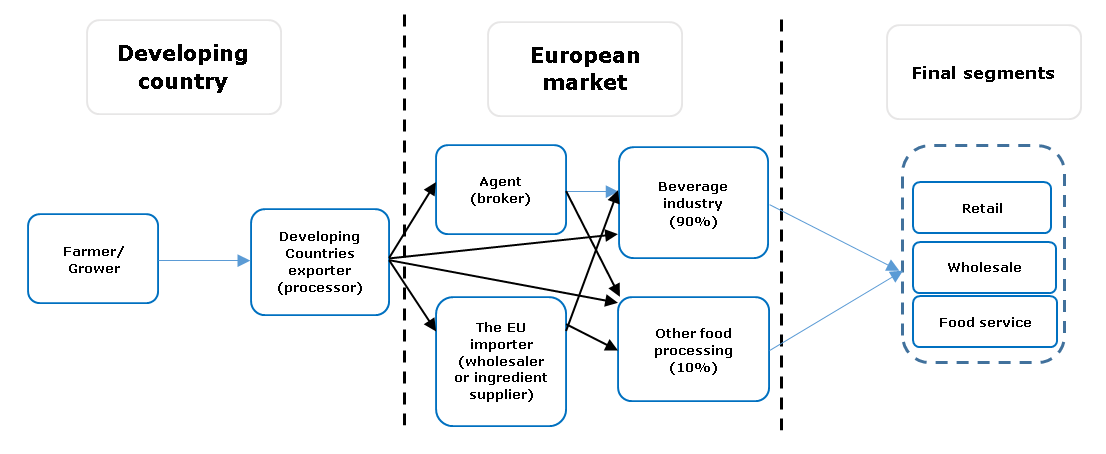 Majority of imported pineapple juice in European Union is used by beverage industry in 3 main different ways:
With reconstitution of water for bottling and production of 100% pineapple juice
As the ingredient for production of nectars and fruit drinks
Bottling of NFC pineapple juices
In beverage market channel the share of private label brands is expecting to increase, especially in the sub-segment of high quality 100% and NFC pineapple private label juices.
Smaller portion of imported concentrated pineapple juice is used by fruit preparations industry where it is used as the ingredient in the production of marmalades, jellies, candies, cereal based products, ice creams and fruit yogurts.
Some examples of different trade channels for pineapple juice in the European Union are the following:
Importer (wholesaler/ingredient supplier): SVZ, Agrana, Prodalim, David Berryman, Ariza, Global Fruit, Cobell
Bottlers (retail sale/largest players): J. García Carrión, Coca Cola (Cappy and Minute Maid brands), Pepsico (Tropicana brand), Lactalis Group (Santal brand), Eckes Granini Group, Refresco Gerber, Conserve Italia, Rauch Fruchtsafte
Tips:
Working directly with the bottlers cuts the supply chain but there must be a lot of investments in quality in order to become preferred supplier.
If you are able to produce NFC pineapple juice this can help to reach more different market segments such as HORECA suppliers.
6.

What are the end-market prices for pineapple juice on the European market?

Indication of margins according to final retail prices for pineapple juice is not precise and Developing Countries exporters can have only a very rough general overview of the price development. Additional problem is that majority of pineapple juice is exported as concentrated so prices of retail juice packing aimed for immediate consumption are not comparable with prices of concentrates. However very roughly it can be estimated that the CIF price of NFC pineapple juice represents around 25% of the retail price of 100% juice. The best option to monitor prices is to compare your offer with the offer from the largest competitors. The prices are also different between producing countries.

Current price outlook indicates that prices will increase in 2015 and even 2016 season due to poor harvests in Philippines and Thailand. FOB prices from Thailand are not expected to fall under USD 2000/tonne during 2015.

Price developments during the 2014/2015 season are the following:

Concentrated pineapple juice (both aseptic and frozen):
Thailand (Smooth Cayenne variety), 60 Brix

USD 1650–3000/tonne (CFR)
NFC pineapple juice:
Costa Rica (MD2 variety),  12 Brix
Figure 9: Price developments of the 60 Brix concentrated pineapple juice from Thailand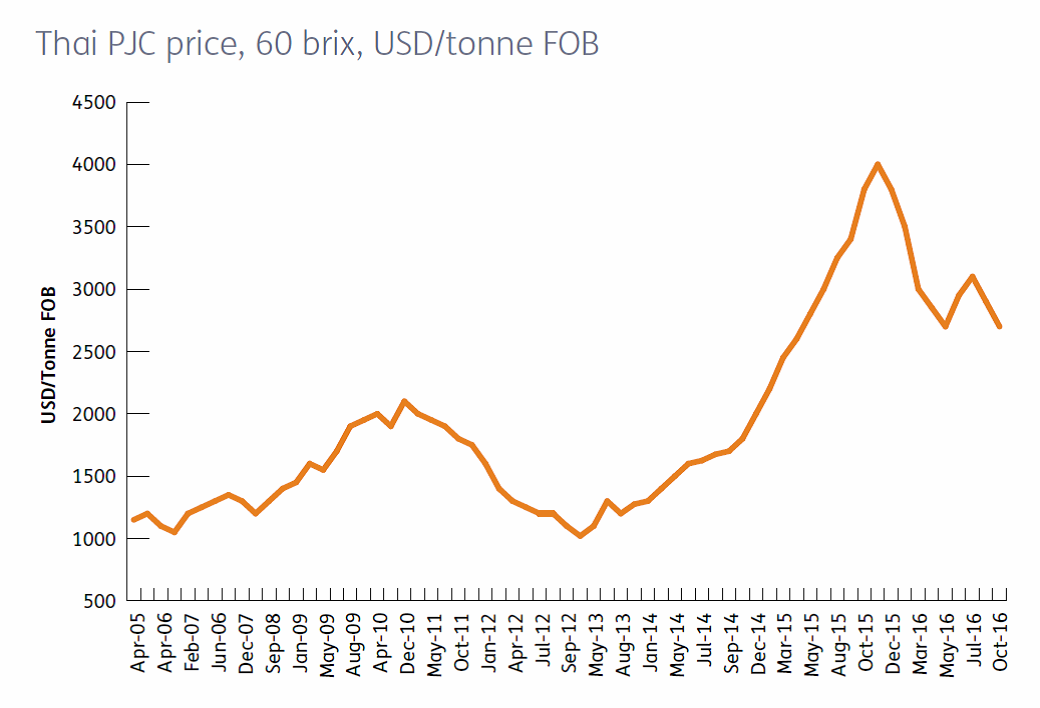 Please review our market information disclaimer
Follow us for the latest updates
Search
Enter search terms to find market research