Entering the European market for tropical frozen fruit
Food safety certification along with reliable and frequent laboratory tests create a positive image for tropical frozen fruit exporters to Europe. Sustainable production and implementation of social responsibility standards may provide additional advantages for emerging suppliers. The strongest existing competitors in most tropical frozen fruit are located in Peru and India, provided that you grow the same fruit.
1.

What requirements must tropical frozen fruit comply with to be allowed on the European market?

Our study on buyer requirements in the European processed fruit and vegetable market provides general information on buyer requirements for processed fruit and vegetables. The section below deals with specific requirements applying to tropical frozen fruit in Europe, while the requirements for the sector will be analysed later.
What are mandatory requirements?
All food products, including imported tropical frozen fruit, sold in the European Union must be safe. Only approved additives are allowed, and there are maximum levels for harmful contaminants, such as bacteria, viruses, pesticide residues and heavy metals. It should also be readily obvious from the labelling whether a food contains allergens.
Border control
Official food controls include regular inspections that can be carried out during customs clearance or at all other stages. In the event of repeated non-compliance of specific products originating from particular countries, stricter conditions will be imposed on those products, such as requiring a health certificate and an analytical test report. Products from countries that have shown repeated non-compliance are put on a list included in the Annex of Regulation (EC) 669/2009.
As of April 2020, for example, fresh or chilled Pitahaya (dragon fruit) from Vietnam is on this list. As a result, 10% of all pitahaya imported from Vietnam is controlled for the presence of pesticide residues.
Contaminants control
Food contaminants are unwanted and harmful substances in food that can cause consumer illness. The European Commission Regulation sets maximum levels for certain contaminants in food products. This regulation is frequently updated and, in addition to the limits set for general foodstuffs, it also sets a number of specific contaminant limits for specific products. The most common requirements regarding contaminants in tropical frozen fruit are related to the presence of pesticide residues and microbiological organisms.
In case a product contains more contaminants than allowed, the product will be withdrawn from the market. These cases are reported by the European Rapid Alert System for Food and Feed (RASFF). In this June 2019 example, frozen mango cubes from Vietnam containing more chlorate than allowed were detained by the operator.
Pesticide residues
The European Union has set maximum residue levels (MRLs) for pesticides in and on food products. Products exceeding those limits are withdrawn from the European market. Most European importers require a detailed test to check for the presence of a number of pesticides, sometimes more than 500. Importers of processed fruit may opt to limit the risk of non-compliance and adopt a safety margin compared to the official limit.
The European Union regularly publishes a frequently updated list of approved pesticides that are authorised for use in the European Union. In 2019, the European Commission introduced 12 new regulations with changes referred to nearly 80 different pesticides. The most recent changes relevant for frozen tropical fruit include new maximum residue levels for Thiabendazole, which is relevant for mango.
Microbiological contaminants
The most common types of microbiological contaminants present in tropical fruit are norovirus and salmonella. The main reason for the occurrence of those infectious microorganisms in tropical fruit is primarily related to sanitation issues. Contamination mainly occurs in the production environment and postharvest handling. As such, it is important for developing country suppliers to educate their employees to implement good hygienic practices and to use clean vehicles for transport.
An example of an incident related to tropical frozen fruit recorded by the European RASFF is chopped frozen pineapple from Vietnam containing salmonella. This product was destroyed.
Heavy metals
The European Union's regulation on food contaminants sets restrictions for lead, cadmium, mercury and tin. In the processed fruit and vegetables sector, high lead or cadmium can be present in frozen fruit. A recent example of an incident related to tropical frozen fruit recorded by the European RASFF is the presence of lead in frozen passion fruit puree from France, which was withdrawn from the market.
Packing requirements
Repacking tropical frozen fruit under controlled conditions is permitted and must be done quickly at a temperature between 0 and 5°C. After repacking, products are returned into freezing chambers under the regular temperature of -18°C.
What additional requirements do buyers often have?
Quality requirements
Some basic quality requirements for tropical frozen fruit are:
Good, reasonably uniform colour, characteristic of the type of fruit and variety;
Clean, sound and free from foreign matter;
Free from foreign flavour and odour;
When presented as individually quick frozen (IQF), the tropical fruit shall not be attached to each other;
Reasonably free-from uncoloured tropical fruit;
Normally developed with the shape typical for the variety used and of similar varietal characteristics in each package;
For berries like acai, acerola, reasonably free-from fruit which are not whole in shape.
The industry has set several additional criteria to determine quality for tropical frozen fruit. An important quality indicator for tropical frozen fruit intended for further processing is the brix level (sugar content of water solution). However, the brix level is more important for the juice and jams industry than for retail packing supply.
Some tropical frozen fruit, such as avocado, are commonly produced with the addition of acidity regulators (citric acid) to avoid oxidation. However, this treatment alters the original taste, so some buyers can request frozen fruit without addition of acids.
Food safety certification
Although food safety certification is not obligatory under European legislation, it has become a must for almost all European food importers. Well-established European importers will not work with you if you cannot provide some type of food safety certification.
Most European buyers will ask for a Global Food Safety Initiative (GFSI) recognised certification. For tropical frozen fruit, the most popular certification programmes recognised by GFSI are:
Please note that this list is not exhaustive and food certification systems are constantly developing.
Although different food safety certification systems are based on similar principles, some buyers may prefer one specific management system. For example, British buyers often require BRC, while IFS is more common for German retailers. Also note that having food safety certification is only a basic requirement to start exporting to Europe. Serious buyers will usually visit or audit your production facilities in the first few years of your relationship.
Corporate Social Responsibility
Companies have different requirements for corporate social responsibility. Some companies require adherence to their code of conduct, or one or more of the common standards, such as the Supplier Ethical Data Exchange (SEDEX), Ethical Trading Initiative (ETI), and Business Social Compliance Initiative code of conduct (BSCI). If the tropical frozen fruit is meant for the retail segment, suppliers will be asked to follow a code of conduct developed by the specific retailer. Many retailers have their own codes of conduct, such as Lidl, Rewe, Carrefour, Tesco and Ahold Delhaize.
Packaging requirements
The most common types of frozen tropical fruit packaging are polyethylene bags placed in carton boxes. The carton boxes are packed on Euro pallets (80 cm x 120 cm), protected by polyethylene foil. Cardboard must be durable enough to not deform under the weight on the pallet due to prolonged storage. Cardboard boxes are sealed with tape. The size of the packaging may vary according to the buyers' requests.
Retail packaging includes plastic bags, carton packaging, plastic containers and foil bags.
Labelling requirements
The name of the food as declared on the label should include the name of the fruit and the words 'quick-frozen' or 'frozen'. The label should also include the style, as appropriate: 'IQF whole', 'chunks', 'crushed', etc. (for example, 'quick-frozen mango chunks'). If a packing medium is used, this should be included on the label too, for example, 'quick-frozen papayas in sugar syrup'.
In case of quick-frozen tropical fruit in bulk packaging, the information required above must either be placed on the container or be given in accompanying documents. Product name and the name and address of the manufacturer or packer must appear on the container.
In addition to the type of the fruit it is common for product specification to also declare the crop year, variety and brix level.
In the case of retail packaging, product labelling must comply with the European Union Regulation on the provision of food information to consumers. This regulation defines nutrition labelling, origin labelling, allergen labelling (tropical frozen fruits are not included in the allergen list of the regulation) and legibility (minimum font size for mandatory information).
From 1 April 2020, new EU rules took effect requiring food businesses to label foods with the country of origin or place of provenance of primary ingredients. These requirements are set out in Commission Implementing Regulation (EU) 2018/775, and apply alongside existing rules in the EU Food Information Regulation (No. 1169/2011). If a product is made from several ingredients, the indication of origin must be placed for the ingredients that represent more than 50% of the product. For example, if frozen mango chunks are labelled with 'Made in the Netherlands', the origin of the fruit must also be indicated. This can be done by indicating a specific country (e.g. Peru), by indicating 'non-EU' or by declaring 'mangoes do not originate from the Netherlands'.
Picture 1: Labelling requirements
Source: Integrated Business Communications Alliance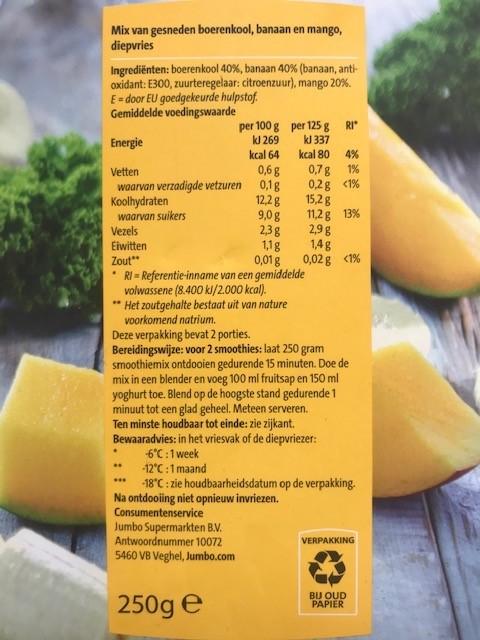 Source: Jumbo Supermarkten BV
What are the requirements for niche markets?
Organic tropical frozen fruit
Organic certification schemes are increasingly popular in Europe. To market tropical frozen food as organic in Europe, they must be grown using organic production methods according to European legislation. Growing and processing facilities must be audited by an accredited certifier before you may put the European Union's organic logo on your products, as well as the logo of the certifying organisation, for example, Soil Association in the United Kingdom and Naturland in Germany.
Importing organic products to Europe is only possible with an electronic certificate of inspection (e-COI). Each batch of organic products imported into the European Union has to be accompanied by an electronic certificate of inspection as defined in the regulation covering imports of organic products from third countries. This electronic certificate of inspection has to be generated via the Trade Control and Expert System (TRACES).
Sustainability certification
For the overview of the developments of the sustainability initiatives in the European market read our study on Trends on the European Processed Fruit and Vegetables Market.
Sustainability is a broad term with many aspects, and there is still no recognised sustainability certification covering all aspects. One increasingly used aspect is to publish CO2 emission rates on products, but it is difficult to have reliable measurements for those claims. However, some private certification schemes are in development. Currently, the most famous certification schemes focus on environmental impact and ethical aspects.
Fairtrade and Rainforest Alliance, although widely recognised certification schemes, are not very frequently used for certification of tropical frozen fruit. Fairtrade international has developed a specific standard for prepared and preserved fruit and vegetables for small-scale producing organisations, but frozen products are hardly certified as a Fairtrade product, as freezing equipment is rather large and costly, therefore not frequently bought by cooperatives in developing countries.
Ethnic certification
Islamic dietary laws (Halal) and Jewish dietary laws (Kosher) propose specific restrictions in diets. If you want to focus on the Jewish or Islamic ethnic niche markets, consider implementing Halal or Kosher certification schemes.
2.

Through what channels can you get tropical frozen fruit on the European market?

Most tropical frozen fruit in Europe is used by the food processing industry but the share of retail and food service sales is growing as consumption of smoothies and healthy snacks grows.
How is the end market segmented?
A high share of imported tropical frozen fruit goes to the food processing industry, such as bakeries and the dairy industry. There is no exact data, but the food processing segment is roughly estimated at around 70% of the European tropical frozen fruit market. This is followed by the retail and food service segments. Convenient and fast-to-prepare foods that are healthy, such as smoothies, are increasingly popular, boosting retail and food service sales.
Figure 1: End market segments for tropical frozen fruit in Europe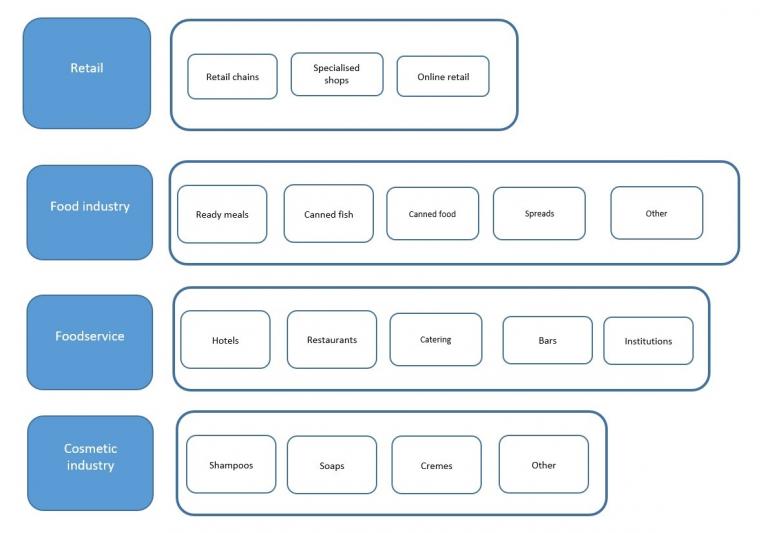 Food Industry Segment
The most common food industry users of tropical frozen fruit in Europe include the following:
Dairy and ice cream industry – In the dairy industry, tropical fruit is especially used in yogurts and other milk-based drinks. Suppliers and producers of fruit preparations use tropical frozen fruit. In a few cases, fruit crumbles are used as ingredients in natural types of ice creams.
Bakery and confectionery industry – In the bakery industry, tropical frozen fruit are especially used in the frozen baked sub-segment in the production of cakes, tartlets and other desserts. The bakery industry also uses significant volumes of fruit fillings for pies, pastries and other products, which are commonly supplied by specialised food ingredient companies.
Beverages industry – This industry uses tropical frozen fruit for the production of juices and smoothies. While tropical frozen fruit are used for home blending of smoothies, industrial smoothie producers more commonly use frozen purees. Depending on the blend, tropical frozen fruit purees, such as mango and pineapple, are often mixed with banana puree to get a thick consistency, and with different types of fruit and vegetable juices to get specific flavours.
Jams and spreads industry – Although frozen strawberries and raspberries are the main products used in jams and spreads, to a lesser extend tropical fruit is also used in the industry. The demand for some tropical fruit, such as mango, is increasing. In the production of jams, fruit most commonly represent 40%–50% of the final product weight. However, the proportion of fruit used in jams is growing as jam producers want to increase the content of fruit and decrease the sugar level. Labels such as 'low sugar' or 'high fruit' jams are increasingly used. The largest European producers also increasingly promote 'no sugar added' jams.
Retail
Retailers sometimes buy directly from developing country exporters, but in most cases they use intermediaries, such as specialised distributors. A recent development is the polarisation of the retail sector into discounters and high-level segments. Consolidation, market saturation, strong competition and low prices are key characteristics of the European retail food market. Currently, online retail sales of tropical frozen fruit account for an insignificant share of the market but they are forecasted to increase in the near future.
Leading food retail companies in Europe differ per country. The companies holding the largest market shares are Schwartz Gruppe (Lidl and Kaufland brands), Carrefour, Tesco, Aldi, Edeka, Leclerc, Metro Group, Rewe Group, Auchan, Intermarché and Ahold (Delhaize, Albert Heijn and several other brands). There are also several retail chains in Europe specialised in the supply of frozen food, such as Iceland (the United Kingdom) and Picard Surgelés (France).
Food service
The food service channel (hotels, restaurants and catering) is usually supplied by importers. This segment often requires specific packaging in the range of 1kg–5kg, which is different from bulk and retail packaging packs. Some catering companies have specialised in the supply of frozen fruit mixtures for smoothie bars and restaurants, such as Projuice (the United Kingdom), Smoothie Solutions (Spain), and Juice Factory (Austria). Smoothies and other products made of frozen fruit mixtures have also benefited from the strong growth in the out-of-home home deliveries market.
Through what channels do tropical frozen fruit reach the end market?
The most important channels for tropical frozen fruit in Europe are specialised importers, wholesalers and food processors. Although the largest user of tropical frozen fruit is the fruit processing industry, in the majority of cases they do not import directly but rather via importers. Sometimes frozen packed tropical fruit are sold directly to European retail chains. However, trading companies most often act as intermediaries and participate in tender procedures of retail chains.
Figure 2: European market channels for tropical frozen fruit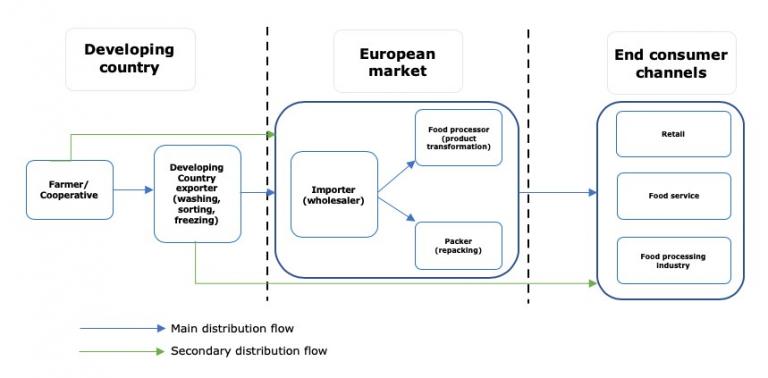 Importers / wholesalers
Importers and wholesalers resell tropical frozen fruit to either food processors or packers. Some importers are also equipped with packing equipment and they can reach final market segments directly.
For new suppliers, the challenge is to establish long-term relationships with well-known importers, as they usually already work with selected suppliers. Well-known importers perform regular audits and visits to producing countries. As a new contact, very often you would need to offer the same quality but possibly better prices than your competitors, at the start of the relationship.
The higher requirements from retailers determine the supply chain's dynamics from the top down, putting pressure on importers and food manufacturers. This pressure forces prices down, but also brings to the market more products that have added value qualities, such as sustainable, natural, organic, and fair trade. Many importers develop their own codes of conduct and build long-lasting relationships with preferred developing country suppliers.
Many importers specialise in frozen products, often importing a wide range of frozen products. Some examples of large importers in the European frozen fruit market include Crops (Belgium) Greenyard Frozen (Belgium), Dirafrost (Austria), Binder International (Germany), Descours (France), ARDO (Belgium), and Grunewald (Austria).
Food processors
Food processors are a specific segment within the tropical frozen fruit market. Some companies specialise in working as an intermediary between suppliers of tropical frozen fruit and industrial users. Those companies are specialised in the production of fruit fillings and preparations used in the bakery, confectionary, dairy or ice cream industry. Those fruit preparations are often made from frozen fruit as a main ingredient. Ingredients are typically customised for each client and may include sugar, gelling agents, thickeners, concentrated juice, etc.
Fruit preparation producers usually produce a wide range of products and act as food ingredient suppliers for many food industries. Examples of food ingredient suppliers that, among others, offer fruit preparations include Kerry (Ireland), ADM WILD (multiple countries inside and outside Europe), Döhler (Germany), FDL (the United Kingdom), and AGRANA (Austria). Several famous producers of jams and fruit spreads also offer fruit preparations, such as Zentis (Germany), Zuegg (Italy), and Andros (France).
Packers
Frozen fruit packing companies are usually importers but also repack imported tropical fruit under their own brand or private label. Some already mentioned importers that supply their own brand to the retail segment are Crops and Ardo. In some cases, suppliers from developing countries directly pack for retailers in the European Union.
What is the most interesting channel for you?
Specialised importers are the best contact for exporting tropical frozen fruit to the European market. Importers usually have good knowledge of the European market and they monitor the situation in the tropical frozen fruit producing countries closely. They are your preferred contact, as they can inform you timely about market developments and provide practical advice for your exports, which is especially interesting for new suppliers. Normally, importers also import other types of frozen fruit and vegetables, so offering several types of fruit can increase your competitiveness.
In addition to specialised importers, the food ingredients suppliers are also an interesting channel for market entry in this sector. In some cases, developing country exporters can supply to other segments directly as well. However, be aware that supplying to, for example, the retail segment directly is very demanding and requires a lot of quality and logistical investments.
Compared to the general sector of frozen fruit and vegetables, frozen tropical fruit for the food industry is a relatively large segment, leaving less size and opportunities in, for example, food retail or food service.
Tips:
Customise products strategically when choosing a preferred channel. For packers, the shape, colour and taste of IQF products are more relevant. For the food industry channel, the chemical composition of the frozen product is more important.
Search the list of exhibitors of the specialised trade fair Fi Europe to find potential buyers for your tropical frozen fruit within the food ingredient segment.
Understand the pressure by retailers for sustainable products and make yourself more competitive by investing in different certifications, such as corporate social responsibility (CSR), organic or food safety. Food safety certification is the minimum requirement if you want to reach the retail segment.
3.

What competition do you face on the European tropical frozen fruit market?
Where are your competitors located?
The main competitors for frozen tropical fruit suppliers to Europe are in Peru and India. Those two countries supply almost two-thirds of all tropical frozen fruit exported from developing countries to Europe, followed by Vietnam, Mexico, Brazil, and Philippines.
Peru: leading supplier with steady growth
In 2019, Peru's total supply of tropical frozen fruit to Europe was €30 million. With a share of 20% of all European imports of tropical frozen fruit, Peru is by far the largest exporter of tropical frozen fruit to Europe. In the past five years, Peru's exports of tropical frozen fruit grew at an average annual rate of 201%, the highest of the six leading supplying countries. The large share of the market and the strong upward growth, makes Peru the strongest competitor for exporters of tropical frozen fruit.
Most of Peru's tropical frozen fruit exported to Europe goes to the re-exporting countries: the Netherlands (28%) and Belgium (22%). They are followed by Germany (19%) and Poland (17%). Of these countries, Peru's exports to the latter two countries has increased the most with export values almost doubling every year.
Mango is one of the most important tropical fruit among Peru's exports. According to the Peruvian Association of Producers and Exporters of Mango (APEM), Peru is the third biggest exporter of mangoes in the world. The majority of the exported mango is fresh (60%). Frozen mango accounts for 20% of Peru's tropical frozen fruit exports to Europe. The production of mango is mainly concentrated in the areas Piura, Lambayeque, and Ancash.
India
With a value of €15 million, India is the second-largest supplier of tropical frozen fruit to Europe. India's position in the list is not strange; India is the world's largest producer of mango. India supplies 40% of the global mango market, but at the same time, India is also the world's largest market and the majority of the mangos is sold in the domestic market. Depending on the area, the mango season starts in March-April and ends in June‑July.
In 2015 and 2016, India was the largest exporter of tropical frozen fruit to Europe. However, after 2016 there was a significant drop in value and India was overpassed by Peru. In the past five years, India's tropical frozen fruit exports to Europe declined by 3.4% per year in value. In 2015, India's share of Europe's tropical frozen fruit imports was 15%, decreasing to 10% in 2019.
Most of India's tropical frozen fruit exports go to the Netherlands (46%), followed by Germany (14%), Belgium (13%), France (8.5%), and the United Kingdom (7.3%). These exports have mostly decreased in the past five years, ranging at an average annual growth between -9.4% (Belgium) and +0.7% (France).
Vietnam: an upcoming exporter
Vietnam's tropical frozen fruit exports to Europe increased substantially, from €5.8 million in 2015 to €10 million in 2019, growing in value in the past five years (15% per year on average), which resulted in a share of 7% of European imports.
The three most important destinations within Europe are the Netherlands (35%), Germany (15%) and the United Kingdom (14%). Exports to these countries increased substantially in the past five years. With an average annual growth of 32%, the highest growth was realized in Germany.
According to Vietnam's Ministry of Agriculture and Rural Development, there are 14 kinds of fruits with large areas (over 10 thousand hectares per category) in the southern part of Vietnam. The most cultivated tropical fruit are mangoes (80 thousand hectares), bananas (78 thousand hectares), and dragon fruit (53 thousand hectares). The Mekong River Delta is the main fruit-growing region, accounting for 58% of the total fruit area in the South, followed by the Southeast (17%).
Vietnam is the second-largest exporter of lychees in the world, accounting for 19% of the global market share, producing about 380,000 tonnes per year. An important area is the Bắc Giang Province, which has more than 28,500 hectares of lychee trees, 14,000 of which are produced under VietGAP and GlobalGap standards. However, processed fruit account for only 10% of the total production volume.
As for frozen fruit, Vietnam produces a wide variety of tropical frozen fruit, such as frozen mango, pineapple, passion fruit, avocado, and pitahaya. Most frozen fruit manufacturers are located in Southern and Western provinces like Can Tho, Tien Giang, Hau Giang, Lam Dong, and Daklak. Large manufacturers can produce between 80 tonnes to 100 tonnes per day, while small-capacity companies produce 2 to 5 tonnes per day).
Mexico
Mexican exports of tropical frozen fruit fluctuated in the past five years, but overall show a downward trend. At a negative average growth rate of 4.1%, Mexico's supply to the European market decreased from €7.4 million to €6.2 million. As a result, Mexico's share in the European market decreased from 6.5% in 2015 to 4.3% in 2019.
The main destinations of tropical frozen fruit from Mexico to Europe are Belgium (54%) and the Netherlands (26%). Other important destinations within Europe are Poland (6.9%), Finland (4.7%), and Latvia (3.4%). Of these countries, Finland and Poland are important growth markets for Mexico (average annual growth of 18% and 16%), while the Netherlands is losing relevance less important (average annual decline of 14%).
Mexico is a leading exporter of tropical fruit such as mango, avocado, and papaya, which are also exported in frozen form. According to Conaspromango, Mexico is the global leader in exporting fresh mangos to the world, accounting for 21% of global mango production. The season for production and export runs from March to September, which is a period of relative scarcity in the market for mangos, especially the Kent variety for the European market. The main varieties that are produced in Mexico are Manila (26%) and Ataulfo (25%).
Brazil and Philippines
Compared to the largest four suppliers of frozen tropical fruit to Europe, Brazil and the Philippines have a relatively small share in the European market, namely 1.6% and 1.4% respectively. Brazil's export value increased in the past five years at an average of 10%. The total value increased from €1.7 million in 2015 to €2.3 million in 2019. On the contrary, in the same period, the Philippines showed a small decline of -0.5% on average, reaching a total value of €2.0 million in 2019.
A large share of the tropical frozen fruit exported from Brazil to Europe goes to the Netherlands: 46%. Other important destinations are Italy, Spain and France. However, these countries have much smaller shares of Brazil's tropical frozen fruit exports to Europe, ranging from 3.0% to 5.6%. The top two destinations of the Philippines' tropical frozen fruit exports to Europe are Germany (56%) and France (33%).
While Brazil predominantly exports frozen acai — often frozen puree, which is not in the export numbers above — and also passion fruit and mango to Europe, the Philippines' main export product is frozen pineapple.
Tip:
Learn from developing country exporters that already have a small share of the European import market, such as Peru, India, Vietnam and Mexico.
Which companies are you competing with?
Many producing, processing and export companies of tropical frozen fruit supply to the European market. Each company has their own strategies for exports to the European market. The examples listed below are illustrations of some of the leading exporters in the industry.
One of the common characteristics of the leading tropical frozen fruit suppliers to Europe is vertical integration. This is done either by tightening cooperation with farmers or by the increase of own production areas. These activities are mainly aimed to increase the traceability of the collected and processed tropical fruit. Another characteristic is the increased food safety control by frequent laboratory tests and food safety certification.
Peru
The leading export company of tropical fruit in Peru is Camposol S.A., the third-largest employer in Peru. It is a vertically integrated company involved in the harvest, processing and marketing of agricultural and marine products. Regarding tropical fruit, their assortment includes, among others, mangos, avocados, and blueberries. They offer their products fresh as well as frozen IQF. In order to be competitive, the company has the following international certifications: BSCI, Global Gap, IFS, HACCP and BRCGS.
Other examples of tropical fruit suppliers in Peru include Sunshine Export SAC, Dominus S.A.C, and Sobifruits S.A.C.
India
Kay Bee exports is a large Indian exporter of frozen fruits and vegetables such as mangos and pomegranates. As a vertically integrated company it owns a large part of the value chain: farming operations, contract farming productions, vehicles, freight forwarding and customs clearance operations, and a distribution company in the United Kingdom. This enables them to bring in sustainability and quality control to their operations. They have a Global GAP and BRCGS Grade A certification. Their main customers are European retail chains, such as Marks and Spencer and Tesco.
Other examples of tropical fruit suppliers in India include Capricorn and Allana.
Companies from other supplying destinations
Examples of other tropical frozen fruit suppliers to Europe are:
Which products are you competing with?
Major substitute products for frozen tropical fruit are fresh tropical fruit. Many consumers believe that freezing can affect nutritional values and reduce nutrients in fruit, such as vitamins. Fresh fruit consumption is officially supported by European authorities such as the European Fresh Produce Association (Freshfel). The most famous initiative is the '5 a day' campaign, which supports daily intake of five portions of fresh fruit and vegetables.
4.

What are the prices for tropical frozen fruit?

The range of tropical frozen fruit is wide, so the margin indications are rather rough. Additionally, comparisons between competing countries are not easy, as several countries produce different types, packaging sizes, fruit varieties and qualities.

For some types of more rare tropical fruits, buyers are not much aware of the different varieties, but for the major tropical fruit, distinction between varieties can strongly influence the price. For example, Alfonso and Kesar mango varieties are commonly more expensive compared to other varieties such as Kent, Raspuri or Totapuri, which is more used for purees.

The prices of organic products are also generally much higher. For example, the price of conventional frozen mango chunks from Peru typically fluctuates around US$3/kg (CIF), while the price of organic mango chunks varies around US$4 /kg.

Very roughly, the cost, insurance and freight (CIF) price can be estimated between 40% and 50% of the retail price. The best option to monitor prices is to compare your assortment with the largest competitors. The table below shows a very rough price breakdown:

Table 1: Tropical frozen fruit price breakdown
Steps in export process

Type of price

Margin %

Example frozen mango chunks

 

Example frozen pineapple chunks

 

 

 

Absolute margin in €

Price / kg in €

Absolute margin in €

Price / kg in €

Production of fruit

Raw material price (farmers' price)

n.a.

-

2.80

-

2.30

Handling, processing and selling bulk product

FOB or FCA price

20%–30%

0.85

3.65

0.70

3.00

Shipment

CIF price

10%–20%

0.55

4.20

0.45

3.45

Import, handling and processing

Wholesale price (value-added tax included)

10%–20%

 0.60

4.80

0.55

4.00

Retail packing, handling and selling

Retail price (for average packaging of 250g)

40%–50%

1.96

6.76

1.56

5.56
Source: Market researcher compilation based on industry sources
Please note that the share of the retail price paid to farmers varies a lot between producing countries, harvest season and the type of the product.
Tip:
Subscribe to the IHS Market to be regularly and timely updated on frozen fruit export prices. This portal is one of the most respected market information services for food ingredients, including tropical frozen fruit.
This study has been carried out on behalf of CBI by Autentika Global.
Please review our market information disclaimer.
Follow us for the latest updates
Search
Enter search terms to find market research